Christian college association calls LGBTQ students lawsuit 'frivolous'
"These students are not sinful, their identities and relationships are not evil," attorney representing LGBTQ students says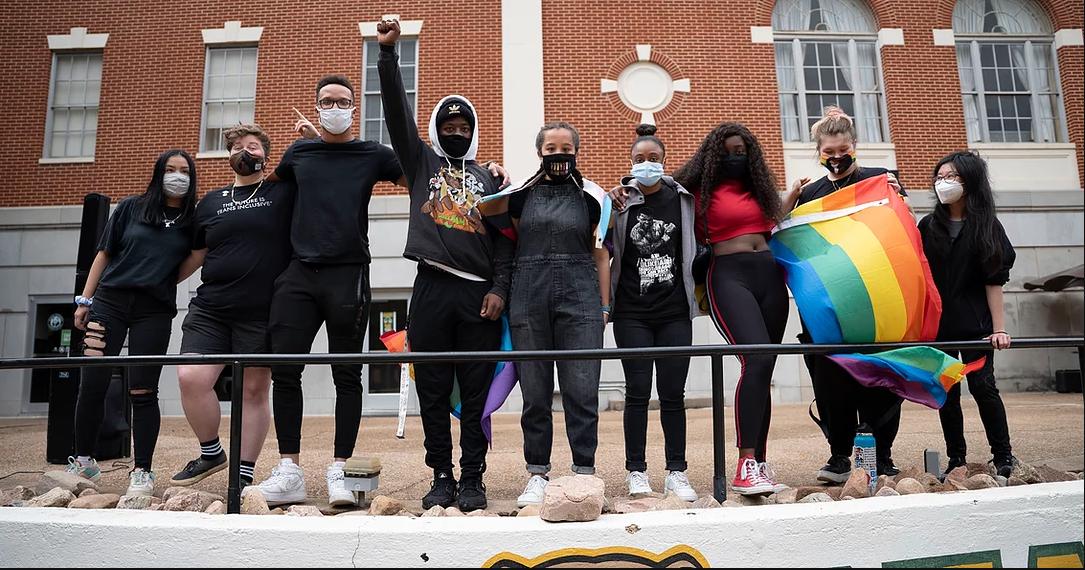 PORTLAND, OR. – A Federal lawsuit filed at the end of this past March seeks to nullify the religious exemption to Title IX that allows widespread discrimination against LGBTQ students at faith-based colleges and universities across the nation.
On Thursday, an Evangelical association of religious schools, colleges and universities petitioned the court to be named as co-defendant, calling the suit 'frivolous'.
The Religious Exemption Accountability Project (REAP), a Portland, Oregon- based non-profit filed a class action lawsuit in U.S. District Court for the District of Oregon, against the U.S. Department of Education on behalf of 33 plaintiffs from 25 evangelical & LDS colleges in 18 states.
The plaintiffs include a mix of current students (some of whom are using a pseudonym for their safety), recently expelled students, and recent alumni who suffered conversion therapy and other discipline from their colleges for being LGBTQ.
"When taxpayer-funded religious institutions require sexual and gender minority students to hide their identity out of fear, or to behave contrary to their fundamental sexual or gender identity, the unsurprising consequences are intense pain, loneliness and self-harm," the lawsuit states.
"The 25 evangelical and LDS colleges our plaintiffs attend or recently attended, receive billions in taxpayer funding from the U.S. Department of Education but claim to be exempt from Title IX's protections for LGBTQ students," said Paul Southwick, Attorney and Director of the Religious Exemption Accountability Project.
"Our lawsuit asks a federal court to declare that the religious exemption to Title IX, as applied to a class of LGBTQ+ students attending the more than 200 religiously affiliated colleges in the United States that openly discriminate against them, using taxpayer dollars, is unconstitutional. It is a violation of the First Amendment's prohibition on the establishment of religion and a violation of the Fifth and Fourteenth Amendments' guarantee of Equal Protection under the law for LGBTQ+ Americans," Southwick added.
Should the exemption in Title IX be eliminated, religious schools with policies deemed discriminatory would not be eligible for federal funds.
The Council for Christian Colleges and Universities (CCCU) filed a motion this week with the federal court asking to be named co-defendants in the case. The Washington D.C.- based Evangelical association, which represents more than 180 Christian faith schools in the U.S. and Canada and more than 30 from 19 other countries, additionally filed a motion to dismiss the lawsuit.
In a statement given to Christianity Today magazine, CCCU president Shirley Hoogstra said the lawsuit is frivolous and the Christian colleges and universities are clearly eligible for religious exemptions;
"CCCU institutions subscribe to sincerely held biblical beliefs, which include specific religious convictions around human sexuality and gender, and are transparent about their policies and behavior guidelines, which students voluntarily agree to when they choose to attend the institution."
The Reverend Alba Onofrio, co-executive director of Soulforce, the non-profit organization that sponsors REAP noted in a statement, "As a Christian minister, I believe we should all be outraged that the Word of God is being used for such widespread evil and systemic violence."
"The toxic theologies of white Christian Supremacy have real consequences on the lives and education of LGBTQI people across the country. This isn't about hurt feelings over being denied wedding cakes or bouquets. This case clearly shows how some Christian institutions have stolen the God of love and life and replaced good theologies with violent ones that cause harm to the minds, bodies, and spirits of this nation's young people," she added.
In briefs filed with the court, lawyers for CCCU write " [CCCU] denies that any of its Christian College or University members abuse or provide unsafe conditions to thousands of LGBTQ+ students, or injure them mind, body, or soul, but rather seek to minister, support, and care for them physically, emotionally, socially, and spiritually. Plaintiffs cite no evidence to support their allegations of abuse and harm."
"Regarding the merits of the CCCU motion, other religious colleges and institutions raised many of the same First Amendment issues in the 1980s when they defended their racist policies on the basis of sincerely held religious beliefs. The U.S. Supreme Court rejected those arguments in 1983 in the case of Bob Jones University v. United States, and courts should reject them again now. The government is not required to subsidize discrimination, whether the discrimination is on the basis of race or on the basis of sexual orientation or gender identity," Southwick told the Blade in an email Friday.
"CCCU's motion also misuses the Bible as a cruel sword, citing verses prohibiting adultery. But what does adultery have to do with the health and safety of LGBTQ+ students? These students are not sinful, their identities and relationships are not evil. They should not be compared to adulterers and the discrimination against them should not be justified by Bible versus taken out of context to condemn them as perverse and deserving of death. True religious freedom does not harm its neighbors or its children. And a country that truly cares about equal treatment for all people should not allow religious institutions to use taxpayer money to mistreat and commit violence against the young LGBTQ+ people in their care," he added.
During the former Trump Administration, then U.S. Secretary of Education Betsy DeVos oversaw implementation of strengthening the religious exemption to Title IX.
"Our actions will protect the constitutional rights of students, teachers, and faith-based institutions," Secretary of Education Betsy DeVos said at the time in a press release. "The Department's efforts will level the playing field between religious and non-religious organizations competing for federal grants, as well as protect First Amendment freedoms on campus and the religious liberty of faith-based institutions."
Another Trans person confirmed murdered this year- USAF vet & Mother
Her friends will always remember her infectious personality & her unmistakable laugh. She loved others passionately and fiercely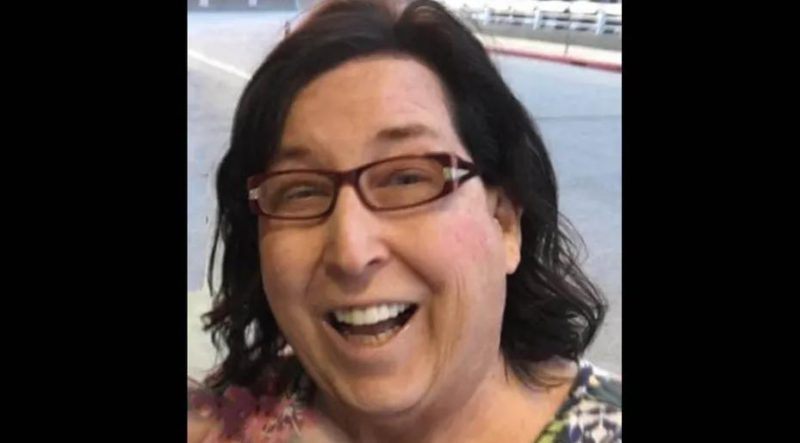 MEADE COUNTY, Ky. – Another Trans person has been confirmed murdered this year bringing the deadly total to 49 deaths of transgender and gender non-conforming people in 2021 according to a tally kept by the Human Rights Campaign.
Cris Blehar, a 65-year-old white transgender woman, mother, and U.S. Air Force veteran, was discovered stabbed and shot to death by Meade County sheriff's deputies who had responded to her rural home on Woodland Road in the Flaherty area. Deputies had been dispatched to perform a welfare check from an unidentified person concerned about Blehar.
The Elizabethtown, Kentucky, News-Enterprise newspaper reported that the Kentucky State Police had made an arrest in the case only a few hours after Blehar's body was found of Vine Grove resident Tyler J. Petty, 18.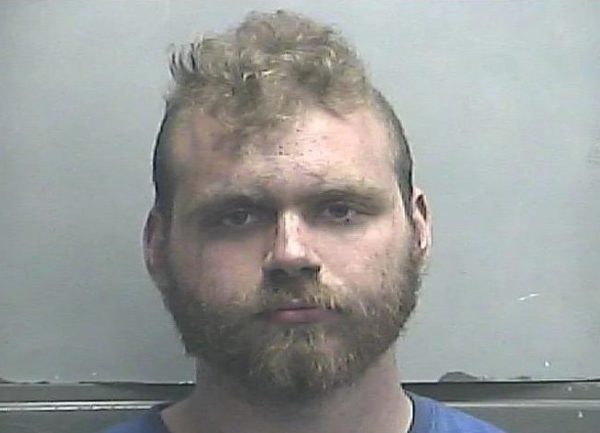 "There was no relationship between the victim and the suspect. We believe he worked for her," said Kentucky State Police Trooper Nicholas Hale in an email to the News-Enterprise. Petty was arrested and brought to KSP Post 4 and was interviewed about the case. Police say he admitted to killing Blehar. A trial date has been set for June 2022.
The murder in this rural area about an hour Southwest of Louisville on May 19, 2021, was brought to the attention of the Human Rights Campaign this week when Blehar's cousin Mark Stephens contacted HRC to ensure that she was "remembered, honored, and counted" as a member of the transgender community. 
In a statement to HRC, Mark Stephens said;
"If there is one thing to know about Cris, it was that she fought fiercely to define her life as SHE wanted. Whether it was her military service, her 20+ year career in the airline industry, or her post retirement decision to buy a farm & start a family of her own. She lived life to the fullest and wanted everyone around her to live their best life as well. Growing up 'different' in Kentucky is certainly no easy task, something we shared in addition to being cousins, and she tackled it with the passion and zeal that only she could have. Her friends will always remember her infectious personality & her unmistakable laugh. She loved others passionately and fiercely, none more than her own son, Maverick."
Blehar's son Maverick Thompson paid tribute to her, writing:
"Cris was an amazing mother and a wonderful person. She had so much love and brought a smile to many. She had a hilarious sense of humor that will live on through those that knew her. She will be sorely missed!"
According to her obituary, Blehar was a former law enforcement officer in the U.S. Air Force and retired from United/Continental Airlines. She also worked as an Uber driver and loved animals and bowling.
HRC has officially recorded 49 deaths of transgender and gender non-conforming people in 2021, more than in any year since we began tracking this violence in 2013.
Victory Fund honors Maine House speaker in D.C.
Ryan Fecteau is gay Catholic University alum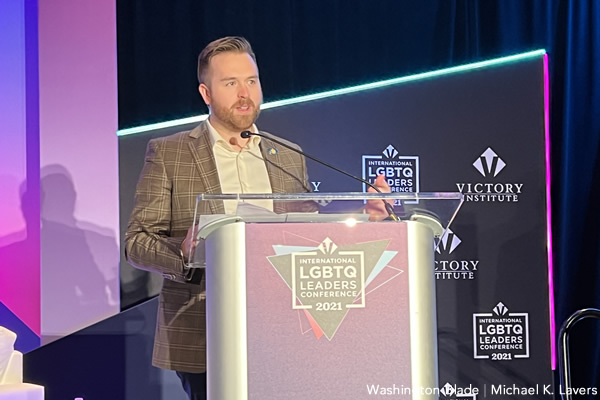 WASHINGTON — The Victory Fund on Saturday honored Maine House Speaker Ryan Fecteau on the last day of its International LGBTQ Leaders Conference in D.C.
Fecteau — an openly gay Catholic University of America alum — won a seat in the Maine House of Representatives in 2014. He became the chamber's speaker in 2018.
"Hate and intolerance will not derail us," said Fecteau after Florida state Rep. Carlos Guillermo Smith presented him with the Tammy Baldwin Breakthrough Award, which is named after U.S. Sen. Tammy Baldwin (D-Wis.). "Our community will not be intimidated."
The Victory Fund on Friday honored Guatemalan Congressman Aldo Dávila, a gay man who is living with HIV.
Georgia Tech settles lawsuit in case of LGBTQ+ student killed by its cops
William and Lynne Schultz alleged that one of the responding campus police officers was inadequately and improperly trained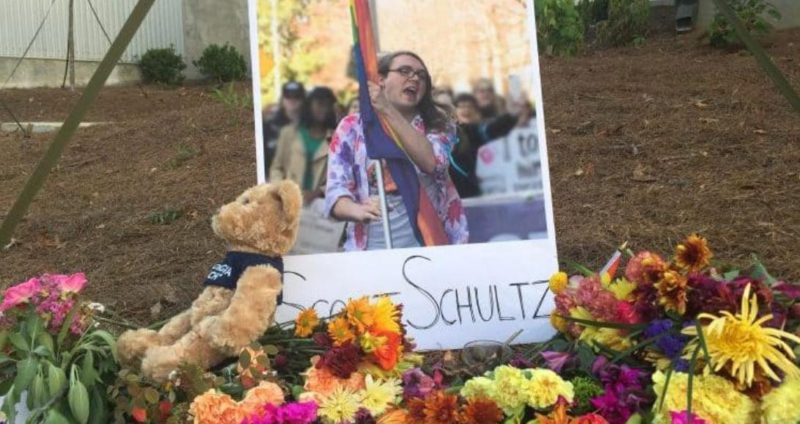 ATLANTA – The family of a non-binary LGBTQ+ student leader shot to death in 2017 by university police officers during a call over a mental health breakdown crisis situation, has agreed to a settlement in a wrongful death lawsuit that the family had filed against Georgia Tech.
The family of 21-year-old Scout Schultz, who was intersex, non-binary and bisexual, a fourth-year student and head of Georgia Tech's LGBTQ+ Pride Alliance, settled this week after the university agreed to pay the family a $1 million settlement in their case.
The lawsuit, filed in September of 2019 by the parents of the slain student, William and Lynne Schultz in the U.S. District Court for the Northern District of Georgia, alleged that one of the responding campus police officers was inadequately and improperly trained.
In the suit, the Schultze's alleged that Tech campus police officer Tyler Beck, 23, "had received no training in crisis intervention." The suit goes on to say that the other responding officers "remained calm and followed standard de-escalation techniques without initiating physical force directed" at Schultz, but Beck "did not de-escalate and instead used deadly physical force."
Schultz called 911 on Sept. 16, 2017. Campus police responded and found Schultz in a residential area of campus holding what appeared to be a knife. Schultz approached the officers in what later characterized in the official report of the incident as a 'menacing manner.' One officer told Schultz that "nobody wants to hurt you" and another told the distraught student to "relax."
But as Schultz continued to advance, one of the officers, Beck, shot Schultz once in the heart and they died about 30 minutes later at Grady Memorial Hospital.
During a subsequent investigation by the Georgia Bureau of Investigation found three suicide notes and Schultz's parents confirmed he suffered from depression and tried to kill himself two years earlier the Associated Press reported.
The Schultz's claimed that the university, the Georgia Bureau of Investigation, the City of Atlanta and Fulton County prosecutors had kept details of the case from the family, Attorney Chris Stewart, who represents Schultz's parents said in a press conference when the lawsuit was first announced.
"Schultz's death was the result of Georgia Tech's and the state of Georgia's failure over time to properly train their personnel to act in such a way as to prevent the exclusion of persons such as Schultz from the safety to which all students were entitled on the campus of Georgia Tech," the lawsuit stated. The Schultze's filed the lawsuit against the school, Beck and the Board of Regents of the University System of Georgia.
The Atlanta Journal-Constitution later reported that now former Fulton County District Attorney Paul Howard said Beck won't face criminal charges in Schultz's death. Howard said two use-of-force experts concluded the shooting was justified.
According to Project Q Atlanta, the university has assigned $1 million to mental health and wellness initiatives for LGBTQ+ students, has awarded Schultz's degree posthumously to their family, and now requires all Georgia Tech campus police officers to carry tasers as well as guns and complete 40 hours of crisis intervention training.