Bank of England and British Intelligence Pride Month tributes to Alan Turing
"Though we should never forget the tragedy of his life being cut short, we should always endeavour to learn from his legacy."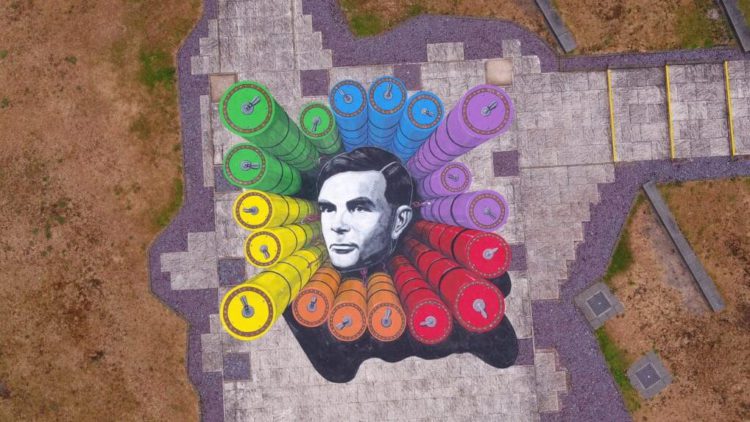 LONDON – He was quirky, aloof and in the modern vernacular just a tad bit weird. A mathematical genius whose ground breaking work in the art of 'the maths' and what later became known as computer sciences led to the Allied Victory in Europe over Nazi Germany- and Dr. Alan Turing was gay.
It was his sexual orientation that led to his loss of his career and then upon conviction for breaking British laws against homosexual acts- "gross indecency" a criminal offence in the UK he was prosecuted for in 1952- he died in 1954, 16 days before his 42nd birthday after committing suicide.
In 2009 then British Prime Minister Gordon Brown made an official public apology on behalf of the British government and people for "the appalling way he was treated," followed by Queen Elizabeth II granting him a posthumous pardon in 2013.
Turing was for decades one of the unsung heroes of Bletchley Park and the codebreakers who were able through the first systematic electronic method cracked Germany's infamous Enigma machine's encoded messages.
Some historians estimate that Bletchley Park's massive codebreaking operation, especially the breaking of Kriegsmarine's U-boat fleet's Enigma codes, shortened the war in Europe by as many as two to four years. If U-boat Enigma had not been broken, and the war had continued for another two to three years, a further 14 to 21 million people might have been killed.
There are those who claim that he stands alongside British Prime Minister Winston Churchill, General of the Army and Allied Supreme Dwight David Eisenhower, and others of the wartime principals as a leading figure in the Allied victory over Hitler. There should be a statue of him in London among Britain's other leading war heroes they say.
Instead of a statue though, on the 109th anniversary of his birth in London this past Wednesday June 23, the Bank of England's newly-designed £50 note featuring the portrait of Turing entered circulation.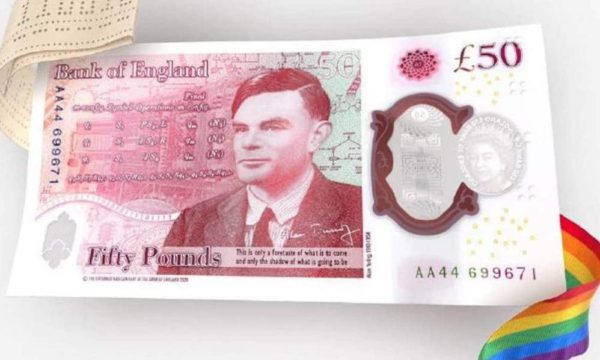 It's here! Today we have issued the £50 note featuring computer scientist Alan Turing.

Find out more about the new note and its features: https://t.co/nbOlU9kgCU #TheNew50 pic.twitter.com/Ipw8nQGBwJ

— Bank of England (@bankofengland) June 23, 2021
But the likely the best tribute during this Pride Month 2021 however, came from the descendent of the wartime Government Code and Cypher School that Turing and the Bletchley Park codebreakers worked under, now known as the Government Communications Headquarters, commonly referred to as GCHQ.
The 10 by 10 metre rainbow artwork was created by artist Joe Hill in consultation with staff from GCHQ's Pride network, and has been installed in the centre of the GCHQ hub in Benhall, Gloucestershire, which is known as the Doughnut.
The work features a portrait of Turing, surrounded by wheels from the British Bombe, the machine he designed to break the Enigma code at Bletchley Park. The artwork also includes 15 hidden codes.
The piece will not remain permanently at the intelligence agency, but will be donated to organisations chosen by GCHQ's Pride Network.
"Alan Turing is a role model for many here at GCHQ and a global icon as an LGBTQ+ person in the field of science and technology," GCHQ's Pride Network said in a statement released Wednesday. "Though we should never forget the tragedy of his life being cut short, we should always endeavour to learn from his legacy and create a safer and better future for LGBTQ+ people."
Alan Turing

🧠 Genius
🌈 LGBT+ icon
⭐️ Inspiration to those who dare to think and live differently https://t.co/bbio63jZs5#PrideInTuring #Pride2021 pic.twitter.com/9VyILWIhbE

— GCHQ (@GCHQ) June 23, 2021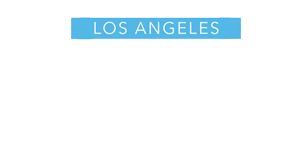 British comedian challenges Beckham to give up £10 mil Qatar deal
In 2021, multiple news outlets reported Beckham had signed a ten-year deal with Qatar to be a face for soccer there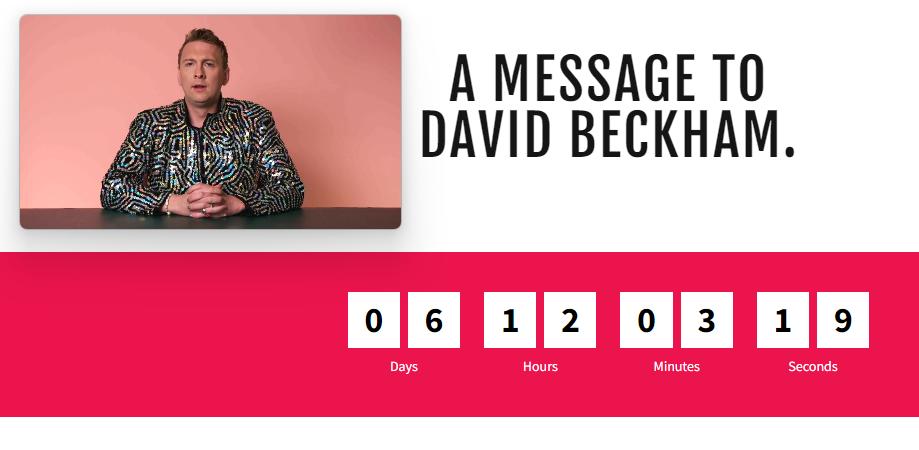 KINGS HEATH, Birmingham, UK – Joe Harry Lycett, a celebrity British comedian and television presenter, challenged British football [soccer] star David Beckham on Sunday to walk away from Beckham's £10 million deal to be ambassador for Qatar during the FIFA World Cup.
In 2021, multiple news outlets reported Beckham had signed a ten-year deal with Qatar to be a face for soccer there. Qatar criminalizes same-sex "sexual conduct" and has persecuted transgender people in that country.
In October, Human Rights Watch documented arbitrary arrests and ill-treatment in detention of LGBT Qataris by the Preventive Security Department. As a requirement for their release, security forces mandated that transgender women detainees attend conversion therapy sessions at a government-sponsored "behavioral healthcare" center. Despite sustained pressure, Qatari authorities have refused to repeal laws criminalizing same-sex relations.
World Cup Ambassador Khalid Salman last week described homosexuality as "damage in the mind."
Salman, a former Qatari soccer player, made the comment during an interview with a reporter from ZDF, a German television station, in Doha, the Qatari capital.
The former Qatari soccer player in response to the reporter's question about the criminalization of consensual same-sex sexual relations in his country described homosexuality as "haram" or "forbidden" under Sharia law. A member of the World Cup organizing committee abruptly stopped the interview after Salman made his comments.
Beckham, the former captain of England's national soccer team, has been heavily criticized for his decision to accept the paid ambassador position for Qatar at the FIFA World Cup 2022 from numerous LGBTQ+ rights groups.
Lycett released a video Sunday, (November 13) on his Twitter account:
"I consider you, along with Kim Woodburn and Monty Don, to be a gay icon," he said.
"You were the first premiership footballer to do shoots with gay magazines like Attitude, to speak openly about your gay fans, and you married a Spice Girl which is the gayest thing a human being can do," Lycett said.
https://t.co/FqoC3hSFM8 🌈 pic.twitter.com/EPLVNwmnvV

— Joe Lycett (@joelycett) November 13, 2022
Lycett continued: "You have always talked about the power of football as a force for good. Which suggests to me you have never seen West Brom.
"But, generally, I agree. So with that in mind I'm giving you a choice.
"If you end your relationship with Qatar I will donate ten grand of my own money (that's a grand for every million you're reportedly getting) to charities that support queer people in football.
"However, if you do not I will throw the money into a shredder at midday next Sunday, just before the opening ceremony of the World Cup and stream it live on a website I've registered called BendersLikeBeckham.com. Not just the money, but also your status as gay icon will be shredded.
"Also you'll be forcing me to commit what might be a crime. Although even then, I reckon I'll get off more lightly than I would if I got caught whacking off a lad in Doha."
The comedian also set-up a website BendersLikeBeckham.com, which features only his video, as well as a countdown timer showing how long Beckham has to make his choice.
Beckham has yet to respond to the tweet or inquiries from British LGBTQ press outlets PinkNewsUK, Attitude, and other media outlets.
Additional reporting by Michael K. Lavers