"Pride is back at the White House," Biden celebrates LGBTQ Pride 2021
During his remarks Biden acknowledged members of the audience, many of them prominent members of the LGBTQ+ community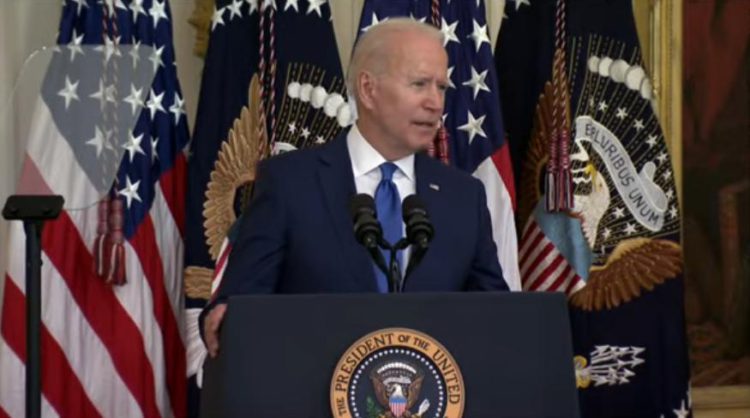 WASHINGTON – President Joe Biden accompanied by Secretary of Transportation Pete Buttigieg celebrated LGBTQ+ Pride month with a series of events at the White House Friday. The President had started Friday's acknowledgement of the LGBTQ+ community by signing House Resolution 49, which designates the Pulse Nightclub in Orlando, Florida as a National Memorial.
Watch: Biden delivers remarks on signing Pulse National Memorial measure

"May a president never have to sign another" https://t.co/UafRGHTErI

— Chris Johnson (@chrisjohnson82) June 25, 2021
After the signing ceremony, the President and the Transportation Secretary attended an in-person LGBTQ+ Pride event in the East Room with Buttigieg delivering the opening remarks.
Buttigieg introduced a 16-year-old transgender advocate, Ashton Mota from Lowell, Massachusetts. Mota, who is a leader with the GenderCool Project and also an HRC Youth Ambassador, delivered a personal speech about his transition, his advocacy for transgender youths, and emphasized the need to pass the Equality Act. He also thanked the President for the actions taken by his administration. "Mr. President, thank you for having our back."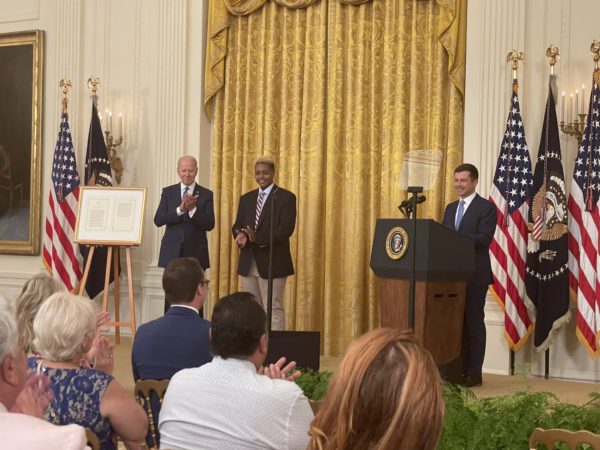 President Biden received a standing ovation and thunderous applause when he quipped, "Pride is back at the White House." During his remarks Biden acknowledged members of the audience, many of them prominent members of the LGBTQ+ community including Pulse Nightclub massacre Brandon J. Wolf, Delaware State Senator Sarah McBride, Lt. Colonel Bree Fram, USAF, a senior serving Trans member of the armed forces and members of the Congressional Equality Caucus.
The President also spoke about the 'Rainbow Hallway' exhibit in the lower hallway of the White House with historic artifacts on loan from the Smithsonian that tell of the LGBTQ journey. He also highlighted his first executive order that he had signed to root out discrimination against LGBTQ+ people and then listed some of the another significant policy and federal actions taken by his administration to protect the rights of LGBTQ+ Americans.
After announcing that Jessica Stern was selected as his U. S. special envoy for LGBTQI+ rights at the State Department, the President proudly noted that that pride flags are flying at over 130 U.S. embassies around the world. He emphasized that LGBTQ+ equality rights was a centerpiece of his administration's foreign policy agenda.
The President also took aim at the over 200 pieces of legislation that were passed or considered in the past 2021 legislative sessions of 30 states. He described anti-transgender bills in states as "nothing but bullying disguised as legislation." […] "These are some of the ugliest, un-American bills I've seen, and I've been around a while."
"These young people aren't hurting anyone but these laws are hurting them and they have got to stop," Biden said.
He also called on Congress to pass the Equality Act.
WATCH: Remarks by President Joe Biden in Recognition of LGBTQ+ Pride Month
Full transcript of the President's remarks:
THE PRESIDENT: Well, my name is Joe Biden. I'm Jill Biden's husband. (Laughter.)

Ashton, thank you. You seemed awfully comfortable up here. (Laughter and applause.) You were awfully comfortable up here. I don't know. I — I'm not sure I'll be around, but, you know — (laughter) — if you're here, just don't pretend you don't know me. Okay? (Laughter.)
Your story, your leadership, and your mom is an inspiration. (Applause.) Your mom. If my mother were here, she'd look at you and say, "Honey, God love you, dear." God love you — what you do, what you did, what you continue to do.
I want to thank Secretary — well, first of all, I want to say to Chasten: Belated happy birthday, Chasten. (Applause.) If you could hear us inside, we were singing happy birthday to him. We got a bunch of cupcakes, but not enough for everybody. (Laughter.) But — and, Mr. Secretary, thank you. You are — you're the best, man.

Look, our presence here this afternoon makes a simple, strong statement: Pride is back at the White House. (Applause.)

For this community and for our nation and for the world, Pride Month represents so much. It stands for courage — the courage of all those in previous generations and today who proudly live their truth.

It stands for justice: both the steps we've taken and the steps we need to take.
And above all, Pride Month stands for love — you know, being able to love yourself, love whomever you love, and love this country enough to make it more fair and more free and more just.
You know, during the campaign, Tim Gill and Scott Miller — and Tim — one of them is here today, I don't want to embarrass him; he always gets mad when I do that — (laughter) — brought me and Jill to visit the Stonewall Inn. I wanted to go, and they wanted — they offered to take me. We wanted to pay tribute to that hallowed ground that represents the the fight to ensure that all people are treated with dignity and respect.

Just a few minutes ago, surrounded by the survivors of family members who were — we've lost, I signed a bill consecrating another piece of hallowed ground: the Pulse nightclub. And I want to thank all of the members of the United States House of Representatives and the United States Senate for standing up and making sure that will never be forgotten. Never be forgotten. The site of the deadliest attack affecting the LBT- — LGBTQ+ community in American history. It's now a national memorial.

This month, on the way to the office, I walk through — from my — from the Residence to the Oval Office every morning — I walk through a hallway lit with rainbow colors of Pride, which you'll have a chance to see in just a few minutes. You'll see a candle carried during the AIDS vigil in the early '90s by a pair — and a pair of sandals belonging to Matthew Shepard.

They're reminders of how much this community has suffered and lost. But they're also reminders of this community's incredible resiliency, the incredible contributions, the incred- — including, we just saw, the National Football League and the National Women's Soccer League.

All of you here — Henry Muñoz and Kyle — good to see you, man — (laughter). I had the — I had the opportunity to officiate at their wedding. (Laughter and applause.)

And Representative Malcolm Kenyatta — where are you, Malcolm? You're around here some — (applause) — good to see you, man. And Dr. Matt Miller — they stole the show at the Democratic Convention. (Laughter.)

And my friend, Sarah McBride — where is Sarah? (Applause.) Sarah? Sarah worked closely with my son, Beau, when he was Attorney General of the State of Delaware; and is now serving Delaware, as well, as one of the first openly transgender state legislators in history. Senator. (Applause.)

You just heard from our history-making Secretary of Transportation.

And we have today the first openly transgender person ever confirmed to the U.S. Senate — you just met her — Dr. Levine. (Applause.)

Representation matters. Recognition matters. But there's something else that matters: Results. Results.

I am proud to lead the most pro-LGBTQ equality administration in U.S. history. And even on the very — my very first day in office, the first executive order I signed was to change the whole of the federal government to commit to work aggressively to root out discrimination against LBT- — LGBTQ+ people and their families. That was the first executive order.

I ordered our agencies — every agency — to rapidly implement the Supreme Court's ruling in Bostock, which affirmed that civil rights protections on the basis of sex apply to sexual orientation and gender identity.

And as a result of that executive order, the Department of Housing and Urban Affairs [Development] announced that it would be — take steps to protect LGBTQ+ people from discrimination in housing, and ensured critical protections for transgender Americans experiencing homelessness.

The Consumer Financial Protection Bureau announced it would work to combat discrimination against LGBTQ+ people in credit and lending. The Department of Health and Human Services announced it would protect against discrimination in healthcare services.

And just last week, the Department of Education made clear that Title IX protections apply to sexual orientation and gender identity — (applause) — and prohibit discrimination against LGBTQ students in our nation's schools.

And a moment ago, I signed an executive order to advance diversity, equality, and inclusion, and accessibility across the entire federal workforce. The order directs the entire federal government to eliminate barriers so people from every background and walk of life have an equal opportunity to serve our nation, including LGBTQ+ folks and all employees in underserved communities.

Look, I also was proud to rescind the discriminatory and un-American ban on openly transgender servicemembers. Today, we're joined by Lieutenant Colonel Bree Fram. Bree, Colonel — (applause) — thank you. One of the highest-ranking openly transgender servicemembers in the United States Military. Lieutenant Colonel Fram, thank you for your service to our nation. We owe you. Thank you. (Applause.)

And everyone who has served — everyone deserves the absolute high quality of healthcare. That's why I was so pleased that, last week, Secretary McDonough announced the Department of Veterans Affairs is beginning the process to provide more comprehensive gender-affirming care to our nation's transgen- — for our nation's transgender veterans.

We're also making equality the centerpiece of our diplomacy around the world. We believe LGBTQ+ rights are human rights.

In February, I signed a presidential memorandum establishing that it's the policy of the United States to pursue an end to violence and discrimination on the basis of sexual orientation or gender identity.

This month, Pride flags are flying — as some of my friends in our last admin- — in the Obama-Biden administration who are openly gay — they are flying in more than — over 130 U.S. embassies around the world. (Applause.) A powerful — a powerful symbol of our commitment to safety, dignity, and opportunity for all.

And today, I'm proud to announce that Jessica Stern, who many of you know as an LGBT special — -Q+ special envoy at the State Department.

And yes, we're also making progress, but I know we still have a long way to go, a lot of work to do. But we must protect the gains we've made and fend off the cruel and unconscionable attacks we're seeing now to ensure that everyone enjoys the full promise of equality and dignity and protection.

When I was Vice President, I was proud — although, some — it won't surprise some people in the administration at the moment — (laughter) — and, by the way, I did tell the President that I would not go out and proselytize, but if I was asked, I would not remain quiet. (Laughter.) The President — I was proud to have called for marriage equality, along with Barack Obama, because, at the time, I said, "Love is love, period."

Six year ago, tomorrow, when the Supreme Court ruled in favor of marriage equality, we're all reminded of the White House lit up in rainbow colors. Shortly thereafter, I went to New York to celebrate with my friend Evan Wolfson and a team from — at Freedom to Marry. The joy was palpable.

But we knew then, as we know now, that our work is unfinished. When a same-sex couple can be married in the morning but denied a lease in the afternoon for being gay, something is still wrong.

Over half of our states — in over half of our states, LGBTQ+ Americans still lack explicit state-level civil rights protections to shield them from discrimination.

As I said as a presidential candidate and in my first joint address to Congress, it's time for the United States Senate to pass the Equality Act and put the legislation on my desk. (Applause.) Put it on my desk.

Harvey Milk was right when he said, quote, "It takes no compromise to give people their rights." It takes no compromise to give people their rights.

And, by the way, this bill doesn't just protect LGBTQ+ people. It's also going to strengthen existing civil rights protections for people of faith, people of color, people with disabilities, women — in public accommodations, like doctors' offices, parks, and gyms.

I want to thank the leaders of the Congressional Equity [Equality] Caucus for their continued work to make it happen.

The Equality Act will also help protect against the disturbing proliferation of anti-LGBTQ bills we're seeing in state legislatures.

So far this year, hundreds of anti-LGBTQ bills have been introduced in state legislatures. More than a dozen of them have already passed — more than a dozen of them. These are some of the ugliest, most un-American laws I've seen, and I've been here awhile. Many of them target transgender children, seeking to prevent them from receiving the appropriate medical care; for using the bathroom at high schools while they're — the one where they'll be most safe; even preventing them from joining sports teams with their classmates.

Let's be clear: This is nothing more than bullying disguised as legislation. (Applause.)

As I've said before, many times, transgender kids are some of the bravest people in the world. I mean it sincerely. You just saw it with Ashton, and you'll see it with several other young people here. It takes courage to be true to your authentic self and to face — in the face of the — these kinds of discrimination you know exist. It takes a toll.

We know more than half of transgender youth seriously considered suicide just in the past year. These young people aren't hurting anyone, but these laws are hurting them. And they've got to stop.

Our deceased son, Beau — when he was Delaware's Attorney General — was one of the first AGs in the country to call for legislation to establish legal protections on the basis of gender identity to protect — to protect trans people — trans people.

And now, the Department of Justice has filed statements of interest in cases challenging two of these — those bills that got passed — explaining why they're so unconstitutional.

So, we have to work. We have to work to do so much in these areas to support seniors, aging in isolation without support; to confront disproportionate levels of homelessness and poverty and unemployment in the LGBTQ community; to address the — the epidemic level of violence against transgender people, especially transgender women — it's been mentioned before — women of color — in the coming days, my administration is going to have more to say about that; and to finally eradicate the AIDS epidemic. (Applause.)

I'm not sure I'm allowed to talk about this — (laughter) — but our son, Beau, who was a decorated war veteran and attorney general of the United — of the state of Delaware and should be standing here instead of me, came home from war after a year in Iraq and, before that, six months in Kosovo. And what he did — he decided he was going to set up a foundation for LGBTQ youth, but primarily focusing on transgender youth.

And he took all the money left from the campaign — he was going to run for governor — and put it in and a lot more. Because in his working with everyone from YMCAs to all the — all the — all the areas where young people can find some solace — his buddy Chris Coons and my buddy Senator Coons knows what he's done.

The point is: A lot of transgender youth — those who commit suicide — based on the studies his foundation has done, do it because their mom doesn't understand, because mom or dad says, "You can't be here anymore" — are rejected.

So, folks, we got a lot of work to do. A lot of it's basically public education.

Let me close with this: When you go downstairs, you'll see some of the Smithsonian exhibit. You get a sense of the long, long journey — and how long it's been, and how far we've come — have you come. But how much further we have to go.

So, this afternoon, we celebrate. But tomorrow, we go back to work. Progress won't come easily; it never has. But we're going to stand strong, stand together. And I promise you, we will succeed. I promise you.

I said to folks earlier, you know things are — why — why — I always get asked by the press, "Why are you so optimistic, Biden?" Well, as my neurosurgeon once said, I'm probably a congenital optimist. But beyond that — (laughter) — it's a simple proposition.

Look at the young people: straight and gay, doesn't matter. They're the least prejudiced — this generation — the most open, the most giving, and the best educated generation in history. It's a fact. In all of history.

And look where they are. Look how it's changing. It's changing in ways that — in my generation, 270 years ago — (laughter) — you'd get beat up for defending somebody.

But really and truly, there's a great reason for hope. And so much talent — so much talent can be unleashed by embracing the LGBT+ community — -Q+ community.

So I want to thank you and say: Happy Pride.

May God bless you all. And may God protect our troops. Thank you. (Applause.)
Indiana GSA sues school district that banned Pride flags over another ban
"The treatment aimed at PHGSA by administrators is unwarranted- these students must be treated in the same manner all others are treated"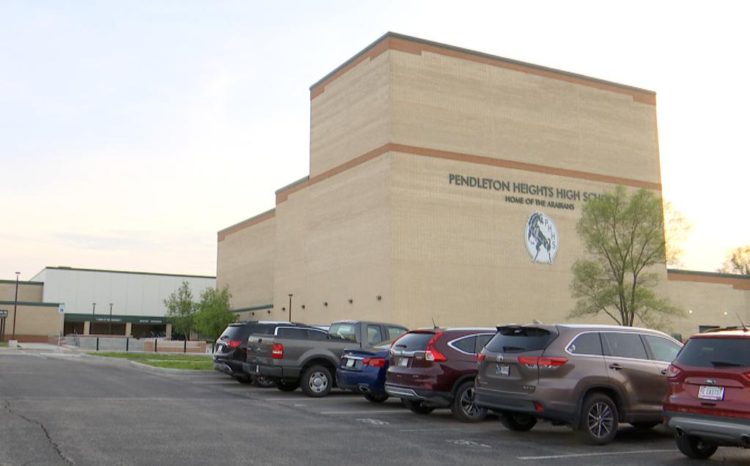 INDIANAPOLIS – A student led Gay-Straight Alliance at Pendleton Heights High School in Pendleton, Indiana filed suit against their school and the South Madison Community Schools District for banning public announcements and adverts in-school for their club.
Last Spring officials in the Schools District, in this suburban community 30 miles northeast of Indianapolis, ordered faculty members at Pendleton Heights High School to remove Rainbow Pride flags from classrooms. The Schools District labeled the flags "political paraphernalia" and instructed the Spanish, French and art teachers to get the flags out of their classrooms saying the flags violate their school district's "political paraphernalia" policy.
In the suit filed last Wednesday by the American Civil Liberties Union of Indiana on behalf of the Pendleton Heights High GSA, in U.S. District Court for the Southern District of Indiana, the ACLU noted that the principal at Pendleton Heights has stated that the PHGSA cannot publicize its existence on school bulletin boards or on the school's radio station, while other curricular and non-curricular clubs at the school are able to do so. 
"This group aims to create an environment that provides support to students, during a time that otherwise might be increasingly difficult for LGBTQ students," said Kit Malone, advocacy strategist at ACLU of Indiana. "The differential treatment aimed at Pendleton Heights Gay-Straight Alliance by administrators is unwarranted and these students must be treated in the same manner that all other student groups are treated."
Pendleton Heights Principal Connie Rickert has the authority to decide what student groups are allowed to meet at the school and which ones are deemed to be "official." Last Spring she deflected on the apparent anti-LGBTQ+ messaging the order to remove the flags sent telling one media outlet; ""Teachers are legally obligated to maintain viewpoint neutrality during their official duties to ensure all students can focus on learning and we can maintain educational activities and school operations," she said. "Our counselors are trained to respond to any student who desires support."
While she has allowed the GSA club to meet, her banning announcements and notifications for the GSA runs contrary to her statements last Spring that that her school prides itself on creating a welcoming environment for all.
"Students at Pendleton Heights High School may participate in non-curricular clubs recognized by the school," said Ken Falk, ACLU of Indiana legal director. "By creating additional hurdles for Pendleton Heights Gay-Straight Alliance such as censoring the group's promotions and prohibiting fundraising, the school is infringing on these students' rights."
The South Madison Community Schools District has declined comment.
Alarming numbers of Texas Trans kids in crisis over litany of anti-Trans bills
"Under the guise of protecting children- Texas legislators are directly harming thousands of transgender & nonbinary youth"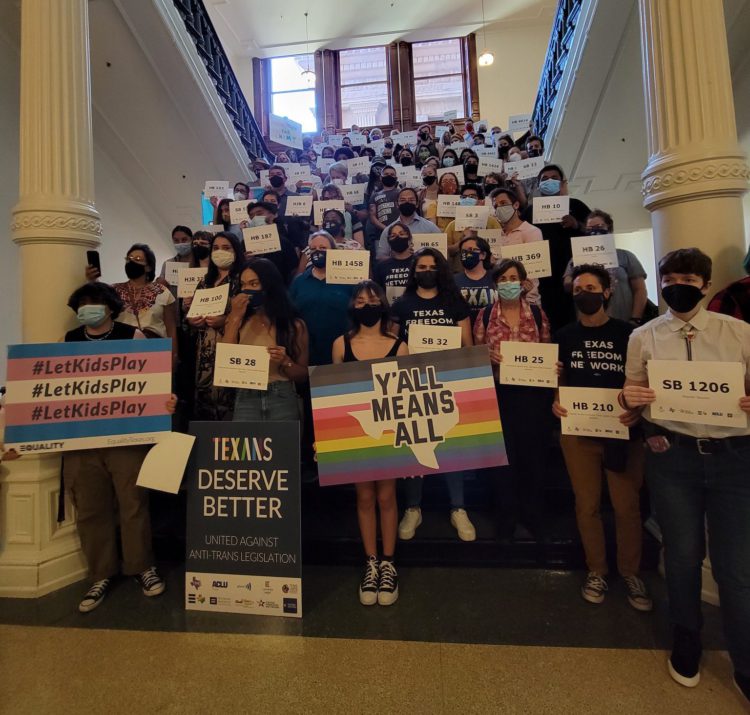 NEW YORK – The Trevor Project received nearly 4,000 crisis contacts from transgender and nonbinary youth in Texas in 2021, with many directly stating that they are feeling stressed and considering suicide due to anti-trans laws being debated in their state.
This new data comes during a year when Texas lawmakers have proposed nearly 70 anti-LGBTQ bills, including more than 40 bills that specifically target transgender and nonbinary youth — far more than any other state.
The Texas State Senate passed its anti-trans sports ban SB3 this week, and the companion bill HB10 is now moving forward in the Texas House.
Republican Texas Governor Abbott has prioritized SB 3 and called for a third consecutive special session of the legislature to consider this bill, which would ban transgender student-athletes from playing on sports teams consistent with their gender identity.
"The Trevor Project's crisis counselors have been hearing from transgender and nonbinary youth in Texas who are scared and worried about anti-trans laws being debated in their state — and some have even expressed suicidal thoughts. This is a crisis. We urge Texas lawmakers to consider the weight of their words and actions — and to reject HB10/SB3," said Amit Paley, CEO and Executive Director of The Trevor Project.
Between January 1 and August 30, 2021, The Trevor Project received more than 10,800 crisis contacts (calls, texts, and chats) from LGBTQ young people in Texas looking for support. More than 3,900 of those crisis contacts (36%) came from transgender or nonbinary youth.
Crisis contacts from LGBTQ young people in Texas seeking support have grown over 150% when compared to the same time period in 2020.
While this volume of crisis contacts can not be attributed to any one factor (or bill), a qualitative analysis of the crisis contacts found that:
Transgender and nonbinary youth in Texas have directly stated that they are feeling stressed, using self-harm, and considering suicide due to anti-LGBTQ laws being debated in their state.
Some transgender and nonbinary youth have expressed fear over losing access to sports that provide important acceptance in their lives.
"As a transgender young person in Texas, this new data from the Trevor Project is not surprising, but it's nonetheless harrowing and alarming to see this representation of the detrimental impact Texas Lege is having on our community — especially our kids. Lawmakers and proponents of bills like SB3 and HB10 should be alarmed by these statistics, too," Landon Richie a Trans youth activist and GenderCool Youth Leader from Houston told the Los Angeles Blade.
"Under the guise of protecting children and promoting fairness, Texas legislators are directly harming thousands of transgender and nonbinary youth, denying them the dignity, respect, and childhoods that they deserve. It's never an exaggeration to say that the passage — and merely debate — of these bills will cost lives," Richie added.
National mental health organizations like The Trevor Project and state LGBTQ equality groups including Equality Texas and Transgender Education Network of Texas (TENT) are raising concerns about the impact of such legislation on the mental health and wellbeing of transgender and nonbinary youth.
The Trevor Project's 2021 National Survey on LGBTQ Youth Mental Health found that more than half (52%) of transgender and nonbinary youth seriously considered suicide in the past year and 1 in 5 attempted suicide. Further, Trevor released a new research brief earlier this month on LGBTQ youth participation in sports, which found that a majority of LGBTQ young people (nearly 66%) do not actively participate in sports — with many citing fear of bullying and discrimination as a key factor for not participating.
If you or someone you know needs help or support, The Trevor Project's trained crisis counselors are available 24/7 at 1-866-488-7386, via chat at TheTrevorProject.org/Help, or by texting START to 678678.
2nd largest school district in Utah bans Pride & BLM flags as 'too political'
"We have to have a politically neutral classroom, and we're going to educate the students in the best possible way that we can"
FARMINGTON, Ut. – Administrators this week in the Davis School District, which is Utah's 2nd largest school district with 72,987 students, banned LGBTQ Pride and Black Lives Matter flags, saying they are 'politically charged.'
According to the Salt Lake City Tribune, Davis Schools spokesperson Chris Williams told the paper; "No flags fly in our schools except for the flag of the United States of America." Williams later walked that statement back adding a clarification that some of the Districts schools have flags from sports team or international countries which are considered "unrelated to politics."
"What we're doing is we're following state law," said Williams. "State law says that we have to have a classroom that's politically neutral."
Amanda Darrow, Director of Youth, Family, and Education at the Utah Pride Center in Salt Lake City, told multiple media outlets the school district is "politicizing the rainbow flag" which doesn't belong on a political list.
"That flag for us is so much more," said Darrow. "It is just telling us we're included in the schools, we are being seen in the schools, and we belong in these schools."
KUTV CBS2 News in Salt Lake City checked with the Utah State Board of Education. In an email, spokesman Mark Peterson said, "There is nothing in code that specifically defines a rainbow flag as a political statement so it would be up to district or charter school policies to make that determination."
The local Utah chapter of the American Civil Liberties Union also weighed in saying in a statement;
"Whether or not a school district has the legal ability to ban inclusive and supportive symbols from classrooms, it is bad policy for them to do so," the advocacy organization said in a statement. "Utah schools have an obligation to ensure that all students, regardless of their sexual orientation or gender identify, feel welcome inside a classroom. We urge school administrators and teachers to adopt policies that make all students feel safe and included."
Williams insisted the policy is not meant to exclude anyone and that all students are loved and welcomed – they just want to keep politics out of school he told the Tribune and KUTV.
"We have to have a politically neutral classroom, and we're going to educate the students in the best possible way that we can," said Williams.
A Utah based veteran freelance journalist, writer, editor, and food photographer weighed in on Twitter highlighting the negative impact of the Davis Schools decision on its LGBTQ youth.
Davis County school district has banned BLM & pride flags and other symbols saying they are politically charged.

This is why the number 1 killer of Utah kids is suicide, especially among LGBTQ youth. Nearly 52% say they have frequent suicidal ideation.https://t.co/twSZwWvWVl

— Kaz Weida (@kazweida) September 21, 2021
Davis County School District bans LGTBQ and BLM flags as 'too political'