LGBTQ Police Officers Deserve a Place in the NYC Pride March
We have always been deeply committed to structural change within the NYPD. We're LGBTQ and insist upon a place in our community's Pride march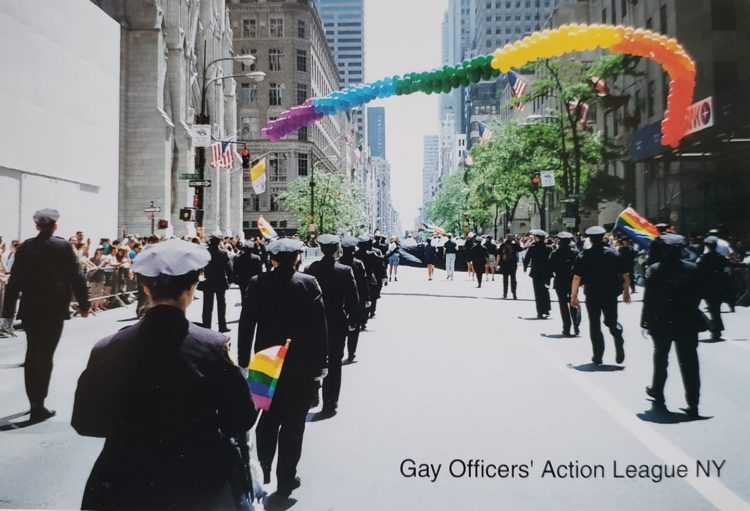 By Edgar Rodriguez | After learning that the organizers of New York City's LGBTQ Pride March had banned Gay Officers Action League (GOAL) I felt a deep sense of abandonment.
I am a proud gay, Latino, former president of GOAL, and retired NYPD sergeant. For years, I worked through GOAL to make the NYPD a better place for LGBTQ employees and to change its interactions with the LGBTQ community for the better. We took our inspiration from Black officers organizing to fight racism within the NYPD and the ways in which the department targeted Black communities.
The going was not easy. It is painful to recall what our members went through—abuse, denied promotions, hateful graffiti on precinct lockers, officers wearing gloves when around us for fear of contracting AIDS, not being backed up when we called for help, enduring fist fights, death threats, and being on suicide watch for our members that were in crisis as a result.
Because many in the NYPD felt that LGBTQ officers were a disgrace to the department, they refused to allow us to march in the Pride parade in uniform until we sued them. And when we witnessed the discriminatory ways in which people of color, and people with AIDS/HIV, and trans people were treated by members of our department we spoke up or testified in court, at great risk to our careers and safety. I still experience nightmares from those years.
Nonetheless, we persevered, and in many respects, we made real progress. On-the-job harassment declined, we developed advanced LGBTQ educational training at the Police Academy, and tensions cooled in the policing of HIV and LGBTQ protests. Deeply seated and community-scorching policies and practices were met head on and there was progress. Nonetheless there is still so much work to be done and attitudes against progressive change remain firmly entrenched. We believe that fighting from the inside for change is just as important as grassroots and political pressure from the outside.
We would never have had the fortitude or moral courage to keep pushing without each other and the vocal support of our own community. Time and again, LGBTQ civic, political, and social groups backed us up, demanding more from the NYPD. That support provided a critical shield in preventing systemic punishment of GOAL's leaders and members.
GOAL's participation in the annual Pride march—starting in 1980—has been a critical way in which our members have gathered strength and love from our community. The march is where we go to find the energy and resilience to keep pressing forward. I have witnessed a sea change in the officers that for years have lined the parade route for its security. In the early years we were met with cops with scornful looks, spitting on the ground in front of us, many on horseback turning and presenting their horses asses to GOAL. Today many police officers smile, wave, clap, and some literally embrace us with hugs along with the rest of the diversity of our LGBTQ community.
I have also lost count at the number of people I have met, including police officers, many of them people of color, who have broken through decades of internalized homophobia and transphobia and came out of the closet because of the very experience of being assigned to the parade and watching GOAL marching and seeing the exhilaration shared between GOAL and the communities lining the parade route.
To onlookers, I think GOAL represents the courage we all want to have to be out and proud even in the face of systems checkered with ignorance, racism, homophobia, and transphobia. GOAL's members represent hope that things can change for the better and that the most racially diverse and nonbinary inclusive organization in the criminal justice system is there for them to safely reach out to when they themselves are victimized.
This isn't hyperbole—the rapturous and mutual reception GOAL always receives is the case in point. We are told the only groups receiving such an amazing response are LGBTQ seniors (SAGE) and parents of LGBTQ people (PFLAG).
This is exactly why the decision to ban us is so hurtful and ungrounded. We are individuals working to make the world a better place and to take care of our families and neighbors. We have always been deeply committed to structural change within the NYPD. We are neither political pawns nor the enemy. We are LGBTQ and, with pride, insist upon a place in our community's Pride march.
Editor's note: Upon the request of the author, included is the text of an email he received which has been included as part of his viewpoint:
Dear Edgar,
I am Karen Ellen Kavey from long, long-ago- you may remember me, though it's been a very long time since we've seen each other. I hope you are well; our family is fine; I'm now a grandmother of three! I have been thinking about you. I had originally written (a form of this) for inclusion in the New York Times, but then, the Times has ended the 'Comments Section'. However, I still want you to know my feelings.
Edgar Rodriguez, the former director of GOAL (Gay Officers Action League), has been a major influence in my life. He came to my attention in the early 1990s, when I had no understanding of LGBTQ+ issues.
He appeared, at that time, in a TV program in which he spoke about his Pride: both in being a member of the NYPD and in being a gay man. Edgar 'stepped up to the plate' and was courageous during very difficult times; and the positive, long-term results of his Visibility are still being felt today.
I later met Edgar at a GLSEN seminar; in which he told of his experiences as a gay officer; speaking in a powerful, moving way about his struggles, his confidence and his hopes for the future. My husband and I then walked with him, carrying candles, down 5th Avenue, during the vigil for Matthew Shepard.
We were together, herded west, during the alarming "43rd Street incident" but were able to retrace our steps and continue our peaceful march to Madison Square Park.
We also sat with Edgar's parents as he was honored by the Anti-Violence Project for his ground-breaking work in creating community. And with my family: we together attended the Friday evening concert held the night before the LGBTQ+ 'March on Washington' in our nation's Capitol.
We are so honored to have had Edgar as a part of our lives. Having worked as a public health nurse in East Harlem during the 1967 Civil Disorders, walking through the streets during that period of chaos … with snipers on the rooftops and all that fear and confusion, I do recognize the tensions that existed then.
And I know that these same tensions are still very keenly felt today, and with good reason, by all marginalized people. But, to "cast out" those officers, like Edgar, who have helped to bring humanity, vital information, safety, honor and understanding into this tumultuous, fractured world is a grave error. Edgar opened people's eyes. And in doing so, he saved lives.
I am appalled that he is not welcomed to participate in this annual, historic celebration … as an officer.
~ Karen Ellen Kavey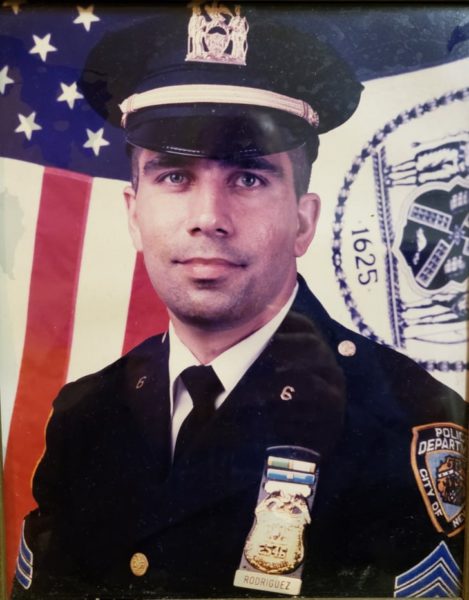 Edgar Rodriguez was born in Harlem, and raised in the Castle Hill section of the Bronx and is currently a Manhattan resident. As a rookie cop he acknowledged that he was gay. He participated in the first recruitment poster ever developed to recruit lesbians and gays into the NYPD.
As the first openly gay police supervisor in NYPD's Greenwich Village Precinct, he assembled the first racially diversified, team of LGBQ police officers specifically charged to recruit LGBQ candidates for the NYPD.
As Gay Officers Action League President from 1997-2000, he initiated a campaign to disassociate the NYPD from partnerships with agencies that discriminate, like the Boy Scouts of America.
He has received recognition for his work on the Mayor's Police Council and honored as the recipient of the Puerto Rican Initiative to Develop Empowerment's PRIDE Award, and the New York City LGBTQ Anti-Violence Project's Courage Award.
WeHo ignores data on LASD in latest budget proposal
LASD misled city council on its contract & on crime rates, on June 27, the city will discuss rewarding them with a $1 million budget increase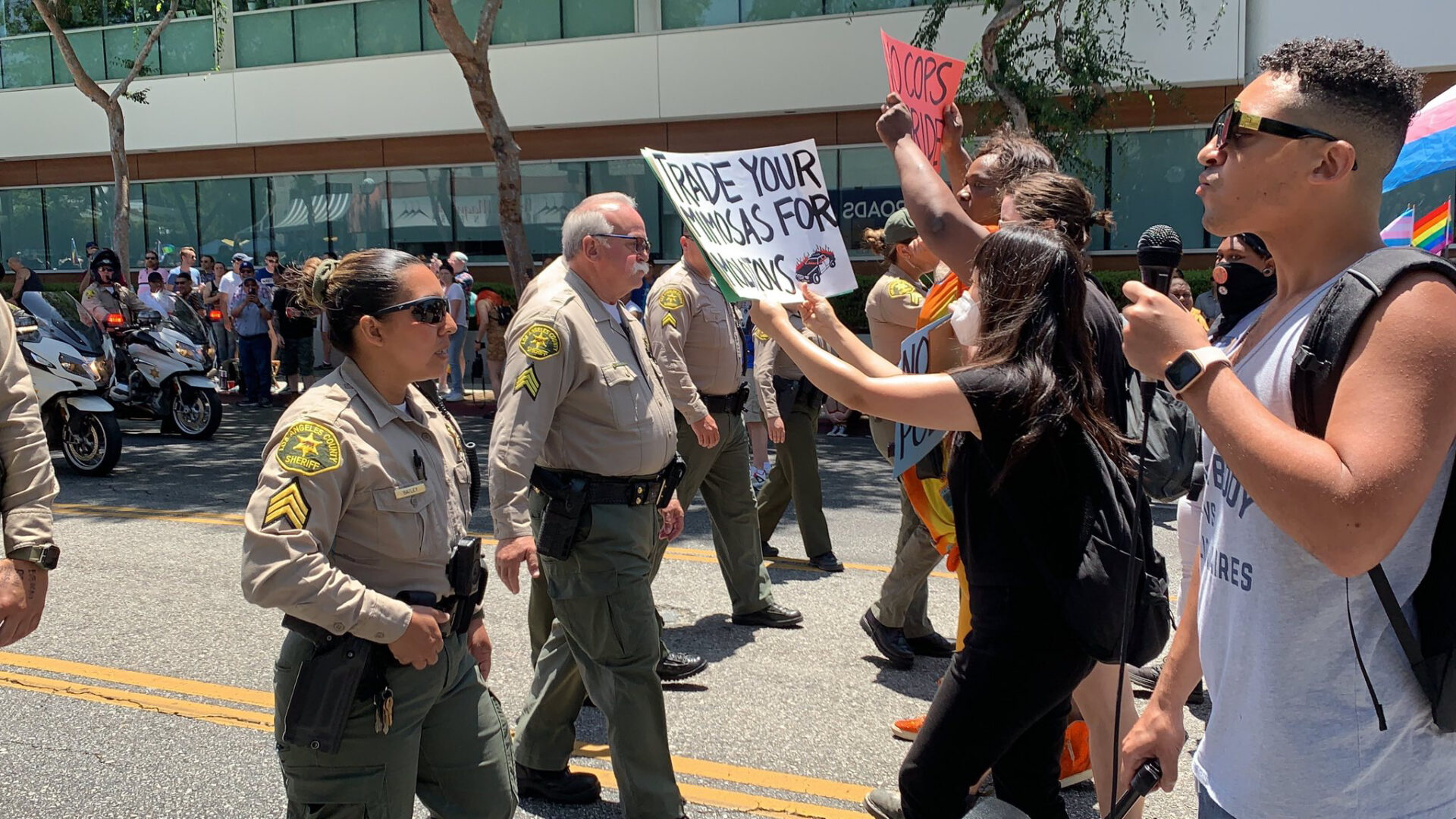 By Nika Soon-Shiong | WEST HOLLYWOOD – West Hollywood's Public Safety Commission passed a motion to reallocate $3.2 million from the annual sheriff's contract to much needed social services.
In exchange for recovering two out of 249 stolen phones, the council will discuss a $1,030,000 contract increase to support training for undercover sting operations. Zero cell phones were recovered from dimly lit, noisy nightclubs in the sting operations so far. The $22.15 million LASD contract will soak up one fifth of the city's budget.  
One out of every five calls to the WeHo sheriff's department is to address homelessness. An unprecedented campaign to reallocate dollars from LASD to social services has been supported by the 17th president of the NAACP, founder of CalEITC4Me, former mayors, and more.
As one resident shared in the outpour of public comments to the June 6 City Council meeting, "We need less money for cops, and more money for things like mental health, social services, and unarmed security."The commenter said they'd witnessed armed LASD officers sitting around in their cruiser, not attending to a deceased elderly neighbor's body and instead waiting for the coroner's office to handle the situation.
The commenter also said they personally experienced being met with armed LASD officers just to report that their identity had been stolen. "I had to ask two [officers] to come to my unit and stare at my modem," the commenter said. "All of this is such a waste! There is no reason to send highly paid and trained soldiers to do the type of work that a low-level bureaucrat could do."
Let's put the sheriff and social services budgets into perspective with two examples: the cost for an 18 month-guaranteed income pilot for LGBTQ+ residents versus three days of law enforcement at the city's Pride events.
WeHo announced a guaranteed income pilot delivering $1,000 per month to elderly LGBTQ+ residents. After a legal debate over the program's discrimination against straight people, applications will re-open late June. Over a year after the pilot was announced, only 25 people will be selected.
There was little debate around spending even more than the total guaranteed income payments for the LASD to patrol Pride. As one ACLU SoCal lawyer shared to City Council:
"Pride was, and still is, a protest. Instead, WeHo made Pride into a parade for the sheriff… The department is openly bamboozling you, the city, and other contract cities. We can all see it."
Other commenters matched this sentiment, reflecting that voters are ready for change:
"Rainbow-wrapped cars do nothing for the community," said one commenter. "WeHo filled Pride with deputy gangs," said another."
LA City controller candidate Kenneth Mejia's historic lead in the recent primary demonstrates the demand for common-sense budgets backed by clearly communicated and transparent data. So far, Mejia has won almost double the votes of an established, career politician of 35 years, and has nearly the same vote tallies as the leading mayoral candidates, using a platform of financial education.
It's been a year since the city asked the WeHo sheriff to audit the department's own performance. This summer, the city will spend $500,000 for an external auditing firm to audit the sheriff's audit. The plan to "audit the audit" starkly reveals the level of trust this department has earned.
It's true that WeHo residents are not feeling safe. A community study showed that, in 2013, only 43% of residents felt very safe. A robust sheriff presence was the primary solution offered. Five years later, in 2018, even fewer felt very safe: only 26%.
It's also true that there is no correlation between the rising costs of the sheriff contract and crime reduction. Who gave us this data? The sheriff's department itself.
Let's remember that reducing the LASD contract does not even imply there will be fewer officers in WeHo. According to the LA County CEO, the LASD hired or promoted 1,900 new employees during the "hiring freeze" and is not prevented from assigning deputies to contract cities.
In Denver, a Support Team Assisted Response (STAR) Program sent mental health clinicians, paramedics, or emergency medical technicians to respond to low-risk calls coming into the 911 system. Most of the 15.6 million calls to the STAR team did not involve a safety concern or weapon.
The program reduced crime by 34%. We can let an alternative emergency response team take similar calls in WeHo, where each single LASD deputy could pay for three social service or mental health workers. For the cost of one officer, we could buy new iPhone 13s for each resident who was pickpocketed, and still have 109 phones left over at City Hall.
The $3.2 million LASD contract reduction could quadruple the number of unarmed Block by Block Security Ambassadors to 110 people. There could be a Block by Block Security Ambassador on every corner of the two square mile city.
Investing taxpayer dollars into the gigantic LASD bureaucracy has never been an effective solution to address homelessness or crime. Direct cash programs reduce crime. Alternative emergency response teams reduce crime.
Perhaps this doesn't matter when perception trumps reality. We have a chance to change both and set an example for other contract cities by investing in more effective –– and fiscally responsible –– solutions to public safety.
There's an ongoing petition for the city to reallocate $3.2 million from LASD to social services.
The public has from June 23rd onwards to submit written public comments before the city's budget is finalized at the June 27th City Council meeting.
********************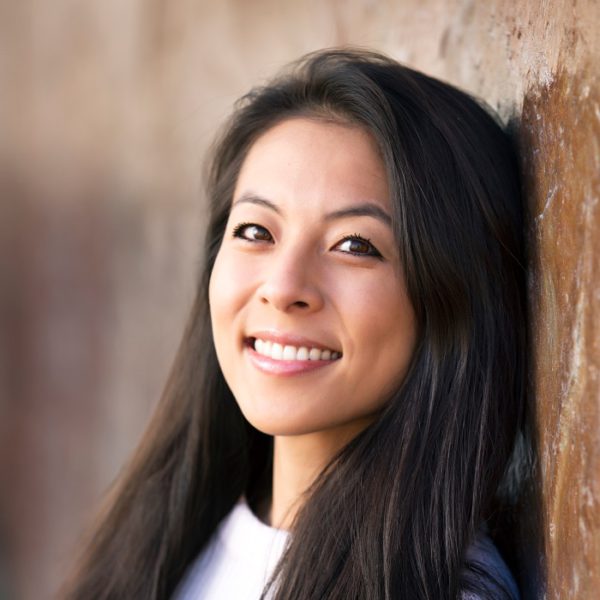 Nika Soon-Shiong is the Public Safety Commissioner for the City of West Hollywood.
Additionally she is the Founder @fund4gi, Director @ComptonPledge, Board Chair @onefairwage and a PhD Candidate @UniofOxford
********************
The preceding article was previously published by Knock LA and is republished by permission.
To Biden: No Pride in detention of Transgender, queer communities
Jennicet Gutiérrez declines to attend White House Pride event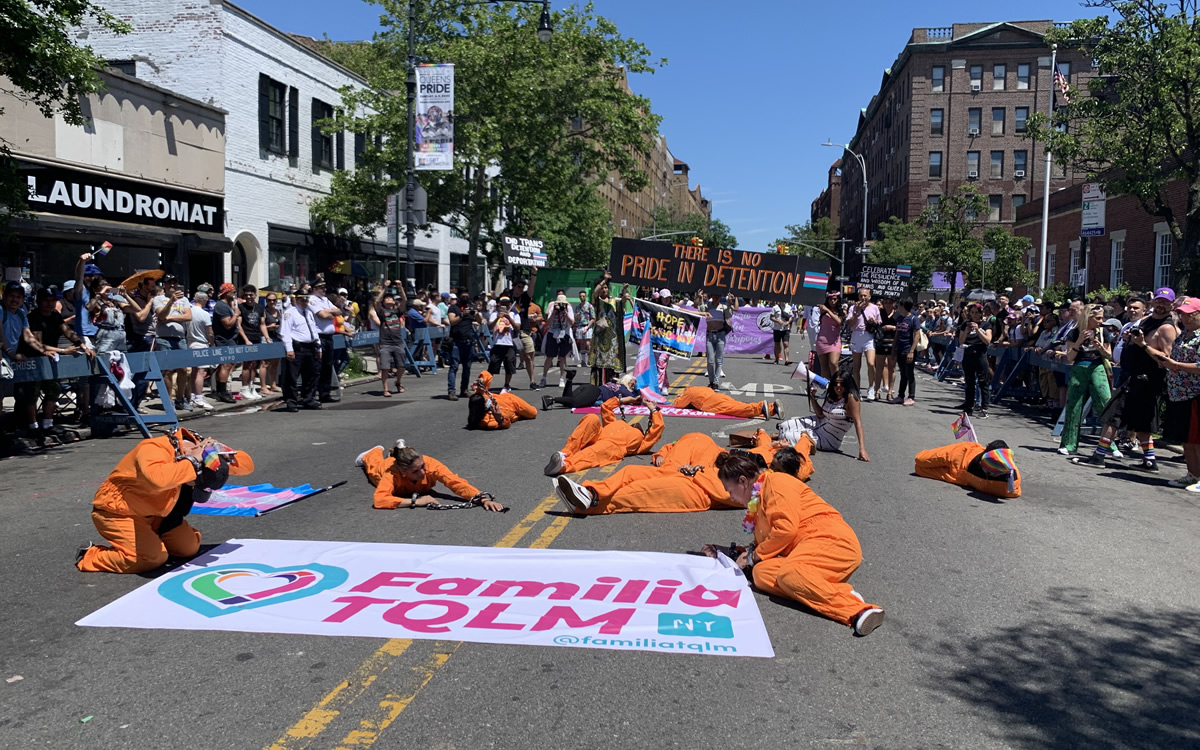 Editor's note: This is the letter that Jennicet Gutiérrez sent to the White House in response to the invitation she received to attend its Pride Month celebration.
June 13, 2022
Dear President Biden and Dr. Biden,
I received your invitation to the White House Pride Celebration on June 15, 2022, and with a clear conscience I am letting you know that I will not be attending this event. There should be no White House celebration when Trans and queer communities are suffering and being detained by your administration. There is no pride in detention.
At the start of your administration you pledged to protect LGBTQ+ people worldwide, but it's a commitment that you have failed to uphold at home.
Almost a year ago, while you were holding a Pride reception, Trans and queer immigrant leaders from across the nation marched to the White House, demanding the release of trans people, people living with HIV, and any medical condition, from detention centers across the country. We are still seeking justice for Victoria Arellano, Roxsana Hernández, and Johana Medina, trans women who died because of the negligence of Immigration and Customs Enforcement (ICE).
Our members across the country are marching and protesting this Pride Month with the same demand of ending the violence and killings of Trans people. There have been over two million deportations since you took office, setting you up to be the next deporter-in-chief. Your administration has used Title 42 as an excuse to deport immigrants seeking a better future, most of them Black and brown people and including Trans and queer immigrants, even as your administration is relaxing requirements for people traveling to the United States. More than 32 states have drafted bills that would criminalize trans youth and their families for providing life affirming healthcare. Transgender people and children are under attack by the same white supremacist forces that are plaguing our nation and we haven't seen your administration's response be enough in the face of these attacks.
The reality is that as this celebration is taking place, Trans people currently in ICE custody will be in unsafe conditions. You could easily stop their suffering by instructing the Department of Homeland Security to implement a policy of liberating Trans people, people living with HIV and other medical conditions, as well as other vulnerable people.
Ending Trans detention and using your executive powers to protect LGBTQ people would have a greater impact on our community and would save many lives rather than hosting an event to deliver a well-crafted speech with broken promises.
Respectfully,
Jennicet Eva Gutiérrez
—
13 de julio del 2022
Estimados presidente Biden y Dr. Biden,
Recibí su invitación a la Celebración del Orgullo de la Casa Blanca el 15 de junio de 2022 y con la conciencia clara les hago saber que no asistiré a este evento. No debería haber celebración de Orgullo en la Casa Blanca cuando las comunidades trans y queer están sufriendo y siendo detenidas por su misma administración. No hay orgullo en la detención.
Al comienzo de su administración, se comprometió a proteger a las personas LGBTQ + en todo el mundo, pero es un compromiso que no ha podido mantener en casa.
Hace casi un año, mientras celebraban una recepción de Orgullo, líderes inmigrantes trans y queer de todo el país marcharon a la Casa Blanca, exigiendo la liberación de las personas trans, las personas que viven con el VIH y cualquier condición médica, de los centros de detención de todo el país. Todavía estamos buscando justicia para Victoria Arellano, Roxsana Hernández y Johana Medina, mujeres trans que murieron debido a la negligencia del Servicio de Inmigración y Control de Aduanas (ICE).
Nuestros miembros en todo el país están marchando y protestando este mes del orgullo con la misma demanda de poner fin a la violencia y los asesinatos de personas trans. Ha habido más de dos millones de deportaciones desde que asumió el cargo, lo que lo prepara para ser el próximo jefe-de-deportaciones. Su administración ha utilizado el Título 42 como una excusa para deportar a los inmigrantes que buscan un futuro mejor, la mayoría de ellxs personas Negras y personas de color, e incluyendo a inmigrantes trans y queer, mientras su administración está relajando los requisitos para las personas que viajan a los Estados Unidos. Además, más de treinta y dos estados han redactado proyectos de ley que criminalizan a los jóvenes trans y sus familias por proporcionarles atención médica que afirma su género y salvan sus vidas. Las personas transgénero y los niños están siendo atacados por las mismas fuerzas supremacistas blancas que están plagando nuestra nación y no hemos visto que la respuesta de su administración es suficiente frente a estos ataques.
La realidad es que a medida que se lleva a cabo esta celebración, personas trans actualmente bajo custodia de ICE estarán en condiciones inseguras y peligrosas. Usted podría parar fácilmente su sufrimiento instruyendo al Departamento de Seguridad Nacional para que implemente una política de liberación de personas trans, personas que viven con VIH y otras condiciones médicas, así como otras personas vulnerables.
Poner fin a la detención trans y usar sus poderes ejecutivos para proteger a las personas LGBTQ tendría un mayor impacto en nuestra comunidad y salvaría muchas vidas en lugar de organizar una celebración de Orgullo para pronunciar un discurso bien elaborado con promesas incumplidas.
Respetuosamente,
Jennicet Eva Gutiérrez
Think twice about attacking Trans individuals this election cycle
Elected officials targeting trans people are harming their constituents. Morality, civility, & well-being of children demands they stop
By Lisa Turner | WASHINGTON – On May 25, 2022 Oklahoma Governor Kevin Stitt signed a bill into law which requires students at public schools to use restrooms and locker rooms that match the sex listed on their birth certificates.
This is the second anti-transgender law passed in Oklahoma just this year, and is one of the latest examples of an avalanche of state-level legislation targeting the rights of LGBTQ and transgender Americans. More than 320 anti-LGBTQ bills have been introduced in state legislatures across the country since 2021. 
The situation has turned dark in Ohio, where a bill was passed in the State House that would not only ban transgender girls and women from participating in high school or college athletics, but also includes a "verification" provision which would allow authorities to examine the genitals of student athletes suspected of being transgender.
This comes on the heels of anti-transgender legislation becoming the law of the land in Alabama, Arizona, Florida, Iowa, South Dakota, and Utah, among others. In South Dakota, Gov. Kristi Noem even went so far as to run a national television ad touting her "leadership" on the issue.
These attacks on transgender rights have also taken the form of executive action. In Texas, Governor Greg Abbott has instructed state agencies to investigate the parents of transgender youth for child abuse. His directive also requires teachers, doctors, and nurses to report the parents of transgender kids or risk losing their professional licenses. While this executive order in Texas has been temporarily stayed by a Federal court, governors in other states have already indicated they plan to take similar actions.
The average person who sees news about laws or policies about transgender participation in sports or youth healthcare may think they seem reasonable, but these bills and policies are not reasonable, and are dangerously extreme.
Conservative elected officials are using the rights of transgender youth as a wedge issue to divide voters and rile up their base. It is not surprising that the most recent and vocal governors signing anti-transgender legislation have Presidential aspirations. So, will it work?
LPAC Action Network recently took the unprecedent approach of studying the attitudes of registered voters, both nationwide and in swing Congressional districts, when it comes to transgender rights and legislation. This study, conducted in partnership with Lake Research Partners and consisting of focus groups and polling, shows that the public disagrees with this wedge.
Among the key findings:
● A majority of voters are concerned about discrimination and bias towards transgender people.
● A plurality of voters say they are more likely to support a candidate who stands up for transgender rights and inclusivity.
● Voters strongly identify with pro-equality values like freedom, respect, trust, opportunity, and belonging.
● After seeing messaging rooted in those values, even more voters, a majority of 56%, say they are more likely to support a candidate who stands up for transgender rights and inclusivity. Even a plurality of 38% of Republicans say they are more likely to support pro-transgender candidates.
Beyond public opinion, these actions targeting transgender youth are morally bankrupt. On the whole, transgender girls do not have an advantage in athletics. Transgender girls have been legally allowed to compete in women's sports in California for almost ten years, to almost no controversy. And transgender children who in consultation with their parents and medical professionals receive gender-affirming care are simply receiving healthcare, they are not being abused. It is true, however, that transgender youth are uniquely vulnerable. They are more than twice as likely as their peers to report being bullied, and more than four times more likely to have attempted suicide. Bills and policies like these only further isolate and distress transgender youth.
If restrictions on transgender children's ability to compete in sports or access healthcare is not addressing actual societal issues, we must ask ourselves, what purpose do they serve? Who thinks they benefit? The answer seems clear: conservative politicians.
There is a lot of pain in our country right now, especially among those of us who value human rights and freedom, due to the choice conservative politicians have made to target transgender people. It doesn't have to be this way and it shouldn't be this way. Our research shows advocates of equality can push back on this divisive, harmful, and dangerous strategy. And history, whether it be the example of Don't Ask Don't Tell or marriage amendments, shows that in the long-term attacks on equality are ultimately counterproductive.
Elected officials who target transgender people are doing untold harm to their own constituents. Morality, civility, and the well-being of children demands they stop. But if that isn't enough, hopefully political reality will make a difference.
*********************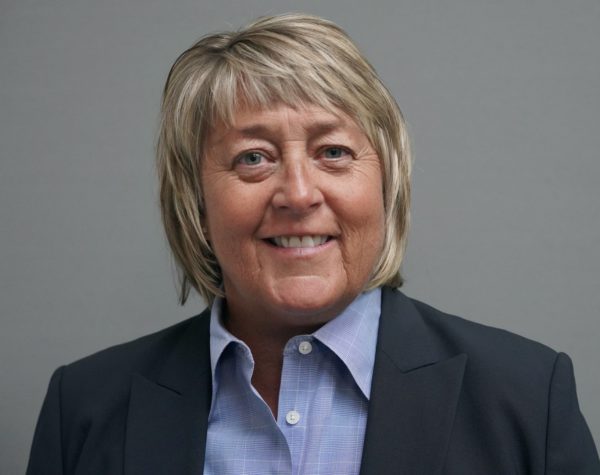 Lisa Turner is the Executive Director of LPAC, the national committee supporting LGBTQ+ women candidates running for political office.
Turner served in the Obama Administration as a political appointee at USDA and HHS. She has worked on the national political scene for many years as a campaign consultant to numerous federal, state, and local candidates, campaign committees, and progressive donors. Turner is a graduate of Old Dominion University and the UVA Sorensen Institute of Political Leadership. She currently serves as Chair of the Virginia LGBTQ+ Advisory Board.