West Hollywood's 'Pride Walk,' a return to historic LGBTQ+ activism roots
"We wanted to be there "to show our pride openly and honestly and receiving the love back from the people in the street is the best."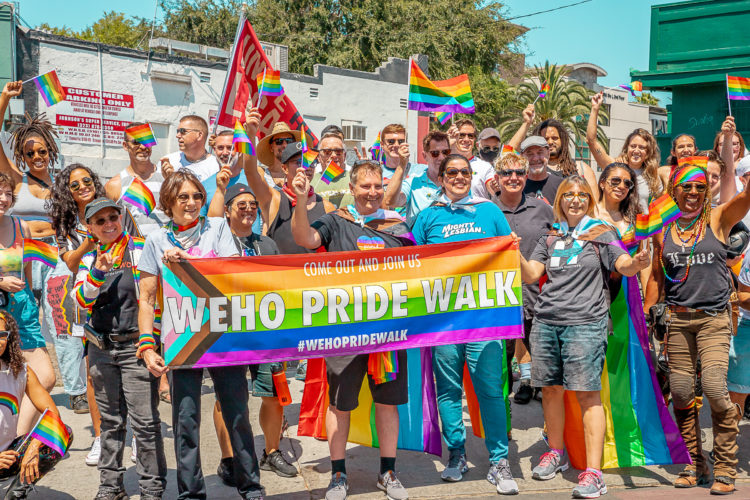 WEST HOLLYWOOD – About 100 people gathered at North Crescent Heights and Santa Monica Boulevard Sunday morning, for an ad hoc Pride Walk organised by the publisher of the Los Angeles Blade, Troy Masters, which also included more than a dozen members of the Southern California Motorcycle Contingent for Equality.
Though he had called for a simple no sponsor, non-permitted and organic march in an April editorial and again in early June in the paper and also created event posts on social media, only 120 or so people expressed an interest.
"I was having a little bit of trouble getting Pride Walk off the ground so I thought to myself, I need some lesbians," said Masters to the delight of the crowd after being honored by West Hollywood City Council member Sepi Shyne for organizing the walk.
The City of West Hollywood and the West Hollywood Chamber of Commerce commissioned a number of business activities and turned Robertson Boulevard into a festival atmosphere, but there was no plan for a march for the first time in more than 50 years.
"Pride Walk was intended to make sure that did not happen, Covid be damned," Masters said.
Marna Deitch, a Southern California Motorcycle Contingent for Equality leader and a social media organizer of Pride Walk, kicked off and led the walk with more than a dozen bikers, leading about 75 walkers with her motorcycle contingent.
"We wanted to be there "to show our pride openly and honestly and receiving the love back from the people in the street is the best. Seeing more of that over the decades keeps me optimistic to continue our fight, our Pride," said Deitch.
Though the LASD presence was not requested, deputies showed up anyway at which point Deitch and Masters negotiated marcher's access to the streets with the Commander of LASD West Hollywood substation, Lt William Moulder. The march was unpermitted and unsanctioned by the City of West Hollywood, however, Moulder allowed the bikes and the marchers to slowly navigate their way through the traffic along Santa Monica Blvd., escorted by several LASD units.
The spirit of the crowd was very matter of fact, with lots of socializing and flag waving, responding to the honking of car horns and the cheers and applause of bystanders on the sidelines.
Mary Jo Godges and Rene Sotile, the Emmy award-winning filmmaking team (and married couple) marched at the front of the crowd with Masters, holding a simple rainbow banner that read "Come out and Join Us" "WeHo Pride Walk" "#WeHoPrideWalk." Sotile is also a member of West Hollywood' Lesbian and Gay Advisory Board.

Among the walkers, which included WeHo City Councilmember Sepi Shyne, were several members of the Lesbian and Gay Advistory Board, LGBTQ and AIDS non-profit executive directors, business owners and activists, but the event was intentionally low-key and there were no speeches planned and no rally in advance.
At one point, Alex Mohajer, an actor, author, artist, and LGBTQ+ activist, gave a marching speech that reminded walkers of the history of Pride marches, walks and parades.
And it was even educational- Mohajer and Masters joked at the intersection of La Cienega and Santa Monica that "we should have a die-in right here." "What is a die-in," asked a young woman. Mohajer explained that in many instances over the years "it's what we had to do to express our rage and get their attention. And we are not at a place yet that is safe.
A young lesbian couple expressed astonishment upon learning that Pride marches and walks once included die-ins. "I never heard anything about that. That's amazing."
"Stonewall was a riot, and 52 years later it's more important than ever that LGBTQ+ people remember our own history of activism and dissent. Our fight is not over, and I'm proud to march today in honor of those who came before us in the fight for equal justice," said Mohajer, who is also a candidate for President of the Stonewall Democratic Club.
Photo Credit: Project Angel Food ED Richard Ayoub, (Right) with Remi Beverly
Richard Ayoub, Project Angel Food Executive Director said "When I walk in the pride parade every year there's always at least one person in the crowd who, is a Project Angel Food client, and mouths to me "Thank you. And although this walk was much smaller it had the sane impact— a client expressed his gratitude in a quiet and respectful way. This was the perfect way to cap pride month."
"Only the Weho LGBTQ community can come together like this last minute and have the showing and support that it did," Ayoub added.
The march continued along Santa Monica Boulevard to Robertson where the crowd gathered for a group photo.
As the first West Hollywood Pride Walk came to a conclusion in a parking lot across from the Abbey on Robertson, Masters stepped onto the "Born This Way" mural and kept his remarks brief. "I have a 4-word speech to give: Thank you for everything."
Unprovoked attack in WeHo may be latest in a string of violent crimes
McGrath spent two weeks in the hospital and underwent multiple surgeries due to injuries that doctors told him were caused by a blunt object
WEST HOLLYWOOD – After an evening out with friends in West Hollywood at the Abbey on November15, Matthew McGrath found himself in hospital the next day with a fractured jaw and his wallet and mobile phone missing.
According to McGrath, who has lived in WeHo for five years, he was walking home along San Vicente Boulevard when he heard "some slurs, some profanity." "I'm not exactly clear on what, [happened next] but sort of a few minutes later, I just felt a really blunt force to my head, blacked out and was knocked unconscious," he told KTLA.
McGrath spent two weeks in the hospital and underwent multiple surgeries due to injuries that doctors told him were caused by a blunt object KTLA also noted.
He said that he has filed a report with the West Hollywood Sheriff's substation about the assault and theft but as of Friday had not received a response.
KTLA also reported that the night after McGrath was assaulted, a person was beaten and stabbed on Santa Monica Boulevard. David Cook, 44, was arrested for that stabbing last month. There were also two similar attacks involving a different man using a baseball bat and a boxcutter on Nov. 18 resulted in another arrest last month the West Hollywood Sheriff's Station said in a statement posted to the webpage for the LASD.
"I've always felt safe in this neighborhood," McGrath told KTLA. He observed that although his attack was unprovoked given the other cases and arrests the timing seems suspicious. "We get a crime here or there in West Hollywood, but I have never heard of it happening multiple days in a row," he said. "Similar assaults, similar attacks, it just doesn't make a lot of sense to me."
A GoFundMe page has been created to help McGrath.
********************
WeHo attack leaves victim shaken, could be part of larger crime trend
The Los Angeles Blade celebrates West Hollywood as it turns 37
The City of West Hollywood was incorporated on November 29, 1984 by a coalition of LGBTQ activists, seniors, and renters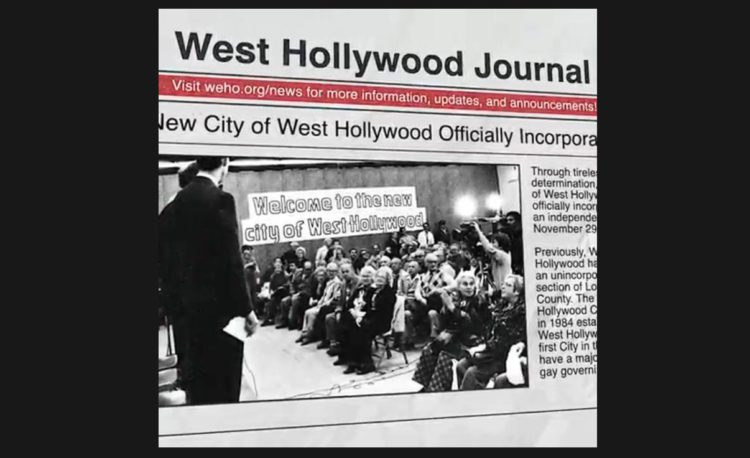 LOS ANGELES – Incorporated on this date 37 years ago, the City of West Hollywood became the 84th city in Los Angeles County. The "Creative City" was formed during an extremely difficult time for the LGBTQ+ people who lived in the region as the HIV/AIDS pandemic took countless lives.
The city's founding was also unique as it brought together an eclectic mix of renters, seniors, LGBTQ+ and others to form the basis of what is arguably one of the world's most prominent LGBTQ+ communities.
The City of West Hollywood was incorporated on November 29, 1984 by a coalition of LGBT activists, seniors, and renters. Since then, #WestHollywood has been the progressive leader for cities nationwide.

Take a look back at this past year in #WeHo! Happy West Hollywood Day! 💙 pic.twitter.com/GK1cHLFtxt

— City of West Hollywood (@WeHoCity) November 29, 2021
The spirit of that inclusivity and free-spirited thinking continues today even as the city and the surrounding greater LA region has survived yet another pandemic.
Celebrate West Hollywood's 37th Birthday!
City of West Hollywood marks World AIDS Day
World AIDS Day is to unite in the fight against HIV/AIDS, show support for people living with HIV, & commemorate people died from HIV/AIDS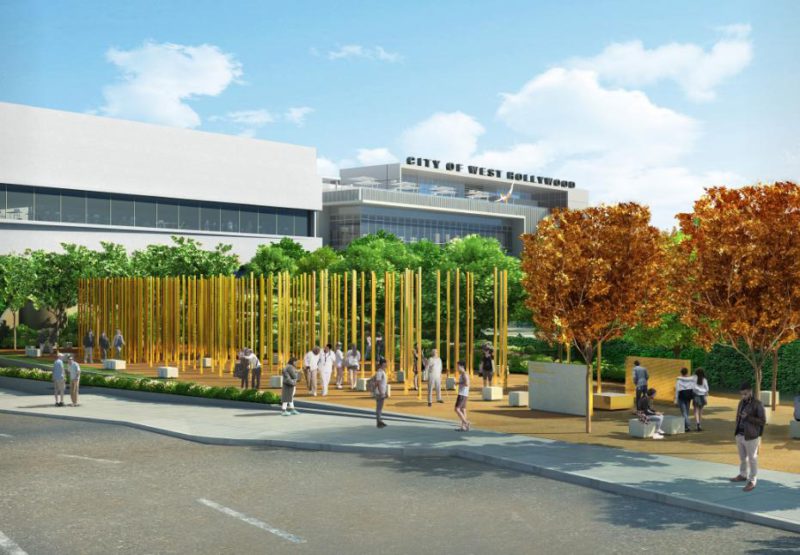 WEST HOLLYWOOD – Each year, the City of West Hollywood recognizes World AIDS Day. World AIDS Day originated at the 1988 United Nations World Summit of Ministers of Health on Programmes for AIDS Prevention and is held each year on December 1.
Every year, United Nations agencies, governments, nonprofit organizations, and civil society join together to campaign around specific themes related to AIDS. World AIDS Day is an opportunity for people worldwide to unite in the fight against HIV/AIDS, to show support for people living with HIV, and to commemorate people who have passed away due to HIV/AIDS.
The international theme of this year's #WorldAIDSDay is "End Inequalities. End AIDS. End Pandemics."
"So many have left us much too soon due to HIV and AIDS. The City's annual recognition of World AIDS Day is an opportunity for us to commemorate those lost to AIDS and support those living with HIV," said City of West Hollywood Mayor Lauren Meister. "We remember the extraordinary loss of loved ones over the last four decades, as well as our community's remarkable resilience in the face of that loss. The City will continue to fight to end stigma, to support access to medical and emotional care, and to provide resources and support for those in need as we continue to work toward the day we can celebrate the end of suffering and loss caused by AIDS."
This year, the City of West Hollywood will recognize World AIDS Day with special events and programming, including:
AIDSWatch, the electronic memorial to those lost to HIV, which will be viewable on the City of West Hollywood's WeHoTV broadcast channel — Spectrum channel 10 within the City of West Hollywood — on Wednesday, December 1, 2021 beginning at midnight through 11:59 p.m.; and
The Paul Andrew Starke Warrior Awards presentation, which will take place virtually on Wednesday, December 1, 2021 at 6 p.m., and can be viewed on the City's WeHoTV YouTube Channel at www.youtube.com/wehotv. The event will feature the Warrior Awards, which are given to outstanding employees or volunteers of local agencies that offer HIV/AIDS and/or substance abuse prevention and care services. This year's honorees are: Darrin Aiken – APLA Health; Jamie Baker – Being Alive; Derald Hunter – Los Angeles LGBT Center's WeHo Life program; Triana Maldonado – Friends Community Center; Anil Patel – Alliance for Housing and Healing; William Alexis Rogel – The C.I.T.Y. x1 Youth Group; and Desiree Jade Sol – AIDS Healthcare Foundation. The event will also feature an update about the City of West Hollywood's HIV Zero Initiative from Aaron Celious, Ph.D. of the Maroon Society. 
The City of West Hollywood is currently seeking feedback about stigma experienced as a result of sexual orientation, gender identity, or HIV status. The City's Social Services Division has launched a short survey, as part of efforts to implement the City's HIV Zero Initiative. Community members, regardless of HIV status, are encouraged to provide feedback. A goal of the survey is to understand how stigma impacts access to care and overall health and wellness. The survey is available at: https://www.weho.org/services/social-services/hiv-aids-resources.
The onset of the HIV/AIDS epidemic had a significant impact in West Hollywood. The disease's elevated infection rate among gay men caused a devastatingly high number of deaths in the City. The City of West Hollywood was one of the first government entities to provide social services grants to local HIV/AIDS organizations. The City of West Hollywood sponsored one of the first AIDS awareness campaigns in the country in October 1985 and the City's response to the AIDS crisis has been recognized as a model for other cities, nationally and globally.
The City of West Hollywood actively participates in the development of programs that can bring awareness about the HIV/AIDS epidemic and services to people living with HIV/AIDS. In January 2015, the City announced its vision to become an 'HIV Zero' city. The City is currently implementing its HIV Zero Initiative.