Dazzling dance doc celebrates the legacy of an AIDS-era masterpiece
It was also a period when AIDS was ravaging the dance community, decimating the ranks of companies- casting its dark shadow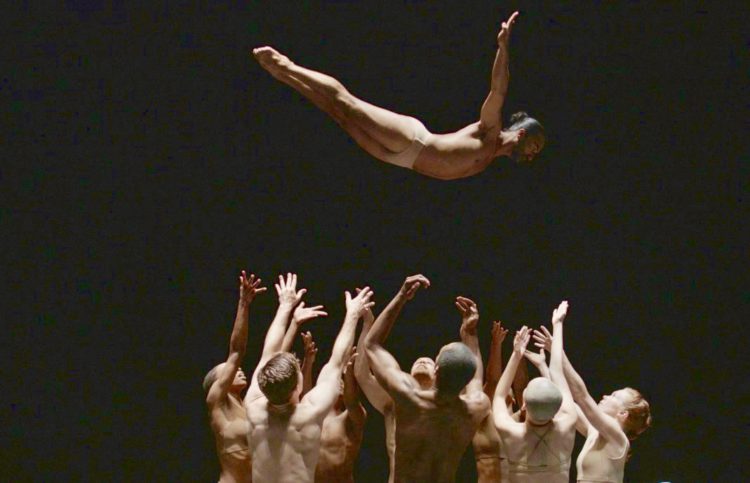 NEW YORK – Once upon a time in New York City, Bill and Arnie formed a dance company.
They had met each other in 1971, falling in love at first sight across a crowded room at SUNY, and spent the next decade exploring their lives and their art together. Arnie was a photographer, at first, but his fascination with the human body and its movement – stoked by his collaborations with Bill, a dancer who was his muse and favorite photographic subject – soon led him to become a dancer himself.
Together they found acclaim as a team, creating their own works as part of the American Dance Asylum during a rise which culminated in the birth of the Bill T. Jones/Arnie Zane Company in 1982. What followed was a brilliant and prolific period in which the two partners were among the most celebrated dance artists in the New York scene.
It was also a period when AIDS was ravaging the dance community, decimating the ranks of companies all over the city and casting its dark shadow over much of the work being produced at the time. Bill and Arnie, charmed as their lives had been, could not escape that shadow, and Arnie Zane died of AIDS-related lymphoma, at the age of 39, in 1988.
That bittersweet true-life love story would make for a profoundly moving documentary on its own strength alone, but the film delivered by co-directors Rosalynde LeBlanc and Tom Hurwitz has its sights on something bigger than that. "Can You Bring It: Bill T. Jones and D-Man in the Waters" is the story of what happened after Zane's untimely passing, and it illuminates the way that art provides a channel for the personal to become universal and give expression to the shared trauma of an entire community.
The new documentary, which debuted at the DOC NYC film festival and opens in select theaters and virtual cinemas nationwide on July 16, is not about Bill and Arnie, nor even about Bill himself – though his name is in the title and he appears extensively onscreen, both in contemporary and archival footage – but about the seminal ballet which came in the wake of Arnie's passing. "D-Man in the Waters" was mounted in 1989 by Jones and the company he and Zane had started, shaped by a creative process through which both he and his dancers found expression for the myriad emotions spawned by their loss.
Set to Felix Mendelssohn's soaring Octet for Strings, the piece captures the infectious energy, innocence and will to survive of a beleaguered generation, propelled by the non-stop momentum of dancers hurling across the stage in a whirlwind of leaps, rolls, and slides. Though it gives full weight to the inevitable sorrow at its core, it nevertheless maintains an attitude of defiant celebration, embodying strength and resilience over loss, and is widely acknowledged today as one of the most significant works of art to come out of the AIDS.
"Can You Bring It" utilizes extensive interviews and archival footage to chronicle the history of the original "D-Man" – the title referring to the nickname for Demian Acquavella, a beloved company member who struggled against the virus during its creation before himself dying in 1990 – while also following a contemporary remount of the production by students at Loyola Marymount University.
Those students are led by none other than the film's co-director, Rosalynde LeBlanc (herself a former member of the Jones/Zane Company and a leading figure in maintaining Jones' legacy and pedagogy), and a large portion of the modern footage is centered around LeBlanc and Jones himself working with these young pre-professional dancers – most of them likely not even born when the AIDS crisis was raging – to help them find the personal connection required to unlock the power of the choreography.
Through the juxtaposition of the two creative efforts, original and modern, the movie provides a thoughtful – and unexpectedly gripping – exploration of the process by which art can be adapted to the needs of a different era without losing the essence at its core.
From an intellectual or aesthetic perspective, it's a rich and nuanced close-up look at the hard work – as much of it mental and emotional as physical – that is the art of dance. What makes "Can You Bring It" profound enough to be an extension of the very piece it documents, however, is the wider lens that allows us to the piece in the context of both periods at once.
In 1989, Jones' tour de force ballet gave physical manifestation to the fear, anger, grief, and hope for salvation that an emerging dance company felt as they were embattled by the AIDS epidemic – but for the group of young dancers tasked with re-interpreting the work three decades later, that experience is something from a history book.
To commit to the piece and perform it successfully, they must deepen their understanding of its power – and that means exploring what is at stake in their own personal lives during a troubling time that presents a whole new set of challenges, struggles, and heartbreaks. Needless to say, it's work not cut out for the faint of heart.
Of course, as any fan of dance documentaries can tell you, the real thrill of such films is the opportunity to see the beauty of bodies in motion, captured up-close on camera and overpowering all other concerns through the transcendent urgency of its perfection. "Can You Bring It" does not disappoint on this level, either.
That should be no surprise. Bill T. Jones, after all, has continued throughout the decades, as has the company he founded with Arnie which still bears both of their names. He's gone on to win Tony Awards (for choreographing "Spring Awakening" and "Fela!"), become a Kennedy Center Honoree, and be awarded a MacArthur Grant, over a long career in which he has choreographed over 120 works, and the dancing we see onscreen all bears the pedigree of having been shaped, either directly or indirectly, by his influence.
Add to that the presence of one co-director (LeBlanc) who has been intertwined with his work through most of her own career, and another (Hurwitz) who is one of the most honored documentary cinematographers working today, and you couldn't ask for a better team to put together a great dance documentary.

Yet what makes a dance documentary truly great is its resonance within a larger world. Dance – and indeed, film, or any other form of art – is at its best when it serves to explore the experience of life itself, through all its levels and nuances. "Can You Bring It" does just that, offering up a lyrical and detailed portrait of artists and their work that is also rich in wisdom, compassion, empathy, diversity, and historical perspective – a testament to the power of art and the triumph of the human spirit.
In a world where the concept of community is often used more to divide us than to unite us, such ideas are a balm for the soul.
Dance performance benefits LGBTQ+ seniors
"Abbale" performs March 30, 31, & April 1, 8pm, at the Broadwater Main Stage in LA- For tickets & further info visit the Broadwater's website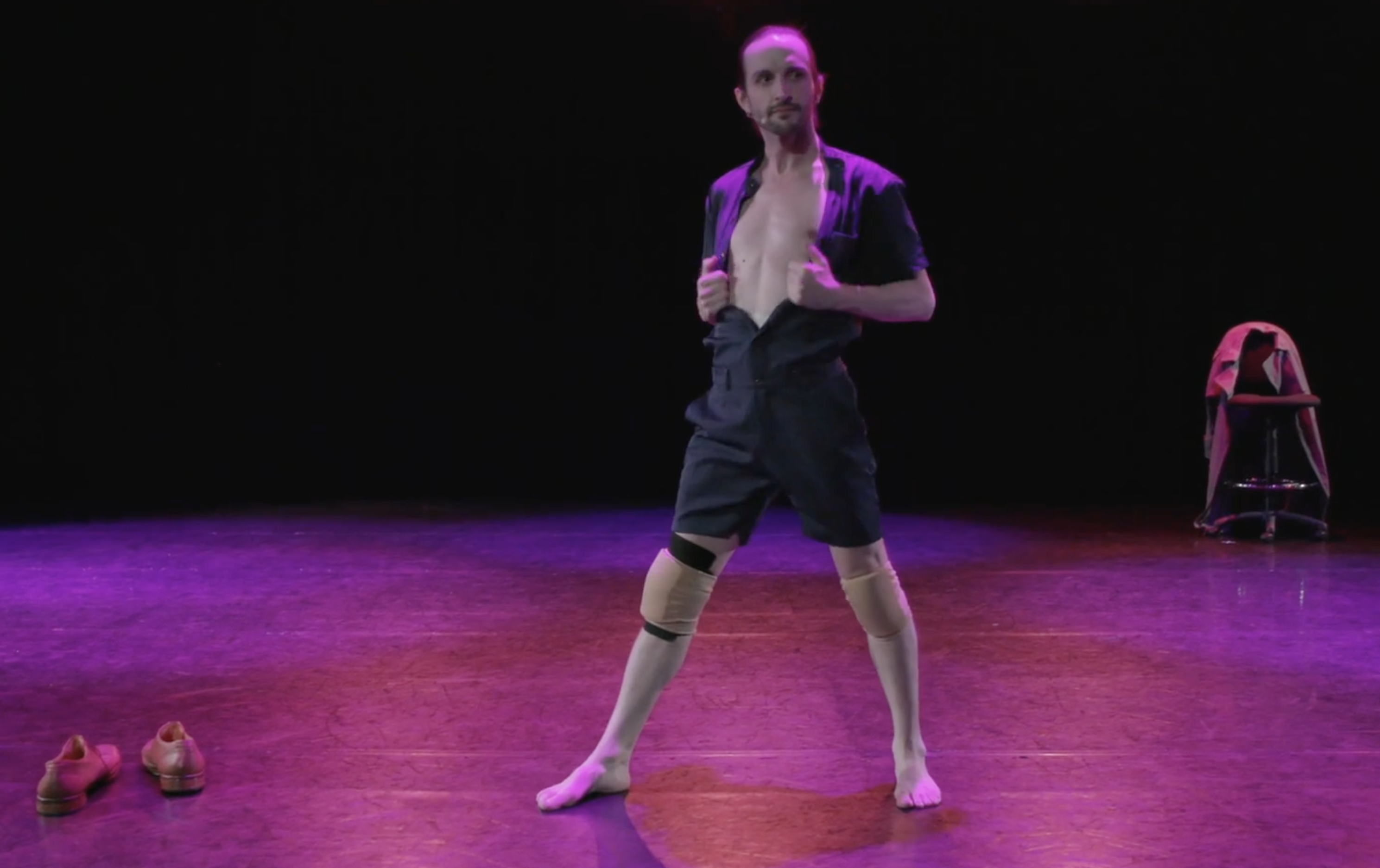 LOS ANGELES – There's always been an endless debate around the value of art to society at large. For some people, it's a mere distraction from the struggles of everyday life; for others, it's an enrichment.
That debate is not likely to end soon – any more than the debate over what IS art in the first place – but what happens when art and activism come together to make a tangible, quantifiable impact on the life of a community in need? Does it sway the balance enough to prove that art is more than just a trivial pursuit, but a fundamental element of human expression with the power to change our existence for the better?

That's a pretty heady question, but when the art has as direct and uncomplicated a purpose as "Abbale" – a dance performance piece from LA's Bodies in Play set to enjoy its premiere run at the Broadwater Main Stage March 30 through April 1 – it's difficult to answer with anything other than an unequivocal "yes."

Written, choreographed and performed by Andrew Pearson (founder and facilitator of Bodies in Play, an LA-based dance collective dedicated to producing works which "further the narrative through dance and movement" and invite a "challenge to conformity… through a lens just queer of center"), "Abbale" is a dance-theater memoir which weaves together the true stories of 3 fatherly relationships, spanning 3 decades and 3 different cultures, as one man tries to understand just what it means to fill "Daddy's" shoes. Though the Broadwater run is its "official" premiere, it was previously presented in a workshop production which garnered rave reviews from commentators like Dana Martin of "Stage Raw" (who called it "compelling," "provocative", and "candid") and Odyssey Theater Curator of Dance Barbara Mueller-Wittmann (who described it as "a tour de force").

While it's the debut of a new work from one of Los Angeles' most acclaimed dance organizations, it's also more than that: the premiere run of "Abbale" – a Hebrew word meaning "daddy" – will also serve as a food drive for the Los Angeles LGBT Center's Pride Pantry, which provides food staples for older community members in need. With 24% of LGBTQ+ seniors struggling to meet their food requirements each month, needless to day it's a service that's vital to the health and welfare of LA's queer elders.
According to Pearson, the alliance between his newest performance piece and the Pride Pantry cause arose naturally from the content of the work itself.
"There are a lot of gay themes in the show," he told the Blade, regarding its alignment with the Center's mission. "One recurring theme is about food and/or feeding – food becomes a metaphor for an expression of love, specifically to one of the characters' fathers – and I always wanted it to have some kind of a connection beyond the performance, some kind of connection beyond the stage. So, I was researching different organizations that had a similar ethos, or a connection to the some of these themes, and when I saw that the Pride Pantry was looking for food to provide for gay seniors, gay elders, it checked off so many different boxes that the show represents, so I just reached out to them and asked if they'd be interested in our show doubling as a food drive for them."
As for "Abbale" itself, Pearson – a six-year veteran of the LA Contemporary Dance Company with an impressive list of career credits and accolades who serves on the faculty of the American Musical and Dramatic Academy – explains that it began with a series of ideas that arose from ruminations about the relationships he and his then-partner each had with their respective fathers, which opened up into a much larger conceptual scope that encompassed "all the iterations that a 'daddy' comes in."

It turned out to be a bigger chunk than he could chew on his own, so he reached out to longtime frequent collaborator Lisa Owaki Bierman – an NYU-educated theater artist whose work has been performed across Los Angeles, from Bob Baker's Marionette Theater to the Carousel at the Santa Monica Pier – for help.
"I came in with this very broad first draft which had way too much in it," he says, "and she astutely said to me, 'I think the personal relationships you've developed in this script are really fruitful and if we develop those further, then all these other themes you're aiming to highlight will naturally come through."
Their collaboration resulted in the initial showcase production, which took place in February 2020. Encouraged by the positive feedback and armed with observations about what worked and what didn't, the pair geared up to build on the foundation they had created and expand the polish the piece into its finished form.

"Two weeks later, we were in lockdown," Pearson says.
The pandemic-induced setback turned out, in many ways, to be a blessing in disguise.
"It was almost a saving grace for me creatively, because I couldn't be choreographing in the studio, like I normally would be, so I got to develop and hone my writing practice, and I had Lisa to hold my hand the whole time as I was discovering my authorship, and my voice."

Bierman also found it unexpectedly beneficial, thanks to an ill-timed additional circumstance in her personal life. As she told the Blade, "Not only were we in lockdown, but I had a baby. It was sort of a wild way to create a theater piece. Being in a pandemic, with absolutely no help with child care, or any of that stuff, it helped that Andrew was such a workhorse – the bulk of the labor, the writing and the generative stuff, was on his shoulders, and I could just go through the script at my own pace and then jump on Zoom to touch base with him.

"And it was helpful for me to have this to work on, because – especially in early parenthood – it's easy to feel defined by that role, but to have a way to carve out space to be creative, during a time when nothing else would have been possible, I was so grateful that we had each other, and that we had this piece to be putting our attention on at that time."
Now, the pair – along with Producer and Story Consultant Ben Jehoshua – are gearing up to put the end result of their collaboration onstage at the Broadwater in a partnership that makes it an especially important event – potentially even a life-changing one for LGBTQ+ seniors who rely on the LA LGBT Center for help with their basic food needs.
As Pearson explains, "Pretty early on in it we define a 'daddy' as a 'giver'. That was the angle I was interested in, how this show could also be a catalyst for giving."

Of course, the show won't be over after its premiere run has ended – as its co-creator and solo performer happily tells us, "It will be touring up to San Francisco in June, so this is our kick-off for what hopes to be a life for this show."

"Abbale" performs March 30, 31, and April 1, 8pm, at the Broadwater Main Stage in Los Angeles:
For tickets and further information, visit the Broadwater's website.