Dazzling dance doc celebrates the legacy of an AIDS-era masterpiece
It was also a period when AIDS was ravaging the dance community, decimating the ranks of companies- casting its dark shadow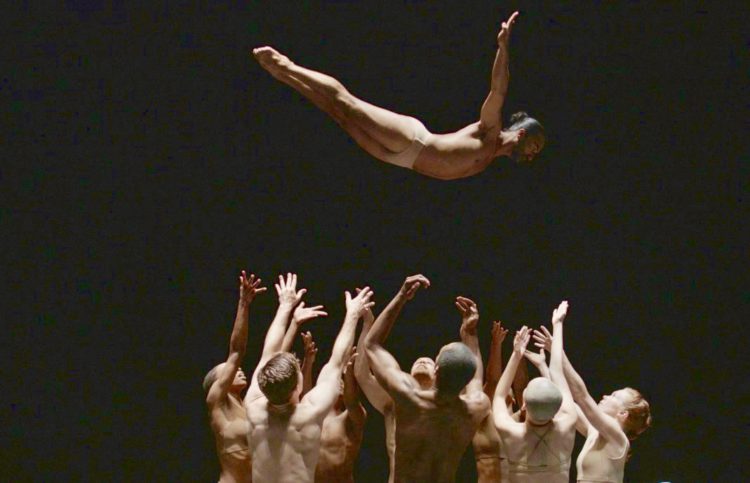 NEW YORK – Once upon a time in New York City, Bill and Arnie formed a dance company.
They had met each other in 1971, falling in love at first sight across a crowded room at SUNY, and spent the next decade exploring their lives and their art together. Arnie was a photographer, at first, but his fascination with the human body and its movement – stoked by his collaborations with Bill, a dancer who was his muse and favorite photographic subject – soon led him to become a dancer himself.
Together they found acclaim as a team, creating their own works as part of the American Dance Asylum during a rise which culminated in the birth of the Bill T. Jones/Arnie Zane Company in 1982. What followed was a brilliant and prolific period in which the two partners were among the most celebrated dance artists in the New York scene.
It was also a period when AIDS was ravaging the dance community, decimating the ranks of companies all over the city and casting its dark shadow over much of the work being produced at the time. Bill and Arnie, charmed as their lives had been, could not escape that shadow, and Arnie Zane died of AIDS-related lymphoma, at the age of 39, in 1988.
That bittersweet true-life love story would make for a profoundly moving documentary on its own strength alone, but the film delivered by co-directors Rosalynde LeBlanc and Tom Hurwitz has its sights on something bigger than that. "Can You Bring It: Bill T. Jones and D-Man in the Waters" is the story of what happened after Zane's untimely passing, and it illuminates the way that art provides a channel for the personal to become universal and give expression to the shared trauma of an entire community.
The new documentary, which debuted at the DOC NYC film festival and opens in select theaters and virtual cinemas nationwide on July 16, is not about Bill and Arnie, nor even about Bill himself – though his name is in the title and he appears extensively onscreen, both in contemporary and archival footage – but about the seminal ballet which came in the wake of Arnie's passing. "D-Man in the Waters" was mounted in 1989 by Jones and the company he and Zane had started, shaped by a creative process through which both he and his dancers found expression for the myriad emotions spawned by their loss.
Set to Felix Mendelssohn's soaring Octet for Strings, the piece captures the infectious energy, innocence and will to survive of a beleaguered generation, propelled by the non-stop momentum of dancers hurling across the stage in a whirlwind of leaps, rolls, and slides. Though it gives full weight to the inevitable sorrow at its core, it nevertheless maintains an attitude of defiant celebration, embodying strength and resilience over loss, and is widely acknowledged today as one of the most significant works of art to come out of the AIDS.
"Can You Bring It" utilizes extensive interviews and archival footage to chronicle the history of the original "D-Man" – the title referring to the nickname for Demian Acquavella, a beloved company member who struggled against the virus during its creation before himself dying in 1990 – while also following a contemporary remount of the production by students at Loyola Marymount University.
Those students are led by none other than the film's co-director, Rosalynde LeBlanc (herself a former member of the Jones/Zane Company and a leading figure in maintaining Jones' legacy and pedagogy), and a large portion of the modern footage is centered around LeBlanc and Jones himself working with these young pre-professional dancers – most of them likely not even born when the AIDS crisis was raging – to help them find the personal connection required to unlock the power of the choreography.
Through the juxtaposition of the two creative efforts, original and modern, the movie provides a thoughtful – and unexpectedly gripping – exploration of the process by which art can be adapted to the needs of a different era without losing the essence at its core.
From an intellectual or aesthetic perspective, it's a rich and nuanced close-up look at the hard work – as much of it mental and emotional as physical – that is the art of dance. What makes "Can You Bring It" profound enough to be an extension of the very piece it documents, however, is the wider lens that allows us to the piece in the context of both periods at once.
In 1989, Jones' tour de force ballet gave physical manifestation to the fear, anger, grief, and hope for salvation that an emerging dance company felt as they were embattled by the AIDS epidemic – but for the group of young dancers tasked with re-interpreting the work three decades later, that experience is something from a history book.
To commit to the piece and perform it successfully, they must deepen their understanding of its power – and that means exploring what is at stake in their own personal lives during a troubling time that presents a whole new set of challenges, struggles, and heartbreaks. Needless to say, it's work not cut out for the faint of heart.
Of course, as any fan of dance documentaries can tell you, the real thrill of such films is the opportunity to see the beauty of bodies in motion, captured up-close on camera and overpowering all other concerns through the transcendent urgency of its perfection. "Can You Bring It" does not disappoint on this level, either.
That should be no surprise. Bill T. Jones, after all, has continued throughout the decades, as has the company he founded with Arnie which still bears both of their names. He's gone on to win Tony Awards (for choreographing "Spring Awakening" and "Fela!"), become a Kennedy Center Honoree, and be awarded a MacArthur Grant, over a long career in which he has choreographed over 120 works, and the dancing we see onscreen all bears the pedigree of having been shaped, either directly or indirectly, by his influence.
Add to that the presence of one co-director (LeBlanc) who has been intertwined with his work through most of her own career, and another (Hurwitz) who is one of the most honored documentary cinematographers working today, and you couldn't ask for a better team to put together a great dance documentary.

Yet what makes a dance documentary truly great is its resonance within a larger world. Dance – and indeed, film, or any other form of art – is at its best when it serves to explore the experience of life itself, through all its levels and nuances. "Can You Bring It" does just that, offering up a lyrical and detailed portrait of artists and their work that is also rich in wisdom, compassion, empathy, diversity, and historical perspective – a testament to the power of art and the triumph of the human spirit.
In a world where the concept of community is often used more to divide us than to unite us, such ideas are a balm for the soul.
DVRKO shows you how to like it
Dance music's bright new shining star "from the future"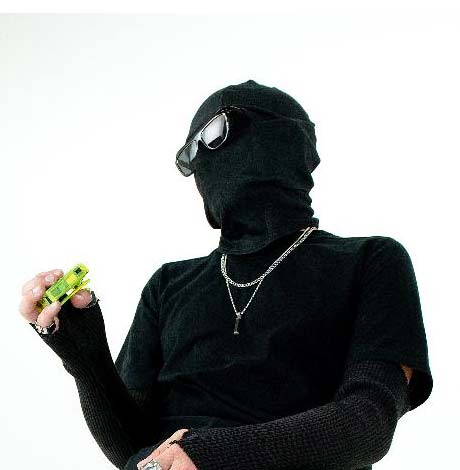 The remix album for "This Is How," the debut single from the mysterious artist known as DVRKO featuring Sarah De Warren, is out now. After an initial launch shrouded in secrecy, the Main Mix of "This Is How" has been streamed on Spotify over 350,000 times within two weeks of its release last month; the single was also quickly added to the popular 'Friday Cratediggers' Spotify playlist.
The combined Spotify monthly listeners of "This Is How" remixers has clocked in at over 2.4 million.
At radio, the Gozzi Radio Edit and Gozzi Remix of the song is already airing on "The Remix Top30 Countdown" (iHeartRadio) nationally syndicated mixshow, "Club985" mixshow on KLUC-FM Radio Las Vegas (Entercom), and Dash Radio's ElectroCity. Other remixes from Jayceeoh and Tony Arzadon are now available in the remix album and are making waves in a variety of national radio markets from Miami to Seattle with more radio stations being added each week.
Having been profiled in early interviews published in Billboard and DJ Times – with more editorial coverage and interviews to come in the weeks ahead – and following a fun-filled Memorial Day takeover of EDM.COM's Instagram account where DVRKO played all remixes of "This Is How," the full remix album is now available.
Remixes of DVRKO x Sarah De Warren's "This Is How" include works by: ATLAST, BIJOU, Dark Intensity, dialedIN, Freshcobar, Gozzi, JAYCEEOH, Sak Noel, Sam Silver and Tony Arzadon.
Los Angeles Blade talked to the artist about his career:
Los Angeles Blade: Who is DVRKO?
Who? The traps don't work. Yeah we still have that owl problem at the studio. DVKRO however a mask and a man panhandling top lines down by the docks. A backstory, love, tragedy, music. Worlds together in a future where it's needed more. Sound and compression, maybe a production chain with a Talkboy in it for no reason. Ask Macaulay. Inclusive and passionate, ethnicity, sexual orientation or identity, want everyone to move with what I can make. It's EDM, it's dance, be ready. I will bring pancakes.
Los Angeles Blade: Can you please tell us about your music, specifically "This Is How" and your upcoming song, "Lights Up"? What went into writing those two songs?
This is How. A story of tattered hope, love, laser dragons maybe, and how it all gets shredded together and fuses. Enough of it and it's the only thing we return to, it might have been the weapon, but it's the cure.
Lights Up. A world polarized so many times. It's 2020. A bell tolled. The first taught us how vulnerable the world was. Another bell tolled and brought to those deaf to the world more cause that needed reform. The world needs hope, and it's time. Lights Up is a story of redemption. Swab your ears with it.
Los Angeles Blade: What's next, for DVRKO?
Growth, more music, more of the story. More of who I am. Most importantly so much more music. Never a set format, never stale. Some releases only on laserdisc. It would upend itself if not beautiful but it is. Be ready.
Los Angeles Blade: Give your thoughts on the news about Black Lives Matters, trans and gay rights advances in the news.
DVKRO. Neon waterfalls of pulsing bass. A future from the past and a story. It's EDM and it's DVKRO. Inclusive entirely, bring ears of every kind and swab them with my iterations of sound until you move. Repeat and be part of the resistance. The world realized it was weak in the tone of a bell heard globally. Another bell tolled and brought tone to ears deaf. Music for movement, equality inherent, join me in the journey.
SONANCE. The movement is for the unit of humanity, it's what music should do. Gender, ethnicity, identity of any sort, a point of embrace. Definitely a laser dragon at some point. Deep pulsing movement that shakes your soul, remit cognition and feel the connect.
FUEL. A light flame burns in the distance, seeking fuel, hoping the world will find it. The world is ready. Fuel me up. Bring your tokens. I will poorly make egg salad sandwiches.
HOPE. As the world departs a monochrome desert, color it will find painted in aural beauty. Let's all break the dial off before the world tries to change the station again. Bring two chairs, I like to put my feet up.
REDCAT announces schedule for Dance Camera West film festival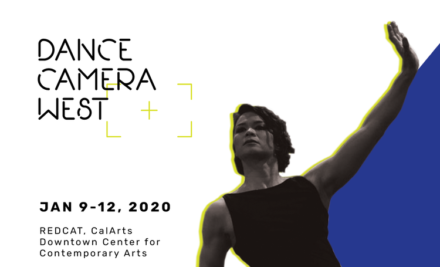 REDCAT, CalArts' downtown Los Angeles center for contemporary arts and Automata Arts, has announced a full schedule for its Dance Camera West Festival, which will be presented January 9-12 2020.
screeningsDCW will present four days of , featuring 55 short, experimental and documentary films selected from a record number of 325 submissions representing more than 40 countries.
According to the press release:
DCW2020 includes works from Asia, Europe and the Americas, that feature dancers young and old, tell stories and create new visions with the body as the moving image – once again exhibiting the best examples of work that expands the possibilities for movement composition by pushing the boundaries of dance beyond what is presentable on stage.
The festival features works by lauded choreographers like Edouard Lock, founder of the renowned Canadian company La La La Human Steps, renowned filmmaker Katrina McPherson of Scotland, a full evening documentation of Germany's Sasha Waltz (Kreatur), Spain's Sol Pico, as well as many up-and-coming dancers and filmmakers.
As part of a plan to advance the evolution of dance film, DCW2020 will pay screening fees to all selected filmmakers, and has created prizes for the top films that include distribution opportunities with leading theatrical and streaming distributors including ALL ARTS, FIRST RUN FEATURES, ICARUS FILMS, and OVID.tv.
DCW is curated by DCW's returning Artist/Executive Director Kelly Hargraves, one of DCW's original co-founders, and a dance-filmmaker herself. DCW created a diverse committee from across dance aesthetics, comprised of of TK NUMBER of contributors who represent a broad range of ages, genders, races, sexualities and identities who are prominent members of L.A.'s performance and film communities. There will be a distinguished panel of Jurors including David Roussève, and visiting artists Katrina McPherson from Scotland, and Edouard Lock from Canada.
Since 2000, Dance Camera West has connected diverse cultures and environments through its exploration of dance on screen, bringing hundreds of challenging and provocative films to Los Angeles from around the globe, effectively bridging the gap between the uniquely influential Los Angeles film community and the significant local dance populace.
Dance Camera West is one of only a handful of organizations that has been fortunate to partner with some of the most prominent venues and organizations throughout the Los Angeles area. Co-presenters have included the Getty Center, REDCAT at the Walt Disney Concert Hall, Directors Guild of America, the Hammer Museum, and many others.
To see the Daily Schedule for Dance Camera West 2020, click here.
All-male 'Swan Lake' still packs a punch
Visionary's work is timeless, worth experiencing over and over again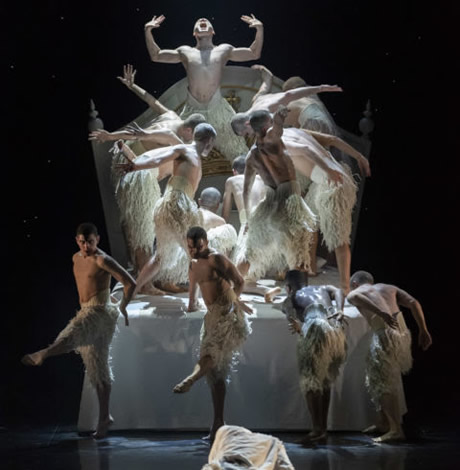 It's been nearly a quarter century since Matthew Bourne's bold reimagining of the classic Tchaikovsky ballet "Swan Lake" turned the dance world on its collective ear. His bold choice to recast its famous Swan Princess as a Swan Prince instead, with an attendant corps-de-ballet of male dancers replacing the traditional female ones, was near blasphemy in the deeply traditional world of ballet at the time, for no other reason than because it simply wasn't done; more than that, of course, it meant that the doomed romance at the center of the ballet was transformed into a love story between two men – and in 1995, that was an unprecedented idea, and a controversial one, to say the least.
That controversy was at least partly responsible, no doubt, for turning Bourne's audacious spectacle into the longest-running ballet in the history of the art form – but only partly, because the electrifying brilliance of the choreographer's staging made it clear that this was a young upstart with more than enough talent to elevate his cheeky concept to the level of a world-class dance masterpiece. It made him arguably the most famous choreographer in the world, and he's gone on to a career full of hits and accolades that almost any other creative artist could only dream of achieving.
The world has changed in the intervening decades, and much progress has been made in the struggle for LGBTQ visibility and acceptance – but that doesn't mean that "Swan Lake," remounted by Bourne (SIR Matthew Bourne, now) and now onstage at the Ahmanson Theatre, doesn't still pack a punch.
Yes, it's true that the power of its gender-swapped casting has mellowed somewhat – watching two impossibly beautiful, impossibly athletic, and impossibly graceful men dance together with smoldering chemistry no longer feels transgressive (thank goodness) – and that AIDS, which cast a long and overt shadow over the ballet when it debuted at the height of the epidemic, no longer seems like such an inevitable part of the subtext. Nevertheless, to see it is to be reminded that the work of a visionary artist is not only timeless, but also worth experiencing over and over again.
The new incarnation retains the iconic elements of Bourne's original production, in which the ballet's traditional fairy-tale story is translated into a roughly modern, decidedly English allegory about the conflict between love and duty through the story of a discontented young prince, pressured by a cold and distant mother and the apparatus of her state to find a suitable bride; he falls in love with an enchanted swan, but since the original tale's evil sorcerer is nowhere to be found in Bourne's version, it remains tantalizingly unclear whether the swan is a human being that has been cursed or some figment of the prince's wishful imagination – or if the malevolent doppelgänger that invades the royal ball in the second half is an imposter sent to torment him, as in the original, or merely the dark flip side of his fantastical delusion.
The ambiguity, far from undermining the story, serves to illuminate its underlying psychological and sociological themes in a way that renders intellect irrelevant, and allows us to experience them on a purely visceral, emotional level. Upon this groundwork, the presence of a same-sex couple in the center of it all evokes an almost primal longing that will be familiar to anyone who has ever wanted something they are not "supposed" to want – but for LGBTQ audiences, it takes on an additional power, serving as an assertion against the forces of "propriety" that would deny their right to exist. Simply put, it's the openly gay Bourne's way of saying, "We're here, we're queer, get used to it."
There's no point in attempting to describe the visual delights of this "Swan Lake." It's enough to say that the gifted choreographer weaves his magic against a spectacular, huge-scale scenic design that is almost as majestic as the remarkable prowess of his dancers. The joy of Bourne's approach – in which he blends ballet with a wide and eclectic array of other dance styles to tell his story with an almost cinematic flow of breathtaking imagery – is that he infuses his work with delicious whimsy even as he gives full weight to its drama; there are countless little moments of delight throughout, manifested through details of costume and set, cultural nods incorporated into the movement and staging, and above all through the expressiveness he cultivates in his dancers, who continually amaze us with their acting abilities even as the perfection of their physical performances takes our breath away. The cumulative effect is a sense of wonder, as we watch the players move seamlessly across the stage, our eye being led to follow the action from one heart-stopping piece of visual poetry to another.
In the end though, what is most unforgettable about Matthew Bourne's "Swan Lake" is the thing that made it famous. His once-shocking same-sex conceit allows us to witness an incredible display of masculinity at its most heightened and idealized, transcending notions of sexuality and existing in the realm of pure expression. Nowhere is that more profoundly employed than in the ballet's most iconic sequence, in which a posturing, aggressively masculine gang of swans wield a threatening presence that provides a stark contrast against the tenderness of the pas de deux between the two star-crossed (and species-crossed) male lovers.
In a very real way, it expresses the oppression that LGBTQ people have faced for time out of mind – but it also expresses the beauty, the purity and the absolute inevitability of love, no matter what outward form it takes.
If you're looking for an entertainment experience to celebrate the spirit of the holiday season we are currently in, you can't ask for a more appropriate message than that.
"Swan Lake" continues at the Ahmanson Theatre through Jan. 5.