LA masks up as hyper-contagious Delta variant surges at warp speed
"The extreme vulnerability of people who are not vaccinated, which will account for infections, hospitalizations, and, ultimately, deaths"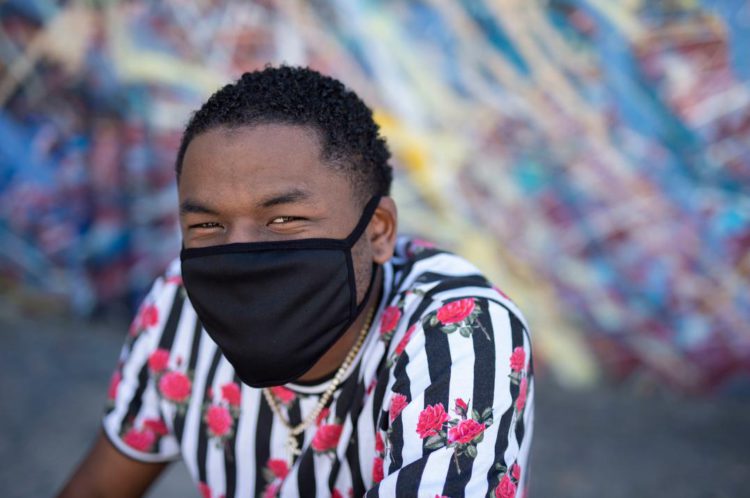 LOS ANGELES – The County of Los Angeles is now positioned on the front lines of the national battle to contain the hyper-contagious Delta variant of the coronavirus. As cases and numbers explode in the United States, the decision by the County's health officials to order residents to mask-up even if fully vaccinated indoors may prove to be the national blueprint for combatting transmission of the disease.
The Health Department's new order takes effect at 11:59 p.m. Saturday everywhere in Los Angeles County, except Pasadena. (Pasadena and Long Beach have their own health departments; Long Beach followed L.A. County with its own mask order, but Pasadena still only recommends everyone mask up.)
Nearly two weeks after the Fourth of July holiday and one month after the June 15 reopening, transmission of COVID-19 in L.A. County has rapidly increased to very concerning levels. This is due to the presence of the more infectious Delta variant and the intermingling of unmasked individuals where vaccination status is unknown.
The Los Angeles County Department of Public Health confirmed 1,827 new cases of COVID-19 Saturday afternoon; a four-fold increase from the 457 cases seen on July 4 and an eight-fold increase from the 210 cases seen on June 15.
Saturday's daily test positivity rate is 3.7%. On July 4, test positivity was near 1.5% and June 15, test positivity was near 0.5%.
Not every official however is onboard, on Friday Los Angeles County Sheriff Alex Villanueva, publicly announced; "Forcing the vaccinated and those who already contracted COVID-19 to wear masks indoors is not backed by science and contradicts the U.S. Centers for Disease Control and Prevention (CDC) guidelines."
The Sheriff went on to add, "The Los Angeles County Department of Public Health (DPH) has authority to enforce the order, but the underfunded/defunded Los Angeles County Sheriff's Department will not expend our limited resources and instead ask for voluntary compliance. We encourage the DPH to work collaboratively with the Board of Supervisors and law enforcement to establish mandates that are both achievable and supported by science."
The Sheriff's announcement prompted reaction from West Hollywood City Mayor Lindsey Horvath who tweeted, "Last I checked, he's not a scientist, nor is he a medical or healthcare professional. Let's leave those decisions to the experts while we all do our part to take care of each other & get through this thing together."
Last I checked, he's not a scientist, nor is he a medical or healthcare professional. Let's leave those decisions to the experts while we all do our part to take care of each other & get through this thing together.

— Lindsey P Horvath (@LindseyPHorvath) July 17, 2021
On Friday during the regularly scheduled White House COVID-19 Response Team and Public Health Officials briefing Dr. Rochelle P. Walensky, the head of the Centers for Disease Control and Prevention, told reporters;
"CDC reported more than 33,000 new cases of COVID-19. [Thursday] Our seven-day average is about 26,300 cases per day, and this represents an increase of nearly 70 percent from the prior seven-day average, she said. "There is a clear message that is coming through: This is becoming a pandemic of the unvaccinated. We are seeing outbreaks of cases in parts of the country that have low vaccination coverage because unvaccinated people are at risk. And communities that are fully vaccinated are generally faring well," she added.
The CDC head also noted "the good news is that if you are fully vaccinated, you are protected against severe COVID, hospitalization, and death, and are even protected against the known variants — including the Delta variant — circulating in the country" But she cautioned, "If you are not vaccinated, you remain at risk. And our biggest concern is that we are going to continue to see preventable cases, hospitalizations, and, sadly, deaths among the unvaccinated."
The chief medical advisor to President Joe Biden, Dr. Anthony Fauci told the briefing; "We are dealing with a formidable variant in the Delta variant, as reflected by the data that Dr. Walensky told you, and the extreme vulnerability of people who are not vaccinated, which will account for infections, hospitalizations, and, ultimately, deaths.

And so the message loud and clear that we need to reiterate is that these vaccines continue to strong protection against SARS-CoV-2, including the Delta variant. And so — why it's so important for yourself, your family, and your community to get vaccinated."
Biden administration officials in the effort to get the remaining population vaccinated are also combating misinformation about the vaccines and COVID-19 spread even among those fully vaccinated in what the U.S. Surgeon General, Vice Admiral Vivek Hallegere Murthy warned is "a serious threat to public health," as the Biden administration grows increasingly concerned about misleading claims about coronavirus vaccines.
The President addressed those concerns in a question posed as he was departing the White House Friday afternoon. When asked by NBC News Chief White House Correspondent Peter Alexander, "What's your message to platforms like Facebook regarding COVID misinformation?" The president responded saying "They're killing people."
"The only pandemic we have is among the unvaccinated, and that's — they're killing people," he added.
A spokesperson for Facebook angrily deflected the President's remarks in a media statement saying in part, "More than 3.3 million Americans have also used our vaccine finder tool to find out where and how to get a vaccine. The facts show that Facebook is helping save lives. Period."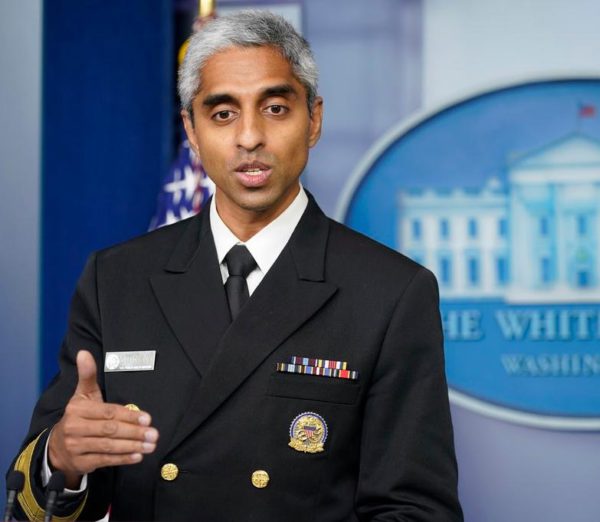 Indirectly taking aim at social media giant Facebook, the Surgeon General had told reporters Thursday, "Now, health misinformation didn't start with COVID-19. What's different now though is the speed and scale at which health misinformation is spreading. Modern technology companies have enabled misinformation to poison our information environment with little accountability to their users. They've allowed people who intentionally spread misinformation — what we call "disinformation" — to have extraordinary reach," he said.

"They've designed product features, such as "Like" buttons, that reward us for sharing emotionally-charged content, not accurate content. And their algorithms tend to give us more of what we click on, pulling us deeper and deeper into a well of misinformation," Murthy added.
In a series of phone calls, public health officials at local, state, and federal levels told the Blade that with the onslaught of the Delta variant, Americans need to be more vigilant- especially as Americans are traveling more and headed out to favored holiday or even local activities.
An official for the CDC, who is knowledgeable but not authorized to speak publicly, acknowledged that there seemed to be a generalized perception that a person being fully vaccinated is immune which is worrisome as the official reiterated Dr. Fauci's public statement Friday that the bottom line continues to be very simple: "While fully vaccinated individuals have a high degree of protection against serious illness from COVID-19, including the Delta variant." The official went on to note that a fully vaccinated person can be infected asymptomatic and be a source of transmission especially the Delta variant.
When asked about the health order in Los Angeles to order masks indoors even if fully vaccinated the CDC official said that erring on the side of caution in the face of the lightening spread of the Delta variant was not only prudent but would ultimately save lives.
As LA County prepares to have Angelenos mask-up again, debate also peppers discussions on social media and elsewhere over the issue of breakthrough COVID-19 cases. The CDC defines breakthrough to any presumed infection by SARS-CoV-2 (that is, any positive coronavirus test) if it's detected more than two weeks after someone receives the final dose of a COVID-19 vaccine.
Media reports on a series of breakthrough COVID-19 cases in Provincetown, Massachusetts, a popular Cape Cod holiday destination especially in the LGBTQ community, suggests that the CDC and health department's information on degree of illness experienced being milder than would be the case if unvaccinated, is backed by the science and data.
According to a spokesperson for the Barnstable County Department of Health, which covers all of the Cape including Provincetown, there have been breakthrough documented cases among residents, especially on the Provincetown island. In a statement released earlier in the week health department officials noted;
"Cases of COVID-19 were confirmed in Provincetown, in consultation with the Massachusetts Department of Public Health. The positive cases were identified in individuals presenting with mild respiratory symptoms and were tested for COVID-19.
Overwhelmingly, the affected individuals have been fully vaccinated for COVID-19. The moderate intensity of symptoms indicates that the vaccines are working as predicted. Provincetown has among the highest vaccination rates in the Commonwealth, with 114% of the eligible population age 12 and older in Provincetown having been fully vaccinated.
Health officials expect to continue to see a low level of positive cases through the summer in a community such as Provincetown with a seasonal population of approximately 60,000. As we enter a new phase of living with the virus, vaccination remains our strongest defense in preventing serious illness, hospitalization, and death from COVID-19."
Please remember that COVID-19 is still present in our community! If you are experiencing symptoms, it's important to seek testing, even if you have been fully vaccinated. For more information about COVID-19 testing on Cape Cod, please visit our website at https://t.co/PbC2FNPSVZ. pic.twitter.com/34tHCKmyur

— Barnstable Co Health (@BCHDCapeCod) July 14, 2021
Dr. Amesh Adalja, a senior scholar at the Johns Hopkins Center for Health Security and a specialist in infectious diseases, explained that while breakthrough cases are going to occur, all cases would be decreased if everyone just got the vaccine already.
Perhaps most important, mini outbreaks like this one do nothing to dent the clear reality that the vaccines are safe and effective.
"These people somehow believe that COVID is going to magically disappear," he told The Daily Beast. "We are going to be having COVID cases ten years from now. And breakthrough cases will occur no matter what."
Los Angeles entrepreneurial executive Brian Pendleton, a private pilot, had flown his plane to the Cape to spend the July 4 holiday weekend at Provincetown along with his partner. Halfway through his holiday there he experienced symptoms including headaches, congestions, he told the Blade this week. Upon returning to Los Angeles he was tested for COVID-19 and initially received a negative result. But he says after a PCR test he was tested positive.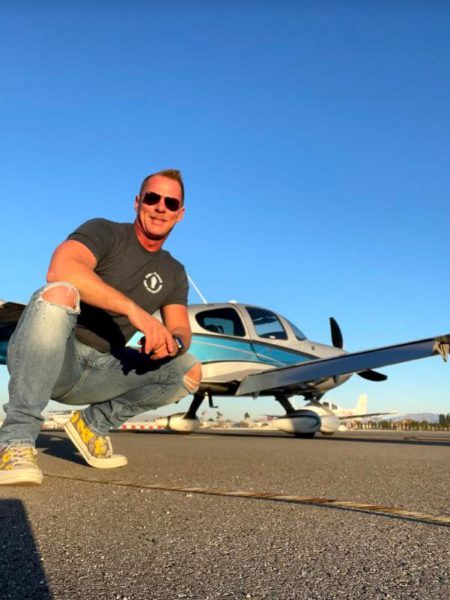 Pendleton said that his partner also tested positive and later discovered that his partner's 70 something parents had also tested positive. All of them have been vaccinated for the disease, Pendleton noting that he received his second dose of Moderna at LA's mass vaccination site at Dodger stadium in April.
Los Angeles County Health Officer Dr. Muntu Davis acknowledged that a percentage of vaccinated people will be affected by that the numbers are miniscule in comparison to those who remain unvaccinated and are at much greater exposure to hospitalization and dying from the disease.
Speaking about the new mask mandate, Davis said that it applies to everyone, including vaccinated people. That's because he and other public health officials want to make masking a universal practice, to ensure everyone who needs to is doing it.
"I don't think in general that self-attestation is actually good and there may be some people who are unvaccinated and don't want to make that known," Davis said in announcing the revised rules Thursday. "That just puts others at risk."
Groups who are exempt from the rules remain unchanged from earlier in the pandemic: children under 2 and anyone who can't safely wear a mask.
The main push now Davis and other officials are urging, is to get as many Angelenos vaccinated as possible. As of this week, 61% of county residents age 16 and older are fully vaccinated, and more than 5 million people total.
Officials want to achieve a vaccination rate of at least 80% to reach herd immunity, which means even unvaccinated people are protected from the virus' uncontrolled spread. The date the county is expected to get to that number has been repeatedly pushed back, and now it's not expected to come before fall.
"We continue to see fewer folks than we'd like to see getting their first dose of vaccine, week to week," Davis said. "As there is currently substantial community transmission of COVID-19 here in L.A. County and in our nation, that urgency to get more people vaccinated remains high."
LA County's COVID-19 test positivity rate increased by 700% in just one month – jumping from 0.5% to 3.7%. The vaccines can protect you from serious illness, hospitalization and death. Find a location near you at https://t.co/UVkFi7ugj8 pic.twitter.com/ycY9Ichr0K

— LA Public Health (@lapublichealth) July 16, 2021
'Leave Our Kids Alone' group protest, LAPD make arrests
A separate group gathered to rally in support of LGBTQ+ youth, ultimately leading to an unlawful assembly declaration & at least two arrests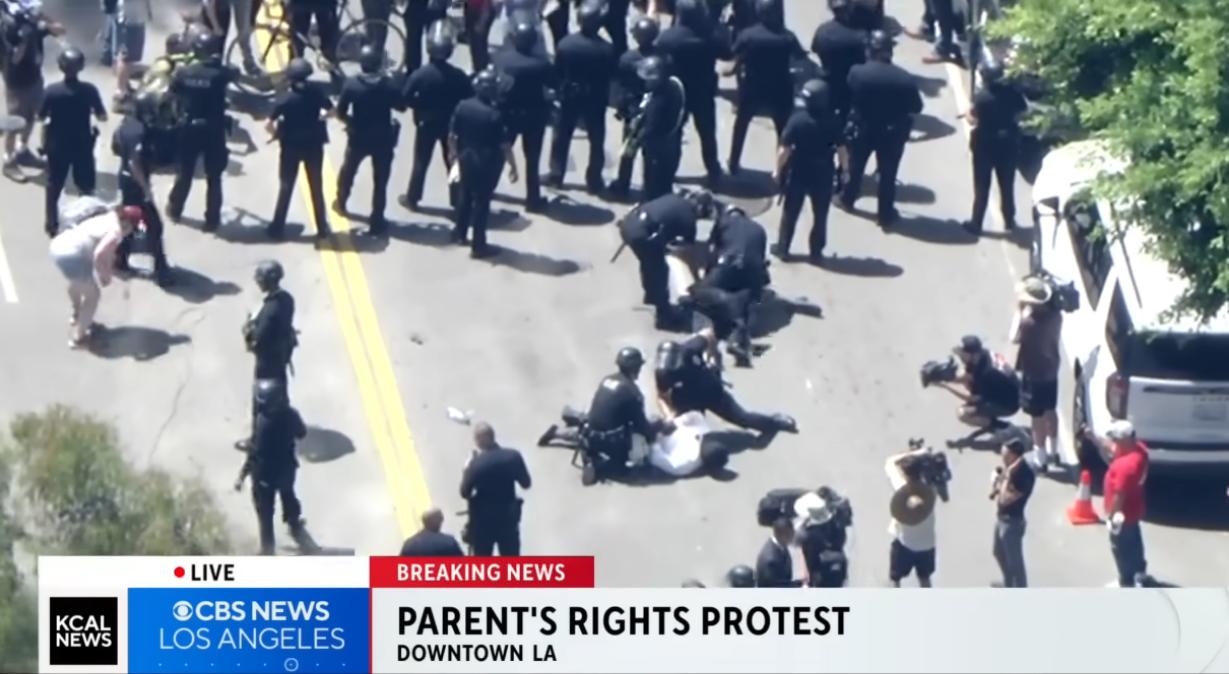 LOS ANGELES – Approximately 200 people from the loosely organized social media based group 'Leave Our Kids Alone' (LOKA) marched through downtown Los Angeles today in support of parental rights and notification policies in schools.
A separate group gathered to rally in support of LGBTQ+ youth, ultimately leading to an unlawful assembly declaration and at least two arrests as the Los Angeles Police Department deployed about 40 officers and supervisors to keep the groups apart.
On the LOKA group Instagram and Facebook posts, organizers called for the Tuesday rally at 10:00 AM writing: "Calling all California parents to stand United and rally for our kids. Whether it's the school boards or Sacramento in their attempts to indoctrinate kids and separate them from families – parents have had enough."
The group on its social media posts claim they are supporting parental rights and opposing "indoctrination," "sexualization" or "grooming" of children in schools.
KCAL CBS-Los Angeles reported the LOKA group assembled outside Los Angeles City Hall, then marched to Los Angeles Unified School District headquarters, where some participants sat in the intersection. Some people in the Leave Our Kids Alone group waved American flags while others carried signs with slogans such as "Parental Rights Matter" and "Parental rights are non-negotiable," and many wore shirts saying "Leave our kids alone." One held a sign reading "Teach the Bible, not porn."
The protest was in support of forcing the LAUSD Board to adopt policies that would 'Out' trans children and also minimize the so-called influences regarding LGBTQ+ students.
On X/Twitter members of the group live-streamed the march and protest:
Los Angeles CA – Leave Our Kids Alone #saveourkids #leaveourkidsalone

We are live on YouTube and rumble. pic.twitter.com/ytOtQ20kOM

— Oreo Express Normal/Not Mentally Ill (@OreoExpress) August 22, 2023
The counter-rally was organized by Ground Game LA and Queer Nation Los Angeles, plus another Queer affirming group which are opposed to parental-notification policies, noting such policy requirements can put LGBTQ+ students at risk if their families are not accepting of their gender identity.
KCAL also reported that members of the smaller counter protest, some of whom waved Pride flags, prompting LAPD officers to set up skirmish lines to keep the groups separated. According to reports from the scene, police attempted to push the counter-protesters back, but two people allegedly resisted and were taken into custody.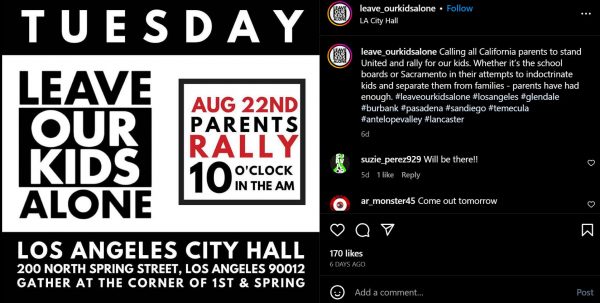 The LOKA group first rose to prominence after a group of parents took to social media and distributed flyers to protest a scheduled June 2 LGBTQ+ Pride event at Saticoy Elementary School on 7850 Ethel Avenue in North Hollywood.
Then on June 6, the group and others clashed with Glendale Police and LGBTQ+ supporters outside a meeting of the Glendale Unified School Board over LGBTQ+ studies and the GUSD polices on addressing LGBTQ+ related issues.
News footage from CBS Los Angeles KCAL showed approximately fifty Glendale police officers attempting to keep the two groups separated and then fists were thrown as both sides engaged in physical assaults. A Glendale police spokesperson confirmed that some arrests had been made but wouldn't comment further.
The group has also been present at school board meetings in Temecula, Murietta Valley, Orange County and Chino protesting for polices that would forcibly 'Out' LGBTQ+ kids and also remove LGBTQ+ materials, books, and Pride flags from classrooms.
California Attorney General Rob Bonta announced  earlier this month that his office is opening a civil rights investigation into potential legal violations by the Chino Valley Unified School District (CVUSD), which adopted a policy that forces schools to "out" students whose gender identities may be changing.
The Murrieta Valley Unified School District Board (MVUSD), had approved a policy mirroring one recently adopted by the Chino Valley Unified School District (CVUSD), that forces school faculty and staff to "out" students to parents whose gender identities may be changing.
Bonta in an emailed statement to the Blade said: "I am deeply disturbed to learn another school district has put at risk the safety and privacy of transgender and gender nonconforming students by adopting a forced outing policy. My office remains committed to ensuring school policies do not target or seek to discriminate against California's most vulnerable communities. California will not stand for violations of our students' civil rights."
Related:
Parent's rights group and counter protesters clash Downtown LA: