Battle lines drawn over proof of vax as Delta variant explodes
"A community has the right to protect itself against an epidemic of disease which threatens the safety of its members"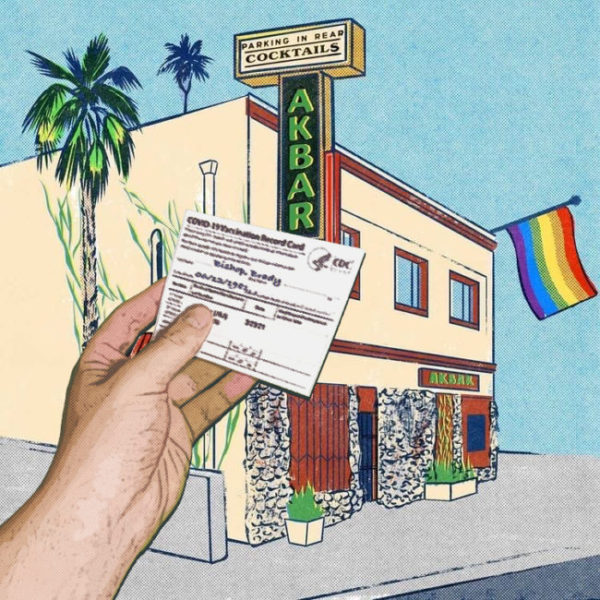 SILVER LAKE- For the owners of the Akbar on the edge of Hollywood self-described as a neighborhood oasis cocktail bar and nightclub, the reality of the affect of the highly contagious and rapidly transmitted Delta variant of coronavirus forced them to require proof of vaccination against COVID.
Last week the bar notified its customers on social media and at the door that proof of vaccination and a mask are now required to gain entry into Akbar. The notification helpfully added the message that "CA.gov has launched a way of downloading your vaccination record so you have a digital copy of it on your phone – https://myvaccinerecord.cdph.ca.gov/ -"
The bar also noted; "We will also accept your vaccination card (photo of it is acceptable) and valid ID together. We value our community health and feel we all must accept the responsibility to keep each other safe while socializing. Thank you for understanding."
Thirty-nine miles and 43 odd minutes away in Huntington Beach in Orange County, the owner of Basilico's Pasta e Vino posted flyers outside his business and on social media requiring proof that customers are not vaccinated.
The flyers read: "Notice: Proof of being unvaccinated required. We have zero tolerance for treasonous, anti-American stupidity. Thank you for pondering."
KABC 7 reported, "Many people are bothered, according to reviews on Yelp. Dozens left low ratings for Basilico's with comments like one that read: "What a slap in the face to all those who died from COVID-19." The increased public attention led to Yelp temporarily disabling posting on the page."
After the Los Angeles Times ran a piece on the restaurant, the owners responded on their Facebook page:
'LOS ANGELES TIMES' PRINTS AN ARTICLE ABOUT US, AND AGAIN HERE COME THE HATERS, AND WITH IT, THE HARASSING NON-STOP PHONE CALLS, THREATS AND HUNDREDS OF ONE STAR REVIEWS. AND GUESS WHAT? WE AT 'BASILICO'S PASTA E VINO' WEAR IT ALL AS A BADGE OF HONOR!ATTENTION: TINY TYRANTS, WANNABE LITTLE DICTATORS, PRO-LOCKDOWN / PRO-MASK / PRO-MANDATORY VACCINE MINI GESTAPO AMERICAN TRAITORS AND SNITCHES, AND YES ESPECIALLY 'GAVIN PELOSI' AND 'STRONZO FAUCI' … WE FEEL BLESSED TO GO INTO BATTLE AGAINST ALL OF YOU IN DEFENSE OF AMERICAN LIBERTY AND FREEDOM, SO BRING IT ON! SEE THE ARTICLE HERE:https://www.latimes.com/…/huntington-beach-restaurant…
In the past two weeks as the number of cases exploded, Los Angeles County issued a first in the nation indoor mask order for residents in an attempt to contain what one health official described as drinking from a fire house as the numbers of cases rose by nearly 2,000 per day at one point crossing over to nearly 3,000.
The Centers for Disease Control and Prevention, citing increasing concern around the fast-spreading and highly contagious delta variant on Tuesday, reversed its earlier mask guidance to specifically target areas of the country with the highest levels of the coronavirus and recommended that everyone in those areas, vaccinated or not, wear a mask as the delta variant continues to spread rapidly across the U.S.
However, city and state officials realized that the co-mingling of vaccinated and non-vaccinated Californians was the primary driving factor especially the 20% of the state's residents who have yet to take the vaccination or have refused.
On Monday, Governor Gavin Newsom announced California is implementing a first-in-the-nation standard to require all state workers and workers in health care and high-risk congregate settings to either show proof of full vaccination or be tested at least once per week.
"We are now dealing with a pandemic of the unvaccinated, and it's going to take renewed efforts to protect Californians from the dangerous Delta variant," said Newsom. "As the state's largest employer, we are leading by example and requiring all state and health care workers to show proof of vaccination or be tested regularly, and we are encouraging local governments and businesses to do the same."
The new policy for state workers will take effect August 2 and testing will be phased in over the next few weeks. The new policy for health care workers and congregate facilities will take effect on August 9, and health care facilities will have until August 23 to come into full compliance.
Appearing on MSNBC and CNN, Newsom claimed that individuals who refused to take the vaccine posed a risk to the public similar to drunk driving.
"It's like drunk drivers, you don't have the right to go out and drink and drive and put everybody else at risk including your own life," the governor said.
Newsom also denounced high-profile conservatives, including Fox News host Tucker Carlson. In a harsh exchange on Twitter, Newsom aggressively put down an attack by Georgia Rep. Marjorie Taylor Greene (R) a noted QAnon and conspiracy afficando:
Disgraceful? Here's a word — murderous.

Your anti-vaccine lies are literally killing Americans. Your own supporters are following you off a cliff and into the ICU.

Come clean about vaccines — they save lives. https://t.co/pJjlzJ3TVJ

— Gavin Newsom (@GavinNewsom) July 26, 2021
One day after state officials announced that state and healthcare employees will soon be required to show proof that they've been vaccinated or must undergo regular testing for COVID-19, the City of Los Angeles will require city employees to provide proof of vaccination against COVID-19 or undergo weekly testing for the virus.
As more bars, nightclubs, and restaurants are poised to require proof of vaccination for entry, the question has been posed as to whether that is in fact legal. According to Michele Goodwin, a professor of law at UC Irvine and director of the Center for Biotechnology and Global Health Policy, in a May 25 2021 interview with CapRadio's Sasha Hupka, also a contributor to PolitiFact California, a business has the right to refuse entry.
"If a person refuses to disclose their vaccination status, a business cannot search their pockets or vehicle for proof they are vaccinated. However, it can ask for the information to be voluntarily disclosed. If it isn't, a business has the right to refuse entry," Goodwin said adding; "Businesses can establish standards for entry that do not violate statutory or constitutional provisions in a state or federal law."
"In fact, even government entities like schools and the Army have historically been able to require vaccinations based on legal precedent set by Jacobson v. Massachusetts in 1905. The case upheld the power of states and other government entities to enforce compulsory vaccinations in the interest of public health," Hupka reported noting;
"A community has the right to protect itself against an epidemic of disease which threatens the safety of its members," Justice John Marshall Harlan wrote in the majority opinion in the case.
Los Angeles Mayor: Supreme Court decision "fundamentally un-American"
Mayor Eric Garcetti spoke to the Los Angeles Blade reflecting on Friday's U.S. Supreme Court reversal of Roe v. Wade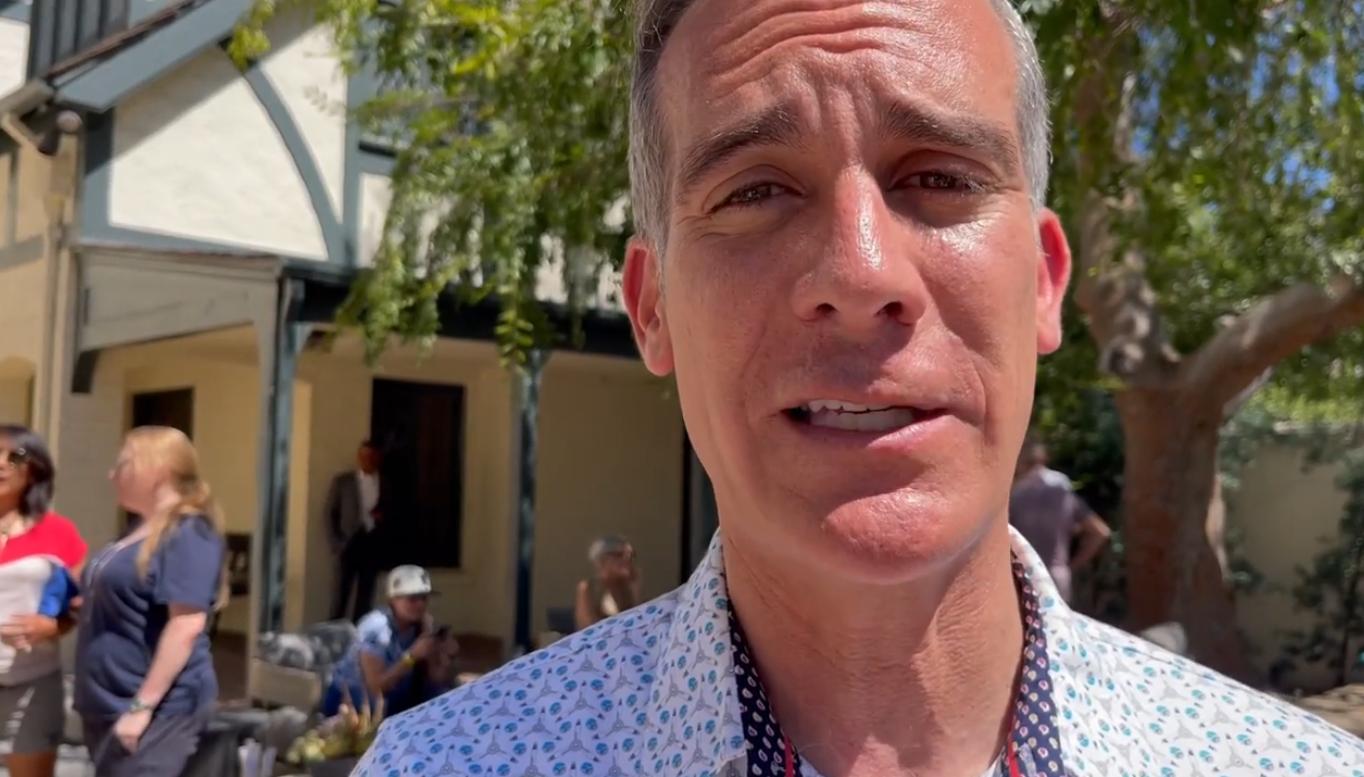 LOS ANGELES – During the Los Angeles Mayor's Pride Garden Party held at The Getty House, the official residence of the mayor Saturday afternoon, Mayor Eric Garcetti spoke to the Los Angeles Blade reflecting on Friday's U.S. Supreme Court reversal of Roe v. Wade.
Garcetti noted that "here in LA we defend those rights" after taking aim at the actions of the high court Friday in the ruling on the Mississippi case of Dobbs v. Jackson Women's Health clinic. "Make no mistake, we have to be active," Garcetti added.
WATCH:
Reminder: 101 closed through DTLA until 10pm Sunday
The closure began at 10 p.m. Saturday and will be completed by 10 p.m. Sunday, the Los Angeles Bureau of Engineering announced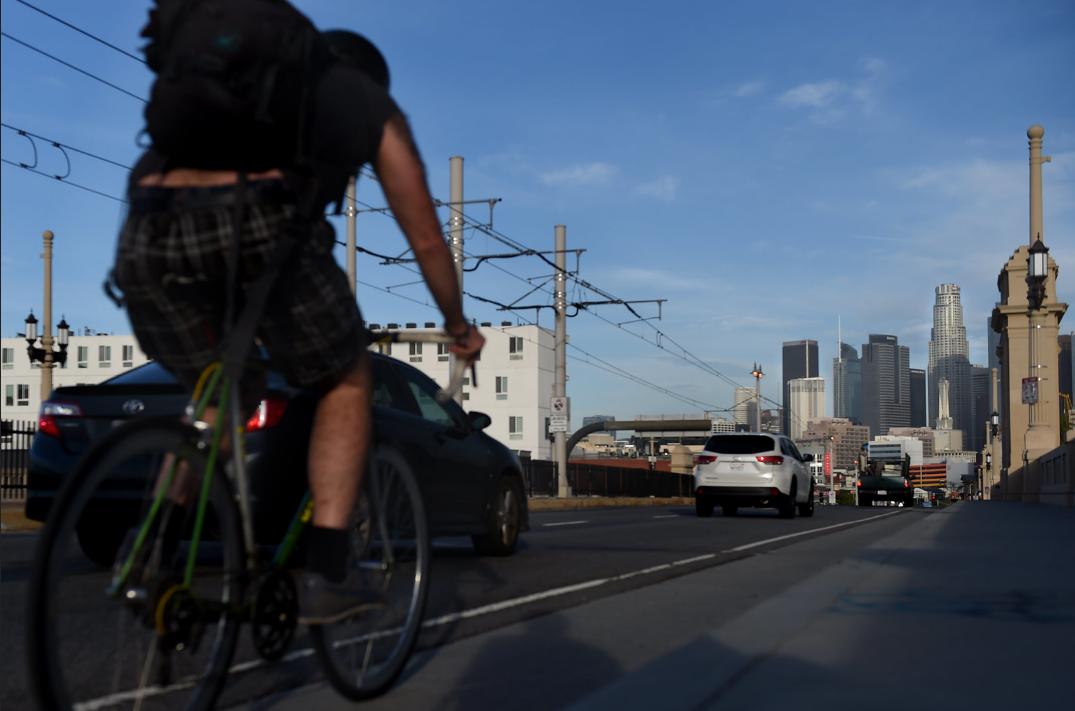 LOS ANGELES – (KTLA) Motorists are being reminded that the stretch of 101 through the downtown area of Los Angeles is shut down for road restoration and reconstruction work.
KTLA reported the closure began at 10 p.m. Saturday and will be completed by 10 p.m. Sunday, the Los Angeles Bureau of Engineering announced.
The 24-hour closure between State Route 60 and the 10 Freeway interchange is needed for the Sixth Street Viaduct Replacement Project, which aims to replace the original, seismically-deficient structure built in 1932, authorities said.
During the closure, the California Department of Transportation will also be doing slab replacement work along the same stretch of the 101 Freeway.
The closure will center around the east side of the viaduct construction site in Boyle Heights. While the stretch is closed, drivers headed west on State Route 60 from the Pomona area will not be able to access the 101, officials said.
Off-ramps and on-ramps in the area will also be closed during as road work gets underway.
Drivers who reach the closure will see signs directing them to a detour.
The new $588 million viaduct is expected to be completed in Summer of 2022, stretching between Boyle Heights and the Arts District.
Officials say it is the largest bridge project in the history of Los Angeles.
LA-DWP & Mayor Garcetti announce new outdoor watering restrictions
Sprinkler watering will be allowed Monday & Friday at odd-numbered addresses in the city, and even-numbered addresses on Thursday & Sunday

LOS ANGELES – In a press conference Tuesday Los Angeles Mayor Eric Garcetti and officials from the Los Angeles Department of Water and Power (LADWP) announced that outdoor watering in the city will be restricted to two days a week starting June 1.
The announcement comes as the Metropolitan Water District of Southern California declared an unprecedented water shortage emergency two weeks ago, imposing restrictions after MWD's board voted to adopt the emergency measures to "reduce non-essential water use" in certain areas. Cities and smaller water suppliers that get water from MWD are required to start restricting outdoor watering to one day a week, or to find other ways to cut usage to a new monthly allocation limit.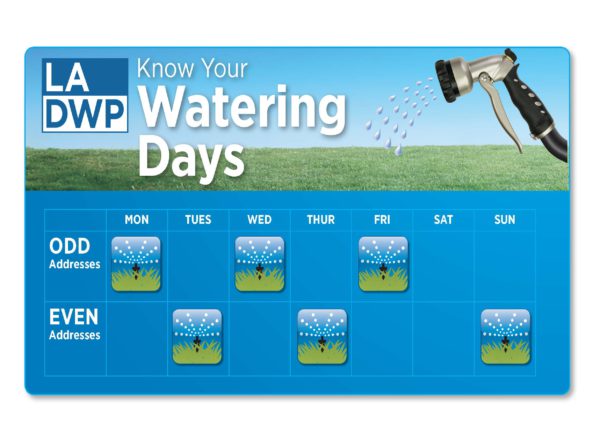 In Tuesday's press conference Mayor Garcetti said L.A.'s two-day limit was still more lenient than the one imposed by the Metropolitan Water District of Southern California, which has ordered many of its member agencies to restrict outdoor watering to once a week.
Sprinkler watering will be allowed on Monday and Friday at odd-numbered addresses in the city, and even-numbered addresses on Thursday and Sunday.