Delivering justice and equity, Jasmyne Cannick has 'the receipts'
This fight is about getting justice for Ed Buck's victims & also calling out all of the people along the way who failed them & enabled him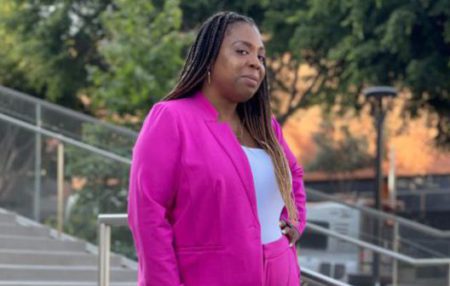 LOS ANGELES – In the world of popular culture the use of the slang phrase 'has the receipts' translates to bringing proof that someone was/is lying. Conversely it also is used to define that a person is being genuine.
Over the past several years as the crimes committed by West Hollywood resident and political activist Ed Buck, as he preyed on Black men were made public, the person holding the receipts was journalist turned advocate Jasmyne Cannick.
Frustrated and angered by what she perceived as lack of serious engagement by local law enforcement in the initial stages of the investigation into the death of 26-year-old Gemmel Moore, Cannick rallied the community and publicly called out law enforcement to take more aggressive action.
She orchestrated and led a grass-roots effort to get the criminal justice system of Los Angeles to listen to Gemmel's mother LaTisha Nixon's plea for justice. She used Gemmel's own words, written in his journal to alert authorities to the depths of the debauchery occurring inside that second floor flat in West Hollywood. She pleaded with law enforcement including the District Attorney for the County of Los Angeles Jackie Lacey to take action.
Her activism and fueling the rage of the greater community finally received the attention of Federal law enforcement and action that culminated in Buck's arrest and the trial.
She stood by the families even as to the horror of many, another Black man died nearly two years after Gemmel (2017) in January of 2019 and like that young life snuffed out too early, Timothy Dean, 55, was found deceased on the trash strewn floor of Buck's flat.
"The lives of Black gay men matter — no matter if they're homeless, survival sex workers or escorts — this is a case that transcends race, class, wealth. Our lives matter, our community matters, and just because someone is unhoused, an addict, may be a survival sex worker, or an escort, or HIV positive does not mean their lives don't matter and we should look the other way when they show up dead in a white Democratic donor's home." ~ Jasmyne Cannick.
In her owns words Cannick writes after the jury delivered guilty verdicts on nine separate federal counts; "It's been a long four years on this road for justice–justice that a guilty verdict would be but one small part off. Real justice is making sure that this never ever happens again. We can't do that with the enabling parties still acting like Ed Buck didn't happen"
She adds, "Ed Buck only got away with it for so long because he was white and because we still don't believe Black victims–even when they tell us what happened to them.
Gemmel Moore told us in his diary, "Ed Buck is the one to thank, he gave me my first injection of chrystal [sic] meth. It was very painful."
Buck was not all that he was portrayed as in the media, but he parlayed his influence, funneled through donations from others, and did ingratiate himself into the Democratic party in California over the years. There is plenty of photographic evidence to substantiate those claims to fame showing Buck rubbing elbows with politicians from all quarters.
Worse though was that rumours of Buck's fetishes were well known and yet even after the death of Gemmel Moore there seemed to be a collective shrugging of shoulders and zero calls for accountability. Cannick however, wasn't having it.
"Former district attorney Jackie Lacey was sitting on a mountain of evidence and still did nothing to prosecute Ed Buck for the deaths of Gemmel Moore and Timothy Dean," she said.
Appearing on BNC's Black News Tonight anchored by journalist Marc Lamont Hill last week, Cannick told Hill that the case intersected race and sexual orientation.
"As much as this case is about Ed Buck, it's also about our housing crisis, and what it makes people feel they have to do — play Russian roulette with their lives just to have a roof over their heads," she stressed.
Cannick is not just a gadfly community activist, in fact far from it. She is a powerful voice for those who have had no voice reminding people that Buck happened because the community allowed him to happen.
In her own words she points out, "Paul Koretz, a candidate for Controller in 2022, who is backed by the Black Democratic establishment and has taken thousands from Ed Buck, told a group that Buck's victims were all "disadvantaged Black hustlers."
"So while this fight is as much about getting justice for Ed Buck's victims it's also about calling out all of the people and entities along the way who failed them and enabled Ed Buck. Not doing so ensures a repeat of this situation because Ed Buck isn't the only Ed Buck," she pointed out. "Entities like the L.A. County Sheriff's Department who many of Ed Buck's victims said didn't take their complaints about Ed Buck seriously."
"But even though Ed Buck's crimes have been made public throughout his trial, not much has changed. The silence in Los Angeles' is deafening. If I wasn't sitting in the courtroom myself, I probably wouldn't know the trial was happening.
There's been no mention of the trial or justice for Ed Buck's victims from the Los Angeles County Democratic Party, California Democratic Party, Stonewall Democratic Club, or any of the dozens of elected officials he gave his money to," she noted.
In a conversation with the Blade on Monday Cannick said that the next phase for her advocacy is to seek financial compensation for Buck's victims. But beyond that is challenging community leaders and elected officials to address the very causes of what gave Buck ready access to the disadvantaged Black men in the first place; homelessness and helping the unhoused is her top priority.
She also serves now as an elected "At-Large" member of the leadership team of the Stonewall Democratic Club, the very place where Buck donated sums of money and rubbed elbows with Democratic Party leadership who gave Buck credibility and status.
For now there are some community leaders who are stepping up to acknowledge Cannick's holding the receipts including the City Council and Mayor of West Hollywood who honoured her community work during a regularly scheduled Council meeting Monday.
West Hollywood Mayor Linsey Horvath tweeted afterwards, "Thank YOU for your fearless leadership in pursuit of truth and justice, @Jasmyne Our community is safer, and survivors have more confidence that they will be heard & believed, because of you."
Thank YOU for your fearless leadership in pursuit of truth and justice, @Jasmyne Our community is safer, and survivors have more confidence that they will be heard & believed, because of you. #weho #believesurvivors #BlackLivesMatter #blackgaylivesmatter #AllBlackLivesMatter https://t.co/vq4t8IjLij

— Lindsey P Horvath (@LindseyPHorvath) August 3, 2021
The Hollywood sign is officially a century old
Originally intended to last just a year and a half, the Sign has endured more than eight decades – and is still going strong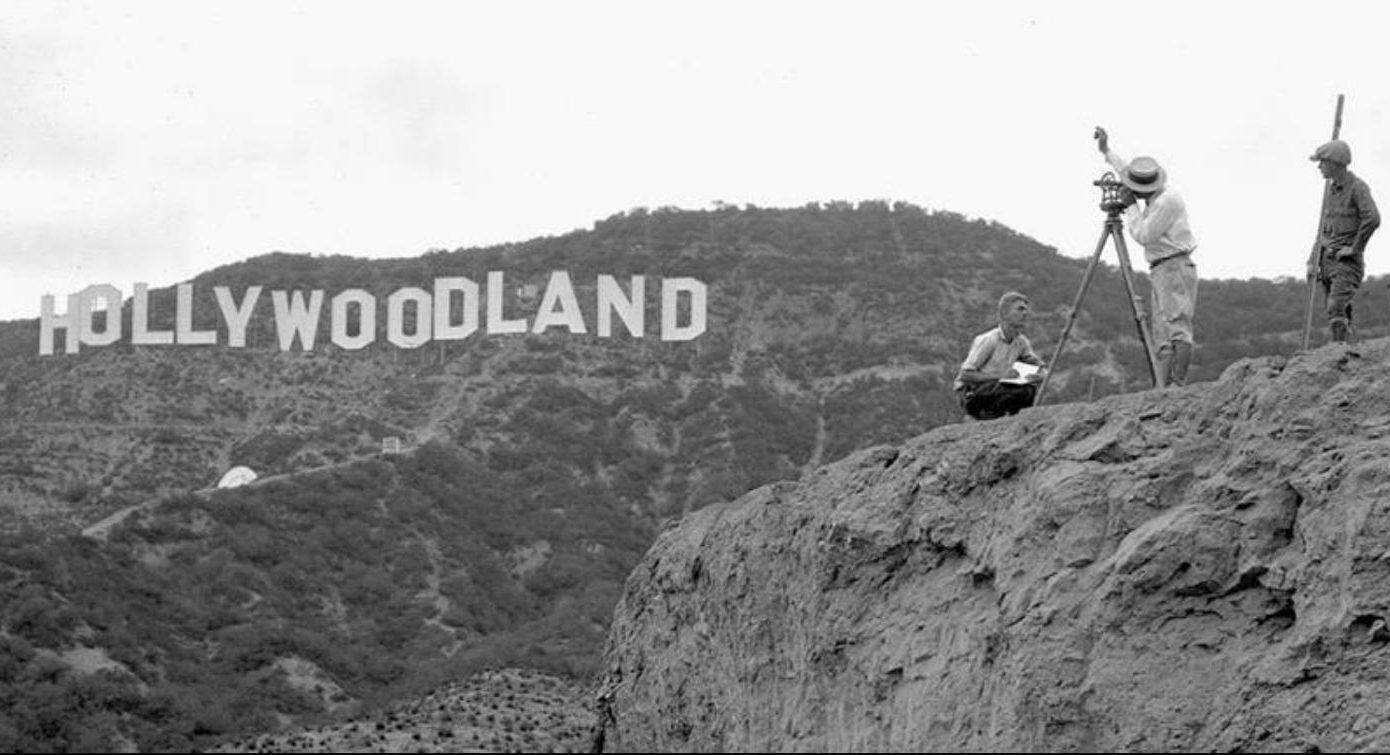 LOS ANGELES – The iconic symbol marking Los Angeles as the entertainment capital of the world marked its 100th birthday on Friday, Dec. 8. Universally recognized across the globe, the sign began its sojourn as a literal billboard sign to advertise an upscale residential real estate development. The sign was first illuminated on Dec. 8, 1923, originally saying "Hollywoodland."
According to the sign's official preservation website:
Hollywood, which by now represented not just a city, but also an industry, a lifestyle and, increasingly, an aspiration, was officially crowned when the "Hollywoodland" sign was erected in 1923. Built by Los Angeles Times publisher Harry Chandler as an epic $21,000 billboard for his upscale Hollywoodland real estate development, the Sign soon took on the role of giant marquee for a city that was constantly announcing its own gala premiere.
Dates and debates swirl about when the Hollywoodland Real Estate development – and the massive electric sign that advertised it – actually came into being. But a review of local newspapers from the era (i.e., The Los Angeles Times, Holly Leaves, Los Angeles Record, Los Angeles Examiner and the Hollywood Daily Citizen) clears up any confusion. For instance, a Hollywoodland ad in the Los Angeles Times (June 10, 1923) states that the real estate development launched in late March of that year and that by June, 200 men were employed, 7 miles of road had been cut and 300,000 cubic yards of dirt had been moved.
And while some sources still cite that the Sign was born in 1924, the correct date is indisputably 1923. The earliest found mention of the Sign appeared on December 14, 1923 in a Holly Leaves article about the Mulholland Highway soon to be built, which would extend from "…from the western end of the (Griffith Park) road, under the electric sign of Hollywoodland, around Lake Hollywood and across the dam."
Just two weeks later another Los Angeles Times article (December 30, 1923) with the headline "Hollywood Electric Sign Reached by Car," reported on actor Harry Neville's epic, experimental trip to test whether a motorcar could reach the Sign on the unpaved grade, and whether the car's brakes would work on the precipitous path down. According to the article, "A motley crowd of hillclimbers, workmen, salesmen and curiosity thrill-seekers …stood by with fear and trembling as the loose dirt began to give way but Neville stuck by the ship…" to make it safely back to the "wide smooth roads of Hollywoodland."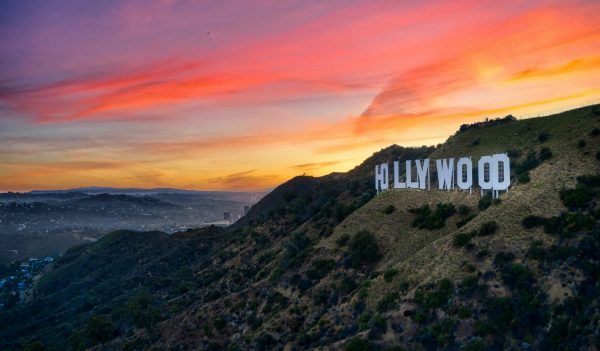 There has also been debate about whether the Sign was originally erected without lights (with the thousands of bulbs added later). However, historic photos from the Bruce Torrence Hollywood Photograph collection, taken just as the Sign was being erected, show workers carrying parts of the Sign that include the original lights in frames or "troughs." Bruce Torrence, curator of the photo collection, notes that the shape of the light boxes indicate that these sections were probably part of the letter "A" and possibly the "L."
Confusion solved: by the end of 1923, the Hollywood Sign was fully erected, a high-profile beacon – lights ablaze – for the fast-growing Los Angeles metropolis.
The "billboard" was massive. Each of the original 13 letters was 30 feet wide and approximately 43 feet tall, constructed of 3×9′ metal squares rigged together by an intricate frame of scaffolding, pipes, wires and telephone poles.
All of this material had to be dragged up precipitous Mt. Lee by laborers on simple dirt paths.
Few know that a giant white dot (35 feet in diameter, with 20-watt lights on the perimeter) was constructed below the Sign to catch the eye. The Sign itself featured 4,000 20-watt bulbs, spaced 8 inches apart.
At night the Sign blinked into the Hollywood night: first "Holly" then "wood" and finally "land," punctuated by a giant period. The effect was truly spectacular, particularly for pre-Vegas sensibilities.
Originally intended to last just a year and a half, the Sign has endured more than eight decades – and is still going strong.