New Public Justice President 'sickened' by anti-Trans attacks
'This is a critical moment for our country & Public Justice has a pivotal role to play in addressing it'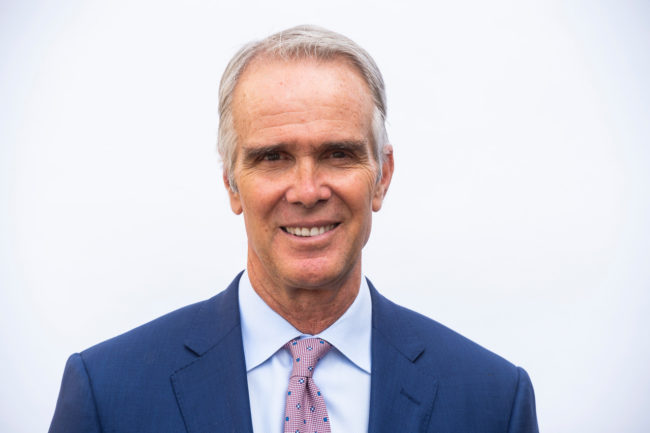 By Karen Ocamb | OAKLAND, Ca. – Native North Carolina attorney Dan Bryson loves people and emphatically hates discrimination. He still experiences a PTSD gut-punch whenever he recalls the national trauma visited on his beloved state in 2016 by rightwing conservatives ruthlessly seeking crass political power at the expense of the LGBTQ community through House Bill 2 (HB2), The Public Facilities Privacy & Security Act, otherwise known as the anti-transgender "bathroom bill."
"What absolutely just repels me to my very core throughout my whole life is discrimination of any type. Whatever it is, it sickens me and I don't understand it. I really don't understand why every single human being on this planet can't treat every other single human being with the respect and professionalism and love that they deserve," Bryson says. "[HB2 was] the worst thing ever. It makes my hair go on fire to this day."
It is this visceral commitment to LGBTQ equality that Bryson, a founding partner at the global law firm of Milberg Coleman Bryson Phillips Grossman, is expected to bring to his new post as President of Public Justice, the national nonprofit legal advocacy organization based in Washington DC and Oakland, California. His personal response to HB2 also illustrates his desire to find creative ways to engage others in discussions aimed at the public interest. Not only did Bryson financially contribute to those who opposed HB2, he commissioned artists to paint a mural on the wall of his office building opposite a popular restaurant in Raleigh, North Carolina.
"There is a big heart right in the middle, like a Valentine heart," he says. "And on the sides are a number of arms reaching to try to get to the heart. Some are white, some are Black, some are green — they're all different colors. The clothing on the arms may be female, may be male clothing. You just don't know. But the point is that everyone is just to trying to find love — and why couldn't we be a little bit more accepting as a society?"

While HB2 impacted him personally, Bryson's deep commitment to civil rights actually reflects the work Public Justice has done throughout its almost 40-year history. To paraphrase a protest poster during the George Floyd demonstrations, Public Justice has been supportive of civil rights even "when it's not trending." Adele Kimmel, Director of Public Justice's Students' Civil Rights Project, for instance, is a widely recognized litigator on gender and sexual violence and the legal intricacies of Title IX. She has educated youth, families, school officials and other lawyers on how to use Title IX of the Education Amendments of 1972 to stop bullying of LGBT students.
Along with Public Justice Kazan Budd Attorney Alexandra Brodsky, she represents out gay retired Army Major Steve Snyder-Hill in his sexual abuse lawsuit against Ohio State University and, in a case challenging former Secretary of Education Betsy DeVos's revised Title IX rules, represents Berkeley High School students, including nonbinary students, who are seeking to reverse DeVos's changes, which significantly rolled back many protections for students.
Public Justice also teamed up with the National Women's Law Center, Lambda Legal, the National Center for Transgender Equality and 46 other organizations and individuals in a 2017 campaign to reach the Departments of Education in each state telling them to properly follow federal law – and protect transgender students – or risk litigation.
"Schools that discriminate against transgender students, such as by denying them access to bathrooms and other single-sex facilities that correspond with their gender identity or failing to protect transgender students from harassment, are violating Title IX and the Constitution's Equal Protection Clause," the letter read in part. "Schools are obligated to protect transgender students in compliance with the law, regardless of whether they face legal recourse from the federal government. And when schools fail to comply with the law, they will continue to be subjected to lawsuits filed by and on behalf of aggrieved students."
Public Justice also strongly supports the Equality Act , has spoken out against the Republican wave of anti-trans bills, and works with civil rights coalition members such as The Leadership Conference, the Human Rights Campaign, as well as local groups such as the San Francisco-based Equal Rights Advocates.
Under Bryson, fighting systemic oppression is only going to get deeper. "This is a critical moment for our country and Public Justice has a pivotal role to play in addressing it. As [recent Public Justice "Champion of Justice" honoree] Ben Crump's own work shows, attorneys can be an essential part of addressing and ending injustice in America. That's what this organization is all about and every aspect of our work aims to move us forward to a better, more equitable society and justice system," Bryson told the audience during the organization's recent gala. "As a North Carolinian, I've seen the impact of ugly, hateful laws up close. We fought hard in my home state to battle the so-called transgender 'bathroom law' and we're fighting equally hard at Public Justice to take on the despicable effort to deny transgender athletes an opportunity to participate in school athletics.…. As President, I look forward to working with the staff to continue that expansion and maximize the impact of our work to tear down systemic injustice and work for a legal system – and a country – that is fairer, more inclusive and more equitable for all."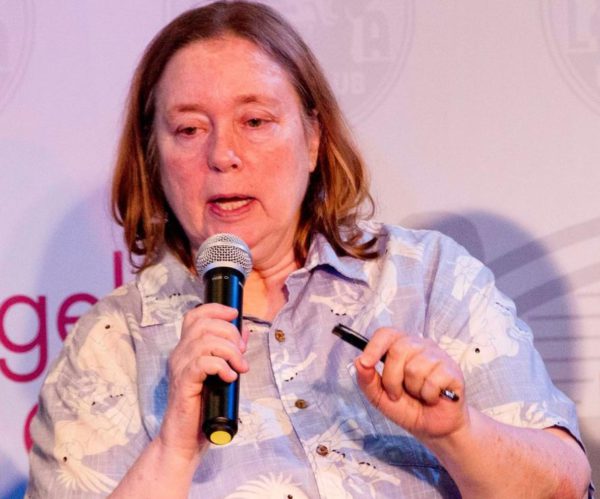 Karen Ocamb, is the Director of Media Relations for the Oakland, California based Public Justice.
Public Justice is a national nonprofit legal advocacy organization. They protect consumers, employees, civil rights & the environment.
Indiana GSA sues school district that banned Pride flags over another ban
"The treatment aimed at PHGSA by administrators is unwarranted- these students must be treated in the same manner all others are treated"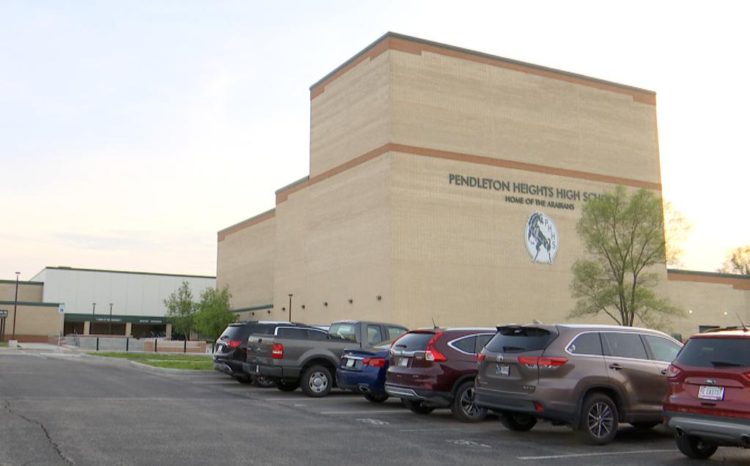 INDIANAPOLIS – A student led Gay-Straight Alliance at Pendleton Heights High School in Pendleton, Indiana filed suit against their school and the South Madison Community Schools District for banning public announcements and adverts in-school for their club.
Last Spring officials in the Schools District, in this suburban community 30 miles northeast of Indianapolis, ordered faculty members at Pendleton Heights High School to remove Rainbow Pride flags from classrooms. The Schools District labeled the flags "political paraphernalia" and instructed the Spanish, French and art teachers to get the flags out of their classrooms saying the flags violate their school district's "political paraphernalia" policy.
In the suit filed last Wednesday by the American Civil Liberties Union of Indiana on behalf of the Pendleton Heights High GSA, in U.S. District Court for the Southern District of Indiana, the ACLU noted that the principal at Pendleton Heights has stated that the PHGSA cannot publicize its existence on school bulletin boards or on the school's radio station, while other curricular and non-curricular clubs at the school are able to do so. 
"This group aims to create an environment that provides support to students, during a time that otherwise might be increasingly difficult for LGBTQ students," said Kit Malone, advocacy strategist at ACLU of Indiana. "The differential treatment aimed at Pendleton Heights Gay-Straight Alliance by administrators is unwarranted and these students must be treated in the same manner that all other student groups are treated."
Pendleton Heights Principal Connie Rickert has the authority to decide what student groups are allowed to meet at the school and which ones are deemed to be "official." Last Spring she deflected on the apparent anti-LGBTQ+ messaging the order to remove the flags sent telling one media outlet; ""Teachers are legally obligated to maintain viewpoint neutrality during their official duties to ensure all students can focus on learning and we can maintain educational activities and school operations," she said. "Our counselors are trained to respond to any student who desires support."
While she has allowed the GSA club to meet, her banning announcements and notifications for the GSA runs contrary to her statements last Spring that that her school prides itself on creating a welcoming environment for all.
"Students at Pendleton Heights High School may participate in non-curricular clubs recognized by the school," said Ken Falk, ACLU of Indiana legal director. "By creating additional hurdles for Pendleton Heights Gay-Straight Alliance such as censoring the group's promotions and prohibiting fundraising, the school is infringing on these students' rights."
The South Madison Community Schools District has declined comment.
Alarming numbers of Texas Trans kids in crisis over litany of anti-Trans bills
"Under the guise of protecting children- Texas legislators are directly harming thousands of transgender & nonbinary youth"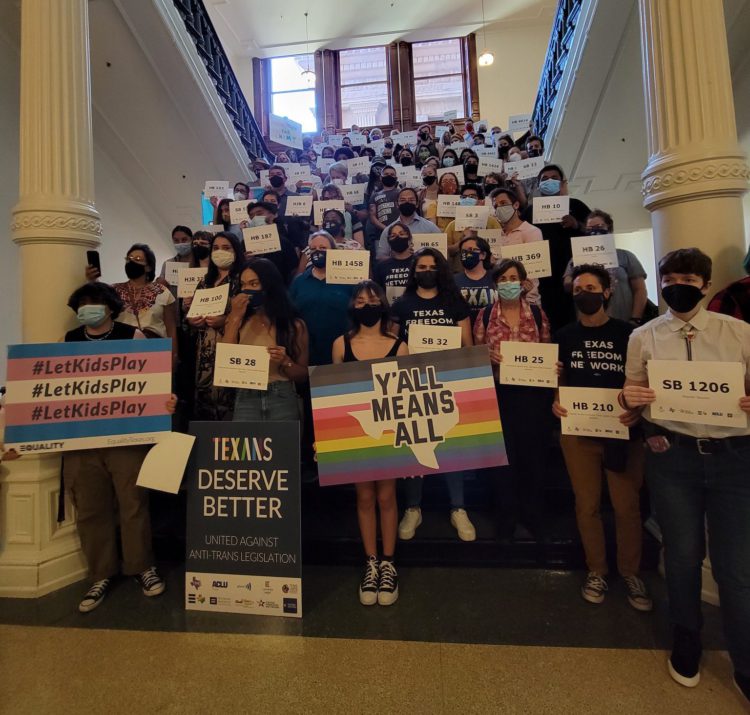 NEW YORK – The Trevor Project received nearly 4,000 crisis contacts from transgender and nonbinary youth in Texas in 2021, with many directly stating that they are feeling stressed and considering suicide due to anti-trans laws being debated in their state.
This new data comes during a year when Texas lawmakers have proposed nearly 70 anti-LGBTQ bills, including more than 40 bills that specifically target transgender and nonbinary youth — far more than any other state.
The Texas State Senate passed its anti-trans sports ban SB3 this week, and the companion bill HB10 is now moving forward in the Texas House.
Republican Texas Governor Abbott has prioritized SB 3 and called for a third consecutive special session of the legislature to consider this bill, which would ban transgender student-athletes from playing on sports teams consistent with their gender identity.
"The Trevor Project's crisis counselors have been hearing from transgender and nonbinary youth in Texas who are scared and worried about anti-trans laws being debated in their state — and some have even expressed suicidal thoughts. This is a crisis. We urge Texas lawmakers to consider the weight of their words and actions — and to reject HB10/SB3," said Amit Paley, CEO and Executive Director of The Trevor Project.
Between January 1 and August 30, 2021, The Trevor Project received more than 10,800 crisis contacts (calls, texts, and chats) from LGBTQ young people in Texas looking for support. More than 3,900 of those crisis contacts (36%) came from transgender or nonbinary youth.
Crisis contacts from LGBTQ young people in Texas seeking support have grown over 150% when compared to the same time period in 2020.
While this volume of crisis contacts can not be attributed to any one factor (or bill), a qualitative analysis of the crisis contacts found that:
Transgender and nonbinary youth in Texas have directly stated that they are feeling stressed, using self-harm, and considering suicide due to anti-LGBTQ laws being debated in their state.
Some transgender and nonbinary youth have expressed fear over losing access to sports that provide important acceptance in their lives.
"As a transgender young person in Texas, this new data from the Trevor Project is not surprising, but it's nonetheless harrowing and alarming to see this representation of the detrimental impact Texas Lege is having on our community — especially our kids. Lawmakers and proponents of bills like SB3 and HB10 should be alarmed by these statistics, too," Landon Richie a Trans youth activist and GenderCool Youth Leader from Houston told the Los Angeles Blade.
"Under the guise of protecting children and promoting fairness, Texas legislators are directly harming thousands of transgender and nonbinary youth, denying them the dignity, respect, and childhoods that they deserve. It's never an exaggeration to say that the passage — and merely debate — of these bills will cost lives," Richie added.
National mental health organizations like The Trevor Project and state LGBTQ equality groups including Equality Texas and Transgender Education Network of Texas (TENT) are raising concerns about the impact of such legislation on the mental health and wellbeing of transgender and nonbinary youth.
The Trevor Project's 2021 National Survey on LGBTQ Youth Mental Health found that more than half (52%) of transgender and nonbinary youth seriously considered suicide in the past year and 1 in 5 attempted suicide. Further, Trevor released a new research brief earlier this month on LGBTQ youth participation in sports, which found that a majority of LGBTQ young people (nearly 66%) do not actively participate in sports — with many citing fear of bullying and discrimination as a key factor for not participating.
If you or someone you know needs help or support, The Trevor Project's trained crisis counselors are available 24/7 at 1-866-488-7386, via chat at TheTrevorProject.org/Help, or by texting START to 678678.
2nd largest school district in Utah bans Pride & BLM flags as 'too political'
"We have to have a politically neutral classroom, and we're going to educate the students in the best possible way that we can"
FARMINGTON, Ut. – Administrators this week in the Davis School District, which is Utah's 2nd largest school district with 72,987 students, banned LGBTQ Pride and Black Lives Matter flags, saying they are 'politically charged.'
According to the Salt Lake City Tribune, Davis Schools spokesperson Chris Williams told the paper; "No flags fly in our schools except for the flag of the United States of America." Williams later walked that statement back adding a clarification that some of the Districts schools have flags from sports team or international countries which are considered "unrelated to politics."
"What we're doing is we're following state law," said Williams. "State law says that we have to have a classroom that's politically neutral."
Amanda Darrow, Director of Youth, Family, and Education at the Utah Pride Center in Salt Lake City, told multiple media outlets the school district is "politicizing the rainbow flag" which doesn't belong on a political list.
"That flag for us is so much more," said Darrow. "It is just telling us we're included in the schools, we are being seen in the schools, and we belong in these schools."
KUTV CBS2 News in Salt Lake City checked with the Utah State Board of Education. In an email, spokesman Mark Peterson said, "There is nothing in code that specifically defines a rainbow flag as a political statement so it would be up to district or charter school policies to make that determination."
The local Utah chapter of the American Civil Liberties Union also weighed in saying in a statement;
"Whether or not a school district has the legal ability to ban inclusive and supportive symbols from classrooms, it is bad policy for them to do so," the advocacy organization said in a statement. "Utah schools have an obligation to ensure that all students, regardless of their sexual orientation or gender identify, feel welcome inside a classroom. We urge school administrators and teachers to adopt policies that make all students feel safe and included."
Williams insisted the policy is not meant to exclude anyone and that all students are loved and welcomed – they just want to keep politics out of school he told the Tribune and KUTV.
"We have to have a politically neutral classroom, and we're going to educate the students in the best possible way that we can," said Williams.
A Utah based veteran freelance journalist, writer, editor, and food photographer weighed in on Twitter highlighting the negative impact of the Davis Schools decision on its LGBTQ youth.
Davis County school district has banned BLM & pride flags and other symbols saying they are politically charged.

This is why the number 1 killer of Utah kids is suicide, especially among LGBTQ youth. Nearly 52% say they have frequent suicidal ideation.https://t.co/twSZwWvWVl

— Kaz Weida (@kazweida) September 21, 2021
Davis County School District bans LGTBQ and BLM flags as 'too political'