Biden Administration extends Student Loan pause until January 31, 2022
The DOE will begin notifying borrowers in the coming days, & will release resources & information about how to plan for payment restart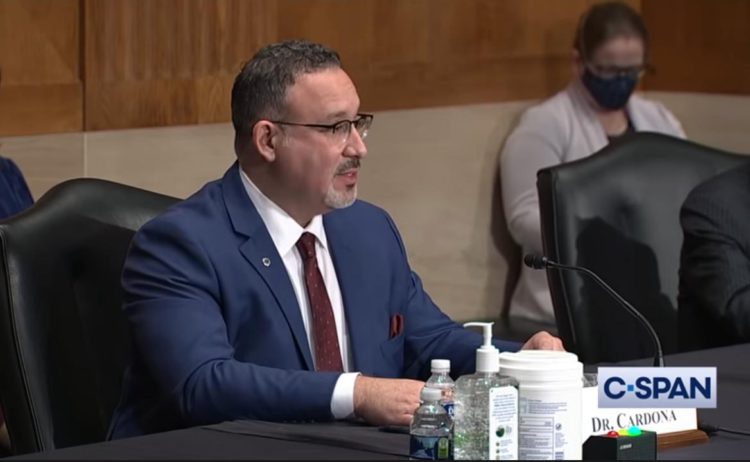 WASHINGTON – The U.S. Department of Education, (DOE) announced a final extension of the pause on student loan repayment, interest, and collections until January 31, 2022. The DOE believes this additional time and a definitive end date will allow borrowers to plan for the resumption of payments and reduce the risk of delinquency and defaults after restart. The DOE will continue its work to transition borrowers smoothly back into repayment, including by improving student loan servicing.
"The payment pause has been a lifeline that allowed millions of Americans to focus on their families, health, and finances instead of student loans during the national emergency," said U.S. Secretary of Education Miguel Cardona. "As our nation's economy continues to recover from a deep hole, this final extension will give students and borrowers the time they need to plan for restart and ensure a smooth pathway back to repayment. It is the Department's priority to support students and borrowers during this transition and ensure they have the resources they need to access affordable, high quality higher education."
The DOE will begin notifying borrowers about this final extension in the coming days, and it will release resources and information about how to plan for payment restart as the end of the pause approaches.
Today's action is one of a series of steps the Department has taken to support students and borrowers, make higher education more affordable, and improve student loan servicing, including:
Approving $1.5 billion in borrower defense claims, including extending full relief to approved claims and approving new types of claims.
Reinstating $1.3 billion in loan discharges for 41,000 borrowers who received a total and permanent disability discharge and protecting another 190,000 from potential loan reinstatement.
Helping 30,000 small business owners with student loans seeking help from the Paycheck Protection Program.
The White House also released a statement by President Biden extending the Pause on Student Loan Repayment;
"On my first day in office in January, I directed the Department of Education to pause federal student loan repayments for millions of Americans through September. The pause has been a critical lifeline so they don't have to choose between paying for basic necessities or their student loan during the pandemic that upended their lives.
As today's jobs numbers show, we have the tools that will allow us to beat COVID-19 and keep our economy recovering at a record rate. But we know there is more work to do and the road will still be long for many people – especially for the one in six adults and one in three young people who have federal student loans.
That's why today, my administration is extending the pause on federal student loan repayments one final time until January 31, 2022. This will give the Department of Education and borrowers more time and more certainty as they prepare to restart student loan payments. It will also ensure a smoother transition that minimizes loan defaults and delinquencies that hurt families and undermine our economic recovery."
Writer's Guild of America & studios have reached a tentative deal
"We are, as of today, suspending WGA picketing. Instead, if you are able, we encourage you to join the SAG-AFTRA picket lines this week"
HOLLYWOOD – The end may be in sight for the strike by The Writers Guild of America that has lasted more than 140 days and put thousands of people out of work. On Sunday, the WGA Negotiating Committee said that the union and the major Hollywood studios have reached a tentative deal for a new contract, although the deal must still be ratified by the union's 11,500 members.
In a statement released by the WGA Sunday evening the WGA Negotiating Committee leadership wrote:
"We have reached a tentative agreement on a new 2023 MBA, which is to say an agreement in principle on all deal points, subject to drafting final contract language.
What we have won in this contract—most particularly, everything we have gained since May 2nd—is due to the willingness of this membership to exercise its power, to demonstrate its solidarity, to walk side-by-side, to endure the pain and uncertainty of the past 146 days. It is the leverage generated by your strike, in concert with the extraordinary support of our union siblings, that finally brought the companies back to the table to make a deal. […]
What remains now is for our staff to make sure everything we have agreed to is codified in final contract language. And though we are eager to share the details of what has been achieved with you, we cannot do that until the last "i" is dotted. To do so would complicate our ability to finish the job. So, as you have been patient with us before, we ask you to be patient again—one last time.
Once the Memorandum of Agreement with the AMPTP is complete, the Negotiating Committee will vote on whether to recommend the agreement and send it on to the WGAW Board and WGAE Council for approval. The Board and Council will then vote on whether to authorize a contract ratification vote by the membership.
If that authorization is approved, the Board and Council would also vote on whether to lift the restraining order and end the strike at a certain date and time (to be determined) pending ratification. This would allow writers to return to work during the ratification vote, but would not affect the membership's right to make a final determination on contract approval.
Immediately after those leadership votes, which are tentatively scheduled for Tuesday if the language is settled, we will provide a comprehensive summary of the deal points and the Memorandum of Agreement. We will also convene meetings where members will have the opportunity to learn more about and assess the deal before voting on ratification.
To be clear, no one is to return to work until specifically authorized to by the Guild. We are still on strike until then. But we are, as of today, suspending WGA picketing. Instead, if you are able, we encourage you to join the SAG-AFTRA picket lines this week."
We did it. We have a tentative deal.

Over the coming days, we'll discuss and vote on it, together, as a democratic union. But today, I want to thank every single WGA member, and every fellow worker who stood with us in solidarity. You made this possible. Thank you. #WGAStrong pic.twitter.com/KfzVKoPMPz

— Adam Conover (@adamconover) September 25, 2023
Governor Gavin Newsom issued the following statement in response to the tentative agreement reached by the Writers Guild of America and the Alliance of Motion Picture and Television Producers:
"California's entertainment industry would not be what it is today without our world class writers. For over 100 days, 11,000 writers went on strike over existential threats to their careers and livelihoods — expressing real concerns over the stress and anxiety workers are feeling. I am grateful that the two sides have come together to reach an agreement that benefits all parties involved, and can put a major piece of California's economy back to work."