Los Angeles City Council votes 13-0 to require vax for indoor spaces
"It's our responsibility to protect the public. The decision to not get vaccinated doesn't just affect you."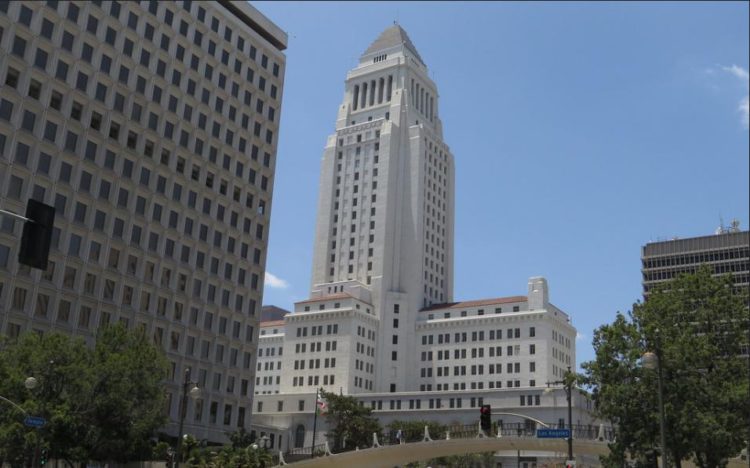 LOS ANGELES – The Los Angeles City Council voted 13-0 Wednesday to direct Los Angeles City Attorney Mike Feuer and his office to draft a new ordinance that would require patrons wishing to enter indoor spaces in the city provide proof of a COVID-19 vaccination.
The legislative effort was introduced last week by City Council President Nury Martinez and Councilman Mitch O'Farrell and targets the city's restaurants, bars, retail establishments, fitness centers, spas, and entertainment centers like stadiums, concert venues and movie theaters.
"It's our responsibility to protect the public, that includes protecting them from the unvaccinated," Martinez said after the vote. "The decision to not get vaccinated doesn't just affect you. We have kids under the age of 12 who are not eligible for the vaccine yet, and someone's decision to not get vaccinated affects them as well." Martinez reiterated her message Wednesday afternoon on Twitter.
Today the Los Angeles City Council passed legislation to require proof of COVID-19 vaccinations for Angelenos to enter indoor public spaces. Your decision to remain unvaccinated doesn't just affect you–it affects us all.

— Nury Martinez (@CD6Nury) August 11, 2021
The Council is directing City Attorney Feuer to draft an ordinance requiring patrons to have at least one dose of the vaccine to be able to enter the indoor public spaces.
KTLA reported that City Councilman Mitch O'Farrell explained that the motion is "not a vaccine mandate."
"We're not going to tell someone, anyone that they have to get vaccinated. We're also not going to deny anyone the ability to access essential food, medicine… regardless of vaccination. That wouldn't be legal, that wouldn't be moral," O'Farrell said. "But what is immoral is choosing not to get vaccinated."
"We need to stop fighting the science and start fighting the virus," O'Farrell said.
The L.A. County Board of Supervisors also voted Tuesday to look into options for requiring residents to show proof of COVID-19 vaccination to enter certain indoor spaces in unincorporated county areas.
Some restaurants and bars throughout L.A. County have already started requiring customers to show proof that they are vaccinated against COVID-19, or present a negative coronavirus test if they're unvaccinated.
The Los Angeles County Department of Public Health noted that as COVID-19 hospitalizations continue to increase, data is showing that vaccinated people remain exceptionally well protected from severe COVID-19 illness. Although as the Delta variant poses greater challenges, Dr. Barbara Ferrer, Director of Public Health had already ordered masks be worn in indoor settings.
Among the more than 5.1 million fully vaccinated people in L.A. County, Public Health identified less than 1% or 15,628 people fully vaccinated who tested positive for COVID-19 as of August 3. Of those who tested positive, 446 were hospitalized. This translates to 0.009% of all fully vaccinated people ending up hospitalized. Deaths in this group are also very low at 0.0008%, representing 41 people fully vaccinated that tragically passed away. This compelling evidence shows that fully vaccinated people remain at low risk for becoming infected and even lower risk for having a bad outcome if they are infected.
In Sacramento Wednesday, the California Department of Public Health (CDPH) issued a new public health order requiring all school staff to either show proof of full vaccination or be tested at least once per week.
"To give parents confidence that their children are safe as schools return to full, in-person learning, we are urging all school staff to get vaccinated. Vaccinations are how we will end this pandemic," said Governor Newsom. "As a father, I look forward to the start of the school year and seeing all California kids back in the classroom."
The new policy for school staff will take effect August 12, 2021, and schools must be in full compliance by October 15, 2021.

In recent weeks, California has led the nation in implementing measures to slow the spread of COVID-19, including:
Vaccine verification for state workers. Requires all state workers to either show proof of full vaccination or be tested at least once per week, and encourages local governments and other employers to adopt a similar protocol. Following California's announcement, some of the largest California businesses and local governments followed suit, as did the federal government.
Vaccinations for health care workers. Requires workers in health care settings to be fully vaccinated or receive their second dose by September 30, 2021.
Universal masking in K-12 settings. Aligned with guidance from the CDC and American Academy of Pediatrics, California was the first state to implement universal masking in school settings to keep students and staff safe while optimizing fully in-person instruction.
Medi-Cal vaccination incentives. $350 million in incentive payments to help close the vaccination gap between Medi-Cal beneficiaries and Californians as a whole, significantly stepping up outreach in underserved communities.
Statewide mask recommendation. In response to the spike in COVID-19 hospitalizations and new CDC guidance calling for masking, the state recommended mask use for indoor public settings regardless of vaccination status.
Los Angeles Mayor: Supreme Court decision "fundamentally un-American"
Mayor Eric Garcetti spoke to the Los Angeles Blade reflecting on Friday's U.S. Supreme Court reversal of Roe v. Wade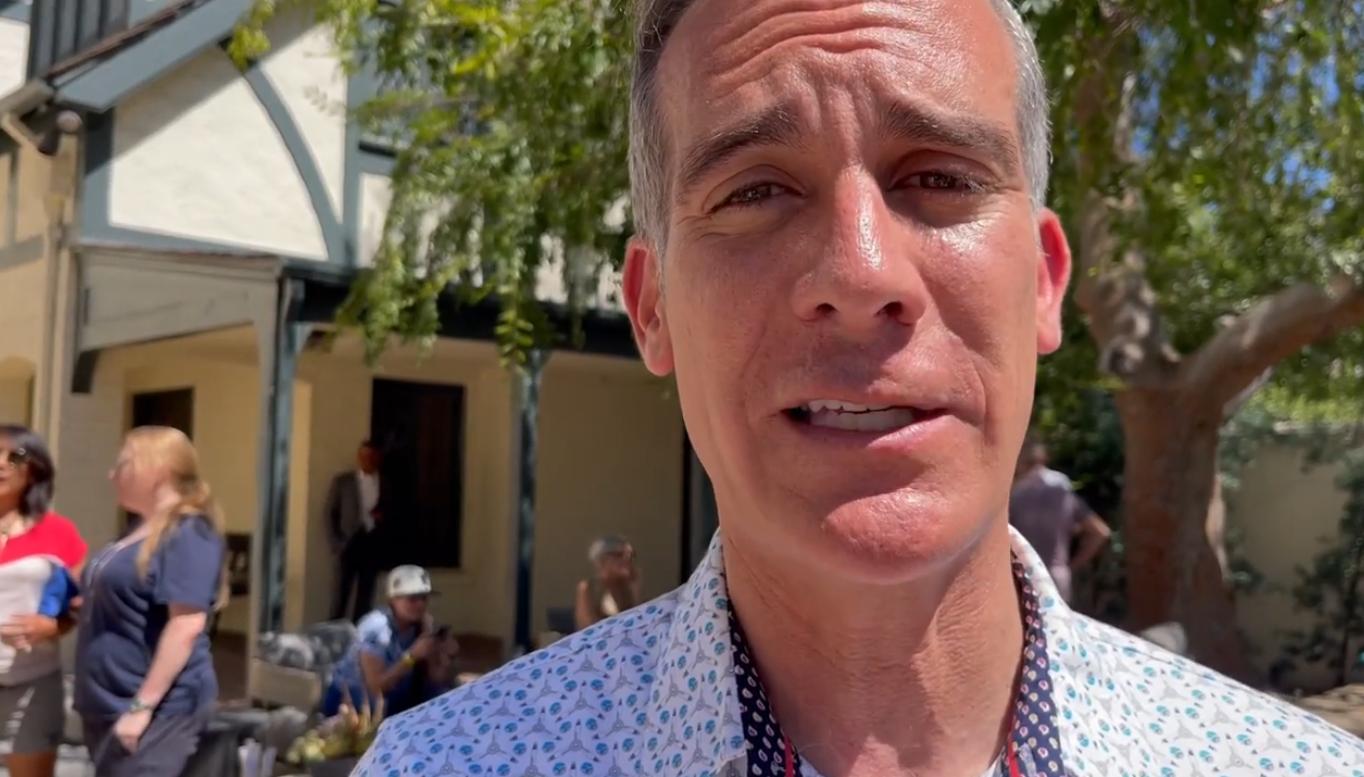 LOS ANGELES – During the Los Angeles Mayor's Pride Garden Party held at The Getty House, the official residence of the mayor Saturday afternoon, Mayor Eric Garcetti spoke to the Los Angeles Blade reflecting on Friday's U.S. Supreme Court reversal of Roe v. Wade.
Garcetti noted that "here in LA we defend those rights" after taking aim at the actions of the high court Friday in the ruling on the Mississippi case of Dobbs v. Jackson Women's Health clinic. "Make no mistake, we have to be active," Garcetti added.
WATCH:
Reminder: 101 closed through DTLA until 10pm Sunday
The closure began at 10 p.m. Saturday and will be completed by 10 p.m. Sunday, the Los Angeles Bureau of Engineering announced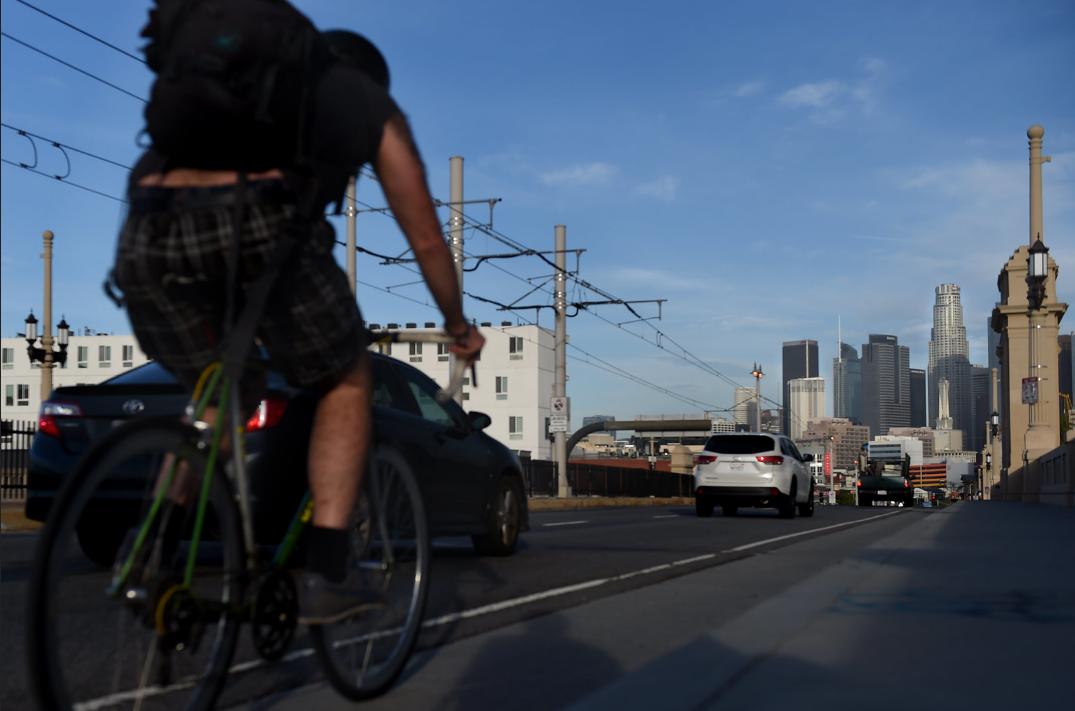 LOS ANGELES – (KTLA) Motorists are being reminded that the stretch of 101 through the downtown area of Los Angeles is shut down for road restoration and reconstruction work.
KTLA reported the closure began at 10 p.m. Saturday and will be completed by 10 p.m. Sunday, the Los Angeles Bureau of Engineering announced.
The 24-hour closure between State Route 60 and the 10 Freeway interchange is needed for the Sixth Street Viaduct Replacement Project, which aims to replace the original, seismically-deficient structure built in 1932, authorities said.
During the closure, the California Department of Transportation will also be doing slab replacement work along the same stretch of the 101 Freeway.
The closure will center around the east side of the viaduct construction site in Boyle Heights. While the stretch is closed, drivers headed west on State Route 60 from the Pomona area will not be able to access the 101, officials said.
Off-ramps and on-ramps in the area will also be closed during as road work gets underway.
Drivers who reach the closure will see signs directing them to a detour.
The new $588 million viaduct is expected to be completed in Summer of 2022, stretching between Boyle Heights and the Arts District.
Officials say it is the largest bridge project in the history of Los Angeles.
LA-DWP & Mayor Garcetti announce new outdoor watering restrictions
Sprinkler watering will be allowed Monday & Friday at odd-numbered addresses in the city, and even-numbered addresses on Thursday & Sunday

LOS ANGELES – In a press conference Tuesday Los Angeles Mayor Eric Garcetti and officials from the Los Angeles Department of Water and Power (LADWP) announced that outdoor watering in the city will be restricted to two days a week starting June 1.
The announcement comes as the Metropolitan Water District of Southern California declared an unprecedented water shortage emergency two weeks ago, imposing restrictions after MWD's board voted to adopt the emergency measures to "reduce non-essential water use" in certain areas. Cities and smaller water suppliers that get water from MWD are required to start restricting outdoor watering to one day a week, or to find other ways to cut usage to a new monthly allocation limit.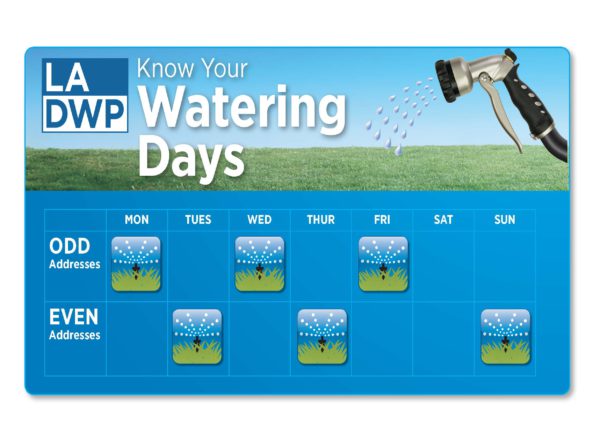 In Tuesday's press conference Mayor Garcetti said L.A.'s two-day limit was still more lenient than the one imposed by the Metropolitan Water District of Southern California, which has ordered many of its member agencies to restrict outdoor watering to once a week.
Sprinkler watering will be allowed on Monday and Friday at odd-numbered addresses in the city, and even-numbered addresses on Thursday and Sunday.