FBI joins the hunt for the killer(s) of a newly wed lesbian couple in Utah
This is one of the largest investigations the Grand County Sheriff's Office has ever taken on the Sheriff said.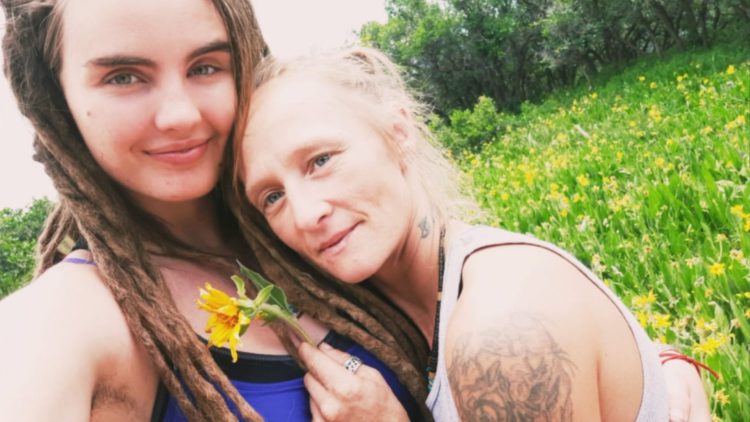 MOAB, Ut. – The townspeople of this small Eastern Utah town located less than 50 miles from the Colorado state line, have been shaken by the double murders of a newly wed lesbian couple found shot to death in a Grand County campground last week.
Grand County Sheriff Steven White said that he had asked for the assistance of agents from the Salt Lake City field office of the Federal Bureau of Investigation along with law enforcement agents from the Utah State Bureau of Investigation, as the investigation into the shooting deaths of Kylen Carrol Schulte, 24, and Crystal Michelle Turner, 38, also known as Crystal Beck, widens.
The women's bodies were discovered August 18 at their campsite in the South Mesa area of the La Sal Loop Road in Grand County, according to a statement released by the Sheriff.
This is one of the largest investigations the Grand County Sheriff's Office has ever taken on, White told local media outlets.
"Just know that everything is being done that we can possibly do, that is why we have asked for the additional resources. We want to make sure we do it thorough, we do it complete and we do it right," he said.
Deputies are working extra hours and extra shifts to assist in the investigation and provide extra safety to the community, White said.
"We have extra patrols that are working pretty much the whole county and we are putting special emphasis on the mountain and around those areas. We are trying to work them as much as we can, especially when we are 8 guys down.
A close friend of the couple expressed that the biggest concerns is if there is enough transparency from law enforcement, Laura Lee Green, told Salt Lake City's KSTU Fox 13 news.
"There is a lot of curiosity in the town as far as if law enforcement is doing anything they can and if they did everything they could in the very beginning," she told KSTU.
She also said that she was worried if deputies searched for the newlyweds when the two women were originally reported missing.
Sheriff White responded saying that "When the original complaint came in from, it was actually done as a missing person out of the Moab police department. There were actually deputies that went into the mountain areas, there was actually a Colorado sheriff that looked at one of the lakes on the backside of the mountain for us."
The Sheriff added; "This is totally devastating. This is my home. This is where I was born and raised. I take it not only on a professional level but on a personal level that I want to get to the bottom of this."
Anyone with information that may be helpful to the investigation should contact the Grand County Sheriff's Office at 435-259-8115.
Loved ones hold candlelight vigil to remember Moab couple murdered, call for justice:
Salt Lake City Council now has LGBTQ majority
"Representation matters. People need to see people who look like them and have similar values representing them"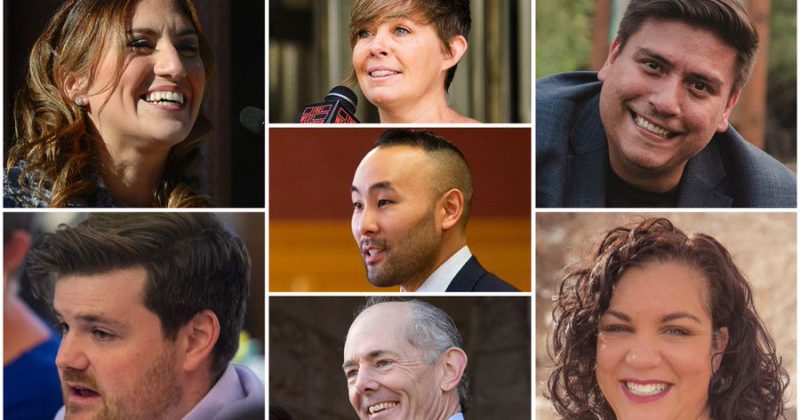 SALT LAKE CITY – Four LGBTQ Salt Lake City Council candidates won their elections this past Tuesday night – two incumbents and two non-incumbents – and now four of the council's seven seats will be held by out LGBTQ members.
"It is different to have a government that makes decisions to value diversity and to have a government that is diverse itself," council member Darin Mano told The Salt Lake Tribune. Mano, who won a full term in this week's election, is Japanese American and an openly gay man.
The Salt Lake Tribune noted; "incoming Salt Lake City Council is historic — in multiple ways. For the first time, most of the members — four of the seven — are racial and ethnic minorities. And for the first time, a majority — again four — are openly LGBTQ."
Mano became the first Asian American out LGBTQ person elected to the council and Alejandro Puy became the first out LGBTQ Latinx person. They will join Councilmembers Amy Fowler and Chris Wharton, who both won reelection. Currently, just six out LGBTQ people serve in elected office anywhere in Utah.
"LGBTQ people are severely underrepresented in governments across Utah, so holding a majority of seats on the Salt Lake City Council is a milestone moment for the city and the state. Salt Lake City is now one of just a handful of city councils in the entire country with an LGBTQ majority and the lived experiences of the LGBTQ members will ensure more inclusive policymaking," said Mayor Annise Parker, President & CEO of LGBTQ Victory Fund.
"While the LGBTQ members will fight tirelessly to advance equality, we know they are primarily focused on the everyday issues that will improve the lives of their constituents."
Salt Lake City makes history with its most diverse council ever, electing racial and LGBTQ majoritieshttps://t.co/1qqNZAX10T

— Salt Lake Tribune politics (@SLTribPolitics) November 5, 2021
The only member of the incoming council who is not either a minority or LGBTQ is Dan Dugan, a retired engineer and Navy officer, who represents east-side neighborhoods the Tribune reported.
"It is historic and exciting," said Amy Fowler, the council chair. "I believe this new council is really a more accurate representation of Salt Lake City."
Fowler, who won reelection, told the Tribune; "Representation matters. People need to see people who look like them and have similar values representing them. And I think this is really something that can be such a good thing for the west side in particular."
Deal with LDS church promoted model for LGBTQ rights/religious liberties
The agreement led to an LGBTQ civil rights law in the state, which has Republican control of the state legislature and the governor's mansion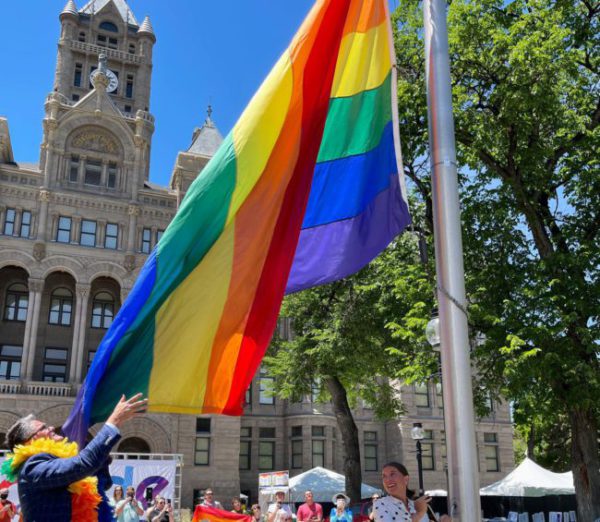 SALT LAKE CITY – A new video from the premier LGBTQ group in Utah, challenging the idea LGBTQ rights must be at odds with religious liberty, promotes an agreement reached in the state as a potential model to achieve a long sought-after update to civil rights law at the federal level.
The video, published Friday by Equality Utah, focuses on a 2015 agreement in Utah between the supporters of LGBTQ rights and the Mormon Church to enact a compromise acceptable to both sides. The agreement by those two sides led to an LGBTQ civil rights law in the state, which has Republican control of the state legislature and the governor's mansion.
Troy Williams, executive director of Equality Utah, says in the video dialogue is key to achieving meaningful success, whether its among the people of Utah, a state legislature or lawmakers in Congress.
"When you are working with LGBT rights in a state like Utah, and you want to advance legal equality, you can't do it without working with Republicans, with conservative, with people of faith," Williams says
Williams, speaking with the Washington Blade over a Zoom call, said the main audience for the video is people on "the center right and the center left" willing to listen to other side when it comes to LGBTQ rights and religious liberty.
"People that have the courage to reach out to each other, and sit down across from each other and say, 'Hey look, let's hammer this out," Williams said. "That's who my audience is."
Not only did Utah enact non-discrimination protections for LGBTQ people, but the state under a Republican governor administratively banned widely discredited conversion therapy for youth. When lawmakers proposed legislation that would ban transgender youth from competing in school sports, the proposal was scuttled when Gov. Spencer Cox (whom Williams called a "super Mormon") said he'd veto it after it came to his desk.
Marina Gomberg, a former board for Equality Utah, is another voice in the video seeking dispel the narrative religious liberty and LGBTQ rights are in conflict.
"in order to protect LGBTQ people, we don have to deny religious liberty, and in order to provide protections for religious liberties, we don't have to deny LGBTQ people," Gomberg says. "The idea that we do is a fallacy that Utah has dismantled."
In July, new polling demonstrated the surprisingly the Utah, despite being a conservative state, has the second highest percentage of state population in support for non-discrimination protections for LGBTQ people. The data Public Religion Research Institute from 77 percent of Utah residents support LGBTQ people, which is just behind New Hampshire at 81 percent.
Tyler Deaton, senior adviser for the pro-LGBTQ American Unity Fund, said the Utah agreement demonstrates the possibility of reaching an agreement at the federal level once "second order" issues are put into perspective.
"The first order question has to be how are we winning the culture," Deaton said. "Do people even want to pass the bill? And if they do, you then figure out the details."
The American Unity Fund has helped promote as a path forward for LGBTQ non-discrimination at the federal level the Fairness for For All Act, legislation seeking to reach a middle ground on LGBTQ rights and religious freedom. Polling earlier this year found 57 percent of the American public back a bipartisan solution in Congress to advance LGBTQ civil rights.
Supporters of the Equality Act, the more established vehicle for LGBTQ rights before Congress, say the Fairness for For All Act would give too many carve-out for LGBTQ rights in the name of religious freedom. The Equality Act, however, is all but dead in Congress and has shown no movement in the U.S. Senate.
Skeptics of the Utah law would point out the law doesn't address public accommodations, one of the more challenging aspects in the fight for LGBTQ rights and one or remaining gaps in civil rights protections for LGBTQ people in the aftermath of the U.S. Supreme Court's decision last year in Bostock v. Clayton County. As a result, it's perfectly legal in Utah for a business owner to discriminate against LGBTQ coming as patrons.
Williams, however, shrugged off the idea the lack of public accommodations protections in Utah make the agreement in the state makes it any less of a model, making the case the spirit behind the deal is what matters.
"I think copying and pasting Utah's law doesn't work for lots of reasons," Wililams said. "What's most important is a model of collaboration because when you are sitting around the table with each other — Democrats and Republicans, LGBTQ people and people of faith — that's when the transformation happens. That is when the mutual respect is really forged."
LGBTQ+ Non-profit will build 8 homes for LGBTQ youth in Western states
Encircle is a non-profit organization with the mission to bring the family and community together to enable LGBTQ+ youth to thrive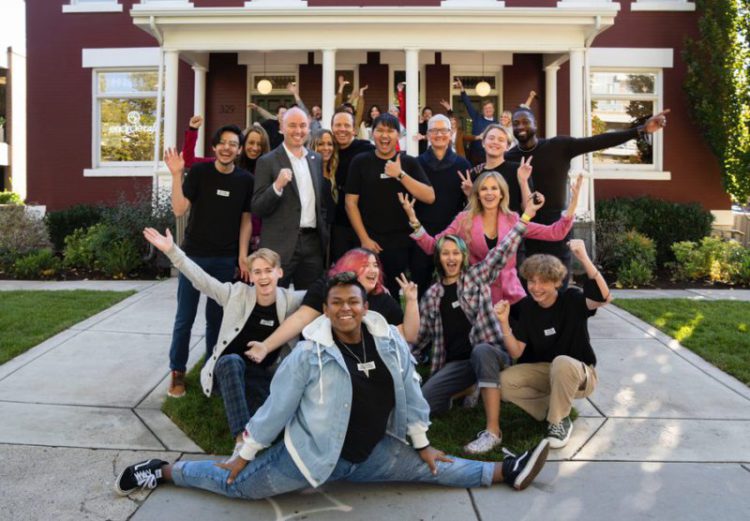 SALT LAKE CITY – A Utah-based non-profit announced Wednesday that the organization has raised more than $8 million dollars to build eight new homes in four Western states to provide services for LGBTQ youth.
Encircle, which provides mental health services for LGBTQ youth, will build the new homes with locations in Arizona, Idaho, Nevada and Utah. The new homes are dedicated for providing safe spaces, resources and preventing teen suicide. The organization currently has locations in Salt Lake City, Provo and St. George, Utah, and recently construction has begun on locations in Heber, Logan and Ogden, as well as in Las Vegas, Nevada.
The fundraising efforts had kicked off this past February with donations from NBA Basketball's Utah Jazz team owners Ryan and Ashley Smith and Apple CEO Tim Cook, the first openly gay CEO of a Fortune 500 firm. The lead singer of Imagine Dragons Dan Reynolds and his wife, recording artist Aja Volkman, and retired NBA superstar and Jazz part-owner Dwayne Wade, whose 14-year-old daughter Zaya is Trans, all partnered together to give a total of $4 million.
In a press conference Wednesday, "Encircle's mission is very personal to me because I see myself in so many of these young people," Apple CEO Cook told reporters. "It's not easy when you're made to feel different or less than because of who you are or who you love. It's a feeling that so many LGBTQ people know far too well."
Proud to support @encircle2gether's life-saving work providing resources to LGBTQ+ youth in Utah & surrounding states. Great to be with @GovCox, @AbbyPalmerCox, @RyanQualtrics, Ashley Smith, @DwyaneWade, and @stephylarsen as we celebrate the opening of Encircle's first cafe. pic.twitter.com/E6nN23Uc4m

— Tim Cook (@tim_cook) October 13, 2021
Encircle executives and the group of celebrities were joined by Utah Republican Governor Spencer Cox who praised Encircle's efforts.
"What Encircle has done is provided that piece of acceptance, even if — especially if — there is no acceptance anywhere else," the governor said. "There is a place where they can go where they can feel loved."
Wade, reflecting on being the parent of a Trans child, "I stand here as a proud parent of a beautiful daughter that's a part of the LGBT-plus community," he said. "I don't have all the answers. I don't know everything, but I'm willing to listen."
Today is what it's all about. Thank you @encircle2gether for your commitment to the LGBTQ+ community! https://t.co/jisSsqbYfc

— DWade (@DwyaneWade) October 13, 2021
Encircle is a non-profit organization with the mission to bring the family and community together to enable LGBTQ+ youth to thrive.
On its website the non-profit lists its current support services including its new café which is open "Monday through Friday between 3-8 PM folks ages 12-25 are welcome to just drop-in, hang out and enjoy our safe space. Friendship Circles, its weekly groups [which] allow you to tell your story and connect with peers in a safer space facilitated by our community, and LGBTQ affirming therapy."