Anti-LGBTQ vandalism at BYU- perp on video saying 'faggots go to hell'
As students across the country return to their universities, many are expressing serious concerns for their safety and well-being.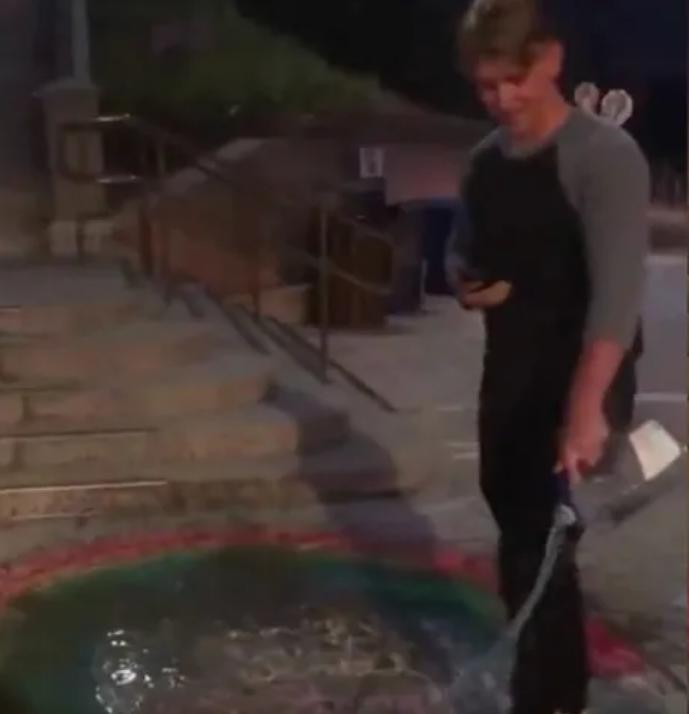 PROVO, Ut. – Less than a week after a controversy erupted over a Mormon Church Elder's anti-LGBTQ remarks during the annual faculty and staff meeting, a Brigham Young University student was recorded destroying LGBTQ-affirmative chalk messages on campus.
The incident took place after a student-led "chalk protest" Thursday evening at around 6pm at the base of one of BYU's entrances, the staircase at 800 N. University Avenue. Students had drawn messages of support for the LGBTQ+ campus community on the sidewalks and the stairwell, protesting what one person termed a hostile environment for queer students.
A couple of friends who had attended the protest and stayed after to view the hundreds of messages caught a student, later identified as Connor Ray Murray, taking a large bottle of water and pouring its contents over the messages effectively erasing them. As the couple recorded his actions, one of them was heard to say sarcastically; "There you go. I hope you're feeling a little less homophobic."
Murray, in response before walking off told them; ""Oh, no, uhhh, faggots go to hell."
Utah based out photographer Brock Bolen, later posted the couple's video which led to Murray being identified via social media. Murray has since deleted his Facebook and LinkedIn profiles.
"The gay community is just being over sensitive!"

This video shows a BYU Co-Ed defacing messages of love and empathy for LGBTQ+ students at the south entrance to BYU.

He then says "faggots go to hell."

Detective Twitter do your thing. pic.twitter.com/sVNA05AXB7

— BB (@brockbolen) August 27, 2021
August 27, 2021
BYU officials responded to the viral video on Twitter:
The Honor Code explicitly states that each member of the BYU community has the obligation to respect others. The incident seen in a video circulating on social media is now under review. 2/4

— BYU (@BYU) August 27, 2021
We are striving to create a community of belonging composed of students, faculty and staff whose hearts are knit together in love. Every student and individual on our campus deserves to feel that belonging. 4/4

— BYU (@BYU) August 27, 2021
The tensions on the campus, which were further exceberaed by remarks made by 80-year-old Jeff Roy Holland of the Quorum of the Twelve Apostles of The Church of Jesus Christ of Latter-day Saints and a former BYU president earlier in the week, had led to the protest.
"We must have the will to stand alone, to be different, if necessary. Being a university second to none in its role primarily as an undergraduate teaching institution that is unequivocally true to the gospel of the Lord Jesus Christ. If at a future time, that mission means forgoing some professional affiliations and certifications, then so be it," Holland said. University faculty and staff should take up their intellectual "muskets" to defend the Mormon Church, especially "the doctrine of the family and…marriage as the union of a man and a woman."
Holland also launched into a denouncement of 2019 university alumni Matt Easton, his class year's valedictorian who had come out as gay during his commencement address to his classmates. Easton in an interview with The Salt Lake Tribune noted that he was proud of what he did.
"I wasn't trying to grandstand or 'commandeer' the event. I drew on my personal experiences because they shaped my time at BYU — authenticity is not the same as 'agenda-pushing,'" Easton said.
In an open letter by Easton published this week by the Salt Lake City Tribune, referencing Holland's anti-LGBTQ address, he wrote:
"This past Monday, I experienced another flood of messages. Within an hour of your remarks, three current BYU students expressed to me how unsafe and scared they felt knowing that church leaders instructed the university's faculty to use metaphorical "musket fire" to defend the "doctrine of the family" and push back against LGBTQ+ inclusion.
I don't personally know most of the people who have reached out to me, but I do know what it feels like to be in their shoes," Easton wrote.
Paul Southwick, the Director of the Portland, Oregon Religious Exemption Accountability Project, (REAP) addressed this latest anti-LGBTQ incident at BYU.
"We're horrified to see this hateful display of ignorance at BYU. Horrified, yet not surprised after Elder Jeffrey Holland gave license for such conduct, using dangerous and warlike comments against LGBTQ students earlier this week. This incident shows the dire ramifications of so-called leaders spreading hateful messages. Those messages contribute to putting LGBTQ students in harm's way. We reiterate our condemnation of Holland's remarks and we hold him responsible for this subsequent act of hate on BYU's campus," Southwick said.
"As students across the country return to their universities, many are expressing serious concerns for their safety and well-being. They must be protected.
We call on U.S. Attorney General Merrick Garland to investigate the unfolding crisis at BYU. It is time to end anti-LGBTQ discrimination at religious colleges now. And It is time to end the religious exemption to Title IX protections," he added.
Young Utah trans girl delivers stunning speech to school board
A speech is gaining attention across Utah. A young trans girl named Allison tells her story with her supportive father standing behind her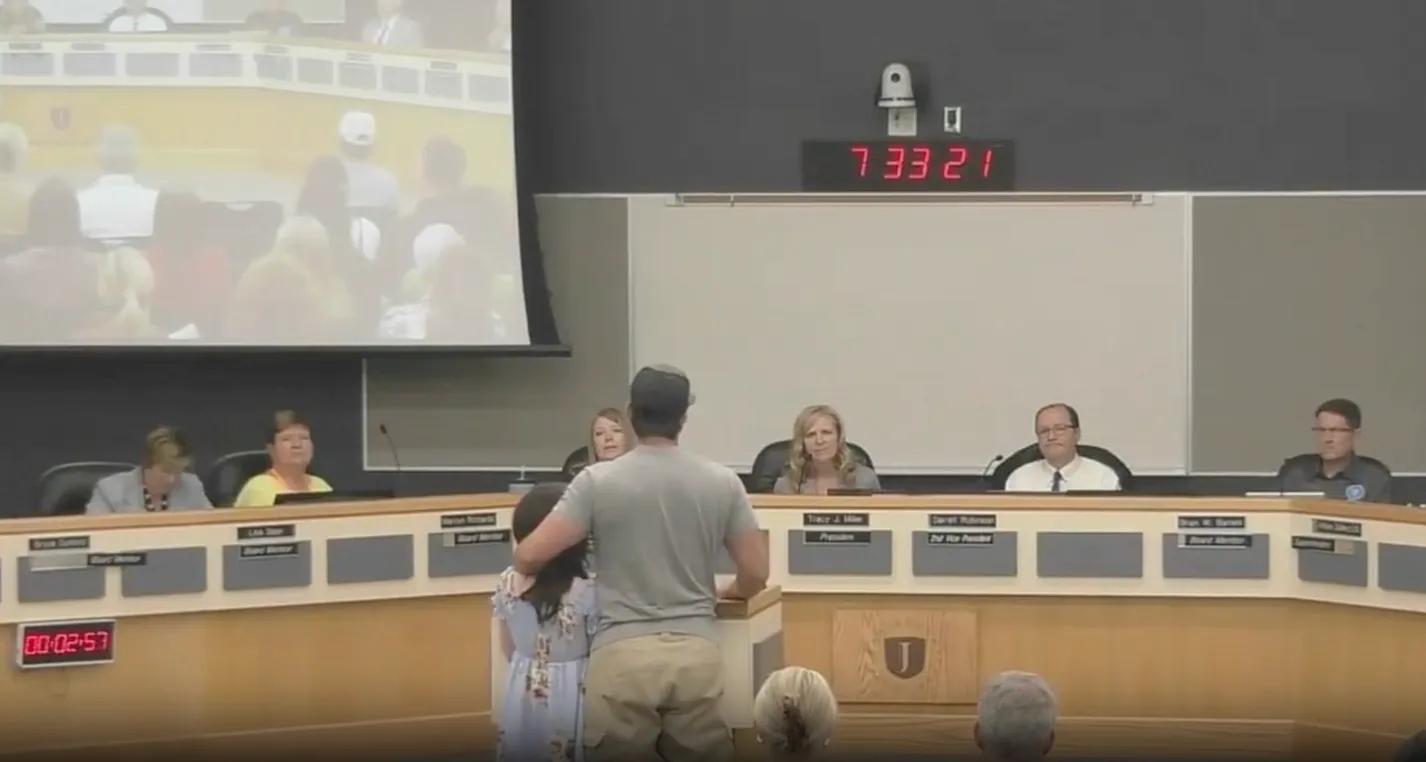 By Erin Reed | WASHINGTON – Across the United States, laws and policies aimed at transgender individuals, particularly transgender students, have taken center stage. This is markedly evident in school boards, where groups such as Moms For Liberty are orchestrating efforts to enact rules that marginalize LGBTQ+ students, with a specific ire towards transgender students.
In these school board meetings, derogatory remarks are often hurled at trans individuals, portraying transgender students as violent threats. Yet occasionally, a transgender student courageously steps forward to share their own story. This was precisely the scenario in Jordan School District, where a young transgender student named Allison delivered a captivating speech, imploring for her own acceptance and humanity.
Before Allison spoke, her father approached the microphone, arms encircling his daughter, and stated, "I am here to address the board as the father of Alison," adding that "If you've known her her whole life, you know this is who she's always been."
He then inquired if she would like to speak. That's when she leaned into the microphone and delivered her remarks, evoking tears and applause.
"Hello fathers, daughters, mothers, and everybody else who came here today with fear, anger, and confusion… three feelings that hurt inside badly. I came here not to fight, but to make peace. How am I going to do that? I'm going to tell a story."
She articulated her speech with honesty and emotion, recounting the first time she donned a pretty white dress and had her hair styled, and how magical it made her feel. She spoke about seeing the person she is for the first time in her life, and how, when she envisions herself as an adult, she sees "a woman dancing in a white dress through a meadow of flowers," concluding with a plea for acceptance.
Watch her tearjerker speech here:
Over the past year, the state of Utah has significantly targeted transgender individuals like Allison. It banned gender-affirming care — without this care, trans girls like her will be compelled to endure a boy's puberty. The state barred individuals like her from participating in sports, although this ban was halted in court and substituted with a "commission." Seated on that commission is Paul Hruz, a notorious anti-trans doctor who has testified in favor of bans on care. Additionally, a law was enacted that prevents transgender youth from obtaining birth certificates bearing their legal gender marker.
Alongside state level attacks on trans youth, individuals opposed to transgender people have testified in school districts, labeling trans youth like Allison as "peeping toms" and "voyeurs" purportedly at risk of "sexually assaulting" fellow students. Incendiary remarks such as these have propelled some schools into adopting restrictive policies that bar trans students from bathrooms.
Yet, such concerns markedly lose ground when young trans girls like Allison come forward. It defies belief to listen to her testimony and deduce that she poses a danger to other students, or even causes them discomfort. Instead, we glean that her friends are bewildered and upset when she is barred from accompanying them to the bathroom, and that in the eyes of her friends, she belongs just as rightfully as anyone else does.
Allison's speech is gaining traction in the state. The state's largest newspaper, The Salt Lake Tribune, has picked up the story. Meanwhile, the anti-trans organization known as "Genspect," often cited as an authority on transgender people by publications such as the Wall Street Journal and the New York Times, reacted by putting quotes around Allison's name and the word "daughter." Clearly, Allison has made an impact far beyond her home school district.
The school district has not decided if it will take action on transgender students following the meeting.
****************************************************************************
Erin Reed is a transgender woman (she/her pronouns) and researcher who tracks anti-LGBTQ+ legislation around the world and helps people become better advocates for their queer family, friends, colleagues, and community. Reed also is a social media consultant and public speaker.
Follow her on Twitter (Link)
Website here: https://www.erininthemorning.com/
******************************************************************************************
The preceding article was first published at Erin In The Morning and is republished with permission.