Modesto 'Straight Pride' ends in violence, Proud Boys v. counter protestors
Approximately an hour after the rally started the two sides ended up clashing resulting in the discharge of Bear Spray & numerous fistfights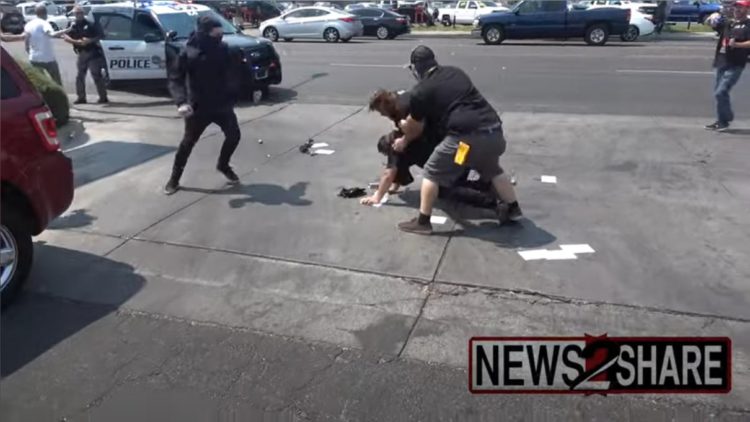 MODESTO, Ca. – A rally by the white nationalist Proud Boys extremist group and others for what they labeled the third annual 'Stanislaus County Straight Pride' this past Saturday outside of the Modesto Planned Parenthood building, ended in violence with two people arrested.
The Central California LGBTQ Collaborative and other LGBTQ+ affirming groups had organized a 'No hate in the valley' counter-protest which was held two hours earlier at the Roosevelt Park, about seven blocks from the Proud Boy event with about 100 people who showed up.
According to Sharon Bear, a spokesperson for the Modesto Police Department, at some point those in attendance of the Roosevelt Park event along with anti-fascist identified persons gathered across from the Modesto Planned Parenthood building on McHenry Avenue to protest the Proud Boy rally.
Approximately an hour after the Proud Boys rally commenced the two sides ended up clashing resulting in the discharge of Bear Spray and numerous fistfights. Modesto Police were dispatched to the scene to break up the ongoing melee and effected two misdemeanor arrests. Witnesses told police officers responding that the Proud Boys continent had aggressively assaulted the counter-protestors which touched off the ensuing disturbances.
Two people face misdemeanor charges following a fight that shut down McHenry Avenue. https://t.co/G5LSePIVfT

— The Modesto Bee (@modbee) August 29, 2021
The Modesto Bee reported that Jupiter Dalby, an organizer with the Central California LGBTQ Collaborative, said he feels many places — including Modesto and the Central Valley as a whole — are still behind when it comes to LGBTQ+ equality. Straight pride is just a continuation of that mindset.
"I think it's quite frankly disgusting," Dalby said.
Although his family is now supportive, Dalby was originally kicked out when he came out to his parents as transgender. He said he was homeless for some time and feels being trans and queer can make life more difficult for himself and others.
Dalby said the community, city council and mayor need to help fight against hate in Modesto.
"They need to stand up for us," he said. "They need to show up for us."
The Modesto Police spokesperson told the Modesto Bee that police had arrested two people on misdemeanor charges. One person faces preliminary charges of failure to disperse and resisting arrest, and the other person faces a preliminary charge for fighting in public.
She added that officers had been monitoring the series of events prior to the violence breaking out. "We try to coordinate and prep for the worst and hope that everything remains peaceful," Bear said. "If we have events like this and we are not prepared, then we didn't plan ahead."
There were multiple people who tweeted the melee and an independent freelance journalist who captured it on video:
Proud Boys fight Antifa following "Straight Pride Parade" in Modesto, CA: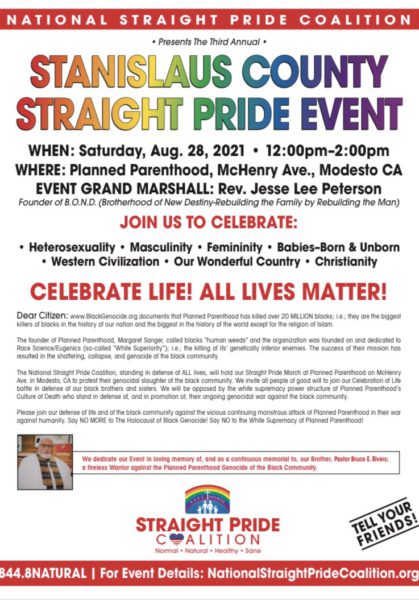 As officers continued to push the group back, Proud Boy Jeffrey Perrine fell on his back, apparently having been pushed by officers.

"You hurt my back, bitch!"

Officers then arrested him. pic.twitter.com/KpErUP83ld

— Ford Fischer (@FordFischer) August 29, 2021
California's minimum wage is projected to increase to $15.50 per hour
The wage increase will benefit millions of households that are struggling to keep pace with the highest rate of inflation in decades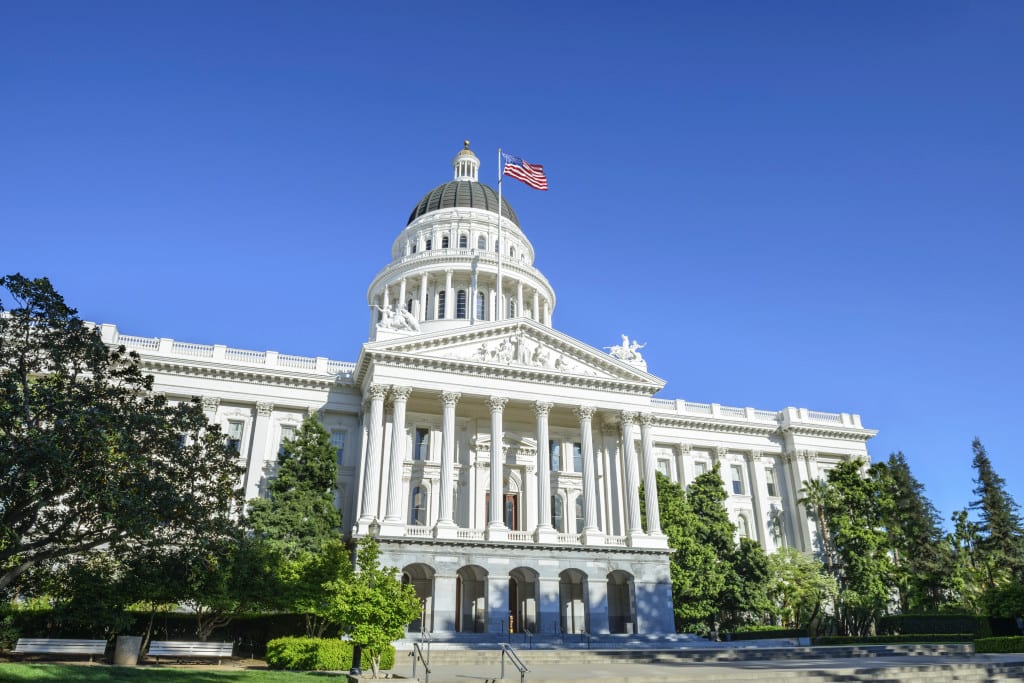 SACRAMENTO – California's minimum wage is projected to increase to $15.50 per hour for all workers on January 1, 2023. The accelerated increase is required by a provision in the state's existing minimum wage law when inflation exceeds 7 percent. The COVID-19 pandemic has resulted in persistent supply chain disruptions and labor market frictions have driven inflation to its highest rate in 40 years. These conditions have further been exacerbated by Russia's war in Ukraine. 
 
The wage increase will benefit millions of California households that are struggling to keep pace with the highest rate of inflation in decades. For years, the state minimum wage has increased steadily while inflation numbers remained modest.
As people throughout the country face increasing costs due to global inflation, Governor Gavin Newsom today announced an $18.1 billion inflation relief package to get money into the pockets of Californians.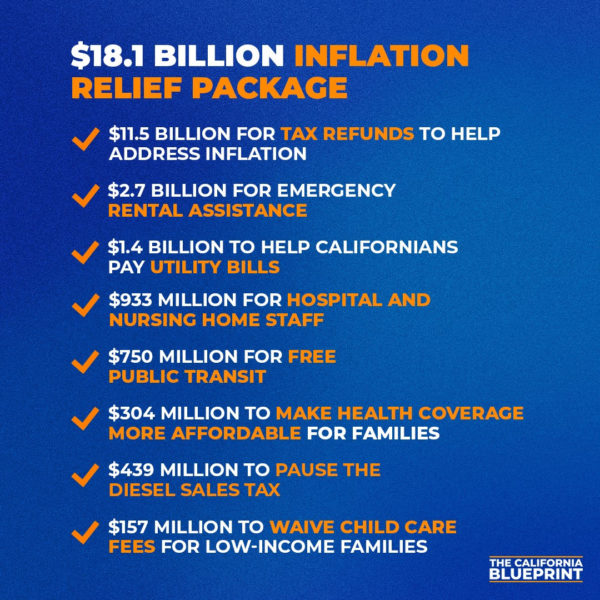 "We enacted the most comprehensive economic stimulus program in the nation last year, getting billions in immediate relief to millions of Californians. But many folks are still struggling, especially with high costs due to inflation, so we're leveraging this historic surplus to get money back into the pockets of Californians," said Governor Newsom. "This inflation relief package will help offset the higher costs that Californians are facing right now and provide support to those still recovering from the pandemic."
Governor Newsom's inflation relief package includes:
$11.5 Billion for Tax Refunds to Help Address Inflation. As the entire country faces increasing costs due to inflation, Governor Newsom proposed getting $400 checks to every eligible registered vehicle owner, capped at two checks per individual.
$2.7 Billion for Emergency Rental Assistance. Governor Newsom is proposing significant state funds for qualified low-income tenants who requested rental assistance before March 31, helping these Californians get the support they need.
$1.4 Billion to Help Californians Pay Past-Due Utility Bills. As Californians continue to face difficulties in paying for utility bills, this investment expands upon last year's utility relief program to continue this vital support – $1.2 billion for electricity bills and $200 million for water bills.
$933 Million for Hospital and Nursing Home Staff. Providing up to $1,500 to hospital and skilled nursing facility workers who have been delivering care to the most acute patients during the COVID-19 pandemic and saved thousands of lives.
$750 Million for Free Public Transit. Governor Newsom is proposing incentive grants to provide three months of free public transportation for communities throughout the state.
$304 Million to Make Health Coverage More Affordable for Middle-Class Families. This extends health insurance premium assistance under Covered California for families of four earning up to $166,500 annually, upwards of 700,000 Californians.
$439 Million to Pause the Diesel Sales Tax. Bringing relief to the commercial sector and drivers, Governor Newsom is proposing a 12-month pause in the sales tax rate for diesel fuel that would provide upwards of $439 million in relief.
$157 Million to Waive Child Care Fees for Low-Income Families. Making state-subsidized preschool and child care more affordable, benefitting 40,000 low-income California families with savings of up to $595 per month.
"Package includes direct payments to help address costs of rising inflation and past-due water and utility bills, free public transit, money for health care workers, middle-class health care subsidies, and waiving child care fees for families"
This inflation relief package builds off of Governor Newsom's nation-leading stimulus package last year, which helped accelerate California's economic recovery and support those hit hardest by the pandemic, including:
Golden State Stimulus checks for 2 out of every 3 Californians. The Governor created the biggest state tax rebate in American history, expanding direct payments to middle-class families, with $9 billion in stimulus payments delivered directly to middle-class Californians and families.
Largest statewide renter and utility assistance program in the country. Governor Newsom put forth a plan to distribute $5.4 billion to help low-income renters and landlords, as well as $2 billion for past-due utility bills like water and electricity.
Largest small businesses relief program in the nation. The Governor invested $4 billion in direct grants to California's small businesses – on top of $6.2 billion in tax relief – putting more money directly into the pockets of hundreds of thousands of small business owners and helping them re-hire workers displaced by the pandemic.
California continues to send life-saving support to Ukraine
California National Guard has facilitated the shipment of protective gear and medical supplies, with more planned in the coming weeks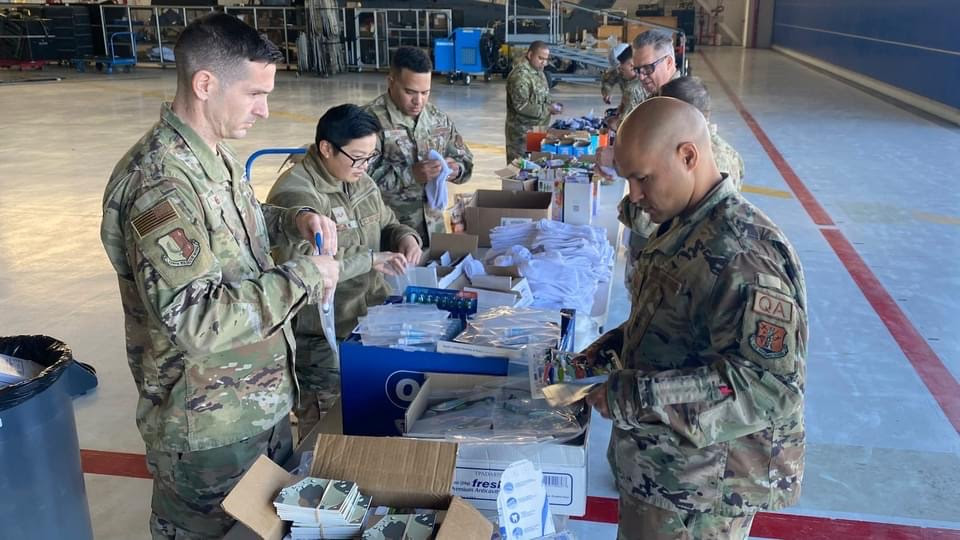 SACRAMENTO – California continues to deliver relief to the people of Ukraine. Since March, the state has shipped five, 50-bed field medical stations along with thousands of pieces of protective gear to Ukraine.

"California has stood firm in our support for Ukraine since day one of Russia's unprovoked invasion," said Governor Newsom. "Our support will save lives and help the people of Ukraine as they experience unspeakable atrocities, and we will continue to support Ukraine's brave fight against tyranny and oppression."
For nearly three decades, as part of the California National Guard's State Partnership Program, members of the Guard have trained members of the Ukrainian military. Together, both the state National Guard and the Governor's Office of Emergency Services (OES) collaborated with state, local and federal agencies to deliver medical equipment and tactical gear supplies to Ukraine. The field medical stations are donated by the State of California's Emergency Medical Services Authority at the California Health and Human Services Agency.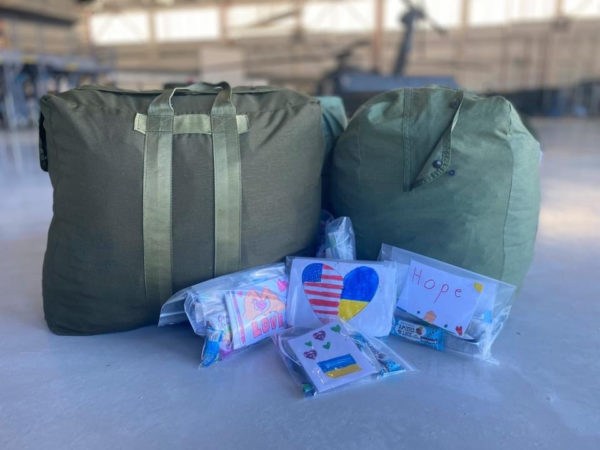 The National Guard has facilitated the shipment of protective gear which includes 4,320 ballistic vests and 1,580 helmets, with additional shipments planned in the coming weeks. Additionally, OES has facilitated the transfer of PPE and five field medical stations to cities in Ukraine, and is in the process of sending two more to Ukraine in partnership with Direct Relief of Santa Barbara, for a total of seven field medical stations (350 beds).
"California is incredibly proud to stand with the Ukrainian people as they have shown phenomenal resilience under extraordinarily difficult circumstances. We will continue to deliver additional aid in the coming weeks which will be used to help save lives and treat those devastated by the ravages of war," said OES Director Mark Ghilarducci.
"California's National Guard has formed an unbreakable bond with our Ukrainian counterparts and when the call was made to provide support and aid in a time of need, we responded with overwhelming support. The Guard requested donations of tactical gear from State National Guards throughout the nation and they responded with enthusiasm. Thanks to donations from California and from other National Guard members throughout the country, we are able to supply those fighting in Ukraine with thousands of ballistic vests and other protective supplies," said Major General David S. Baldwin, Adjutant General of the California National Guard.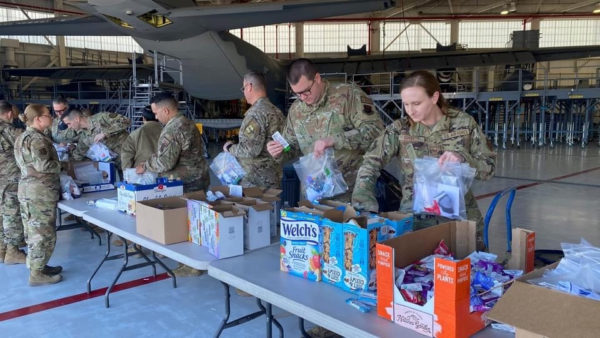 The shipment is the latest show of support for Ukraine after Governor Newsom's meeting with Consul General of Ukraine in San Francisco Dmytro Kushneruk in March. In that meeting, the Governor expressed California's solidarity with the Ukrainian community and discussed the state's efforts to support the people and government of Ukraine. The Governor also signed an executive order directing state agencies and departments to ensure their contracts comply with economic sanctions imposed in response to Russia's attacks and to direct their contractors to do the same, and called for state pension funds to halt the flow of money from the state to Russia and to ban the purchase of Russian debt.
California and Ukraine share close ties and the state is home to one of the largest Ukrainian populations in the country. As a state of inclusion and a beacon of hope for those seeking refuge, California will continue to be a welcoming place for refugees. The California Department of Social Services (CDSS) Refugee Programs Bureau has more information available online for Ukrainian families and service providers.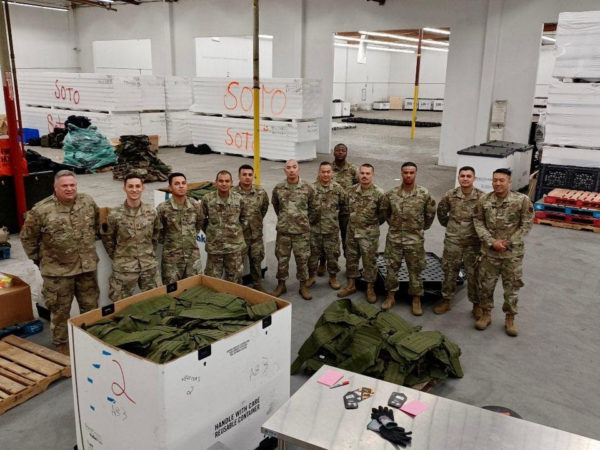 Medi-Cal to expand to all eligible adults 50 years of age and older
Newsom has this year proposed expanding Medi-Cal to all eligible residents, regardless of age or immigration status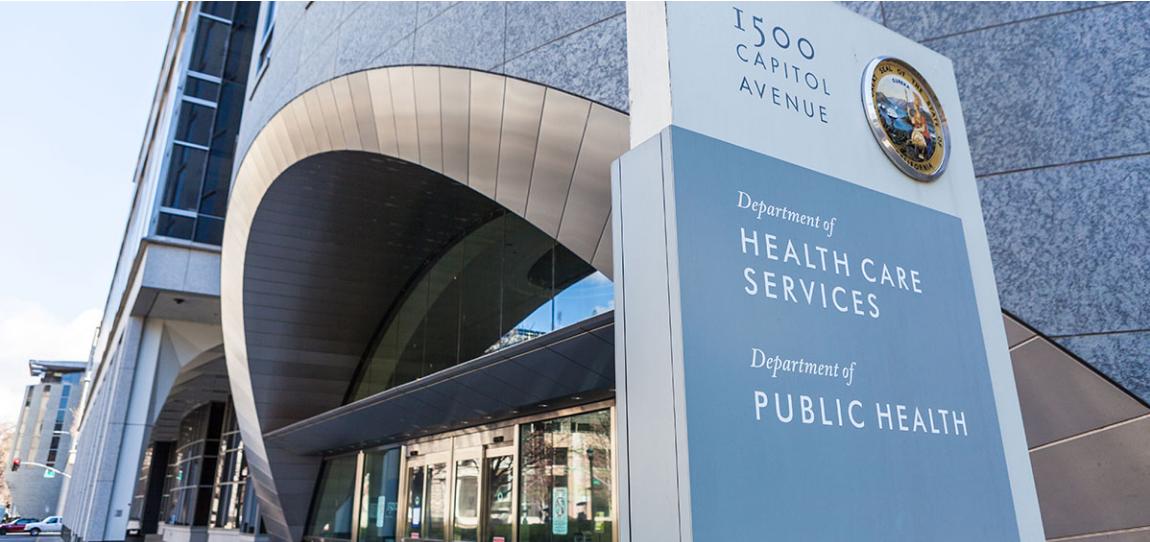 SACRAMENTO – Starting on May 1, Medi-Cal, California's health coverage program for low-income individuals and families, is extending eligibility for full coverage to more than 185,000 individuals who are 50 years of age or older, regardless of immigration status.
 
"We're delivering concrete results for Californians, continuing to fulfill the promise of a Healthy California for All, and I encourage all those eligible to take advantage of these essential health services," said Governor Newsom. "This is an investment in our people, our economy, and our future. But we're not stopping there. California is on the path to expand Medi-Cal to all eligible Californians regardless of age or immigration status, providing the most comprehensive health coverage in the entire country."
 
Governor Newsom last year signed legislation making California the first state in the nation to expand full-scope Medi-Cal eligibility to low-income adults 50 years of age or older, regardless of immigration status. Subject to legislative approval, Governor Newsom has this year proposed expanding Medi-Cal to all eligible residents, regardless of age or immigration status.
 
The expansion population includes individuals 50 years of age or older who are eligible for Medi-Cal, who do not have satisfactory immigration status or are unable to establish satisfactory immigration status for full-scope Medi-Cal and are not yet enrolled in Medi-Cal. It also includes individuals 50 years of age or older who are currently enrolled in restricted scope Medi-Cal.
 
"This expansion of Medi-Cal supports the Newsom Administration's vision of a Healthy California for All by addressing health coverage disparities that disproportionately impact disadvantaged communities. We're committed to advancing diversity, equity, and inclusion on behalf of all Californians," said Michelle Baass, Director of the Department of Health Care Services (DHCS). "This action reflects our fundamental conviction that all Californians deserve quality health care."
 
Many of these individuals and their communities have been disproportionately impacted by the COVID-19 pandemic and have had limited access to care. This expansion will improve access to preventive and routine care, improve financial security for those who enroll, and strengthen California's efforts to address health disparities and inequities, especially among populations of color.
 
The state has worked for the last several years to extend health coverage to more Californians. In May 2016, children under 19 years of age became eligible for full-scope Medi-Cal benefits, and in January 2020, full-scope Medi-Cal was extended to young adults ages 19 through 25, regardless of immigration status. Previously, these individuals only qualified for limited Medi-Cal services, such as emergency, prenatal, and long-term care. Now they can access the full range of benefits available to Medi-Cal beneficiaries, including no-cost/low-cost quality health, behavioral health, substance use disorder services, and dental services through the various delivery systems under the Medi-Cal program.
 
"These Californians now have a place where they can coordinate all of their medical, dental, mental, and substance use disorder needs, and a primary care physician to better manage their health conditions," said Jacey Cooper, State Medicaid Director. "Everyone benefits from ensuring access for all Californians, and many of us know someone who depends on Medi-Cal for vital health coverage."
 
The next step in California's coverage expansion, subject to legislative approval, is outlined in the Governor's 2022-23 budget, which proposes to expand Medi-Cal coverage to an estimated 700,000-plus adults ages 26 through 49 without satisfactory immigration status, effective no sooner than January 1, 2024. Extending Medi-Cal to hundreds of thousands more is an important step to help close health equity gaps in the state and get us closer to universal coverage.
 
The expansion to individuals aged 50 and over was included in Assembly Bill 133 (Chapter 143, Statutes of 2021), which amended Welfare and Institutions Code section 14007.8. For nearly a year, DHCS held monthly advocate and county workgroup meetings to implement this expansion.
 
The U.S. Department of Homeland Security and U.S. Citizenship and Immigration Services do NOT consider health, food, and housing services as part of the public charge determination. Therefore, using Medi-Cal benefits (except for nursing home or mental health institution care) will NOT hurt an individual's immigration status. When someone applies for state-funded benefits, their information is only used to determine if they qualify. State laws protect the privacy of their information.
Individuals ages 50 and over, regardless of their immigration status, who have not applied for Medi-Cal can apply here starting May 1, 2022.