LA County Supervisors appoint new head for commission on homeless
The Blue-Ribbon Commission on Homelessness will hold its first virtual meeting on September 8, 2021 at 10 a.m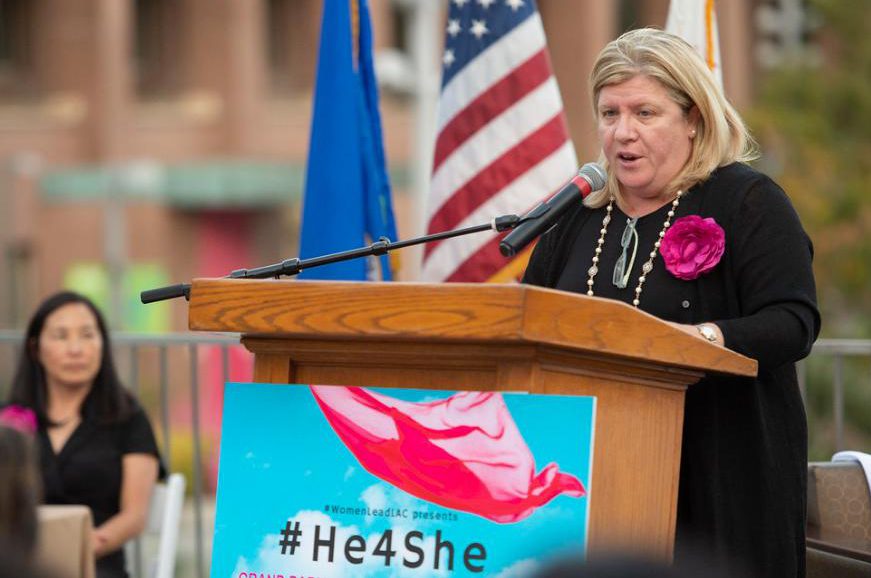 LOS ANGELES – The Los Angeles County Board of Supervisors have appointed former Los Angeles County Counsel Mary Wickham as Executive Director of the newly formed Blue-Ribbon Commission on Homelessness, effective Tuesday.
The Blue-Ribbon Commission on Homelessness was established following the July 27 motion authored by Supervisor Kathryn Barger and co-authored by Supervisor Hilda L. Solis, to research and provide recommendations to the Board for a new homelessness governance model that is appropriate for Los Angeles County.
"It's an honor to serve the Los Angeles County Board of Supervisors and the residents of Los Angeles County as Executive Director of the Blue-Ribbon Commission on Homelessness. I thank the Board for their leadership on this issue and look forward to working with the Commission to report back on governance models," said Wickham who was hired as a 120-day retiree.
The commission will be made up of 12 members, with one appointed by each of the five Supervisors, one by the mayor of Los Angeles, three from the Los Angeles City Council president, two from the Councils of Government, and one nominated by the Contract Cities Association. The new Commission will be housed under the Executive Office of the Board.
"The Blue-Ribbon Commission on Homelessness has brought together experts who will use their diverse perspectives to find clear, strategic solutions to the homelessness crisis in Los Angeles County," Supervisor Kathryn Barger said. "I'm eager to see the commissioners, who bring representation from across the county, cut through the red tape to guide real results in our mission to provide housing, health, and mental health care to those on our streets. With the guidance of our former County Counsel Mary Wickham as the Executive Director, I am confident the next six months will result in thoughtful, effective outcomes."
Wickham, who retired in July 2021 after 23 years of service, will lead the aggressive, in-depth study of the Los Angeles Homeless Services Authority (LAHSA) governance to identify intrinsic challenges of the existing system and provide recommendations for improvement to the Board within a six-month time frame. Some of those recommendations will focus on the design of an enhanced framework that ensures an accountable governance.
After leaving her post as Los Angeles County Counsel, Wickham was appointed to serve as a Commissioner for the Superior Courts in the Criminal Division.
Prior to County Counsel, she served as Executive Director of the County Equity Oversight Panel overseeing all aspects of the Countywide Workplace Equity Program.
"Mary brings the experience needed to help facilitate this new Commission in tackling homelessness crisis," said Celia Zavala, Executive Officer of the Board. "We are eager to support this new Commission who will offer solutions to the Board to help them navigate this multi-layered complex issue."
The Blue-Ribbon Commission on Homelessness will hold its first virtual meeting on September 8, 2021 at 10 a.m. For more information, visit bos.lacounty.gov.
LAPD asking for public's help with murders of homeless persons
Anyone with information is urged to contact the Los Angeles Police Department's Robbery-Homicide Division, Homicide Special Section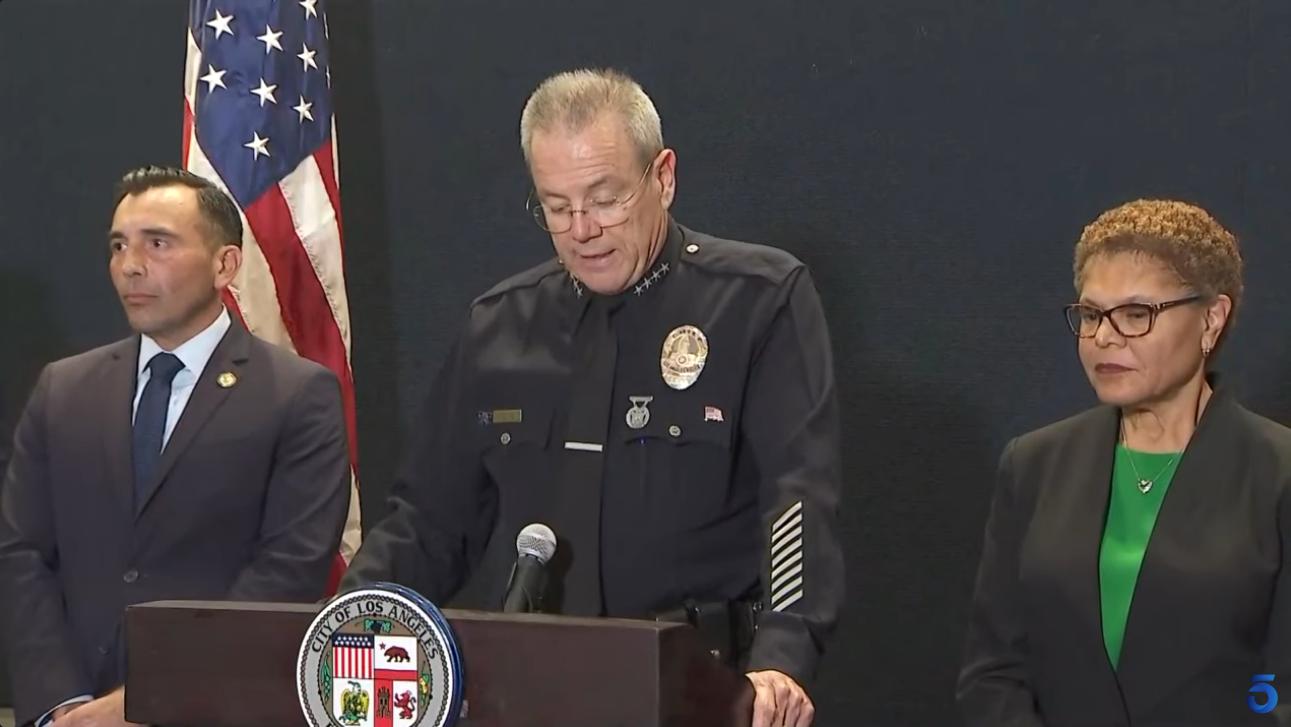 LOS ANGELES – Flanked by Los Angeles County District Attorney George Gascón, LA Mayor Mayor Karen Bass and Martin Estrada, the United States Attorney for the Central District of California, Los Angeles Chief of Police Michel Moore, held a news conference Friday where he announced that three homeless people had been fatally shot while they slept within the past week.
Moore added that authorities believe one suspect is responsible for all three murders.
Detectives from the LAPD's Robbery-Homicide Division are investigating three separate murders that occurred between November 26, 2023, and November 29, 2023. In each case, the victims were experiencing homelessness.
While some similarities have been identified, detectives are working to determine if these murders are related. A community alert bulletin has been issued to make the region's unhoused population and the community stakeholders aware of these recent murders.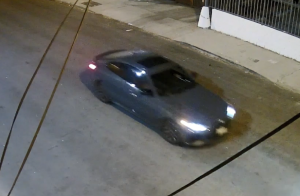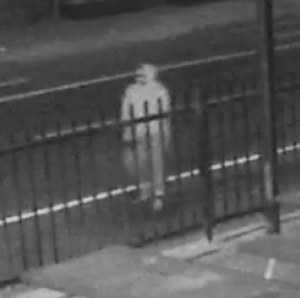 The suspect in these homicides is described only as male. The suspect was seen in a dark-colored sedan. It is unknown if he was alone or there were any additional suspects.
Police have spotted who they believe the shooter is on surveillance footage — Moore said they believe it's a man in a hoodie — and they also have images of the suspect's vehicle, though Moore would not describe it in an effort to avoid misinformation.
"People will see different types of cars, different types of models," he said. "I don't want someone to say 'You called this a Kia and it turns out to be a BMW or Mercedes," he said.
"A single individual approached each one and shot and killed each one as they slept," Moore said, though he avoided use of the term "serial killer."
"The Los Angeles Police Department is employing all available resources to bring justice to these murder victims. I am thankful for our City partners who are working with us closely to ensure the safety of this vulnerable population as we pursue the criminal investigation," said Moore.
"I want to be very clear about what we're facing today: This is a killer who is preying on the unhoused," Mayor Bass said, adding that homeless people should not sleep alone.
"As we always do in the face of a challenge or crisis, our region is mobilizing to respond to this issue. We will work tirelessly to find the individual responsible, arrest them, and hold them accountable. I have met with our partners at the Los Angeles Homeless Services Authority, Housing Authority of the City of Los Angeles, and the Los Angeles Housing Department and we are moving immediately to get the word out to our unhoused neighbors in housing networks. Our message to our unhoused community is clear – try not to be alone tonight. We will do all we can to make shelter and services available. To the many Angelenos who have friends or family who are unhoused, please let them know the danger that exists. We must stay safe. We will work diligently to bring those responsible to justice," the Mayor said.
"To the person responsible: We will find you, we will catch you and you will be held accountable," Bass said.
"I commend the LAPD for creating a dedicated task force to uncover the identity of a potential serial killer preying on the most vulnerable in our community. I've assigned our Major Crimes Division, Bureau of Victim Services and our Bureau of Investigation to assist with these efforts. Today, we demonstrate our collective resolve and stand united in our pursuit of justice, unwavering against the darkness that preys on the most defenseless among us," said LA District Attorney George Gascón.
Related:
Anyone with information is urged to contact the Los Angeles Police Department's Robbery-Homicide Division, Homicide Special Section, at (213) 486-6890. During non-business hours or on weekends, calls should be directed to 1-877-LAPD-24-7 (1-877-527-3247).
Anyone wishing to remain anonymous should call the LA Regional Crime Stoppers at 1-800-222-TIPS (800-222-8477) or go directly to www.lacrimestoppers.org.
Lastly, tipsters may also download the "P3 Tips" mobile application and select the LA Regional Crime Stoppers as their local program.