LAPD seeking registered sex offender in June Wi-Spa incident
The suspect has a lengthy criminal history which includes nearly a dozen felony convictions for crimes ranging from sex offenses to burglary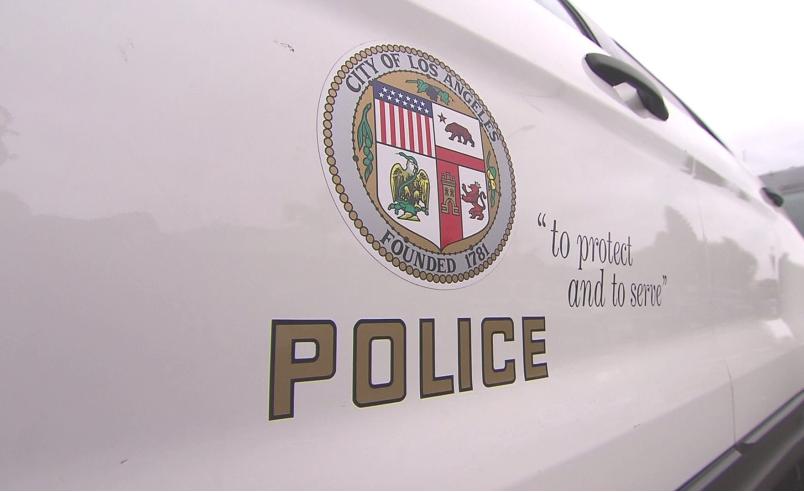 LOS ANGELES – The Los Angeles County District Attorney's Office has charged 52-year-old Darren Merager, a registered sex offender, with five felony counts of indecent exposure stemming from a viral video incident of an alleged exposure at the Wi-Spa on June 23, 2021.
The spa, which is located in the 2700 block of Wilshire Boulevard in the Westlake/Koreatown neighborhood, had been the focal point of targeted violent protests against Trans people by far-right extremists the Proud Boys and other radical right-wing groups after the incident was posted to Instagram and went viral.
Speaking to the Los Angeles Blade Thursday via phone, Los Angeles Police Department Public Information Officer Tony Im confirmed that an arrest warrant has been issued for Merager, whose last known residence is in Riverside County East of Los Angeles, but Merager was not in custody as of Thursday evening he said.
Five individuals, four females and a female minor, had come forward to report the indecent exposure incident to the LAPD. Detectives assigned to LAPD's Rampart Division conducted interviews of victims and witnesses, reviewed the evidence, and ultimately corroborated the allegations.
The investigation was presented to the LA County DA's Office for filing consideration and Merager's actions were deemed criminal. The suspect has been a registered sex offender since 2006 as per California Penal Code 290, due to indecent exposure incidents in 2002 and 2003.
Merager has a lengthy criminal history which includes nearly a dozen felony convictions for crimes ranging from sex offenses to burglary and escape. In December of 2018, investigators from the Los Angeles County Sheriff Department's West Hollywood substation arrested Merager on seven felony indecent exposure counts, stemming from allegations of indecent exposure in front of women and children at West Hollywood Park.
Merager is currently awaiting trial on the seven counts which were first filed in 2019 by the LA County DA's office according to court records obtained by the Los Angeles Times.
In poster distributed in December of 2018 by the LA County Sheriff's Department, Merager is described as "claims to be female in order to gain access to women's locker rooms and showers."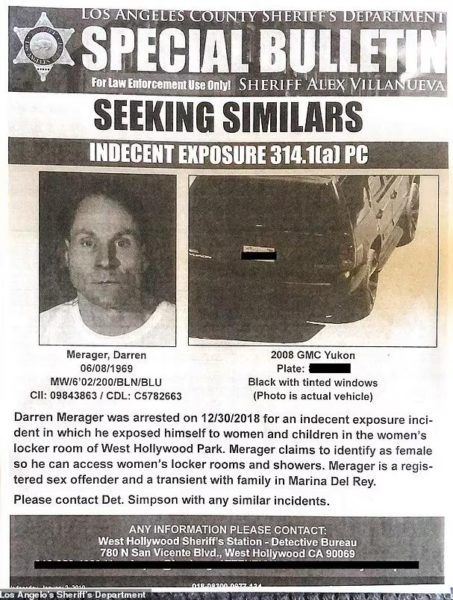 The LA DA's office did not immediately respond to a request for comment or provide a copy of the criminal complaint against Merager according to the Times. A Blade request has also gone unanswered as of time of publication Thursday evening.
In a lengthy interview with the New York Post first published Thursday morning, "Everything about the Wi-Spa was a bunch of garbage and lies," Merager said.
Merager went on to claim a Trans female gander identity and says [she] is legally female in California and was in a jacuzzi in the women's section when accosted by "Cubana Angel."
"She never saw me naked. I was underwater with water all the way up to my chest," Merager told the Post and denies ever being erect or around children at the spa. Merager claims to actually be the victim of sexual harassment by transphobic women at the Wi Spa.
Merager is a tier-one California registered sex offender with two prior convictions of indecent exposure stemming from the 2002 and 2003 convictions and declined to comment on those convictions. In 2008 Merager was also convicted for failure to register as a sex offender.
A Trans activist who asked to remain unidentified told the Blade that the situation with Merager is a Trans person's worst nightmare; "This is no different than the religious fundies claiming all gay guys are paedophiles and want to diddle little boys," they said adding; "Horrible scenarios like this are used as justification to attack Trans people- this isn't a trans person regardless of claims made, no this is a serial sexual predator, a criminal deviant."
Detectives are asking anyone who may be a victim or has additional information regarding this investigation to contact Rampart Detectives at (213) 484-3450. During non-business hours or on weekends, calls should be directed to 1-877-LAPD-24-7 (877-527-3247).
Anyone wishing to remain anonymous should call the LA Regional Crime Stoppers at 1-800-222-TIPS (800-222-8477) or go directly to www.lacrimestoppers.org. Tipsters may also visit www.lapdonline.org and click on "Anonymous Web Tips" under the "Get Involved-Crime Stoppers" menu.
Black AIDS Institute appoints Toni Newman as interim CEO
As Toni Newman steps into her new role at BAI, she will be one of only a few Black Trans women to head a non-profit in the nation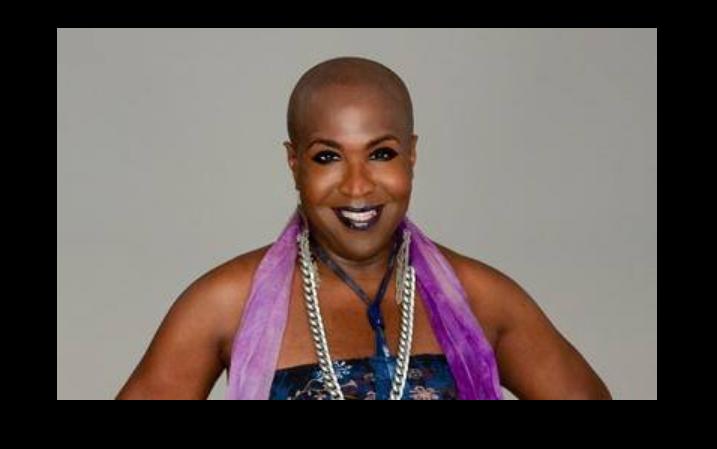 LOS ANGELES – The Board of Directors of the Black AIDS Institute (BAI) announced the appointment of Toni Newman as its Interim Chief Executive Officer and Dr. Kemal M. Atkins as Managing Director this past week.
Newman is currently the Interim Executive Director at LYRIC – a non-profit in San Francisco, California that focuses on advancing the community and creating social change for lesbian, gay, bisexual, transgender, queer and questioning (LGBTQQ) youth through education, career training and health advocacy. 
Dr. Atkins has been engaged to help further build infrastructure and management processes at BAI. Dr. Atkins, who will serve as a consultant on a temporary basis, has an extensive background in higher education and non-profit leadership where his expertise in crisis management, such as leading institutional responses to the COVID-19 pandemic, and expertise in building national wellness health models will provide much-needed program direction for BAI.
Founded in 1999, the mission of BAI is to stop the AIDS epidemic in Black communities by engaging and mobilizing Black institutions and individuals to confront HIV. In its mission statement, the organization states that "BAI envisions a world where all Black people are free and flourishing without HIV and AIDS, free of stigma and shame, where Black health and well-being are paramount. With a foundation in advocacy and policy work, BAI works towards improving the health and wellness of Black people through research, community efforts, and clinical work."
As she steps into her new role at BAI, she will be one of only a few Black Trans women to head a non-profit in the nation.
Ms. Newman is a distinguished Faculty Member at the Transgender Strategy Center in Los Angeles, where she advises non-profit organizations on engagement with transgender and nonconforming communities. In addition, she is the Chair of the Board of Directors for TransCanWork based in Los Angeles.
"Ms. Newman has a wealth of knowledge in non-profit management, budget and finance, and human resources and operations," BAI stated in its statement. "We're excited that she has agreed to serve as our Interim CEO as we continue implementing our transition plan to find a permanent, innovative executive staff leader."
LGBTQ+ ally City Councilman Kevin de León announces run for mayor
De León currently represents Council District 14 that takes in the predominantly Latino neighborhoods of Boyle Heights and El Sereno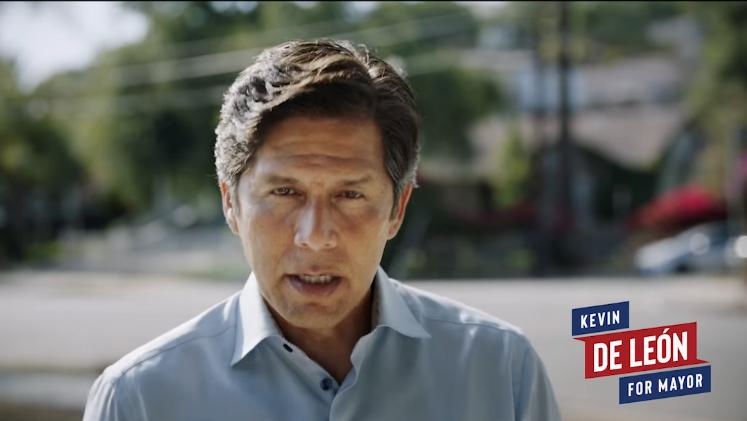 LOS ANGELES – Standing in front of a group of enthusiastic supporters Tuesday at the El Pueblo de Los Angeles Historical Monument, Los Angeles City Councilman Kevin de León announced that he was joining the mayor's race for next year's city elections.
Councilman de León, a Democrat, is the third city elected official to announce his intention to seek the mayor's chair after current Mayor Eric Garcetti, who was elected for a four-year term in 2013 and again in 2017- who's limited to serving no more than two terms, was picked by President Joe Biden to serve as the U.S. ambassador to India on July 9, 2021.
Born in Los Angeles of Guatemalan and Mexican descent, raised by a loving, hard-working single mother, de León, 51, got an education and spent 12 years in Sacramento, rising to become the President Pro Tem of the California Senate, authoring and passing legislation and making history. It was his bill that then Governor jerry Brown signed into law making California a "sanctuary state"—a law that was upheld by a federal appeals court.
In an August 2018 interview with former Los Angeles Blade Editor Karen Ocamb, he reflected on his relationship with the LGBTQ+ community.
"I've always been very close to the LGBTQIA (lesbian, gay, bisexual, transgender, queer, intersex, asexual) community even before I even knew all the initials that keep growing," de León says with a laugh during an extensive phone interview with the Los Angeles Blade. "It's always been my core set of values that every human being deserves a real opportunity to succeed, regardless of who they love and regardless of the hue of their skin and regardless of their legal status. That is embedded in my DNA."
De León learned to care about LGBT people as a child from his mother and aunt around the kitchen table.
"My mother got a third grade education and my aunt even less," he says. "I was very young and they were talking about a gay friend, a colleague of theirs. I didn't understand. Obviously, they didn't understand themselves. But they spoke with such affection, such tenderness. And here were two immigrant women with limited formal education and the way they spoke so lovingly, tenderly, beautifully about their gay friend. I could deduce the person they were talking about was gay—they kind of spoke in code around me when I was just sitting there listening to them at the kitchen table. And it transcended ethnicity and legal status and poverty—that we're all human beings and we deserve dignity and respect. That had an 'Ah Ha' impact."
De León's LGBT education continued as he picked his mother up from her work as a housekeeper at convalescent homes. "She had quite a few gay colleagues with her and I just remember they were just so beautifully nice with my mother and my mother with them and that had a huge impression on me of the universal values of treating everybody with dignity and with respect. So when there is a discriminatory blow against anyone in the LGBTQIA community, I feel that blow equally."
De León, 54, is by far the most prominent Latino running. Fluent in Spanish, he represents a district that takes in the predominantly Latino neighborhoods of Boyle Heights and El Sereno, as well as much of downtown, where a development boom has fueled huge growth over the past decade, KTLA reported.
Two other candidates — Councilman Joe Buscaino and City Atty. Mike Feuer — have been campaigning for several months. The race also features two business leaders: Jessica Lall, who heads the downtown-based Central City Assn., and real estate broker Mel Wilson, who has been involved with several San Fernando Valley business groups.
Hermosa Beach Pride Lifeguard Tower is here to stay
"The rainbow tower is beautiful and has become a symbol of this community's love and support for LGBTQ rights," said Supervisor Hahn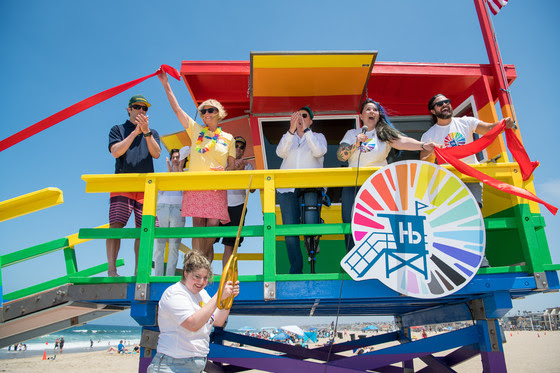 Hermosa Beach — Los Angeles County Supervisor Janice Hahn is announcing that the Pride Tower in Hermosa Beach is here to stay.  The 13th street Los Angeles County Lifeguard Tower, which was painted rainbow in June, was originally meant to be repainted its original blue color at the end of summer.  The rainbow paintjob will now be permanent. 
"The rainbow tower is beautiful and has become a symbol of this community's love and support for LGBTQ rights," said Supervisor Hahn, whose support paved the way for the project. "None of us wanted to see it painted over and I am proud to announce that the Pride Tower is here to stay."
The idea to paint the tower originally came from lzzy Bacallao, a local non-binary teen. Izzy, who uses the pronouns they and them, was responding to the burning of rainbow-painted Pride lifeguard tower in Long Beach in March. The rainbow-painted tower was unveiled at the Hermosa Beach Pride event June 26, 2021.
The new Pride Tower's rainbow paintjob will be maintained by the Los Angeles County Department of Beaches and Harbors which maintains all LA County Lifeguard Towers.   The Department of Beaches and Harbors also maintains another permanent Pride tower in Venice.