Biden in Long Beach: 'The eyes of the nation are upon you- vote no'
"You either keep Gavin Newsom as your governor or you get Donald Trump," Biden said. "The choice should be absolutely clear. Gavin Newsom."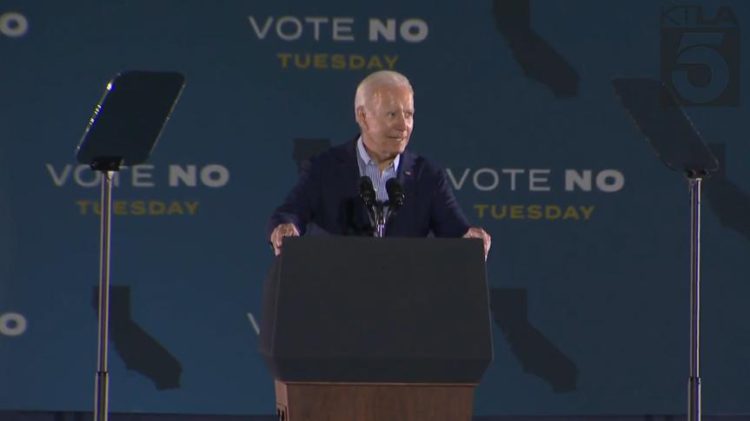 LONG BEACH – On the last day of hard campaigning prior to Tuesday's recall election, California Governor Gavin Newson was joined by the ultimate powerful voice in his party as President Joe Biden took to the stage with him at the Long Beach City College Monday evening.
The president took the stage to applause from the approximately 1,100 people who attended tonight's rally gathered on the City College main quad. He walked on to "California Soul" by Marlena Shaw as Newsom finished speaking. Biden spoke for about 15 minutes and pushed for voters to vote no on the recall, citing Newsom's record on the pandemic, women's rights and climate change and minimum wage.
The president stressed to the crowd that, "Voting no will be protecting California from Trump." He called out the leading candidate to replace Newsom should he be ousted, Larry Elder, citing the right-wing radio host's positions on COVID-19 measures, women's rights, the minimum wage, immigrant rights and what the president referred to as the dark derisive politics of Donald Trump.
"For these Republican governors it isn't about public health, it's about politics," Biden said. "Just look at the hypocrisy. The same governors attacking me and your governor for Covid-19 mandates are in states with some of the strictest vaccine mandates for children in the whole country."

"We need science, we need courage, we need leadership. We need Gavin Newsom," Biden said.

"A governor who follows science, who's got the courage to do what's right," Biden said.
"To me it's pretty basic, if you're working a 40-hour week, you shouldn't be living in poverty," Biden said, raising voice.
"You either keep Gavin Newsom as your governor or you get Donald Trump," Biden said. "The choice should be absolutely clear. Gavin Newsom. You have a governor who has the courage to lead."
"Don't take anything for granted," Biden said.
"California, I'm not sure you know it," Biden said. "This isn't hyperbole: The eyes of the nation are on California because of the decision you're about to make. The decision you're about to make is going to have a huge impact on California, and it's going to reverberate around the nation. And, quite frankly, not a joke – around the world."
Afterwards Biden, Newsom and California First Partner Jennifer Siebel Newsom exited the stage after waving to supporters, walking off to the song "Stop in the name of love," by Diana Ross and the Supremes. 
Rep. Karen Bass to enter Los Angeles mayoral race
Bass has been working to dismantle systemic racism, as well as other forms of social, racial and economic injustice, for decades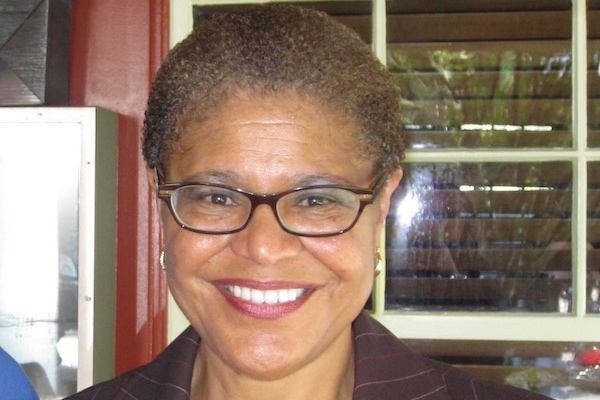 LOS ANGELES – In a breaking story published Friday morning, the Los Angeles Times reported that Democratic Congresswoman Karen Bass, who represents California's 37th congressional district, which covers several areas south and west of downtown LA will enter the mayor's race.
U.S. Rep Karen Bass (D-Los Angeles) intends to run for Los Angeles mayor, according to three people familiar with her plans. Such a move would shake up a contest that, until this past week, which saw the field of candidates increase, had been a fairly sleepy affair. Bass, a high-profile Democrat who has served in both Sacramento and Washington, D.C., could announce her entry into the mayor's race as early as next week, those sources told The Times.
Bass has been working to dismantle systemic racism, as well as other forms of social, racial and economic injustice, for decades. She is a community activist who was raised on civil rights activism in LA's Jewish Venice-Fairfax district, volunteered for Bobby Kennedy's presidential campaign in middle school, graduated from Hamilton High School in West LA in 1971, studied philosophy at San Diego University but switched her attention to healthcare, graduating from USC's Keck School of Medicine Physician Assistant Program. She subsequently received her BA in health sciences from Cal State/Dominguez Hills and her Masters in Social Work from USC.
Bass focused that training on fighting the crack epidemic in South LA, where she founded the Community Coalition to fight for substance abuse prevention programs and better foster care and relative caregivers, like grandmothers.
She also fought the AIDS epidemic — all experience directly applicable to dealing with the ongoing Opioid crisis, as well as COVID-19.
"I went through the AIDS crisis from its very beginning. I watched all of Santa Monica Boulevard get wiped out near Vermont (Ave.). That whole area there. I watched everybody die within a matter of two years," Bass told the Los Angeles Blade. "But I think that this [COVID-19 crisis] is really hard because you don't have to have any physical contact….People are building the plane while it's flying."
Torie Osborn, the executive director of the Los Angeles Gay and Lesbian Community Services Center in 1989, met Bass at a meeting of progressive grassroots activists in a South LA church basement.
"This woman I didn't know came up, introduced herself as Karen Bass from South LA, an anti-police violence activist and a physician assistant," Osborn says. The two talked all day with Bass noting that the gay community's experience of AIDS deaths was similar to what the Black community was experiencing during the crack epidemic.
"I had never heard anything like this before. She knew gay men. She clearly was an ally," Osborn says.
Last summer the Biden campaign vetted Bass as a potential candidate for the number two spot on the Democratic ticket in the race for the White House, which ultimately ended up with then California U.S. Senator Kamala Harris as Biden's choice.
"Los Angeles is facing a humanitarian crisis in homelessness and a public health crisis in the disproportionate impact this pandemic has had on Angelenos," Bass spokesman Zach Seidl said in a statement, when asked for comment by the Times. "She does not want to see these two issues tear the city apart. Los Angeles has to come together. That's why the Congresswoman is considering a run for mayor."
Earlier this past week, another LGBTQ ally, Los Angeles City Councilman Kevin de León, a Democrat, announced his intention to seek the mayor's chair after current Mayor Eric Garcetti, who was elected for a four-year term in 2013 and again in 2017- who's limited to serving no more than two terms- was picked by President Joe Biden to serve as the U.S. ambassador to India on July 9, 2021.
NBC News exit survey: 83% of LGBTQ Californian voters said no to recall
As Governor, Newsom has signed a litany of pro-LGBTQ legislation expanding the civil/equality rights of the Golden State's LGBTQ+ community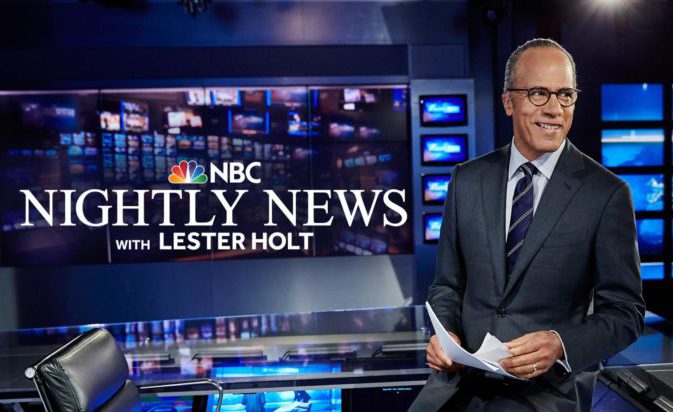 NEW YORK – In an exit poll conducted by NBC News on Tuesday, voters who identified as LGBTQ+ by a majority of 83 percent voted "no' in the gubernatorial recall, versus 17 percent who voted "yes."
Newsom has had a long track record as an LGBTQ+ ally, while mayor of the City of San Francisco in 2004 he sparked a political firestorm when he defied state law and issued approximately 4,000 marriage licenses to same-sex couples.
Many people in the California Democratic Party were certain Newsom had effectively ended any chance to advance his political career with his actions, ironically though he instead garnered wide-spread support, especially from a statewide LGBTQ+ constituency which landed him in the Lieutenant Governor's chair.
In 2015, then Lt. Governor Newsom saw vindication as the U. S. Supreme Court handed down a decision in Obergefell v. Hodges, ruling that the fundamental right to marry is guaranteed to same-sex couples by both the Due Process Clause and the Equal Protection Clause of the Fourteenth Amendment to the United States Constitution.
Since taking office in 2019 as Governor of California, Newsom has signed a litany of pro-LGBTQ legislation which has expanded the civil and equality rights of the Golden State's LGBTQ+ community.
In a statement emailed Thursday morning, California's Lieutenant Governor Eleni Kounalakis, reflecting on the results of the NBC News poll, told the Blade; "It's no secret that Governor Newsom has been an ally to the LGBTQ community for decades. From signing countless bills enacting new protections, to his leadership through the COVID crisis that centered the needs of the most vulnerable, he has shown up for California's LGBTQ community."
LGBTQ voters voted against recalling Gov. Gavin Newsom by a greater margin than the state's voters overall.https://t.co/ihmxKRkzYe by @JoYurcaba

— NBC Out (@NBCOUT) September 15, 2021
Had Newsom been removed as governor, 77 percent of LGBTQ recall voters said they would be concerned or scared, compared to 57 percent of all recall voters. Twenty-one percent of LGBTQ voters said they would be excited or optimistic if he were removed, compared to 38 percent of all recall voters, according to NBC News' Exit Poll.
"The numbers are clear on just how overwhelmingly opposed the LGBTQ+ community was to this Republican power grab," said Assemblymember Evan Low (D-Silicon Valley), who serves as Chair of the California Legislative LGBTQ Caucus in an email to the Blade. "Governor Gavin Newsom has been a steadfast ally of ours for decades, and I'm proud to see our community make its voice clearly heard as we build on the progress California has made regarding equality and inclusion."
Rick Zbur, the Executive Director of Equality California noted: "We stood with Governor Newsom because he has always stood with us — no matter the personal or political consequences. He has signed groundbreaking legislation to support the health and well-being of transgender Californians; expanded access to life-saving HIV prevention medications; enacted new gun safety measures and police reforms; created more housing for people experiencing homelessness than any governor in history — and put a stop to California's racist, anti-LGBTQ+ death penalty. He is working every day against difficult odds to keep our families safe, protect families from eviction and provide billions of dollars in relief to working families and small businesses."
NBC News' Exit Poll revealed that a significant percentage of LGBTQ recall voters think getting the coronavirus vaccine is a public health responsibility, at 82 percent, compared to 65 percent of all recall voters. Of LGBTQ voters, 17 percent believe getting the vaccine is a personal choice, compared to 32 percent of all recall voters.
The poll also found that 48 percent of LGBTQ voters, (roughly half) think the policies Newsom put in place to deal with the pandemic have been about right, 35 percent don't think they've been strict enough, and 17 percent think they've been too strict. On the governor's statewide in-person school masking mandate, 86 percent, are in support while 13 percent oppose it.
Caitlyn Jenner: A one percenter gets one percent (actually 1.1%)
"If he doesn't get recalled, I pity the people of California- It's a shame, honestly you kind of get the government you deserve."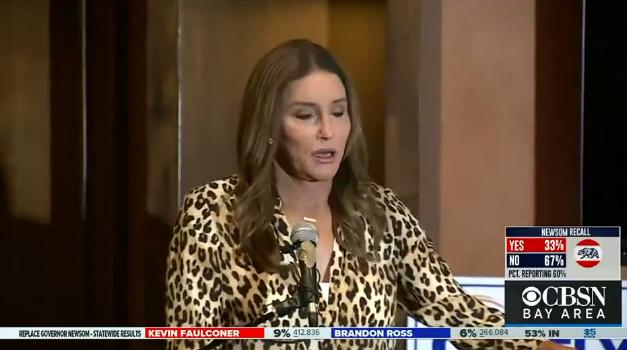 LOS ANGELES – It was not the measured tones of a seasoned politician who had experienced the successes and failures inherent with any campaign for public office. Instead, in a speech given to a small gathering of supporters once it became clear that the recall effort against Democratic California Governor Gavin Newsom had failed, reality television celebrity Caitlyn Jenner took to the microphone and groused.
Sounding bitter Jenner said; "He didn't campaign on not one of his successes, because he doesn't have any," she said. "I can't believe that this many people actually voted to keep him in office. It's a shame, honestly, it's a shame. You kind of get the government you deserve."
Caitlyn Jenner, a GOP candidate in California's recall, speaks after the vote to remove Gov. Newsom failed: "I can't believe that this many people actually voted to keep him in office. It's a shame." https://t.co/cagDpkFQdS pic.twitter.com/2cONQbrtMu

— CBS News (@CBSNews) September 15, 2021
Jenner's 'it's a shame' echoed remarks she had made earlier during the day Tuesday when she told right-wing media outlet Newsmax; "For me, it's just so up in the air [with] what is going to happen," she said. "Number one, we gotta get Gavin Newsom outta there. I think it's going to be difficult doing that, but I'm hoping for the best […] If he doesn't get recalled, I pity the people of California."
In the accumulated vote count tabulations listed Wednesday evening, Jenner had placed 12th in the field of candidates after fellow Republican frontrunner, conservative right-wing radio-talk show host Larry Elder, who had garnered 2,386,710 votes and 46.92% to Jenner's 56,016 votes and 1.1%. (72.65 % Precincts Reporting | 74% expected vote as of Sep. 15, 2021 8:48 pm)
The Newsmax host also asked if she would consider running in 2022 in the regular gubernatorial race or a potential congressional race, Jenner indicated she "would keep her options open."
"One thing I can say is I have thoroughly enjoyed this process," she said. "It has been uplifting, rewarding. I'm a compassionate person. I love the people. The process has been great. Once this is over with, we're gonna evaluate, see where we're at."