Right-wing media are already crying foul on the California recall
Gay conservative Richard Grenell is calling for people to catalog supposed instances of voter fraud in the recall election on his website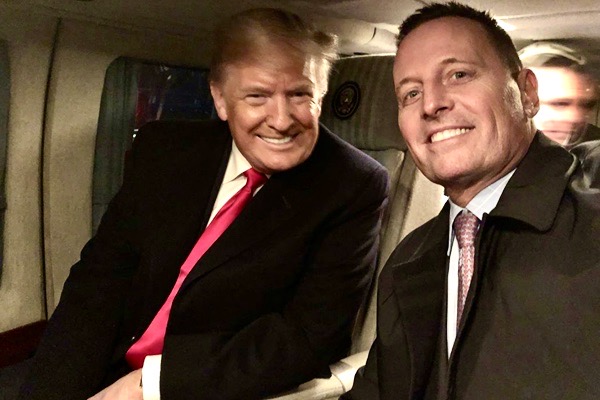 By Spencer Silva | WASHINGTON – With California's gubernatorial recall election happening on Tuesday, the state's voters have been flooded with conspiracy theories aimed at undermining their faith in its outcome.
With polls now showing sitting Democratic Gov. Gavin Newsom firmly in the lead, right-wing media have been steadily pushing election misinformation — laying the groundwork to claim that the forthcoming election is rigged before the votes are even cast.
Predictably, Fox News has been beating that election misinformation drum. Pro-recall Facebook groups are also teeming with voter fraud conspiracy theories. Former Fox contributor Richard Grenell, who served as a cabinet member in the Trump administration, is even calling for people to catalog supposed instances of voter fraud happening across the Golden State on his website.
Voter fraud is real. Too many on the left won't investigate the cases.

But we will.

Here's our new ad highlighting the troubling and growing problem.

Go to https://t.co/z5qv7dK9VP to share examples of voter fraud:https://t.co/EusmHMTY7T

— Richard Grenell (@RichardGrenell) September 9, 2021
The narrative has gotten so bad that both local and state officials have now had to preemptively push back against bad-faith claims of fraud on official social media accounts.
Conservatives have latched onto four different bogus pieces of evidence to cast a pall over the results of the recall effort before the election even takes place.
Right-wing figures are claiming California's ballot design will lead to fraud
On August 19, Grenell shared a video of a California voter claiming that holes punched in mail-in ballot envelopes allowed ballot handlers to identify "yes" votes on the ballot's central question of whether they wanted to to remove Newsom. The person in the video made a bogus claim that the envelope design is "sketchy" and can be used to tamper with the "yes" votes.
In reality, the holes in question are a tactile way for the visually impaired to locate the ballot envelope's signature line. They also act as a visual aid for election officials to quickly identify if an uncounted ballot has been left in an envelope. (Additionally, each county in California designs its own ballots, so the fact that a ballot in one county lines up with the envelope holes when folded one very particular way is hardly evidence of fraud.)
But the fact that the ballot holes controversy was easily debunked didn't stop right-wing media figures from running with the narrative. The day after Grenell tweeted the video, The Daily Wire's Michael Knowles cited it as proof that Democrats cheat in elections and implied that the ballot design was part of a clever statewide conspiracy to allow political operatives to identify votes in favor of the recall and trash them.
Right-leaning media outlets are vilifying the state's accessible voting system
In early August, right-wing media seized on a voting feature, Remote Access Vote-by-Mail, that allows some disabled voters to fill out their ballots online and print them at home. The system isn't used widely and limits each user to printing one ballot, and "the voter's choices are also transferred to a ballot and both documents are stored together for a post-election audit." But conservatives spent the past month billing the system as a tool California Democrats would use to rig the recall election.
On August 9, right-wing website RedState published an article that describes the remote voting feature as a "scheme" concocted by "crazy California Democrats" to "cheat on elections." The same day, One America News Network host Natalie Harp cast doubt on the home-printed ballot program for disabled voters, asking, "How does California define what's a disability?"
On August 19, Newsmax host Grant Stinchfield fearmongered about California's remote voting program, asking his audience, "Can you imagine if we start printing our own ballots? Our elections would be lawless. Can you imagine if we don't go after voter fraud? We have to." Stinchfield's segment also cited the "ballot holes" video mentioned above as additional evidence of widespread voter fraud.
During a September 7 appearance on Newsmax, election misinformation superspreader former President Donald Trump claimed with no pushback from the interviewer that the California recall election is "probably rigged" before mentioning that "you can even make your own ballot" — a seeming reference to remote vote-by-mail.
Right-wing media are misleadingly amplifying an incident of mail theft as "stealing votes"
On August 23, news stations reported that police in Torrance, California, found 300 unopened mail-in ballots for the recall election in a car parked outside a 7-Eleven along with a sleeping man, a bunch of other mail, a gun, and drugs.
While one might reasonably assume that the ballots were incidentally taken along with the thousands of other pieces of stolen mail, right-wing media immediately jumped to the conclusion that it was clear evidence widespread of voter fraud.
On Facebook, Fox News' social media headline read: "STEALING VOTES: Hundreds of Calif. recall ballots, drugs, loaded gun found in passed-out felon's car: police."
Breitbart, The Daily Wire's Ben Shapiro, and Fox host Dan Bongino each shared the story. Republican gubernatorial candidate Larry Elder also shared a link to a YouTube video from right-wing podcaster Tim Pool, who discussed the stolen ballots.
Pro-Trump media networks OAN and Newsmax also ran with the story. During an interview with Elder on August 24, OAN host Dan Ball cited the Torrance story, and other claims as evidence of voter fraud. Elder responded, "Well, we know what happened in 2020. We know about all the fraud, shenanigans that went on in the 2020 election. As you know, you can now print your own ballot here in California. What could possibly go wrong? That's why we have a battery of lawyers watching all of this. … We're watching them. But I wouldn't put it past them."
That same evening, OAN's Harp told her audience that the Torrance ballots had been "intercepted."
Right-wing actors highlight an Associated Press story about election fraud without giving context
On September 2, The Associated Press reported that a group of cybersecurity experts sent a letter to California's secretary of state calling for an audit of the state's election because unauthorized system images had been released at a right-wing voter fraud conference hosted by disgraced businessman Mike Lindell.
Right-wing personalities like Blaze TV host Steve Deace, preacher Jack Hibbs, and former Trump attorney Jenna Ellis all shared the story online, holding it up as evidence of fraud and casting doubt on the results of the forthcoming election. Unsurprisingly, none of them mentioned that experts were calling for an audit because right-wing activists had triggered a security threat.
Local newsrooms have had their hands full debunking all of these ridiculous claims, but right-wing media continue to spread them anyway, attempting to undermine the legitimacy of California's election.
Additional reporting and research by Eric Kleefeld & Kellie Levine
********************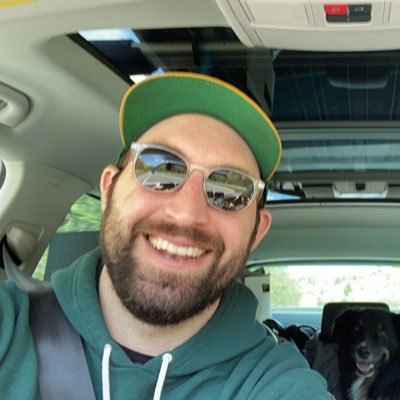 Spencer Silva is a researcher at Media Matters. His writing and reporting have appeared in the San Francisco Chronicle, the East Bay Express, Oakland Magazine, KQED-FM, and other outlets.
He holds bachelor's degrees in political science and Spanish from the University of Portland as well as a master's in journalism from the University of California, Berkeley Graduate School of Journalism.
The preceding article was previously published by Media Matters for America and is republished by permission.
Newsom highlights blueprint investments in infrastructure & transportation
Transportation is the largest source of greenhouse gas emissions, accounting for more than 50% of emissions
SANTA CLARA – Governor Gavin Newsom Thursday touted his California Blueprint's major investments in transportation and infrastructure while visiting the Santa Clara Depot rail station, highlighting the plan's $9.1 billion in funding for climate-friendly clean transit projects that will create thousands of jobs.
The Blueprint also includes $2.3 billion to support ports and goods movement throughout the state and an additional $6.1 billion to accelerate the state's transition to zero-emission vehicles – creating a total package of $10 billion that will invest in affordable cars, clean trucks and buses. The Santa Clara Depot serves several transit agencies, including Caltrain, which is scheduled to complete electrification of its system in 2024. 
"These bold investments will deliver safer, faster and greener transportation options connecting communities across the state while creating thousands of jobs and tackling our largest source of harmful pollution and emissions," said Governor Newsom. "With California on the frontlines of the intensifying climate crisis, the state is committed to building a clean transportation future that protects the health of our communities, environment and economy."
Transportation is the state's largest source of greenhouse gas emissions, accounting for more than 50% of emissions when considering the production and deployment of fuels. California's commitment to decarbonizing the transportation sector also advances the state's affordability goals, increasing access to opportunity and amenities through a network of affordable, clean transportation options and pushing zero-emission vehicle innovation to continue driving down costs for everyone.
The California Blueprint includes a proposed $9.1 billion package to advance clean transit initiatives that support the state's climate and public health goals, promote equity and bolster the green economy, including $4.9 billion for transit and rail projects to improve connectivity, climate adaptation, bicycle and pedestrian safety and more locally driven initiatives. In addition, the Blueprint proposes a $4.2 billion investment in California's High-Speed Rail project, which will eventually share the electrified Caltrain corridor, as well as funding for projects that encourage active modes of transportation and improve equity and safety, including converting underutilized highways into corridors that better serve residents. The Blueprint positions California to take advantage of additional federal infrastructure investments.
The California Blueprint also furthers the Administration's ongoing work to support ports and build supply chain resilience, outlining a $2.3 billion package that includes $1.2 billion for port-related infrastructure projects that increase goods movement capacity and additional funding for zero-emission port equipment, drayage trucks and infrastructure. The Governor in October issued an executive order directing state agencies to help identify additional ways to alleviate congestion at California ports and announced a state-federal partnership to help kick-start infrastructure projects designed to improve goods movement. In addition, the Governor has launched a multi-agency Supply Chain Task Force working to find opportunities to lease state and privately-owned land for container storage space, Caltrans has issued temporary truck weight exemptions on State Highways to keep goods moving efficiently and the Department of Motor Vehicles has worked to nearly double its capacity to conduct commercial driving tests.
The Blueprint also builds on the California Comeback Plan's $3.9 billion zero-emission vehicle (ZEV) package with an additional $6.1 billion in proposed investment to accelerate the transition. The additional funding will add thousands of affordable clean cars, zero-emission trucks and transit buses, support school transportation programs and electrify our school bus fleet, expand equitable access to ZEV charging infrastructure and fund equity-focused clean transportation community projects.
Governor Newsom in 2020 made a commitment to require that sales of all new passenger vehicles be zero-emission by 2035 and aggressively decarbonize heavy-duty vehicles such as trains, trucks and buses. The state has targeted emissions from the heavy-duty sector with bold action to reduce pollution in disproportionately impacted communities.
Intersex civil rights legislation killed after fails to advance
These irreversible genital reconstruction surgeries usually performed when intersex children are infants have lifelong consequences
SACRAMENTO – Senator Scott Wiener (D-San Francisco) announced Tuesday that he will not be moving forward with Senate Bill 225: the Intersex Bodily Autonomy, Dignity and Choice Act. This civil rights legislation would ban medically unnecessary, irreversible genital surgeries on intersex infants and other young children.
Wiener has pursued this civil rights legislation that would provide children and their families with a chance to make informed decisions about major, life-altering genital reconstruction surgeries for three consecutive years.
He has been unable to pass the bill out of its first policy committee, the Senate Business & Professions Committee, due to lack of sufficient votes in the committee. SB 225 was co-sponsored by Equality California, interACT: Advocates for Intersex Youth, the National Center for Lesbian Rights, and the ACLU of California.
"SB 225 was a basic civil rights law, standing for the important principle that people should be able to make decisions about their own lives, as opposed to having other people make those decisions for them. These irreversible genital reconstruction surgeries – usually performed when a child with variations in their genitalia are infants – have lifelong consequences. These consequences can include chronic pain, scarring, loss of sexual sensation, and more," the Senator said in a media statement.
"SB 225 is vitally important civil rights legislation for intersex people and the larger LGBTQ community, and I'm disappointed and saddened that it does not appear to have a viable path forward at this time. For three years, we've worked to advance the legislation, and it's become apparent that we continue to lack the votes to pass a meaningful bill — one that actually protects intersex people — through committee, he added.
"Pausing medically unnecessary genital surgeries until a child is old enough to participate in the decision isn't a radical idea. Rather, it's about basic human dignity. In countries like Germany, Colombia, and Malta, these infant surgeries are banned. The United Nations and three former U.S. Surgeons General have called for these surgeries on babies to be banned. I'm fully committed to protecting the rights of everyone with variations in their genitialia, including intersex people. I'm not giving up, and I stand in solidarity with the intersex community in its fight for bodily autonomy, dignity and, choice," Wiener said.
The California Medical Association, the politically influential professional organization representing nearly 50,000 physicians in the state of California, was opposed to the legislation and actively lobbied against it.
"We're proud to stand with Senator Wiener and the intersex community in this important fight to safeguard the human rights of all Californians and are immensely grateful for his leadership on SB 225," said Equality California Legislative Director Tami Martin. "We're disappointed that there is not enough support to pass this bill out of committee this year, but our fight will continue until the work is done."
One to two percent of people are born with variations in their genitalia and sex anatomy, some of whom identify as intersex. Parents of children with these variations are often offered medically unnecessary surgical interventions – such as major surgeries to cut a clitoris, create a vagina for penetrative sex, remove hormone-making organs, or move a working urinary opening – which are typically performed on children under two years old and often without a complete discussion of the various risks.
These surgeries may result in extreme scarring, chronic pain, chronic incontinence, loss of sexual sensation, post-traumatic stress disorder, incorrect gender assignment, and the need for additional surgeries to treat complications from the original surgery. SB 225 would allow parents to make a decision, in consultation with their child and medical professionals, once a person is old enough to participate in decision-making about whether or not a surgery to change sex anatomy is right for them.
"While this particular bill did not become law, we are deeply grateful to our allies and proud of getting one step closer to protecting intersex bodily autonomy in California," Alesdair Ittelson, Director of Law & Policy and Interim Executive Director of interACT said. "interACT will continue to demand self-determination instead of pathologization for intersex people and we are not deterred by the paternalistic approach of a rapidly shrinking number of individuals who stand in the way of protecting intersex human rights. Intersex people will prevail in their fight for control over their own bodies and we applaud all of those who supported SB 225."
Becca Cramer-Mowder, Legislative Coordinator and Advocate with ACLU California Action, noted: "We are disappointed that California is not yet ready to lead on this important civil rights issue, and we will continue to work with intersex individuals and advocates to move the state forward towards recognizing the bodily autonomy of intersex Californians."
Anti-LGBTQ+ Devin Nunes officially resigns from Congress
He is slated to take over as chief executive officer for former president Donald Trump's Trump Media & Technology group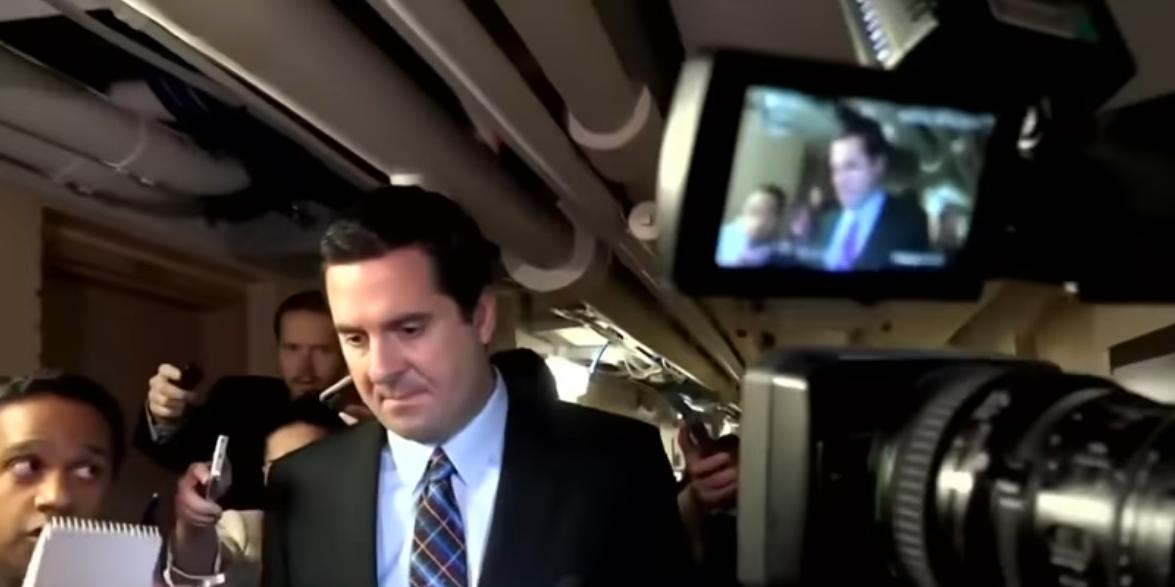 WASHINGTON – In a letter Saturday to U.S. House Speaker Nancy Pelosi, (D-SF), Republican Rep. Devin Nunes, who represents California's 22nd Congressional District, officially resigned his seat in Congress.
"It has been the honor of my life to represent the people of California's San Joaquin Valley for the last 19 years," Nunes wrote. He is slated to take over as chief executive officer for former president Donald Trump's Trump Media & Technology group, which is expected to launch expected to launch Truth Social later this month, a conservative right-wing alternative to Twitter and Facebook.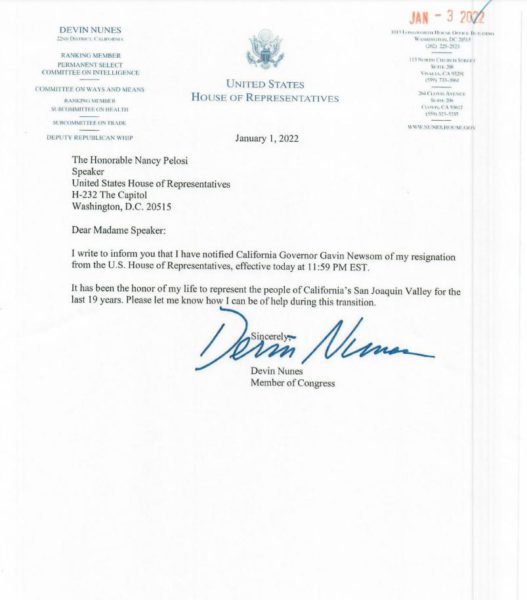 One of the former president's ardent loyalists, Nunes has repeatedly been at the center of controversy during his entire career on the Hill. In addition to his support of Trump, he has been openly antagonistic towards the LGBTQ community.
In 2010, Nunes voted against the repeal of "Don't Ask, Don't Tell," the law that prohibited gays from serving openly in the U.S. military. He also consistently received a "0" rating on LGBT issues from the Human Rights Campaign's Congressional Scorecard, which has a rating scale of 0 to 100.
He opposed legal recognition of same-sex marriage, and he also refused to back any LGBTQ+ legislation.
Over the years he has also been involved in a series of high-profile lawsuits, including a 2019 $435 million defamation lawsuit in which he claimed CNN libeled him by reporting he was digging up dirt on Joe Biden and Ukraine.
U.S. District Court Judge Laura Taylor Swain in Manhattan dismissed the suit against CNN on a technical ground: She found California law applied to the case and Nunes had failed to request a retraction as required under the laws of the Golden State. Nunes' lawyer had argued that the laws of Virginia or Washington, D.C., should apply, but the judge said it made the most sense to apply the laws of Nunes' home state to the dispute, Politico reported.
In 2019, Nunes also sued Twitter over two parody accounts that he claimed harassed him, @DevinNunesMom and @DevinCow. That lawsuit brought on merciless ribbing from late night show hosts and other comedians. The Late Show host Stephen Colbert mocked the Republican congressman explaining how Nunes' lawyers arrived at the $250 million amount for the lawsuit: "You take the value of Devin Nunes' reputation and you add $250 million dollars."