Audra McDonald and Chita Rivera come to Gay Days Disneyland
During Gay Days thousands of LGBTQ+ Disney fans celebrate in Disneyland and Disney California Adventure in Anaheim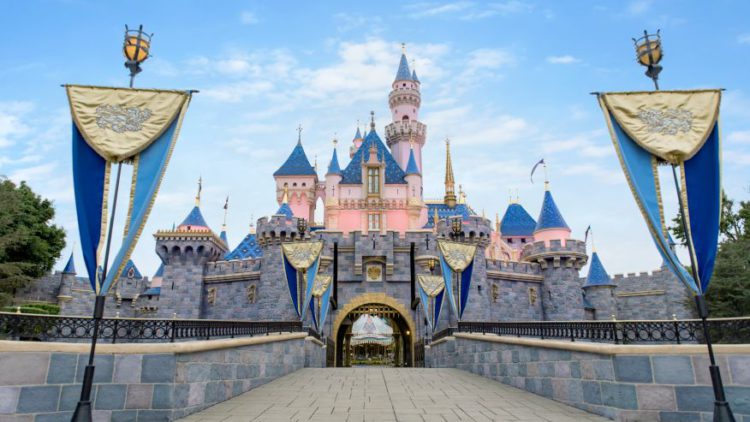 ANAHEIM- Broadway is back, and it's come to Anaheim. The legendary Audra McDonald and Chita Rivera, two absolute Titans of musical theatre, stopped by Disney's Grand Californian Hotel Friday night for two intimate back to back engagements for the crowds at the annual Gay Days Anaheim, or as it is more popularly known: Disneyland Gay Days. 
During Gay Days thousands of LGBTQ+ Disney fans celebrate in Disneyland and Disney California Adventure, with a weekend filled with scavenger hunts, meetups and parties. The park and the hotels almost feel like West Hollywood on a Friday night. The energy this year is especially lively, as Covid prevented last year's celebration. 
Gay Days began in 1998, attracting a crowd of 2,500 visitors. The weekend now pulls in over ten times that, with 30,000 visitors joining in on the magic in 2019. In a massive group photo outside Sleeping Beauty's castle, the entire group is decked out in the signature Gay Days red t-shirts – the 2019 edition featured a fabulous Star Wars Storm Trooper with the text "May the Fierce Be With You."
While the event is not officially sanctioned by Disney, it is supported by it. Disney Pride, as well as several other branches of the Disney empire, have joined in as sponsors for the weekend. It's also a favorite weekend for the Disneyland cast and staff.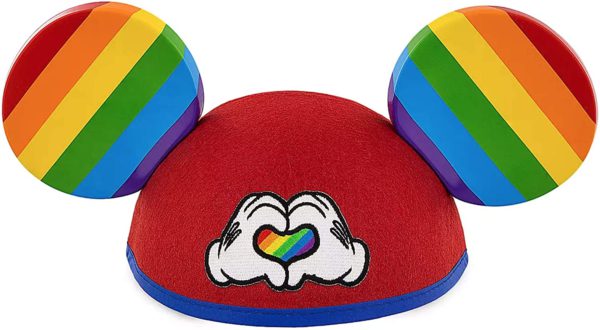 The schedule is simple: Friday is arrival day, Saturday is about Disneyland and Sunday is about California Adventure and the pool party. But Gay Days has got so much more than just a park visit: it now has Hollywood Bowl level-talent coming in for concerts. Kicking off the return to Disneyland this year is Audra McDonald and Chita Rivera.
The two stars headlined Broadway Night at the 23rd annual Gay Days, kicking off the weekend-long celebration which ran from September 17–19. Drag Race fan favorites Nina West, Jackie Cox and Jan Sport joined in the weekend's entertainments, with shows on Saturday and Sunday.
Friday night is buzzing. In the hotel lobby, Gay Days visitors are striking up conversations, getting to know each other, sharing stories about Gwen Verdon, Bob Fosse and that time they worked with Debbie Reynolds. Gay Days is definitely a great way to meet your Prince Charming.
Three-time Tony Award winner Chita Rivera began the evening with An Intimate Conversation With Chita Rivera featuring the Broadway legend in conversation with theatre historian Eddie Shapiro. She's a decorated performer with a score of firsts. She was the original Velma Kelly in Chicago, she was the original Anita in West Side Story, and she's the first Latino American to receive a Kennedy Center Honor.
When Rivera was called out on the stage she kicked her leg out high from behind the curtain, and then strutted her way to her chair. She's 88 years old, but has the bright energy, wit and sparkle of someone decades younger. With charm and humor she tells a captivated audience about that time she won the Presidential Medal of Freedom from Barack Obama, dancing with Dick Van Dyke and why she loves gay audiences – "they get it."
She looks back on her storied career with humble gratitude, unexpected for someone who has an award named after themselves (The Chita Rivera Awards for Dance and Choreography). When asked about a star studded concert she appeared in recognizing entertainment's greats she simply said "it's God's way of saying you're doing something right." Chita Rivera left the Disney audience spellbound. 
An hour later, Audra McDonald walked out on the same stage for a piano concert – with Chita Rivera in the front row! Audra is a record-breaking icon. She's a 6-time Tony winner, and has won at least one Tony in all four acting categories. But, like Chita, she is down to Earth, well-spoken and incredibly gracious. Between songs she peppers in stories about her daughter, playing Mother Superior in Sound of Music Live and Chita Rivera's influence.
Audra McDonald sings with a flawlessly smooth, often operatic quality. Standouts from her set include her cover of "Children will Listen" from Sondheim's Into the Woods and an eerie reimagining of the title track from "Cabaret", which she performed at The Met Gala by Anna Wintour's request. She also included a moving performance of the song "I'll be Here" from the lesser known musical Ordinary Days. The narrative of the song centers on a woman's relationship with her husband who dies in 9/11. In the capable hands of McDonald, the audience is moved to tears.
The evening is a shining example of the exceptional programming Gay Days has added to an already incredible weekend. The two live performances are signs that a pre-Covid world is slowly returning.
The 37TH annual LA Asian Pacific Film Festival- Sept. 23 to Oct. 2
For over three decades, LAAPFF has presented over 5,000 films by Asian & Pacific Islander talent- promoting the development of API filmmakers
LOS ANGELES – The Los Angeles Asian Pacific Film Festival (LAAPFF), presented annually by Visual Communications (VC), announced this week that the first set of films that will screen as part of the 37th edition of the Festival, which will be a hybrid event taking place virtually and in person at select cinemas in the Los Angeles area from September 23 to October 2, 2021.
The Festival will open on Thursday, September 23 at the Japanese American Cultural & Community Center's Aratani Theatre in Little Tokyo, Downtown Los Angeles with the Los Angeles premiere of Ann Kaneko's MANZANAR, DIVERTED: WHEN WATER BECOMES DUST, a poetic look at the unexpected alliance formed by Native Americans, Japanese American WWII incarcerees, and environmentalists to defend their land and water from Los Angeles.
"Visual Communications looks forward to sharing the stories that intersect and converge movements such as MANZANAR, DIVERTED," says Francis Cullado, Executive Director of Visual Communications. "From emerging to established filmmakers, the Festival continues to celebrate artists who are making an impact in our communities."
Following Opening Night, LAAPFF will showcase new works as part of Centerpiece Weekend at the Aratani Theatre and Regal L.A. LIVE. Highlights include the Los Angeles premieres of: Iman Zawahry's AMERICANISH, the first American Muslim rom-com directed by an American Muslim female filmmaker; Sujata Day's comedy-drama DEFINITION PLEASE, which she also stars in; Christopher Makoto Yogi's Sundance hit I WAS A SIMPLE MAN, starring Constance Wu; Dante Basco's directorial debut THE FABULOUS FILIPINO BROTHERS; and Suzanne Kai's long awaited crowdpleaser from Tribeca, LIKE A ROLLING STONE: THE LIFE & TIMES OF BEN FONG-TORRES, about the legendary Rolling Stone editor and writer Ben Fong-Torres.
LAAPFF is a proud Academy Award®-qualifying film festival for the Short Film Awards. Recipient(s) of the Film Festival's Golden Reel Award for Narrative Short Film will be eligible for consideration in the Animated Short Film/Live-Action Short Film category of the Academy Awards®.
This Festival is the only one of its kind in the world to have earned this qualification. Some highlights from the shorts lineup include the World Premiere presentations of: Candace Ho's CHASING CLOUDS, a narrative short about a Taiwanese American woman forced to confront the harsh reality of her mother's dementia; Paolo Bitanga's NIGHT & DAY, a documentary short from the Philippines about a mother′s home that comes alive once a year when her many children return for the holidays; and Dakota Camacho's FANA'GUYAN, a short dance film that explores ending violence and generating healing through embodiment, intimacy, and ancestral creativity. FANA'GUYAN will screen as part of Pacific Cinewaves, programming which represents LAAPFF's commitment to amplify Native Hawaiian and Pacific Islander communities from Hawai'i, Aotearoa (New Zealand), Guåhan (Guam), Rapa Nui (Easter Island), Samoa, and throughout the Pacific region.
"It is an honor to work in this landscape and witness the rise of storytellers from Asian & Pacific Islander communities," said Eseel Borlasa, Programmer & Festival Operations Director of Visual Communications. "Each year, the Festival is proud to share these diverse perspectives, and we hope to continuously bridge understanding and build empathy and solidarity amongst our audiences. That collective work of storytelling to audience impact helps put values into action. LAAPFF believes in that work, and we are proud to be part of the process."
Visual Communications is proud to continue their partnership with HBO for the fifth annual HBO Asian Pacific American Visionaries, a short film competition which showcases cinematic storytellers of Asian and Pacific Islander descent.
The finalists were selected from hundreds of submissions and were judged by a distinguished panel of HBO executives, industry leaders and fellow APA filmmakers. The three winning films exemplified this year's competition theme: "Taking the Lead." Jess X. Snow's LITTLE SKY, Jesse Gi's NEH, and Urvashi Pathania's UNMOTHERED will premiere at LAAPFF on September 25, and debut on HBO Max on September 27.

This year, the Festival will also continue to host C3, a space for creators to converge and celebrate creative communities. These consist of both virtual and in-person panels and conversations.
Established in 1983, LAAPFF is the largest festival of its kind in Southern California, and the premier showcase for the best and brightest of Asian Pacific cinema. It was recently named one of the "25 Coolest Film Festivals in the World" by MovieMaker Magazine.
For over three decades, LAAPFF has presented over 5,000 films by Asian & Pacific Islander talent, and continues to expand its commitment to nurturing new talent and promoting the development of Asian & Pacific Islanders both behind and in front of the camera. The Festival is proud to be an Oscar® qualifying fest for the best short film Academy Award category – either live action or animation.

LAAPFF will announce its full lineup on Wednesday, September 1, 2021. Ticketing for the general public will be available starting Monday, September 13, 2021 at 12:00pm PT.
For program information, please visit festival.vcmedia.org.
Rapper & singer-songwriter Lil Nas X heads up new role at Taco Bell
The 22-year-old musical artist, now riding the success of two global No. 1 hits was an hourly wage earner as part of a Taco Bell team in 2017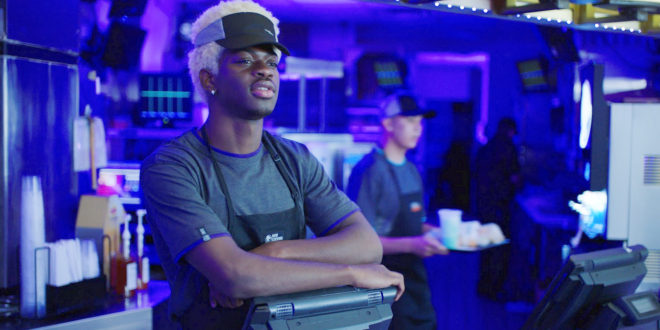 IRVINE – The iconic American fast-food chain serving Mexican-inspired fare such as tacos, quesadillas and nachos has a new pitchman, former Taco Bell employee and now Grammy award winning rapper & singer-songwriter Lil Nas X, (real name Montero Lamar Hill).
In an announcement Monday, Mark King, CEO of Taco Bell commented that "Lil Nas X knows the job, the experience and the culture Taco Bell creates for its fans – including its people," King added; ""This unique partnership will deliver on more than just marketing, allowing us to tap into the genius of Lil Nas X to inspire our team members and align with our commitment to unlocking opportunities for young people."
As a cultural icon with an insider's perspective on the Taco Bell team member experience, Lil Nas X has been appointed the title of 'Chief Impact Officer,' a newly created role that will allow him to collaborate on the brand experience from the inside out.
The 22-year-old musical artist, who catapulted to fame and now is riding the success of two global No. 1 hits in "Old Town Road" and "Montero (Call Me By Your Name)," was an hourly wage earner as part of the Taco Bell team at an Atlanta-area restaurant in 2017.
Two years later as a successful up and coming musical artist, on June 30, 2019, the last day of Pride Month, he came out publicly as gay tweeting: "some of y'all already know, some of y'all don't care, some of y'all not gone fwm no more. but before this month ends i want y'all to listen closely to c7osure. 🌈🤩✨"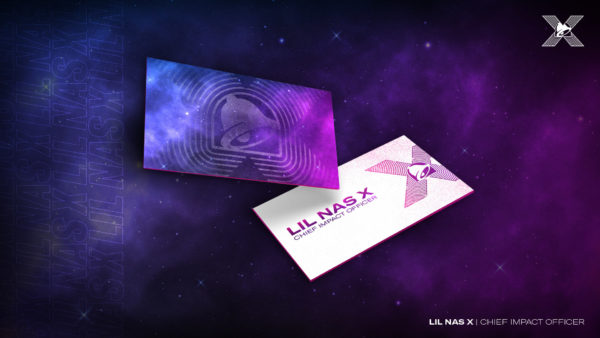 In today's announcement the company acknowledged his ascendency to artistic celebrity as well as his sexual orientation.
"Back in 2017, Lil Nas X laid down roots working at an Atlanta-area Taco Bell as a team member and less than five years later he's ascended to stardom by defying conventions, charting his own course and remaining authentically true to himself – all things that Taco Bell stands for in its own way."
As part of his new role, Lil Nas X will support the Taco Bell Foundation's mission and help announce awards to recipients of the Live Más scholarship to enable them to pursue their creative passions. The Taco Bell Foundation breaks down barriers to educate and inspire the next generation of America's leaders.
Since 1992, the Taco Bell Foundation has reached more than 4 million young people across the country and has awarded more than $110 million in Live Más Scholarships and grants to youth-serving nonprofit organizations focused on education and career readiness.
The artist's "expertise in understanding social media and youth culture alongside his skills in creating great music makes this partnership with Taco Bell exciting, brave and one of the most innovative campaigns I've had the pleasure of creating," said Jennifer Frommer, senior vp brand partnerships & commercial sync at Columbia Records.
As one of his first initiatives, Lil Nas X will make a cameo in Taco Bell's breakfast campaign, which kicks off today, as the brand brings its breakfast offerings back to approximately 90% of restaurants nationwide by mid-September.
According to music industry trade magazine Billboard, in June, the rapper revealed his highly anticipated first full-length album would be "coming soon," though a release date has not been announced.
Lil Nas X x Taco Bell:
From the press release:
As a brand known for its late night Fourth Meal, Taco Bell is celebrating fans who begin craving and planning for their morning meal in the evening to remind them that Taco Bell breakfast awaits come morning.
Breakfast, In Bedtime Stories – Toasted Breakfast Burritos (Commercial) |Taco Bell:
The Los Angeles Blade celebrates Next Generation Pride
"Diversity is really important to our district… Our district is a leader when it comes to helping and supporting students."
WEST HOLLYWOOD – On June 27, the Los Angeles Blade honored and recognized the achievements of LGBTQ+ students, faculty, staff and the administrators of the Los Angeles Community College District, (LACCD) as about 75 invited guests gathered at West Hollywood's Le Parc Suite Hotel's Skydeck rooftop lounge and pool area to celebrate the LGBTQ+ students, and celebrate the creation of a scholarship program between the Los Angeles Blade and LACCD.
"The reason LAACD is able to be progressive, forward looking— the reason we are able to do an LGBTQIA Bill of Rights and ensure that everyone of our students is safe —is because we have a tremendous Board of Trustees who believe in a vision that every student deserves to be educated and safe," said LACCD's Chancellor Dr. Francisco C. Rodriguez.
Those are strong words from an LGBTQI Ally who heads one of the world's largest community college systems spread out over a nine campus system with a 250,000 strong student body.
The late afternoon event was sponsored by the Los Angeles Blade, The Ariadne Getty Foundation, the AIDS Healthcare Foundation, GT's Living Foods, and the Le Parc Suite Hotel.
Also in attendance bestowing proclamations honoring the achievements of the administrators, trustees and the LGBTQ+ student body of the LACCD, was the City of West Hollywood's Mayor Lindsey Horvath and City Councilmember John Erickson.
Rhea Litré, voted by the readers of the Blade as Best Drag Queen and one of West Hollywood's brightest stars of drag — most recently famous for her Instagram Live show "Quarantine Queen" — kicked off the night with a warm welcome and introduced the Blade's publisher Troy Masters.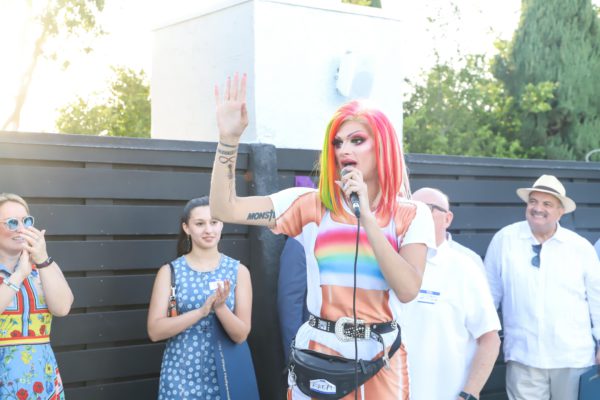 In his speech, Masters explained that LACCD's LGBTQ+ program had touched him deeply; "The cover of the Los Angeles Blade Pride issue is an example of something they are doing really touched me a lot. The school uses a Monarch Butterfly emblem which they wear to denote that a person is a safe person to interact with openly and that an area or room is a safe space for them.
"That really touched me, because it made me aware that their situation is different than what we may be used to. They have a deep need for safe, supportive people and spaces. They have a very deep need to be who they are and be with people and places that are safe, accepting and good for them," he said.
"We are here tonight just to celebrate that, celebrate the colleges and celebrate the people who are profiled in the current issue of the Los Angeles Blade, he added."
In addition to politicos in attendance, some of the LACCD's top leadership were on hand; Dr. Francisco C. Rodriguez, the Chancellor of the LACCD, Deputy Chancellor. ​Dr. Ryan M. Cornner, Dean for Student Success Deborah Harrington, LACCD Board of Trustees member Mike Fong, David Vela, the only openly LGBTQ+ LACCD Trustee, Felipe Agredano-Lozano, the LGBTQ+ Faculty Liaison for the LACCD, Dr. Marcel Morales,​ Department Chair and Professor of Sociology at ELAC, James Limbaugh, the President of West LA College and Michael P. Fuller, LACCD's Director of Institutional Advancement.
The mixer was filled with many familiar faces from greater the Los Angeles community including August Getty who represented the Ariadne Getty Foundation as well as his LA-based fashion house, August Getty Atelier; Marna Deitch, Southern California Motorcycle Contingent for Equality leader and interpreter for the deaf at community colleges; Michael Weinstein, Executive Director of the world's largest AIDS healthcare organization, the AIDS Healthcare Foundation; lesbian activist and comedian Robin Tyler accompanied by her pug Oscar Wilde; composer and lyricist Todd Pawelek and Stephen Rutgers representing the Washington Blade and Blade Foundation.
Masters thanked all the events sponsors and several individuals who helped make the event possible and expressed gratitude for everyone who attended.
"I want to acknowledge some people who are extremely dear to me," Masters paused, "Ariadne Getty is our most generous benefactor and her son August is here tonight." And while the crowd broke out into cheers for August, Masters' voice broke when he said, "I want to thank them for an immense amount of love and a lot of compassion — thank you for making us part of your family." Getty stood and was clearly moved.
Masters also thanked Michael Weinstein of the AIDS Healthcare Foundation for his role in executing a successful LGBTQ focused Covid-19 vaccination program. "Michael is one of our largest supporters as well. And we appreciate Michael and appreciate the work of the AIDS Healthcare Foundation," Masters said.
"We can thank Michael in part," said Masters, "for the working to ensure that West Hollywood and the LGBTQ community are near fully vaccinated." He added, "As a community we are well on our way."
AHF says it has fully vaccinated tens of thousands of Angelenos. The agency also famously worked hard during Covid crisis to make sure its patients were able to keep up with HIV medications and healthcare requirements. According to LA County Department of Public Health, in fact, the City of West Hollywood is more than 72 percent fully vaccinated.
Masters said his observation about the community being "nearly 100 percent vaccinated" is anecdotal. "Actual LGBTQ statistics have not been maintained during the Covid-19 crisis, something the Los Angeles Blade has exposed in many articles," he said.
Michael P Fuller called out the LACCD luminaries and the student honoree Sofia Zaragoza, Chancellor Rodriguez, Trustees Fong and Vela who all gave short speeches.
West Hollywood Mayor Lindsey Horvath took the mic greeted and proclaimed "Happy Pride Month!" The Mayor, joined by City Councilmember Erickson then handed out proclamations to the LACCD leadership from the City of West Hollywood:
The Proclamations read:
The City of West Hollywood honors the Los Angeles Community College District for
EXEMPLARY SERVICE TO LGBTQ YOUTH on the occasion of Los Angeles Blade's NEXT GENERATION PRIDE EVENT
Whereas, the Los Angeles Community College District (LACCD) supports the rights, freedoms, and equality of persons who are lesbian, gay, bisexual, transgender, queer, intersex, and/or asexual (LGBTQIA+) and serves more than 20,000 LGBTQIA+ students through safe and inspiring learning environments;
Whereas, LACCD adopted a groundbreaking LGBTQIA+ Bill of Rights to create welcoming college communities that affirm the lives of LGBTQIA+ students, faculty, and staff;
Whereas, LACCD provides academic opportunities for LGBTQIA+ students to accomplish their educational goals, including courses and programs recognizing the contributions of LGTBQIA+ communities;
Let it be known, the City of West Hollywood commends LACCD's inclusionary vision and leadership in supporting and advancing the LGBTQIA+ members of our community.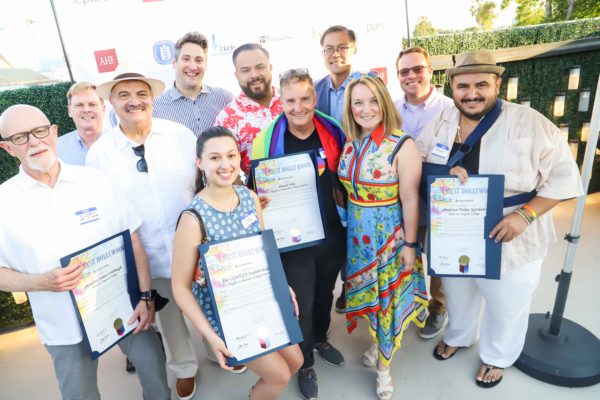 The Blade interviewed several of the attendees.
Litré said, "We have raised amazing money for kids that want to go to college." One of the individual's who received a scholarship, Jamey Sinardi who was also profiled in the three-part series in a special issue of the Blade this past week was also briefly interviewed at the event.
Dropping out of high school due to severe scoliosis and battling cancer twice is an uphill battle, but Sinardi won and was able to achieve her goals in education, in part, due to the LA Promise scholarship program. The LAACD promise program is a program that gives two years of tuition free education to community college students. "If it wasn't for Promise," she said, "I don't know where I'd be honestly."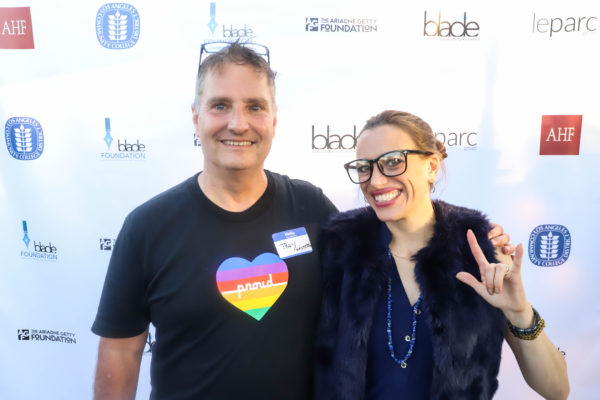 There were many individuals from the LACCD who helped make this moment possible such as Dr. Francisco Rodriguez, Chancellor for the LACCD. When talking about the event he said, "There's only one reason we're here – and that's for students."
Sofia Zaragoza, a queer student who was just recently accepted to University of California Berkeley described why she believes she was chosen by the Blade to be in the Next Generation of Pride article. "I think it's because of my diverse background in the academic sense. I have a real passion for education." For Zaragoza being an LGBTQ student can be challenging, but it "not only diversifies" but "enriches" her perspective in life.
The President of West LA College, James Limbaugh, told the Blade that he looks at students like Dee and Zaragoza and finds their stories to be inspirational. "I think it's important that every student has the right and access to college… Every student has potential, so my responsibility is to make sure that all students have an opportunity." Dr. Morales from the LACCD's East LA College campus weighed in saying; "Diversity is really important to our district… Our district is a leader when it comes to helping and supporting students."
Deitch, the Southern California Motorcycle Contingent for Equality leader told the Blade; "I don't even have words to say how wonderful I think this is. Knowing that the community colleges have been very open to the LGTBQ community is nice, but stepping it up to this level is fantastic."
August Getty, called as the last speaker by Masters reflected; "At the end of the day, we are one entire family… Thanks to the LA Blade for giving us an outspoken voice for when we don't have one."
WATCH: The Los Angeles Blade celebrates the Next Generation of Pride