Trans-Latina head of D.C. LGBTQ shelter & Trans safe space resigns
Casa Ruby Government Affairs Director Alexis Blackmon assumes position of interim executive director during search for a permanent director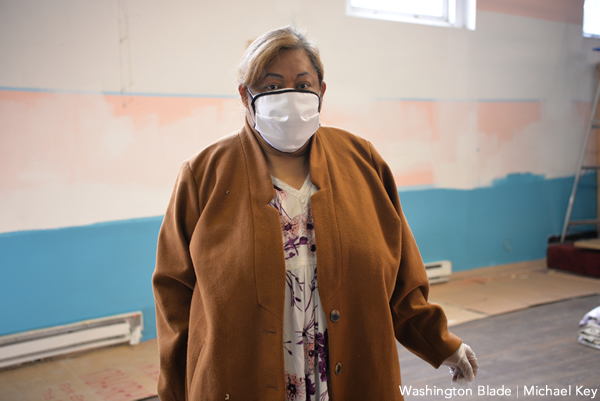 WASHINGTON – Ruby Corado, the founder and executive director of the D.C. LGBTQ community services center Casa Ruby, announced in a Facebook live video message that she had resigned from her position as leader of Casa Ruby effective on Friday.
Joining Corado in the Facebook broadcast was Casa Ruby Government Affairs Director Alexis Blackmon, who Corado said would immediately assume the position of interim executive director until the completion of a search for a permanent director.
Last year, Corado disclosed she planned to step down as Casa Ruby's executive director sometime in 2022 to work full time on an LGBTQ-related consulting practice that she said she had begun part-time while continuing her role as Casa Ruby executive director.
In her Facebook announcement, Corado said she decided to step down at this time in response to an ongoing dispute with the D.C. government which resulted in a decision last week by the D.C. Department of Human Services to discontinue its $850,000 annual grant that has funded Casa Ruby's emergency "low barrier" shelter for homeless LGBTQ youth and adults.
DHS has declined to disclose its reason for terminating the Casa Ruby grant, saying only that it will continue its full funding for services for LGBTQ youth who experience homelessness through grants to other organizations.
DHS informed Corado of its decision to discontinue the grant less than a week before the end of the fiscal year, with the funding set to stop on Sept. 30. At Corado's initiative, Casa Ruby launched a GoFundMe fundraising campaign that had raised just over $100,000 as of Friday, a development that Corado says highlights the community's support for Casa Ruby and its numerous programs, many of which support transgender people and LGBTQ immigrants.
Corado stated in her Facebook announcement that officials at the DHS, who she did not identify, were attempting to use her as a "distraction" to divert attention from the harm Corado said would come from the city agency's decision to defund the Casa Ruby homeless services program.
Earlier this week, Corado said she believes the defunding of the Casa Ruby homeless program allegedly came in retaliation for a Casa Ruby complaint filed against the DHS by Casa Ruby earlier this year. The complaint charges that a DHS official had acted in a hostile and abusive way toward Corado and Casa Ruby staffers who were operating the homeless shelter.
Corado said she also believes the defunding may be in response to her refusal to agree to a DHS request that she move the Casa Ruby homeless facility to a location in Northeast D.C. that Corado believed to be an unsafe neighborhood for her clients, especially those who are trans. DHS declined a request from the Washington Blade for comment on the Casa Ruby complaint, saying it was under investigation.
Corado couldn't immediately be reached on Friday to determine whether Casa Ruby had raised enough private funds to keep its main shelter open that has operated out of its headquarters building at 7530 Georgia Ave., N.W. In its GoFundMe appeal, Corado said the shelter might be forced to close on Friday.
Blackmon, an African American trans woman, recently received a degree from Georgetown University in the field of nonprofit management, according to Corado, who called Blackmon a highly committed and knowledgeable Casa Ruby team member "who everybody loves."
Corado also stated in her Facebook broadcast that she will take a three-month sabbatical after which she will return to develop a stepped up private fundraising program for Casa Ruby so that the organization will no longer be dependent on D.C. government funding.
On the same day Corado announced her resignation, the local nonprofit homeless services organization Covenant House Greater Washington announced it was opening on Friday a homeless facility for LGBTQ youth in the city's Deanwood neighborhood in Ward 7.
"Covenant House Greater Washington is pleased to announce SHINE — a new safe space initiative created for LGBTQ+ populations," the group said in a statement. "The program will provide emergency shelter, crisis stabilization and short-term housing options to young people in the greater Washington region."
The statement says the facility, a three-story building, consists of 24 beds, case management services, and "an array of support from various community-based organizations currently working with LGBTQ+ youth."
The new Covenant House facility adds to the LGBTQ youth homeless facilities currently being operated by Casa Ruby and two other LGBTQ organizations for more than a decade — the Wanda Alston Foundation and SMYAL, the D.C. LGBTQ youth advocacy and services organization.
The Washington Post reports that the DHS awarded Covenant House a $648,000 grant to create and operate its new LGBTQ youth homeless facility.
In its statement announcing the opening of the new facility, Covenant House said the facility will be led by its newly hired program director, Taylor Chandler Walker, a trans woman who has been involved with local LGBTQ organizations; including Capital Pride Alliance, Us Helping Us, and the LGBT Budget Coalition.
D.C.'s Duke Ellington arts school theater not renamed after Chappelle
The renaming was postponed after anti-transgender jokes in Chappelle's Netflix special "The Closer" sparked controversy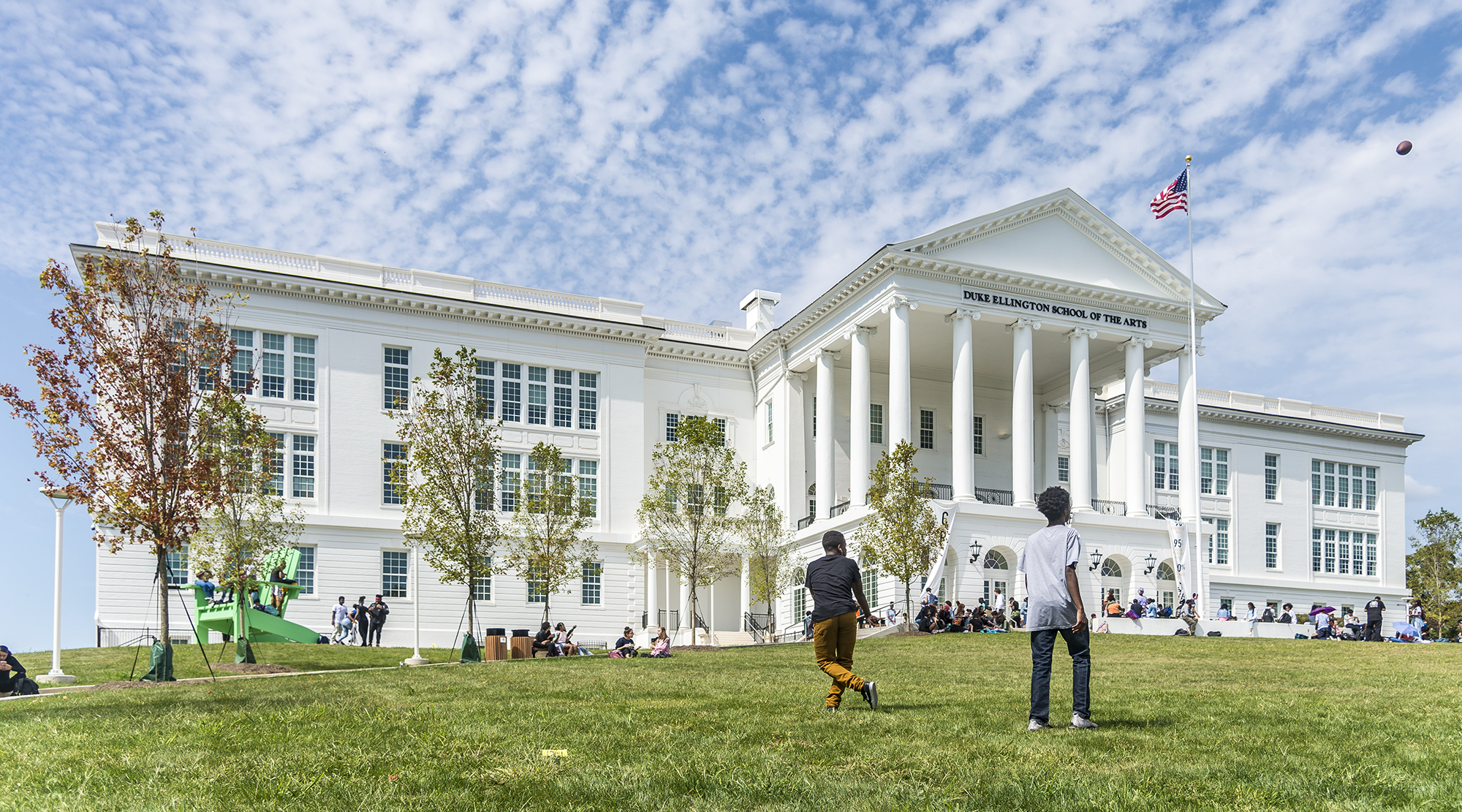 WASHINGTON – The Duke Ellington School for the Arts on Monday officially renamed its theater, but not after Dave Chappelle, the school's most famous alumni, as had been expected.
The renaming was initially scheduled for Nov. 23, 2021, it was postponed after anti-transgender jokes in Chappelle's Netflix special "The Closer" sparked controversy. Chappelle himself eventually helped choose a different name for the theater, saying that he did not want students to feel upset with his name being on it, since "the idea that my name will be turned into an instrument of someone else's perceived oppression is untenable to me."
The theater is now called the Theater for Artistic Freedom and Expression, and in an interview with NBC4, Chappelle said that he chose to highlight artistic freedom because "that's what I would want for myself, and that's what I want for every student that goes to this school."
"And I do feel like if that's threatened, then the society at large is threatened," Chappelle said. "If artists feel stifled, then everyone's stifled. And I feel like artists have a responsibility to really be true to their art right now."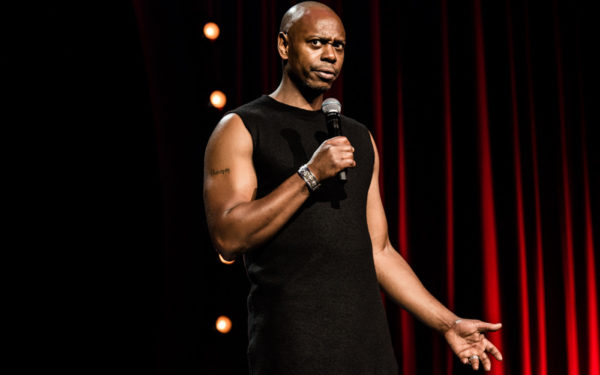 Chappelle has previously included anti-trans jokes in his comedic repertoire.
He has previously made jokes about former President Trump's decision to ban trans service members from the military and the possibility of Caitlyn Jenner posing nude on the cover of Sports Illustrated. However, in a one-on-one interview with the Washington Blade in August 2017, Chappelle denied being transphobic.
"I wouldn't consider myself that because I'm not even sure what the term means," Chappelle said. "I'm not an obstructionist of anybody's lifestyle, as long as it doesn't hurt me or people I love and I don't believe that lifestyle does."
Chappelle also called North Carolina's House Bill 2, which prohibited trans people from using public restrooms consistent with their gender identity as "fucking absurd" and "clearly a mean-spirited law" designed to deny trans people their basic humanity.
While Chappelle has at times defended the LGBTQ community and has denied being transphobic, trans activists and students at the Ellington School alike have expressed discomfort with his apparent lack of understanding and empathy about the ways his jokes harm trans people.
"I appreciate a good joke as much as anyone. But when jokes lead to dehumanization, violence and death aimed at trans people, that's when a line has been crossed and it has to be called out," the late-Monica Roberts, a trans activist of color from Houston, said in response to Chappelle's comments to the Blade.
In light of this controversy, which has only gained more airtime since "The Closer" premiered in 2021, Chappelle chose to take the focus off of himself by supporting an alternate name for the Ellington School's theater. Currently, students at Duke Ellington — many of whom are LGBTQ — have access to "listening sessions" planned by the administration in which they can air their thoughts about the theater's renaming.
Vice-President Kamala Harris addresses Capital Pride in D.C.
"We should not have to be dealing with 300 laws in states around our country that are attacking our LGBTQ+ brothers and sisters"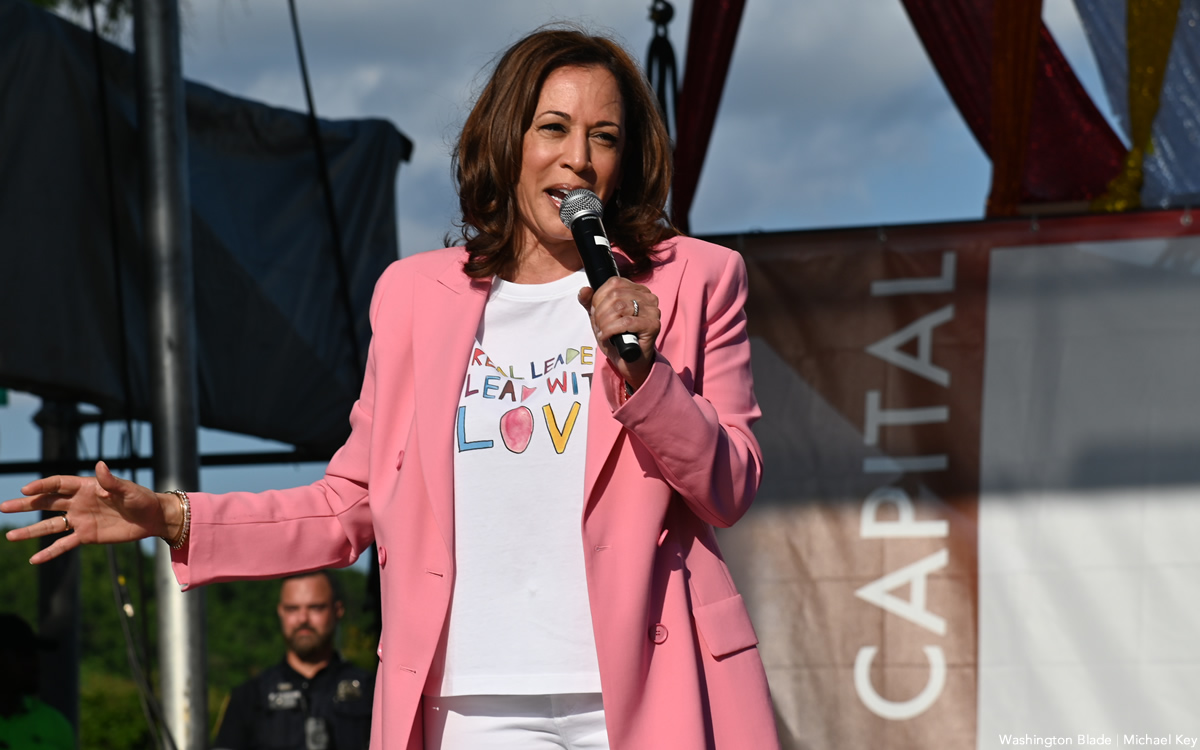 WASHINGTON – In a surprise appearance, Vice President Kamala Harris spoke from the main stage of D.C.'s Capital Pride Festival late Sunday afternoon before a crowd of as many as a thousand people who had been watching the Capital Pride concert that had been taking place prior to Harris' unannounced appearance.
To the delight of the crowd, Ryan Bos, executive director of the Capital Pride Alliance, the group that organizes D.C. Pride events, introduced Harris and her husband, second gentleman Doug Emhoff, on the stage, drawing thunderous applause.
"Happy Pride everyone!" Harris told the crowd. "Oh, what a glorious day. Listen, we have so much to celebrate, and we celebrate each other every day," she said.
"We celebrate the progress we have made," she continued. "And we celebrate the fact that we are in this to stand for what we stand for and fight for what we stand for," she said.
Also making an unannounced appearance on the festival stage about an hour before Harris' appearance was D.C. Mayor Muriel Bowser, who expressed her strong support for LGBTQ Pride.
Harris' appearance at the Capital Pride Festival on Sunday came exactly one year after she and Emhoff joined hundreds of LGBTQ participants in D.C.'s Capital Pride Walk as it reached 13th Street, N.W., near Freedom Plaza, becoming the first U.S. vice president to participate in an LGBTQ Pride event.
Her unannounced appearance in last year's Pride Walk came as a surprise to the Capital Pride organizers as well as to the delighted onlookers who saw Harris and her husband join the walk, which was an abridged version of the Capital Pride Parade that had been cancelled in 2021 as it had in 2020 due to the pandemic.
In her short speech on Sunday, Harris referred to the Pulse nightclub shooting exactly six years ago in Orlando, Fla., which took the lives of 49 mostly LGBTQ people, saying, "no one should fear going to a nightclub for fear that a terrorist might try to take them down."
She also referred to the nearly 300 anti-LGBTQ laws under consideration or that have passed in states around the country.
"We will always be fueled by knowing we have so much more in common than what separates us," she told the cheering crowd. "We will be fueled by saying no one will be made to fight alone. We will be fueled by knowing we are all in this together," she said. "And we will fight with pride. Happy Pride everyone!"
Observers familiar with D.C.'s Capital Pride Festival, which was held this year for the first time since 2019 due to pandemic restrictions, said it appeared to have attracted one of the largest turnouts ever, with several hundred thousand people in attendance throughout the day. Like past years, the festival took place on a four-block section of Pennsylvania Avenue, N.W., between Third and Seventh Streets.
More than 270 organizations or businesses registered to set up a booth at the festival, according to a list released by Capital Pride Alliance. Many of the organizations and businesses participating in the festival had also marched or road in vehicles or on floats in the Capital Pride Parade one day earlier.
Bos said there were about 245 contingents in the parade on Saturday, about the same number that participated in the 2019 Capital Pride Parade, the last one held since this year. But those familiar with the 2019 parade and those held in earlier years said they believed this year's parade attracted more spectators than in past years, most likely because LGBTQ people, like so many others, wanted to join the celebration after the two-year hiatus brought about by COVID.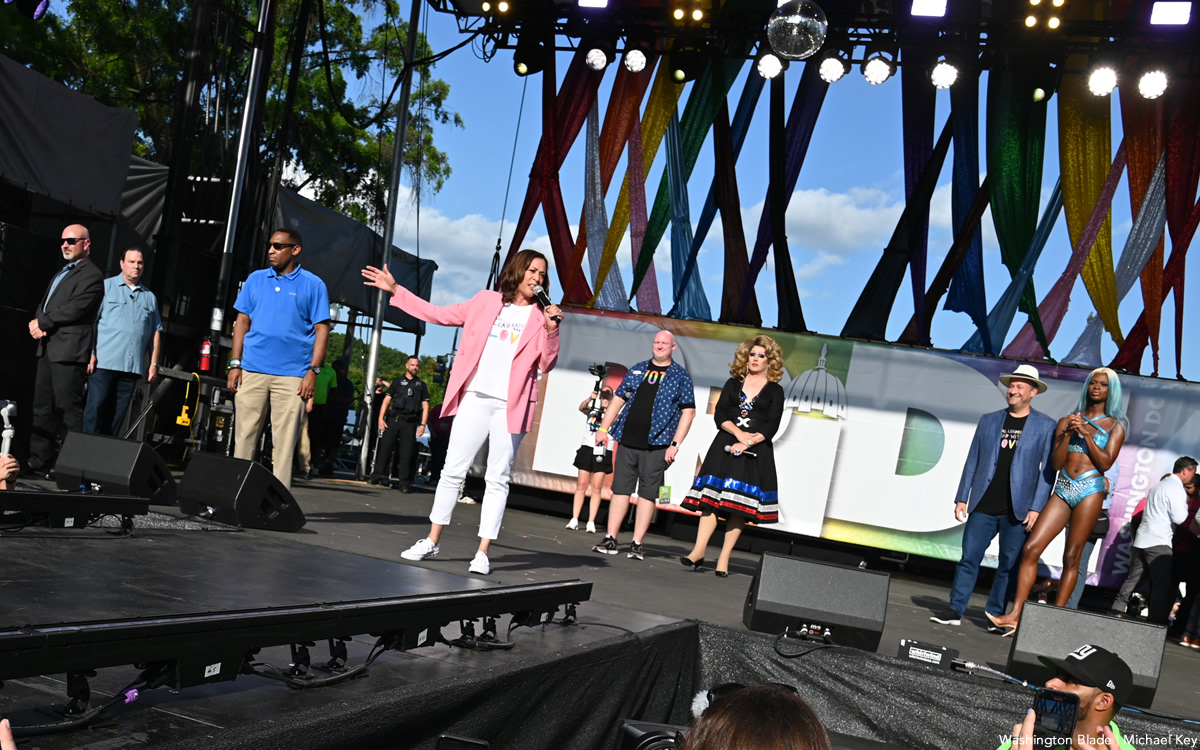 Full text of Harris's remarks:
"Happy Pride everyone! Oh, what a glorious day. Listen, we have so much to celebrate, and we celebrate each other every day. We celebrate the progress we have made. And we celebrate the fact that we are in this to stand for what we stand for and fight for what we stand for.
Because no one should fear going to a nightclub for fear that a terrorist might try to take them down. No one should fear going to a Pride celebration because of a white supremacist. No one should fear loving who they love. Our children in Texas and Florida should not fear who they are. Black and brown and women of color, transgender women cannot fear for their lives.
We should not have to be dealing with 300 laws in states around our country that are attacking our LGBTQ+ brothers and sisters. For we know what we stand for and therefore we know what we will fight for. And we will do what we have always done in this movement, in this community, which is collectively, we will continue to build unity. We will continue to build coalitions.
We will always be fueled by knowing we have so much more in common than what separates us. We will be fueled by saying no one will be made to fight alone. We will be fueled by knowing we are all in this together. And we will fight with pride. Happy Pride everyone."
Six years after Pulse shooting, calls for change grow around the nation
Thousands gathered on the National Mall as March For Our Lives held a rally calling for solutions to escalating gun violence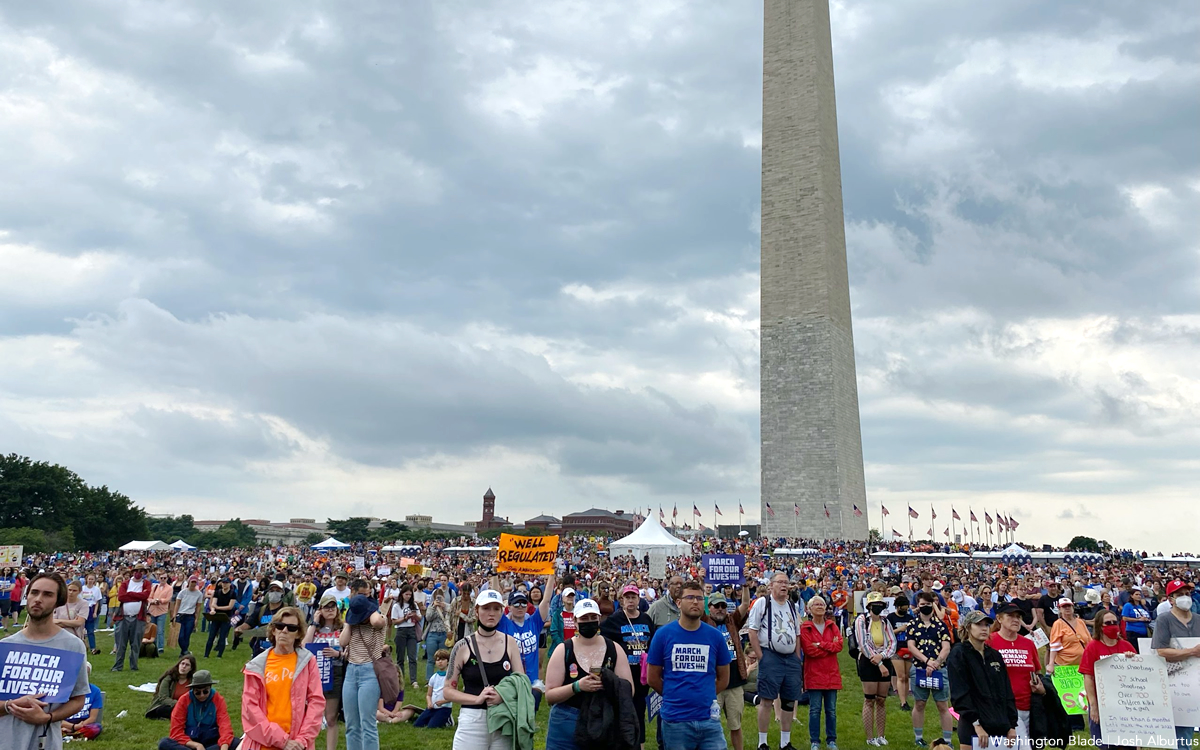 WASHINGTON – On the night of June 12, 2016, 49 people were killed and 53 were injured in a mass shooting at the Pulse nightclub in Orlando, Florida. The shooting has since remained one of the deadliest mass shootings in United States history.
Six years later, efforts to curb gun violence in America and halt the country's epidemic of mass shootings have reignited in the wake of more recent mass shootings.
Just before noon on Saturday, June 11, thousands of people carrying signs and clad in anti-gun-violence clothing flooded the north lawn of the Washington Monument in Washington, D.C. across from the White House.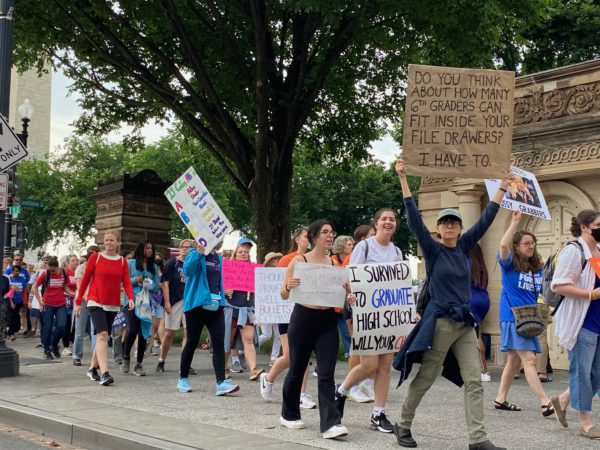 One of those in the crowd was Jessica Mahoney, a young activist with ties to a national past littered with gun violence.
"My close family is from Sandy Hook and, as the sign references, I used this sign four years ago," Mahoney said. "This has been a very personal issue for me since 2012 when I had to spend over an hour wondering if my cousins were alive or not. I just feel like it's so important that people are out here that haven't been personally touched by the issue because I just think that shows that there's a real movement behind what's going on."
Mahoney and her fellow protesters in the crowd were some of the hundreds of thousands more protestors who marched in different cities across the country on that day calling on state and federal lawmakers to pass legislation reforming the nation's gun laws.
The marches, organized in large part by the youth-led gun violence prevention organization March for Our Lives, were triggered by a sustained national outcry for action following the latest mass shootings at Robb Elementary School in Uvalde, Texas and a Tops Friendly Market in Buffalo, New York, both in late May. The organization held similar nationwide rallies in 2018 following the Parkland school shooting that led to the group's inception.
Mahoney described her feelings about having to return to another rally four years later in an effort to address the same issue.
"It's frustrating and a bit maddening at times to be honest that we still have to do this," Mahoney said. "But it just seems like there's more energy every time and so I think that I'm also hopeful about it."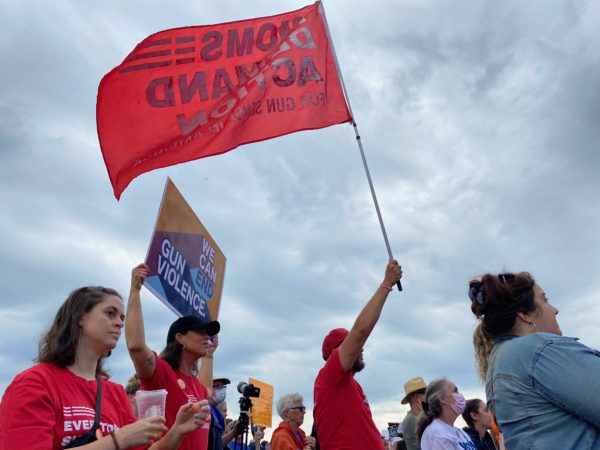 The issue has been one plaguing Americans in various settings and from various walks of life and has affected those across a spectrum of identities, including the LGBTQ community.
Marking the six-year anniversary of the Pulse shooting in Orlando, the Human Rights Campaign (HRC) released a statement the day before the March for Our Lives rally.
"Gun violence remains an LGBTQ+ issue, with three-fourths of homicides against transgender people – including nearly eight in ten homicides of Black trans women – involving a gun," HRC Interim President Joni Madison said in the statement. "Compounding this tragedy is the fact that in the six years since Pulse, we have been unable to advance meaningful federal gun reform legislation."
But in an effort to prevent future mass killings like those in Parkland, Uvalde, Buffalo, and Orlando, prominent activists have since brought a spotlight to the issue of gun violence in America. Many such activists descended on the grounds of the Washington Monument in the nation's capital on Saturday to speak to those gathered and amplify their message.
David Hogg, a survivor of the mass shooting on February 14, 2018 at Marjory Stoneman Douglas High School in Parkland, Florida and a founder and board member of March for Our Lives, spoke to the crowd.
"We need to stop these shooters before they get on campus and stop endangering the lives of our first responders, our students, our teachers because people on Capitol Hill don't want to do their job and protect us," Hogg said.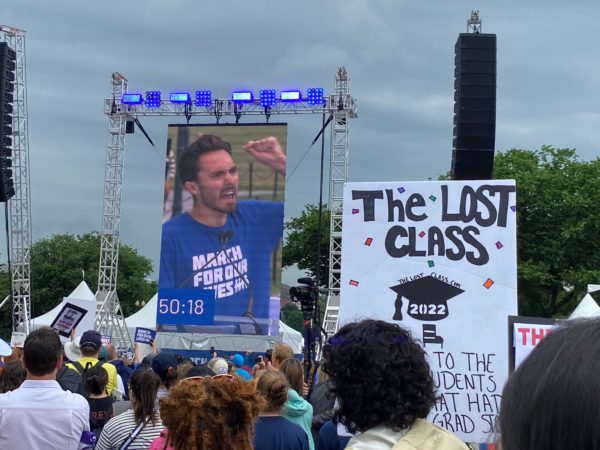 Alongside Hogg were a number of other activists and politicians who shared the goal of reducing gun violence in America, including Washington D.C. Mayor Muriel Bowser and Missouri Congresswoman Cori Bush, D-MO 1st District.
Bush described her own proximity to gun violence in calling for action, sharing with the crowd her past escape from such as she ran from an abusive partner who kept firearms in their home.
"When I turned back for a moment, because, 'Why isn't he chasing me?'" Bush said. "I turned back, and I saw him standing still, 'Why is he standing still?' Next thing I knew, I heard shots."
Bush believed the near-death experience to be "completely preventable."
"Closing the boyfriend loophole could've saved me from a near-lethal encounter with gun violence," Bush said. "A red flag law could've saved me from a nearly lethal encounter with gun violence."
Hogg and others took aim at counterarguments from pro-gun entities that have advocated for mental health support rather than gun reform to solve the problem.
"We also must address the fact that mental health does have a role to play in stopping gun violence, but that racism is not a mental illness," Hogg said. "Hatred, racism, radicalization, xenophobia are not mental illnesses."
But even at an event meant to highlight what gatherers felt was a need to curb the nation's scourge of gun violence, the specter of fear and violence remained ubiquitous.
During a moment of silence for the victims of America's gun violence, a man toward the front of the crowd began to shout and attempted to breach the event's main stage. A source close to the stage told the Blade that the man threw a megaphone into the crowd while shouting, "I am God."
Those assembled feared the worst. Due to the size of the crowd that had assembled, rallygoers across the lawn perceived the disturbance to be an active gun threat. Hundreds dropped flat to the ground while others ran from the stage in an attempt to escape the potential violence.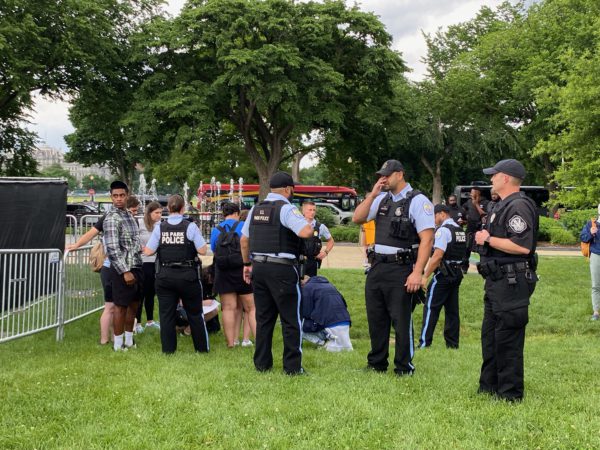 After organizers and police were able to apprehend the disruptor, rally organizers attempted to reconvene the frightened crowd and push forward.
Alert: An individual interfered with a permitted event on the Washington Monument grounds. The individual was detained by officers. No weapons were involved and there is no risk to the public.

— USPPNEWS (@usparkpolicepio) June 11, 2022
"Do not run, freeze, do not run," an organizer said over the sounds of emerging police sirens. "There is no issue here, do not run."
But the moment of fear clung to many who were present.
Rallygoer Kirsten Hiera witnessed the moment of mass confusion but was unable to flee the scene despite her own fear.
"I was scared but I didn't want to run away because I'm with someone who's elderly and I didn't want to have her be abandoned," Hiera said. "I felt scared and confused but I didn't want to abandon my friend."
As those gathered began to tepidly rise and return to the stage, the organizer proceeded to draw attention back to the focus of the rally, leading a chant exclaiming peace to be a lifestyle.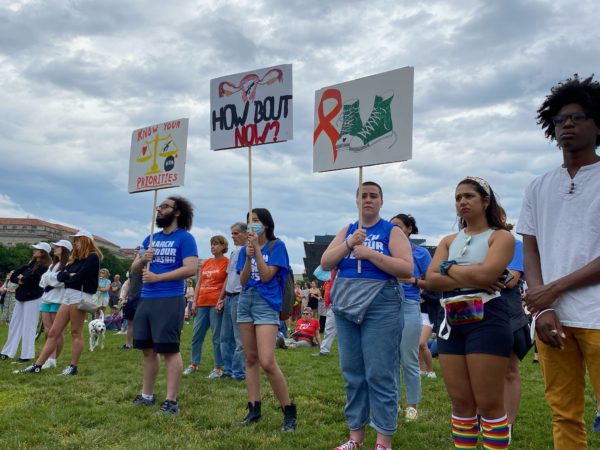 Exiting the stage toward the end of the rally after the crowd had reconvened, the organizer left them with advice that touched to the core of the movement's mission – one that, in the wake of tens of thousands of gun deaths in shootings like Orlando, organizers like Hogg have described as not pro-gun or anti-gun, but pro-peace.
"The other thing that I want to say is let's not give into the hate," she said. "Let's not give into the hate. There's more people who are about love than there is that is about hate."