Newsom signs Early Childhood bill, highlights investments in early learning
"Every child deserves access to high quality early learning opportunities that will prepare them to thrive in kindergarten and beyond"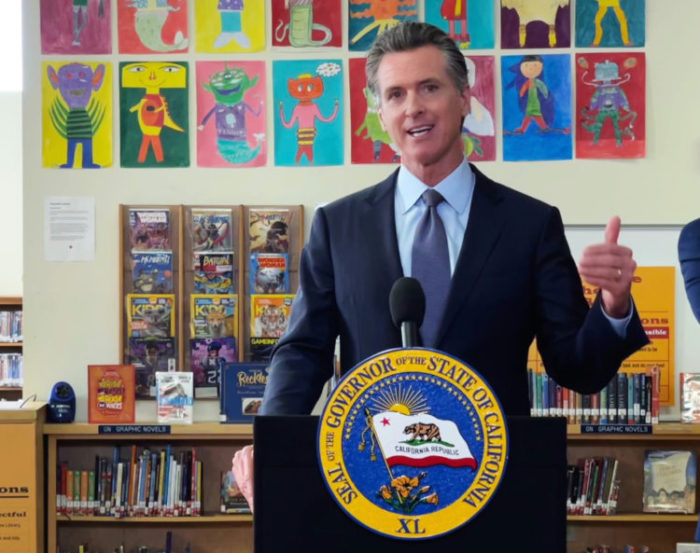 FRESNO – At an elementary school in Fresno Tuesday, Governor Gavin Newsom signed legislation uplifting dual language learners and improving access to child care. The Governor also highlighted the California Comeback Plan's unprecedented investments to achieve universal transitional kindergarten by 2025 and create college savings accounts for 3.7 million kids. 
"In California, we are committed to transforming our public schools to promote equity, inclusivity and opportunity for every student," said Newsom. "Building upon this year's historic budget investments in universal Pre-K and college savings accounts, these bills will improve access to a good education for children across California so that every child can thrive, regardless of their race, language spoken at home or zip code."
The California Comeback Plan includes investments to transform public schools into gateways of opportunity. As part of the Newsom's $123.9 billion Pre-K and K-12 education package, California will provide free, high-quality, inclusive pre-kindergarten for all four-year-olds, beginning in 2022-23 with full implementation anticipated by 2025-26. The plan also reduces class sizes, cutting adult-to-child ratios in half with at least an average of 1 adult for every 12 children, down from one for every 24 children.
The plan also invests $1.9 billion to seed college savings accounts of up to $1,500 for 3.7 million current low-income students, English learners and foster and homeless youth. Moving forward, those groups of students will have savings accounts seeded for them in first grade.
"We know from research and from experience that the early years are critical to support a child's learning and development. Universal Pre-K is California's opportunity to ensure every child, regardless of background, race, zip code, immigration status or income level, gets the fair start they need and deserve on their path to success," said State Superintendent of Public Instruction Tony Thurmond. "I'm proud to have sponsored Universal TK legislation and to partner with the Governor and the Legislature on implementing this major step forward."
"Every child deserves access to high quality early learning opportunities that will prepare them to thrive in kindergarten and beyond. Universal transitional kindergarten (UTK) makes that a reality," said Assemblymember Kevin McCarty. "High quality early education sets children up for success in school, lifts up working families, narrows opportunity gaps, and breaks cycles of intergenerational poverty. UTK is a huge win for California's children and families. Thank you Governor Newsom for your unwavering commitment to our youngest learners."
"I am thrilled that California is making history by investing in our children, their education, and their futures. Wealth inequality and the high cost of education have slammed the door shut on lower- and middle-income advancement across our state," said Assemblymember Adrin Nazarian. "A child savings account dispenses more than just a financial asset, but hope and optimism. This funding is a true investment in California's next generation of entrepreneurs, scientists, educators, and community leaders."
"As a woman of color, I am proud to represent a district that is majority Latino and people of color," said Assemblymember Luz Rivas, author of AB 1363. "Over 60 percent of California's students come from a home where English is not the primary language, and today we are taking decisive action to strengthen our bilingual students' early learning opportunities. With the Governor's signing of AB 1363, California leads the nation in education policy once more by becoming the first state to create a standardized process that identifies and supports K-12 dual language learners at an early age. I want to thank Governor Newsom for reaffirming California's commitment to equity and inclusion in its public education system because every student deserves the chance to thrive within their unique learning environments."
"Governor Newsom's historic policies advancing early learning for our youngest Californians are a game changer," said Patricia Lozano, Executive Director of Early Edge California. "They bring California closer than ever to providing Equity-for-All in Education. From expanding Universal Pre-K to allocating resources for multilingual learners, Governor Newsom and the Legislature have led the charge to help all of California's students to succeed in life."
AB 1363 by Assemblymember Luz Rivas (D-Arleta) requires the Superintendent of Public Instruction to develop procedures for State Preschool contractors to identify and report data on dual language learners. SB 393 by Senator Melissa Hurtado (D-Sanger) aligns the Migrant Child Care Alternative Payment program with other voucher programs, improving child care access for migrant agricultural workers. AB 1294 by Assemblymember Bill Quirk (D-Hayward) extends the county child care pilot program for the County of Santa Clara to continue by one year, through July 1, 2023.
The California Comeback Plan also provides $10 million to expand dual language immersion programs and $300 million to increase the number of state preschool or TK programs and provide additional pre-k teacher training. It invests $490 million to support the building and renovating of state preschool, TK and kindergarten facilities. The plan will phase in 200,000 new child care slots by 2025-26, dramatically expanding access for families.
California ends loitering for prostitution law
This repeals "loitering with intent to engage in prostitution" law, which results in profiling of sex workers particularly trans women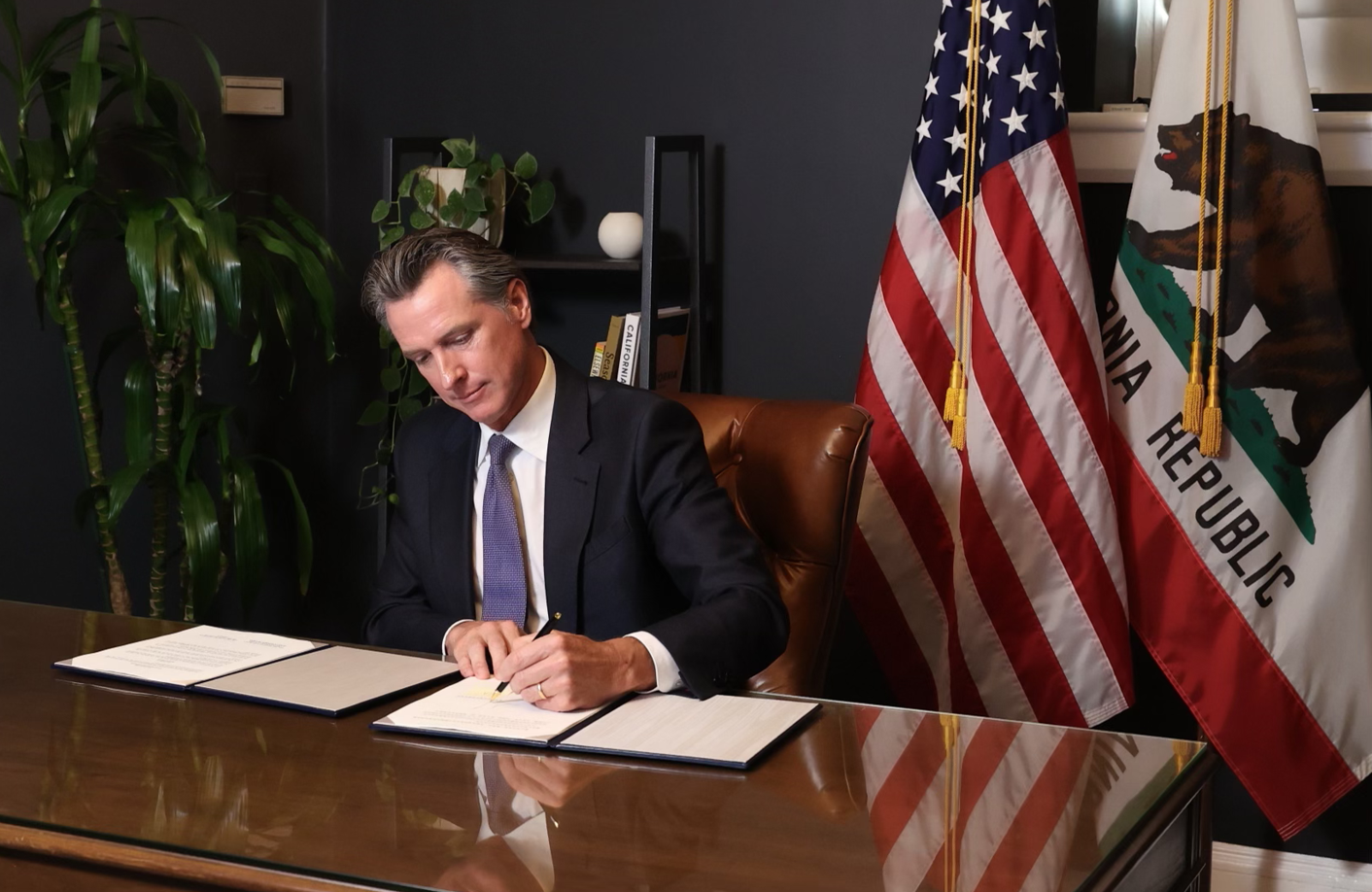 SACRAMENTO – Senate Bill 357, the Safer Streets for All Act, authored by Out state Senator Scott Wiener (D-San Francisco)'s was signed into law by Governor Gavin Newsom on Friday.
"As trans people are being criminalized across the country, Governor Gavin Newsom has once again shown that California stands with the LGBTQ community and communities of color," said Wiener. "Everyone – no matter their race, gender or how they make a living – deserves to feel safe on our streets. Thank you, especially, to our coalition of former and current sex workers and LGBTQ advocates who made this day a reality. Your leadership is inspiring."
SB 357 repeals a provision of California law criminalizing "loitering with the intent to engage in prostitution." This criminal provision — arrests for which are based on an officer's subjective perception of whether a person is "acting like" or "looks like" they intend to engage in sex work — results in the disproportionate criminalization of trans, Black and Brown women, and perpetuates violence toward sex workers.
SB 357 is sponsored by a large coalition made up of former and current sex workers, LGTBQ groups like Equality California and Transgender Gender-variant and Intersex Justice Project (TGIJP), and civil rights groups like the ACLU. The Coalition to Abolish Slavery and Trafficking (CAST LA) is supporting the legislation.
SB 357 does not decriminalize soliciting or engaging in sex work. Rather, it simply eliminates an loitering offense that leads to harmful treatment of people for simply "appearing" to be a sex worker.
This crime is so subjective and inherently profiling that it allows a police officer to arrest someone purely based on how they are dressed, whether they're wearing high heels and certain kinds of make-up, how they're wearing their hair, and the like. This criminal provision is inherently discriminatory and targets people not for any action but simply based on how they look. People who engage in sex work deserve to be treated with dignity and respect.
Criminalizing sex work does not make sex workers or communities safer. Most criminal penalties for sex workers, loitering laws included, do nothing to stop sex crimes against sex workers and human trafficking. In fact, loitering laws make it harder to identify trafficking victims; trafficking victims are often afraid to come forward in fear of being arrested or incarcerated.
In February of 2021, a similar piece of legislation to repeal this type of loitering ban became law in New York. SB 357 is part of the movement to end discrimination against and violence toward sex workers, especially the most targeted communities — trans, Black, and Brown people. SB 357 is co-sponsored by Positive Women's Network – USA, St. James Infirmary, SWOP LA, Trans [email protected] Coalition, Asian Pacific Islander Legal Outreach, Equality California and ACLU California Action.
Under current law, it is a crime to loiter in a public place with the "intent" to commit a sex work-related offense. But this law can be broadly interpreted, and thus allows for discriminatory application against the LGBTQ community and people of color.
Law enforcement can use a non-exhaustive list of circumstances to subjectively determine if someone "intends" to engage in sex work, including factors such as speaking with other pedestrians, being in an area where sex work has occurred before, wearing revealing clothing, or moving in a certain way.
Because current law regarding loitering is highly subjective and vague, law enforcement officers disproportionately profile and target Black and Brown transgender women by stopping and arresting people for discriminatory and inappropriate reasons.
This is how Black and Brown transgender women get arrested and cited for simply walking on the street. It also gives law enforcement the ability to more easily target and arrest sex workers.
People in the LGBTQ, Black, and Brown communities report high rates of police misconduct throughout the United States and are disproportionately affected by police violence.
Transgender people who have done street-based sex work are more than twice as likely to report physical assault by police officers and four times as likely to report sexual assault by police.
A Black person is 3.5 times more likely to be shot by police than a white person. These statistics are a daily reality that transgender, Black and Brown people face and lead to mistrust of law enforcement.
SB 357 will repeal a discriminatory law that makes it a crime to loiter with the intent to engage in sex work, given that it fails to prevent street-based sex work and disproportionately results in the criminalization of transgender people and communities of color.
"For far too long, California law has been used to profile, harass and arrest transgender and gender-nonconforming people simply for existing in public spaces," said Equality California Executive Director Tony Hoang. "We all deserve to live in public peacefully without fear of arrest. Thanks to Governor Newsom and Senator Wiener's leadership, California boldly stands on the side of justice. This law will make our communities safer for all Californians. We are immensely proud to be in this fight as part of a coalition that has been trans led since the beginning."
Proud Boys disrupting a California Pride drag show get pepper sprayed
"There was an altercation, obviously people are here & are upset about the bar having their Pride event," said the deputy police chief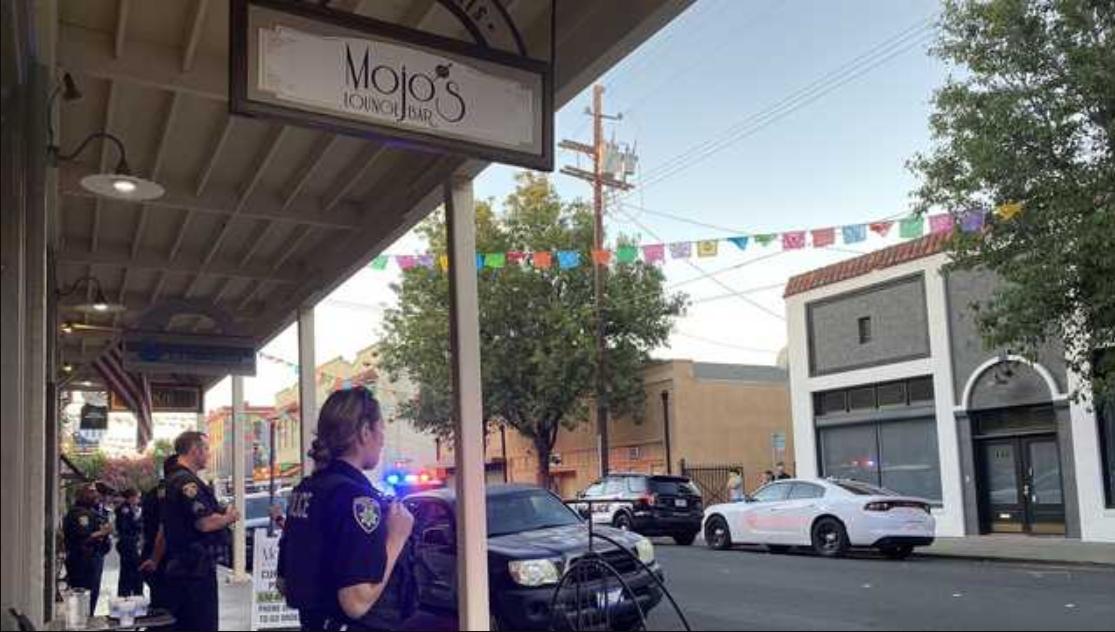 WOODLAND, Ca. – An end of Pride month drag show in this suburban city Northwest of Sacramento was disrupted by Proud Boys at the The Mojo Lounge bar and restaurant in the downtown business district.
As the group attempted to gain access to the establishment, a now viral video by local ABC10 television reporter Luke Cleary showed them and the near-by police officers getting pepper-sprayed by an unseen person inside the bar.
Screams of pain erupted along with one Proud Boy who can be heard shouting "fuck you paedophile motherfuckers," after being sprayed. Woodland police officers can also be seen retreating wiping their eyes from the effects of the irritant self-defensive spray weapon.
Roughly a dozen people have gathered on the opposite sidewalk shouting insults to patrons and police pic.twitter.com/aCB7LSmzCm

— Luke Cleary (@LukeCleary) July 1, 2022
Another reporter, Lee Anne Denyer from NBC News Sacramento affiliate KCRA 3 noted that the event, which was initially advertised as an an all-ages Drag Show by the bar was at first postponed and then scaled back.
Denyer posted video that showed the heavy law enforcement presence after the Proud Boys attempted to storm the restaurant demanding to know how many children were in attendance at the show.
Our story tonight: https://t.co/lRLMWp3PGR

— KCRA Lee Anne Denyer (@KCRALeeAnne) July 1, 2022
"There was kind of rumors that things were brewing on main street but there was obviously a presence by the Woodland Police Department so that made us feel more comfortable. Then it escalated, it escalated pretty quickly," Julie Ramos, who attended the event, told KCRA. "This really was a positive event and everyone was having a great time. So I think most people were angry but I would say resilient."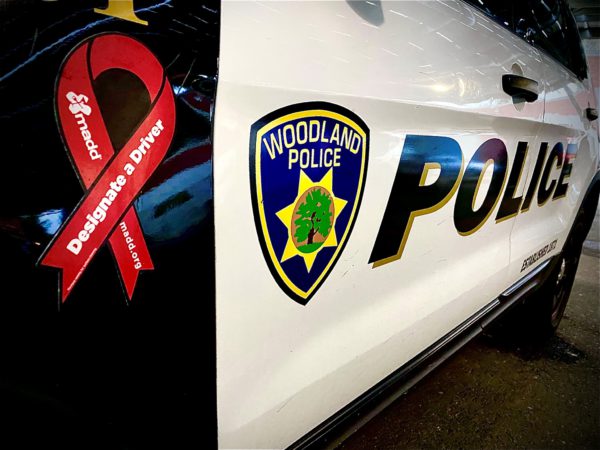 "There was an altercation, obviously people are here and are upset about the bar having their Pride event," Anthony Cucchi, the deputy chief of the Woodland Police Department told KCRA. "We tried to intervene as quickly as we could, it was a pretty chaotic scene. Our main priority was to get a safe scene and then make sure anybody that needed help got the help that they needed. We will work on the investigation."
Gun industry advertising to kids & restricting ghost guns Calif. laws signed
Latest nation-leading action to protect Californians from gun violence adds to decades of California leadership on gun safety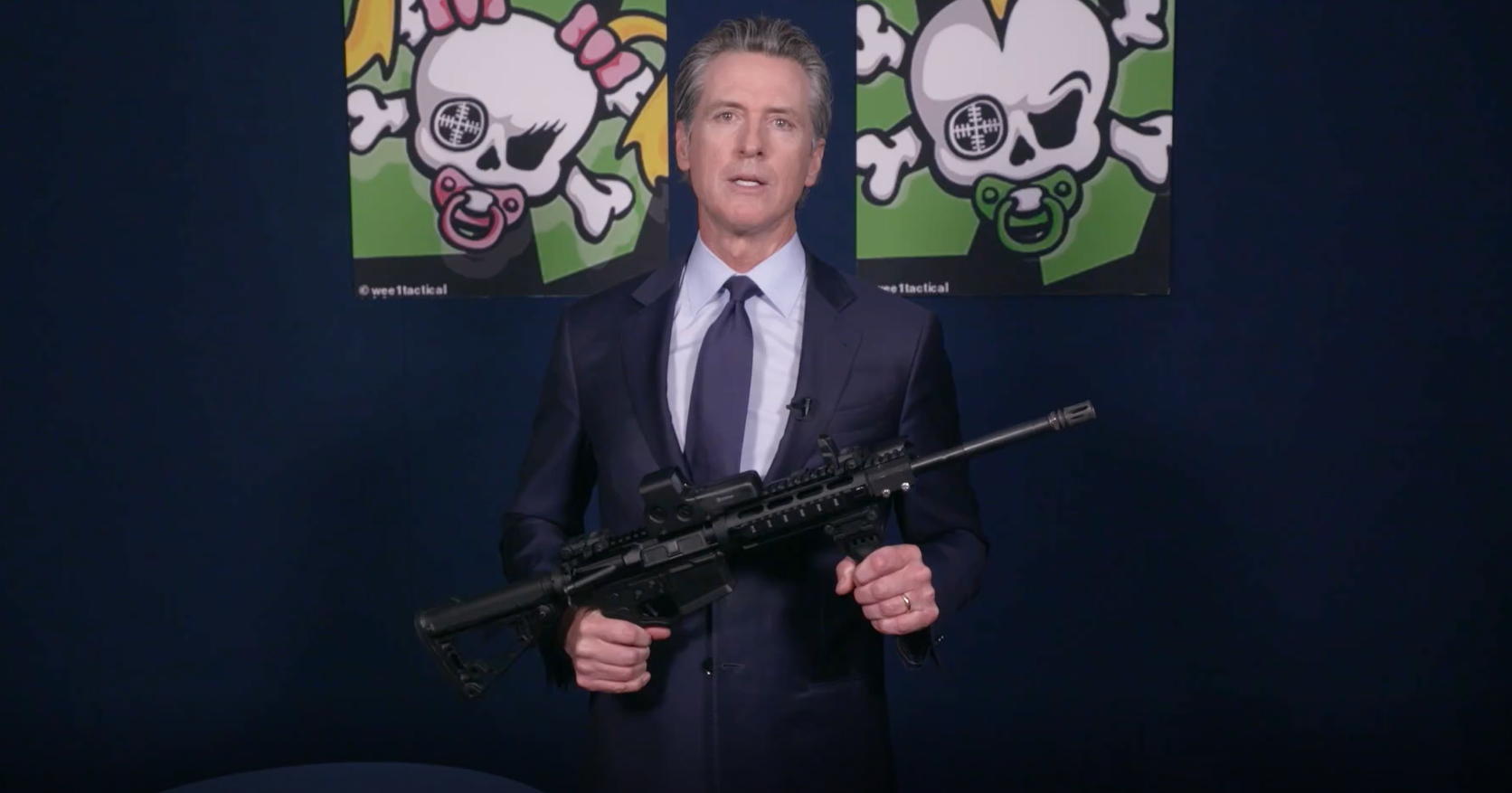 SACRAMENTO – Governor Gavin Newsom on Thursday signed legislation to take on the gun industry and get more guns off California streets. Gun violence is the leading cause of death among children in the U.S. 
"From our schools to our parks to our homes, our kids deserve to be safe – in California, we're making that a reality. As the Supreme Court rolls back important gun safety protections and states across the country treat gun violence as inevitable, California is doubling down on commonsense gun safety measures that save lives," said Newsom. "The lives of our kids are at stake and we're putting everything on the table to respond to this crisis."
The legislation signed Thursday directly targets the gun lobby and manufacturers.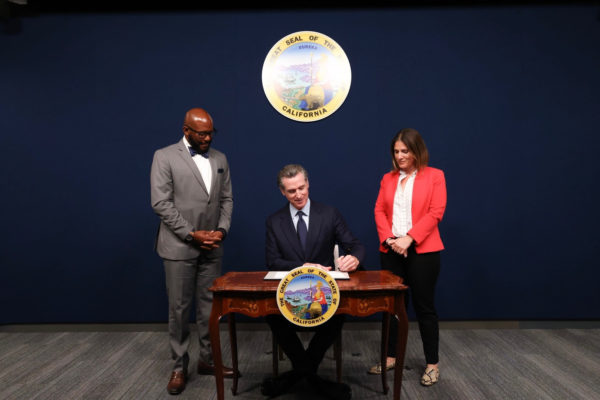 Governor Newsom signed AB 2571, prohibiting marketing of firearms to minors following recent efforts by the gun industry to appeal to minors, like Wee 1 Tactical advertising the sale of a JR-15, an AR-15 meant for kids, complete with cartoon child skulls with pacifiers.
"Guns are not toys – they are deadly weapons," said Assemblymember Rebecca Bauer-Kahan (D-Orinda). "California has some of the strongest gun laws in the country and it is unconscionable that we still allow advertising weapons of war to our children. Our kids have a right to live long, happy lives, free of gun violence."
Also Thursday, the Governor signed AB 1621, which further restricts ghost guns – firearms that are intentionally made untraceable – as well as the parts used to build them. Ghost guns have been called an "epidemic" by the Los Angeles Police Department, contributing to more than 100 violent crimes in the City of Los Angeles last year alone.
"Alarmingly, we are finding that more and more, no region or demographic is exempt from gun violence – our hospitals, grocery stores, schools, and even places of worship, are no longer safe. The proliferation of ghost guns, which are intentionally untraceable weapons to evade law enforcement, has only worsened the issue," said Assemblymember Mike Gipson (D-Carson). "Following the signing of AB 1621 into law, I applaud Governor Gavin Newsom for his leadership and unwavering commitment to eradicate the rampant wildfire of gun violence currently ravaging our streets and safe-havens."
Earlier this month, Newsom announced a record $156 million in gun violence prevention grants provided as part of the California Violence Intervention and Prevention Grant Program (CalVIP). The funding will support 79 cities and nonprofit organizations that are implementing anti-violence programs suited to the unique needs of their local communities.
California's gun safety policies save lives and provide a national model for other states to follow. According to the Giffords Law Center, in 2021, California was ranked as the top state in the nation for gun safety. As California strengthened its gun laws, the state saw a gun death rate 37 percent lower than the national average. Meanwhile, other states such as Florida and Texas, with lax gun regulations, saw double-digit increases in the rate of gun deaths. As a result of the actions taken by California, the state has cut its gun death rate in half and Californians are 25 percent less likely to die in a mass shooting compared to people in other states.  
A recent study from the Violence Prevention Research Program at the University of California, Davis found that California's red flag law was used to stop 58 threatened mass shootings.
Weapons of war don't belong on our streets or in the hands of our children.

With @BauerKahan & @AsmMikeGipson's bills, CA is
blocking the marketing of guns to kids & restricts ghost guns & their parts.

We're doubling down on commonsense gun safety measures that save lives. pic.twitter.com/ba6rcpeBgj

— Office of the Governor of California (@CAgovernor) July 1, 2022