Student led anti-bullying walkout to defend Out high school senior
Lillis, who is openly gay, said he and his friends have been targeted and bullied by another group of students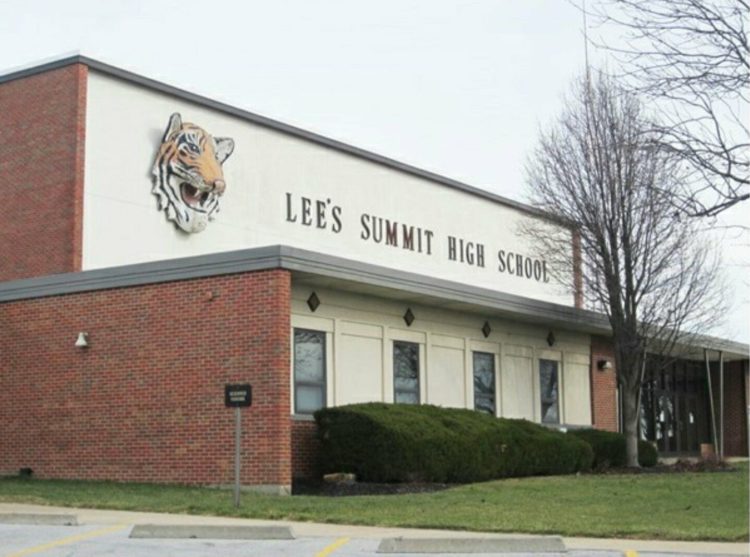 LEE'S SUMMIT, Mo.  – A fight between students that led to the suspension of a victim of anti-gay bullying and his friend who defended him, led to hundreds of students walking out of classes Monday in solidarity to protest the school administration punishing them and not addressing the behaviour of the bullies.
Danny Lillis, who is openly gay, told multiple media outlets that since the beginning of the school year at Lee's Summit High School in suburban Kansas City, he and his friends have been targeted and bullied by another group of students.
This year, Lillis started wearing make-up to express himself.
Malani Hohlbaugh, a friend of the Out senior had enough of her friend being targeted with anti-gay slurs and bullying. Last Wednesday she along with her friend Lillis accosted the group of 3 males who had been the primary cohort. The confrontation escalated into a physical altercation landing her in the emergency room with a broken nose and being suspended along with Lillis and one other friend of theirs.
Lillis told the Kansas City Star newspaper that the group of students had routinely spouted hateful remarks and thrown food at them. He claimed that he went to administrators at least four times to report the incidents, "crying, saying 'I don't feel safe' repeatedly. And nothing changed."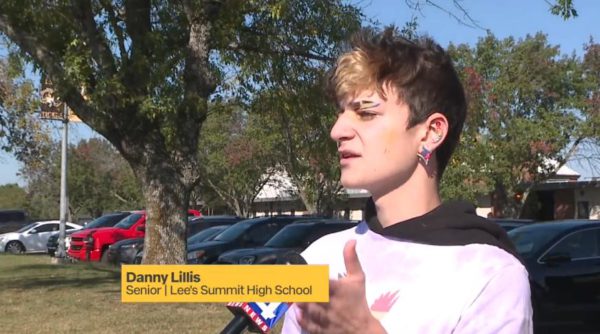 "They were just talking about how we're ugly, how we're rude," Carly Vento, another senior, told WDAF-TV Fox4. "How we're all fat."
Melanie Davies, the mother of Lillis' friend Malani Hohlbaugh, told the Kansas City Star; "Every single time that this happened, our kids have gone to student administration and reported it," Davies said. "There is supposed to be a zero tolerance policy for bullying, but nobody is doing anything about. They haven't gotten the help that they needed."
"The same group of kids started in on them again, and my daughter just had enough. She ran up the stairs after one of the boys and yelled at him to not talk to them like that, to not say those things," Davies said.
"They turned around and he was walking in front of them. My daughter tried to get around him. But their shoulders hit, and then he shoved her. So she shoved him back, and he punched her right in the face."
According to Lillis and Hohlbaugh, "No teachers were around. Students broke it up."
In an interview with Fox4 Monday, Missy Lillis, Danny's mother told the station that she had even met with the assistant principal to work out a safety plan weeks ago.
"We never, ever wanted things to get escalated to this point. Unfortunately, it did, and physical harm was done," she said.
Lee's Summit R-7 School District spokeswoman Katy Bergen said in an email to The Star that, "all forms of bullying are prohibited in LSR7. We investigate all complaints of bullying that we receive."
She declined to provide specifics to the paper regarding the alleged bullying, fight and disciplinary action.
"Everyone in the Lee's Summit R-7 School District community deserves to feel safe and welcome. Harassment or discrimination in LSR7 is strictly prohibited," she said. "Although laws protecting students' privacy prevents us from discussing the specifics of this incident, we can share that school and district administrators are conducting an investigation and taking action to ensure the safety of all students and staff."
"District administrators will follow Board of Education policies and procedures as we determine next steps. In LSR7, it is a top priority to ensure an inclusive culture where our students, staff members and families are valued and treated with dignity."
As a result of the fight and suspensions the students were not allowed to attend the high school's homecoming events this past weekend.
Prior to the walkout, students created a Change dot org petition, that listed the following factors:
Things to know:
1. The harassment had been reported by students prior to the altercation, and administration did not investigate it.
2. Administration's standard policy is to punish both parties regardless of who started the altercation.
3. A contract of no contact had been reached between the parties privately, which went unenforced by the school and after which verbal harassment continued.
4. An ally to the LGBTQ+ student shoved back a member of the harassing party after having asked them to leave (the student was directing homophobic slurs at the LGBTQ+ student and violating the no contact contract), and the harassing party inflicted visible injuries to the ally as a response.
Our demands of Lee's Summit High School Administration:
1. Excuse the LGBTQ+ student and their allies from suspension and remove the incident from their permanent records.
2. Investigate reports and justly punish the other party for harassment on the grounds of sexual orientation.
3. Pledge to enforce the school's Zero Tolerance Policy for bullying and harassment.
4. Issue a school-wide apology for administration's initial handling of the incident and for inflicting fear in all LSHS LGBTQ+ students in regards to their physical and mental safety at the school.
St. Louis mayor signs executive order seeking to shield trans youth 
"All of our children in St. Louis deserve to know that there are still elected leaders out here fighting for them"

By Annelise Hanshaw | SAINT LOUIS – St. Louis Mayor Tishaura Jones on Thursday signed an executive order seeking to insulate transgender Missourians from bills passed by the state legislature restricting access to certain medical procedures for minors and limiting participation in school sports.
"The responsibility now falls to local governments to take tangible steps to respond to this state intrusion into private family medical decisions and minors' bodily privacy," she wrote in a letter to the city's legislative delegation earlier in the day notifying them of her planned order.
Missouri lawmakers passed bills earlier this month banning minors from beginning gender-affirming hormones or puberty blockers for four years, starting in August, and restricting transgender athletes to competing on teams as their birth sex. Both bills await action by Gov. Mike Parson, who has indicated he intends to sign them into law.
Jones' order calls the bills "an abhorrent intrusion into personal freedom and liberty."
She wrote that her executive order was crafted after "conversation and consultation with members of the LGBTQ+ community and our city departments" and expressed concern for families moving out of state because of state legislation.
The order calls for the city Department of Health to inform residents, including minors, about gender-affirming care. Jones plans for an annual "summit of health care providers and other individuals" to discuss the best practices for transgender health care.
The order would direct city agencies to inform residents, including minors, about gender-affirming care and allow athletes in city-funded recreation programs to compete according to their gender identity
It also allows transgender athletes in city-funded recreation programs to compete according to their gender identity, for she states that these programs must not require the disclosure of gender or one's gender-affirming hormone treatment. The Missouri State High School Activities Association policy currently allows transgender athletes to compete according to their gender identity only if they have been taking cross-sex hormones.
City recreation centers would also have at least one all-gender restroom under her order, and staff would receive training on "affirming best practices."
Buildings housing city administration are ordered to also have at least one all-gender restroom, and the city departments are directed to administer their services in a gender-affirming manner.
Jones prioritizes economic development in the order, stating future projects must support gender inclusivity.
She requests that the St. Louis Development Corp. advise how to incentivize inclusive business practices.
"All of our children in St. Louis deserve to know that there are still elected leaders out here fighting for them," Susan Halla, president of transgender advocacy group TransParent, said in a news release. "I am grateful to Mayor Jones for instituting these important changes in the face of recent attacks on trans youth from the Missouri legislature. For our trans youth, please know that you are seen and you are loved for who you are."
Earlier this month, the Kansas City Council resolved that the city would be a "safe haven" for gender-affirming care. The resolution directs city staff, including law enforcement, from penalizing those seeking gender-affirming care or providing it.
Missouri Attorney General Andrew Bailey called the city council's actions "unprecedented and radical" in a letter to the Kansas City Board of Police Commissioners. In it, he urged the board to make sure police enforce the new law when it goes into effect.
The bill does not have criminal penalties for those who seek care, so it is outside the police's enforcement, Kansas City Police Chief Stacey Graves said in a statement to the Kansas City Star.
Rep. Peter Merideth, D-St. Louis, told The Independent he was proud to be a St. Louis resident after the mayor signed her order.
"Government should be supporting folks' access to quality medical care, not interfering with our private medical decisions," he said. "Our leaders should be fighting for all kids to be included in activities like sports and have an opportunity to succeed — not bullying kids who are too often already bullied and left out."
****************************************************************************************
Annelise Hanshaw writes about education — a beat she has covered on both the West and East Coast while working for daily newspapers in Santa Barbara, California, and Greenwich, Connecticut. A born-and-raised Missourian, she is proud to be back in her home state.
************************************************************************************
The preceding article was previously published by The Missouri Independent and is republished with permission.
The Missouri Independent is a nonprofit, nonpartisan news organization dedicated to relentless investigative journalism and daily reporting that sheds light on state government and its impact on the lives of Missourians. This service is free to readers and other news outlets.