Student led anti-bullying walkout to defend Out high school senior
Lillis, who is openly gay, said he and his friends have been targeted and bullied by another group of students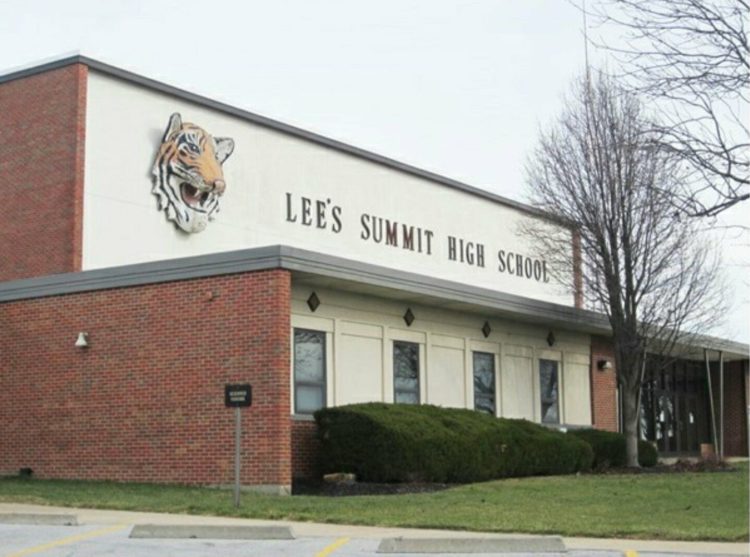 LEE'S SUMMIT, Mo.  – A fight between students that led to the suspension of a victim of anti-gay bullying and his friend who defended him, led to hundreds of students walking out of classes Monday in solidarity to protest the school administration punishing them and not addressing the behaviour of the bullies.
Danny Lillis, who is openly gay, told multiple media outlets that since the beginning of the school year at Lee's Summit High School in suburban Kansas City, he and his friends have been targeted and bullied by another group of students.
This year, Lillis started wearing make-up to express himself.
Malani Hohlbaugh, a friend of the Out senior had enough of her friend being targeted with anti-gay slurs and bullying. Last Wednesday she along with her friend Lillis accosted the group of 3 males who had been the primary cohort. The confrontation escalated into a physical altercation landing her in the emergency room with a broken nose and being suspended along with Lillis and one other friend of theirs.
Lillis told the Kansas City Star newspaper that the group of students had routinely spouted hateful remarks and thrown food at them. He claimed that he went to administrators at least four times to report the incidents, "crying, saying 'I don't feel safe' repeatedly. And nothing changed."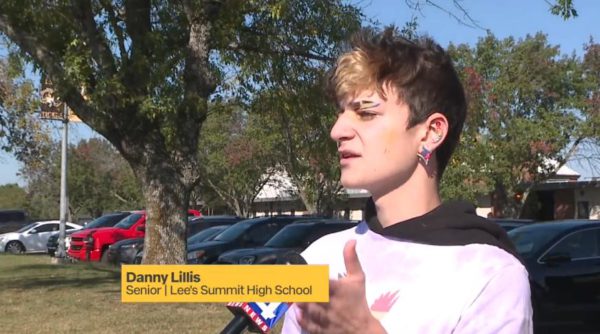 "They were just talking about how we're ugly, how we're rude," Carly Vento, another senior, told WDAF-TV Fox4. "How we're all fat."
Melanie Davies, the mother of Lillis' friend Malani Hohlbaugh, told the Kansas City Star; "Every single time that this happened, our kids have gone to student administration and reported it," Davies said. "There is supposed to be a zero tolerance policy for bullying, but nobody is doing anything about. They haven't gotten the help that they needed."
"The same group of kids started in on them again, and my daughter just had enough. She ran up the stairs after one of the boys and yelled at him to not talk to them like that, to not say those things," Davies said.
"They turned around and he was walking in front of them. My daughter tried to get around him. But their shoulders hit, and then he shoved her. So she shoved him back, and he punched her right in the face."
According to Lillis and Hohlbaugh, "No teachers were around. Students broke it up."
In an interview with Fox4 Monday, Missy Lillis, Danny's mother told the station that she had even met with the assistant principal to work out a safety plan weeks ago.
"We never, ever wanted things to get escalated to this point. Unfortunately, it did, and physical harm was done," she said.
Lee's Summit R-7 School District spokeswoman Katy Bergen said in an email to The Star that, "all forms of bullying are prohibited in LSR7. We investigate all complaints of bullying that we receive."
She declined to provide specifics to the paper regarding the alleged bullying, fight and disciplinary action.
"Everyone in the Lee's Summit R-7 School District community deserves to feel safe and welcome. Harassment or discrimination in LSR7 is strictly prohibited," she said. "Although laws protecting students' privacy prevents us from discussing the specifics of this incident, we can share that school and district administrators are conducting an investigation and taking action to ensure the safety of all students and staff."
"District administrators will follow Board of Education policies and procedures as we determine next steps. In LSR7, it is a top priority to ensure an inclusive culture where our students, staff members and families are valued and treated with dignity."
As a result of the fight and suspensions the students were not allowed to attend the high school's homecoming events this past weekend.
Prior to the walkout, students created a Change dot org petition, that listed the following factors:
Things to know:
1. The harassment had been reported by students prior to the altercation, and administration did not investigate it.
2. Administration's standard policy is to punish both parties regardless of who started the altercation.
3. A contract of no contact had been reached between the parties privately, which went unenforced by the school and after which verbal harassment continued.
4. An ally to the LGBTQ+ student shoved back a member of the harassing party after having asked them to leave (the student was directing homophobic slurs at the LGBTQ+ student and violating the no contact contract), and the harassing party inflicted visible injuries to the ally as a response.
Our demands of Lee's Summit High School Administration:
1. Excuse the LGBTQ+ student and their allies from suspension and remove the incident from their permanent records.
2. Investigate reports and justly punish the other party for harassment on the grounds of sexual orientation.
3. Pledge to enforce the school's Zero Tolerance Policy for bullying and harassment.
4. Issue a school-wide apology for administration's initial handling of the incident and for inflicting fear in all LSHS LGBTQ+ students in regards to their physical and mental safety at the school.
Gay High School senior who makes his mark on TikTok is crowned queen
"He's engaged in school, active in activities, including cheer, & is not afraid to ask questions and identify challenges he sees around him"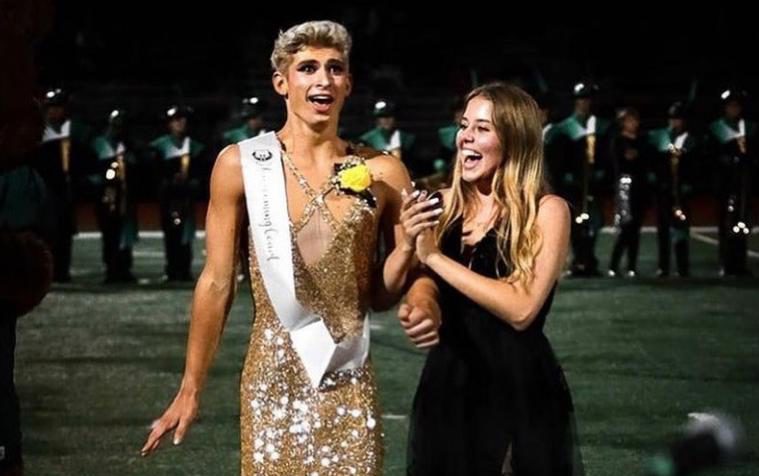 COLUMBIA, Mo. – This eighteen-year-old senior at South Columbia's Rock Bridge High School is fierce, fabulous, funny and now a queen after this past week's homecoming when he won the title of 'Homecoming Queen' after being selected by his schoolmates. Oh and this varsity cheerleader is the first boy at Rock Bridge to ever claim the crown.
In an interview with NBC News affiliate KOMU 8 in Columbia, Zachary Willmore, who has been Out since middle school told reporter Kathryn Merck he put up a social media poll that determined whether he would become king or queen.
"They thought queen could look prettier on the sash," Willmore explained. "So I chose queen."
Willmore is also a successful social media presence on TikTok with over a million viewers. His Instagram has a respectable following as well. What makes him unique according to school administrators, friends, and family is his pro-active engagement in school activities.
"Zachary Willmore is a wonderful student," Columbia Public Schools spokesperson Michelle Baumstark told KOMU 8. "He's engaged in school, active in activities, including cheer, and is not afraid to ask questions and identify challenges he sees around him."
Homecoming Queen isn't the only victory won for Wilmore. On his TikTok feed he has showcased numerous outfits that he has worn to school- that promptly got him sent to the office for violations of the school's dress code.
On his way to the office Wilmore would stop off in one of the boy's restrooms and with a backdrop of a row of urinals' arrayed behind him he'd do a quick reel dancing to an upbeat song. "It's honestly funny at this point," he told the Columbia Missourian newspaper, "They tell me, 'Don't wear that outfit again.' But I never wear the same outfit twice, so it's not a problem."
Wilmore explained, "Teachers were allowed to make the call of what was appropriate," Willmore told the paper. "Many times I did feel like they could target students, and I did feel targeted in some scenarios."
Using his TikTok account as his vehicle for change, Wilmore challenged the school policy.
According to the Columbia Public Schools spokesperson, "He has challenged the dress code over his time at Rock Bridge and is working with the school to develop a more up-to-date dress code for the school," Baumstark said.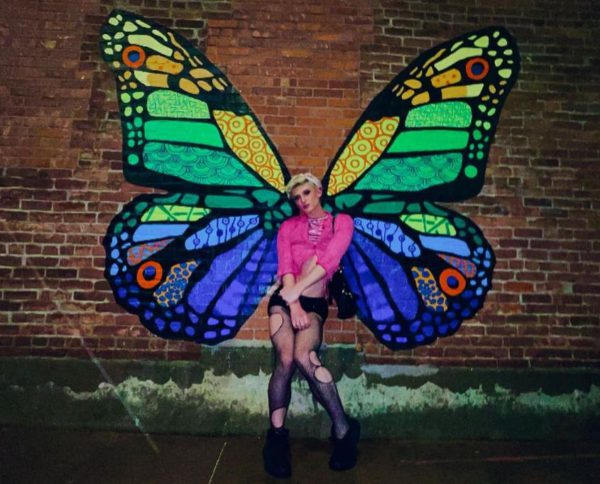 Willmore said he's a part of a group of students taking active steps to fix some of the dress code rules.
"They put me in charge of creating the new dress code," Willmore said. "I got to make a rough draft which got sent to the student council and then to the principal."
"A group of students has been assembled to work on the dress code revisions with administration," Baumstark said. "They are still at the beginning stages, but Rock Bridge hopes to have a revised dress code by the end of the school year and before Zachary graduates."
Pride flag compared to the Confederate flag- Out Missouri teacher resigns
"If you are unable to keep your personal agenda on sexuality out of classroom discussions, we will ultimately terminate your employment"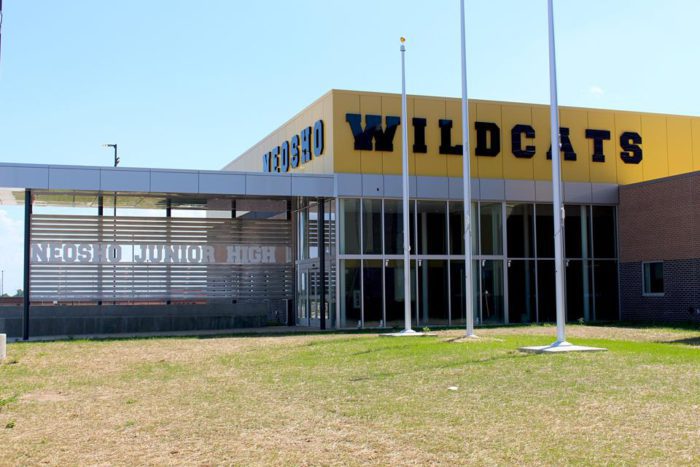 NEOSHO, Mo. – An openly gay junior high school speech, theatre and world mythology teacher has filed a complaint with the U.S. Department of Education's Office of Civil Rights, after he resigned his position after being instructed to sign a letter stating he would not discuss his sexual orientation with students.
In a Twitter thread, John M. Wallis, 22, a graduate of Neosho High School and Webster University in St. Louis, disclosed that he had been forced to resign after being told he would be required to sign a letter sent by Neosho school district Superintendent Jim Cummins, acknowledging;
"Our classrooms cannot become a personal platform for pushing one's personal agenda. Your position in the Neosho School District is to teach speech and drama classes. You were hired because we believe you were the best candidate to do such.
"However, if you are unable to present the curriculum in a manner that keeps your personal agenda on sexuality out of your narrative and the classroom discussions, we will ultimately terminate your employment."
Superintendent Cummins ended the letter with:
"There will be no references to sexuality or gender displayed in your classroom;"
"Your instruction and classroom conversations will stay clear of discussions regarding human sexuality and/or sexual preference;" and
"Any research or assignments given should not require a topic related to the above."
In his social media narrative of the events, the former Neosho Junior High teacher wrote;
"I was then asked to sign a letter that stated I would not discuss human sexuality or my own personal sexuality in the classroom and could have no displays or coursework on those subjects. This action was the reason for my resignation."
On the website for the school district, its policies regarding new hires and current employees states:
"Neosho School District considers applicants for all positions without regard to race, color, religion, sex, national origin or disability. If you have a disability or handicap, which may require accommodations for you to participate in our application process (including filling out this form, interviewing, or any other pre-employment procedure or requirement), please make us aware of any accommodation you feel is necessary. If you have any inquiries, complaints or concerns about any pre-employment procedure or requirement, including completing this application, or about the District policy of nondiscrimination, you may contact our Title IX Coordinator."
Notably absent however, is explicit mention of sexual orientation and gender identity being protected by the policy.
A spokesperson for the school district refused comment saying that its policies on personnel matters are precluded from public statements.
Wallis in his Twitter thread chronicling the events leading to his termination noted;
"At the beginning of the school year, I had two signs above my whiteboards that read "In This Classroom EVERYONE is Welcome" and an LGBTQ+ pride flag on my bookshelf. This was an attempt to make my classroom more open and welcoming for all of my students, and nothing was ever taught about the flag because it stood there as a reflection of my classroom as a safe space for my LGBTQIA+ students."
"A parent called last week to complain that I was going to teach their child to be gay. I was then instructed to take my flag and signs down. In fact, the use of the pride flag in my classroom was compared to hanging the confederate flag in my classroom. This of course prompted students to ask why, and I answered truthfully while expressing that, if students had a problem with who I was, there were other open classes. This led to three or more calls from parents accusing me of pushing my agenda in the classroom."
In an interview with the Springfield, Missouri newspaper, the Springfield News-Leader, Wallis said he was reluctant to speak out initially because he didn't want his father — a longtime district employee with the same first and last name — to face any backlash.
Wallis also told the News-Leader his intention had been to stay with the district for many years but the letter was the "reason for my resignation."
"It appears that there is a different set of rules if you are an LGBTQ+ educator. Neosho has no mention of gender identity or sexual orientation in their non-discrimination policy, and that is disconcerting enough. Couple that with a policy banning anything that expresses part of me in the classroom, and it makes for a hostile work environment." he added; "There is never a problem when a heterosexual teacher displays pictures of themselves and their spouses in a classroom but I have a flag and all hell breaks loose."
A Missouri State representative and the state's House Democratic Floor Leader, Rep. Crystal Quade, tweeted her support:
.@MrJWallis, thank you for your dedication to our kids. I am ashamed this happened and continues to happen in our state. You- and our kids- deserve better. #MOleg needs to be on the right side of history. MONA must become law and we must start putting ALL of our kids first. https://t.co/3vEj0KPeWV

— Crystal Quade (@crystal_quade) September 6, 2021
Kansas City Star eviscerates GOP lawmakers for removing LGBTQ exhibit
The Star underscored that "more broadly, the decision is an insult to all Missourians, including tens of thousands of LGBTQ residents."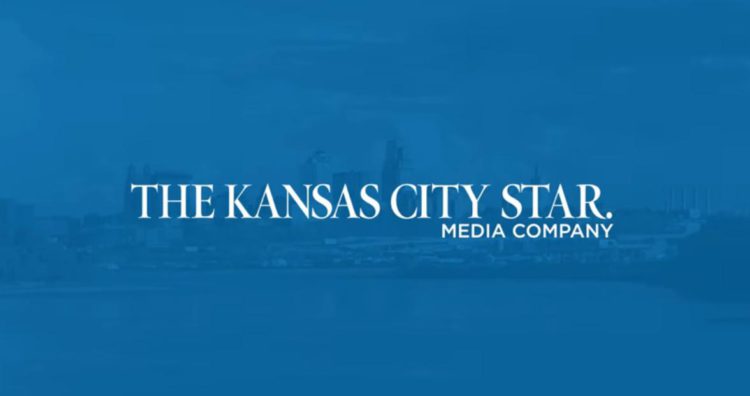 KANSAS CITY, Mo. – In a scathing editorial penned by the editorial board of the venerable Kansas City Star newspaper and media company Friday, the paper called out the decision by Missouri Republican lawmakers to pressure the state agency that runs the museum in the state capitol building to remove an LGBTQ+ history exhibit, "another embarrassment for a state with a history of intolerance."
A display curated by students from the University of Missouri at Kansas City celebrating LGBTQ history was removed from the Missouri State Museum on the first floor of the state capitol building, after complaints from a legislative staffer to a state Republican lawmaker.
The exhibit, titled "Making History: Kansas City and the Rise of Gay Rights" apparently offended Uriah Stark, a Legislator Assistant for Republican Representative Mitch Boggs (District 157) in the Missouri House of Representatives. Boggs along with state Representatives Ann Kelley and Brian Seitz as well as other GOP officials had pressured the Department of Natural Resources and its Missouri State Parks division responsible for the capitol's museum space to remove the exhibit.
The Star expressed its disgust writing;
"It should not have been a controversial display. The series was developed by a history class at the University of Missouri-Kansas City, and has traveled throughout the region for years. It's freely available online.
It isn't a polemic, or a political statement, or a value judgment. It's history. Important history. That's why it was displayed in the Missouri State Museum, where the state's stories should be told."
Noting that the aide, Stark, clearly venting his outrage in social media posts showing both a partisan and right-wing religious fundamentalist viewpoint, the Star also noted;
"The decision is probably illegal. There is no requirement that the state offer such an exhibit, but once it has done so, taking it down based on its content, particularly for a religious motive, is a clear First Amendment violation. Missouri should expect a legal challenge (and expect Attorney General Eric Schmitt to fight it, yet again demonstrating his own intolerance)."
The Star underscored that "more broadly, the decision is an insult to all Missourians, including tens of thousands of LGBTQ residents."
The editorial board summarized its points by writing that; "The Missouri Capitol is a public building. It belongs to everyone. Any state that can display a bust of the late Rush Limbaugh, despite his offensive beliefs, can temporarily show a history of gays and lesbians organizing for rights in Kansas City."
The paper then compared the actions of the Missouri Republican lawmakers to the extremist religious Taliban group in Afghanistan; "Taliban fighters claimed a faith motive for the destruction. "We deem it a must … because of our religious responsibility," a spokesman said at the time. That isn't "to God be the Glory!" but it's close. Too close."
Editor's Note: To read the entire opinion piece go to: (Link)