Amazon Prime doc tells story of Black, queer civil rights pioneer
RBG quoted Anna Pauline (Pauli) Murray before Supreme Court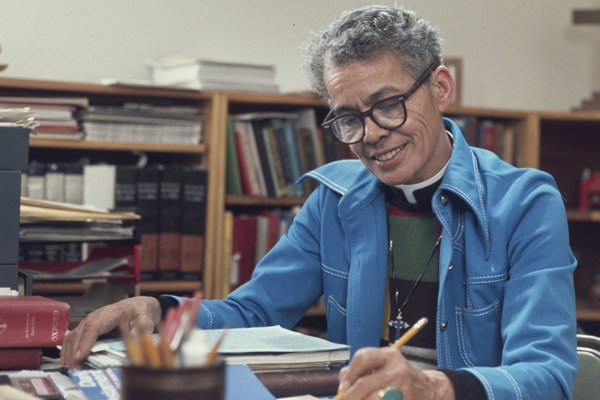 WASHINGTON – No one could have imagined the life of Anna Pauline (Pauli) Murray, the Black, queer, gender nonconforming civil rights pioneer who lived from 1910 to 1985.
Few people have done as much to make the world more just than Murray. Last year, Murray's scholarship was used to help the ACLU successfully argue before the Supreme Court that Title VII of the Civil Rights Act of 1964 protects LGBTQ+ people from being fired in the workplace because of their sexual orientation and gender identity. Yet, many people don't know who Murray was.
"My Name is Pauli Murray," a new documentary playing in select theaters and streaming on Amazon Prime, tells the story of Murray's fascinating life. The engrossing film is co-directed by Betsy West and Julie Cohen, who directed "RBG," the popular documentary on Ruth Bader Ginsburg.
"RBG" is a good documentary. Yet, the 131-minutes-long "My Name is Pauli Murray" is even better.
Conveying the complexity of Murray's life in a doc of that short length would fell many mortals. But West and Cohen are up to the task.
Using recordings of Murray's voice; Murray's letters, footage of everything from Murray with one of her dogs to Harlem in the 1930s along with interviews with Murray's family and biographers, the film draws you into Murray's world.
To say Murray was a Renaissance woman isn't trite. Murray was a lawyer, poet, writer, activist and educator. That's just the tip of the iceberg!
For decades, Murray and Eleanor Roosevelt were friends. Murray was a co-founder of the National Organization for Women. Gay writers James Baldwin and Langston Hughes were her writing buddies. Murray and Baldwin were the first Black writers to be invited to the distinguished MacDowell writing colony.
In her 60s, Murray left her tenured position teaching at Brandeis University to go to seminary. She became the first Black woman to be ordained a priest by the Episcopal Church.
It doesn't stop there! A paper Murray wrote as a Howard Law School student was a key element of Thurgood Marshall's strategy in overthrowing racial segregation in Brown v. Board of Education. Ruth Bader Ginsburg quoted Murray when she argued against sex discrimination before the Supreme Court.
While she was alive, Murray was closeted about much of her personal life. Murray had a decades-long relationship with Irene Barlow. But, because of the times in which she lived, Murray couldn't be open about their relationship.
Murray felt that she was misgendered—like a man in a woman's body. This, too, Murray kept secret.
In "My Name is Pauli Murray," Murray's family and biographers refer to Murray with the pronouns "she and her." A non-binary activist refers to Murray as "they."
Murray is having a much-deserved moment. In 2016, Yale University named one of its residential colleges after Murray. It was the first time a Yale college was named after a person of color or an (openly) LGBTQ+ person. In 1965, Murray was the first African American to graduate from Yale with a doctorate in judicial science.
In 2017, the National Park Service, part of the Department of the Interior, Murray's family home in Durham, N.C., as a National Historic Landmark.
Watching, "My Name is Pauli Murray," you're bowled over by Murray's resilience and achievements. Fifteen years before Rosa Parks, she protested racial segregation on buses.
"I've lived to see my lost causes found," Murray says.
It's hard to humanize an icon. But, the filmmakers don't place Murray on Mount Olympus.
Even as a child, we learn, Murray wanted to wear pants. That was fine during the week, her Aunt Pauline said, but Murray would have to wear a dress to church on Sunday. Though, few understood Murray's feelings, Aunt Pauline called Murray "my boy girl."
Murray and Barlow never lived together. Yet, you get a sense of their intimacy from the letters they exchanged. They called each other "Linus" and "Charlie Brown" (characters in the Peanuts comic strip) and wrote of longing to "share" listening to Brahms' Fourth Symphony and the New York Times crossroad puzzle.
"My Name is Pauli Murray" will leave you talking about Murray and how to honor her legacy. That would have made Murray happy.
First Trans Amazon introduced by DC Comics In 'Wonder Woman'
DC Comics-Warner Brothers became more LGBTQ+ inclusive with the introduction of the character of Bia, a Black trans woman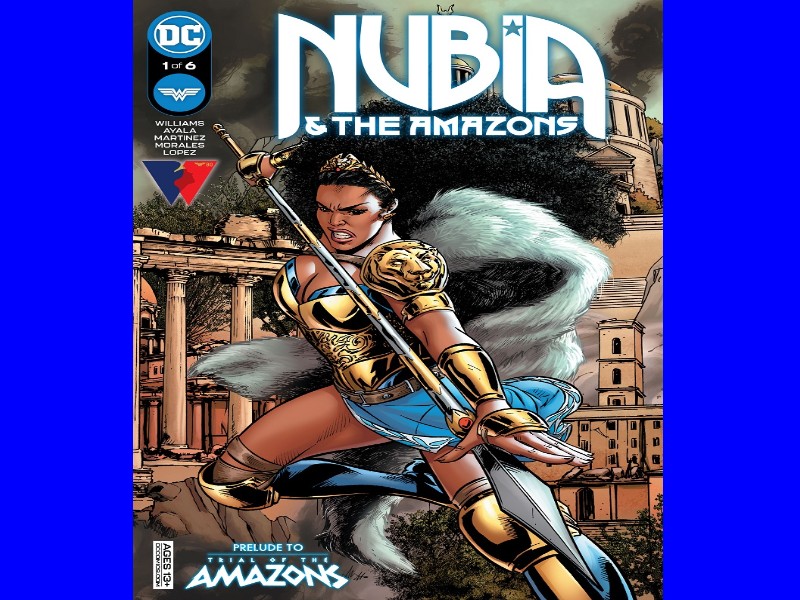 BURBANK – The world of DC Comics-Warner Brothers became more LGBTQ+ inclusive this weekend as the venerable comic book franchise of Wonder Woman expanded with the introduction of the character of Bia, a Black trans woman, in the first issue of the series Nubia & The Amazons.
Earlier this month on National Coming Out Day, the canon of the Superman series changed for the life of Jon Kent, the Superman of Earth and son of Clark Kent and Lois Lane, taking a bold new direction. After initially striking up a friendship with reporter Jay Nakamura, he and Jon become romantically involved, making Kent an Out bisexual character.
In this latest offering, Stephanie Williams and Vita Ayala, writers and creators confirmed that Bia is a Black Trans woman. They stressed that she "isn't a box to tick … [she] is important to her community. Just as Black trans women are important to us in real life."
We didn't want to make An Announcement because we wanted to introduce the character in an organic way, but it is not a secret! We are glad people picked up on it, but if y'all hadn't we would have made sure to say it so it wasn't hand-twaveable subtext! https://t.co/XsHp5wGBLv

— ✊🏾🇵🇷Vita 'Emancipated Blacula' Ayala🏳️‍🌈🎃 (@definitelyvita) October 21, 2021
Of special significance to the introduction of the character in the DC Comic worlds was the endorsement of actress Lynda Carter who played the title role of Wonder Woman on television based on the comic book superheroine, which aired on ABC and later on CBS from 1975 to 1979. Earlier in the week Carter tweeted her support of Trans women;
Trans women are Wonder Women. End of story.

— Lynda Carter 🎃 (@RealLyndaCarter) October 19, 2021
Writing for the DC Comics-Warner Brothers website blog, co-creator Stephanie Williams said;
"It's been a dream to work with the likes of Vita Ayala, a non-binary Afro-Latinx comic writer who has been making quite a name for themselves. And then there is the illustrious and widely talented and dedicated Afro-Latina artist Alitha Martinez who is already in the comic hall of fame for all-time greats. Her passion for Nubia is unmatched. It shows in every cover and panel from Nubia's Future State story written by L.L. McKinney, her Infinite Frontier #0 story written by Becky Cloonan and Michael Conrad, and now the Nubia and the Amazons miniseries written by myself and Vita Ayala."
"I'm so excited about the history we're creating, adding to, and remixing. The foundation has always been there, but needed some TLC. As Nubia embarks on this new journey as Queen of Themyscira, I hope her rebirth will be met with open arms and the desire to keep her always at the forefront. Nubia, now being queen, is poetic in so many ways, but one that stays on my mind is the very personal connection I feel. As I help to add to her legacy, she's opened the door wider to my own," Williams said adding:
"Long may Queen Nubia reign, forever and always."
Nubia and the Amazons #1 by Stephanie Williams, Vita Ayala and Alitha Martinez is now available in print and as a digital comic book.
Along with co-writing Nubia and the Amazons, Stephanie Williams writes about comics, TV and movies for DCComics.com. Check out more of her work on Den of Geek, What To Watch, Nerdist and SYFY Wire and be sure to follow her on both Twitter and Instagram at @steph_I_will.
Eleven years later on Spirit Day, the battle for awareness continues
In 2021, Spirit Day takes on a renewed importance due to the unprecedented challenges facing LGBTQ youth including impact of cyberbullying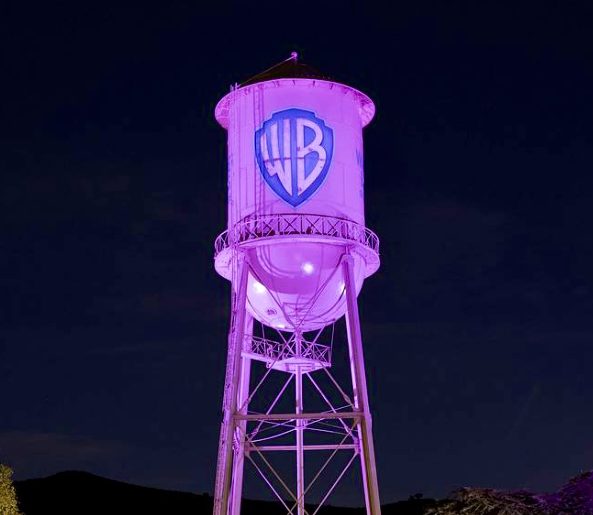 LOS ANGELES – A decade and one year ago there was a pandemic across the United States and in Canada of LGBTQ+ adolescents killing themselves. Nearly every week saw another Lesbian, Gay, Trans, Queer young person die, and in all cases, bullying very much factored in.
In one high profile case, the anti-LGBTQ bullying escalated in a university dorm room where one roommate secretly live-streamed his closeted gay roommate having intimate sexual relations with another guy.
That closeted roommate was 18 year-old Rutgers University freshman, Tyler Clementi, who in his despair drove to the middle of the George Washington Bridge, which connects New Jersey and New York's Manhattan Island, where he parked and lept to his death into the Hudson River below on September 22, 2010.
A 15-year-old Canadian high school student Brittany McMillan founded Spirit Day in 2010, creating a Tumblr post that asked students to wear purple following the suicide deaths of several LGBTQ and LGBTQ-perceived young people.
In interviews McMillan said, ""Ultimately, I want Spirit Day to make just one person feel a little bit better about his or herself, to feel safe enough in their own skin to be proud of who they are."
Partnering with LGBTQ+ media advocacy organization GLAAD, McMillan asked people around the world to take a public stand against bullying and show support for LGBTQ youth. Since then, Spirit Day has become the most visible annual LGBTQ anti-bullying campaign in the world, garnering support from celebrities, landmarks, media, sports teams, brands, and so many others.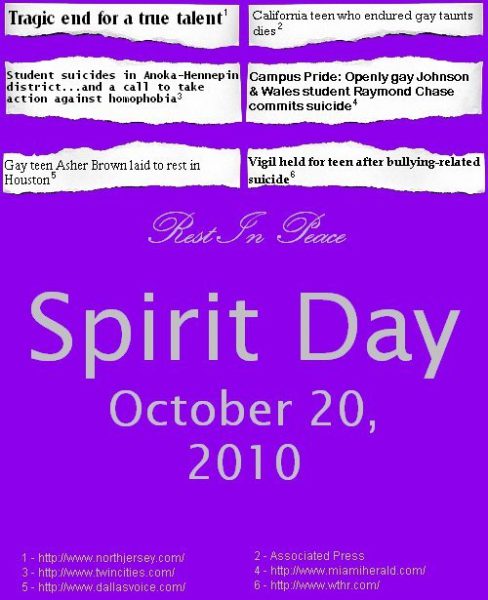 This year as Trans youth are targeted by lawmakers and anti-LGBTQ+ organizations in areas of youth sports and medically necessary healthcare, Spirit Day has taken on a greater sense of urgency.
In 2021, Spirit Day takes on a renewed importance due to the unprecedented challenges facing LGBTQ youth. Over the last year and a half, many LGBTQ youth have not been in school, unable to attend in-person meetings of Gay-Straight Alliances, Gender-Sexuality Alliances or on-campus colleges LGBTQ organizations. During this time, LGBTQ youth have also become increasingly vulnerable to the impacts of cyberbullying, specifically with heightened levels of anti-LGBTQ hate and harassment on social media.
Some LGBTQ youth may be confined to a home environment that may be unsupportive or abusive. As well, an unprecedented number of anti-LGBTQ bills in state legislatures specifically targeting trans and nonbinary youth have been in the news.
Calls to The Trevor Project's hotline for LGBTQ youth have at times more than doubled since the COVID-19 pandemic began.
This year, GLAAD asked Brittany McMillan reflect on her top 5 #SpiritDay moments since the campaign began. Here's what she had to say:
1. Seeing 28,000 likes/reblogs on the first #SpiritDay Tumblr post in 2010.
2. Receiving the celebrity tweet from Paula Abdul. I didn't have Twitter at the time, but lots of my friends saw it and sent it over to me. It was the first sign for me that things were getting big!
3. Visiting Times Square and GLAAD in New York in 2012 and seeing all the billboards lit up in purple. It was so cool to see the huge screens turning purple and promoting #SpiritDay. It was also really cool to meet the people at GLAAD who I had worked with online over the past couple of years.
4. All the years the White House turned their icon purple and President Obama wore a purple tie. I'm not an American but to know my creation reached the President of the United States was so cool. Also, I really admire the Obamas and all that they do, so it made me really excited to see them supporting something that I started.
5. The release of the #SpiritDay board book last year, by Little Bee Books and illustrated by Joy Yang. As soon as I found out about it, I purchased a copy. I love books and reading and to know that there is a book out there about #SpiritDay blows my mind each and every day.
Cartoon Network stands with our LGBTQ+ Youth! 🏳️‍⚧️🏳️‍🌈 You are loved, and you are not alone. Leave a 💜 in the comments to show your support against bullying.

Find out how to be an ally to your peers 👉 https://t.co/apm0TFkU66#SpiritDay #GoPurple #RepresentationMatters pic.twitter.com/mvaOoseL9r

— Cartoon Network (@cartoonnetwork) October 21, 2021
Today and every day, we stand with LGBTQ+ youth and speak out against LGBTQ+ bullying. WarnerMedia is proud to go purple for #SpiritDay and celebrate with our employees worldwide.

Learn more from our partners @glaad: https://t.co/h0Xai8STaY pic.twitter.com/eIReSrgeqj

— WarnerMedia (@WarnerMedia) October 21, 2021
Netflix walkout attracts 100 plus supporters & also a few Chappelle fans
The demonstration comes as backlash over Dave Chappelle's standup special "The Closer" on Netflix, criticized as being transphobic, continues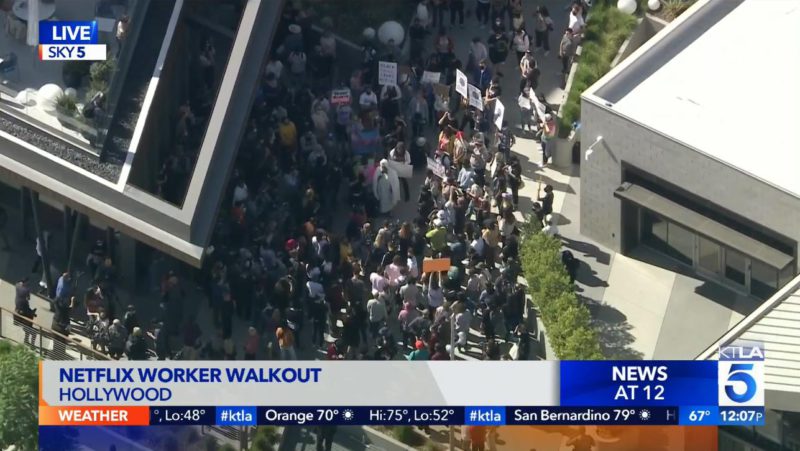 HOLLYWOOD – A walkout of Trans employees and supporters was joined by over 100 additional demonstrators in support of the transgender community outside the Netflix offices at 1341 Vine Street in Hollywood Wednesday and were also met with a handful of Chappelle fans.
Wednesday morning's demonstration comes as backlash over comedian Dave Chappelle's standup special "The Closer" on Netflix, which has been criticized as being transphobic, continues.
Organized by Los Angeles community activist Ashlee Marie Preston, the event was held "to underscore the importance of responsible content offerings that prioritize the safety and dignity of all marginalized communities," Preston wrote in a statement released a couple of days ago.
Netflix had issued a statement prior to the walkout saying: "We value our trans colleagues and allies, and understand the deep hurt that's been caused. We respect the decision of any employee who chooses to walk out, and recognize we have much more work to do both within Netflix and in our content."
Singer-songwriter, entertainer and community activist Neverending Nina was interviewed by KTLA 5 LA at the demonstration. "As Black trans people, as trans people, as non-binary people, we are ultimately all we have," she told KTLA' Erin Myers, while standing among hundreds gathered for the demonstration. "So if we don't speak up for ourselves, then who will?"
"We just want to make sure that these entities are being held accountable, and actually provide change to better the community that has been dealt trauma by issuing certain propaganda in this space," she added.
Video of the event showed several participants that carried signs, some that read "transphobia is not a joke" and "Black Trans live Matter." Several speakers addressed the crowd.
Among the speakers, which included actor and drag performer David Huggard Jr., whose stage name is Eureka O'Hara, was Leon Wu, founder of SharpeHaus. Wu, a designer, entertainment producer and BIPOC trans activist told the Blade after the protest ended;
"It's time for big entertainment, media and publicity to make a commitment to change. It's time for us all to take more social responsibility on the content we create, direct, produce and distribute to the world. I mean, just look at what we've done to ourselves in the past two years during pandemic. We've seen how much misinformation, sensationalized news and irresponsibility in public or social media can do us so…much… harm. It's time to take more social responsibility on what is ethical comedy and entertainment, what is newsworthy, and what information is positive, helpful or innovative to share in the world."
A few counter-protesters arrived carrying signs saying "We like Dave" and "We like jokes."
Counter-protester Gigi Larue said many comedians "take jabs" at everyone.
"You may not like what he has to say, but don't listen," said Gigi Larue. "You don't get to silence his voice and silence the voices of people who support him."
"Comedy is for everyone, but we also know that there is truth in jokes," Nina told Myers. "And so we if anyone has not been around a trans person ever in their life but they also have always heard jokes about trans people, then that bias will show up when they finally get introduced to trans person."
The growing outcry by LGBTQ+ advocacy groups and allies since the release earlier this month of the Netflix Dave Chappelle's comedy special The Closer, regarding transphobic and other anti-LGBTQ innuendo and statements by the comedian escalated after the company suspended one of its Trans employees.
After the special aired, Terra Field, an Out Trans Netflix senior software engineer based in San Francisco, posted a series of tweets that expressed anger over Chappelle's blatant transphobia.
Field in her Twitter thread countered the position laid out by Sarandos, pointing out that Chappelle's promoting the kind of ideology and speech can result in real-world consequences especially death for Trans people.
The situation was further enflamed when the company terminated a Black organizer of the pending October 20 walkout by its Trans employees. The employee, "who is Black and currently pregnant, asked not to be named for fear of online harassment."
Netflix Inc. Co-Chief Executive Ted Sarandos sparked internal dissent he defended the special and said it wouldn't translate to real-world harm.
Sarandos later said he "screwed up" in his efforts to communicate with the workers, the Wall Street Journal reported.
"Stand Up in Solidarity," will present co-CEO Ted Sarandos with a list of "firm asks" after the demonstration and the protest will feature a PSA from stars including Angelica Ross, Jonathan Van Ness, Jameela Jamil, Eureka O'Hara and Colton Haynes.
Additional reporting and video by Susan Hornik