Out former delegate raises $1 million in race against anti-LGBTQ lawmaker
No candidate in #MD01 of either party, incumbent or challenger, has ever hit the $1M milestone this early in the election cycle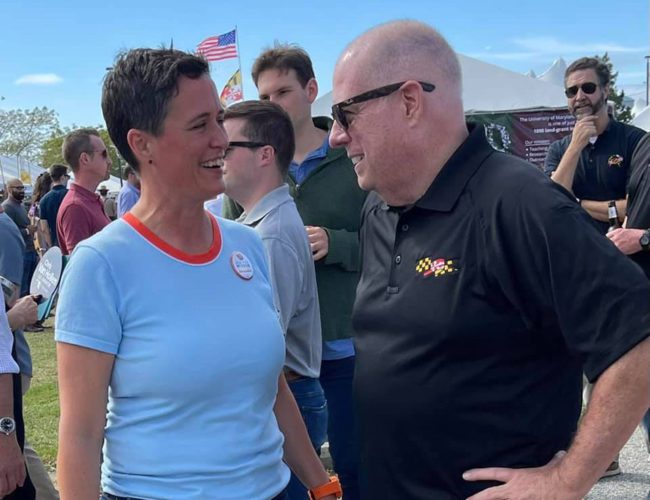 SALISBURY, Md. – Heather Mizeur has raised more than $1 million in her campaign against anti-LGBTQ Republican Congressman Andy Harris in Maryland's 1st Congressional District.

"No candidate in #MD01 of either party, incumbent or challenger, has ever hit the $1M milestone this early in the election cycle," Mizeur tweeted on Oct. 6.
NEWS: Today, we're announcing our campaign has raised more than $1 MILLION in our bid to unseat far-right Congressman Andy Harris. No candidate in #MD01 of either party, incumbent or challenger, has ever hit the $1 million milestone this early in the election cycle. pic.twitter.com/o57kEx8AFy

— Heather Mizeur (@heathermizeur) October 6, 2021


The Victory Fund in an Oct. 8 press release said 80 percent of this $1 million came from Maryland-based donors, "a sign the district is ready for new representation." And Mizeur continues to outpace Harris, according to campaign finance reports filed with the Federal Election Commission that say she raised $717,445 for the cycle ending June 30, while Harris raised $425,288.

"Andy Harris has taken every opportunity to attack and vilify trans individuals, trying to score political points with his base at the expense of the safety of some of his constituents," Mizeur told the Washington Blade.

In 2014 Harris made the Human Rights Campaign's "Hall of Shame" for proactively working "to undermine existing legal protections and promote anti-LGBT discrimination."

"In contrast, the LGBTQ community knows me for my record," Mizeur said. "And knows I'll always lead with compassion and stand up for civil and human rights. I think the 1st District will respond to my message of respect and understanding."

Mizeur, who now lives on the Eastern Shore with her wife, served on the Takoma Park City Council. Mizeur was a member of the Maryland House of Delegates for eight years.

In 2014, she launched a long-shot, grassroots campaign for governor where she finished a strong third in the Democratic primary, despite being outraised by better-known opponents.

But Mizeur also said she is aware of the challenges her team faces in taking on a well-entrenched Republican in a solidly conservative district.

The Cook Partisan Voter Index in 2017 rated the district as R +14, meaning the previous two presidential election results in the district skewed 14 percentage points more Republican than the national average.

"We have over $760,000 in the bank, and we've outraised him during our time in the race," Mizeur said. "We're raising the money we need to go toe-to-toe with Andy Harris next year."

The Baltimore Sun in February reported Harris was "flush with campaign cash" mostly due to a 2010 redistricting that "packed" the area with Republican voters to increase Democrats' chances in other district races.

"Yes, Andy Harris has over $1 million in the bank, stockpiled over a decade in office," Mizeur said. "But in the short time I've been in the race, we've cut significantly into his cash on hand advantage."

Harris has represented the 1st Congressional District—which includes Maryland's Eastern Shore and parts of Baltimore, Carroll and Harford Counties—since 2011 and easily fended off most challenges with at least 60 percent of the vote. These challengers include Mia Mason, a transgender military veteran, who ran against him in 2020.
The 2010 redistricting made Harris' seat safe enough not only to donate nearly a third of his war chest to conservative groups and candidates, such as U.S. Reps. Lauren Boebert (R-Colo.) and Marjorie Taylor Greene (R-Ga.), but to openly court controversy himself.
Harris last year openly defended then-President Trump's discredited efforts to overturn the 2020 election. And in December he signed onto an amicus brief supporting a failed lawsuit contesting the presidential election results.
This year he downplayed the violence of the Jan. 6 insurrection in which numerous police officers were attacked, members of Congress were threatened, and the U.S. Capitol was vandalized.
Mizeur told the Blade that while Harris' actions regarding the Jan. 6 insurrection were the catalyst for her challenging his seat, she feels the district is changing and he no longer represents their interests.
"Our supporters know he's been embarrassing Maryland in Congress for far too long, and that some of his actions have shown he's completely unfit to serve in public office, regardless of ideological views," Mizeur said. "They want someone who will bring compassionate leadership and innovative thinking back to the first district. And that's appealing to people across party lines."
Maryland's primary election is June 28, 2022, and its general election follows on Nov. 8.
The annual Tawes Crab & Clam Bake in Crisfield is always a great time for hot crabs, cold beer, and lots of good politics. Our volunteers were incredible; our supporters enthusiastic; and our colleagues generous with their love and friendship. My heart is very full. pic.twitter.com/R35kfzgdeQ

— Heather Mizeur (@heathermizeur) October 13, 2021
Baltimore LGBTQ+ youth safe space shelter burglarized & vandalized
Baltimore police didn't immediately respond to a request why police didn't list the break-in and burglary as a hate crime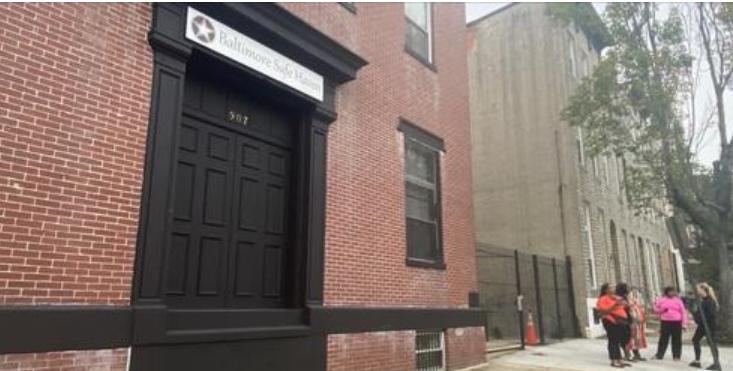 BALTIMORE – Baltimore police on Oct. 2 arrested a 26-year-old Baltimore man on the same day police say he broke into and burglarized Baltimore's newly launched LGBTQ youth homeless shelter operated by the nonprofit group Safe Haven.
The police incident report says police charged Elijah Shabazz-Daquan Lewis, a Baltimore City resident, with burglary and breaking and entering after apprehending him on the scene. The report says he was carrying a large plastic bag filled with items he allegedly stole from Legacy House, the new LGBTQ youth shelter on Edmondson Avenue in North Baltimore.
Safe Haven Program Director Ja 'Nae Tyler told Baltimore's WMAR 2 TV News that Lewis had attempted to break into the facility once before and he made some "derogatory comments around sexuality and gender." But the police report says there was no "bias motivation" involved in the incident.
Tyler also told WMAR that Lewis appeared to have made a threat that "things will happen" if the youth facility did not move out of its current location.
Iya Dammons, Safe Haven's executive director, told the Blade that Lewis damaged several TVs by attempting to pull them off wall mounts in several of the rooms where residents of the facility will be staying when it opens in an apparent attempt to steal them. But when asked if she thinks the incident should be listed as a hate crime, Dammons said she believes Lewis' action was motivated by hate.
"His words said that," she said in recalling something Lewis said during his earlier attempt to enter the facility that was captured on security cameras with an audio recording function. "He was indicating he did not think people like women who were biologically men should be able to have a shelter space," Dammons said.
A Baltimore police spokesperson didn't immediately respond to a request by the Blade for an explanation of why police didn't list the break-in and burglary as a hate crime.
The police report says the manager of the building, whose name is blacked out in the report, told police the building was unoccupied at the time of the break-in. The report says the building's owner told police the value of the items stolen by Lewis and recovered by police was about $2,000. The report says the owner told police the damage caused by the break-in, which involved mostly damage to a rear door and door frame, would also come to about $2,000.
The report provides a detailed list of more than two dozen small and medium size items that Lewis allegedly stole and placed in the plastic bag; including a silverware set, a cookware set and multiple other household items. The police report says all the stolen items were returned to Safe Haven.
The GoFundMe appeal, which as of early this week had raised $9,912 of its goal of raising $12,500, also suggests that the break-in incident was a hate crime.
"On Saturday, Oct. 2, 2021, Baltimore Safe Haven's Youth Homeless Development Program (YHDP), a residential facility which is comprised of seven one-bedroom apartments that will serve as phase two of our transitional housing plan, was broken into," a statement on the GoFundMe page says.
"During this act of violence against the community in our safe space, several things were destroyed, including our cameras and security system, back door to the facility, TVs and dining furniture," the statement says. "Additionally, several items were stolen such as kitchenware, bathroom items such as towels and décor," it says.
"We are asking for your help recovering from this egregious act of violence against our community, in a place that should be deemed safe," the statement continues. "LGBTQ youth are some of the most marginalized and displaced persons, and our program seeks to provide support, vital resources and transitional housing to these persons. However, it's these acts of violence against our community that renders us stagnant," the statement says.
When asked by the Blade whether the Baltimore City State's Attorney's Office, which is prosecuting the case against defendant Lewis, is considering charging Lewis with a hate crime, a spokesperson said the office does not comment on pending cases still under investigation.
However, the online docket report from the Baltimore City District Court shows that the state's attorney's office upgraded the charges against Lewis from the charges filed by Baltimore police.
The current charges now pending against him are malicious destruction of property with a value greater than $1,000, theft at a value of $1,500 to under $25,000; burglary 4th degree-Storehouse; and burglary 4th degree theft.