Out former delegate raises $1 million in race against anti-LGBTQ lawmaker
No candidate in #MD01 of either party, incumbent or challenger, has ever hit the $1M milestone this early in the election cycle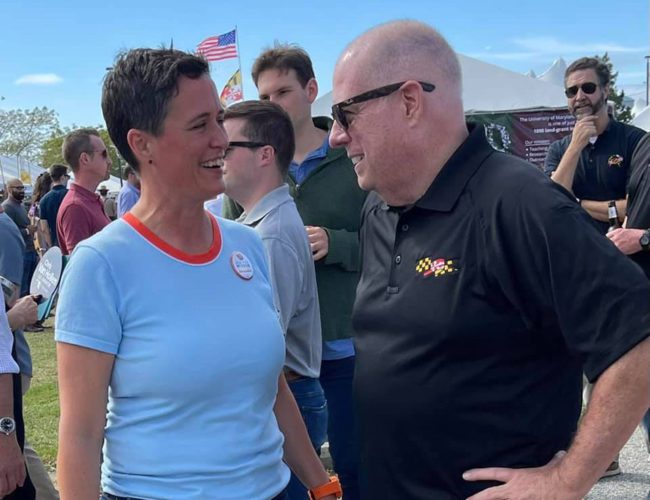 SALISBURY, Md. – Heather Mizeur has raised more than $1 million in her campaign against anti-LGBTQ Republican Congressman Andy Harris in Maryland's 1st Congressional District.

"No candidate in #MD01 of either party, incumbent or challenger, has ever hit the $1M milestone this early in the election cycle," Mizeur tweeted on Oct. 6.
NEWS: Today, we're announcing our campaign has raised more than $1 MILLION in our bid to unseat far-right Congressman Andy Harris. No candidate in #MD01 of either party, incumbent or challenger, has ever hit the $1 million milestone this early in the election cycle. pic.twitter.com/o57kEx8AFy

— Heather Mizeur (@heathermizeur) October 6, 2021


The Victory Fund in an Oct. 8 press release said 80 percent of this $1 million came from Maryland-based donors, "a sign the district is ready for new representation." And Mizeur continues to outpace Harris, according to campaign finance reports filed with the Federal Election Commission that say she raised $717,445 for the cycle ending June 30, while Harris raised $425,288.

"Andy Harris has taken every opportunity to attack and vilify trans individuals, trying to score political points with his base at the expense of the safety of some of his constituents," Mizeur told the Washington Blade.

In 2014 Harris made the Human Rights Campaign's "Hall of Shame" for proactively working "to undermine existing legal protections and promote anti-LGBT discrimination."

"In contrast, the LGBTQ community knows me for my record," Mizeur said. "And knows I'll always lead with compassion and stand up for civil and human rights. I think the 1st District will respond to my message of respect and understanding."

Mizeur, who now lives on the Eastern Shore with her wife, served on the Takoma Park City Council. Mizeur was a member of the Maryland House of Delegates for eight years.

In 2014, she launched a long-shot, grassroots campaign for governor where she finished a strong third in the Democratic primary, despite being outraised by better-known opponents.

But Mizeur also said she is aware of the challenges her team faces in taking on a well-entrenched Republican in a solidly conservative district.

The Cook Partisan Voter Index in 2017 rated the district as R +14, meaning the previous two presidential election results in the district skewed 14 percentage points more Republican than the national average.

"We have over $760,000 in the bank, and we've outraised him during our time in the race," Mizeur said. "We're raising the money we need to go toe-to-toe with Andy Harris next year."

The Baltimore Sun in February reported Harris was "flush with campaign cash" mostly due to a 2010 redistricting that "packed" the area with Republican voters to increase Democrats' chances in other district races.

"Yes, Andy Harris has over $1 million in the bank, stockpiled over a decade in office," Mizeur said. "But in the short time I've been in the race, we've cut significantly into his cash on hand advantage."

Harris has represented the 1st Congressional District—which includes Maryland's Eastern Shore and parts of Baltimore, Carroll and Harford Counties—since 2011 and easily fended off most challenges with at least 60 percent of the vote. These challengers include Mia Mason, a transgender military veteran, who ran against him in 2020.
The 2010 redistricting made Harris' seat safe enough not only to donate nearly a third of his war chest to conservative groups and candidates, such as U.S. Reps. Lauren Boebert (R-Colo.) and Marjorie Taylor Greene (R-Ga.), but to openly court controversy himself.
Harris last year openly defended then-President Trump's discredited efforts to overturn the 2020 election. And in December he signed onto an amicus brief supporting a failed lawsuit contesting the presidential election results.
This year he downplayed the violence of the Jan. 6 insurrection in which numerous police officers were attacked, members of Congress were threatened, and the U.S. Capitol was vandalized.
Mizeur told the Blade that while Harris' actions regarding the Jan. 6 insurrection were the catalyst for her challenging his seat, she feels the district is changing and he no longer represents their interests.
"Our supporters know he's been embarrassing Maryland in Congress for far too long, and that some of his actions have shown he's completely unfit to serve in public office, regardless of ideological views," Mizeur said. "They want someone who will bring compassionate leadership and innovative thinking back to the first district. And that's appealing to people across party lines."
Maryland's primary election is June 28, 2022, and its general election follows on Nov. 8.
The annual Tawes Crab & Clam Bake in Crisfield is always a great time for hot crabs, cold beer, and lots of good politics. Our volunteers were incredible; our supporters enthusiastic; and our colleagues generous with their love and friendship. My heart is very full. pic.twitter.com/R35kfzgdeQ

— Heather Mizeur (@heathermizeur) October 13, 2021
Maryland gubernatorial candidate: Restrict transgender in schools
"We cannot have transgender indoctrination in kindergarten. That's preposterous. That's exactly what my opponent supports"
BALTIMORE – Republican Maryland gubernatorial candidate Dan Cox on Wednesday said there is "transgender indoctrination" in the state's kindergartens.
"We're not doing enough because too many times we exclude the parents from involvement," said Cox in response to a question about support for LGBTQ students in Maryland schools during a debate against Democrat Wes Moore that Maryland Public Television hosted at Morgan State University in Baltimore. "I fought against a bill that would literally allow 12-year-olds to receive counseling without their parents even knowing. That's wrong. We need to make sure parents are involved."
"What I will do also is ensure that the indoctrination stops," added Cox. "We cannot have transgender indoctrination in kindergarten. That's preposterous. That's exactly what my opponent supports. It's on his website. I will stand against that and eradicate that from the curriculum and get back to world class learning."
Cox also noted "Gender Queer: A Memoir," a book that nonbinary author Maia Kobabe wrote, depicts "things that I cannot show you on television, it's so disgusting."
"We're going to change that and say let's get back to math, let's get back to making sure that our kids know how to read and write," said Cox.
Moore in response to the question said "many of the issues that we're discussing are being addressed at the local level and it's important for the state to understand that we're a partner in that, but we don't dictate to the local jurisdictions as to how their education processes work."
"I have an 11-year-old daughter and an 8-year-old son," said Moore. "All I ever want for my children is for them to be seen and for them to feel like they are being heard and I want the same thing for every child."
Moore noted rates of homelessness are higher among LGBTQ youth in Maryland than for those who identify as heterosexual. He also pointed to a statistic that indicate 80 percent of transgender people in the state have considered suicide.
"I want to say to all of our LGBTQ youth and families: I see you and I hear you and all policies that will be made will be made in partnership because that is how we have to lead as a state, in partnership," said Moore.
Cox, who represents District 4 in the Maryland House of Delegates, last October sought to amend an education bill that would restrict what he has described as "classroom indoctrination" around gender identity in kindergarten through third grade. The Trump-backed Republican, among other things, has also said he would ban transgender students from girls' sports teams.
A poll the Washington Post and the University of Maryland released last week shows Cox is trailing Moore by 32 points.