Maryland LGBTQ+ groups protest treatment at Baltimore jail
The 2015 U.S. Transgender Survey found trans people were 10 times as likely to be sexually assaulted by their fellow inmates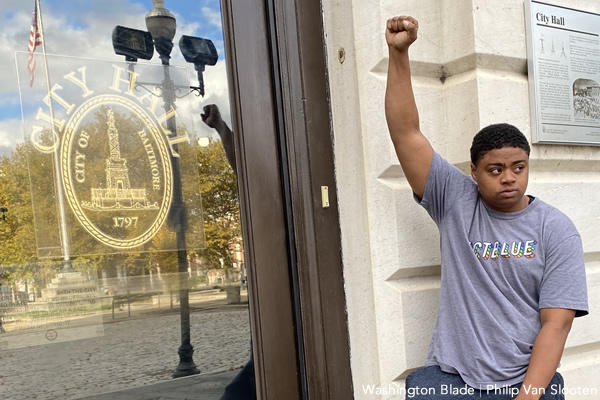 BALTIMORE – Maryland LGBTQ rights groups, most of them led by Black transgender youth, rallied in front of Baltimore City Hall on Saturday to protest trans inmates' complaints of harassment and violence at a state-run correctional facility in Baltimore.
BMORE BLXCK, a Black LGBTQ organization, hosted the event, which was co-organized by FreeState Justice and supported by members of Baltimore Safe Haven. The groups rallied in response to trans detainees' complaints about harassment and unsafe housing assignments in the Baltimore Central Booking and Intake Center.
"We are here today because we need Baltimore officials to listen to us and hear the fact that we're dying," said BMORE BLXCK Co-founder and Executive Director Legacy Forte, who identifies as Black trans woman.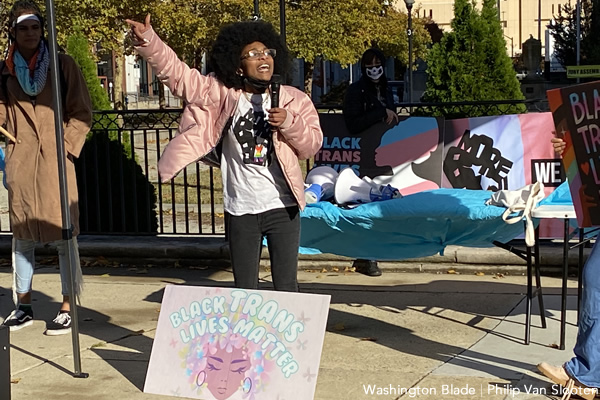 Activists at Saturday's rally also chanted the name of Kim Wirtz, a 43-year-old trans woman who died after being found unconscious in the Baltimore facility in February.
The Human Rights Campaign says 2021 has been the deadliest year for the trans community since it began tracking in 2013. The National Center for Transgender Equality also found prisons are particularly dangerous for trans women, who often aren't housed according to their gender identity.
"When a trans individual is detained, they need to be put into the facility that they identify as," Forte said. "If a trans woman is incarcerated, she needs to be placed into the woman's facility for her safety."
Maryland Department of Public Safety and Correctional Services spokesperson Mark Vernarelli told the Baltimore Sun in October after Kazzy Davis, an 18-year-old trans person, complained about the Baltimore intake facility, that the agency "takes very seriously the preservation of each detainee and inmate's dignity" and safety. Former inmates with recent experiences at the facility, however, told the Washington Blade that serious problems persist.

Nicole Wells, a trans woman who identifies as both white and Latina, is a case manager with Baltimore Safe Haven. Despite having an identification with her current name and gender marker, she was housed in a male unit, an experience that she still finds traumatic.
"It was terrible," Wells said. "The staff misgendered me and placed me with the males. They did not put me in protective custody and I was assaulted by one of the inmates."
Others spoke of similar experiences, including Devine Bey, a Black trans woman who was housed in the male unit, and Josiah Damore, a Black trans man who was housed in the women's unit. Both reported that the staff misgendered them, as well as difficulties receiving their hormone treatments and other forms of abuse.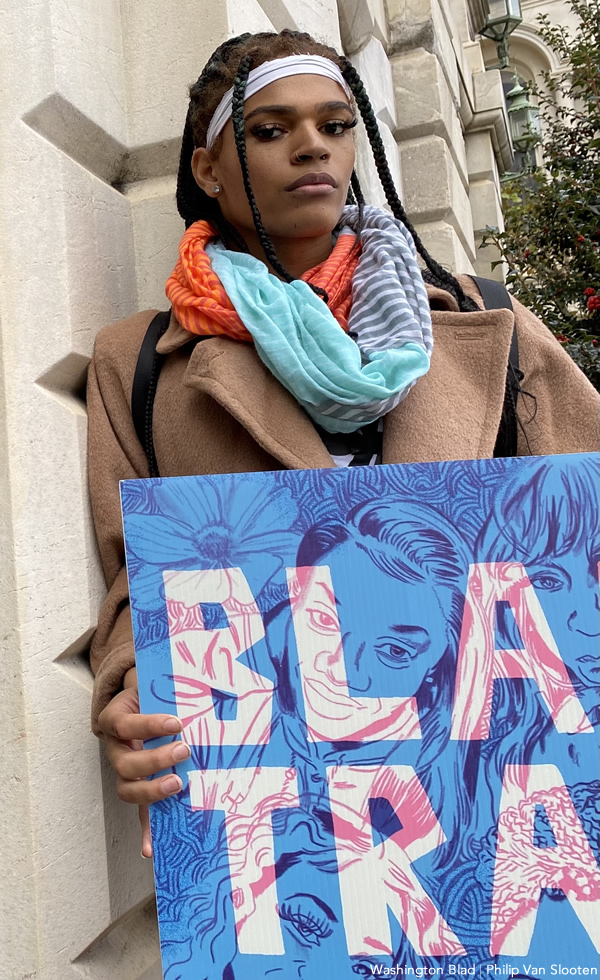 The Blade reached out to the Maryland Department of Public Safety and Correctional Services for comment, but did not receive a response prior to publication.

It's Medical Evaluations Manual states correctional facilities will provide medical services, including hormones, for trans detainees. The manual details the medical intake process itself, which includes a review of documents as well as a physical examination of the inmate.

The manual also notes trans women being at "greater risk of sexual violence by other male inmates if they are not placed in protective custody," but surgical transitioning is used as a basis for gender-affirming housing assignments.
"Incomplete surgical gender reassignment require that the patient be classified according to his or her birth sex for purposes of prison housing, regardless of how long they have lived their life as a member of the opposite gender," the medical intake policy states.
"These patients are usually offered protective custody," it adds, but former inmates who spoke with the Blade said this is not always the case despite their safety concerns.
Unfortunately, these incidents in Baltimore are not isolated.
The 2015 U.S. Transgender Survey found trans people were 10 times as likely to be sexually assaulted by their fellow inmates and five times as likely to be sexually assaulted by staff compared to other inmates. Trans prisoners also reported other challenges including denial of medical care and lengthy stays in solitary confinement.

National Center for Transgender Equality Executive Director Rodrigo Heng-Lehtinen told the Blade that U.S. correctional facilities are dangerous for anyone but being trans makes individuals "particularly vulnerable to attack."

"Just like with policing, the jail and prison system needs sweeping reforms before trans people can be safe," Heng-Lehtinen said. "At a minimum they need to be housed how they identify. Often they are placed in a facility based on a strip search in a disrespectful attempt to determine gender and place the person in a facility based on anatomical judgements."

FreeState Justice Executive Director Jeremy LaMaster told the Blade his organization became involved with complaints surrounding the Baltimore booking center after Baltimore Safe Haven came to them with concerns about the facility.
He said FreeState Justice is looking into the complaints, but is also working with legislators to address a much needed policy update.
"We're looking into adding a reporting requirement and a timeline for reporting incidents, so families are aware of what is going on," he said. "We're also looking at the creation of some type of liaison position or community advisory board to ensure there is conversation about the unique needs of people who are trans or in the LGBTQ community while incarcerated."
State Sen. Clarence Lam (D-Baltimore County), who chairs the Maryland Senate's Joint Committee on Fair Practices and State Personnel Oversight, told the Blade he was not aware of issues at the state-run facility, but felt there should be "proper oversight and safeguards in place to make sure the safety and rights of all individuals at the facility are protected and appropriate procedures are followed."
He added the Maryland Division of Corrections first needs an opportunity to address the issue and ensure they are properly following the policies they have in place for trans detainees before the state gets involved.
Sgt. Kevin Bailey, the LGBTQ Liaison for the Baltimore Police Department, said although he couldn't speak about how a state-run facility, which is managed separate from the city, operates, he did say there are benefits to having help from the community navigate these stressful interactions.
Speaking from his experience in the Baltimore Police Department, he said community and bias training can help each side understand the history and biases underlying and straining interactions.
"So, as a police department we deal with legal documents," he explained. "So sometimes having an interaction with a person who is transgender, their legal documents may not line up with who they are as a person. Understanding that helps officers understand the person they are dealing with is not being deceitful. When they give you their name, use that name, and understand their struggle."
He said while police officers still have to use a person's legal name in the report, they can use the name the person gives them verbally when interacting with them. This can help the officer understand the community better and deescalate a situation.
While he felt the same training could be useful in correctional facilities, or in any organization that interacts with the LGBTQ community, Heng-Lehtinen pointed out this has to be the first step, not the last.
"The best policy would be for when someone is being booked," he said. "And that policy should not be an assignment based on genitalia, it should be based on where the person would be the most safe."
Maryland gubernatorial candidate: Restrict transgender in schools
"We cannot have transgender indoctrination in kindergarten. That's preposterous. That's exactly what my opponent supports"
BALTIMORE – Republican Maryland gubernatorial candidate Dan Cox on Wednesday said there is "transgender indoctrination" in the state's kindergartens.
"We're not doing enough because too many times we exclude the parents from involvement," said Cox in response to a question about support for LGBTQ students in Maryland schools during a debate against Democrat Wes Moore that Maryland Public Television hosted at Morgan State University in Baltimore. "I fought against a bill that would literally allow 12-year-olds to receive counseling without their parents even knowing. That's wrong. We need to make sure parents are involved."
"What I will do also is ensure that the indoctrination stops," added Cox. "We cannot have transgender indoctrination in kindergarten. That's preposterous. That's exactly what my opponent supports. It's on his website. I will stand against that and eradicate that from the curriculum and get back to world class learning."
Cox also noted "Gender Queer: A Memoir," a book that nonbinary author Maia Kobabe wrote, depicts "things that I cannot show you on television, it's so disgusting."
"We're going to change that and say let's get back to math, let's get back to making sure that our kids know how to read and write," said Cox.
Moore in response to the question said "many of the issues that we're discussing are being addressed at the local level and it's important for the state to understand that we're a partner in that, but we don't dictate to the local jurisdictions as to how their education processes work."
"I have an 11-year-old daughter and an 8-year-old son," said Moore. "All I ever want for my children is for them to be seen and for them to feel like they are being heard and I want the same thing for every child."
Moore noted rates of homelessness are higher among LGBTQ youth in Maryland than for those who identify as heterosexual. He also pointed to a statistic that indicate 80 percent of transgender people in the state have considered suicide.
"I want to say to all of our LGBTQ youth and families: I see you and I hear you and all policies that will be made will be made in partnership because that is how we have to lead as a state, in partnership," said Moore.
Cox, who represents District 4 in the Maryland House of Delegates, last October sought to amend an education bill that would restrict what he has described as "classroom indoctrination" around gender identity in kindergarten through third grade. The Trump-backed Republican, among other things, has also said he would ban transgender students from girls' sports teams.
A poll the Washington Post and the University of Maryland released last week shows Cox is trailing Moore by 32 points.