Justices hear arguments in Texas Abortion Ban- seem skeptical
"If states are permitted to hand over their enforcement authority to private individuals, then no constitutional right is safe"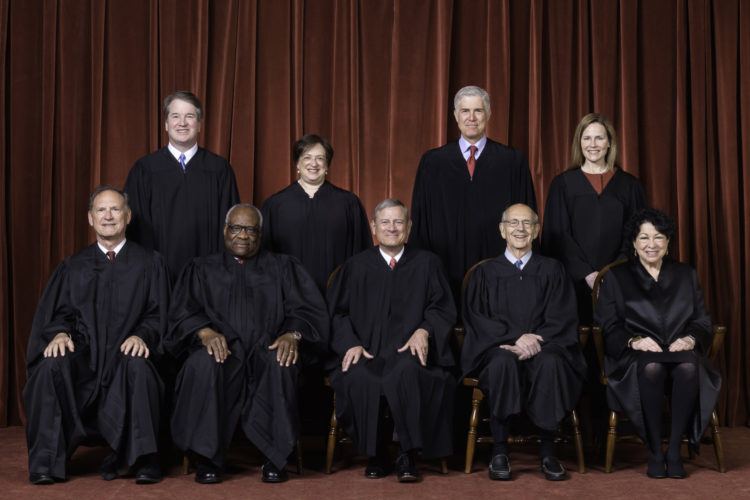 WASHINGTON – The U.S. Supreme Court heard oral arguments Monday over Texas anti-abortion law known as Senate Bill 8, ( S.B. 8. ). After three hours of an animated back and forth between the justices, Texas Solicitor General Judd Stone and the Solicitor General of the United States Elizabeth Prelogar, it appeared that the high court will allow abortion providers to challenge S.B. 8.
Also presenting arguments was Jonathan Mitchell, the attorney who represents individuals who want to bring S.B. 8 lawsuits. Mitchell also happens to be the primary architect behind S.B. 8.
The law went into effect in October and restricts abortions at beyond 6 weeks, a point that most women are not even aware they are pregnant.
The court heard two cases dealing with S.B. 8. The first case was filed by abortion clinics in Texas. At question was whether the state can rely on a private-enforcement structure to insulate the abortion ban from judicial review in federal courts. The second case was filed by the Biden Justice Department. The question in this case is whether the federal government has the ability to sue Texas (or public officials or private parties) to block the abortion law.
Marc Hearron is arguing on behalf of the Texas clinics challenging the law. [Whole Woman's Health v. Jackson] "At issue here is nothing less than the supremacy of federal law," he tells the justices.
Associate U.S. Supreme Court Justice Sonia Sotomayor noted that the Texas law has created a dramatic chilling effect on abortion clinics through the potential for exorbitant litigation. "The chilling effect is the multiplicity of lawsuits against you."
After some back and forth, Associate U.S. Supreme Court Justice Amy Coney Barrett voiced her take suggesting that the way S.B. 8 is written, the clinics cannot fully vindicate their constitutional rights in a state court. "The full constitutional defense cannot be asserted in the defensive posture, am I right?" Barrett queried.
The Justices then focused on the peculiarity in the law's language allowing private individuals to bring suits.
Associate U.S. Supreme Court Justice Elena Kagan points to the "procedural morass we've gotten ourselves into with this extremely unusual law." And she asks what precise relief the Texas clinics are requesting from the Supreme Court.
Hearron answers Kagan's question by saying: "We want an injunction preventing Texas courts from docketing any lawsuits brought under the Texas law, and an injunction against state officials preventing them from exercising residual enforcement authority." This prompts Associate U.S. Supreme Court Neil Gorsuch to ask: "But what about lawsuits brought under the Texas law that wouldn't violate Roe v. Wade and Planned Parenthood v. Casey? (E.g., lawsuits against post-viability abortions). Should courts be enjoined from docketing even those lawsuits?" Hearron answered in the affirmative.
He then warns the justices that if they permit S.B. 8 to remain in effect, the model could be used to nullify other constitutional rights. "It will provide a roadmap for other states to abrogate other rights that have been recognized by this court."
Associate U.S. Supreme Court Justice Brett Kavanaugh poses a question as to the potential implications for other rights. "Anyone who sells an AR-15 is liable to any private citizen for a million dollars," Kavanaugh says. Would such a law be subject to pre-enforcement review?
Texas Solicitor General Judd Stone answered Justice Kavanaugh saying Congress can step in to pass legislation protecting specific rights from being chilled by S.B. 8-style lawsuits. Justice Kagan jumps in: "Isn't the point of a right that you don't have to ask Congress?"
The Justices seemed unconvinced with Stone's analysis at that point. The next case was then brought, United States v. Texas, the Biden administration's lawsuit against the Texas law. Elizabeth Prelogar, in her first argument as the newly confirmed solicitor general, told the Justices that the Texas law is "an attack on the authority of this court to say what the law is."
The solicitor general also tells the court that: "The United States may sue to protect the supremacy of federal law against this attack." Associate U.S. Supreme Court Justice Clarence Thomas asked Prelogar: "Do you have any examples of the national government intervening to protect constitutional rights in this way?"
She responded saying there aren't any equivalent examples because the Texas law is unprecedented. After Justice Kagan asked how should the court craft relief. Prelogar said the correct relief is what the U.S. District Judge did in this case: issue an injunction against Texas itself. (The 5th Circuit subsequently lifted that injunction.)
Associate U.S. Supreme Court Justice Neil Gorsuch returns to the broad nature of the injunction the federal government is seeking. He says there's never been such an injunction "in the history of the United States." Prelogar replied: "In the history of the United States, no state has done what Texas has done here."
Kagan: If we accept Texas' position, "we would be inviting states, all 50 of them, to try to nullify the law this court has laid down."

Stone: "The state of Texas has not nullified anything."

— SCOTUSblog (@SCOTUSblog) November 1, 2021
The Justices seem again unconvinced on the scope of the federal government's intervention.
In a return to the enforcement aspects, Jonathan Mitchell, the attorney who represents individuals who want to bring S.B. 8 lawsuits, in response to grilling from Justice Sotomayor, he insists that there is no state action under S.B. 8; it's enforced solely by private citizens. "The state has passed a law giving them the option to sue, and then washed its hands of the matter."
The U.S. solicitor general ended wit: "If states are permitted to hand over their enforcement authority to private individuals, "then no constitutional right is safe, no constitutional decision of this court is safe." "That would be an intolerable state of affairs," she added.
Neal Katyal, a lawyer admitted to argue before the Supreme Court and a former U.S. Acting Solicitor General noted in a tweet:
Bottom line: both Justices Kavanaugh and Barrett seem skeptical of Texas position. Caveats abound: both Justices ruled FOR Texas 2 months ago. And oral args test the logic of a position and can be misleading. But these two are really sounding skeptical.

— Neal Katyal (@neal_katyal) November 1, 2021
********************
Additional reporting from SCOTUSblog
Justice Breyer announces his retirement from high court sets up new battle
President Joe Biden told reporters that he would have "more to say later" about Justice Breyer's retirement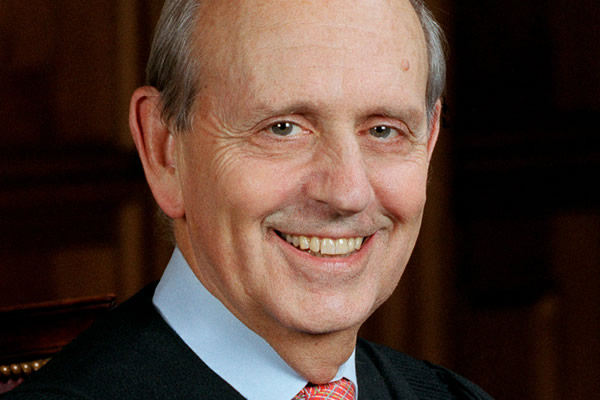 WASHINGTON – U.S. Supreme Court Associate Justice Stephen Breyer, who had joined landmark decisions from the Court in support of LGBTQ rights, announced on Wednesday he'd retire, opening up a new battle over the judiciary and the potential for President Biden to add his first nominee to the high court.
First reported by NBC News, the retirement of Breyer, appointed by former Bill Clinton and confirmed in 1994, fulfills a wish among progressives for him to step down for him to step down to ensure a replacement would be named with Biden in the White House and Democrats in control of the U.S. Senate.
President Joe Biden told reporters that he would have "more to say later" about Justice Breyer's retirement, but said that he was waiting for the justice's own statement.
"There has been no announcement from Justice Breyer — let him make whatever statement he wants to make, and I'm happy to talk about it later," the president remarked.
LGBTQ advocates immediately hailed Breyer upon his departure as they called on Biden to name a choice who would fulfill that same approach to the law for generations to come.
Sharon McGowan, chief strategy director and legal director for Lambda Legal, said in a statement Breyer "has been a reliable defender of the civil rights of LGBTQ+ people."
"We strongly urge President Biden to select a nominee whose commitment to equal justice under law is beyond question, and whose record demonstrates their understanding that LGBTQ+ people are entitled to the full protection of the Constitution's guarantees of equality and liberty," McGowan said.
Breyer had joined each of the major decisions from the Supreme Court in favor of LGBTQ rights, which are all handed down during his tenure on the bench. Among them are earlier decisions in Romer v. Evans and Lawrence v. Texas as well as decision in favor in marriage equality in Windsor v. United States and Obergefell v. Hodges.
In Bostock v. Clayton County, which affirmed last year anti-LGBTQ discrimination is illegal under federal law, Breyer made the case during oral arguments Congress intended the Title VII of the Civil Rights Act of 1964 to help all vulnerable communities, which include include LGBTQ people.
"In the '60s, we were only 10 years away from where people who were real slaves and discriminated against obtained a degree of freedom," Breyer said. "And these statutes were all part of a civil rights movement that was designed to include in our society people who had been truly discriminated against for the worst of reasons. And at that time, this civil rights statute, when it was passed, would have put in the category gay people, transgender people as people who were suffering terrible discrimination."
Biden, who during his presidential campaign said he'd appoint a Black woman to the Supreme Court, now has the opportunity to act on that commitment in the wake of Breyer's retirement.
Ruben Gonzales, executive director of LGBTQ Victory Institute, said Biden should go a step further in that diversity and choose for the high court a Black LGBTQ woman.
"We urge President Biden to make history and appoint a Black LGBTQ woman to the U.S. Supreme Court," Gonzales said. "With his previous commitment to nominate a Black woman, President Biden affirmed the important role diverse perspectives have on the bench and on the health of our democracy and society. There is a powerful pipeline of Black LGBTQ judges, officials and leaders who are more than qualified to fulfill this promise.
One possibility, named by Gonzales in his statement, Washington State Supreme Court Justice G. Helen Whitener. Another potential choice would be U.S. District Judge Staci Michelle Yandle, who was nominated by former President Obama and confirmed in 2014.
California Governor Gavin Newsom issued the following statement on the news that U.S. Supreme Court Justice Stephen Breyer is retiring:
"A San Francisco native and Stanford graduate, U.S. Supreme Court Justice Stephen Breyer has brought core California values to our nation's highest court throughout his distinguished tenure, shaping impactful decisions to strengthen our democracy and change lives for the better.
"His critical contributions over nearly three decades serving on the court include landmark opinions upholding reproductive rights, safeguarding access under the Affordable Care Act and expounding on the need for greater control of tobacco products to protect public health.
"A hallmark of his legacy, Justice Breyer's powerful critiques of the flawed and discriminatory death penalty system have bolstered California's reforms and helped build nationwide momentum for a more just criminal justice system.
"California and the nation owe Justice Breyer a deep debt of gratitude for his tireless work to defend our highest constitutional values. At this pivotal moment, it's imperative that the next Supreme Cout justice continue his work to create a brighter future for all."
Supreme Court will hear challenges to affirmative action at Harvard & UNC
Six years ago, a divided court upheld the University of Texas' consideration of race in its undergraduate admissions process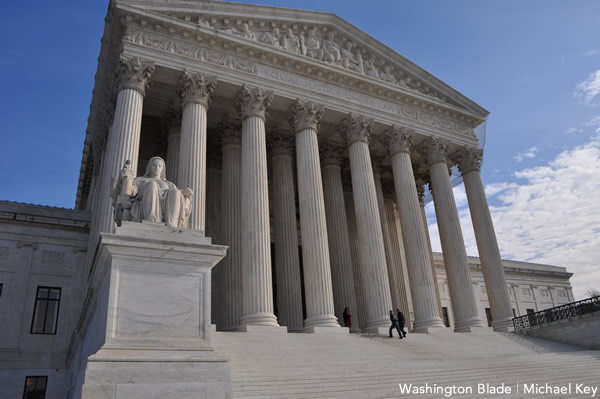 By Amy Howe | WASHINGTON – The Supreme Court on Monday agreed to reconsider the role of race in college admissions. In a brief order, the justices agreed to take up two cases asking them to overrule their landmark 2003 decision in Grutter v. Bollinger, holding that the University of Michigan could consider race as part of its efforts to assemble a diverse student body. The decision to grant review in the two new cases suggests that the court's conservative majority is poised to do just that.
The cases are Students for Fair Admissions v. President & Fellows of Harvard College and Students for Fair Admissions v. University of North Carolina. The court consolidated them for oral argument, and they likely will be argued early in the 2022-23 term, which begins in October.
Six years ago, a divided court upheld the University of Texas' consideration of race in its undergraduate admissions process. Justice Anthony Kennedy wrote for the 4-3 majority in Fisher v. University of Texas, joined by Justices Ruth Bader Ginsburg, Stephen Breyer, and Sonia Sotomayor. The composition of the court has changed significantly since then: Although Justice Elena was recused from the Texas case because she had been involved in it as the solicitor general of the United States, Kennedy retired in 2018 and was replaced by Justice Brett Kavanaugh, while Justice Amy Coney Barrett succeeded Ginsburg, who died in 2020.
It was therefore a much more conservative court that considered the latest petitions asking the justices to revisit the issue. Both petitions arose from long-running lawsuits filed by a group called Students for Fair Admissions. Founded by Edward Blum, a former stockbroker who also backed the challenger in Fisher (as well as the challengers in Shelby County v. Holder, the 2013 case that narrowed the Voting Rights Act), the group describes its mission as helping to "restore colorblind principles to our nation's schools, colleges and universities."
The first case, filed against Harvard University, contends that the university's race-conscious admissions policy discriminates against Asian American applicants. According to the group, Asian Americans are significantly less likely to be admitted than similarly qualified white, Black, or Hispanic applicants. Both the district court and the U.S. Court of Appeals for the 1st Circuit upheld Harvard's policy, prompting SFFA to come to the Supreme Court in February 2021. The group urged the justices to take up the case and overrule Grutter, describing the 2003 ruling as a decision that was "grievously wrong" and now "sustains admissions programs that intentionally discriminate against historically oppressed minorities" – in the past, Jewish students, and now Asian Americans. The group also asked the justices to weigh in on whether Harvard's policy violates Title VI of the federal Civil Rights Act, which bans racial discrimination by entities receiving federal funding.
Harvard told the justices that there is no reason for them to intervene in the dispute. Its policy is consistent with the Supreme Court's precedents, the university stressed, and SFFA's allegations to the contrary rely on a "thoroughly distorted presentation of" the facts in the case. Harvard takes race into account "in a flexible and nonmechanical way" for the benefit of "highly qualified candidates." And there is certainly no reason for the court to "overrule more than 40 years of decisions regarding the limited consideration of race in university admissions," Harvard concluded.
The justices did not act on SFFA's petition immediately. Instead, in June they sought the federal government's views – a maneuver that had the effect of delaying the case's progression. In a brief filed in December, the Biden administration acknowledged that the Trump administration had supported SFFA in the lower courts, but it explained that it had "reexamined the case" and now recommended that the justices deny review.
The second case, filed against the University of North Carolina at Chapel Hill, the state's flagship public university, argues that the university's consideration of race in its undergraduate admissions process violates both Title VI and the Constitution. (Unlike Harvard, UNC is a public university and is therefore covered by the 14th Amendment's guarantee of equal protection.) After a federal district court in North Carolina rejected SFFA's arguments, the group came straight to the Supreme Court, asking the justices to take up the case, alongside the Harvard case, before the U.S. Court of Appeals for the 4th Circuit could rule.
UNC defended its admissions policy in the Supreme Court, telling the justices that it has also implemented programs to increase diversity without considering race – for example, by actively recruiting low-income and first-generation college students. But it concluded, it wrote, that there is no alternative that would create a student body "about as diverse and academically qualified as its holistic, race-conscious admissions process." And although it acknowledged that the question at the center of the case is "indisputably important," it stressed that there was no reason for the Supreme Court to take the "extremely rare" step of bypassing the court of appeals.
The justices considered both cases together at three consecutive conferences – on Jan. 7, Jan. 14, and Jan. 22 – before granting review on Monday and consolidating them.
********************
Amy Howe is the former editor and a reporter for SCOTUSblog and still is a contributor. She primarily writes for her eponymous blog, Howe on the Court.
Before turning to full-time blogging, she served as counsel in over two dozen merits cases at the Supreme Court and argued two cases there.
Amy is a graduate of the University of North Carolina at Chapel Hill and holds a master's degree in Arab Studies and a law degree from Georgetown University.
********************
The preceding article was previously published by SCOTUSBlog and is republished by permission.
Supreme Court sends North Carolina healthcare discrimination suit back
NC State Health Plan appealed to the Fourth Circuit claiming it could not be sued because the state is protected by "sovereign immunity"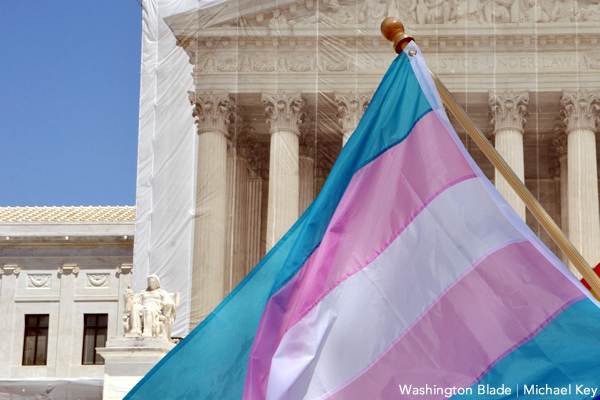 WASHINGTON – The U.S. Supreme Court denied the North Carolina State Health Plan's petition this past week on Tuesday asking the Court to review a lower court ruling that the plan, a state entity, could be sued for denying comprehensive gender-affirming health care coverage to transgender state employees or their transgender dependents.
Lambda Legal and the Transgender Legal Defense & Education Fund (TLDEF) are suing the health plan, the North Carolina State Health Plan for Teachers and State Employees, for its blanket exclusion of coverage for gender-affirming health care services.
In September 2021, the U.S. Court of Appeals for the Fourth Circuit upheld a lower court ruling in Lambda Legal's and TLDEF's lawsuit, Kadel v. Folwell, rejecting the State's claims that a state entity – in this case the state employee health plan – is protected by sovereign immunity, the legal doctrine that precludes bringing a lawsuit against the state without its consent. Lambda Legal and TLDEF sued the state health plan for violating the health care nondiscrimination law, enacted as Section 1557 of the Affordable Care Act.
In 2020, the U.S. District Court for the Middle District of North Carolina ruled that the North Carolina State Health Plan, a state entity, could be sued under claims that its actions violated the health care nondiscrimination law that is part of the Affordable Care Act, finding that by accepting federal financial assistance the state entity had waived its sovereign immunity. Unsatisfied and determined to continue denying health care coverage for transgender state employees, the State Health Plan appealed to the Fourth Circuit claiming it could not be sued because the state is protected by "sovereign immunity," and arguing the text of Section 1557 of the ACA is not clear.
The Fourth Circuit decision from 2021 marked the first time that a federal appellate court in the United States has ruled that claims of 'sovereign immunity' do not protect state entities from liability under the Affordable Care Act if they receive federal funding.
Lambda Legal TLDEF filed Kadel v. Folwell in 2019 against North Carolina officials for discrimination in the state employee health care plan on behalf of several current and former state employees and their children who were denied coverage under the North Carolina State Health Plan (NCSHP) for medically necessary care.
"We are pleased that the Supreme Court decided not to review this case and that we can now focus on holding North Carolina's State Health Plan accountable for its discriminatory and harmful refusal to provide comprehensive health care coverage – including for gender-affirming care – to all its state employees and their dependents," said Lambda Legal Senior Attorney and Health Care Strategist Omar Gonzalez-Pagan.
"The Court's denial leaves in place a court of appeals decision strongly affirming that it is unlawful and dangerous for state entities receiving federal funding to engage in discrimination in health care and that they are not immune from accountability in court. Entities, like The State Health Plan, must be held accountable when they discriminate and violate people's rights. Today's decision protects the rights of marginalized people, including LGBTQ people and people living with HIV, to seek justice and obtain relief in court if they are subjected to health care discrimination," Gonzalez-Pagan added.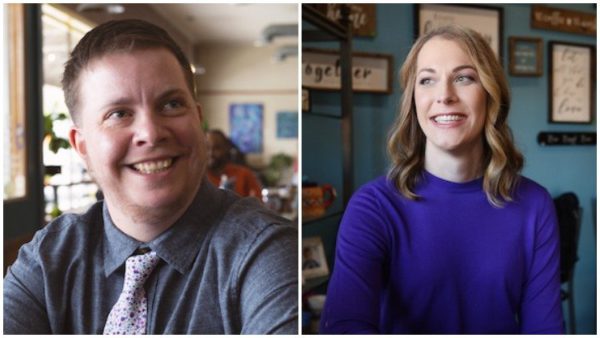 "I am pleased with today's decision, and I look forward for our case to prevail in court moving forward. Transgender state employees, like myself, deserve the same access to benefits and equal treatment as any other employee. We dedicate our time and talent to improve the wellbeing of the state and our neighbors, yet we are deprived of medically necessary and often life-saving health care services. This is an injustice," Julia McKeown, assistant professor at North Carolina State University and a plaintiff said.