Queer 'whodunit' fans will love 'The Long Call'
New limited series puts gay detective on the case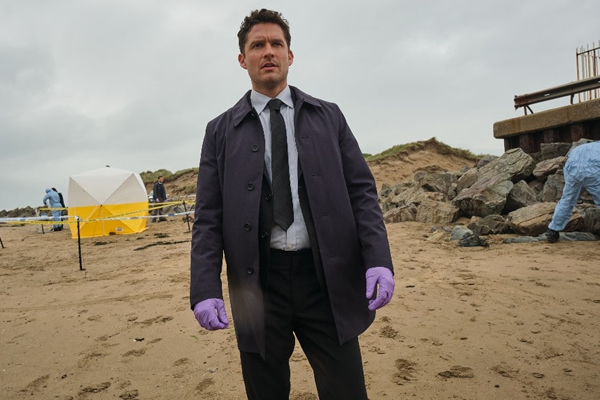 If there's anything a year plus of binge-watching has taught us about human beings as a species – yes, including LGBTQ human beings – it's the fact that we love a good police procedural. And for the true connoisseur, nobody makes a better police procedural than the British. Now, a new limited series from UK network ITV – available in the U.S. via Britbox – has finally given queer "whodunit" fans what we've all been waiting for: a gay detective on the case.
In "The Long Call," based on the book by popular mystery author Ann Cleeves, DI Matthew Venn takes charge of his very first murder investigation after returning (with a husband in tow) to the small town where he grew up – a place he turned his back on 20 years before when the religious sect in which he was raised refused to accept his sexuality. Now he is being pulled deep into the secrets of a community that once rejected him, forced to confront regrets and resentments he thought he had left behind as the clues in the case point closer and closer to home.
Executed with the polish and nuance one has come to expect from these UK productions, it's highly recommended for a multitude of reasons. But what makes it particularly appealing to queer viewers is the casting of Ben Aldridge, who himself recently came out publicly as gay, in the central role. Aldridge took time to talk about his experience with the project – and about coming out – with the Blade. Our conversation is below.
BLADE: Were the parallels between you and your character all coincidental?
BEN ALDRIDGE: It's what drew me to the project in the first place. I'd actually done the read for the audiobook, before it was commissioned as a TV piece, and I wasn't out publicly at the time but I was like, "I wonder if someone in that publishing house knows that I'm gay?" And I was pleasantly surprised by the book, and how Ann had chosen to write a queer character at the center of one of her novels.
When it came 'round as a TV piece, and they were interested in me being in it, what drew me in was the exploration of his queerness, how it's central to his journey and to the whole piece as well. Yes, of course you have the whole thrust of the 'whodunit' story – which is why we all love these shows – but it's the personal focus in it that really intrigued me.
BLADE: It really does make your character's queerness a core component of the plot
ALDRIDGE: Yes, that's something I'm particularly proud of about this show, because – I mean representation is at the forefront, and rightly so, of many producers' and content creators' minds right now, but there's a version of this kind of show where that can just be box-ticking, where you're including queer characters and characters of color without exploring how that affects their life. And this one does explore that. It's not just a gay detective who happens to have a husband, and we have one scene with them drinking tea together and then we don't ever talk about his queerness, at all, again.
BLADE: Speaking of talking about queerness, let's talk about your decision to come out publicly.
ALDRIDGE: It just felt like something I had to do for myself, or claim for myself. I was already very much open in my day-to-day life, anyway, about my sexuality. But doing that publicly – I guess I was protecting some sense of ambiguity, and that was maybe a hangover from early on when, either via osmosis or by direct conversation, I'd been told it would ruin my career. I think that was still with me, quite strongly, even though I've said personally and in private to myself for a long while that if my sexuality means I'm not hired for something then I don't want to work with those people anyway.
But there was some part of me that thought 'I'll still maybe fly under this radar, I don't need to come out and do this.' And it just got to a point where I was like, 'Actually, I do need to do this.' It felt important to me to be visible, and to say who I am and not try and hide from it.
BLADE: And how has it changed things for you?
ALDRIDGE: I feel like something has opened up for me, like there's this well of emotion that's available to me that hadn't been before. To be able to navigate the world and not ever to feel like I'm avoiding or guarding something – I feel like things are better than they ever have been, really.
BLADE: Life is always better when you don't have to hide significant parts of yourself.
ALDRIDGE: Definitely. And I think I was doing that, managing that, even on a very "micro" level that I wasn't aware of. To stop doing that is really just… a weight lifted.
And really, the whole fear around actors being out is capitalism. That fear that people won't pay, or watch, if they can't believe they can have a relationship with the person that they're watching. If they can't suspend their disbelief. I think what we're slowly discovering is that this actually isn't the case.
BLADE: Like your character, you grew up in a strict religious environment. How does that factor into your being out now?
ALDRIDGE: I was raised 'round the religious right focus of "praying the demons away," and conversion therapy – it was never spoken to me about directly, but I was certainly around the language of being "cured," and being "saved" from that. There are people from my past who would struggle with who I am. And I don't desire to be in a room of people that don't accept who I am.
BLADE: Finally, since you're now officially an out and proud actor, where do you fall in the debate over whether straight performers should play LGBTQ+ characters?
ALDRIDGE: It's something I've spent a lot of time thinking about. I think the important thing is that there is attention being paid to it. We're in a place of learning, which is great. For me, it can afford to be nuanced. I don't think we need rules, I think rules are radical, and rules are the opposite of what "queerness" is. Obviously, when queerness is central to a story, then yes, a lived insight is needed to bring that to life. And maybe we do have to force things a bit before we settle into a place where there CAN be more nuance to it – but that doesn't necessarily mean there has to be a queer actor in a queer role. I think the whole wider creative team needs to be responsible for bringing authenticity, with queer people in the writer's room, and if the right actor is the right actor, they'll do a good job.
I don't think that it's as simple as, "Only queer actors for queer parts."
Trans woman returns to 'Jeopardy!' Monday with three-game win streak
"I know that in my life it's great to see trans women Out not freaks or other things until only a few years ago was all you ever saw them as"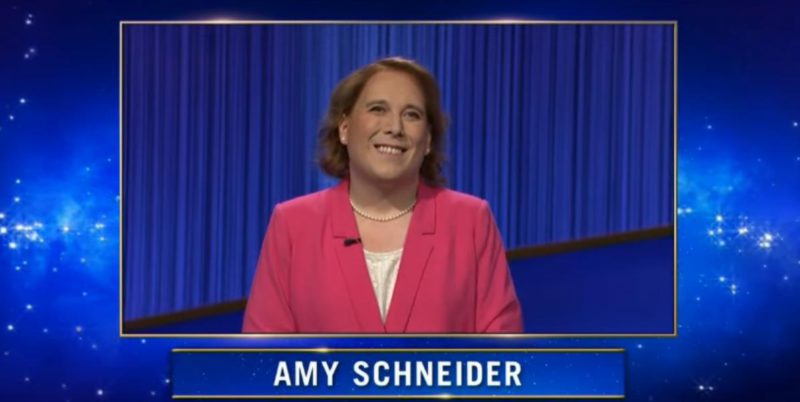 CULVER CITY, Ca. — Amy Schneider, a trans woman from Oakland, will make her fourth "Jeopardy!" appearance Monday after winning three games last week during Trans Awareness Week.
The returning champ has amassed $110,200 in prize money since her win streak started last Wednesday. But her total hasn't climbed that high without taking risks.
During Friday's episode, she wagered $15,000. "I was betting the price of a car, which just felt wrong," she tweeted. "But it paid off again, and I'd topped $100K in total winnings! I'll repeat that: ONE. HUNDRED. THOUSAND. DOLLARS."
After her victory on Friday's show, she told Newsweek that she had been trying to get on the show for over a decade.
"I'm not sure quite how long [ago I first applied], but I remember trying out when I still lived in Ohio, and I've lived in Oakland since 2009, so it has to have been at least that amount of time," she said.
Schneider also explained how her transition in 2017 might have helped her finally get a spot on the show.
"The reality is that for the first few years of that, when I was trying out, I was, as far as any of us knew, a standard white guy," she told the magazine. "And there's just more competition for those slots on Jeopardy! They're making a TV show, they don't want everybody to look the same, and I looked a lot like many of the other contestants, and I think that definitely made it a little tougher for me at that time. I would have got on eventually — I was never gonna stop trying!"
In the post-Alex Trebek era, multiple trans contestants have appeared on the show, including Kate Freeman, who became the first out trans champion in "Jeopardy!" history last December.
On Twitter, Schneider thanked previous trans contestants for "blazing the trail!"
In her interview with Newsweek, Schneider also noted the importance of trans visibility.
"I know that in my life, [it's great] to see trans women out there, not being the sort of freaks or prostitutes, or other things that until only a few years ago was all you ever saw them as," she said. "So as that changed, as I've been able to see them in other contexts—as the human beings that they are—that's been really important for me. And so I'm just really glad to be able to do that same thing for other people."
WATCH: JEOPARDY! S38E50 || November 22th 2021
Father & son writing team give 'The Simpsons' gay character a boyfriend
"And what I think I was really excited about, with this episode, we get to see of how gay people date, how they meet, what it's like"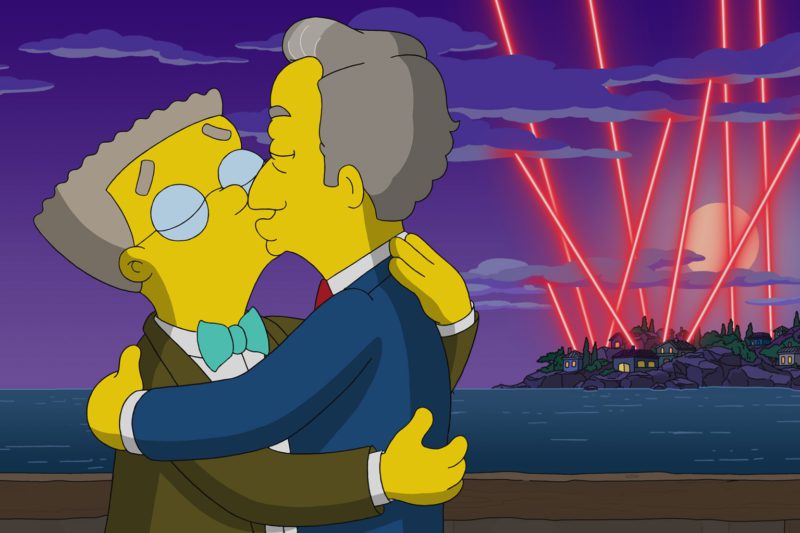 HOLLYWOOD – Rob LaZebnik, 59, one of the creative writers and co-executive producer of the longest running cartoon comedy in American television history, 'The Simpsons,' teamed up with his son Johnny, 27, also a television creative writer to produce an episode that gives the character of Waylon Smithers a boyfriend.
The episode set to air on Sunday, November 21 the start of the Thanksgiving holiday week is titled 'Portrait Of A Lackey On Fire.' The synopsis for the episode reads: "Smithers finds true love with a famous fashion designer, but will his new relationship destroy Springfield?"
The long-suffering assistant to the show's Über wealthy and twisted maniacal character of Montgomery Burns, falls in love with fashion designer Michael De Graaf, voiced by four time Tony award and six time Emmy award nominated Out actor Victor Garber. Smithers is voiced by Emmy award winner Harry Shearer.
The 2016 season episode of 'Tom Collins', had Smithers come out as gay after years of speculation. For the elder LaZebnik, who wrote that episode, his inspiration was his son Johnny who is gay. For the writing duo, this up coming episode brings the storyline full circle as they explore a gay relationship.
i can finally come out of the closet as a d'ohmosexual. watch a very gay episode of @TheSimpsons on november 21, written by me and my dad 😭😭😭 pic.twitter.com/RqlMcetIUv

— Johnny LaZebnik (@jlazebnik) October 30, 2021
In an interview with the New York Post published Thursday, the elder LaZebnik told the paper; "To be able to work with Johnny on this was, like, such a dream and to be able to see how truly funny and talented he is was just, you know, super fun and rewarding."
His son noted, "I know my dad is a comedy writer. I grew up with him — obviously, I know he's a funny guy," Johnny, 27, told The Post. "But actually getting to sit down and write jokes with him was so much fun. And there were some moments where I was like, 'Dad, that's disgusting — we can't put that on television,' which I didn't expect to be saying because I'm usually the disgusting one."
"We now have this piece of content that we put into the world together that is a combined brainpower of the two of us."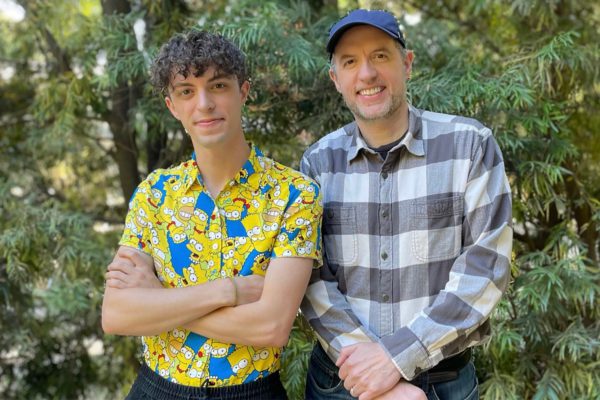 The younger LaZebnik also told the Post; "So often, gay romances are a subplot or alluded to or shown in some kind of montage or as a punchline.
"And what I think I was really excited about, with this episode, we get to see – without spoiling too much – the beginning, middle and who knows how it ends of a gay relationship, of really getting into the nitty-gritty of how gay people date, how they meet, what it's like."
He added: "That was really special to me to get to highlight characters who are not punchlines, who are fully formed."
A new soul has entered the media conversation on Fox
There is a new more soulful conversation going on. Fox Soul will be featuring The House the world's newest night time talk show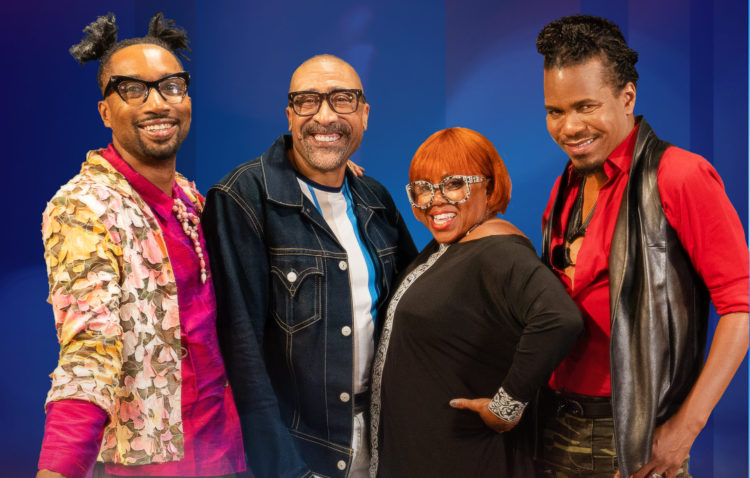 SANTA CRUZ – There are the Views, and the Talks, the Reals and even the Friends…couches and tables across various channels that give voice to a variety of people who have traditionally felt marginalized by "old boy" media.
Well, move over. There is a new more soulful conversation going on as of Friday October 8th at 6pm Pacific Time. Fox Soul will be featuring The House the world's newest night time talk show.
Fox what? FOX, with a one-hour Black LGBTQIA show?
Yes. Fox Soul is Fox's first advertising supported over-the-top (OTT) network. It is a widely syndicated, free streaming platform focused on the African American/Black community, celebrating Black culture, conversation and entertainment. It is a streaming digital television network operated by Fox Television Stations that launched on January 13, 2020. You can get it on your phone's app store: iPhone , Android , Apple TV , FireTV or on the web at foxsoul.tv.
For those curious how Fox has backed an all black enterprise, and what that means, TV executive James DuBose is quoted as saying "Fox owns and funds Fox Soul, but there are Black minds making the decisions from top to bottom regarding Fox Soul and our culture, and I am inspired by this fact on a daily basis."
Which brings us back to The House. Aaron Johnson Levy created the concept for The House, motivated by the lack of role models he had growing up as a gender-nonconforming black boy in a conservative environment. "I envisioned this platform being a source of inspiration, learning, and healing for all who yearn for soul-freedom."
This is the show that will provide a supportive comfortable platform for serious discussions surrounding issues facing people of color, LGBTQIA+, cancel culture, and of course, sex.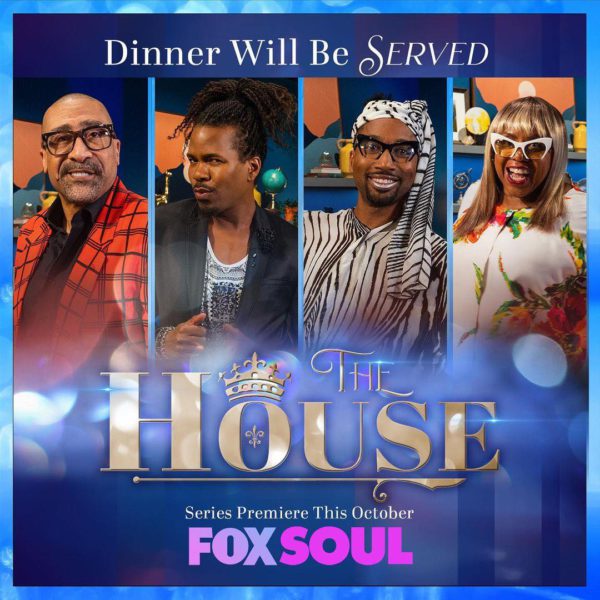 The all-queer host panel known as "The Fam" includes community psychologist and life coach, Antonio LeMons, clinical psychologist and trauma specialist, Cheryl Rich, international beauty expert and hairstylist, Chris Curse and producer- creator and online personality, Aaron Johnson Levy. For those with foodie passion, the four are joined by resident heterosexual culinary expert Chef Sean Freelon, to serve up a 3-course meal for each dinner enjoyed on-air.
The eleven-episode series will include special guests such as transgender GLAAD Media Award nominee and Warner Records soul singer, Shea Diamond, Milan Christopher, famed celebrity choreographer from RuPaul's Drag Race and Disney's Aladdin, Jamal Sims, and the first openly gay WWE superstar Fred Rosser formerly known as Darren Young.
No topic is off limits and everyone's voice is heard at the table in The House. There are tables.  There are conversations.  The House will bring more soul, more heart and more passion than any before… all with a delicious dinner to boot.
THE HOUSE | Black LGBTQIA+ Talkshow Teaser 2021