'Mayor Pete' emerges as a likable enigma in new doc
An early snapshot of a history-making figure in the making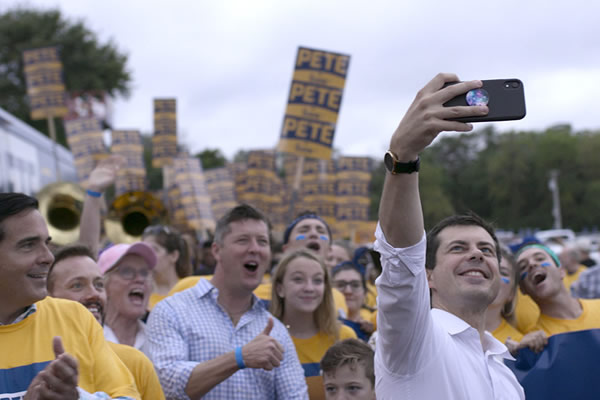 LOS ANGELES – For reasons that should be obvious, it's difficult for a filmmaker to avoid adopting a subjective stance in a political documentary. Many such movies have a tendency to feel like they've crossed the line between journalism and propaganda, which may not seem like such a bad thing to a viewer who is on the same "side, but can be infuriating to those whose political ideas run in the opposite direction. It goes with the territory.
Amazon's much-touted "Mayor Pete," which drops on Prime Nov. 12, is bound to incur those kinds of reactions from its audience, even though it makes an effort to avoid the kind of divisive politicizing that now seems like business as usual.
After all, it is the story of the first openly gay man, who is both a millennial and a Democrat, to become a serious contender for the office of president of the United States. Depending on where you stand with regard to the plethora of potentially thorny issues raised by those circumstances, you're undoubtedly going to have strong feelings about this movie, one way or another.
Filmed over the course of a year by a film crew granted unprecedented access to Pete Buttigieg (as well as his husband Chasten and his ambitious young staff) on the campaign trail, it offers a briskly paced profile of the titular candidate during his bid for the Oval Office, from throwing his hat in the ring to his victory in the Iowa primary and beyond, culminating in his historic appointment by eventual winner Joseph Biden as Secretary of Transportation.
It's a chronicle that will be fresh and familiar to the many viewers who undoubtedly followed it in real time, and one that we know will take a disappointing turn before the triumphant twist in which America gets its very first out Senate-confirmed LGBTQ Cabinet member.
What makes it more than merely a left-leaning rehash of recent events, however, is the way director Jesse Moss takes a once-in-a-lifetime opportunity to get up close and personal with a presidential hopeful — and his steadfastly supportive husband — and turns it into a springboard for a wider contemplation of Buttigieg and his place in American political history.
Through extensive interviews conducted over the course of the candidacy with both Pete and Chasten, we are allowed to get to know them both at a far more intimate level than we are usually allowed with political figures; this is enhanced and illuminated by behind-the-scenes footage, which provide us with in-the-moment glimpses of them each in action that perhaps tell us as much or more about who they really are than anything they say or show us in the controlled environment of their interviews; finally, through the inevitable exploration of Buttigieg's status as a gay man and the impact (or lack of it) that has on his viability as a candidate, we get a snapshot of an American culture at a time when it is perhaps more accepting and evolved around the subject of sexuality than anyone really expected — despite the occasional purveyors of virulent homophobia who predictably turn up to spout their bigotry every chance they get.
While it's always interesting to gauge public reaction to an out-and-proud public figure (particularly when that public figure is able to arrive at a place where the American presidency is almost within his grasp), what is most fascinating about "Mayor Pete" is Mayor Pete himself.
His face, his voice, and his famously hard-to-pronounce name may already be familiar, but here we are given a fuller and more detailed view. The man that emerges for us is a bit of an enigma, a light-hearted stoic who exudes sincerity even as he fine tunes the optics of his public image with his team, but somehow that manages to make him even more compellingly charismatic.
After all, before he ever ran for any office he was a real American hero, a military veteran whose tour of duty clearly helped to shape what he would become. His entire manner belies his background; his respect, his sense of duty, his patriotism, unflappability and get-it-done determination — all these are the hallmarks of a former soldier. He even carries himself like a soldier.
Unfortunately, though, the self-assured calmness born of Buttigieg's military service proved to be an issue that, as the documentary reveals, became an issue that would plague him throughout his bid to become the youngest American president in history.
His even-tempered demeanor was interpreted by many as coldness, an emotional distance that made it difficult for would-be supporters to connect with him. Worse, his compassionate idealism was seen by seasoned politicos as too good to be true, and some suggested that his inspirational rhetoric was ultimately just a disguise designed to conceal a lack of substantive policy ideas.
Watching Buttigieg through the candid lens of Moss' profile, it's easy to see how someone with a cynical bent might draw such conclusions; there's something about his careful, contemplative discourse that suggests things hidden below the surface.
Yet at the same time, as the film (and his quest for victory) progresses, there's a cumulative effect that reinforces the first impression served up by his infectious blend of old-fashioned optimism and forward-thinking ideology and makes it difficult to believe he is anything less than authentic.
Rather, we get the sense that he is evolving as he goes, holding back his deepest thoughts because he himself is still weighing and considering them, and that he is taking us with him on the journey as he goes. The end point may be uncertain, but we somehow seem to know he's on the right track.
Pete is not the only Buttigieg in the movie, however, and his husband Chasten comes close to stealing the show from him, matching him every step of the way in terms of positivity and dedication, and adding to the mix the kind of steadfast support that any man — or any person at all, for that matter — dreams of having from their spouse.
Best of all, Moss gives us several quiet, fly-on-the-wall scenes that show the tenderness of their connection, the strength of their bond, and the thrill of their love for each other. They are, quite simply, an adorable couple, and they go a long way in the film (as they continue to do in real time) toward erasing old prejudices and assumptions about gay relationships that, sadly, still linger in the imagination of social conservatives and religious fundamentalists who are too caught up in their fear of change to see the beauty in two human beings loving each other that completely.
In the end, the greatest value of "Mayor Pete" may eventually be as an early snapshot of a political giant in the making, depending on Buttigieg's future career trajectory, of course. In the meantime, though, it's a thoughtful, personable, and — yes, I'll say it — inspiring look at Buttigieg as a man, rather than a phenomenon or a political event.
And somehow, it makes it even clearer that he is all of these things at once.
Highways Presents
Behold!
Queer Film and Performances
All events are RSVP and pay what you can & in person at HIGHWAYS PERFORMANCE SPACE, 1651 18th St, Santa Monica, CA 90404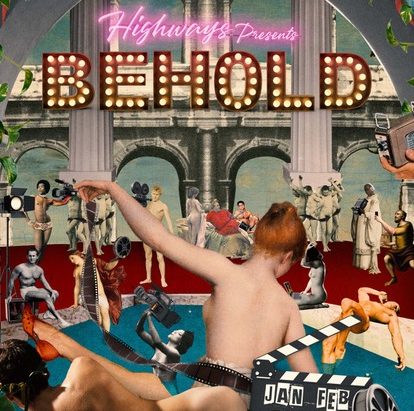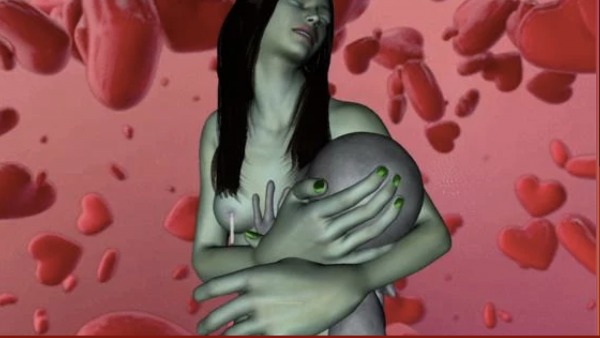 Friday, February 3rd, 8:30 PM
1-900-BODY-ON-THE-LINE (curated by Celeste Kamppila)
Curator Celeste Kamppila is a multidisciplinary artist based in Los Angeles. She is best known for her music project under the name of Celeste X, formally known as Celeste XXX. Celeste blends together a bedroom pop sound with harsh distortion and siren-like melodies. Her unforgettable live performances bring to life a raw display of the feminine experience, transmuting emotions ranging from distress to sensuality. She draws inspiration from horror and sexuality which blend together to make an interesting psychodrama visual, using images of prehistoric goddess to 1980s VHS adult films. She uses many mediums that range from music, video, and performance art to SFX make-up.
Untitled, Tita Cicognani,2023 United States
Turtledove, Chantel Beam 2021 United States 5:22
Hentai and Crack Vol 1, Nastya Valentine, 2023, 14:00
The Magician, Matthew Kaundart, 2016, 8:00
Ricochet, Daviel Shy & Valerie Whitehawk, 2022, 4:00
Untitled, Peter Kalisch, 2023, United States
Permanence is Only a Word , Kayla Tange, Chuck Hohng, Luka Fisher, 2020, 4:00, United States
Mz Neon (FOLLOWED WITH A LIVE PERFORMANCE BY MZ NEON)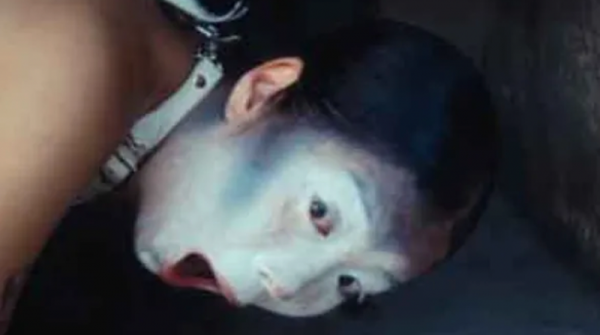 Saturday, February 4th, 8:30 PM
TIGHT: An exploration of the architectures of restriction (curated by Gina Young)

Confinement. Repression. Stress. TIGHT is an exploration of the architectures of restriction and how the body and soul respond. Our protagonists– many of them queer, nonbinary, trans– find themselves trapped by the limits of the gendered gaze, of memory, of the Covid-19 shelter-in-place lockdown, or of mysterious situations beyond their control. Whether they find their way to freedom or not? May vary.
gina young (she/they) is an award-winning writer, director, performer, and curator. Their stage work, screen work, and curated events have been presented nationally and internationally from The Hammer Museum and REDCAT to punk clubs and gay bars across the US and Europe. ROOM TONE, her screenwriting debut starring A League of Their Own's Roberta Colindrez and directed by Whitney White, is currently making the film festival circuit as part of the anthology film KEEP THIS FAR APART. gina is a winner of the Jane Chambers Award for Playwriting, the Humanitas/PLAY LA Prize, and a two-time finalist for the Sherwood Award for boundary-pushing artists. Connect with gina and her production company SORORITY at ginayoung.com or @ginagenius on Instagram.

Creature, María Silvia Esteve, 2021, 15:27, Argentina, Switzerland
Schindler House Haunting, jas lin, 2022, 17:00, United States
Safe at Home, Zoë DeLeon & Michelle Calderon, 2022, 4:00, United States
Room Tone, gina young, 2022, 9:00, United States
Suspension, Dulcinee DeGuere, 2022, 15:00, United States
Basic Needs, Karla Espino, 2022, 3:00, United States
Princess, Jason Vu & B Gosse,2021, 8:00, United States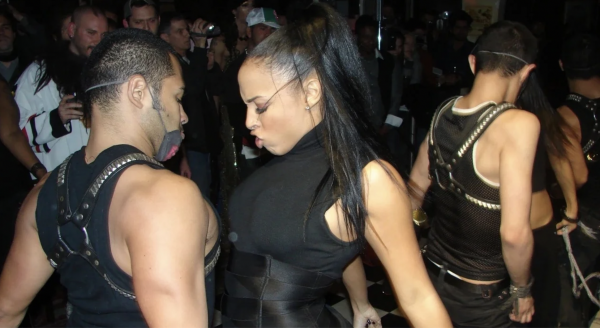 Saturday, February 11th, 8:30 PM
Ecstasy and Reminiscence: Nights Out in Los Angeles (curated by Dino Dinco & Juan Fernández)
Emerging with fits and starts from a prolonged, challenging quarantine and its social isolation, we celebrate the return to sharing physical space and intimacy by reflecting on Los Angeles nightlife and live performance, particularly the richness and vibrancy that live in the margins and fringe after dark. Tonight's works draw poignant threads that link Los Angeles dance floors, art galleries and artists, backyards, and dark rooms from the 1980s through present day, where ecstatic moments collide with mortality and for so many of us, "going out" was going home.
Pacoima Techno & Soltera 818 kick off the night with collaborative video work and live performance.
Pacoima Techno use their experience growing up in the San Fernando Valley, specifically Pacoima, as the basis for their music, live performance, and community organizing. https://www.instagram.com/pacoimatechno/ In addition to creating sultry, hard-edged dance music, Soltera 818 is the host of the online radio program Todo O Nada centralizing the roots and influences of electronic music across genres while featuring underrepresented artists globally and locally. https://www.instagram.com/soltera818/

A screening of Artbound: Mustache Mondays (directed by Marianne Amelinckx, 2021, PBS), 55 min.
"See how a roving LGBTQ night club event in Los Angeles called Mustache Mondays became a creative incubator for today's leading edge contemporary artists. This film examines the history of these spaces and how they shaped the Queer cultural fabric unique to Southern California." – PBS
A new performance work by Creepypasta Puttanesca (aka Alice Cunt):
"Creepypasta Puttanesca is a dish best paid for in advance as she is a hearty serving of a hauntingly delectable specter of the digital realm, a finger-licking ghost in the machine that comes with a complimentary order of all you can eat breadsticks and side salad. Beverage sold separately." – Creepypasta
An installation by the anonymously run social media account Noche de Jotiar, highlighting "joteadas y pendejadas estílo Los Ángeles."
The installation features a collection of candid photos and video (many of them previously unshared) along with flyers and music from inside and around queer Latinx/e nightlife in Los Angeles dating from the late 1980s to 2000s. The collection includes photos taken at Hollywood's Circus Disco, Arena Cafe, and backyard T-parties around the greater Los Angeles area.
Curators
Dino Dinco is a film and theater director, performance art curator and maker, writer, and lecturer in the Department of Visual Arts at UC San Diego. Based in Tijuana, México, his work has been exhibited in solo exhibitions in Paris, Los Angeles, and San Francisco, in group shows internationally, and is included in the collection of Le Fonds Régional d'Art Contemporain de Haute-Normandie, France, as well as private collections in Paris, Antwerp, Brussels, Los Angeles, Barcelona, New York and London.
Dinco's first feature length documentary film, Homeboy, explores gay Latino men who were in gangs. His award-winning short film, El Abuelo, with San Antonio poet Joe Jiménez, premiered at the Tate Modern, has screened internationally, and is included in the online LGBTQ film platform, Frameline Voices. Dinco co-founded You Wear it Well (2006-2008), the first traveling international film festival dedicated to short films on fashion.
He was a Consulting Producer on the Fall 2021 installment of KCET's Artbound documentary film series which profiled the itinerant Downtown Los Angeles queer dance party, Mustache Mondays (2007 – 2018), of which Dinco was a co-founder. www.dinodinco.com

Juan Antonio Fernández (He/Him) is a media scholar, cultural producer, and educator.  Juan has recently relocated to Los Angeles and has produced theater, art installations and performance in New York, Oakland, and San Francisco.
LISTING INFO:
IN PERSON AT HIGHWAYS PERFORMANCE SPACE,
1651 18th St, Santa Monica, CA 90404
Info at Highways.org
All events are Pay what you can with an RSVP https://www.highwaysperformance.org/shows
Fri-Sat. February 3-4 & Sat. February 11
BEHOLD! Queer Film and Performance Series, curated by Gina Young, Celeste Kamppila, Dino Dinco, and Juan Fernandez, featuring performance and multiple feature and shorts programs that showcase works from and about the LGBTQ+ and Latinx communities spread over three curated categories.

Friday, February 3rd 8:30 pm
https://www.highwaysperformance.org/events/1-900-body-on-the-line
1-900-BODY-ON-THE-LINE (curated by Celeste Kamppila)
An exploration into the nuanced realm of fantasy, love, and validation from the POV of todays' "public enemy" – the outcast, sex worker/symbol, the working artist, the queer.

Saturday, February 4th 8:30 pm
https://www.highwaysperformance.org/events/tight-an-exploration-of-the-architectures-of-restriction-curated-by-gina-young
TIGHT: An exploration of the architectures of restriction (curated by Gina Young)
Confinement. Repression. Stress. TIGHT is an exploration of the architectures of restriction and how the body and soul respond.

Saturday, February 11th 8:30 pm
https://www.highwaysperformance.org/events/ecstasy-and-reminiscence-nights-out-in-los-angeles
Ecstasy and Reminiscence: Nights Out in Los Angeles (curated by Dino Dinco & Juan Fernández)
Los Angeles dance floors, art galleries and artists, backyards, and dark rooms from the 1980s through present day, where ecstatic moments collide with mortality and for so many of us, "going out" was going home.