Academy Museum to screen classic doc about anti-LGBTQ violence
LGBTQ+ individuals continue to be targeted for violence in our society, no matter how far they've come in the fight for acceptance & equality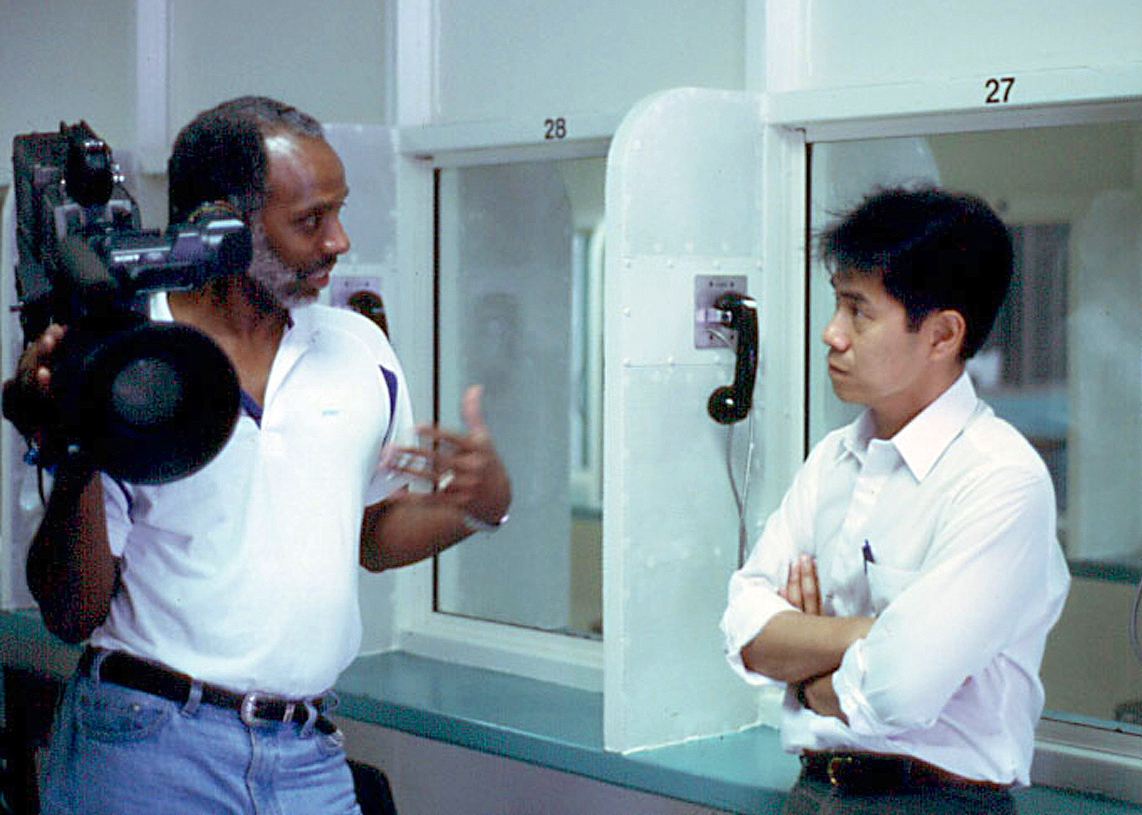 LOS ANGELES – Late last week, trans woman Nikai David was shot dead in Oakland, California, becoming the 50th known victim of fatal violence against the trans, nonbinary and gender-nonconforming community in the United States.
In Los Angeles County, last year saw a 20% increase in hate crimes; among those, crimes motivated by the victim's sexual orientation increased by 17%, and 84% of those targeted gay men.
With statistics like that, it's clear that LGBTQ+ individuals continue to be targeted for violence in our society, no matter how far we may have come in our fight for acceptance and equality. It's important – perhaps more important than ever – to raise awareness in the community about this issue, and that's why the timing is perfect for the Academy Museum's upcoming public screening of "Licensed to Kill", Arthur Dong's groundbreaking 1997 documentary about anti-LGBTQ violence and the people who perpetrate it.
The final installment of the Museum's screening series, "Sound Off: A Celebration of Women Composers," the film takes a riveting journey into the minds of men whose hatred of homosexuality led them to commit murder. Attacked 20 years ago by gay bashers on the streets of San Francisco, filmmaker Arthur Dong took his camera behind bars to confront seven different murderers of gay men, face-to-face, and ask them directly: "Why did you do it?"
The answers vary; one young man claims he justifiably killed as protection from his victim's sexual advances, a defense known as "homosexual panic"; another was triggered by childhood abuse which lead him to fear a "loss of manhood"; others acted out of internalized homophobia, or anger over "gays in the military," or simply because they were looking for "easy prey".
"Licensed to Kill", which won Dong the Best Director prize at the Sundance Film Festival in 1997, offers an uncompromising investigation into the roots of anti-gay violence, filtered through the eyes of the murderers themselves. Examining the social, political and cultural environments of these men, it questions whether society itself had given them a "license to kill", through the interviews and videotaped confessions from the perpetrators, news reports, court footage, police files, home and police videos of anti-gay violence, and more..
Additionally, the screening caps off a series of films celebrating women composers. The score for "Licensed to Kill" was composed by out-Lesbian composer Miriam Cutler, who also scored the LGBTQ themed films "Vito", "Chris & Don", "Pandemic: Facing AIDS", and "Scout's Honor". In addition, she has scored award-winning documentaries "The Hunting Ground", "Love, Gilda", and "RBG".
More info on Miriam can be found on https://miriamcutler.com/."Licensed to Kill" screens in the Ted Mann Theater at the Academy Museum, 6067 Wilshire Boulevard in Los Angeles, on December 14 at 7:30 PM.
Tickets can be purchased at the Museum's website.
'Mayor Pete' emerges as a likable enigma in new doc
An early snapshot of a history-making figure in the making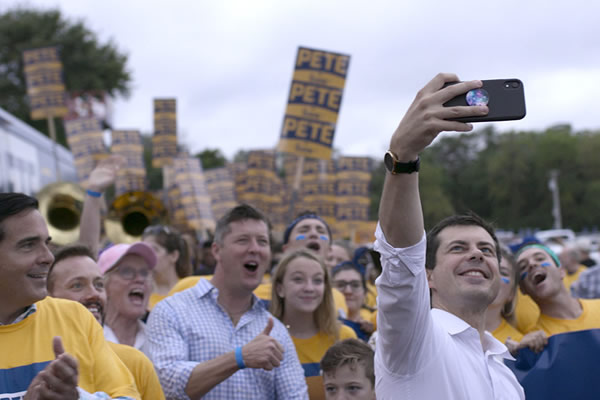 LOS ANGELES – For reasons that should be obvious, it's difficult for a filmmaker to avoid adopting a subjective stance in a political documentary. Many such movies have a tendency to feel like they've crossed the line between journalism and propaganda, which may not seem like such a bad thing to a viewer who is on the same "side, but can be infuriating to those whose political ideas run in the opposite direction. It goes with the territory.
Amazon's much-touted "Mayor Pete," which drops on Prime Nov. 12, is bound to incur those kinds of reactions from its audience, even though it makes an effort to avoid the kind of divisive politicizing that now seems like business as usual.
After all, it is the story of the first openly gay man, who is both a millennial and a Democrat, to become a serious contender for the office of president of the United States. Depending on where you stand with regard to the plethora of potentially thorny issues raised by those circumstances, you're undoubtedly going to have strong feelings about this movie, one way or another.
Filmed over the course of a year by a film crew granted unprecedented access to Pete Buttigieg (as well as his husband Chasten and his ambitious young staff) on the campaign trail, it offers a briskly paced profile of the titular candidate during his bid for the Oval Office, from throwing his hat in the ring to his victory in the Iowa primary and beyond, culminating in his historic appointment by eventual winner Joseph Biden as Secretary of Transportation.
It's a chronicle that will be fresh and familiar to the many viewers who undoubtedly followed it in real time, and one that we know will take a disappointing turn before the triumphant twist in which America gets its very first out Senate-confirmed LGBTQ Cabinet member.
What makes it more than merely a left-leaning rehash of recent events, however, is the way director Jesse Moss takes a once-in-a-lifetime opportunity to get up close and personal with a presidential hopeful — and his steadfastly supportive husband — and turns it into a springboard for a wider contemplation of Buttigieg and his place in American political history.
Through extensive interviews conducted over the course of the candidacy with both Pete and Chasten, we are allowed to get to know them both at a far more intimate level than we are usually allowed with political figures; this is enhanced and illuminated by behind-the-scenes footage, which provide us with in-the-moment glimpses of them each in action that perhaps tell us as much or more about who they really are than anything they say or show us in the controlled environment of their interviews; finally, through the inevitable exploration of Buttigieg's status as a gay man and the impact (or lack of it) that has on his viability as a candidate, we get a snapshot of an American culture at a time when it is perhaps more accepting and evolved around the subject of sexuality than anyone really expected — despite the occasional purveyors of virulent homophobia who predictably turn up to spout their bigotry every chance they get.
While it's always interesting to gauge public reaction to an out-and-proud public figure (particularly when that public figure is able to arrive at a place where the American presidency is almost within his grasp), what is most fascinating about "Mayor Pete" is Mayor Pete himself.
His face, his voice, and his famously hard-to-pronounce name may already be familiar, but here we are given a fuller and more detailed view. The man that emerges for us is a bit of an enigma, a light-hearted stoic who exudes sincerity even as he fine tunes the optics of his public image with his team, but somehow that manages to make him even more compellingly charismatic.
After all, before he ever ran for any office he was a real American hero, a military veteran whose tour of duty clearly helped to shape what he would become. His entire manner belies his background; his respect, his sense of duty, his patriotism, unflappability and get-it-done determination — all these are the hallmarks of a former soldier. He even carries himself like a soldier.
Unfortunately, though, the self-assured calmness born of Buttigieg's military service proved to be an issue that, as the documentary reveals, became an issue that would plague him throughout his bid to become the youngest American president in history.
His even-tempered demeanor was interpreted by many as coldness, an emotional distance that made it difficult for would-be supporters to connect with him. Worse, his compassionate idealism was seen by seasoned politicos as too good to be true, and some suggested that his inspirational rhetoric was ultimately just a disguise designed to conceal a lack of substantive policy ideas.
Watching Buttigieg through the candid lens of Moss' profile, it's easy to see how someone with a cynical bent might draw such conclusions; there's something about his careful, contemplative discourse that suggests things hidden below the surface.
Yet at the same time, as the film (and his quest for victory) progresses, there's a cumulative effect that reinforces the first impression served up by his infectious blend of old-fashioned optimism and forward-thinking ideology and makes it difficult to believe he is anything less than authentic.
Rather, we get the sense that he is evolving as he goes, holding back his deepest thoughts because he himself is still weighing and considering them, and that he is taking us with him on the journey as he goes. The end point may be uncertain, but we somehow seem to know he's on the right track.
Pete is not the only Buttigieg in the movie, however, and his husband Chasten comes close to stealing the show from him, matching him every step of the way in terms of positivity and dedication, and adding to the mix the kind of steadfast support that any man — or any person at all, for that matter — dreams of having from their spouse.
Best of all, Moss gives us several quiet, fly-on-the-wall scenes that show the tenderness of their connection, the strength of their bond, and the thrill of their love for each other. They are, quite simply, an adorable couple, and they go a long way in the film (as they continue to do in real time) toward erasing old prejudices and assumptions about gay relationships that, sadly, still linger in the imagination of social conservatives and religious fundamentalists who are too caught up in their fear of change to see the beauty in two human beings loving each other that completely.
In the end, the greatest value of "Mayor Pete" may eventually be as an early snapshot of a political giant in the making, depending on Buttigieg's future career trajectory, of course. In the meantime, though, it's a thoughtful, personable, and — yes, I'll say it — inspiring look at Buttigieg as a man, rather than a phenomenon or a political event.
And somehow, it makes it even clearer that he is all of these things at once.
NBC Universal cancels Golden Globe awards broadcast for 2022
NBC Universal announced the network would not broadcast the 2022 Golden Globes awards ceremony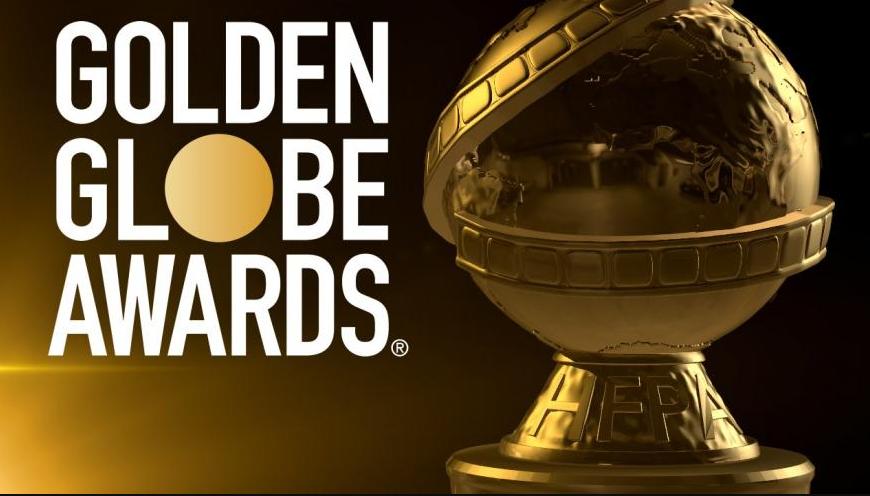 BURBANK – In the wake of an in-depth investigation into the Hollywood Foreign Press Association (HFPA), the organization responsible for the Golden Globes by the Los Angeles Times, which revealed a lack of racial diversity among its voting members and various other ethical concerns, NBC Universal announced Monday the network would not broadcast the 2022 Golden Globes ceremony.
This past February ahead of the HFPA's 78th Annual Golden Globes ceremony, HFPA board chair Meher Tatna told Variety magazine that the organization that the organization of international journalists which covers the film, television, and entertainment industry has not had any Black members in at least 20 years.
Actor Sterling K. Brown, a Golden Globe winner and two-time nominee, posted to Instagram;
Criticism of the HFPA, which puts on the Globes and has been denounced for a lack of diversity and for ethical impropriates, reached such a pitch this week that actor and superstar celebrity Tom Cruise returned his three Globes to the press association's headquarters, according to a person who was granted anonymity because they weren't authorized to speak publicly about the decision, the Associated Press reported.
"We continue to believe that the HFPA is committed to meaningful reform. However, change of this magnitude takes time and work, and we feel strongly that the HFPA needs time to do it right," a spokesperson for NBC said in a statement.
"As such, NBC will not air the 2022 Golden Globes," the spokesperson added. "Assuming the organization executes on its plan, we are hopeful we will be in a position to air the show in January 2023."
NBC's decision comes as Vogue reported that the backlash to the HFPA came swiftly and decisively. Some of Hollywood's biggest studios, including Netflix, Amazon, and WarnerMedia, announced they were severing ties with the organization until efforts were made to increase diversity and stamp out corruption, while a group of more than 100 of the industry's biggest PR firms released a statement in March in which they pledged to boycott the ceremony for the foreseeable future.
The HFPA did not immediately respond to inquiries by media outlets requesting comment about NBC's decision.
In February, the organization said it was "fully committed to ensuring our membership is reflective of the communities around the world who love film, TV, and the artists inspiring and educating them."
"We understand that we need to bring in Black members as well as members from other underrepresented backgrounds, and we will immediately work to implement an action plan to achieve these goals as soon as possible," it said.
HFPA also announced a full timetable through this summer for implementing promised reform initiatives in response to NBC's decision.

"Regardless of the next air date of the Golden Globes, implementing transformational changes as quickly — and as thoughtfully — as possible remains the top priority," the HFPA board said in a statement. "We invite our partners in the industry to the table to work with us on the systemic reform that is long overdue, both in our organization as well as within the industry at large."
Witness to the horrors in Chechnya
It's a film that makes you want to look away but doesn't let you do it.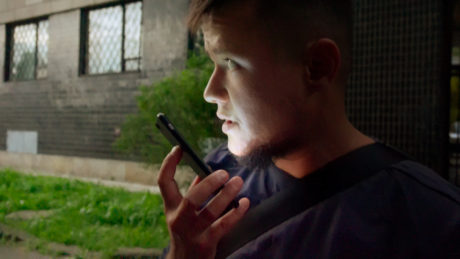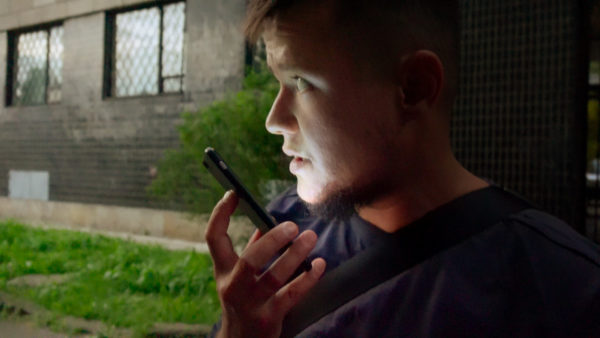 HOLLYWOOD – In an era when documentaries often seem geared more toward a slick and buzzy "docu-tainment" style than to the unfiltered presentation of real-world facts and experiences, "Welcome to Chechnya" blasts you in the face like a gust of icy wind.
A harrowing look at the "underground railroad" that sprung up within Russia to help the victims of the notorious "gay genocide" being perpetrated under Chechen leader Ramzan Kadyrov, it's a film that makes you want to look away but doesn't let you do it. It conveys the unthinkable trauma of living in a constant state of terror while making a desperate, clandestine run for your very life; more than that, it permits us to put a human face – albeit a digitally altered one – on the crisis.
Part of the film's impact undoubtedly stems from its subject matter, but it's at least equally due to the artistry of its director, David France. It's not the first time he's been behind a heavyweight LGBTQ documentary. The longtime journalist made his directing debut with "How to Survive a Plague" in 2012, documenting the early years of the AIDS epidemic with an activist's passion in a film that won him a host of awards and nominations for a several more, including an Oscar.
Now, "Chechnya," which premiered at last year's Sundance Festival and was released by HBO last summer, has made the shortlist for this year's Academy Awards, raising the possibility for a second chance at taking home the coveted statue. Yet Oscar gold was not what France had on his mind when had a conversation with the Blade about the film earlier this week. Rather, he wanted to discuss the people it's about.
France, like everyone else, had been appalled by the tales coming out of Chechnya in 2017. "We all read the stories," he tells us now, "but it wasn't until I read Masha Gessen's New Yorker piece about the work that ordinary Russians were having to take upon themselves that I became really fascinated."
He is referring to the network of LGBTQ activists that mobilized in the absence of outside help to extract refugees in daring escapes, hide them in safe houses across Russia, and work with groups around the world to get them out of the country. In "Welcome to Chechnya," he follows a handful of these accidental heroes, as well as several of the survivors they protect, as they orchestrate and enact spycraft that would be right at home in an episode of "The Americans." In the process, he shines a light on more than just the atrocities being committed against queer people in Chechnya. He also illuminates a level of courage that most of us have never had to muster up.
"That's what drew me in," France says. "The fact that ordinary citizens took it upon themselves to intervene, to try and save lives, while the rest of the world was doing so little about it."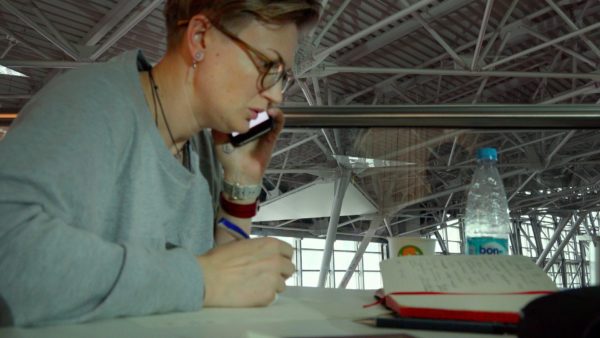 "It's not like they had been already doing this work," he explains. "Olga [Baranova, one of the activists who appears in the film] was running a community center that had an annual arts fair – that's the extent of her training for the kind of cape-wearing heroics that you see her carrying out."
With his cameraman and producer Askold Kurov, France spent months in the underground, chronicling the efforts of the activists and the stories of the survivors under their care, and getting plenty of first-hand experience with the kind of fear under which they had to willingly chosen to live, day after day.
After all, getting out of Chechnya wasn't enough to make anyone safe; Chechen authorities were willing to stop at nothing to make sure nobody had a chance to expose what was going on, up to and including tracking down, recapturing, and maybe even killing any potential witnesses – and anyone who stood in the way was putting themselves in peril, too.
"I remember going on one of the extractions," he relates. "We were getting ready to make a run with a couple whose location had been found out. We had only a few hours to get them to the airport, and then we got word of a rumor that a group of assassins had been dispatched to prevent them from leaving the country. We had one bodyguard, with one sidearm, with us.
"That kind of unbelievable peril is what hung over, and what still hangs over, every aspect of the work these ordinary Russian activists have taken on for themselves."
It's also what made it a challenge to film the refugees, for whom anonymity was a matter of life or death.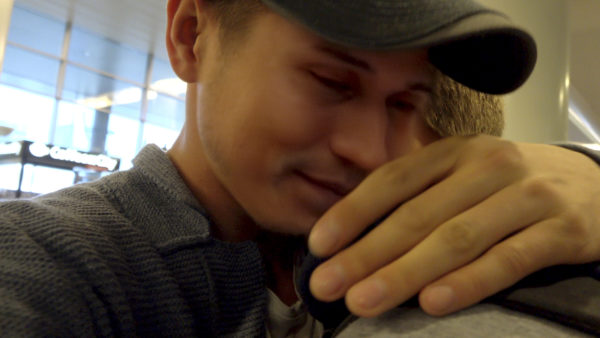 "I wanted to show what they looked like," he tells us. "The pain that they wore on their faces, the hope – and certainly the fear. And most of them wanted the world to know what had happened to them, to expose these crimes – but they also understood what it would mean for them and their families if they stood up publicly and revealed their truths. They were terrified, and here I was asking them to let me film them anyway and then figure out how to solve this problem later."

There is still a touch of awe in his voice as he says, "Remarkably, a couple of dozen people agreed to let me do that."
He continues, "There were people, of course, who couldn't take that leap with me. There was one person who was nervous even about me filming other people in the shelter. These were people who had just escaped the most horrific abuse and torture, and violation from their own families. They were hiding from their brothers and their uncles, from their own fathers. That dislocation of familial love was so traumatic to everybody there that some of them were just on a very sharp edge – unable to reckon with the past, unable to find security in the present or see hope in the future. You see that in the film with one of them, who even attempts suicide. For those people, it was a difficult arrangement to have me shooting even on the other side of the shelter house. I understood that and I tried to be very respectful."

The challenge of maintaining privacy would eventually be surmounted by new, state-of-the-art identity protection software, a high-tech touch that France – savvy storyteller that he is – was able to parlay into one of the film's most dramatic and unexpected moments. A considerable amount of screen time in "Welcome to Chechnya" is devoted to an anonymous refugee who has escaped from his tormentors into the network, where he is reunited with his family and his boyfriend of ten years; a turning point comes when, despite being poised for removal to another country, he chooses to go public with his story and make an official complaint to the Russian government.
As he makes that decision, the false features realistically rendered over his real ones melt away before our eyes, revealing his unaltered face – and with it, his true identity. It's a powerful effect, and it's our official introduction to Maxim Lapunov, whose subsequent appearance before a Russian court to tell his story is captured in the movie. Unsurprisingly, his claims are dismissed, and the need to get him and his loved ones out of the country becomes even more imperative.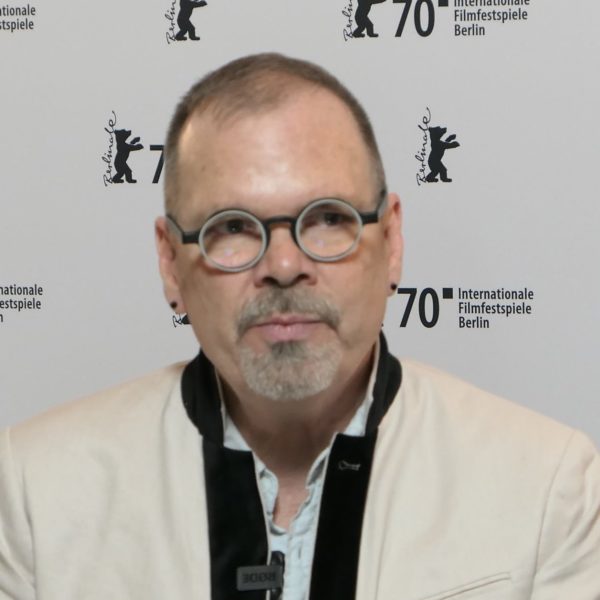 In talking about Lapunov, the awe returns to France's voice. "Maxim's moral courage is unmatched. It was really clear that his life was going to be fucked up for the foreseeable future, no matter what he did. The courage that he showed was the courage to throw his body in the way to make sure that other people don't get treated the way that he was treated – to save people's lives. He could have gone anywhere in the world, and just nursed his post-traumatic memories in safety, but instead he went back into the fire.
That was remarkable. I watched him make those decisions, I watched him take on that risk, I watched him bring his family along on that journey and win their allegiance in these choices – these are human dramas like you see in Hollywood films that actually are taking place in the queer battle against the crimes in Russia."
He segues into a similar expression of respect for David Isteev, another activist prominently featured in "Chechnya."
"When you look at his face, you just get this incredible sense of high alert and of moral purpose. It makes me think of the stories we have heard from the Holocaust, of citizens who would otherwise have been untouched who reach into some deep reserve to do something. That's him. And being in the presence of that was one of the most remarkable experiences of my life."
If it sounds like he has bonded with his subjects, it's because he has. Being embedded in the shelter network for such an extended period of time, he and Kurov became part of the underground themselves. "We were no longer visitors from outside," he says. "We were experiencing what they were. I spent nights full of terror inside those safe houses, when rumors were flying about people who might have been seen, locations that might have been revealed, dangers that might have been heightened – I felt that with them. We huddled together, and, in a way, I became part of their journey.
"I do feel personally attached to those people having been through that with them. It's something like the bond of warfare that you read about. I would do anything for David. I would do anything for Maxim and his family."
The real emotion apparent in these professions of kinship is surely one of the reasons why the documentarian is still, more than six months after his film's debut, eager to talk about it. The people with whom he developed these strong bonds are still very much at risk.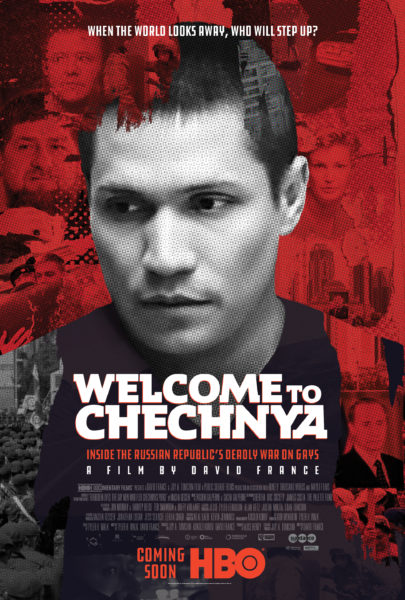 The biggest horrors in "Welcome to Chechnya" are only glimpsed briefly in dark and blurry videos intercepted from the web by the network, or described in the stories of torment, humiliation and brutality told by the survivors, but they cast a dark enough shadow over the imagination to make us want to believe they are safely in the past.
Unfortunately, as France is quick to remind us, LGBTQ persecution in Chechnya is still very much "an ongoing humanitarian crisis." Just last week, two refugees were kidnapped from the network by Russian authorities and returned to Chechnya, an incident that brought the situation there back into the headlines.
"These were two very young men, one of them twenty, and the other seventeen – not even a man," relates France. "They had been abducted last summer in Chechnya and tortured, they barely got out alive. They were rescued and extracted by the network and were being held in a safe house while the work was being done with foreign partners to try and get them out. Now they are back in detention in Chechnya. It's a very volatile situation."
Yet it's also a situation in which, perhaps ironically, he sees a hope that has been scarce for the past four years.
"The United States, in this new administration, has expressed great concern for those two kids and demanded information on their safety," he points out. "The European Court for Human Rights has demanded access to them, and safe passage for them to get back to the safe house where they were being held."
For him, it's a call to action. "The Russian LGBT network is on the ground, still fighting this fight," he says. "We can urgently throw our voices behind their efforts with regard to these two youngsters – we could save their lives. There are petitions, but that's not enough. We know from watching these activists' work that it's essential, it's extensive, and as you can imagine, it's costly. They cannot raise money within Russia, so they've asked people who see the film to help them by donating.
There's a donation page on the movie site. We've just watched almost $200,000 move through there, in the six months since the film came out, and that money goes to the Moscow Community Center, Olga's group that runs the shelter system, to the Russian LGBT Network that does the extractions and runs the global hotline for the crisis – and it also goes to Maxim and his legal case, which is still percolating through, and showing great progress in, the European courts.
"So, I think there's hope, but we have to act urgently. I think what's shocked us all, in the last few years, is how easily we can lose ground. All this progress that we've made over the last thirty or forty years can be reversed in a heartbeat, and that's what's happened in Russia, and Russia has led the way in this dramatic reversal of queer progress, all across Europe. It's going to take a lot of people coming together internationally to stop that, but it is possible."
He's a realist in his expectations, though. "We can't hope for is regime change in Chechnya or in Russia. Those are not practical, immediate goals. But we can force Ramzan Kadyrov in Chechnya to stop this. He is a puppet of Putin's. If we make it politically untenable for Putin not to intervene there, then he will lift up the telephone and say to Kadyrov, 'Stop it.' That's all that it takes. It's that simple. We haven't gotten there because we haven't had the kind of global leadership that can bring collective pressure on Putin to do that. I think we're in a place where we can now.
"Even just watching the film is an important step. The Russian government has said repeatedly that this is not happening, that there's no evidence, even – ridiculously – that there are no queer Chechens. They say that no one has come forward, but Maxim did that, officially, and they rejected his claims. The people protected by the digital technology we deployed in the film have also spelled out their stories, so they are witnesses. And we're all witnesses, now."

The passion creeps back into France's voice as he recalls, "That was my promise to the people in the network, when I said I wanted to film with them, that I was going to help make this so that everybody in the world knows what's happening.
"Anybody who sees the film becomes a witness, and it becomes an act of resistance just to talk about what you see in it."