Wisconsin police say no assault committed against Trans high schooler
The incident had provoked a student walk-out demanding that school administrators provide better protections for the school's LGBTQ+ students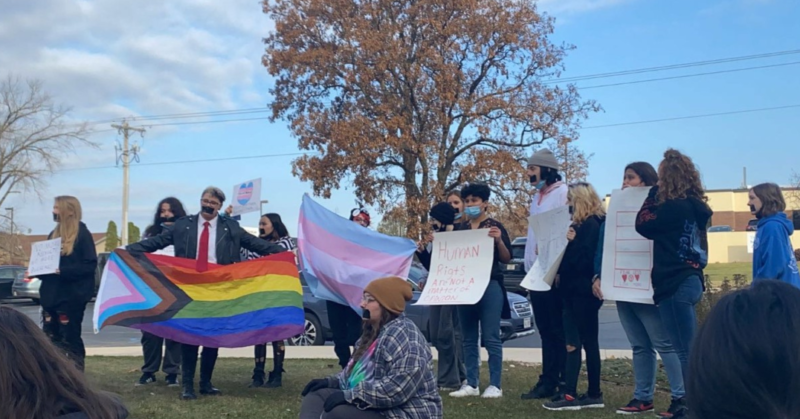 BERLIN – The Berlin Police Department's detectives and Berlin Area School District administrators had launched a investigation into allegations of a sexual assault against a Trans male student in a bathroom by other male students at Berlin High School last week.
This past Friday however, Berlin Police released a statement saying that no assault had taken place, although investigators were investigating claims that there was a video recording of the trans male in the bathroom using the facilities:
On Thursday, November 4, 2021, a Berlin High School student reported to school authorities that they had been assaulted in one of the high school restrooms.
Upon being notified, School Administration immediately reported the allegation to the Berlin Police Department. An investigation was immediately launched into the allegation in cooperation with the department's investigative unit. After multiple interviews and examining the associated evidence of the alleged assault, our investigation discovered no physical assault or attack against the alleged victim took place. During the course of the investigation, it was learned a recording may have been taken of the victim while in a bathroom stall.
Anyone with direct information of this recording please contact the Berlin Police Department at 920-361-2121. No additional information will be made available.
The incident had provoked a student walk-out demanding that school administrators provide better protections for the school's LGBTQ+ students.
NBC News affiliate WGBA-TV 26 in Green Bay reported that the student identified only by his first name of Lucas, told reporter Kelsey Dickeson that he was assaulted in the school's bathroom on multiple occasions.
On two separate occasions last week, the teen told NBC 26 that several male students made him pull down his pants and lift up his shirt in the boy's bathroom. The most recent incident happened on this past Wednesday. Lucas said a group surrounded the stall while one person recorded a video through a slit in the door.
Lucas said he reported the incidents to the school and filed a police report.
"I was uncomfortable, scared. I didn't really want to walk around the hallways after that. I tried to ignore it, but it was hard. I finally spoke up to my friends about it, and now everybody knows about it."
High school students in this small town of approximately 5,500 located a half hour West of Oshkosh are angered by the allegations and extremely unhappy with the way the school has responded.
Amber Olmstead, the Berlin High School student who organized the student protest told NBC 26; "We told them that we're not backing down this time. They're going to hear our voices and they're going to do something about it."
Olmstead added that she felt that bullying is a big problem at school and wants to see change.
"We want students to feel safe at a school, because we're expected to be there. So we should be expected to be safe," Olmstead said. "At the end of the day they are the adults. We are children. I understand they can't control these students. They're their own person at the end of the day. But they need to at least try and prevent them from being able to do all of this."
Berlin Area School District superintendent Carl Cartwright sent the following statement to NBC 26 in regards to the incident:
"The Berlin Area School District is aware of a student walkout in response to allegations of a student assault at the high school. The Berlin Area School District is committed to the success of all students in a safe learning environment and we take such allegations seriously. The school district is cooperating with local law enforcement who are investigating this situation. The district is also conducting its own investigation. Because of the ongoing investigations, the district is unable to provide additional details at this time."