Deputy Israeli foreign minister denies country engages in 'pinkwashing'
Idan Roll, 37, lives in Tel Aviv with husband, two children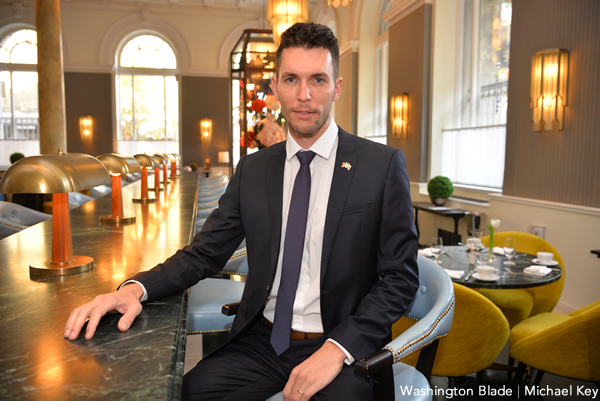 WASHINGTON — Israel's openly gay deputy foreign minister this week dismissed the idea that his country's government promotes LGBTQ rights in order to divert attention away from its policies towards the Palestinians.
"I would never, ever, put myself in a position that I would be the face of 'pinkwashing' as part of my role because I'm confident that there's no such thing in Israel," Idan Roll told the Los Angeles Blade on Wednesday during an interview at the Riggs Hotel in downtown D.C.
Roll, 37, spoke with the Blade at the end of a 4-day trip to D.C., which took place less than six months after eight political parties formed a coalition government that ousted long-time Prime Minister Benjamin Netanyahu.
The Knesset earlier this month passed Israel's first national budget in three years. Roll, who is the youngest person in the Israeli government, noted to the Blade it earmarks $30 million (NIS 90 million) to LGBTQ organizations across the country.
Health Minister Nitzan Horowitz in August announced Israel had lifted restrictions on blood donations from men who have sex with men. The Israeli Supreme Court in July ruled same-sex couples and single men must be allowed to have a child via surrogate.
A group of teenagers on Nov. 12 attacked a group of LGBTQ young people near Jerusalem's main bus station as they were traveling to a transgender rights conference in Tel Aviv. Neil Patrick Harris is among the actors who expressed their support for the Tel Aviv International LGBT Film Festival amid calls from BDS (boycott, economic divestment and sanctions) Movement supporters to boycott it over Israel's policies towards the Palestinians.
Roll acknowledged Israel does not extend civil marriage to same-sex couples, but he also pointed out to the Blade the country does not "have civil marriage for straight people either" because marriage in the Jewish state is a religious institution. Roll noted he is among the openly LGBTQ people in the Israeli government and they "live a full, fulfilling life."
"Are we perfect?" he asked rhetorically. "No. Are we one of the best places for gay people to live in the world? Definitely so, and I feel safe. And I feel welcomed. And I feel empowered and I feel like the best of it is ahead."
Roll told the Blade the idea of "pinkwashing" comes from the fact "that not everyone is as informed as others about life in Israel."
"That's something that's a task this new government and our ministry has, to better convey the Israeli story, and it's a wonderful and complex and diverse story," he said.
Roll also stressed he "would love for people to stop pinning one thing against the other."
"Us doing tremendous work for LGBTQ equality does not get eliminated or erased or cancelled just because we have to also manage a very intricate conflict, which is the Israeli-Palestinian conflict," he said. "Promoting progressive values is still something that is worth mentioning, and we are working towards bettering the lives of the Palestinians on a humanitarian and economic level. Things are not as black and white as they are portrayed."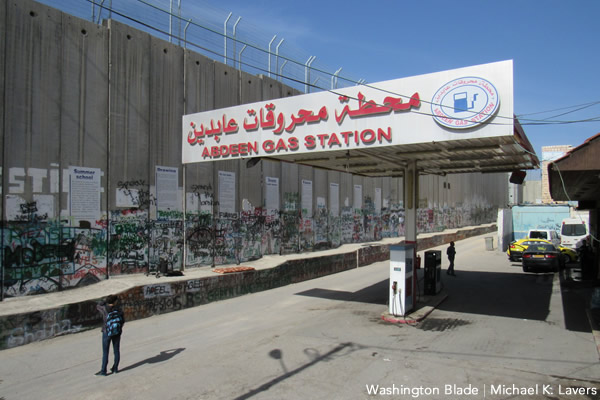 Roll lives in Tel Aviv with his husband, Harel Skaat, an Israeli pop star who he married in Utah in March, and their two children who they had via surrogates in the U.S.
The lawyer and former model who is a member of the centrist Yesh Atid party founded Pride Front, a group that encourages LGBTQ Israelis to become involved with the country's political process. Roll told the Blade he decided to run for office after he and his husband started their family.
"It was quite a struggle," he said, noting their second child was born via surrogate in Oklahoma. "And then it struck me that I have to practice what I preach. I have to not only just encourage others to take political action and move forward, but also I had to take the lead."
Roll in 2019 won a seat in the Israeli Knesset. Lapid appointed Roll as deputy foreign minister after the new government took office.
"I'm a very young member of this government … and I am an openly gay member of this government," said Roll. "I am very grateful of the life that I have been able to create for myself in Israel."
"That's a story that I feel like I can portray very authentically and I think that's a story that needs to be told outside of Israel," he added. "I'm also very proud to be part of the new face of a new government that is doing things differently and in a way I think now allows people of all different ethnicities and colors and agendas to find someone they can relate to in this government."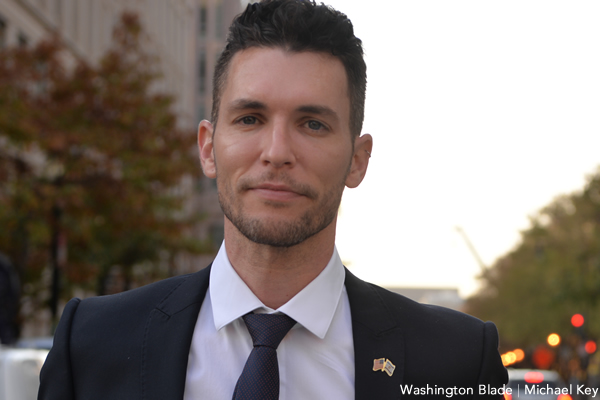 U.S. Sens. Tammy Baldwin (D-Wis.), Jon Ossoff (D-Ga.), Chris Van Hollen (D-Md.), Bill Hagerty (R-Tenn.), U.S. Rep. Ritchie Torres (D-N.Y.) and other members of the Congressional LGBTQ+ Equality Caucus are among those who met with Roll when he was in D.C. Roll also sat down with Deputy National Security Advisor Jon Finer, Deputy Secretary of State Wendy Sherman, American Israel Public Affairs Committee members and Jewish students at George Washington University.
I was privileged to meet members of the @LGBTEqCaucus to discuss how we can promote #LGBTQ rights & how much we have in common in the pursuit of #Equality. I met a group of friends who care deeply about 🇮🇱🇺🇸 relations & I look forward to working w/ them to strengthen our alliance pic.twitter.com/9ZTJAAT65G

— Idan roll – עידן רול (@idanroll) November 17, 2021
It was a great pleasure to meet with @RepRitchie today. He is a true friend of Israel and a mensch. The personal experiences he shared provided important insights to help strengthen the U.S. — Israel alliance and I am grateful for his unwavering support for Israel 🇺🇸🇮🇱 pic.twitter.com/EKJRvRhSs2

— Idan roll – עידן רול (@idanroll) November 17, 2021
I enjoyed meeting again with progressive leader @SenatorBaldwin during my visit to Washington. We continued our conversation from just last week in Jerusalem, discussing ways to further strengthen the US-Israel relationship on the basis of our countries' shared values. pic.twitter.com/K1KkAxZlPz

— Idan roll – עידן רול (@idanroll) November 18, 2021
"We have a new government, and the new government is really different in many great ways," Roll told the Blade. "It's the most diverse government in our history and in a way it is the most diverse reflection of a very diverse society."
He said one of the reasons he traveled to D.C. was "to reach out and to open a dialogue." Roll also stressed Israel "has always been a bipartisan issue.
"It's crucial to keep it that way and we intend to do that," he said. "The U.S. is the most cherished and important ally we have and you need to cultivate relationships."
A provocative ad, a divided nation: The battle over LGBTQ+ rights in Lebanon
PSA has sparked hope, controversy in Arab world
BEIRUT, Lebanon — A new PSA in Lebanon advocating for the decriminalization of homosexuality in the country is stirring up controversy in the Arab world.
The ad first appeared on MTV Lebanon, a network owned by Lebanese politician and businessman Michel Gabriel El Murr, and was later shared on the network's social media page. The campaign pushes for the repeal of Article 534 in the Lebanese Penal Code, a law first adopted in 1943 that is used to criminalize consensual same-sex sexual relations with up to one year of imprisonment.
In the clip, two men are seen standing side-by-side in an elevator when a third man joins them and pulls a gun from his jacket. The tension is palpable until he leaves. When he does, the first two men grasp each other's hands when words flash across the screen: "There's crime and there's love."
Screams and gunshots are heard from a distance as the scene fades.
"Based on the words of Pope Francis, 'Homosexuality is not a crime,'" the network's X (formerly known as Twitter) caption says, "Yes to the abolition of Article 534 of the Penal Code, which criminalizes homosexuality."
Since premiering on Sept. 2, the powerful ad has generated an array of attacks from anti-gay figures, including from Culture Minister Mohammad Mouratda, who lambasted the network and accused it of incitement and division. He even went so far as to suggest that airing the ad itself was a criminal act.
Meanwhile, a collective called the Muyul Project premiered a PSA of their own that spoofed the original ad with an alternate ending in which a little girl is seen crying and holding her family as opposing words appear on the screen: "There is a crime that kills a human being, and there is a crime that kills society. Yes to maintaining Article 534 and protecting societal and family values."
Despite the outcry, LGBTQ+ Arabs and allies insist the campaign is sparking much-needed dialogue about the law — which they say is long overdue.
"This campaign does a lot to start conversations and challenge the status quo, especially within the context of Lebanese society," Joe Kawly, the first openly gay Arab news anchor, told the Washington Blade. "While the backlash was predictable, the visibility and support that this campaign provides to the LGBTQ+ community are invaluable."
Bertho Makso, the founder and executive director of Proud Lebanon, an LGBTQ+ and intersex rights organization, told the Blade the ad reinforces the work he and his team have been doing "since 2018" to engage various political parties and draft bills that would decriminalize homosexuality.
Nine MPs in July co-sponsored legislation that would have decriminalized homosexuality, but backlash was swift. One MP withdrew their name altogether because of harassment and threats.
While the ad campaign is a bold move, it is not exactly an isolated incident. The country was once considered an oasis of relative tolerance for LGBTQ+ and intersex rights in the Arab World, but has undergone an anti-LGBTQ+ tidal wave in recent years.
Members of the far-right Christian group Soldiers of God on Aug. 23 brutally attacked Madame Om, a popular gay-friendly bar in Beirut's Mar Mikhael neighborhood, during a drag show. Reports indicate the police looked on as patrons were assaulted. This attack comes as Education Minister Abbas Al Halabi opened an investigation into rumors of pro-LGBTQ+ messaging in materials used in schools. And Hezbollah leader Hassan Nasrallah in July declared consensual same-sex sexual relations should be punishable by death. 
To further complicate matters, Article 534 doesn't explicitly address homosexuality. Rather, it only points to sexual acts that are "contrary to the order of nature."
Even though several courts have tried to affirm consensual same-sex acts don't qualify as being "against nature," it hasn't stopped multiple arrests continuing to persist, according to a recent Proud Lebanon report. Mouratda and MP Ashraf Rifi have introduced more stringent bills.
Mourtada's measure proposes up to three years' imprisonment and hefty fines for promoting or engaging in "deviant sexual relations" and Rifi's bill sought the explicit criminalization of homosexuality with heightened penalties.
As Lebanon continues its attacks against LGBTQ+ and intersex people, some suggest it's all a ploy to distract from the country's crumbling economy. Even more notably: Lebanon has lacked a president since October 2022, a clear reflection of its turbulent political landscape.
Helem, the first LGBTQ+ and intersex organization in the Arab world established in 2001, said in a recent statement "the decision to suddenly and systematically target LGBTQ individuals is a very old tactic used by multiple failing autocratic regimes around the world."
As Kawly explains, MTV Lebanon's campaign may herald a turning point for the nation, asserting LGBTQ+ and intersex people's inherent role in Lebanon's value as a whole.
"Social change is often slow and painful, but the very fact that we're seeing more visibility and conversation on LGBTQ+ issues signal a potential shift," he said. "With every campaign, every story told, every law repealed, we're inching closer to a more inclusive and accepting society."
"When it comes to Lebanon, for sure there is a bright future because we are working for it," added Makso. "We believe in it, and we are fighting for it."