Deputy Israeli foreign minister denies country engages in 'pinkwashing'
Idan Roll, 37, lives in Tel Aviv with husband, two children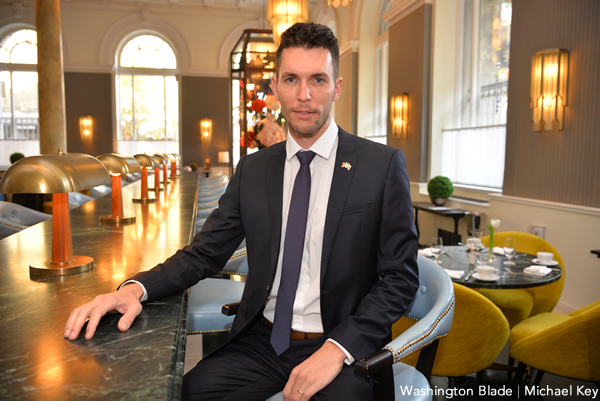 WASHINGTON — Israel's openly gay deputy foreign minister this week dismissed the idea that his country's government promotes LGBTQ rights in order to divert attention away from its policies towards the Palestinians.
"I would never, ever, put myself in a position that I would be the face of 'pinkwashing' as part of my role because I'm confident that there's no such thing in Israel," Idan Roll told the Los Angeles Blade on Wednesday during an interview at the Riggs Hotel in downtown D.C.
Roll, 37, spoke with the Blade at the end of a 4-day trip to D.C., which took place less than six months after eight political parties formed a coalition government that ousted long-time Prime Minister Benjamin Netanyahu.
The Knesset earlier this month passed Israel's first national budget in three years. Roll, who is the youngest person in the Israeli government, noted to the Blade it earmarks $30 million (NIS 90 million) to LGBTQ organizations across the country.
Health Minister Nitzan Horowitz in August announced Israel had lifted restrictions on blood donations from men who have sex with men. The Israeli Supreme Court in July ruled same-sex couples and single men must be allowed to have a child via surrogate.
A group of teenagers on Nov. 12 attacked a group of LGBTQ young people near Jerusalem's main bus station as they were traveling to a transgender rights conference in Tel Aviv. Neil Patrick Harris is among the actors who expressed their support for the Tel Aviv International LGBT Film Festival amid calls from BDS (boycott, economic divestment and sanctions) Movement supporters to boycott it over Israel's policies towards the Palestinians.
Roll acknowledged Israel does not extend civil marriage to same-sex couples, but he also pointed out to the Blade the country does not "have civil marriage for straight people either" because marriage in the Jewish state is a religious institution. Roll noted he is among the openly LGBTQ people in the Israeli government and they "live a full, fulfilling life."
"Are we perfect?" he asked rhetorically. "No. Are we one of the best places for gay people to live in the world? Definitely so, and I feel safe. And I feel welcomed. And I feel empowered and I feel like the best of it is ahead."
Roll told the Blade the idea of "pinkwashing" comes from the fact "that not everyone is as informed as others about life in Israel."
"That's something that's a task this new government and our ministry has, to better convey the Israeli story, and it's a wonderful and complex and diverse story," he said.
Roll also stressed he "would love for people to stop pinning one thing against the other."
"Us doing tremendous work for LGBTQ equality does not get eliminated or erased or cancelled just because we have to also manage a very intricate conflict, which is the Israeli-Palestinian conflict," he said. "Promoting progressive values is still something that is worth mentioning, and we are working towards bettering the lives of the Palestinians on a humanitarian and economic level. Things are not as black and white as they are portrayed."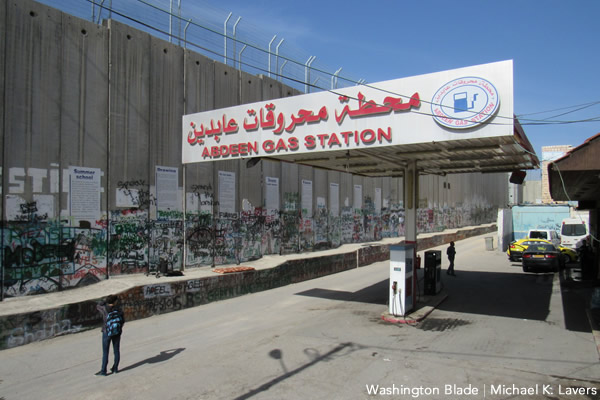 Roll lives in Tel Aviv with his husband, Harel Skaat, an Israeli pop star who he married in Utah in March, and their two children who they had via surrogates in the U.S.
The lawyer and former model who is a member of the centrist Yesh Atid party founded Pride Front, a group that encourages LGBTQ Israelis to become involved with the country's political process. Roll told the Blade he decided to run for office after he and his husband started their family.
"It was quite a struggle," he said, noting their second child was born via surrogate in Oklahoma. "And then it struck me that I have to practice what I preach. I have to not only just encourage others to take political action and move forward, but also I had to take the lead."
Roll in 2019 won a seat in the Israeli Knesset. Lapid appointed Roll as deputy foreign minister after the new government took office.
"I'm a very young member of this government … and I am an openly gay member of this government," said Roll. "I am very grateful of the life that I have been able to create for myself in Israel."
"That's a story that I feel like I can portray very authentically and I think that's a story that needs to be told outside of Israel," he added. "I'm also very proud to be part of the new face of a new government that is doing things differently and in a way I think now allows people of all different ethnicities and colors and agendas to find someone they can relate to in this government."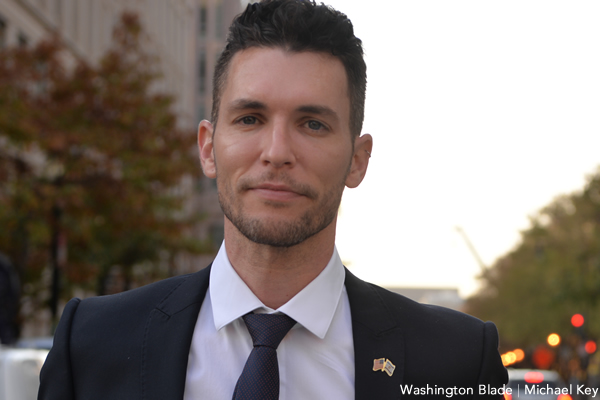 U.S. Sens. Tammy Baldwin (D-Wis.), Jon Ossoff (D-Ga.), Chris Van Hollen (D-Md.), Bill Hagerty (R-Tenn.), U.S. Rep. Ritchie Torres (D-N.Y.) and other members of the Congressional LGBTQ+ Equality Caucus are among those who met with Roll when he was in D.C. Roll also sat down with Deputy National Security Advisor Jon Finer, Deputy Secretary of State Wendy Sherman, American Israel Public Affairs Committee members and Jewish students at George Washington University.
I was privileged to meet members of the @LGBTEqCaucus to discuss how we can promote #LGBTQ rights & how much we have in common in the pursuit of #Equality. I met a group of friends who care deeply about 🇮🇱🇺🇸 relations & I look forward to working w/ them to strengthen our alliance pic.twitter.com/9ZTJAAT65G

— Idan roll – עידן רול (@idanroll) November 17, 2021
It was a great pleasure to meet with @RepRitchie today. He is a true friend of Israel and a mensch. The personal experiences he shared provided important insights to help strengthen the U.S. — Israel alliance and I am grateful for his unwavering support for Israel 🇺🇸🇮🇱 pic.twitter.com/EKJRvRhSs2

— Idan roll – עידן רול (@idanroll) November 17, 2021
I enjoyed meeting again with progressive leader @SenatorBaldwin during my visit to Washington. We continued our conversation from just last week in Jerusalem, discussing ways to further strengthen the US-Israel relationship on the basis of our countries' shared values. pic.twitter.com/K1KkAxZlPz

— Idan roll – עידן רול (@idanroll) November 18, 2021
"We have a new government, and the new government is really different in many great ways," Roll told the Blade. "It's the most diverse government in our history and in a way it is the most diverse reflection of a very diverse society."
He said one of the reasons he traveled to D.C. was "to reach out and to open a dialogue." Roll also stressed Israel "has always been a bipartisan issue.
"It's crucial to keep it that way and we intend to do that," he said. "The U.S. is the most cherished and important ally we have and you need to cultivate relationships."
Israeli LGBTQ dating website hacked, users' private information released
Black Shadow has ties to Iran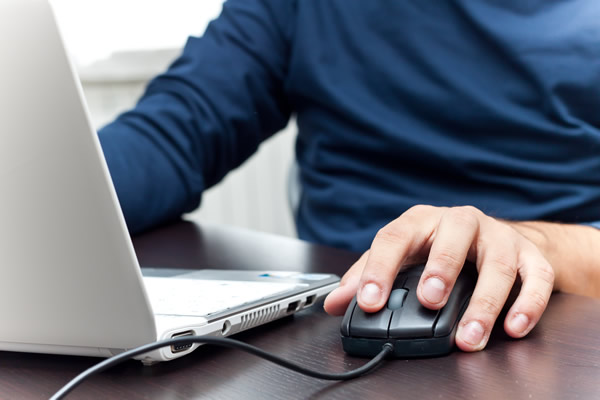 TEL AVIV, Israel — A hacking group on Tuesday released data from an Israeli LGBTQ dating website that discloses users' sexual orientation and HIV status.
Haaretz, an Israeli newspaper, reported Black Shadow, a hacking group with ties to Iran, released data from Atraf. The Times of Israel noted Black Shadow demanded $1 million in order to not leak users' information.
"If we have $1 million in our [digital] wallet in the next 48 hours, we will not leak this information and also we will not sell it to anybody," said Black Shadow in a statement, according to the Times of Israel. "This is the best thing we can do."
Hila Peer of the Aguda, the Israeli National LGBT Task Force, during an interview with i24News, an Israeli television station, urged people not to share any of the leaked information.
"There is without a doubt, a great deal of concern from people who are in the closet and certainly a huge amount of concern who are closeted with their HIV status," said Peer. "That is very sensitive information, medical information that is supposed to be censored and supposed to be private."
The Times of Israel reported the hackers infiltrated Cyberserve, an Israeli company that hosts Atraf and other websites, late last week. Haaretz said Black Shadow released information from upwards of a million Atraf listings.
Israel lifts MSM blood donor restrictions
A Wider Bridge celebrated 'landmark moment'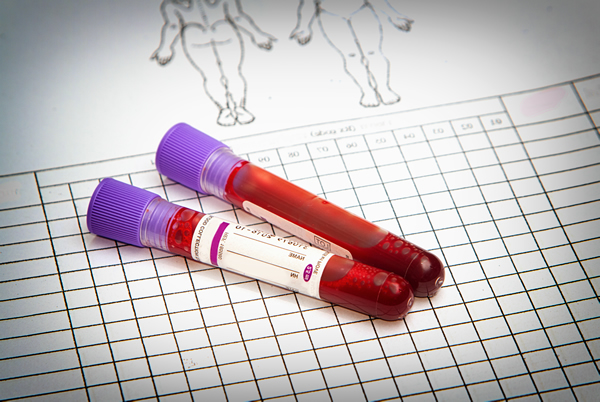 JERUSALEM — Israel on Thursday announced it will allow men who have sex with men to donate blood without restrictions.
The Associated Press reported Health Minister Nitzan Horowitz, who is openly gay, made the announcement.
"Today we removed the degrading and irrelevant questions in the blood donation questionnaire," wrote Horowitz in his Facebook post. "Every blood donor who comes with the goal of saving a life will receive equal treatment, no matter what his gender or sexual orientation (is), whether he is LGBT or straight."
A Wider Bridge — a U.S.-based organization that describes itself as "building a movement of LGBTQ people and allies with a strong interest in and commitment to supporting Israel and its LGBTQ communities" — welcomed the announcement.
"This is a landmark moment for the entire LGBTQ community in Israel and a step closer toward equality for everyone," said A Wider Bridge on its Facebook page.
Israel is the latest country that has lifted restrictions for MSM who want to donate blood.
The U.S. Food and Drug Administration currently allows MSM to donate blood if they have not had sex with another man for three months. The FDA deferral period for MSM before April 2020 was a year.
Iran's new government leaves country's LGBTQ community hopeless
Ebrahim Raisi involved with 1988 execution of political prisoners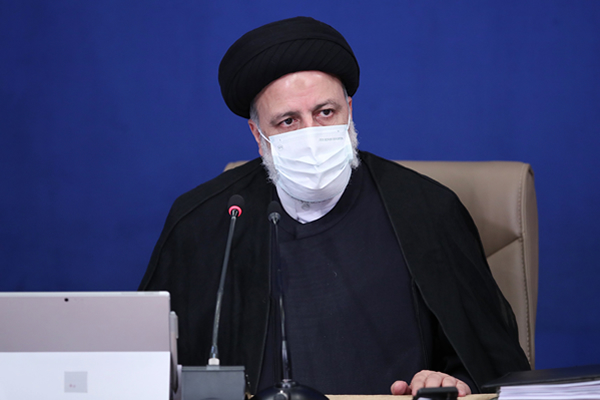 TEHRAN, Iran — Ebrahim Raisi took over the presidency of Iran and promised to be a "true defender of human rights," but the Iranian LGBTQ community is not hopeful.
Iran, a country where LGBTQ youth face legal challenges such as prosecution, sometimes to the extent of death sentences, is seeing a rise of new ultra far-right leaders.
Raisi is accused being involved in the 1988 execution of thousands of political prisoners in Tehran, but his human rights abuses are not limited to political prisoners. During Raisi's tenure as "head of the judiciary," blanket immunity was given to the Iranian officials and security forces responsible for the killing of hundreds of innocent men, women and children. This kind of bizarre record of human rights abuse by Raisi is also reflected in the hopelessness of the Iranian LGBTQ community.
"I did not even vote for the new president," said Sher (changed name), an Iranian woman who secretly identifies as bisexual. "I do not care anymore because I know he is the same as his predecessor or even worse."
In June, a poll conducted by the Six Colors Organization suggested that 90 percent of eligible voters living outside Iran had intended not to vote for Raisi. Many LGBTQ youth did not participate in voting to protest against the Raisi.
"Iran is governed based on sharia law, so it doesn't matter who is the president or supreme leader or a parliamentarian, as long as the country is governed on Islamic laws — LGBTQI+ youth are being sentenced to death," said Arsham Parsi, an Iranian LGBTQ activist living in exile in Canada and executive director of International Railroad for Queer Refugees. "Raisi is kind of extreme, more than others. He was also involved in the killing of other people at the beginning of the revolution, so he is a scary figure, especially for LGBTQs, because he can force the Islamic state agenda."
Parsi told Los Angeles Blade that he is not very hopeful about the Islamic Republic of Iran. He said that Iranian politicians do not care about anything but their power and money. Parsi does not believe that LGBTQ people will have any rights under this regime.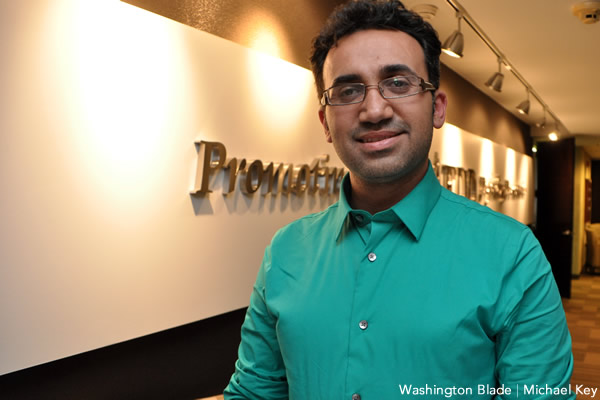 President Biden in February issued a memorandum on Advancing the Human Rights of Lesbian, Gay, Bisexual, Transgender, Queer and Intersex Persons Around the World.
Biden, in the major foreign policy speech, highlighted the promotion of LGBTQ rights. Although the U.S. does not maintain an embassy in Iran, the Swiss embassy works as the protecting power of the U.S. in Iran. But during Pride month, the Swiss embassy did not fly Pride flags outside of its building.
The U.S. State Department maintained that American embassies and consulates developed individual plans during Pride Month to both celebrate LGBTQ people and raise awareness of violence, human rights abuses and discrimination targeting LGBTQ people globally, including appropriate exterior displays. The State Department did not comment on "why there was no Pride flag flying outside the Swiss embassy during the pride month to spread awareness."
"The continuous engagement of Switzerland for the promotion of human rights, including LGBTQ rights, takes place independently of displaying specific symbols, such as the Pride flag," said Pierre-Alain Eltschinger, a spokesperson for the Swiss Department of Foreign Affairs. "Switzerland chooses its engagement strategy and instruments in a way that allows it to best fulfill, the general objective to promote human rights, based on the specific context."
The Swiss president, in a message to Raisi, also congratulated him on his victory.
The Swiss Department of Foreign Affairs did not comment to the Blade on the president's congratulations, but maintained that the Swiss government is aware of the challenges faced by members of the LGBTQ community in Iran.
"Switzerland maintains relations with the governments of all states, including the Iranian government. These high-level political contacts form the basis of an open dialogue in which we regularly address the human rights situation in Iran," said Eltschinger. "We believe that maintaining an in-depth dialogue with Iran is the best way to achieve improvements that benefit the LGBTQ community. Switzerland will continue to address this and other human rights issues with the Iranian authorities, including at the highest level."
A European Union official in a statement said that the EU takes action globally to prevent and denounce all forms of discrimination against LGBTQ persons, including homophobic, biphobic and transphobic violence while promoting their access to equal opportunities in all spheres of life. During the interview, the officials avoided the brazen human rights violation by Raisi and did not comment on Iran specifically.
"We have consistently asserted our strong opposition toward any abuse, harassment, violence and stigma targeting LGBTQI+ persons around the world, and we continue to have serious concerns over the Iranian regime's treatment of LGBTQI+ persons," said a State Department spokesperson in a statement. "We urge the new government in Tehran to ensure LGBTQI+ persons are treated fairly and with full respect for their dignity and human rights."
While speaking with Blade, Alex Vatanka, Iran program director of Middle East Institute, also expressed hopelessness on the future of the LGBTQ community in Iran under the new presidency of Raisi. He said that Raisi did not say anything progressive on this subject matter.
"The group of people coming in with Ebrahim Raisi are the least likely to engage in any kind of real and meaningful dialogue about the LGBTQI+ community in Iran," said Vatanka. "Mr. Raisi and his supporters believe that they know best, the way of life that they have chosen for themselves — is really the only way, and instead of trying to seek an opponent and have a dialogue, they would rather force their will, on the society."
For years, the U.S. and the EU have raised the issue, but there hasn't been anyone in the central government in Iran with whom to have a serious dialogue. The Iranian government considers this as interference in their internal matter. Although the hope remains bleak under this regime, the LGBTQ community is still trying to show their protest against the discriminatory laws — sometimes by not participating in the election or leaving blank votes.
Mohit Kumar is a freelance reporter who has covered different stories that include the 2020 election in the U.S. and women's rights issues. He has also covered NASA, ESA (the European Space Agency), the
Canadian Space Agency and loves to help people. Mohit is on Twitter at @MohitKopinion and can be reached at [email protected]