Deputy Israeli foreign minister denies country engages in 'pinkwashing'
Idan Roll, 37, lives in Tel Aviv with husband, two children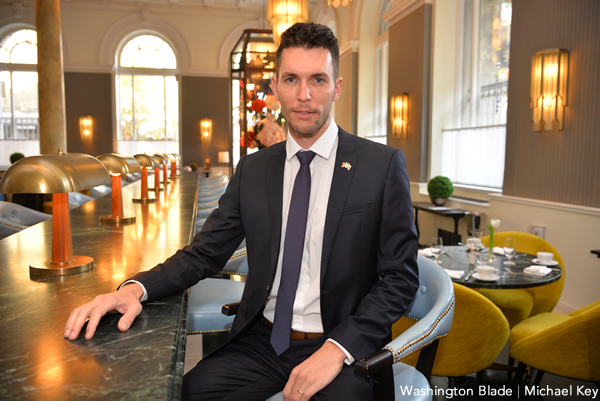 WASHINGTON — Israel's openly gay deputy foreign minister this week dismissed the idea that his country's government promotes LGBTQ rights in order to divert attention away from its policies towards the Palestinians.
"I would never, ever, put myself in a position that I would be the face of 'pinkwashing' as part of my role because I'm confident that there's no such thing in Israel," Idan Roll told the Los Angeles Blade on Wednesday during an interview at the Riggs Hotel in downtown D.C.
Roll, 37, spoke with the Blade at the end of a 4-day trip to D.C., which took place less than six months after eight political parties formed a coalition government that ousted long-time Prime Minister Benjamin Netanyahu.
The Knesset earlier this month passed Israel's first national budget in three years. Roll, who is the youngest person in the Israeli government, noted to the Blade it earmarks $30 million (NIS 90 million) to LGBTQ organizations across the country.
Health Minister Nitzan Horowitz in August announced Israel had lifted restrictions on blood donations from men who have sex with men. The Israeli Supreme Court in July ruled same-sex couples and single men must be allowed to have a child via surrogate.
A group of teenagers on Nov. 12 attacked a group of LGBTQ young people near Jerusalem's main bus station as they were traveling to a transgender rights conference in Tel Aviv. Neil Patrick Harris is among the actors who expressed their support for the Tel Aviv International LGBT Film Festival amid calls from BDS (boycott, economic divestment and sanctions) Movement supporters to boycott it over Israel's policies towards the Palestinians.
Roll acknowledged Israel does not extend civil marriage to same-sex couples, but he also pointed out to the Blade the country does not "have civil marriage for straight people either" because marriage in the Jewish state is a religious institution. Roll noted he is among the openly LGBTQ people in the Israeli government and they "live a full, fulfilling life."
"Are we perfect?" he asked rhetorically. "No. Are we one of the best places for gay people to live in the world? Definitely so, and I feel safe. And I feel welcomed. And I feel empowered and I feel like the best of it is ahead."
Roll told the Blade the idea of "pinkwashing" comes from the fact "that not everyone is as informed as others about life in Israel."
"That's something that's a task this new government and our ministry has, to better convey the Israeli story, and it's a wonderful and complex and diverse story," he said.
Roll also stressed he "would love for people to stop pinning one thing against the other."
"Us doing tremendous work for LGBTQ equality does not get eliminated or erased or cancelled just because we have to also manage a very intricate conflict, which is the Israeli-Palestinian conflict," he said. "Promoting progressive values is still something that is worth mentioning, and we are working towards bettering the lives of the Palestinians on a humanitarian and economic level. Things are not as black and white as they are portrayed."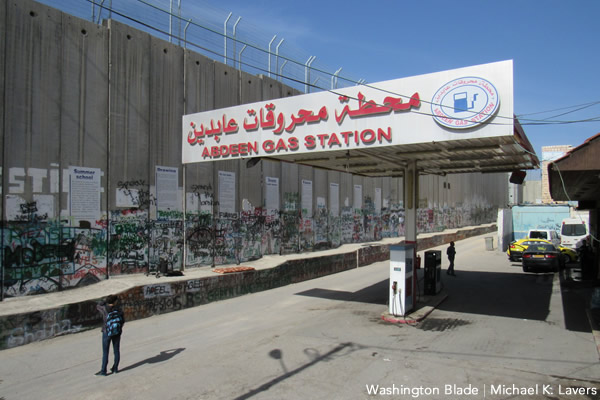 Roll lives in Tel Aviv with his husband, Harel Skaat, an Israeli pop star who he married in Utah in March, and their two children who they had via surrogates in the U.S.
The lawyer and former model who is a member of the centrist Yesh Atid party founded Pride Front, a group that encourages LGBTQ Israelis to become involved with the country's political process. Roll told the Blade he decided to run for office after he and his husband started their family.
"It was quite a struggle," he said, noting their second child was born via surrogate in Oklahoma. "And then it struck me that I have to practice what I preach. I have to not only just encourage others to take political action and move forward, but also I had to take the lead."
Roll in 2019 won a seat in the Israeli Knesset. Lapid appointed Roll as deputy foreign minister after the new government took office.
"I'm a very young member of this government … and I am an openly gay member of this government," said Roll. "I am very grateful of the life that I have been able to create for myself in Israel."
"That's a story that I feel like I can portray very authentically and I think that's a story that needs to be told outside of Israel," he added. "I'm also very proud to be part of the new face of a new government that is doing things differently and in a way I think now allows people of all different ethnicities and colors and agendas to find someone they can relate to in this government."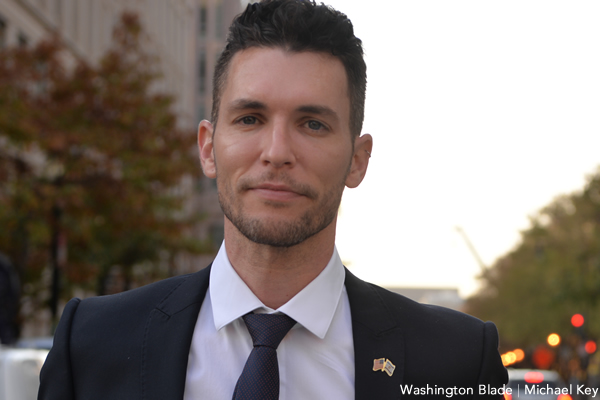 U.S. Sens. Tammy Baldwin (D-Wis.), Jon Ossoff (D-Ga.), Chris Van Hollen (D-Md.), Bill Hagerty (R-Tenn.), U.S. Rep. Ritchie Torres (D-N.Y.) and other members of the Congressional LGBTQ+ Equality Caucus are among those who met with Roll when he was in D.C. Roll also sat down with Deputy National Security Advisor Jon Finer, Deputy Secretary of State Wendy Sherman, American Israel Public Affairs Committee members and Jewish students at George Washington University.
I was privileged to meet members of the @LGBTEqCaucus to discuss how we can promote #LGBTQ rights & how much we have in common in the pursuit of #Equality. I met a group of friends who care deeply about 🇮🇱🇺🇸 relations & I look forward to working w/ them to strengthen our alliance pic.twitter.com/9ZTJAAT65G

— Idan roll – עידן רול (@idanroll) November 17, 2021
It was a great pleasure to meet with @RepRitchie today. He is a true friend of Israel and a mensch. The personal experiences he shared provided important insights to help strengthen the U.S. — Israel alliance and I am grateful for his unwavering support for Israel 🇺🇸🇮🇱 pic.twitter.com/EKJRvRhSs2

— Idan roll – עידן רול (@idanroll) November 17, 2021
I enjoyed meeting again with progressive leader @SenatorBaldwin during my visit to Washington. We continued our conversation from just last week in Jerusalem, discussing ways to further strengthen the US-Israel relationship on the basis of our countries' shared values. pic.twitter.com/K1KkAxZlPz

— Idan roll – עידן רול (@idanroll) November 18, 2021
"We have a new government, and the new government is really different in many great ways," Roll told the Blade. "It's the most diverse government in our history and in a way it is the most diverse reflection of a very diverse society."
He said one of the reasons he traveled to D.C. was "to reach out and to open a dialogue." Roll also stressed Israel "has always been a bipartisan issue.
"It's crucial to keep it that way and we intend to do that," he said. "The U.S. is the most cherished and important ally we have and you need to cultivate relationships."
Tens of thousands flood the streets of Tel Aviv for Pride 2022
Pride events are held under heavy police presence since an ultra-Orthodox extremist stabbed to death a teen during Pride in Jerusalem 2015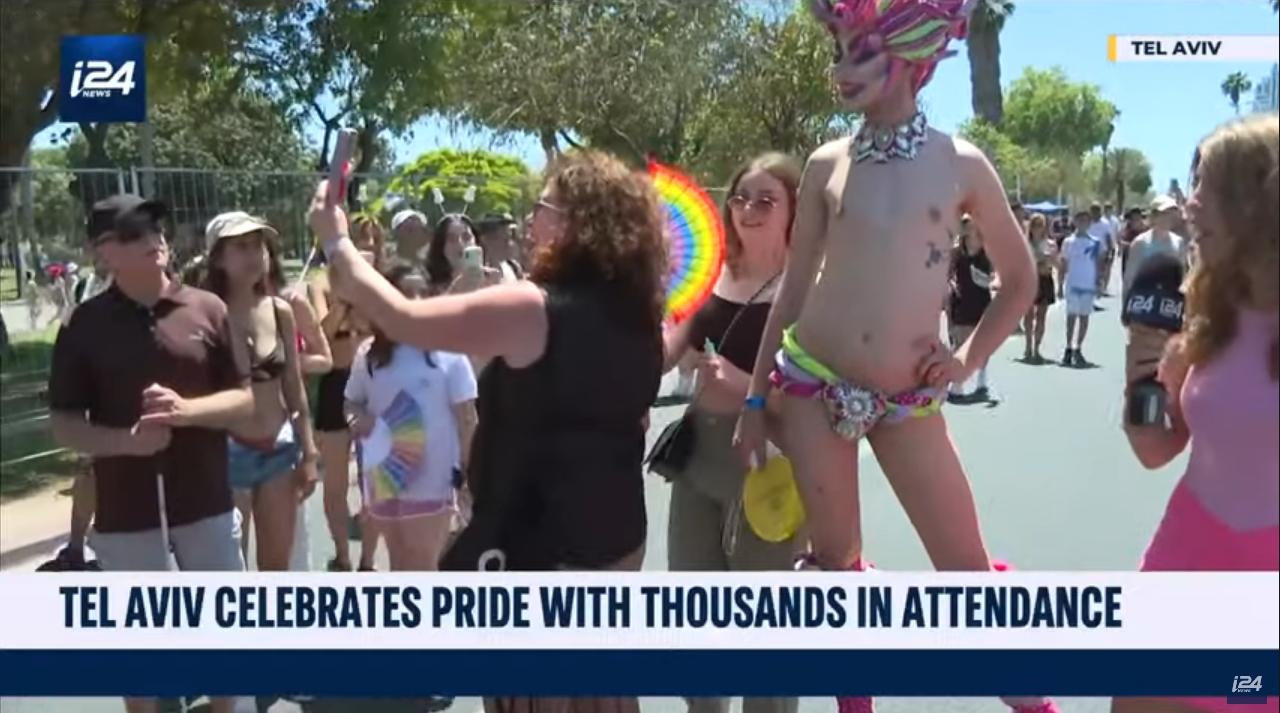 TEL AVIV, Israel – It is often referred to as the LGBTQ+ capital of the Middle East for its sizable population of people who identify as a part of the LGBTQ+ community, and it has a reputation for hosting the arguably largest annual Pride celebration and festivities.
This year was no exception as Israeli officials estimate a crowd of nearly 170,000 was in attendance.
According to i24NEWS, an Israeli-based international 24-hour news and current affairs television channel located in Jaffa Port, Tel Aviv, Israel, the seaside city has a population of nearly 100,000 who identify themselves as LGBTQ+ and the city has hosted Pride for 23 years.
Tel Aviv Mayor Ron Huldai and Israeli Social Equality Minister Meirav Cohen kicked off the festivities.
"We have a majority here in Israel that supports this community," said Mayor Huldai. "Tel Aviv has always been home for every transgender person, and every lesbian and gay person, and the home of anyone who wants to be who they are."
The Associated Press reported some 250,000 people attended the Tel Aviv Pride parade in 2019, before it was called off the following year because of the pandemic. In 2021, an estimated 100,000 people attended.
Pride parades all over Israel are held under heavy police presence, particularly since 2015 when an ultra-Orthodox extremist stabbed to death 16-year-old Shira Banki during the Pride parade in Jerusalem.
U.S. Ambassador to Israel Thomas Nides attended the march with a delegation from the U.S. embassy. "This is about tolerance and decency and respect, and being here with all the folks from the embassy is unbelievably meaningful to me," he told The Associated Press.
Tel Aviv Celebrates Pride With Thousands In Attendance:
Kuwait rebukes U.S. embassy over LGBTQ+ rights support
Acting chargé d'affaires summoned on Thursday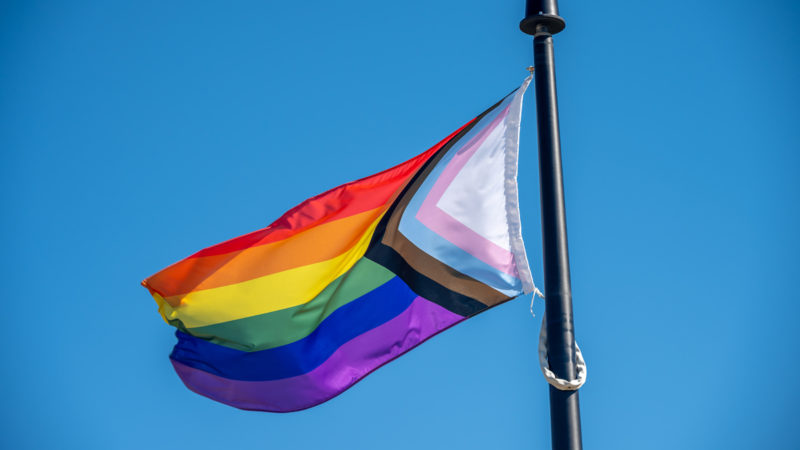 KUWAIT CITY — The government of Kuwait on Thursday said it summoned a senior American diplomat after the U.S. Embassy tweeted its support of LGBTQ+ rights.
A Kuwaiti Foreign Affairs Ministry statement notes Nawaf Abdul Latif Al-Ahmad, the country's acting assistant secretary of state for Americas affairs, met with Jim Hollisteder, the acting chargé d'affaires for the U.S. Embassy in Kuwait City, "against the background of the embassy's publication on its social media accounts of references and tweets supporting homosexuality."
The embassy on Thursday in tweets that it posted to its Twitter account in English and Arabic noted President Biden is "a champion for the human rights of LGBTQI persons."
"All human beings should be treated with respect and dignity and should be able to live without fear no matter who they are or whom they live," said the tweets.
"All human beings should be treated with respect and dignity and should be able to live without fear no matter who they are or whom they love." @POTUS is a champion for the human rights of #LGBTQI persons. #Pride2022 #YouAreIncluded pic.twitter.com/gdPPBDlHZH

— U.S. Embassy Kuwait (@USEmbassyQ8) June 2, 2022
دفاعاً عن حقوق الإنسان لأفراد مجتمع الميم، قال الرئيس بايدن: "يستحق كلّ الناس الاحترام والكرامة والقدرة على العيش دون خوف بغض النظر عمن هم أو من يحبون." pic.twitter.com/YptuptZJE6

— U.S. Embassy Kuwait (@USEmbassyQ8) June 2, 2022
The Kuwaiti Foreign Affairs Ministry in its statement notes Al-Ahmad "handed" Hollisteder "a memorandum confirming Kuwait's rejection of what was published and stressing the need for the embassy to respect the laws and regulations in force in the state of Kuwait and the obligation not to publish such tweets in compliance with what was stipulated in the Vienna Convention on Diplomatic Relations of 1961."
Kuwait is a U.S. ally that borders Iraq, Saudi Arabia and the Persian Gulf. It is one of the upwards of 70 countries in which consensual same-sex sexual relations remain criminalized.
State Department spokesperson Ned Price, who is openly gay, on Friday retweeted the embassy's tweet.
"The United States stands with the LGBTQI+ community everywhere around the world," said Price.
The United States stands with the LGBTQI+ community everywhere around the world. https://t.co/k4t8fTDzYs

— Ned Price (@StateDeptSpox) June 3, 2022
Man arrested for death threats against Jerusalem Pride organizers
Israeli police on Wednesday arrested 21-year-old man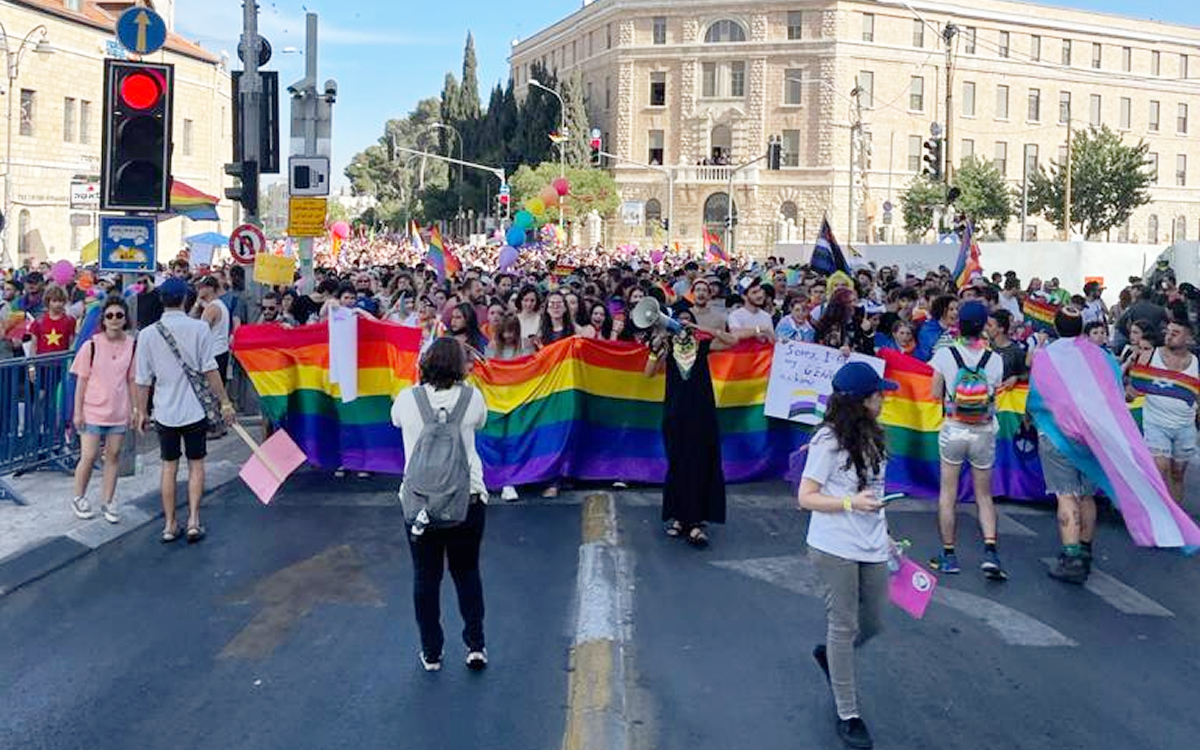 JERUSALEM — Israeli police on Wednesday arrested a man in connection with death threats made against organizers of Jerusalem's Pride parade.
The Times of Israel reported the 21-year-old man allegedly sent a message to Jerusalem Open House for Pride and Tolerance Community Director Emuna Klein Barnoy and two Israeli lawmakers in which he described Jerusalem as "the Holy City" and said "we will not allow the Pride parade to take place in Jerusalem."
The threat also referenced Shira Banki, the 16-year-old teenager who was stabbed to death during a Jerusalem Pride march in 2015.
An ultra-Orthodox man who stabbed Banki and five others during the march had just been released from prison after serving a 10-year sentence in connection with the stabbing of three people during a Jerusalem Pride march in 2005. The man is currently serving a life sentence in an Israeli prison.
Israeli media reports note the threat that Barnoy and the two lawmakers received on Wednesday came from an Instagram account that included the name of the man who killed Banki.
The Jerusalem Pride parade will take place on Thursday with more than 2,400 police officers deployed along the route. The Times of Israel reported the man who allegedly threatened organizers was expected to have appeared in a Jerusalem court on the same day.