Sen. Alex Padilla & Santa Monica College- Thanksgiving grocery giveaway
"As we approach Thanksgiving, it is important to support each other and our communities, and give back when we can"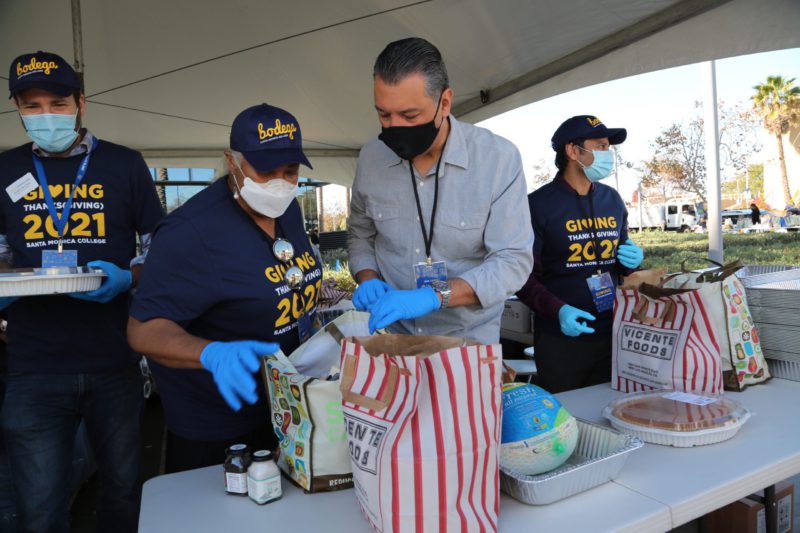 SANTA MONICA — Ahead of Thanksgiving, U.S. Senator Alex Padilla (D-Calif.) on Tuesday volunteered with Santa Monica College (SMC) for their 2nd Annual GIVING THANKS(giving) Holiday Grocery Drive-Thru Giveaway.
Padilla joined dedicated SMC volunteers, along with state and local officials to provide fresh holiday groceries to 1,500 food insecure students.
"As we approach Thanksgiving, it is important to support each other and our communities, and give back when we can," said Senator Padilla. "I was proud to join Santa Monica College and regional partners for their annual holiday food drive to make sure students have access to fresh food and groceries this holiday season. But this is also a stark reminder that there is more work to be done to address student food insecurity, an issue that existed since before the pandemic. I've introduced the BASIC Act to give students the resources they need to stay focused on their education. No student should have to worry about meeting their basic needs while pursuing their education."
"Having Senator Padilla attend today's event is so powerful because it raises the importance of giving back to our community," said Lizzy Moore, president of the Santa Monica College Foundation and Santa Monica College's dean of institutional advancement. "The Santa Monica College community is grateful for his leadership in the Senate to push for the BASIC Act and other legislative proposals to address the dramatic rates of food insecurity that exists on all college campuses including Santa Monica College."
Even before the pandemic, 50 percent of California Community College students were food insecure.
Senator Padilla has been a strong advocate for addressing food insecurity and ensuring students can meet their basic needs while pursuing a higher education. This year, Padilla introduced the Basic Assistance for Students in College (BASIC) Act, bicameral legislation to ensure college students are able to meet their basic needs while pursuing their education. Specifically, the legislation provides $1 billion for grants to ensure institutions of higher learning have the resources they need to support their students' most fundamental needs, and directs the federal government to streamline data sharing across agencies to help students qualify for aid – particularly Pell Grant recipients and attendees of community colleges and minority-serving institutions.
Senator Padilla also joined his colleagues in introducing the Student Food Security Act of 2021. This bicameral legislation helps address food insecurity on college campuses by enabling more low-income college students to access the Supplemental Nutrition Assistance Program (SNAP), improve data collection and sharing, and create a new grant program to help colleges and universities support their students.
Anti-Vax & maskers gather in Santa Monica to protest LA COVID mandates
The rally occurred as the U.S. Food and Drug Administration is poised to fully approve Pfizer Inc.'s coronavirus vaccine early next week.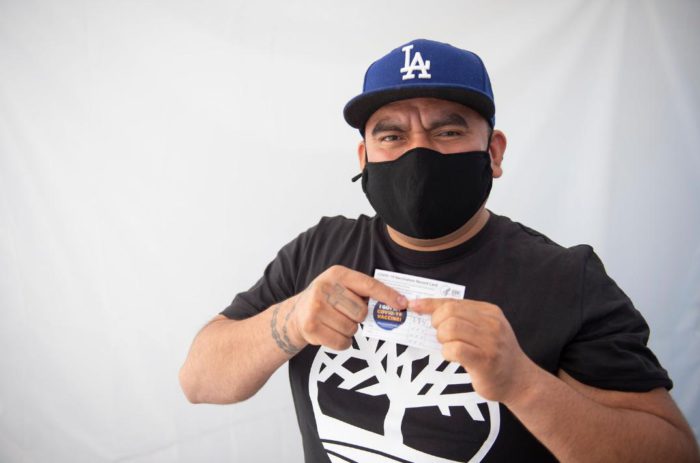 SANTA MONICA – Hundreds of Angelenos angered by what they are saying is government overreach gathered for the S.O.S. California No Vaccine Passport rally Saturday. The protest comes as Los Angeles County and the City of Los Angeles are moving to require proof of vaccination or stringent COVID-19 testing for government workers and inside businesses.
The rally occurred as the U.S. Food and Drug Administration is poised to fully approve Pfizer Inc.'s coronavirus vaccine early next week.
The approval probably will come Monday or Tuesday, according to one official familiar with the plans, speaking on the condition of anonymity ahead of the announcement. Pfizer's vaccine has been in use in the U.S. based on an emergency authorization, the Los Angeles Times reported.
The Los Angeles County Department of Public Health confirmed 31 new deaths and 3,361 new cases of COVID-19 on Saturday as the Delta Variant cases continue to impact the region. One of those COVID-19 deaths was a teen between the ages of 12 and 17.
There are 1,786 people with COVID-19 currently hospitalized and 23% of these people are in the ICU. Testing results are available for nearly 7,900,000 individuals with 16% of people testing positive. Today's test positivity rate is 3.6%.
"Everyone who is not yet vaccinated needs to know they do not have the same protection as vaccinated people. While the highest hospitalization rate is among older unvaccinated adults over 50, hospitalizations in younger unvaccinated adults between the ages of 18 and 49 have increased 226% since July 7," said Barbara Ferrer, Director of Public Health. "Relative to unvaccinated adults, hospitalization rates among vaccinated adults of all ages remain very low. The data continues to show how well protected vaccinated people are from bad outcomes. Our top priority is vaccinating those not yet vaccinated."
Sandra Mitchell reports for the KTLA 5 News: