Santa Monica Police: Missing founder of SoberGrid confirmed dead
After the 911 texts, Uber reported that he was dropped off on Berkeley Street and his trail went cold at that point
SANTA MONICA – The Santa Monica Police Department confirmed that the body of Beau Mann, a tech executive, was identified by the Los Angeles County Coroner more than a year after he was reported missing by the Los Angeles Police Department. 
On April 25th, 2023, the SMPD received information that human skeletal remains were found in the courtyard of an abandoned property in the 2900 block of Santa Monica Boulevard.
The Los Angeles County Coroner took possession of the remains and are currently working to determine the cause of death. On May 6, 2023, the Coroner positively identified the remains as those of Beau Mann.
Mann, who was last seen on November 30, 2021, was reported missing to the Los Angeles Police Department on December 4, 2021.
According to the Santa Monica Daily Press, Mann, 38, had recently returned from a family trip to his native Massachusetts when he went for what appeared to be a routine trip to the store. He was last seen at a 7-Eleven where he sent a text to the 911 service saying he was in an Uber vehicle. At the time, he didn't elaborate on why he needed to contact 911 and LAPD has said he didn't respond to their follow-up requests. 
"We can confirm that there was a 911 text that was received at a 911 center dispatch call center and they did make an attempt to contact him to get more clarification on what that request was," LAPD Officer Jill Calhoun said. "But there was no response."
Uber reported that he was dropped off on Berkeley Street and his trail went cold at that point.
LAPD issued a missing person alert in December of 2021.
Mann was engaged to his partner Jason J. Abate who left a heartbroken tribute on his personal Facebook to Mann Monday:
"I have so many questions and no answers. Beau, how can you be gone, how do all of these memories exist so vividly and you're gone? Can someone please explain to me how this is possible. I need someone to help me understand this. Beau, I still have your toothbrush where you left it and every single room in this house has your beautiful spirit attached to it. I can't move even a inch without seeing you because everything has a memory of us and I can't breath. You're not just "remains" found I can't stand one more time I hear about your "remains". Please stop saying remains, just stop saying dental records. Please don't let anyone cut your beautiful soul that was bigger than life down to just remains."
Mann is the founder and CEO of Sober Grid, a Recovery App designed to help recovering addicts, Mann himself was a recovering addict.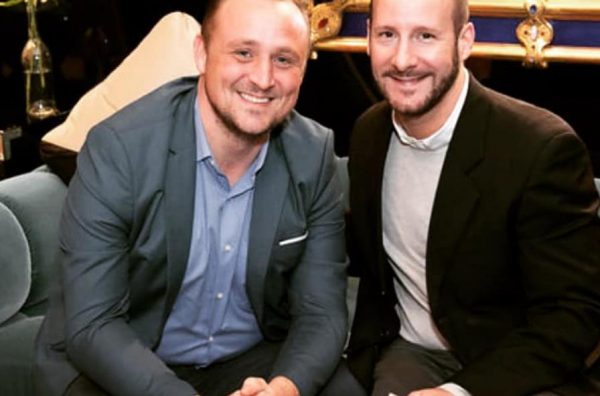 Abate and others launched an extensive effort to locate Mann, His surrogate mother of 20 years, Sandy Eggers, who served on the Sober Grid board and was the first person Mann told he was gay described the toll the search was taking on Mann's partner and friends:
"It's been draining, just draining. I go to bed thinking about Beau, I wake up thinking about Beau — all kinds of theories and possibilities that we've explored," Eggers said.
Anyone with any information pertaining to this incident or person(s) involved is strongly encouraged to contact SMPD Detective Ismael Tavera at 310-458-2256, [email protected], or the Watch Commander (24 hours) at 310-458-8427.
First ever Santa Monica PRIDE Festival: "Colors of PRIDE"
SaMo PRIDE is a citywide partnership with Santa Monica Place, Downtown Santa Monica, Inc. & Santa Monica Pier, in collaboration with the City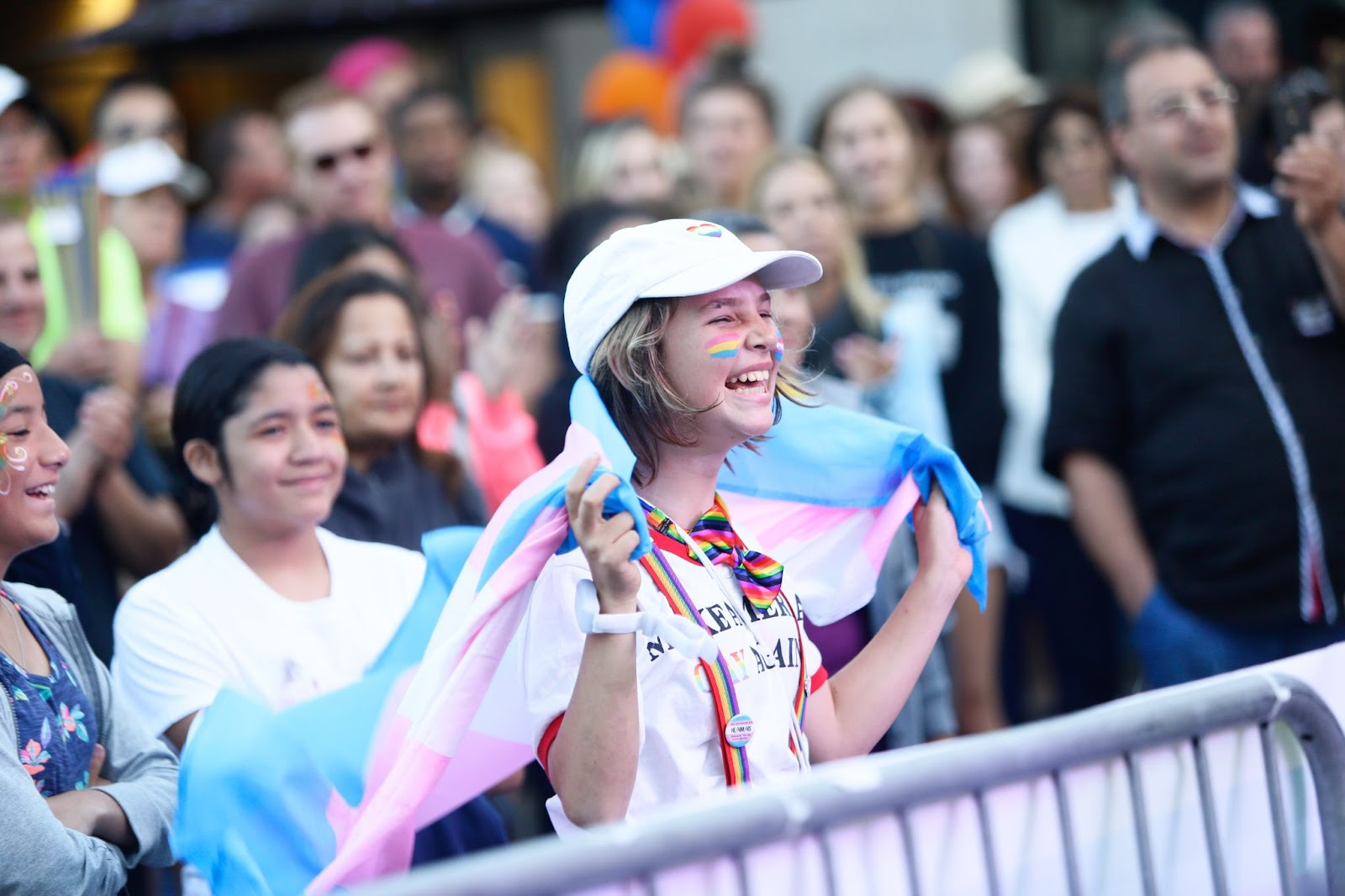 SANTA MONICA, Calif. – The month-long celebration SaMo PRIDE returns in June with activities and experiences that honor the LGBTQ+ community. SaMo PRIDE is a citywide partnership between Santa Monica Place, Downtown Santa Monica, Inc. and Santa Monica Pier, in collaboration with the City of Santa Monica and Santa Monica Travel and Tourism.
On Saturday, June 3 the first-ever SaMo PRIDE Festival will turn the entire downtown district, from the Third Street Promenade through Santa Monica Place to the Santa Monica Pier, into a PRIDE zone. All ages are welcome to enjoy live musical performances, PRIDE-related treats, free swag, games and much more.
The Santa Monica Public Library will share queer books for kids, featuring a special Drag Queen storytime, suited for all ages and abilities. Local service providers and community groups will offer support and resources for the LGBTQ+ community throughout the event along the Promenade.
Presented in partnership with Cayton's Children's Museum, the Santa Monica Place family zone will provide kid-friendly PRIDE activities, transforming Center Plaza into an interactive space for kids to play and learn about inclusivity and acceptance.
"Colors of PRIDE" photobooth installations, designed by LGBTQ+ artists, will be placed throughout the SaMo PRIDE Festival with fun, interactive props. Photos from the installations will be assembled to create a photographic mosaic, bringing the three districts together in a rainbow of colors that make up the LGBTQ+ Progress PRIDE flag.
The celebration continues throughout the month with events that bring together the community including the Made with PRIDE Marketplace, a unique retail pop-up hosted every Friday through Sunday in June at Santa Monica Place on Level One.
Hosted in partnership with Streetlet, the Marketplace showcases over a dozen LGBTQ+ business owners, highlighting their stories and featuring local goods and services made, conceived and curated in Southern California. Santa Monica Place will also host a live DJ spinning every weekend throughout the month where guests can enjoy music under "Lanterns of Love," an overhead colored lantern installation that spans across Center Plaza.
The City of Santa Monica is dedicated to increasing visibility and understanding of the broad spectrum of gender identities and experiences within the LGBTQ+ community. The City celebrates PRIDE with the month-long lighting of City Hall in rainbow colors and a series of educational, uplifting events during the month of June.
Community events include the City's PRIDE Proclamation on May 23; live music, theatre and dance performances by SORORITY: WAVES on June 4; Rainbow Family Storytime at the Santa Monica Public Library on June 6; an AIDS LifeCycle Ride finish line celebration on June 10; Queer Prom for LGBTQ+ youth on June 12; Drag Queen Storytime on June 16; PRIDE sunset swim at the Annenberg Community Beach House on June 23; Sapphic Poetry Workshop on June 24; Party with a Purpose mixer and fundraiser on June 29; and much more.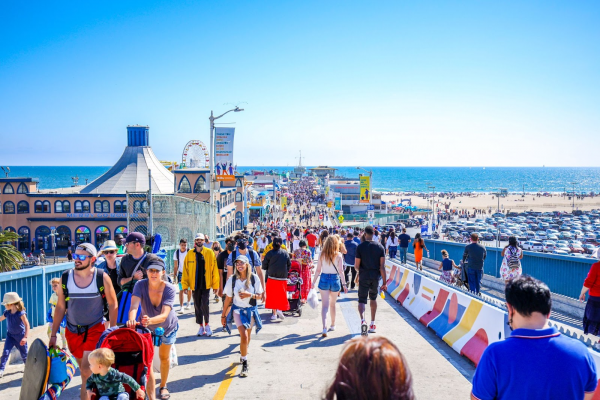 Santa Monica Pride free community event also is a Local LGBTQ+ History and discussion, Noon to 2:30pm, at the Santa Monica Public Library's Pico branch Annex, 2201 Pico Blvd, at Virginia Park.
Free and open to the public, this is a community celebration of and sharing of local history directly from the people who experienced it. Share your memories and learn more about our local lgbtq+ heroes. Allies and family welcome.
The Santa Monica History Museum, in partnership with the OUTWORDS Archive, will feature the exhibit "Coming Out West", a video-based collection of oral histories of Santa Monica Bay area LGBTQ+ elders, opening June 1.  
For more information and the full calendar of SaMo PRIDE events visit smpride.com.
For sponsorship inquiries please reach out to DTSM, Inc. Director of Marketing & Partnerships Ariana Gomez at [email protected].