Former Minnesota school principal ousted for displaying Pride flag
Critics ramped up attacks on the career educator- some compared her to the Devil after publicly associating with LGBTQ+ people and students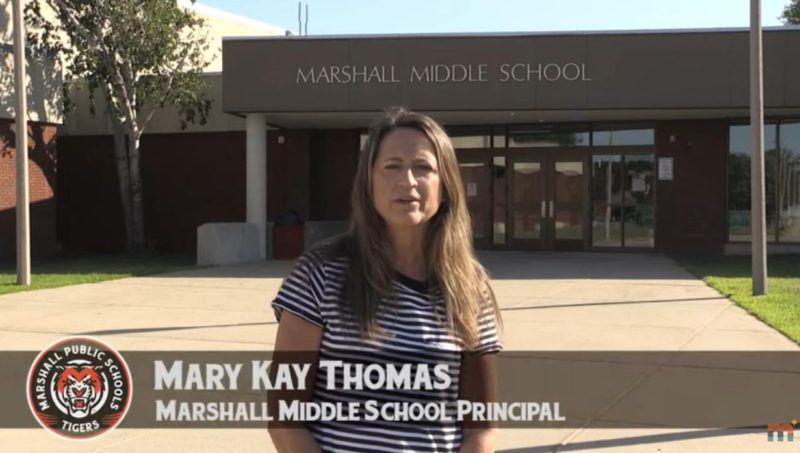 MARSHALL, Mn. — A former middle school principal in Minnesota who lost her job after displaying a Pride flag alleges in a federal lawsuit that the school system retaliated against her for supporting LGBTQ+ students.
Mary Kay Thomas filed the complaint against Marshall Public Schools in the U.S. District Court of Minnesota Tuesday after anti-LGBTQ+ middle school staff, parents, students and local clergy began efforts to remove the Pride flag that she put up in her middle school's cafeteria in 2020 as a part of an inclusiveness effort.
According to the lawsuit, Thomas has been a teacher and principal for more than three decades with a long track record of success. She held the principal position at Marshall Middle School for 15 years, receiving contract renewals, pay raises and praise for her performance.
"But when Thomas decided to display an LGBTQ Pride Flag in the school cafeteria in early 2020, everything changed," reads the complaint.
Thomas refused to take down the Pride flag as critics ramped up attacks on the career educator. The lawsuit alleges that some even compared her to the Devil after publicly associating with LGBTQ+ people and students.
"Sadly, the Marshall School District has sided with these critics," her lawyers wrote.
What followed was an "escalating series of adverse actions" taken by the Marshall School District, said the lawsuit. She claims that the school targeted her by threatening her employment, conducting a "bad-faith" investigation, putting her on indefinite involuntary leave, suspending her without pay and putting a notice of deficiency in her personnel file.
The complaint says that the deficiencies were "false, distorted, and/or related to Thomas's association with members of the LGBTQ community."
Thomas also claims that the District attempted to get her to quit by removing her as principal and assigning her to a "demeaning 'special projects' position."
At one point, Marshall Public Schools Superintendent Jeremy Williams, who is named as a defendant in the case, told Thomas he could "make this all go away" if she stepped down, according to the complaint.
The school removed the Pride flag in August 2021 after settling a lawsuit brought by residents who opposed it.
The Blade reached out to Williams for comment but did not receive a response. However, according to the Marshall Independent, Williams did release a statement on the matter.
"Marshall Public Schools is committed to the education of every child and has strong policies and practices in place against discrimination, against both students and staff members. The school district is committed to creating a respectful, inclusive, and safe learning and working environment for students, staff and our families," Williams said. "While the school cannot comment about the specific allegations made in the complaint, the school district strongly denies any allegation of discriminatory conduct. The school will vigorously defend itself against these allegations."
In addition, Thomas alleges that she resisted unwanted sexual advancements from school board member Bill Swope. She claims she told Williams about the sexual harassment.
As of Thursday, the school has not filed a response, and no hearing has been scheduled yet.
Thomas is seeking a jury trial, damages and reinstatement as principal of Marshall Middle School.
ACLU: Becker, MN school board policy 'raises serious legal concerns'
Becker School Board Director Aaron Jurek did not return a call requesting comment. Nor did any of the other board members respond

BECKER, Mn. – As The Los Angeles Blade reported, a policy unveiled earlier this month by the school board in Becker, Minnesota, about an hour northwest of Minneapolis, caused a faculty member to resign amid widespread concerns it will be weaponized to suppress and penalize speech and expression about racial justice and LGBTQ+ themes.
On Friday, the ACLU of Minnesota shared with The Blade a copy of a letter in which the organization's Legal Director Teresa Nelson urged the board and Superintendent Jeremy Schmidt to reject the policy, citing "serious legal and public policy concerns," specifically that it "would significantly interfere with the First Amendment rights of students."
Becker School Board Director Aaron Jurek did not return a call requesting comment. Nor did any of the board members return an email requesting comment.
"Our country needs to acknowledge and reckon with its history of systemic racism, misogyny, and discrimination against LGBTQ people — this includes being able to teach and talk about these concepts in our schools," the letter reads, in part. "And chilling conversations about race — and gender and sexuality — in schools risks maintaining or creating education environments that are unwelcoming to students of color, women and girls, and LGBTQ+ students."
Per the Minnesota Government Data Practices Act, the ACLU's letter also requests, from Schmidt, "copies of any and all data related to the drafting and consideration of proposed
Becker School Board Policy 471."
The school board's procedures stipulate that new policies must be read through twice and opened for public comment during their meetings, but the board did not allow for public comment during the first discussion of Policy 471 on July 11. It could be approved on Monday, August 1 after the "second reading."
The policy was broadly construed and ostensibly neutral in barring speech and expression involving matters that are "controversial" or "political," but sources told The Blade they fully expect enforcement will be selective, consistent with the board's campaign of intimidation against a small group of LGBTQ+ students and handful of supportive staff members in their high school.
As written, 471 would prohibit "political indoctrination or the teaching of inherently divisive concepts," mandating that classrooms be free of "non-school materials favoring any particular group, political ideology, favored class or promoting controversial issues," which applies to "non-United States flags, leaflets, brochures, buttons, badges, fliers, stickers, lanyards, petitions, posters, or artwork and underground newspapers," while staff are instructed to make sure "their own and their students' apparel choices are not in violation of this policy."
Nelson wrote, in the ACLU's letter:
"While schools have a limited ability to curb some student speech within the schoolhouse walls, school officials may only regulate student speech and expression that is reasonably likely to "materially and substantially disrupt" the school environment. Id. at 513. Proposed Policy 471 would regulate constitutionally protected student speech (including student apparel and accessories, buttons, stickers, literature or other means of student expression) that does not rise to the level of being materially and substantially disruptive."
The letter also calls the policy "overbroad" and "vague," imposing unclear rules about what speech is permissible.
Read the letter here:
New Minnesota school board's LGBTQ+ policies forces out GSA advisor
ACLU & Southern Poverty Law Center lawyers noted the actions by officials potentially violated constitutional & workplace protections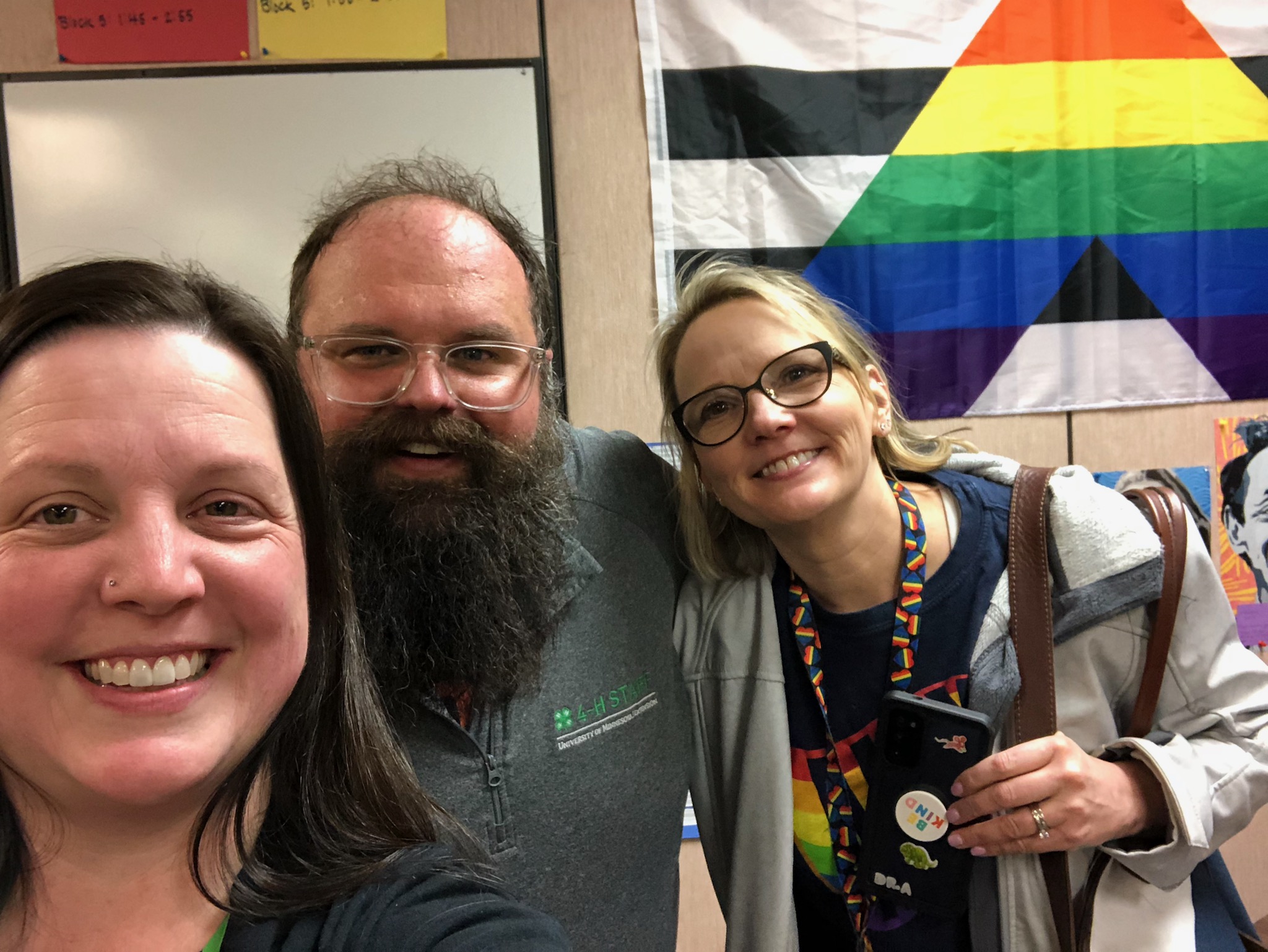 BECKER, Mn. – When members of the board of the Becker public school district introduced the draft of a new policy statement during their meeting last week, a group of LGBTQ+ students and a handful of supportive staff members in their Minnesota high school once again found targets drawn on their backs.  
The move, which further escalated a well-publicized conflict that has been brewing for months over the board's treatment of LGBTQ+ issues, led a staff member to resign while validating concerns that those who have spoken out against elected leadership about these matters would face retaliation.
The broadly written policy prohibits "political indoctrination or the teaching of inherently divisive concepts," mandating that classrooms be free of "non-school materials favoring any particular group, political ideology, favored class or promoting controversial issues," which applies to "non-United States flags, leaflets, brochures, buttons, badges, fliers, stickers, lanyards, petitions, posters, or artwork and underground newspapers," while staff are instructed to make sure "their own and their students' apparel choices are not in violation of this policy."
Students, staff, and employees must read and sign the document, adherence to which will be monitored with weekly classroom inspections and violators subject to disciplinary action. The policy might be approved in a forthcoming board meeting in August, potentially going into effect as early as the coming school year.
Sources told The Los Angeles Blade they expect the non-US flags hung in foreign language classrooms will probably be safe, as will buttons or jerseys emblazoned with the logos of Minnesota based professional sports teams. In the likely event that the policy is adopted, its enforcement will almost certainly be selective, they said, for the purpose of minimizing or eliminating from the district's schools anything that touches on, for instance, LGBTQ+ themes or issues of racial justice.
When news of the policy broke during the board's meeting on July 11, it was the last straw for Joe Rand, an openly gay GSA faculty advisor at Becker who, upon tendering his resignation Monday, told The Los Angeles Blade, "The writing was on the wall."
Rand said it had become even clearer that leadership is committed to making life as difficult as possible for the high school's already marginalized LGBTQ+ students. Their appeals for the board to consider how their policies and practices could be made more inclusive to foster a safer learning environment had, time and again, fallen on deaf ears, or in some cases led to threats of retaliation against the students and staff members who spoke out.
News of the board's new policy did little to alleviate their feelings of hopeless or assuage fears about what may come next as officials seem dedicated to ensuring schools in the district tacitly ignore or deny the existence of LGBTQ+ people, along with America's past and present struggles with racism.
In this respect, Becker is not unique. As The New York Times has chronicled, similar policies are cropping up in school districts across the country, as school board meetings have become battlegrounds for heated political debates over matters from critical race theory to mask mandates to the inclusion of library books with pro-LGBTQ+ themes.
Becker, however, which is located about 50 miles northwest of Minneapolis, in the congressional district formerly represented by anti-LGBTQ+ Tea Party Republican Congresswoman Michele Bachmann, is perhaps distinguished by the extent to which fights over LGBTQ+ issues have roiled the school district and community at large.
As was the case with respect to past articles about these incidents that were published by The Blade, the board did not respond to multiple requests for interviews, comments, or statements for this article. During at least one meeting, recordings of which are publicly available, board members raised objections to The Blade's coverage, which they called "one-sided."
School board's moves seem designed to mitigate evidence of its pattern and practice of retaliation
Tensions first came to a head in March when Becker's school board, over objections raised by members of the GSA club, voted to allow a presentation during their March 14 meeting by the virulently anti-LGBTQ+ Minnesota Child Protection League (CPL). Protests during the group's presentation led to a series of incidents in which members of the board tried to retaliate against participants and uncover evidence that some LGBTQ+ friendly staff members may have encouraged the students to demonstrate.
Months later, Superintendent Jeremy Schmidt demanded staff and employees turn over a trove of documents including handwritten memos and post-it notes. Then came a directive to not to engage with members of the press and instead direct media inquiries to the superintendent's office.
Some employees became regular targets of veiled threats of disciplinary action, including in some cases where access to email was cut off pending investigations into staff members' conduct that was completely innocuous and above-board. LGBTQ+ students feared the backlash would lead to policies prohibiting the "safe space" signs and Pride themed displays that once offered a rare respite from the discrimination and marginalization they encountered at school every day.
These concerns, of course, proved entirely warranted when the board rolled out the draft of its new policy this summer, cementing Rand's decision to sever ties with Becker. The story of his resignation is more complicated, however, beginning with the administration's objection to his involvement in an argument on social media.
In response to a comment under a Facebook post that read "we should start a protest for straight white males," Rand wrote a quippy reply: "There is a group for straight white male pride…it's called the KKK." The exchange happened months ago, so Rand was surprised to learn he would be discussing the matter with Schmidt and an HR director in a meeting on June 7, and even more surprised when he was given the option to either resign within two weeks or be terminated.
At the time, Rand was unaware his Facebook exchange was with a student (who was not, to Rand's knowledge, ever disciplined for the part he played in the online kerfuffle). Regardless, and especially given his spotless disciplinary record and the positive reception earned by the spring play and fall musical he directed, Rand believed the incident hardly warranted the treatment he received and was merely a pretext used to terminate him.
An employment attorney agreed, advising Rand there might be cause of action for a lawsuit on the grounds that his firing constituted unlawful retaliation. Rand suspects Schmidt might have received legal counsel during the same time, as the superintendent subsequently reversed course and notified Rand he would not be terminated but rather handed a disciplinary letter.
Rand and other sources who have been in touch with legal actors were advised the scepter of a possible lawsuit will likely require "a bad act" – such as a direct, written reprimand, a disciplinary letter in a personnel file, or a termination notice that presents clear evidence of retaliation or discrimination. Less likely but still within the realm of possibility is a potential case that would argue the school board or other officials acted in violation of students' and staff's First Amendment rights, some of the sources said.
Attorneys with the ACLU and Southern Poverty Law Center previously told The Blade it seems some of the moves by officials in the Becker school district potentially violated constitutional and workplace protections, but the facts and circumstances of each allegation must be considered individually with more weight given to policies and practices that can be easily documented.
After anti-LGBTQ+ presentation, school district takes aim at free speech
Students have been asked to remove buttons and pins celebrating Pride month & a teacher's rainbow flag was removed from their classroom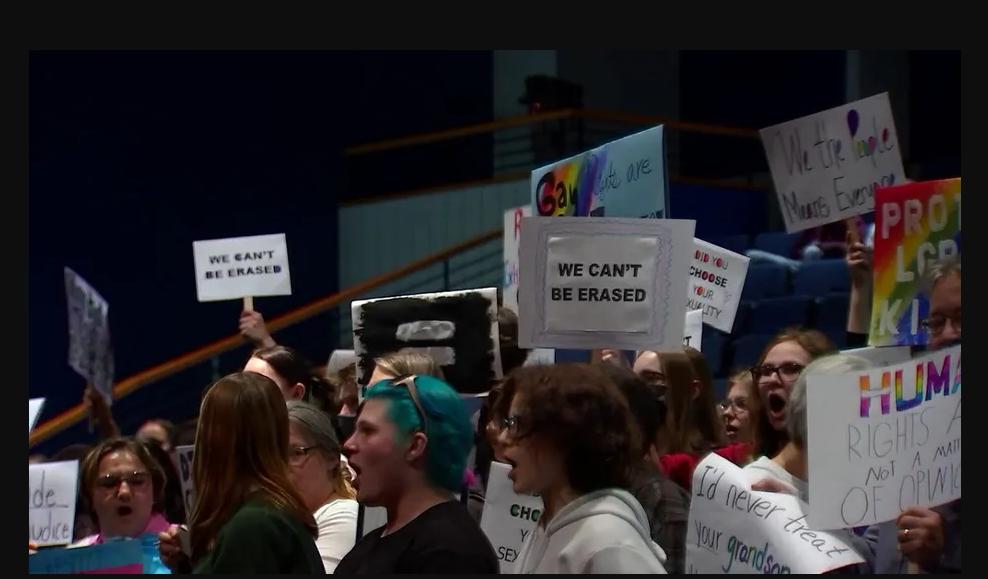 BECKER, Mn. – In the aftermath of negative press attention over a presentation by an anti-LGBTQ+ hate group, students and staff in a Minnesota school district have been discouraged, and in some cases prohibited, from speaking with the media, multiple sources said.
When the Becker Public School Board voted to allow the Minnesota Child Protection League (CPL) to address them in a March 14 meeting, student-led protests were covered by local and national news outlets, including this one.
Two members subsequently resigned, one of whom publicly acknowledged their decision to step down was motivated by negative coverage surrounding CPL's presentation, which included false statements and extreme language about LGBTQ+ people.
During a May 2 meeting, the board unveiled a new communications plan, ostensibly written for the purpose of lightening the burden on staff by having them direct media inquiries to the superintendent's office.
But staff members in the district's schools have not been given a copy of the document, nor have they been briefed on any changes to rules and guidelines governing their interactions with the press.
Instead, according to a staff member and a teacher, they were instructed by administrators not to engage with reporters. Becker High School students Ella Rick and Erin Deering, along with other sources contacted for this article, said their impression is officials are toeing the line between restrictions that infringe on constitutionally protected speech.
Becker School Board Director Aaron Jurek, Chair Mark Swanson, Vice Chair Connie Robertson, and Superintendent Jeremy Schmidt did not respond to repeated requests for comment.
Rick and Deering said school officials' efforts to discourage or prohibit interactions with the media – not limited to adult employees at the school – are consistent with their practice of restricting free speech and expression they find objectionable.
Students have been asked to remove buttons and pins celebrating Pride month, they said. A staff member added that in at least one case, a teacher's rainbow flag was removed from their classroom.
According to two civil rights attorneys, depending on the facts and circumstances of each instance, the district's restrictions on speech and expression might run afoul of First Amendment protections.
"Public employees have the right to speak out on matters of public concern," said Teresa Nelson, legal director of the ACLU of Minnesota. "The district could craft a policy that prohibits staff from being a spokesperson for the district, but they cannot restrain staff from speaking about matters of public concern in their personal capacity on their own time unless that speech causes disruption in the workplace," she said.
"The district has even less ability to regulate off-campus student speech, as long as that speech occurs on the student's own time and not in the context of a school-related activity," Nelson added.
Scott McCoy, interim deputy legal director and head of LGBTQ rights and special litigation for the Southern Poverty Law Center (SPLC), said it might be wise for staff members to consult the Teachers Union or attorneys specializing in employment law about the school's and district's policies governing their interactions with the press.
Regarding cases where students were asked to remove Pride buttons, Nelson said, "If the symbols and messages are displayed by students on their person (a rainbow t-shirt or pin for example), that is generally considered to be student speech. Even in the absence of a formal policy, school officials may not censor or punish student speech unless it is reasonably likely to cause – or has actually caused – a material interference with or substantial disruption of the educational environment."
McCoy agreed with Nelson's assessment that Pride buttons are probably constitutionally protected student speech, given that they, presumably, are not disruptive and do not condone or endorse illegal activity.
Restrictions, therefore, may potentially present a cause of action for a lawsuit, McCoy said. But these cases are more difficult to bring when restrictions are not outlined in written policies, and in cases where they are applied inconsistently – as, for example, if some teachers instruct students to remove Pride pins while others do not, McCoy said. "You'd have to look to see if the school district is endorsing that kind of conduct and whether it's showing favoritism to a teacher based on whether they're for or against that kind of thing," he said.
As opposed to free expression by students on their person or on their personal property, officials have more leeway to regulate displays that are made in classrooms or on school bulletin boards, Nelson said, but in those cases restrictions must be viewpoint-neutral and "reasonably related to legitimate pedagogical interests."
Concerns reinforced by far-reaching order for teachers to turn over documents
Last week, Schmidt instructed staff to turn over documents – from post-it notes to recorded conversations and handwritten memos – dated between February 1 and the CPL's presentation to the board on March 14.
Staff were also informed that the district will be going through their emails as part of the order, which was made pursuant to a government data request filed by Chris Klippen. Klippen is a local attorney whose presentation ahead of CPL during the board meeting shared many of the hate group's positions regarding and statements concerning LGBTQ+ issues.
As this news service reported, some staff members responded to news of last week's request with concern that it is intended as a "fishing expedition" to find evidence that they may have encouraged or condoned students' protest of CPL's presentation, possibly as grounds to reprimand or terminate them.
Klippen, Schmidt and the Becker School Board did not respond to repeated requests for comment on and clarification regarding the purpose of the data request.
McCoy, who has led much of the SPLC's pioneering litigation over issues involving LGBTQ+ youth in schools, said he has never heard of circumstances in which a request of this nature was issued to teachers and staff.
With co-counsel including the National Center for Lesbian Rights, the Department of Justice and the Department of Education, in 2012 the SPLC secured a consent order in the Minnesota District Court to resolve complaints that schools in Minnesota's Anoka-Hennepin district "presented a frightening and harmful toxic environment for LGBT students." The settlement included significant protections for LGBTQ+ students in the district along with a comprehensive plan to root out and punish bullying and harassment against them.
It was the first time McCoy said he had squared off against representatives from CPL, who were engaged in advocacy against the plaintiffs' case. Finding ample evidence that it "has beliefs or practices that attack or malign an entire class of people, typically for their immutable characteristics," the SPLC designated CPL a hate group in 2013. McCoy cited examples including extreme statements by founder Barb Anderson, who in 2014 claimed the LGBTQIA acronym will soon be expanded to add "P" for "pedophile."
Asked for comment about the district's document order, CPL Board Member Julie Quist said "CPL has no involvement at all in Chris Klippen's request for data from the Becker School District, nor have we ever discussed the matter with him. You are the first to ask us for any information at all, in spite of the Becker story being widely reported in numerous venues, including the Star Tribune and the St. Cloud Times. The reporting has been shoddy, to put it kindly."
A Becker staff member said Klippen and CPL clearly have a close relationship whether or not the group chooses to acknowledge their proximity, and not only because of the ideological alignment of their attitudes toward LGBTQ+ issues. The school board voted to allow CPL to present during their March 14 meeting, he said, and was then addressed by Klippen before CPL's Quist took the stage. How could that have happened without their coordination?
Despite her position on press coverage of the matter, Quist did not respond to repeated follow-up requests for clarification.
Footage of the March 14 school board meeting has revealed the individual on stage who ran the slides for CPL during their presentation is Amanda Rodgers, a business education teacher at neighboring Monticello High School.
She did not return a request for comment through Facebook Messenger.