Trailblazing Trans leader Andrea Jenkins makes history on Minneapolis
Jenkins is now the first Out Trans person to hold such an elected position in the nation on a city council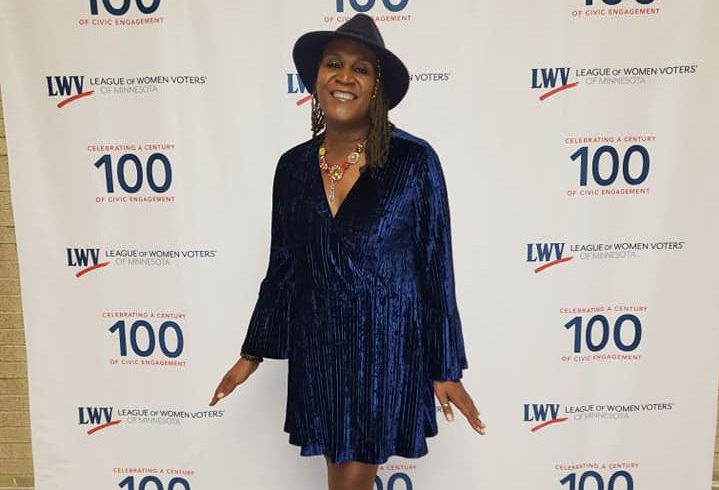 MINNEAPOLIS – During their meeting Monday, city councilmembers elected their fellow Councilmember Andrea Jenkins to serve as the Minneapolis city council president. She was the first out Black trans woman ever elected to a major city council in 2017.
Jenkins is now the first Out Trans person to hold such an elected position in the nation on a city council, although Lisa Middleton was sworn-in as Palm Springs mayor last month. Middleton became the first out Trans mayor in California and just the third out transgender mayor in U.S. history. The mayor's office in Palm Springs rotates among councilmembers who serve one-year terms.
The Twin-Cities' major daily newspaper, The Star Tribune, noted that after the vote Jenkins told the paper: "We have a whole lot of work to do." She also added; "We represent a diversity of thought, of ideas and solutions to the most pressing issues of our time."
In 2020, Jenkins became a national figure and leader as protests erupted over the murder of George Floyd , who was killed in her council district. She called his murder "a symbol for a knee on the neck of Black America" and demanded racism be treated as a public health crisis.
Mayor Annise Parker, President & CEO of LGBTQ Victory Institute, released the following statement about Jenkins
"As major cities face unprecedented challenges wrought by the pandemic and incidents of police brutality, Andrea leads her constituents and our country with the calm but steely determination the moment calls for. The unanimous vote from her colleagues is a recognition of that leadership. Andrea is an elected official who serves all, but relentlessly champions those most marginalized, bringing an unmatched ability to spark empathy across divisions and communities. Minneapolis will be a better city with her as president and her history-making election will inspire more trans people to run and lead."
Minnesota teachers fear retaliation over support of LGBTQ+ students
According to staff, teachers are afraid the move is intended as "a fishing expedition to prove that teachers encouraged students to protest"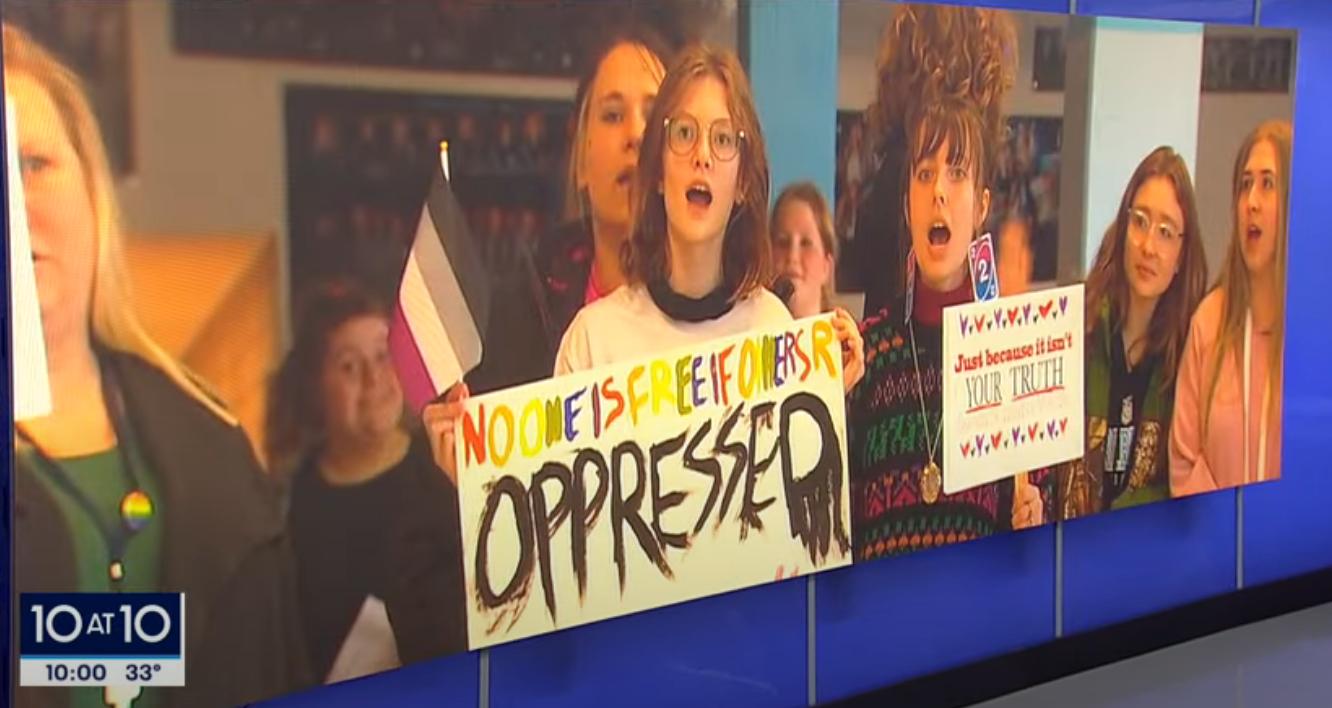 BECKER, Mn. – Following protests over the anti-LGBTQ+ Minnesota Child Protection League's (MNCPL) March 14 presentation to the Becker County School Board, staff in all the district's public schools will be required to turn over a trove of documents related to that event, The Los Angeles Blade has learned.
According to a staff member at Becker High School, teachers are afraid the move is intended as "a fishing expedition to prove that teachers encouraged students to protest" in a bid to "get the Board to fire" them.
The mandatory request was filed by Chris Klippen, a local attorney who addressed the School Board on March 14 ahead of the representative from MNCPL, echoing many of the group's lies about LGBTQ+ people and objections to measures designed to protect the community's youth.
As the Los Angeles Blade reported, controversy over the School Board's decision to hear a presentation from the MNCPL was the latest in a series of events that have escalated tensions between area schools and LGBTQ youth, along with their families and allies.
Last year, a Facebook post that falsely claimed classrooms were replacing the American flag with the Pride flag invited comments that included homophobic and transphobic remarks. When students shared screen shots of the post on their social media pages, the Becker chief of police demanded they remove them, earning a rebuke from the ACLU of Minnesota.


LGBTQ+ students regularly face harassment at Becker High School, according to the staff member and Ella Rick, a junior who is active in the school's GSA club.  
While the state's legislature has successfully passed some protections for LGBTQ+ youth in schools, proponents of additional measures face virulent opposition from anti-LGBTQ+ groups whose influence has increasingly been felt in schools across the country amid a corresponding rise in legislation targeting the rights of LGBTQ+ students and their families.
MNCPL is among the organizations currently advocating against Minnesotan Democrats' proposed bill that would outlaw conversion therapy for minors and vulnerable adults.
Both Rick and the staff member at Becker High School said that following the MNCPL's presentation to the School Board, participants in the protest felt targeted with veiled threats that left them fearing they would face retaliation from administrators and county officials.
An email Tuesday from Becker Superintendent Jeremy Schmidt instructs all recipients to collect and share, by the end of the month, electronic documents as well as "personal notes, post-it notes and handwritten notes" from February 1 to "the events on March 14, 2022."
Statutorily, interested parties are permitted to file mandatory requests for documents from Minnesota's public schools, and in this case it will apply to communications between staff and a breadth of different parties, from the media and advocacy groups to individuals and law enforcement.
LGBT students protest controversial presentation at Becker school board:
Minnesota school board meeting with anti-LGBTQ+ hate group protested
Rand believes there isn't "two sides" to the LGBTQ+ rights debate. "We're talking about human rights," he said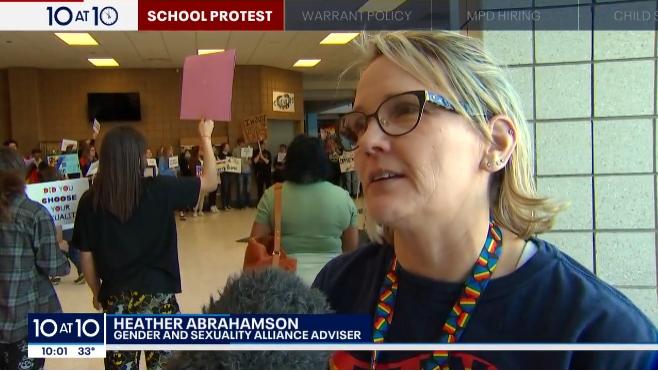 BECKER, Mn. – LGBTQ+ students and their supporters packed a school board meeting in Becker, Minnesota, Monday to protest a speaker from a group widely seen as an anti-LGBTQ+ hate group.
The Becker School District Board signed off on a plan last week to allow the Minnesota Child Protection League (MCPL) – which the Southern Poverty Law Center lists as an anti-LGBTQ+ hate group – to present the "other side" of the LGBTQ+ rights debate. The MCPL has lobbied to prevent the passage of the Safe and Supportive Schools Act, which ultimately passed, and more recently has fought against Trans-inclusive school policies statewide.
Before the start of the current academic year, statewide LGBTQ+ rights organization OutFront Minnesota presented to the board, addressing concerns that LGBTQ+ students had raised regarding equity, equality and inclusion within the district's schools. The MCPL's invitation followed outrage from some community members over the OutFront presentation.
The MCPL's presentation comes as a conversion therapy ban works its way through the statehouse, including a companion bill in the Minnesota Senate awaiting action.
The Minneapolis Star Tribune reported that MCPL Board Chair Julie Quist spoke to the board and the large audience, made up of mostly pro-LGBTQ+ protestors, about books that encourage acceptance of Trans people, which she said violated the beliefs and norms of the community. Quist previously served as an aide to U.S. Rep. Michele Bachmann, who once said the gay community "bullied the American people."
Former Becker board members Betsy Armstrong and Chris Klippen also spoke at the meeting. According to the newspaper, Armstrong spoke about what she called the "worrisome" increase of Trans youth in the last decade. While she spoke, protestors interrupted her, questioning her statements or chanting, "Gay rights are human rights."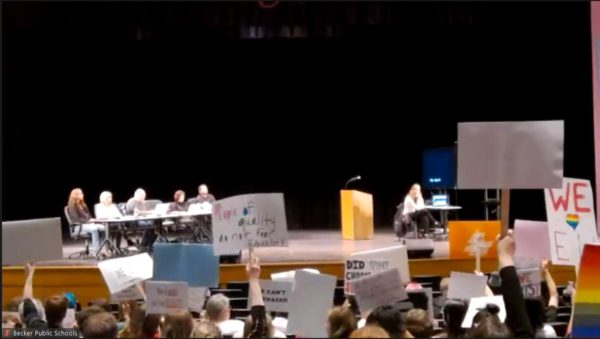 "Use of a new name and preferred pronouns should be [optional] for those interacting" with LGBTQ+ people, Armstrong said, citing a Bible quote that says God created two sexes.
Joe Rand, a Gay-Straight Alliance (GSA) advisor at the high school, told the Blade the presentation was "hateful" and "very anti-Trans," adding that "much of it didn't have anything to do with a high school or school setting at all."
"It was garbage," he told his students, noting that "they knew that already."
LGBTQ+ students at Becker High School are frequently dead named, according to Rand. "The community is very religious, and pretty conservative," he said. "And there's a lot of anti-LGBTQ+ rhetoric on social media as well."
Rand also said that it seemed like there were some students who stood around to try "intimidate our queer students."
Skyler Seiler, a Trans student at the school, told local Fox-affiliate KMSP that the meeting was "disgusting."
"I can't believe this, we are humans too," Seiler said. "I don't know why they're treating us like we're not. It is your job, as school board members, to make students feel safe and welcome."
School Board Chair Mark Swanson addressed concerns over the speakers, reading a statement before the meeting, the Star Tribune reported.
"As a school board, we recognize that we are learners, just like the students we serve. Therefore, a critical part of our jobs as board members is to listen and engage," he said. "We see that it is essential for us as individual board members and as a collective to engage with a variety of perspectives and voices to ensure a complete picture."
According to the newspaper, public comment was not allowed at Monday's meeting, but Swanson told attendees they could sign up to speak at the next regular meeting in April.
Rand believes there isn't "two sides" to the LGBTQ+ rights debate. "We're talking about human rights," he said.
He added that though the kids at the high school are "incredibly resilient," the presentation Monday was "traumatizing for them."
"Even though they're rallying and cheering, they're also being traumatized by this. So, it can be a lot," Rand said.
Minnesota school board clears anti-LGBTQ+ hate group presentation
Tensions and issues regarding the LGBTQ+ student population in the district's schools has been a reoccurring situation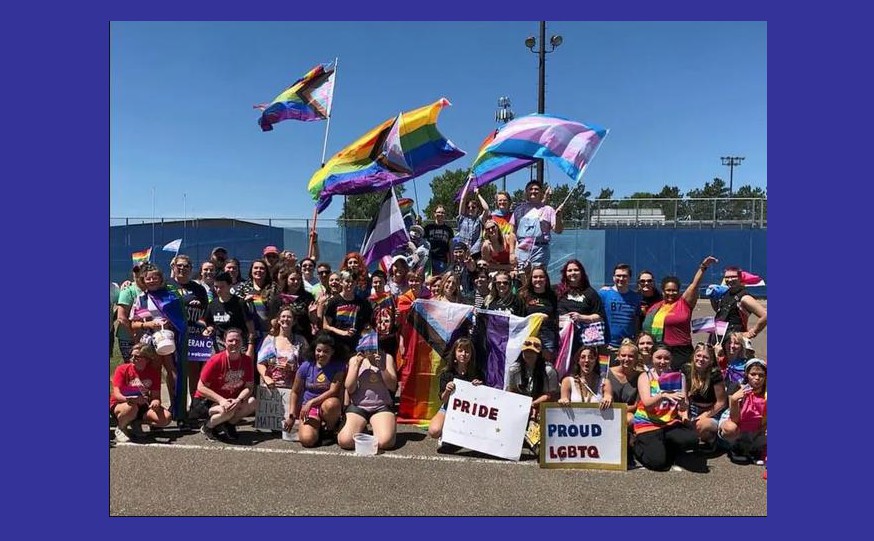 BECKER, Mn. – The Becker School District Board signed off on a plan to allow the [Minnesota] Child Protection League, (MCPL), to give a presentation at a special board meeting on Monday, March 14. The MCPL, formed in 2013 and based in Anoka, Minnesota, is listed by the Southern Poverty Law Center as an anti-LGBTQ+ hate group for its propaganda, lies, and misinformation it spreads about LGBTQ+ people.
The group along with the now defunct Minnesota Parents Action League, lobbied to prevent passage of the Safe and Supportive Schools Act, which ultimately passed, and more recently has fought to prevent trans-inclusive school policies statewide. The group is also adamantly opposed to legislation that a Minnesota House panel advanced earlier this month, banning the practise of conversion therapy in the state.
Under the bill, mental health professionals would be prohibited from providing conversion therapy to vulnerable adults and clients under age 18. Minnesota Governor Tim Walz last year signed an executive order aimed at banning conversion therapy and called on state lawmakers to pass legislation to make the ban permanent.
The MCPL's timing for its presentation to the Becker School District Board comes as the conversion therapy ban legislation is working it way through the statehouse including a companion bill in the Minnesota Senate which is awaiting action.
Before the start of the current academic year, statewide LGBTQ+ rights organisation OutFront Minnesota, made a presentation to the Becker School District Board, addressing concerns that had been raised by the LGBTQ+ students regarding equity, equality and inclusion within the district's schools.
The local newspaper in neighboring St. Cloud, the St. Cloud Times reported this week that tensions and issues regarding the LGBTQ+ student population in the district's schools has been a reoccurring situation. In article published March 10, the Times noted:
Earlier in 2021, someone posted a rumor on a Becker community Facebook page that pride flags were going to replace U.S. flags in the school. The claim was false, said Becker Public Schools Superintendent Jeremy Schmidt, but garnered "thousands" of comments, said GSA advisor, speech coach and theater director Joe Rand.
"But those comments primarily included hate speech, negative sentiment toward LGBTQ+ people," Rand said. It was like "yelling fire in a crowded room," he added, and raised tensions in the school.
At one point, a student posted anti-LGBTQ+ sentiments in response to the false pride flags social media claim. Other current and former students began posting screenshots of the post on their social media accounts in opposition to the sentiments. Someone reported the student to his prospective college, Becker High School social studies teacher and GSA advisor Dr. Heather Abrahamson said.
Becker Chief of Police Brent Baloun began contacting the students who were sharing the screenshots, advising the students to take them down "or risk civil and/or criminal charges," according to a June ACLU of Minnesota letter addressed to school board members.
"To this end, the ACLU of Minnesota strongly encourages the Becker Police Department to stop abusing its authority as law enforcement to chill the First Amendment right to free speech by current and former Becker Public School students; specifically, the Chief of Police should immediately cease contacting these individuals to insist that they remove their private, constitutionally-protected social media posts," ACLU of Minnesota Legal Director Teresa Nelson wrote in the letter. "The ACLU of Minnesota also urges Becker Public Schools to stop permitting Becker police to use school premises to interrogate students regarding private, constitutionally-protected speech," she added.
Following the posts, a group of students began lining up their trucks on the edge of the school parking lot on Tuesdays displaying American flags, the Gadsden flag aka the Don't Tread on Me flags favored by alt-right extremist groups and Donald Trump campaign flags, though they said it wasn't related to what was happening on social media, Rand said. The school did eventually disallow the Trump and the Gadsden flags at school, Dr. Abrahamson. said.
KQ Quinn, Educational Equity Youth Coordinator for OutFront Minnesota noted that Minnesota's Educational Equity gap is one of the worst in the nation for LGBTQ+ students. "We need to continue to work together so that every student can get what they need," Quinn said.
OutFront spells out that defining Educational Equity means finding what every student needs to be successful – academically, socio-emotionally, and everything-in-between- and getting it for them.
"The process is complex, dynamic, and on-going: owning flaws and biases, engaging in courageous conversations to challenge prejudice and discrimination, creating environments where students feel safe to share what they need, and breaking down any systems that are creating barriers. Students who feel valued, seen, and celebrated are the ones who will find success," OutFront's website states.
Becker School District Superintendent Jeremy Schmidt confirmed that someone with the Child Protection League would be able to present to the board on March 14, the Times reported. The paper went on to note that two community members attended the March 7 school board meeting and spoke during the public comment period, expressing an interest in the school board having a presentation in response to OutFront's August presentation.
When a board member asked the rest of the board if there was any objection to the March 14 special meeting, no one opposed it.
Rand told the Blade Saturday in a phone call that there really isn't two sides to this issue. The folks lobbying against LGBTQ+ rights cast the narrative that their rights are being violated- but students feel that it is they who are left out of those conversations to the point of being marginalized and bullied.
Anti-LGBTQ+ activist and a lawyer Betsy Armstrong has conflated LGBTQ+ equality rights with Critical Race Theory to the school board previously and is one of those who demanded that the anti-LGBTQ+ hate group be allowed to make their presentation Rand told the Blade.
Armstrong, who lives in Becker believes that the "progressive agenda" being adopted by Minnesota schools would teach students to define themselves by ethnicity and teach students that white people are guilty of systemic racism.
She has also been highly critical of the acceptance of GSA's in the schools and is opposed to display of Pride flags to designate 'safe spaces' in certain classrooms in the district's schools.
Rand said that the students are prepared for Monday's presentation and will attend to ensure board members are aware and understand the real danger to LGBTQ+ students from such hateful messaging.