Anti-LGBTQ Rep. Devin Nunes announces he is leaving Congress
Nunes stated that he will be joining the newly formed former president Donald Trump's Trump Media & Technology group
WASHINGTON – Republican Rep. Devin Nunes, who represents California's 22nd Congressional District announced Monday that he would be retiring from the U.S. House at the end of the year. Nunes additionally stated that he will be joining the newly formed former president Donald Trump's Trump Media & Technology group.
The company announced in a separate statement that Nunes would serve as chief executive officer, beginning in January 2022. "Devin understands that we must stop the liberal media and Big Tech from destroying the freedoms that make America great," Trump said in a statement.
The company is preparing to launch a social media platform which it claims will rival Twitter, which had blocked the former president as a result of some of his tweets during and after the insurrection and attempted take over of the U.S. Capitol last January.
"The time has come to reopen the Internet and allow for the free flow of ideas and expression without censorship. The United States of America made the dream of the Internet a reality and it will be an American company that restores the dream," Nunes said.
The California Citizens Redistricting Commission, which is tasked with redrawing district boundaries has released draft maps, in the once every ten years realignment of congressional districts, that could have caused Nunes severe headache in a reelection bid had he decided to run again.
One of the former president's ardent loyalists, Nunes has repeatedly been at the center of controversy during his entire career on the Hill. In addition to his support of Trump, he has been openly antagonistic towards the LGBTQ community.
In 2010, Nunes voted against the repeal of "Don't Ask, Don't Tell," the law that prohibited gays from serving openly in the U.S. military. He also consistently received a "0" rating on LGBT issues from the Human Rights Campaign's Congressional Scorecard, which has a rating scale of 0 to 100.
He opposed legal recognition of same-sex marriage, and he also refused to back any LGBTQ+ legislation.
Over the years he has also been involved in a series of high-profile lawsuits, including a 2019 $435 million defamation lawsuit in which he claimed CNN libeled him by reporting he was digging up dirt on Joe Biden and Ukraine.
U.S. District Court Judge Laura Taylor Swain in Manhattan dismissed the suit against CNN on a technical ground: She found California law applied to the case and Nunes had failed to request a retraction as required under the laws of the Golden State. Nunes' lawyer had argued that the laws of Virginia or Washington, D.C., should apply, but the judge said it made the most sense to apply the laws of Nunes' home state to the dispute, Politico reported.
In 2019, Nunes also sued Twitter over two parody accounts that he claimed harassed him, @DevinNunesMom and @DevinCow. That lawsuit brought on merciless ribbing from late night show hosts and other comedians. The Late Show host Stephen Colbert mocked the Republican congressman explaining how Nunes' lawyers arrived at the $250 million amount for the lawsuit: "You take the value of Devin Nunes' reputation and you add $250 million dollars."
This week the Washington Post reported that the publicly traded company that plans to merge with former president Trump's social media company is under investigation by two federal regulators, which have asked for stock trading information and communications.
Digital World Acquisition Corp. disclosed in a Securities and Exchange Commission filing that it had received "certain preliminary, fact-finding inquiries" from the Financial Industry Regulatory Authority in late October and early November regarding stock trading tied to the merger agreement announced Oct. 20 the Post reported.
*******************
Devin Nunes leaving Congress to head Trump's media company
Karen Bass & her LGBTQ staff discuss commitment to equity & justice
"Diversity is something you have to do consciously," Bass said. "I always look at my staff and [ask myself] 'who's missing?'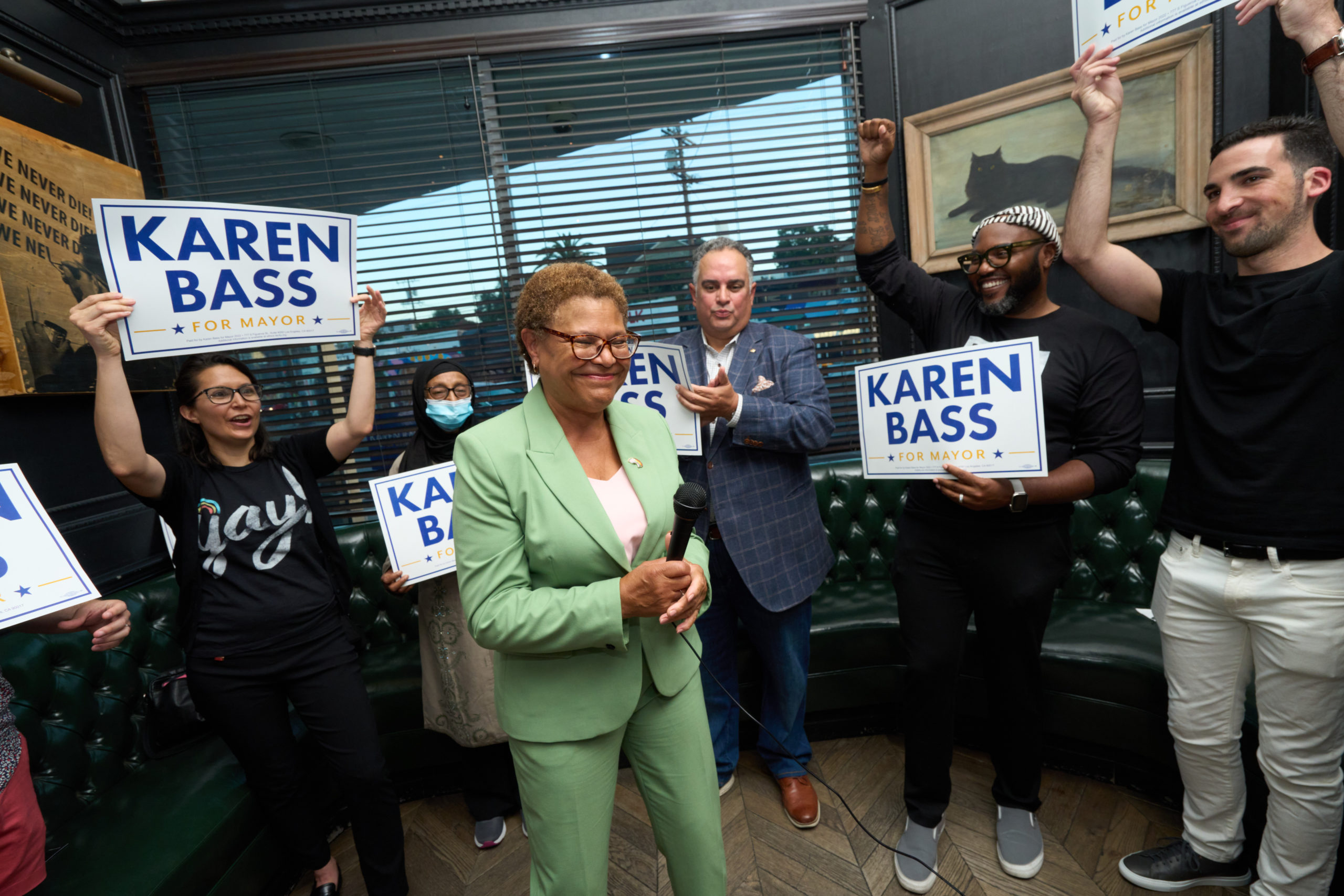 LOS ANGELES – U.S. Rep. Karen Bass (D-CA), a leading candidate to become the next mayor of the city Los Angeles, has hired LGBTQ+ folks with diverse backgrounds to leadership positions on her Congressional staff and in her mayoral campaign because of "their dedication to fighting for social and economic justice," Bass told the Los Angeles Blade over the phone Thursday morning.
"Diversity is something you have to do consciously," she said. "I always look at my staff and [ask myself] 'who's missing?' to make sure we have representation. I think it's really important to approach it that way."
Meanwhile three senior members of Bass's staff, all of whom identify as LGBTQ+ – Senior Advisor and Policy Director Joey Freeman, Campaign Manager Jenny Delwood, and Chief of Staff Darryn Harris — spoke to The Blade about their personal relationships with the Congresswoman. 
They also highlighted what they described as a throughline in Bass's adherence to principles of equity and justice, beginning with her early career as a nurse and physicians' assistant through to her candidacy for mayor of Los Angeles.
Bass is slated to square off against billionaire real estate developer Rick Caruso in the November 8 election to replace term-limited incumbent Los Angeles Mayor Eric Garcetti. The two candidates advanced from the June 7 primary elections, having each received less than 50% of the vote.
A longtime ally of the LGBTQ+ community, Bass kicked off her "LGBTQ+ for Bass affinity group" Wednesday night at the historic Black Cat restaurant in Silver Lake.
Bass has been a mentor to the next generation of LGBTQ+ leaders on her staff.
When it comes to her staff, Bass said, "I see my role as helping to develop their leadership and helping to support them however I can."
"I was able to be my full self here; fully black, fully gay," said Harris, Bass's chief of staff, who has known the Congresswoman for his entire adult life and served in multiple positions before being appointed to lead her congressional office.
"When you have a boss who's that supportive of you, it helps in so many different ways," he said. "Not only with the work we do, but also it was one of the things that helped deepen our friendship and deepen our mutual trust, because I was able to bring my whole self to work."
Delwood, Bass's campaign manager, has also known the Congresswoman for more than a decade and served in multiple positions before her appointment to lead her mayoral campaign. As a human being, as a professional, and as a lesbian, Delwood said Bass has embraced every part of who she is.
"The Congresswoman has been not only a boss, but also a mentor," Delwood said. "I started working for her as a fellow/intern in 2007 in the California Assembly, and she and I have built a very strong relationship over the years. She is part of my extended family, now."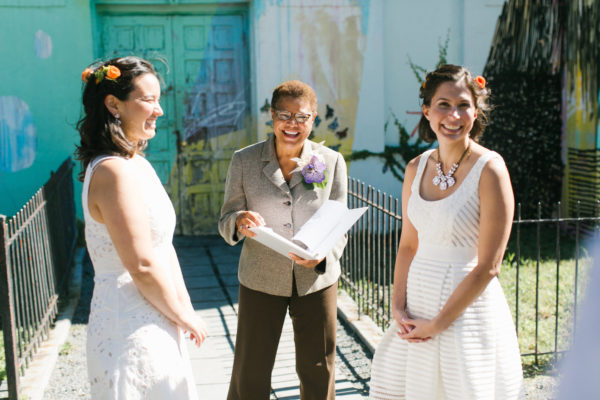 Beginning with her early career in healthcare, Bass has been an ally of the LGBTQ+ community
"When I went to school to be a physicians' assistant in the early 1980s," Bass said, the virus that would become known as HIV/AIDS began to emerge, disproportionately impacting gay men. "It was unbelievable, in the first few years of the epidemic, how [badly] these patients were treated," she said.
In her work treating patients, and as a full-time clinical instructor at the University of Southern California's Keck School of Medicine, Bass pushed for better treatment of HIV/AIDS patients, practicing what she preached.
"From that time on, she's been standing for and with the community," said Freeman, Bass's senior advisor and policy director, who identifies as gay.
"She was on the ground floor of the HIV AIDS epidemic," Delwood said, "providing medical care for people with HIV/AIDS when folks were steering clear of and being discriminatory [against those who were positive]." From those early days of her career, Delwood said, "Congresswoman Bass has been in deep solidatiry with the LGBTQ community."
"It wasn't just gay men with HIV," said Zach Seidl, Bass's communications advisor, "but trans folks, too."  In the best of cases, doctors would greet HIV/AIDS patients in hazmat suits; in the worst, refusing treatment, Seidl said. Bass, meanwhile, insisted she needed to help them, he added.   
Bass believes in consulting people who will be directly impacted by policy
Policymakers often speak with subject matter experts without consulting those who will be directly impacted, Bass said. It's an oversight the Congresswoman has been careful to avoid.
For example, Bass told the Blade she visited a federal prison yesterday morning to hand out copies of draft legislation that concerns women in the criminal justice system, inviting incarcerated women to read and share comments or input by email.
This will extend to her work as mayor, Freeman said. If elected, Bass will be charged with selecting staff, commission members, and general manager appointments, roles where she will ensure LGBTQ+ people are well represented, because this is how she prefers to govern – by consulting with people who are directly affected by policy.
Working so closely with Congresswoman Bass, "I have the opportunity to see that every single day," Harris said, "Ordinary people influencing public policy at state, federal, and – soon – the citywide level" under her leadership.
Bass believes the most effective way to create lasting change is to work with community members and to bring forward solutions that are community driven, Delwood agreed. "In order to actually solve homelessness or address crime in LA or deal with our lack of affordable housing, it's imperative" to work with a variety of stakeholders from the community as well as in the county, state, and federal government, she said.
Bass and her staff have big plans to address problems afflicting Los Angelinos
"I could have stayed in Congress to fight for a leadership spot," said Bass, who was reported as a front runner for President Joe Biden's vice president during his 2020 electoral campaign. But there are crises in Los Angeles, she said, pointing to the latest figures on the city's unhoused population as an example.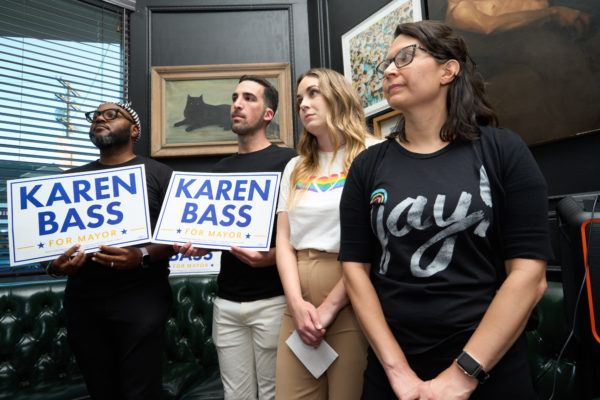 It was the second time in her career that Bass was faced with such a decision, she said. "I was a full-time faculty member of the medical school" when Los Angeles began to experience a crack-cocaine epidemic in the late 1980s and early 1990s.
"I was mortified at how the city was responding to crack cocaine and gang issues," Bass said. "These were health, social, and economic issues, but the response of policymakers was to criminalize everything and everyone in South LA."
Leaving USC, Bass formed the Community Coalition and began her work as a community organizer. "I worked to prevent the city from locking everyone up, and to steer people away from gangs," the Congresswoman said. "And then I looked for how we organize people to fight for drug treatment instead of incarceration for those who were addicted."
Likewise, Bass said, the current moment calls for coalition building and working across the government to improve the lives of Angelenos and effectuate just policymaking for, especially, vulnerable communities.
Members of Bass's staff pointed to how the Congresswoman could be particularly effective as mayor on issues of homelessness, LGBTQ+ rights, child welfare reform, foster care reform, housing affordability, and violence against Black trans people.
"Forty percent of young people on the streets are LGBTQ+," said Delwood. "Being able to address that is a top priority of the congresswoman as well as our entire team." Many children land in the foster care system because of discrimination over their sexual orientation or gender identities, she said, and while LGBTQ+ adoptive or foster parents are greeted with "open arms" in LA, such is not the case in many other parts of the country.
As Mayor, in coordination with the Los Angeles County Board of Supervisors, Bass will be able to champion foster youth, reform the child welfare system, and prove to the rest of the country how successful LGBTQ adoptive and foster parents can be, Delwood said.
Freeman agreed. There is a lot of overlap, he said, with issues concerning the foster care system, with high rates of homelessness among LGBTQ+ youth, with the housing crisis. "What we need to do to address homelessness and prevent future homelessness is to tackle the root cause," Freeman said. "Are LGBTQ youth receiving the support they need?"
Congresswoman Bass "has deep relationships with folks here, in DC, and in Sacramento, so when you're dealing with challenges in LA, she knows how to go in there and how to pool the resources in order to solve them," Harris said.
Harris highlighted Bass's community organizing and coalition building roots, arguing she is the best candidate to represent all of Los Angeles as the city's mayor.
One issue Harris said he is eager to see Bass's leadership in addressing is the high rates of murder and violent crime against members of the LGBTQ+ community, particularly Black trans people. "I'm excited to see how she would be able to ensure that they are safe, tracking some of those federal dollars to ensure that they have protections against domestic and sexual violence," he said.
Rep. Karen Bass greets LGBTQ+ affinity group at the historic Black Cat
Bass has been a longtime ally of the LGBTQ+ community. In her remarks she listed some of her achievements in the battles for LGBTQ+ equality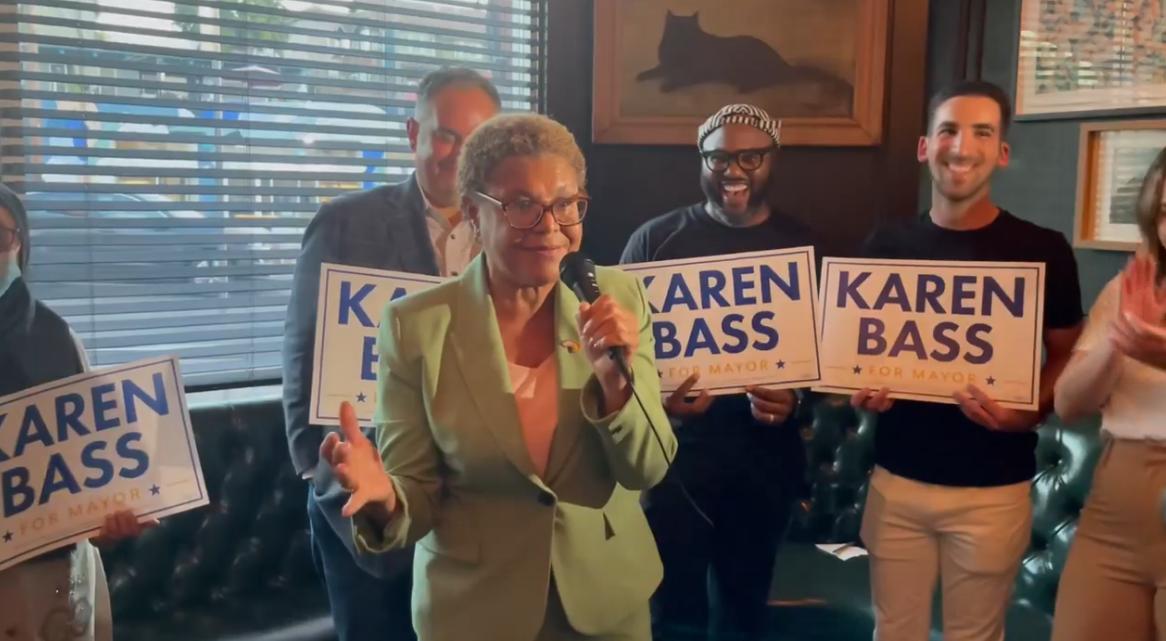 LOS ANGELES – Surrounded by well-wishers, supporters, and former California Assembly Speaker John A. Pérez at her side, U.S. Representative Karen Bass launched the official "LGBTQ+ for Bass affinity group" Wednesday evening at the Black Cat, an LGBTQ+ historic site located in the Silver Lake neighborhood of the City.
Pérez, an openly Out gay man served as the 68th Speaker of the California State Assembly, succeeding Bass as Speaker in 2010. Bass made several warm references to their mutual past political history. She also spoke on subjects that are critical to furthering LGBTQ+ equality and equity in her six-minute chat.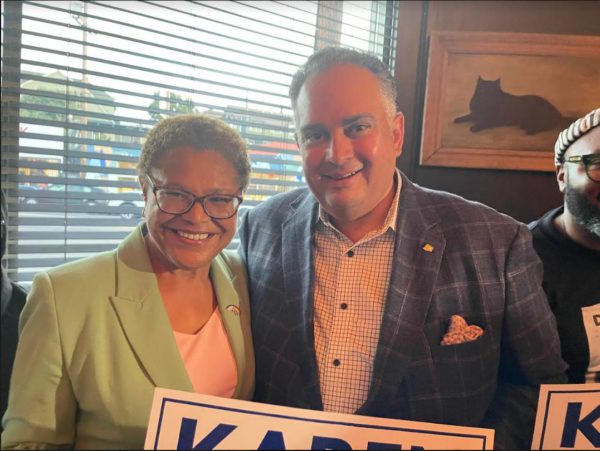 The congresswoman is locked in a close race with billionaire real estate tycoon Rick Caruso to succeed current Los Angeles City Mayor Eric Garcetti in the Fall elections on November 8. Both candidates advanced from the June 7 primary election since neither received 50% of the vote. Incumbent Mayor Garcetti is unable to stand for re-election due to term limits.
Bass has been a longtime ally of the LGBTQ+ community. In her remarks Wednesday at the Black Cat she listed some of her achievements in the battles for LGBTQ+ equality, first in the California Assembly, then in Congress.
The venue where the Congresswoman launched the LGBTQ+ political affinity group is famed as an LGBTQ+ historic site. The Black Cat was the site of one of the first demonstrations in the United States protesting police brutality against LGBT people, preceding the Stonewall riots by over two years.
From the One Archives at USC: A New Year's 1967 raid by the Los Angeles Police turned brutal as LAPD undercover officers began beating several of the patrons and ultimately arrested fourteen patrons for "assault and public lewdness." As reported by the local gay newspaper Tangents, two bartenders were beaten unconscious. The paper also noted that patrons fled to another gay bar, New Faces, but they were followed by police and arrested. The officers mistook the manager, a woman named Lee Roy, for a man (named "Leroy") wearing a dress, and beat her severely.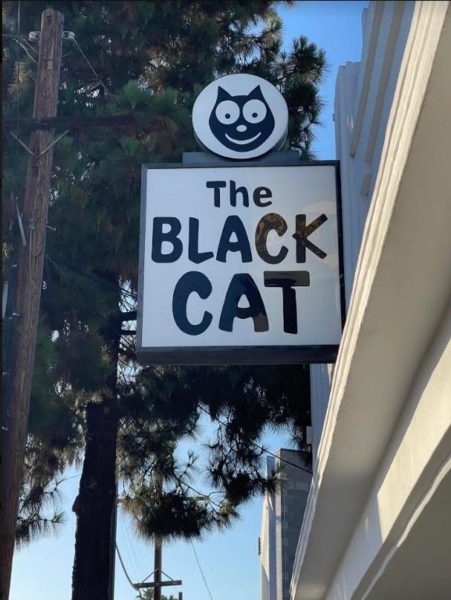 The historical account continued: Contrary to popular myth, there was no "riot" at the Black Cat, but a civil demonstration of 200 attendees to protest the raids was held on February 11, 1967. The demonstration was organized by a group called PRIDE (Personal Rights in Defense and Education) – founded by Steve Ginsberg – and the SCCRH (Southern California Council on Religion and Homophile). The protest was met by squadrons of armed policemen. Demonstrators carefully adhered to all laws and ordinances so that the police had no legitimate reasons to make arrests.
Two of the noteworthy events that arose from the Black Cat arrests and later protests was the establishment of The Advocate, which began as a newspaper for the group PRIDE and has continued publishing to this day and formation of the Metropolitan Community Church led by Los Angeles LGBTQ+ pioneer, the Reverend Troy Perry.
Karen Bass speaks at LA's iconic Black Cat:
Editor's Note: The Los Angeles Blade has endorsed Rep. Bass in her election campaign to become the next mayor of the city of Los Angeles.
Abortion rights: California Constitutional Amendment heads to ballot
The state is expanding efforts to protect women seeking abortions or reproductive care as well as anyone assisting those women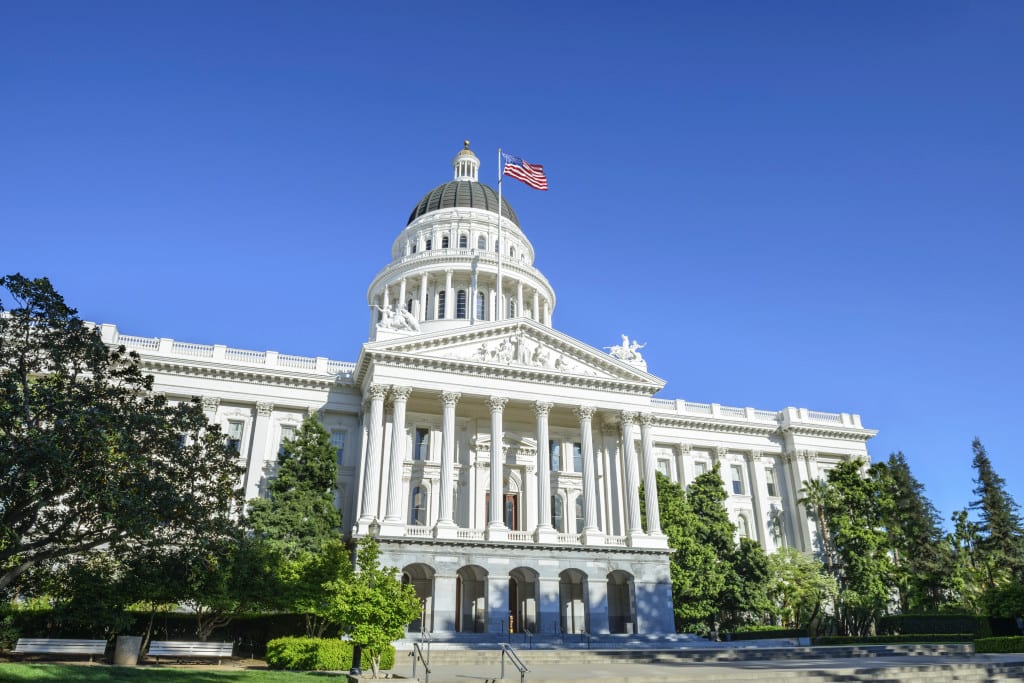 SACRAMENTO – In November, California voters will have an opportunity to amend the state's constitution to include the right to an abortion and today, Governor Gavin Newsom signed an executive order to further protect women coming to California from other states.
"California will not back down from the fight to protect abortion rights as more than half the states in this country, enabled by the Supreme Court, ban or severely restrict access," said Newsom. "We are ensuring Californians will have the opportunity this November to enshrine the right to choose in our state constitution. And we're not waiting until November to take action, today's executive order ensures that the state will not hand over patients who come here to receive care and will not extradite doctors who provide care to out-of-state patients here. In California, women will remain protected."
The order signed today prevents any information, including medical records and patient data, from being shared by state agencies or departments in response to inquiries or investigations brought by other states or individuals within those states looking to restrict access. The state is expanding efforts to protect women seeking abortions or reproductive care as well as anyone assisting those women.

SCA 10 was passed by the California State Assembly today and now heads to the November ballot.
Within hours of the U.S. Supreme Court's decision to overturn Roe v. Wade last Friday, Governor Newsom signed legislation to help protect patients and providers in California from civil liability for providing, aiding, or receiving abortion care in the state. In addition, Governor Newsom and the governors of Oregon and Washington launched a new Multi-State Commitment to defend access to reproductive health care and protect patients and providers.
The budget agreement announced yesterday includes more than $200 million in additional funding for reproductive health care services. Governor Newsom recently signed legislation eliminating copays for abortion care services and has signed into law a legislative package to further strengthen access and protect patients and providers.