Year one complete; WeHo's newest councilmembers just getting started
The Blade interviewed both councilmembers as they observed their first anniversary of being sworn into office on December 7, 2021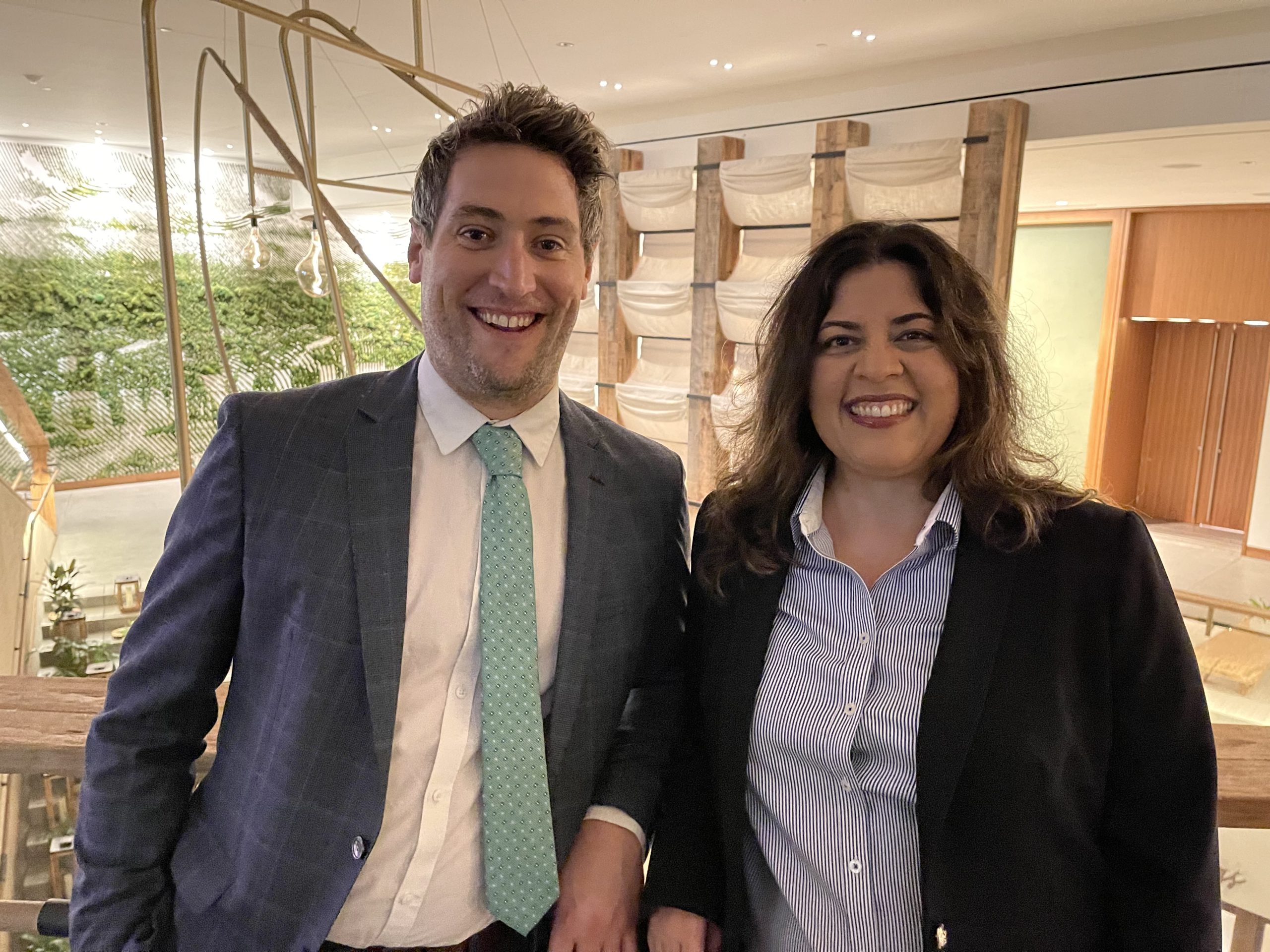 WEST HOLLYWOOD – The past year has seen dramatic changes for Angelenos and Californians as the coronavirus pandemic still impacts daily life in the Southland. Likewise, for the residents of the LGBTQ+ majority hamlet of West Hollywood, changes included two new members of the city council, injecting fresh perspectives into the issues that matter to its residents.
Councilmember John M. Erickson was elected to the city council on November 3, 2020 with the commitment to uphold the city's founding vision for a forward-thinking, diverse, and tolerant community.
Mayor Pro Tempore Sepi Shyne made history in November 2020 when she was elected becoming the first out LGBTQ Iranian elected anywhere globally and the first woman of color elected to West Hollywood's City Council.
The Blade interviewed both councilmembers as they observed their first anniversary of being sworn into office on December 7, 2021 covering a wide range of topics and issues.
What is your long-term goal in helping businesses and what have you done to aid the business community?
John: Our business community is critical to our city's success on so many levels. When I was first elected, I was proud to co-sponsor an item with Mayor Pro Tempore Shyne that asked our city to work with our business community to figure out ways to expand access for residents, LGBTQ+ people, and our BIPOC communities to open up businesses in West Hollywood.
Equity and access to capital are huge barriers that we see when people are trying to open new businesses and of course, going through the regular process to get all the needed approvals can provide extra burdens. That's why the city has waived business license taxes, even during times of economic downturn, paid for OutZones for businesses, relieved parking restrictions, provided grants for the most vulnerable businesses and worked on streamlining approvals and permitting.
In addition to the direct monetary aspects of what the city has approved for our businesses, we're seeing new businesses coming to West Hollywood at a large clip. In the past few weeks alone, I've counted news stories of at least 5 new businesses planning to open back up and of course, we cannot forget the reopening of some of our most treasurer businesses that were forced to close during the pandemic like Gym Sports Bar and Grill (who is now located directly in the heart of our Rainbow District) as well as the renaissance that will be Lance Bass's new location at what was formerly known as Rage.
I go for walks every week to businesses on the Eastside of West Hollywood (where I live) and I weekly go out to dinner at businesses in West Hollywood and speak with the workers and owners about what we can do to better help them. From making our OutZones permanent (which we did this past meeting) to ensure them that when they call city hall, they'll get both the answers they need and the help that they want, everything is on the table for me on how we can work every day to ensure that their recovery doesn't just include everyone (workers, the owners, and the city) but how their recovery resonates with our community-at-large and if you've been out on West Hollywood lately on any night you can see that our businesses are not only busy but also booming.
Sepi: West Hollywood is a vibrant tourist destination and one of the most walkable as well as LGBTQ+ safe cities in America. Our visitors and residents love to frequent our businesses, so helping to keep them in business is a priority. One of my joys of living in West Hollywood is walking down the street to neighborhood restaurants or cafes and enjoying a meal or an oat milk latte.
Additionally, with fresh voices on the dias, we have a unique opportunity to diversify our business portfolio, which is why on of my first items was to create business grants for the most vulnerable small businesses, special meeting with our businesses to learn what their needs were and a Business Recovery Task Force that will come up with a five year blueprint for business recovery, success and diversification that I co-authored with Mayor Meister. Applications and appointments to the task force will be forthcoming early in the new year.
Do you have a statement on raising the minimum wage? Why did you pursue raising the wage now?
Sepi: We have spent over 1.6 million dollars helping our businesses during the pandemic to help them stay in business and recover. As we view economic recovery, it has been important to us that recovery includes everyone.
The rising cost of living, rising numbers of people who fall into poverty and homelessness, the lack of sick pay and time off for our most hardworking workers, the financial effects of the pandemic on workers with respect to losing their jobs as well as inflation were all considerations in raising the minimum wage.
I am proud that we as a Council over the span of more than 10 months had several meetings with businesses, workers, and the community to hear from them all. We held a special meeting to focus on the minimum wage and eventually through thoughtful deliberation voted to raise our minimum wage and include sick pay and time off for all and lead the nation.
John: Recovery must include everyone. For the past 10 months, we've been working with everyone to discuss this issue. Unanimously, as a Council, we worked together to phase in this increase and a very important reminder to everyone is that if a business does face hardship, there is a 1-year waiver that they can apply for.
However, just because we led the way on raising the wage doesn't mean this discussion is over. Economic justice is a critical and ongoing issue and is connected to the overall health of our community, region, and country. Yes, we approved the highest minimum wage in the country but I have to remind everyone that that wage still doesn't go far enough to ensure that people can get out of poverty.
We need other cities to revive this campaign as well as the federal government to assist with ensuring that people have the ability to earn fair wages for their work. We all must do our part to pay people what their worth as well as support all entities at the table: workers and businesses alike.
The growing crime statistics have alarmed many. What are some aspects that you're doing to address these concerns and how are you dealing with public safety in your own city?
John and Sepi: The top 3 issues we talk about every day with residents, business owners, and colleagues are public safety, homelessness, and housing. All of these issues are related but each requires its own specific attention. This is why we co-authored, and it was unanimously passed by our entire City Council, the creation of the city's first-ever 24/7 Behavioral and Mental Health Crisis Response Unit.
This will be critical for our residents and those individuals that are experiencing homelessness to be able to call in for critical care. In addition, our attention to public safety with increased presence of our Security Ambassadors has been essential to communicating with and helping keep our residents and businesses safer.
We also upgraded all of our city lights to LED, which has brightened all of our streets at night so that people can feel safer walking. Brighter lighting is supported by law enforcement because it helps to deter crime and makes it easier for victims and witnesses to identify criminals.
While we focus on increased awareness of public safety, that doesn't go without any scrutiny. That's why holding our own Sheriff's Department, as well as the Sheriff in general accountable, has been something that we are hyper-focused on.
After the whistleblower that we read about in the L.A. Times, we passed a resolution calling for an audit of Department Records and most recently, after hearing from multiple residents and community members about Deputies discouraging reporting, we asked for our Captain to come up with substantive procedures to ensure that police reports are taken any time a victim comes forward.
Additionally, in order to ensure safety in our nightlife establishments, we revitalized the Yes Means Yes Campaign and are requiring that all bartenders, managers and security at Bars go through mandatory bystander training and expand our alcohol safety training to include date rape drug prevention training.
The Assembly Map currently has WeHo broken off from Hollywood and added to 'West LA' which some have charged dilutes the LGBTQ+ political power and constituency in terms of being heard and represented. Comment please?
John and Sepi: Our City's connection to the Westside Cities as well as regionally to the larger LGBTQ+ political power and consistency of Hollywood is critical and we must ensure that both the state and county know that when it comes to redistricting they must keep our communities together rather than breaking us apart. That is why both Mayor Pro Tempore Shyne and I have been very vocal on our official channels, as well as the city, of calling in and urging residents to have their voices heard at these redistricting hearings.
What significant event(s) do you feel most impacted the City of West Hollywood?
John: COVID-19 didn't break the system, it showed that the system was already broken. I'm so proud that West Hollywood was able to work, almost overnight, to turn our everyday in-person services, into virtual care for our residents and those most at-risk.
However, we cannot forget the fights that actually founded this city: rent control, protections for the LGBTQ community, and our seniors and most vulnerable searching for a community to call home that protects and honors them.
When you look at the city's historic and landmark rent control ordinance or our early role in the fight for marriage equality, West Hollywood consistently punches above our weight. When the city takes action, the world notices.
This is true with our historic investments in combating HIV/AIDS, to social services, as well as our push for and building of our affordable housing stock. Now, looking to the future, we look at the issues of social justice, diversity, economic justice, and support for those most vulnerable in our communities and ensuring that we get through this pandemic together but stronger than ever.
Sepi: Aside from COVID, the social justice movement impacted the City of West Hollywood by awakening our community to the truth that systemic racism, even in our progressive city, needs to be dismantled.
I am proud that we created the social justice task force, that our staff got involved with the Government Alliance on Racial Equity, we mandated that all city officials and staff attend anti-systemic racism training, have been creating policies to re-imagine public safety and are looking at re-allocating funds to community programs that foster community, prevent poverty and reduce homelessness as well as crime by getting to the root of the issues. I am proud to have co-authored an item with Councilmember Erickson that calls for a historical context study for us to develop a reparations program. This past year, we have been walking the walk when it comes to social justice and equity.
Your legislative record- the one or two pieces of council legislative efforts that you are singularly AND both proud of please?
Sepi:
The creation of our Social Justice Task Force made up of BIPOC resident, business owners and workers who have been meeting to come up with policy recommendations to City Council to help us address and dismantle systemic racism co-authored with Councilmember Lindsey Horvath. 
Enhanced hotel workers protection, training, safety, and workload wage ordinance co-authored with Councilmember Lindsey Horvath. 
Both:
The creation of the city's first-ever 24/7 Behavioral and Mental Health Crisis Response Unit.
Increasing our Tenant Anti-Harassment Protections and requiring tenant habitability safety plans for renters when there is remodel to their properties.
The first ever Multi-stall Gender Neutral Bathroom Ordinance in the nation which will require all new leases, major remodels and new developments to provide them.
John:
Raising the minimum wage in West Hollywood which I worked with Mayor Pro Tempore Shyne on achieving.
Prioritizing safer streets through additional measures to improve Fountain Ave. and Santa Monica Blvd. by including protected bike lanes to help increase transit options for our community.
Requiring hazard pay for our essential workers during the height of the pandemic last year which I co-authored with Councilmember Lindsey Horvath.
Finally, a brief statement reflecting on your first year please.
Sepi:
Getting elected and serving West Hollywood has been the honor of my life. As an immigrant to this country, the privilege of serving in office is an honor that I truly can never express in words. My main priorities while serving have included advocating for affordable housing, protecting renters and social service programs, social justice, small business revival, a healthy environment and bringing the people's voices to City Hall.
This past year, I have been proud to author and co-author close to 40 Council items that have all passed and most have passed unanimously. These policies have delivered on all of my promises and more. I have been especially proud to have worked well with every one of my colleagues and was honored to be nominated and unanimously elected by them as your Mayor Pro Tempore.
I am proud to have appointed a majority of women and a high percentage of BIPOC people to Boards, Task Forces and Commissions. I have worked hard on our Homelessness, Pride, Events and Laurel House Subcommittees and I look forward to continuing to create policies that help West Hollywood Shyne even brighter in the years to come.
John:
Serving as a Councilmember this past year has been the greatest honor and responsibility of my life. I look back and think about the young gay kid from Ripon, Wisconsin, and how scared he was at one point and think of my life now and know I am the luckiest person alive to have not only found West Hollywood but also have the opportunity to serve our amazing community.
I also think of what my Grandmother Gladys told me when I was growing up and the deep sense of commitment to public service that she taught me while working in the Ripon Community Food Pantry. I work every day to make her proud and I know, deep down, that she's smiling upon me and the work we're doing in the city. This past year has shown me the power of our community – we are stronger than ever and together, we're unstoppable and we're just getting started.
And, like I said when I took my oath, I promised to work every single day for the people of our community and I do not make promises I do not intend to keep. The work never stops and we can never slow down because there are people out there that need us. I always sit back and think about my first day at City Hall as an Intern to where I am now and I look back with amazement and a deep sense of humility for the role I am in now and thank the great people of West Hollywood for this immense honor to be their Councilmember.
Newsom highlights blueprint investments in infrastructure & transportation
Transportation is the largest source of greenhouse gas emissions, accounting for more than 50% of emissions
SANTA CLARA – Governor Gavin Newsom Thursday touted his California Blueprint's major investments in transportation and infrastructure while visiting the Santa Clara Depot rail station, highlighting the plan's $9.1 billion in funding for climate-friendly clean transit projects that will create thousands of jobs.
The Blueprint also includes $2.3 billion to support ports and goods movement throughout the state and an additional $6.1 billion to accelerate the state's transition to zero-emission vehicles – creating a total package of $10 billion that will invest in affordable cars, clean trucks and buses. The Santa Clara Depot serves several transit agencies, including Caltrain, which is scheduled to complete electrification of its system in 2024. 
"These bold investments will deliver safer, faster and greener transportation options connecting communities across the state while creating thousands of jobs and tackling our largest source of harmful pollution and emissions," said Governor Newsom. "With California on the frontlines of the intensifying climate crisis, the state is committed to building a clean transportation future that protects the health of our communities, environment and economy."
Transportation is the state's largest source of greenhouse gas emissions, accounting for more than 50% of emissions when considering the production and deployment of fuels. California's commitment to decarbonizing the transportation sector also advances the state's affordability goals, increasing access to opportunity and amenities through a network of affordable, clean transportation options and pushing zero-emission vehicle innovation to continue driving down costs for everyone.
The California Blueprint includes a proposed $9.1 billion package to advance clean transit initiatives that support the state's climate and public health goals, promote equity and bolster the green economy, including $4.9 billion for transit and rail projects to improve connectivity, climate adaptation, bicycle and pedestrian safety and more locally driven initiatives. In addition, the Blueprint proposes a $4.2 billion investment in California's High-Speed Rail project, which will eventually share the electrified Caltrain corridor, as well as funding for projects that encourage active modes of transportation and improve equity and safety, including converting underutilized highways into corridors that better serve residents. The Blueprint positions California to take advantage of additional federal infrastructure investments.
The California Blueprint also furthers the Administration's ongoing work to support ports and build supply chain resilience, outlining a $2.3 billion package that includes $1.2 billion for port-related infrastructure projects that increase goods movement capacity and additional funding for zero-emission port equipment, drayage trucks and infrastructure. The Governor in October issued an executive order directing state agencies to help identify additional ways to alleviate congestion at California ports and announced a state-federal partnership to help kick-start infrastructure projects designed to improve goods movement. In addition, the Governor has launched a multi-agency Supply Chain Task Force working to find opportunities to lease state and privately-owned land for container storage space, Caltrans has issued temporary truck weight exemptions on State Highways to keep goods moving efficiently and the Department of Motor Vehicles has worked to nearly double its capacity to conduct commercial driving tests.
The Blueprint also builds on the California Comeback Plan's $3.9 billion zero-emission vehicle (ZEV) package with an additional $6.1 billion in proposed investment to accelerate the transition. The additional funding will add thousands of affordable clean cars, zero-emission trucks and transit buses, support school transportation programs and electrify our school bus fleet, expand equitable access to ZEV charging infrastructure and fund equity-focused clean transportation community projects.
Governor Newsom in 2020 made a commitment to require that sales of all new passenger vehicles be zero-emission by 2035 and aggressively decarbonize heavy-duty vehicles such as trains, trucks and buses. The state has targeted emissions from the heavy-duty sector with bold action to reduce pollution in disproportionately impacted communities.
Intersex civil rights legislation killed after fails to advance
These irreversible genital reconstruction surgeries usually performed when intersex children are infants have lifelong consequences
SACRAMENTO – Senator Scott Wiener (D-San Francisco) announced Tuesday that he will not be moving forward with Senate Bill 225: the Intersex Bodily Autonomy, Dignity and Choice Act. This civil rights legislation would ban medically unnecessary, irreversible genital surgeries on intersex infants and other young children.
Wiener has pursued this civil rights legislation that would provide children and their families with a chance to make informed decisions about major, life-altering genital reconstruction surgeries for three consecutive years.
He has been unable to pass the bill out of its first policy committee, the Senate Business & Professions Committee, due to lack of sufficient votes in the committee. SB 225 was co-sponsored by Equality California, interACT: Advocates for Intersex Youth, the National Center for Lesbian Rights, and the ACLU of California.
"SB 225 was a basic civil rights law, standing for the important principle that people should be able to make decisions about their own lives, as opposed to having other people make those decisions for them. These irreversible genital reconstruction surgeries – usually performed when a child with variations in their genitalia are infants – have lifelong consequences. These consequences can include chronic pain, scarring, loss of sexual sensation, and more," the Senator said in a media statement.
"SB 225 is vitally important civil rights legislation for intersex people and the larger LGBTQ community, and I'm disappointed and saddened that it does not appear to have a viable path forward at this time. For three years, we've worked to advance the legislation, and it's become apparent that we continue to lack the votes to pass a meaningful bill — one that actually protects intersex people — through committee, he added.
"Pausing medically unnecessary genital surgeries until a child is old enough to participate in the decision isn't a radical idea. Rather, it's about basic human dignity. In countries like Germany, Colombia, and Malta, these infant surgeries are banned. The United Nations and three former U.S. Surgeons General have called for these surgeries on babies to be banned. I'm fully committed to protecting the rights of everyone with variations in their genitialia, including intersex people. I'm not giving up, and I stand in solidarity with the intersex community in its fight for bodily autonomy, dignity and, choice," Wiener said.
The California Medical Association, the politically influential professional organization representing nearly 50,000 physicians in the state of California, was opposed to the legislation and actively lobbied against it.
"We're proud to stand with Senator Wiener and the intersex community in this important fight to safeguard the human rights of all Californians and are immensely grateful for his leadership on SB 225," said Equality California Legislative Director Tami Martin. "We're disappointed that there is not enough support to pass this bill out of committee this year, but our fight will continue until the work is done."
One to two percent of people are born with variations in their genitalia and sex anatomy, some of whom identify as intersex. Parents of children with these variations are often offered medically unnecessary surgical interventions – such as major surgeries to cut a clitoris, create a vagina for penetrative sex, remove hormone-making organs, or move a working urinary opening – which are typically performed on children under two years old and often without a complete discussion of the various risks.
These surgeries may result in extreme scarring, chronic pain, chronic incontinence, loss of sexual sensation, post-traumatic stress disorder, incorrect gender assignment, and the need for additional surgeries to treat complications from the original surgery. SB 225 would allow parents to make a decision, in consultation with their child and medical professionals, once a person is old enough to participate in decision-making about whether or not a surgery to change sex anatomy is right for them.
"While this particular bill did not become law, we are deeply grateful to our allies and proud of getting one step closer to protecting intersex bodily autonomy in California," Alesdair Ittelson, Director of Law & Policy and Interim Executive Director of interACT said. "interACT will continue to demand self-determination instead of pathologization for intersex people and we are not deterred by the paternalistic approach of a rapidly shrinking number of individuals who stand in the way of protecting intersex human rights. Intersex people will prevail in their fight for control over their own bodies and we applaud all of those who supported SB 225."
Becca Cramer-Mowder, Legislative Coordinator and Advocate with ACLU California Action, noted: "We are disappointed that California is not yet ready to lead on this important civil rights issue, and we will continue to work with intersex individuals and advocates to move the state forward towards recognizing the bodily autonomy of intersex Californians."
Anti-LGBTQ+ Devin Nunes officially resigns from Congress
He is slated to take over as chief executive officer for former president Donald Trump's Trump Media & Technology group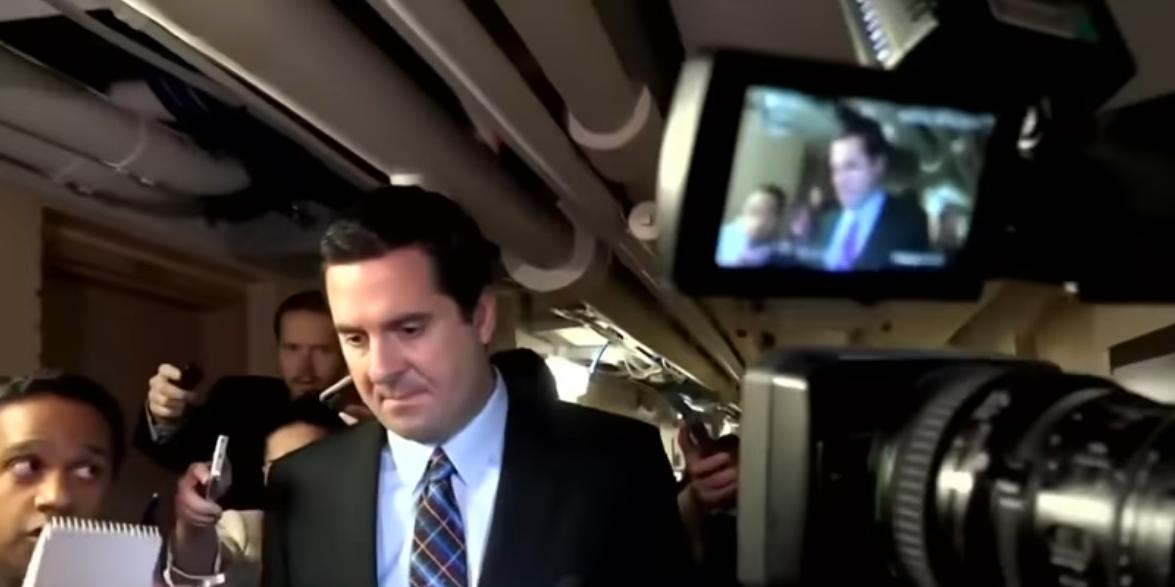 WASHINGTON – In a letter Saturday to U.S. House Speaker Nancy Pelosi, (D-SF), Republican Rep. Devin Nunes, who represents California's 22nd Congressional District, officially resigned his seat in Congress.
"It has been the honor of my life to represent the people of California's San Joaquin Valley for the last 19 years," Nunes wrote. He is slated to take over as chief executive officer for former president Donald Trump's Trump Media & Technology group, which is expected to launch expected to launch Truth Social later this month, a conservative right-wing alternative to Twitter and Facebook.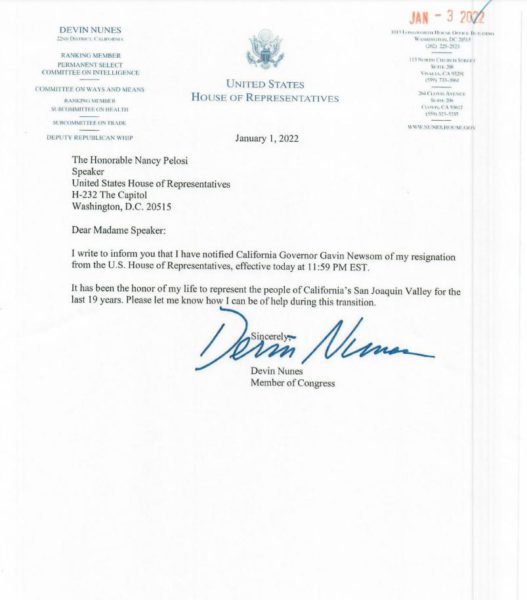 One of the former president's ardent loyalists, Nunes has repeatedly been at the center of controversy during his entire career on the Hill. In addition to his support of Trump, he has been openly antagonistic towards the LGBTQ community.
In 2010, Nunes voted against the repeal of "Don't Ask, Don't Tell," the law that prohibited gays from serving openly in the U.S. military. He also consistently received a "0" rating on LGBT issues from the Human Rights Campaign's Congressional Scorecard, which has a rating scale of 0 to 100.
He opposed legal recognition of same-sex marriage, and he also refused to back any LGBTQ+ legislation.
Over the years he has also been involved in a series of high-profile lawsuits, including a 2019 $435 million defamation lawsuit in which he claimed CNN libeled him by reporting he was digging up dirt on Joe Biden and Ukraine.
U.S. District Court Judge Laura Taylor Swain in Manhattan dismissed the suit against CNN on a technical ground: She found California law applied to the case and Nunes had failed to request a retraction as required under the laws of the Golden State. Nunes' lawyer had argued that the laws of Virginia or Washington, D.C., should apply, but the judge said it made the most sense to apply the laws of Nunes' home state to the dispute, Politico reported.
In 2019, Nunes also sued Twitter over two parody accounts that he claimed harassed him, @DevinNunesMom and @DevinCow. That lawsuit brought on merciless ribbing from late night show hosts and other comedians. The Late Show host Stephen Colbert mocked the Republican congressman explaining how Nunes' lawyers arrived at the $250 million amount for the lawsuit: "You take the value of Devin Nunes' reputation and you add $250 million dollars."