Why Electing Christy Smith to Congress is Critical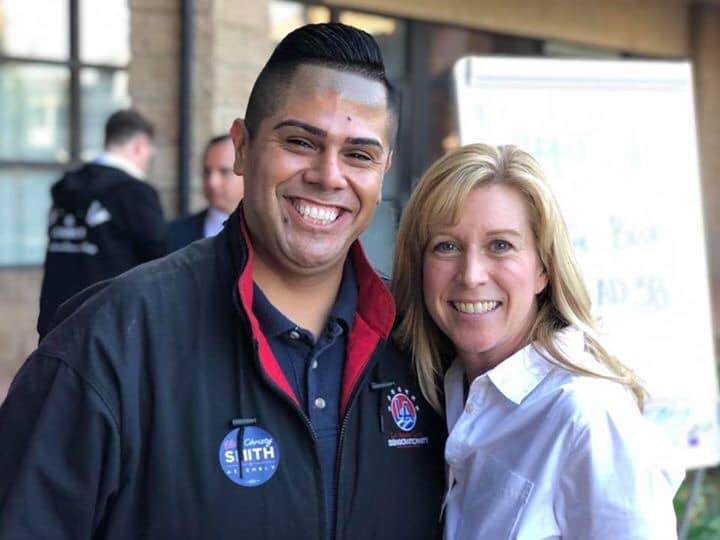 Editor's note: The following piece is private political commentary endorsing a candidate for office and is not an official endorsement by the Los Angeles Blade or its staff.
By Karen Ocamb | WEST HOLLYWOOD – So here we are — what feels like inches and seconds away from the one-year anniversary of the Jan. 6 insurrection when violent Confederate battle flag waving cult followers of Donald Trump breached the halls of Congress in an invasion not seen since the War of 1812.
With insurrectionist Ashli Babbitt's spilled blood just outside the glass doors, with echoes of "hang Mike Pence" and serious death threats against Speaker Nancy Pelosi, impeachment manager Rep. Adam Schiff and "the Squad" hanging like a pall in the still-frenzied Capitol air, Vice President Mike Pence and shaken members of Congress bravely returned to the House chamber to complete the heretofore peaceful Constitutional transfer of power certifying that Joe Biden was the new President of the United States, despite a basket of deplorable Republicans continuing to spout Trump's Big Lie that the 2020 election had been "stolen."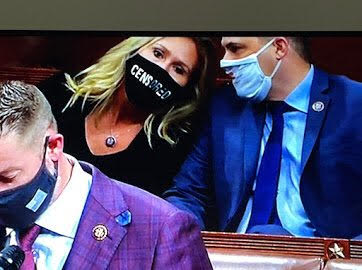 The year before, in 2019, Iowa Rep. Steve King was removed from his congressional committee assignments after asking the New York Times: "White nationalist, white supremacist, Western civilization — how did that language become offensive?" Today, instead of being snubbed, similarly rebuked QAnon diva Rep. Marjorie Taylor Green is being courted, including by Rep. Mike Garcia of California's 25th Congressional District.
On Jan. 5, the day before the insurrection — when Garcia voted to overturn the election results — Garcia consorted with "Stop the Steal" supporters outside the Capitol. The day before that, he tweeted "It's time to fight like it's 1776," QAnon code for overthrowing the government to provoke the Second Coming of the American Revolution.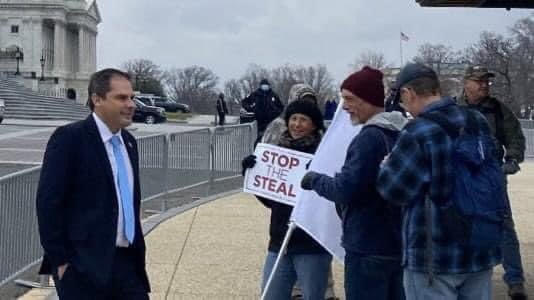 Christy Smith, a former California Assemblymember, Newhall School District board member, and policy analyst in the Clinton administration's Department of Education, narrowly lost to GOP-PAC supported Garcia in 2020 in the purple-trending district. Smith feels a profound, critical civic responsibility to challenge the Trump fanboy again in the upcoming 2022 mid-term elections.
"The stakes have never been higher in my 52 years of life as an American," Smith told me by phone the other day. "We are on the precipice of the most massive rollback of voting rights since the 1965 Voting Rights Act was passed in a bipartisan way. We are about to potentially see the Supreme Court strike down the reproductive protections in Roe v. Wade.
We will see then, shortly thereafter, hard-earned rights and protections for lots of communities fall by the wayside, including the LGBTQ-plus community. There has never been a time to fight harder or more vehemently for the liberal democratic institutions that we all believe in and that we know our framers intended for us to evolve with. And decidedly, the extremist right wing movement wants to stand in the way of that progress, and we simply can't allow it."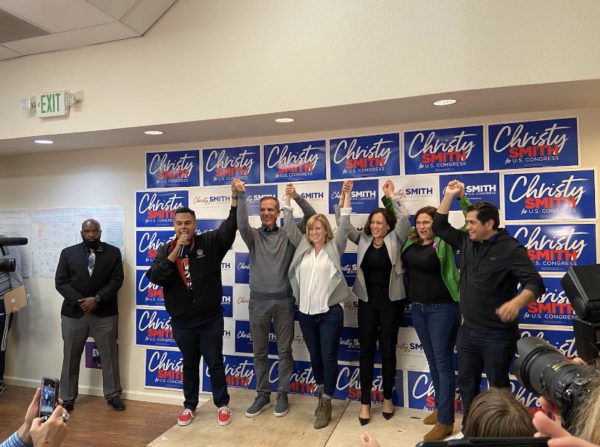 Garcia is "up there with the worst of the worst of them," she says, opposing every single measure aimed at social justice reform and judicial system reform…all in the name of a conservative movement that really has no agenda."
I first became aware of Christy when she ran for the seat vacated by Katie Hill. But what really struck me about the Santa Clarita dynamo was learning how on Nov. 14, 2019 she immediately went to Saugus High School after she heard about the shooting there. (See Christy's interview with KNBC's Conan Nolan.) Usually, politicians do not rush toward danger like frontline heroes and journalists — they wait until it's safe. Christy believes the framers of the Constitution would be appalled by today's interpretation of the Second Amendment.
"As a school board member for nearly a decade, seeing five-year-olds practice active shooter drills is horrible. You're teaching them what to do you in the event that someone comes to school specifically to hurt them! We have to stop," Christy says. "So yes — darn straight I ran toward it when, very sadly, it happened in my community. I knew that the school administrators might need some assistance from the state, so I immediately went there to see what I could do. Right after that, I went straight to the park where I knew some of the kids had been dismissed, whose parents had not come yet. You're talking about a community where there's a lot of commuters. Parents were going to have to come back jobs in the Valley or in LA, and there were going to be kids there, sad and alone and scared and not knowing what came next. So, as a parent in the community where we all care about all of our kids, I needed to be there for them and will continue to be."
Running for Congress against a Jan. 6 supporter who still flashes his old "fighter pilot" credentials to seduce fans of toxic masculinity, Christy — a self-described "policy nerd" — is eager to bring her, compassion, brains and experience to the House floor.
First on her agenda: "securing and shoring up our fundamental right in this country, which is our right to vote," she says, "to make voting accessible and easy for people. It is of utmost importance because the roadmap that these conservatives have been on has been about manipulating and finding ways to win races where they didn't actually win."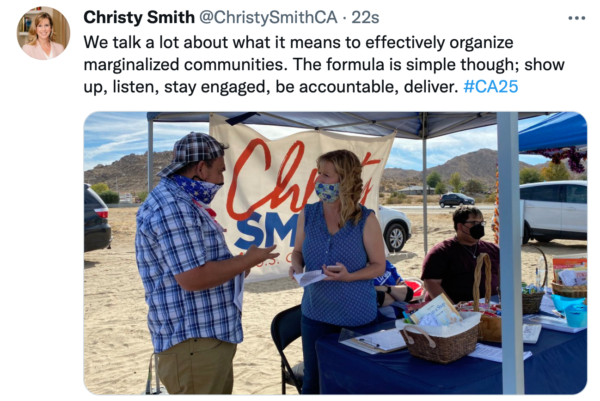 Christy's second top priority "is make sure that we continue to work for the American people who continue to struggle through a really rough economy going now into year three of this pandemic. So, we've had some economic recovery, thank goodness, based on the Biden agenda and what the Democrats have been to get to his desk. But we need to do more, we need to continue to make sure that people are keeping a roof over their head, keeping food on their table and have access to the basic medical care that'll keep them safe during this crisis."
And there's the need "to protect other rights that the extremists are going after — whether that's reproductive freedoms or LGBTQ rights, as well as looking at the crisis that has occurred in our public schools because of the pandemic."
Christy's fighting for a fair future with "meaningful representation of the beautiful breadth and depth of diversity of this country and allow children to feel good about their future."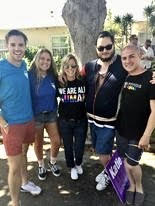 Indeed, being an LGBTQ ally is an integral part of Christy's family values. Her 22-year-old daughter Chandler's best friend since kindergarten is an out gay man named Zach Theberge.
"He is just a wonderful young man and an aspiring costumer in the Hollywood industry who just recently finished fashion school," Christy says. "The first and only time she got sent to the school office was defending him when he was being bullied for having come out during grade school. They attended senior prom together. He knew she was without a date and he is typically one who is very free with what he chooses to wear and he expresses himself beautifully.
But that night he showed up in his James-Bond-looking tux with white jacket and brought her a corsage and really rescued her from what was going to be a hard moment of going to senior prom on her own. So, he's an incredible young man and we are all the better for having him be part of our life."
Additionally, her youngest staff member Andrew Taban, whom she has mentored, is LGBTQ.  "He's a gift to the cause, to our community and my life is made better by the fact that that he's part of it. To me, the notion that these two young people who I consider family could see their life possibilities limited by an extreme movement that cares nothing for the hard-fought liberties — that those of you who have been in this fight for a long time have earned for them — it's devastating to me. It's something I'm simply not willing to accept," she says.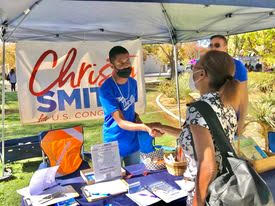 The "very motivated" out Gio Pope, 19, is currently her assistant political director and youth coordinator. "He is a young man with a bright future ahead of him," Christy says. "I want young people to inherit a country that they can manage well, that they feel proud of, and that those of us who feel strongly about leaving them something good, we feel like we did our part."
Christy is seriously concerned about the malaise afflicting Democrats. "Now is not time for people to sit home," she says. "It is no easy task that is in front of us, and that's why it is so imperative for every American who believes in a better future for us to participate. We have to really think about what we're up against. And we all have to come together. We have to have each other's back — and we have to show up."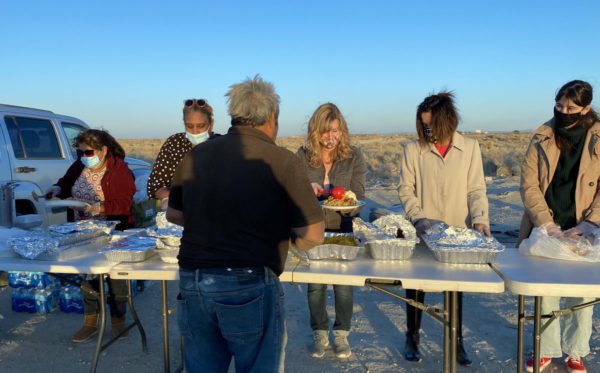 I'm concerned about that malaise, as well, which is why I hope my endorsement of Christy Smith for Congress will help draw attention to this remarkable woman who stands up for us and does not cower before dangerous third-string Trump loons like Mike Garcia. 

Please join me in helping elect Christy Smith to Congress.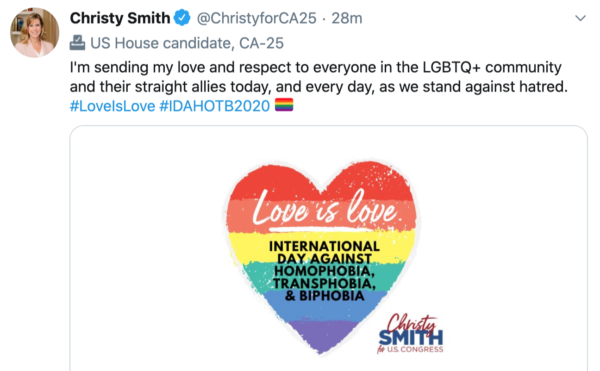 ********************
********************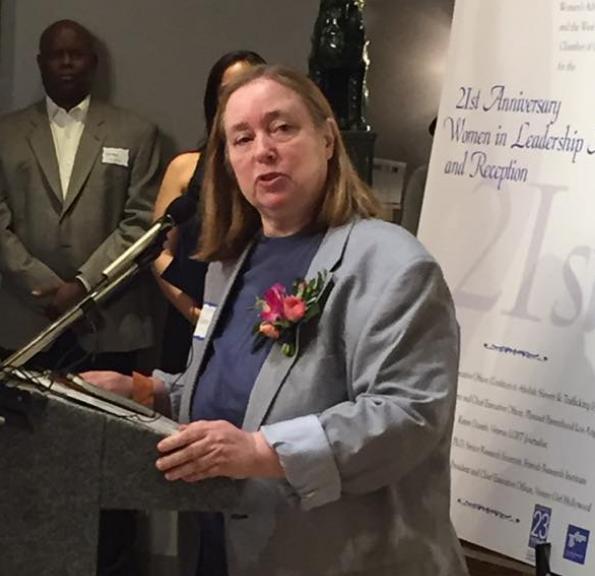 Karen Ocamb is an award winning veteran journalist, who has chronicled the lives of LGBTQ+ people in Southern California for over 30 plus years.
Zbur is Assemblymember-elect as Abramson concedes
When Zbur is sworn in on December 5 and takes office, he will join the largest Legislative LGBTQ+ Caucus in California history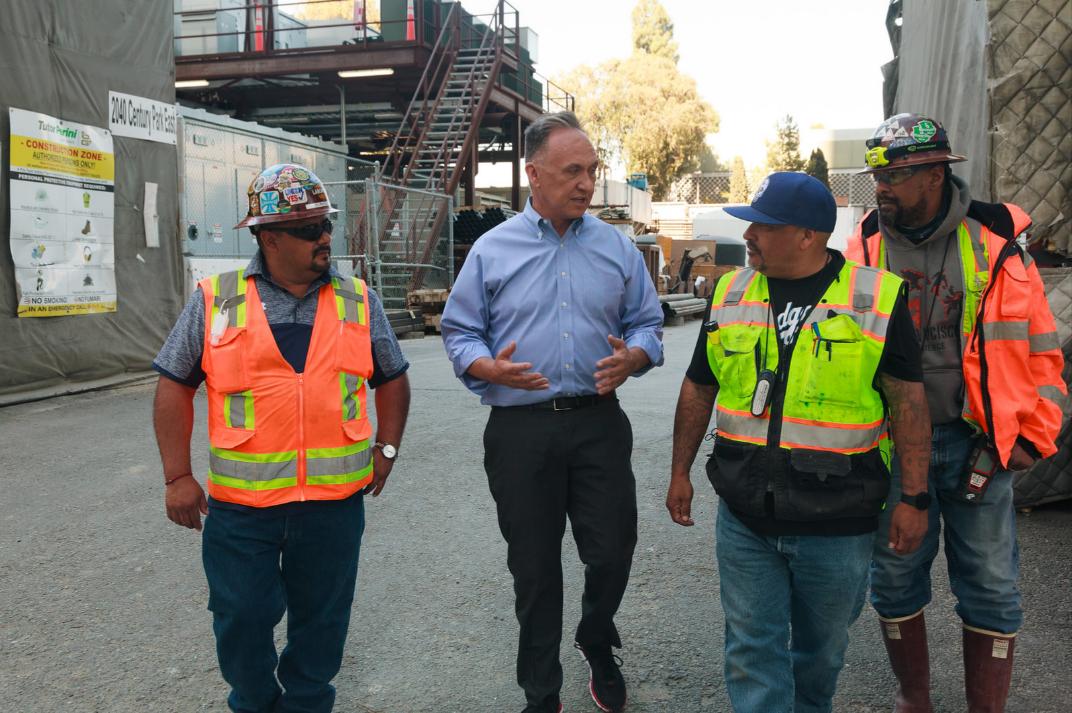 LOS ANGELES – The latest election results released by the Los Angeles County Registrar-Recorder/County Clerk's office on Tuesday indicated that former Equality California Executive Director and leading environmental attorney, Rick Chavez Zbur, had won the seat to represent California's 51st Assembly District.
Zbur's opponent Louis Abramson issued a statement of concession congratulating the Assemblymember-elect:
"One of our campaign mantras is: The hard part comes after the hard part. Well, this is the hard part. While many votes are outstanding, we're at 44.6%. Having been outspent nearly eight to one by a well known opponent, this achievement is incredible. Nonetheless, we don't see a path to 50%+1. With a full heart and a grateful soul, it's time to close this chapter.
I want to congratulate Rick Zbur on his victory in this race. I will do everything I can to help him succeed in confronting the existential challenges facing our shared community—homelessness, housing affordability, mental health reform, and climate change.
Rick ran with generosity and kindness. His previous work made California more equitable and just. It has been a privilege to campaign with him and to have the opportunity to advance that work. Rick will be an effective advocate for our district. I look forward to being his partner in repairing our world, and I invite you all to join me." 
In an email to the Blade Tuesday afternoon, Zbur wrote:
"As the votes continue to be counted, our campaign is confident that our margin of victory will continue to grow.  I'm incredibly humbled and grateful to the voters across AD-51 who powered our campaign to a victorious finish. We are proud that we won with a substantial margin in every city across the district.  This victory was only possible because of the dedication and effort of thousands of people —supporters, contributors, and volunteers who fueled our campaign, and I am incredibly grateful. I'm also deeply proud that my victory ensures that the 51st District—and the County of Los Angeles—finally has the LGBTQ+ representation in the State Assembly that it deserves. 
I would like to congratulate my opponent Louis Abramson for his dedication to our community, and for running an energetic campaign that was focused on the issues—many of which we agree about. I appreciate his gracious congratulations call yesterday and his offer to work together in the future to improve the lives of the people of California.
Our campaign was never about one person – it was about ensuring real change and lasting progress to improve the lives of the people of California and the 51st District. It was about assuring that our government tackles effectively the issues that matter most—affordable housing and homelessness, climate action, safer and sustainable communities, good jobs with good pay and safe working conditions, civil rights and social justice for all, and more. I'm proud of the movement we have built and I look forward to beginning the hard work to achieve a government that works for every Californian, especially our most vulnerable.  I am excited to begin my work in the Assembly to deliver for families across the 51st District."
Early on in his candidacy Zbur received the backing of various organizations and political groups including labour, civic, environmental as well as this newspaper. Zbur was endorsed by Equality California early in April 2021, alongside the California Legislative LGBTQ+ Caucus.
When Zbur is sworn in on December 5 and takes office, he will join the largest Legislative LGBTQ+ Caucus in California history.
Equality California released the following statement from its Executive Director Tony Hoang celebrating the victory:
"My friend Rick Chavez Zbur has spent his career fighting for justice and is exactly the type of champion LGBTQ+ Californians need in the Assembly. From a small farming community in the Rio Grande Valley to the halls of the California Capitol, Rick's life has been defined by service to his community and his country. I know that his bold, experienced leadership will continue to move our state forward, and he will deliver progressive results for the people of the 51st Assembly District.
"Equality California looks forward to being a partner to Rick in his new role, as we continue our shared fight for a world that is healthy, just and fully equal for all LGBTQ+ people." 
California's 51st Assembly District includes West Los Angeles, Hollywood and West Hollywood.
MEMBER OF THE STATE ASSEMBLY, 51st District
| Candidate(s) | Votes | Percent |
| --- | --- | --- |
| RICK CHAVEZ ZBUR (D) | 57,323 | 55.40% |
| LOUIS ABRAMSON (D) | 46,145 | 44.60% |