New Laws in California taking effect January 1, 2022
Among the new laws are protections for workers, measures to increase affordable housing, expand voter access & create a more inclusive state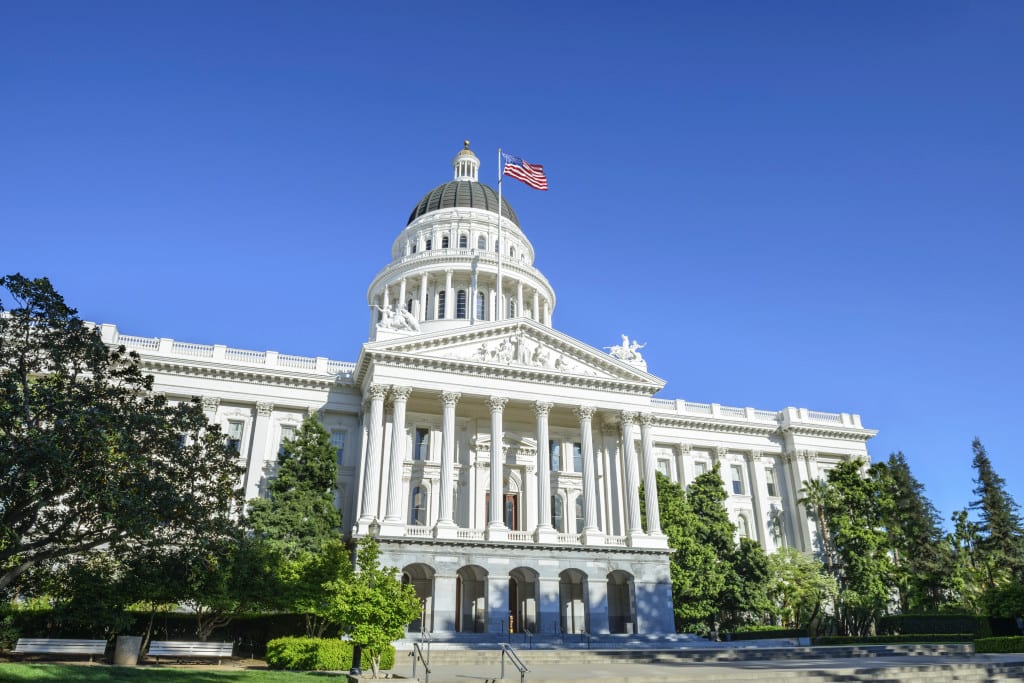 SACRAMENTO – There were a record number of bills signed into law by California Governor Gavin Newsom last year that took effect starting this weekend. Cal Matters tabulated that over 770 new laws, some which have a buffer window, kicked in on the first day of this year.
"In partnership with the Legislature, we've advanced hundreds of new bills this year to make meaningful progress on an array of issues that matter deeply to Californians across the state," said Newsom. "I thank Pro Tem Atkins and Speaker Rendon for their leadership in advancing historic measures to improve the lives of Californians, including new tools to boost our housing supply, improve workplace conditions and build a stronger state. As we head into the new year, I look forward to our continued work to expand opportunity for all Californians."
Among the new laws taking effect January 1 are nation-leading protections for workers and important measures to increase the state's supply of affordable housing, create a more inclusive state, expand voter access and protect consumers and the environment from harmful chemicals:
In October, Governor Newsom acted on the final bills of 2021, which advanced his historic California Comeback Plan featuring the most robust small business relief package in the country, unprecedented direct financial and rent relief for Californians, the largest increase in homeless housing in state history, universal Pre-K and a historic $15 billion climate package to advance California's nation-leading climate agenda.
Governor Newsom also signed historic measures that took effect immediately this year, such as SB 796 by Senator Steven Bradford (D-Gardena), which authorized Los Angeles County to return Bruce's Beach property to the Bruce family nearly a century after the land was wrongfully taken from them. Since then, the California Department of Parks and Recreation has amended the property deed, removing restrictions, and the Los Angeles County Board of Supervisors voted to accept the amended property deed, officially allowing the transfer of the property to the Bruce Family.
 SB 65, the California Momnibus Act by Senator Nancy Skinner (D-Berkeley) will go into effect in August 2022, helping tackle racial and ethnic disparities in maternal health outcomes by improving research and data collection.
AB 101 by Assemblymember Jose Medina (D-Riverside) which – upon appropriation of funds by the Legislature – requires high schools to provide ethnic studies starting in academic year 2025-26 and make completion of a one-semester course a high school graduation requirement beginning with students graduating in 2029-2030.
Governor Newsom additionally signed the following notable bills which will take effect on January 1:
AB 118 by Senator Sydney Kamlager (D-Los Angeles) – Department of Social Services: C.R.I.S.E.S. Grant Pilot Program.
AB 215 by Assemblymember David Chiu (D-San Francisco) – Planning and Zoning Law: housing element: violations.
AB 245 by Assembymember David Chiu (D-San Francisco) – Educational equity: student records: name and gender changes.
AB 286 by Assemblymember Lorena Gonzalez (D-San Diego) – Food delivery: purchase prices and tips.
AB 977 by Assemblymember Jesse Gabriel (D-Encino) – Homelessness program data reporting: Homeless Management Information System.
AB 1003 by Assemblymember Lorena Gonzalez (D-San Diego) – Wage theft: grand theft.
AB 1220 by Assemblymember Luz Rivas (D-Arleta) – Homelessness: California Interagency Council on Homelessness.
AB 1405 by Assemblymember Buffy Wicks (D-Oakland) – Debt settlement practices.
SB 1 by Senator Toni G. Atkins (D-San Diego) – Coastal resources: sea level rise.
SB 41 by Senator Thomas Umberg (D-Santa Ana) – Privacy: genetic testing companies.
SB 109 by Senator Bill Dodd (D-Napa) – Department of Forestry and Fire Protection: Office of Wildfire Technology Research and Development.
SB 221 by Senator Scott Wiener (D-San Francisco) – Health care coverage: timely access to care.
SB 224 by Senator Anthony Portantino (D-La Cañada Flintridge) – Pupil instruction: mental health education.
SB 331 by Senator Connie Leyva (D-Chino) – Settlement and nondisparagement agreements.
SB 343 by Senator Ben Allen (D-Santa Monica) – Environmental advertising: recycling symbol: recyclability: products and packaging.
SB 352 by Senator Susan Talamantes Eggman (D-Stockton) – The military: sexual harassment.
SB 395 by Senator Anna Caballero (D-Salinas) – Excise tax: electronic cigarettes: Health Careers Opportunity Grant Program: Small and Rural Hospital Relief Program.
SB 510 by Senator Richard Pan (D-Sacramento) – Health care coverage: COVID-19 cost sharing. A signing message can be found here.
SB 552 by Senator Robert Hertzberg (D-Van Nuys) – Drought planning: small water suppliers: nontransient noncommunity water systems.
SB 639 by Senator María Elena Durazo (D-Los Angeles) – Minimum wages: persons with disabilities.
California has also become the first state to require health insurance plans to cover at-home tests for sexually transmitted infections such as HIV, chlamydia and syphilis — which could help quell the STI epidemic that has raged nearly unchecked as public health departments have focused on COVID-19.
KTLA reported with a brief overview of the legislative efforts this past year highlighting what it called "some of the most important and most bizarre laws" taking effect in 2022:
Slower speed limits
A law that takes effect on Jan. 1 gives California cities more local control over how speed limits are set instead of using an old rule that essentially caused speed limits to go up every few years. Cities can start working toward lowering speed limits in 2022, but can't enforce them until June 30, 2024, or whenever the state creates an online portal to adjudicate the new infractions – whichever comes sooner.
Sleep in, kids
Middle schools and high schools will soon be required to start class no earlier than 8 a.m. and 8:30 a.m., respectively. Supporters say preteens and teenagers need the extra sleep for their health and development. The new law goes into effect on July 1, 2022, so for most students it will impact them in the 2022-23 school year. The law exempts rural school districts.
Compost – or else
Starting in 2022, all California residents and businesses will be required to sort their organic waste from the rest thanks to Senate Bill 1383. The program will take effect in phases depending on where you live. If it takes you some time to get used to it, don't stress – fines won't start being issued until 2024.
Mandatory menstrual products in school
Starting in the 2022-23 school year, public schools will be required to stock restrooms with free pads or tampons. The law affects public schools with grades 6 through 12, community colleges, and public universities.
Minimum wage bump
Businesses with 26 or more employees will be required to pay a $15 minimum wage starting in 2022. That's more than double the federal minimum of $7.25 an hour. California businesses with fewer than 26 employees will have to raise their lowest wage to $15 starting the year after.
Some California cities already have higher minimum wages in effect.
New rules for bacon making
An animal welfare law passed by voters in 2018 takes effect this year. It requires that breeding pigs, egg-laying chickens and veal calves have enough room to stand and turn around. But many in the pork industry haven't made the necessary changes and there's a coalition of restaurants and grocers suing, hoping for a two-year delay.
Vote by mail is here to stay
An executive order in 2020 sent mail-in ballots to every registered voter in California as a safety measure during the COVID-19 pandemic and presidential election. Assembly Bill 37 makes that change permanent and expands it to include local elections. People can still vote in person if they choose.
Seizing ghost guns
A new law will make it possible for concerned family members, teachers, coworkers and employers to ask a judge to seize ghost guns from someone they think could be a danger to themselves or others. Ghost guns are guns that are purchased in parts and assembled at home, making them hard to track. The law takes effect on July 1, 2022.
Trimmed training for barbers
Senate Bill 803 cuts down how much training is required of barbers and cosmetologists to 1,000 hours. Previously, 1,600 was required for cosmetologists and 1,500 was required for barbers. Advocates say it'll cut down on debt and let trainees in the industry get to work faster.
Pour another round for to-go cocktails
Senate Bill 389 extends pandemic-era rules allowing the sale of takeout alcoholic drinks through 2026. It also makes it possible to keep ordering cocktails, beer and wine in outdoor dining parklets for the next five years.
Removing "alien" from the books
Assembly Bill 1096 strikes the word "alien" from the California state code. The word will be replaced with words like "noncitizen" or "immigrant." Gov. Gavin Newsom said the word alien has "fueled a divisive and hurtful narrative" and this change will allow state laws to better reflect state values.
Ask if you need a fork
Restaurants will soon be prohibited from handing out single-use silverware or condiments without a customer requesting them. That means you'll need to ask for chopsticks for your takeout sushi or a ketchup packet for your fries if you don't have those things at home. Restaurants also won't be able to package plastic silverware in a way that makes it hard for you to just take what you need.
A similar law, also aimed at reducing waste, is already in effect for single-use plastic straws. Cities and counties will start enforcing this new law on June 1, 2022.
Assisted death changes
Starting Jan. 1, terminally ill patients won't have to wait as long to request fatal drugs. The waiting period between the two required requests will drop from 15 days to 48 hours.
Dog blood donations
A new law changes the way canine blood donations work in California. Prior to 2022, all blood used by veterinarians to treat ailing dogs comes from two companies that raise dogs in cages solely to collect their blood, reports the Los Angeles Times. The new law allows for the establishment of more canine blood banks that can collect donations from dogs, much like people donate blood to blood banks.
"Stealthing" is sexual assault
Assembly Bill 453 makes the non-consensual removal of a condom during sex, also called "stealthing," a form of sexual battery. California is the first state to ban stealthing.
Duplex law
Senate Bill 9 makes it easier to split a property into a duplex by removing some of the layers of bureaucracy and review. Advocates say it could help with the state's housing crisis by making it easier to add more units of housing. The details of the law are complicated, but you can read all the clauses here.
More housing near transit
Another law, Senate Bill 10, aims to make it easier to build housing in California. Among other things, this law makes it easier for cities to upzone transit-dense areas, allowing for the development of more dense house of up to 10 units per parcel without a lengthy environmental review process.
Rubber bullets and tear gas
Assembly Bill 48 prohibits police from using rubber bullets or tear gas to disperse crowds at a protest. They also can't be used against someone just because they've violated "an imposed curfew, verbal threat, or noncompliance with a law enforcement directive."
More women execs
A law passed in 2018 required corporations to add more women to their boards of executives. The final deadline to meet requirements passes Dec. 31, 2021, meaning that by the start of 2022, companies with five directors need at least two of them to be women, and companies with six or more directors need at least three of them to be women.
Feast on roadkill, Californians
Starting Jan. 1, the state is launching a pilot program that will allow people to collect and eat roadkill. The law allows for humans to collect and eat "deer, elk, pronghorn antelope, or wild pig" that have been hit and killed by a vehicle. You'll have to report the find and secure a permit before digging in, but the state is required to create an online and mobile-friendly way to do that.
Newsom highlights blueprint investments in infrastructure & transportation
Transportation is the largest source of greenhouse gas emissions, accounting for more than 50% of emissions
SANTA CLARA – Governor Gavin Newsom Thursday touted his California Blueprint's major investments in transportation and infrastructure while visiting the Santa Clara Depot rail station, highlighting the plan's $9.1 billion in funding for climate-friendly clean transit projects that will create thousands of jobs.
The Blueprint also includes $2.3 billion to support ports and goods movement throughout the state and an additional $6.1 billion to accelerate the state's transition to zero-emission vehicles – creating a total package of $10 billion that will invest in affordable cars, clean trucks and buses. The Santa Clara Depot serves several transit agencies, including Caltrain, which is scheduled to complete electrification of its system in 2024. 
"These bold investments will deliver safer, faster and greener transportation options connecting communities across the state while creating thousands of jobs and tackling our largest source of harmful pollution and emissions," said Governor Newsom. "With California on the frontlines of the intensifying climate crisis, the state is committed to building a clean transportation future that protects the health of our communities, environment and economy."
Transportation is the state's largest source of greenhouse gas emissions, accounting for more than 50% of emissions when considering the production and deployment of fuels. California's commitment to decarbonizing the transportation sector also advances the state's affordability goals, increasing access to opportunity and amenities through a network of affordable, clean transportation options and pushing zero-emission vehicle innovation to continue driving down costs for everyone.
The California Blueprint includes a proposed $9.1 billion package to advance clean transit initiatives that support the state's climate and public health goals, promote equity and bolster the green economy, including $4.9 billion for transit and rail projects to improve connectivity, climate adaptation, bicycle and pedestrian safety and more locally driven initiatives. In addition, the Blueprint proposes a $4.2 billion investment in California's High-Speed Rail project, which will eventually share the electrified Caltrain corridor, as well as funding for projects that encourage active modes of transportation and improve equity and safety, including converting underutilized highways into corridors that better serve residents. The Blueprint positions California to take advantage of additional federal infrastructure investments.
The California Blueprint also furthers the Administration's ongoing work to support ports and build supply chain resilience, outlining a $2.3 billion package that includes $1.2 billion for port-related infrastructure projects that increase goods movement capacity and additional funding for zero-emission port equipment, drayage trucks and infrastructure. The Governor in October issued an executive order directing state agencies to help identify additional ways to alleviate congestion at California ports and announced a state-federal partnership to help kick-start infrastructure projects designed to improve goods movement. In addition, the Governor has launched a multi-agency Supply Chain Task Force working to find opportunities to lease state and privately-owned land for container storage space, Caltrans has issued temporary truck weight exemptions on State Highways to keep goods moving efficiently and the Department of Motor Vehicles has worked to nearly double its capacity to conduct commercial driving tests.
The Blueprint also builds on the California Comeback Plan's $3.9 billion zero-emission vehicle (ZEV) package with an additional $6.1 billion in proposed investment to accelerate the transition. The additional funding will add thousands of affordable clean cars, zero-emission trucks and transit buses, support school transportation programs and electrify our school bus fleet, expand equitable access to ZEV charging infrastructure and fund equity-focused clean transportation community projects.
Governor Newsom in 2020 made a commitment to require that sales of all new passenger vehicles be zero-emission by 2035 and aggressively decarbonize heavy-duty vehicles such as trains, trucks and buses. The state has targeted emissions from the heavy-duty sector with bold action to reduce pollution in disproportionately impacted communities.
Intersex civil rights legislation killed after fails to advance
These irreversible genital reconstruction surgeries usually performed when intersex children are infants have lifelong consequences
SACRAMENTO – Senator Scott Wiener (D-San Francisco) announced Tuesday that he will not be moving forward with Senate Bill 225: the Intersex Bodily Autonomy, Dignity and Choice Act. This civil rights legislation would ban medically unnecessary, irreversible genital surgeries on intersex infants and other young children.
Wiener has pursued this civil rights legislation that would provide children and their families with a chance to make informed decisions about major, life-altering genital reconstruction surgeries for three consecutive years.
He has been unable to pass the bill out of its first policy committee, the Senate Business & Professions Committee, due to lack of sufficient votes in the committee. SB 225 was co-sponsored by Equality California, interACT: Advocates for Intersex Youth, the National Center for Lesbian Rights, and the ACLU of California.
"SB 225 was a basic civil rights law, standing for the important principle that people should be able to make decisions about their own lives, as opposed to having other people make those decisions for them. These irreversible genital reconstruction surgeries – usually performed when a child with variations in their genitalia are infants – have lifelong consequences. These consequences can include chronic pain, scarring, loss of sexual sensation, and more," the Senator said in a media statement.
"SB 225 is vitally important civil rights legislation for intersex people and the larger LGBTQ community, and I'm disappointed and saddened that it does not appear to have a viable path forward at this time. For three years, we've worked to advance the legislation, and it's become apparent that we continue to lack the votes to pass a meaningful bill — one that actually protects intersex people — through committee, he added.
"Pausing medically unnecessary genital surgeries until a child is old enough to participate in the decision isn't a radical idea. Rather, it's about basic human dignity. In countries like Germany, Colombia, and Malta, these infant surgeries are banned. The United Nations and three former U.S. Surgeons General have called for these surgeries on babies to be banned. I'm fully committed to protecting the rights of everyone with variations in their genitialia, including intersex people. I'm not giving up, and I stand in solidarity with the intersex community in its fight for bodily autonomy, dignity and, choice," Wiener said.
The California Medical Association, the politically influential professional organization representing nearly 50,000 physicians in the state of California, was opposed to the legislation and actively lobbied against it.
"We're proud to stand with Senator Wiener and the intersex community in this important fight to safeguard the human rights of all Californians and are immensely grateful for his leadership on SB 225," said Equality California Legislative Director Tami Martin. "We're disappointed that there is not enough support to pass this bill out of committee this year, but our fight will continue until the work is done."
One to two percent of people are born with variations in their genitalia and sex anatomy, some of whom identify as intersex. Parents of children with these variations are often offered medically unnecessary surgical interventions – such as major surgeries to cut a clitoris, create a vagina for penetrative sex, remove hormone-making organs, or move a working urinary opening – which are typically performed on children under two years old and often without a complete discussion of the various risks.
These surgeries may result in extreme scarring, chronic pain, chronic incontinence, loss of sexual sensation, post-traumatic stress disorder, incorrect gender assignment, and the need for additional surgeries to treat complications from the original surgery. SB 225 would allow parents to make a decision, in consultation with their child and medical professionals, once a person is old enough to participate in decision-making about whether or not a surgery to change sex anatomy is right for them.
"While this particular bill did not become law, we are deeply grateful to our allies and proud of getting one step closer to protecting intersex bodily autonomy in California," Alesdair Ittelson, Director of Law & Policy and Interim Executive Director of interACT said. "interACT will continue to demand self-determination instead of pathologization for intersex people and we are not deterred by the paternalistic approach of a rapidly shrinking number of individuals who stand in the way of protecting intersex human rights. Intersex people will prevail in their fight for control over their own bodies and we applaud all of those who supported SB 225."
Becca Cramer-Mowder, Legislative Coordinator and Advocate with ACLU California Action, noted: "We are disappointed that California is not yet ready to lead on this important civil rights issue, and we will continue to work with intersex individuals and advocates to move the state forward towards recognizing the bodily autonomy of intersex Californians."
Anti-LGBTQ+ Devin Nunes officially resigns from Congress
He is slated to take over as chief executive officer for former president Donald Trump's Trump Media & Technology group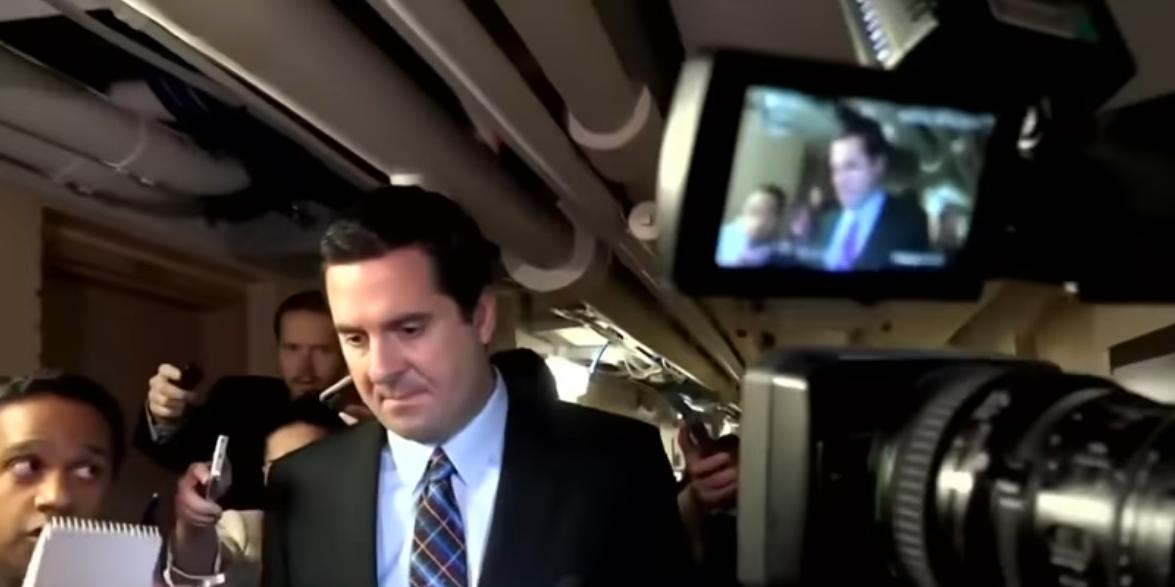 WASHINGTON – In a letter Saturday to U.S. House Speaker Nancy Pelosi, (D-SF), Republican Rep. Devin Nunes, who represents California's 22nd Congressional District, officially resigned his seat in Congress.
"It has been the honor of my life to represent the people of California's San Joaquin Valley for the last 19 years," Nunes wrote. He is slated to take over as chief executive officer for former president Donald Trump's Trump Media & Technology group, which is expected to launch expected to launch Truth Social later this month, a conservative right-wing alternative to Twitter and Facebook.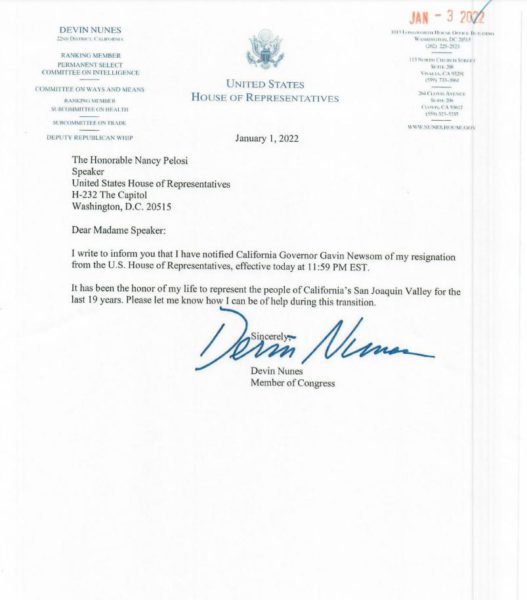 One of the former president's ardent loyalists, Nunes has repeatedly been at the center of controversy during his entire career on the Hill. In addition to his support of Trump, he has been openly antagonistic towards the LGBTQ community.
In 2010, Nunes voted against the repeal of "Don't Ask, Don't Tell," the law that prohibited gays from serving openly in the U.S. military. He also consistently received a "0" rating on LGBT issues from the Human Rights Campaign's Congressional Scorecard, which has a rating scale of 0 to 100.
He opposed legal recognition of same-sex marriage, and he also refused to back any LGBTQ+ legislation.
Over the years he has also been involved in a series of high-profile lawsuits, including a 2019 $435 million defamation lawsuit in which he claimed CNN libeled him by reporting he was digging up dirt on Joe Biden and Ukraine.
U.S. District Court Judge Laura Taylor Swain in Manhattan dismissed the suit against CNN on a technical ground: She found California law applied to the case and Nunes had failed to request a retraction as required under the laws of the Golden State. Nunes' lawyer had argued that the laws of Virginia or Washington, D.C., should apply, but the judge said it made the most sense to apply the laws of Nunes' home state to the dispute, Politico reported.
In 2019, Nunes also sued Twitter over two parody accounts that he claimed harassed him, @DevinNunesMom and @DevinCow. That lawsuit brought on merciless ribbing from late night show hosts and other comedians. The Late Show host Stephen Colbert mocked the Republican congressman explaining how Nunes' lawyers arrived at the $250 million amount for the lawsuit: "You take the value of Devin Nunes' reputation and you add $250 million dollars."