Gender transition after Jan 1 in Switzerland for legal documents simplified
The new law will not only simplify and standardize the procedure but will also be less expensive, quicker and based on self-determination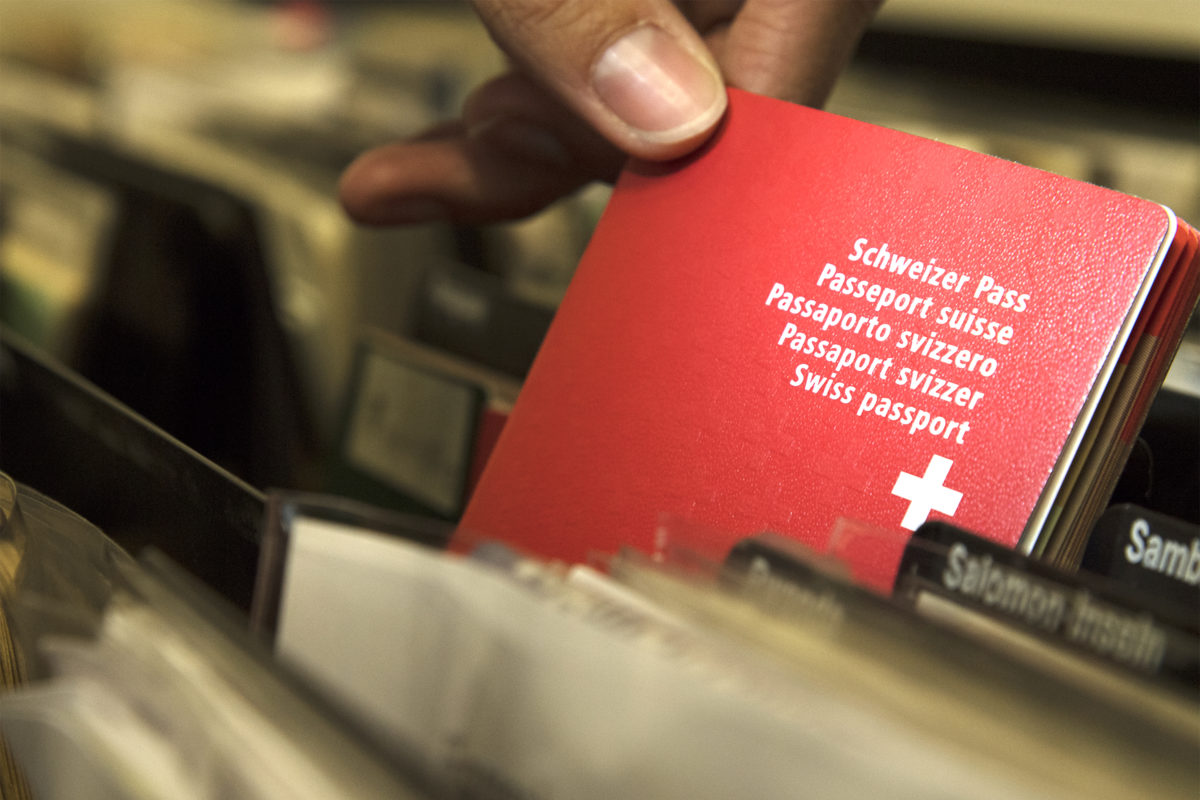 BERN – New rules written into Swiss law will allow Transgender and Intersex citizens of Switzerland aged 16 and older to adjust their gender and legal name status on official documents by self-declaration at the civil registry office taking effect January 1st, 2022.
The changes were passed on 18 December 2020, when the Swiss Parliament passed a bill for legal gender recognition (LGR) procedures based on self-determination. Previously Swiss law required require a certificate from a medical professional confirming an individual's transgender identity.
In addition, under the current law, Legal Gender Recognition, (LGR) procedures in Switzerland are still based on court proceedings that vary from court to court or even from judge to judge. The new law will not only simplify and standardize the procedure but will also be less expensive, quicker and based on self-determination.
According to Transgender Network Switzerland, costs will be reduced to an administrative fee of 75 CHF. Under the old law, LGR could cost up to 1.000 CHF.
Transgender Europe, (TGEU), a network of different organizations working to combat discrimination against trans people and support trans people rights, welcomed the adoption of the legislation last year. TGEU's Executive Director, Masen Davis noted: "Especially given the backlash against trans people's human rights in 2020, we are happy to see this law pass before the end of the year. Some countries have shown major step-backs in legal gender recognition, such as Hungary or Russia. It offers our communities some hope to see the Swiss example."
As the law takes effect, TGEU and the Transgender Network Switzerland (TGNS) expressed criticism that for those younger people and those under adult protection will require parent/guardian consent.
In a media release last December TGNS noted:
"The joy that Switzerland has achieved the current human rights standard for adult intersex and trans women and men is, however, severely clouded in the communities concerned. In contrast to today, under-16s and people under comprehensive assistance can only apply for the change in the future with the consent of the legal representative, even if they are capable of judgment. You are the only one whose personal rights are restricted in this way, although the change in the gender entry does not affect anyone other than yourself.
"Today could be a great day of joy for us: We have wanted a simple, self-determination process for years. But today we are mainly shocked by the way in which Parliament deals with intersex and trans young people. Today's decision worsens the situation of young people massively and contradicts children's rights. With this decision the parliament provokes – consciously – great suffering of a minority and lets conflicts in families escalate. "Comments Audrey Aegerter, President of InterAction Suisse, on the approved proposal. And Alecs Recher, who heads TGNS's legal advice, adds with a view to implementation: "We will support all young people and assisted trans and intersex people, so that they receive the correct gender entry despite this new hurdle! We call on Federal Councilor Keller-Suter and Parliament to observe the practical effects of the approval requirement and to make the necessary corrections. "
Switzerland joins Ireland, Belgium, Portugal and Norway as one of the few countries on the continent that allow a person to legally change gender without hormone therapy, medical diagnosis or further evaluation or bureaucratic steps, Reuters reported.
Switzerland marriage equality law goes into effect
Voters last September overwhelmingly approved 'Marriage for All' law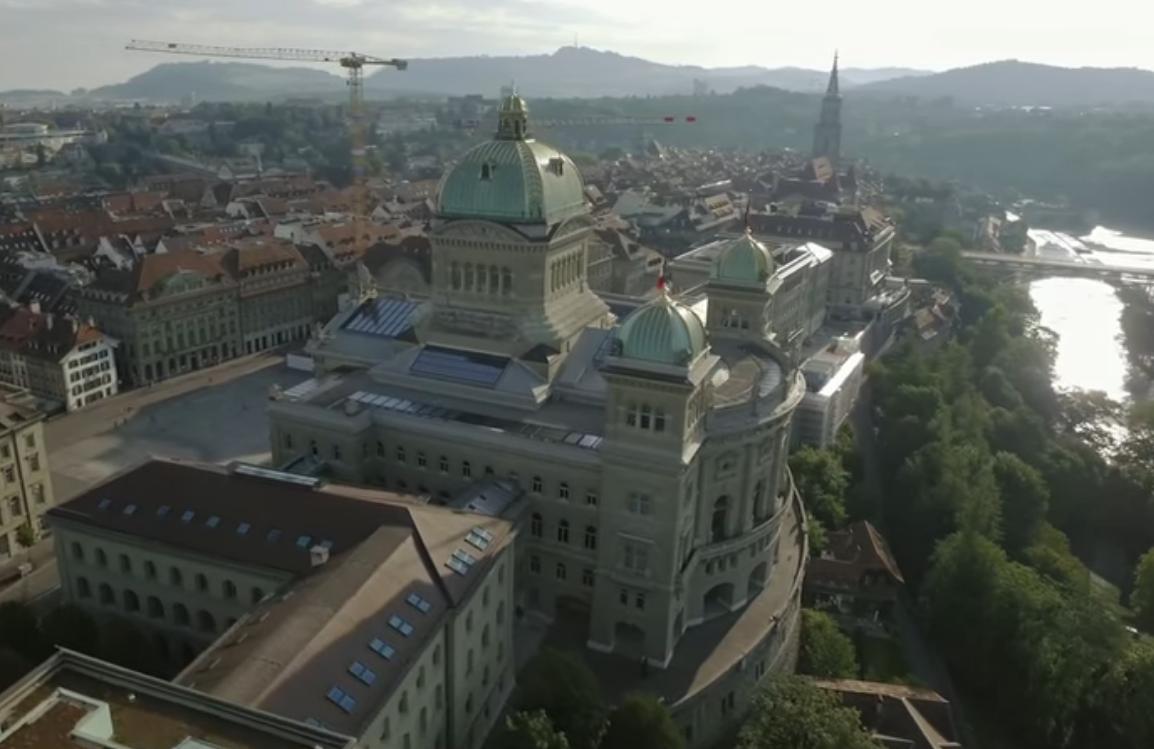 BERN, Switzerland — A law that allows same-sex couples to legally marry in Switzerland took effect on Friday.
Swiss voters last September voted overwhelmingly in favor of the "Marriage for All" law.
Maria von Känel of Regenbogenfamilien (Rainbow Families) on Friday posted to her Facebook page a picture of her and her wife with a marriage license and a message that said "the celebrations can begin."
Neighboring Austria, Germany and France are among the European countries that have extended marriage rights to same-sex couples. Scott Miller, the U.S. ambassador to Switzerland and Liechtenstein who is openly gay, is married to Tim Gill.
"Today we celebrate marriage for all," tweeted the U.S. Embassy in Switzerland on Friday. "Congratulations to Switzerland on this historic day."
Today we celebrate marriage for all. Congratulations to #Switzerland on this historic day! 🎉🇨🇭🏳️‍🌈🎉 #EqualityforAll #loveislove

— U.S. Embassy Bern (@USEmbassyBern) July 1, 2022
Turkish police arrest 100's of LGBTQ+ activists over banned Pride parade
The largest Turkish LGBTQ+ activist group on Monday noted that "the detentions experienced during the march, was among "firsts" for this year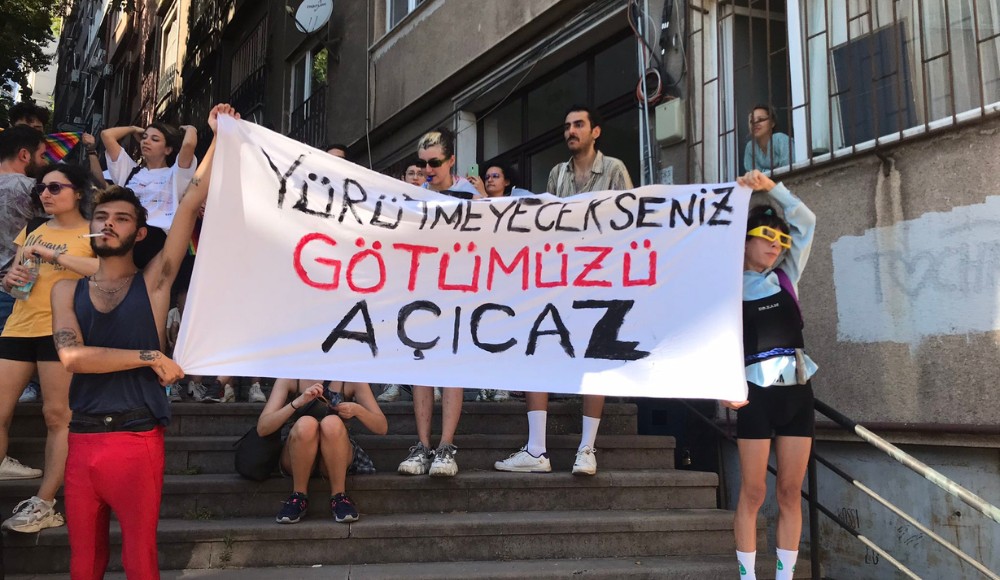 ISTANBUL, Turkey – Hundreds of LGBTQ+ people, allies, and supporters took to the streets of Istanbul Sunday in defiance of the Turkish government's ongoing 2014 ban of LGBTQ+ Pride parades and Pride Month festivities.
Protestors violently clashed repeatedly with police and security forces in various neighborhoods located around the Bol Ahenk Sokak (Pedestrian Plaza) and other sections of the central downtown areas.
Authorities had shut down the city's transit systems hours prior to the influx of LGBTQ+ activists and demonstrators and flooded streets with police in riot gear who made hundreds of arrests, in some cases tear gassing participants and attacking them with clubs.
Government security forces arrested over 373 people including Agence France-Presse journalist and chief photographer, Bülent Kılıç. Detainees were taken by bus to a central holding facility for processing. Photojournalist Mehmet Demirci documented the arrest of Kılıç in a Twitter post:
My photojournalist friend Bülent Kılıç has been taken into police custody while covering the #İstanbulPride. His hands were cuffed behind his back.@Kilicbil Kilicbil pic.twitter.com/sDYNoVe13L #journalismnotcrime

— mehmet demirci (@mehmet_demirci_) June 26, 2022
The largest Turkish LGBTQ+ activist group Ankara-based Kaos GL documented the arrests and clashes which occurred prior to the 5 p.m. planned parade kick-off in a series of Twitter posts.
İzmir'de polis zor kullanarak LGBTİ+'ları alandan çıkarmaya çalışıyor!#OnurYürüyüşü #Pride2022 pic.twitter.com/jlJ7H2eOWU

— Kaos GL (@KaosGL) June 26, 2022
KAOS GL in a press release on Monday noted that "the detentions experienced during the march, was among "firsts" for this year. Totally 373 LGBTI+s and LGBTI+ right defenders were taken into custody on the day of march! This number is a record both in the history of Pride Marches and the other public demonstrations."
The group also recorded the scope of anti-LGBTQ+ Pride Month bans and pressure by Turkey's governmental bodies across the country:
"There were 10 ban decisions announced within the scope of Pride Month events. These ban decisions were taken by Boğaziçi University Rectorate, METU Rectorate, Gaziantep Governorship, Çanakkale Governorship, Datça District Governorship, Beyoğlu District Governorship, Kadıköy District Governorship, Eskişehir Governorship and İzmir Governorship.
The detentions began with 70 people at 9th Boğaziçi Pride March on May 20, increasingly went on till June 26. 373 people were taken into custody in İstanbul on June 26. This number is among the highest detentions within the context of the public demonstrations in İstanbul recent years. Totally 530 LGBTI+s and LGBTI+ right defenders were detained in 37 days."
Norwegian suspect in LGBTQ+ bar shooting refuses to cooperate
Large crowds gathered Sunday near the London Pub to lay flowers and other tributes many of those gathered waved Pride flags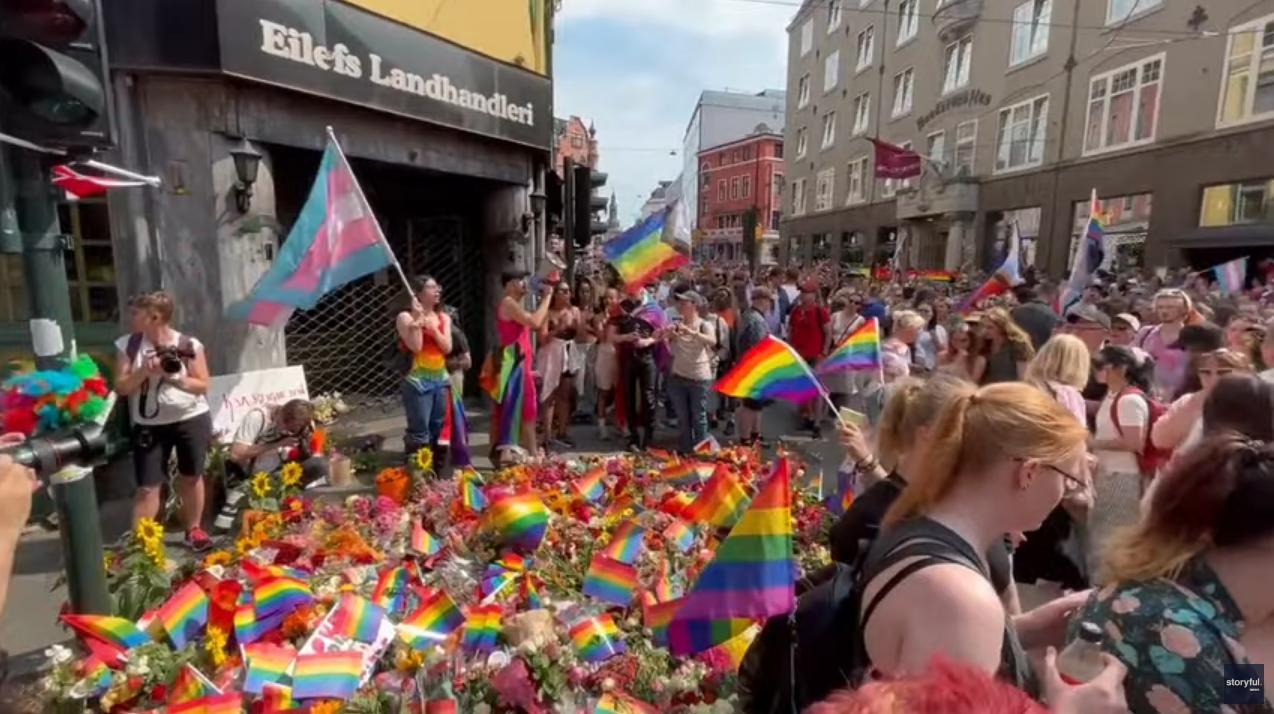 OSLO, Norway – A spokesperson for the Norwegian Police Service  (Politi- og lensmannsetaten) said that the suspect in Saturday's mass shooting at the London pub in Norwegian capital city's night-life district is refusing to cooperate with investigators.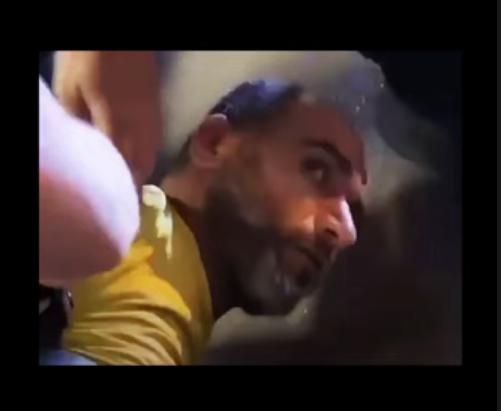 The 42-year-old suspect, identified as Zaniar Matapour, is a Norwegian citizen originally from Iran. Two people were killed and more than 20 were injured in what police officials have labeled as an "Islamist terror act."
Matapour, (left) is shown at the time of his arrest immediately after the shooting on mobile phone video broadcast on Norwegian television.
An official with the Norwegian Police Service told media outlets that investigators tried they tried to question Matapour on Saturday after his arrest and again on Sunday without success.
The Associated Press reported that Matapour's defense lawyer, John Christian Elden, told the AP in an emailed statement that that his client refused to have his statement recorded and videotaped unless police released the entire recording to the public "with no time delay so it won't be censored or manipulated."
Elden previously said to media outlets including the Associated Press his client did not deny being the shooter but had not divulged any motive. The lawyer said Sunday that Matapour did not object to remaining in custody for four weeks so would not appear in court on Monday.
In the Norwegian judicial system pre-trial detention hearings are normally held every four weeks.
Large crowds gathered Sunday near the London Pub to lay flowers and other tributes. Those gathered waved Pride flags as they defiantly commiserated remembering the two victims killed along with the other twenty persons injured in the shooting spree which police say occurred at three locations in the neighborhood around the bar.
The city's Pride parade had been cancelled as a precaution after the shooting.
Norway's Prime Minister Jonas Gahr Stoere and a member of the Royal family, Crown Princess Mette-Marit, joined mourners in a memorial service Sunday at Oslo Cathedral for the victims of the attack.
Speaking in Sunday's memorial service, the Prime Minister pointed out that "the shooting in the night hours put an end to the Pride parade, but it did not stop the fight and the efforts to fight discrimination, prejudice and hatred."
Stoere addressed Norway's Muslim community as well telling them;
"I know how many of you felt when it turned out that the perpetrator belonged to the Islamic community. Many of you experienced fear and unrest. You should know this: We stand together, we are one community and we are responsible for the community together."