First Queer Commissioner of the German Federal Government appointed
Germany's Lesbian & Gay Association said the newly created office is "another important signal for the queer political awakening"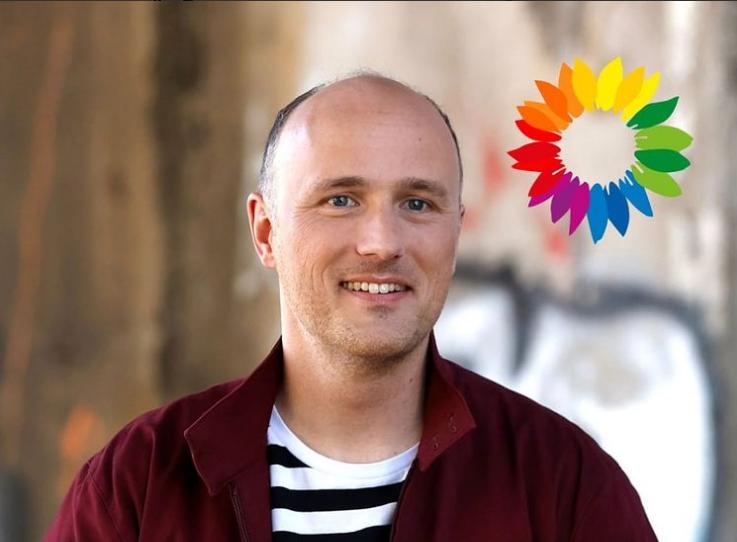 BERLIN – Green Party lawmaker Sven Lehmann was appointed as Germany's commissioner for the acceptance of sexual and gender diversity. As the 'Queer-Beauftragter der Bundesregierung,' [Queer Commissioner of the Federal Government] Lehmann will oversee a LGBTQ+ national action plan for the first time in the country's history.
He has been a member of the Bundestag, the German parliament, since 2017. Since 2018 he has been spokesperson for queer policy and social policy within the Green Party along with his fellow parliamentarian, Ursula "Ulle" Schauws, a member of the Alliance '90/The Greens party.
In a statement (translated from German) posted to his social media accounts, Lehmann said;
"The Federal Government appointed me today as the Commissioner for the Acceptance of Sexual and Gender Diversity ("Queer Commissioner")!
The newly created office of the Queer Commissioner shows how important it is for the federal government to accept diversity. Everyone should be able to live freely, safely and with equal rights. Based on the guiding principle of self-determination, the new federal government will pursue a progressive queer policy and also align family policy with the social reality of different types of families.
The protection of people on the basis of their sexual and gender identity must be ensured in the Basic Law and the fundamental rights of trans, inter and non-binary people must finally be fully enforced.
We also need a broad strategy to combat group-related enmity – including explicitly against queerophobia. To this end, together with the Federal Ministry of Family Affairs, I will launch a national action plan for the acceptance and protection of sexual and gender diversity. Germany should become a pioneer in the fight against discrimination!
Lehmann's appointment and the creation of the office was applauded by LGBTQ+ advocates across Germany.
Germany's Lesbian and Gay Association (LSVD) said the newly created office is "another important signal for the queer political awakening promised by the coalition government."
Lehmann has to become "the driving force in the government in order to implement the queer political projects promised in the coalition agreement," Henny Engels from the LSVD board told state-owned media outlet Deutsche Welle, (DW).
"Right now he should urgently endeavor to ensure that LGBTQ+ people are explicitly included in the admission program for refugees from Afghanistan, which was recently presented by Foreign Minister Annalena Baerbock," Engels said.
The German Society for Trans Identity and Intersexuality (dgti) also said it looked forward to working with Lehmann on the path to a "better world for all trans, inter and non-binary people."
In recent years, some changes have been initiated in this area of equality and diversity that can now be brought to a good end, dgti told DW in a written statement.
"From the dgti's point of view, this includes, above all, the abolition of the 'transsexual law' and the passage of new legislation on self-determination."
In 2018, Germany officially recognized the existence of more than two genders when it introduced a third option, "diverse," in addition to "male" and "female."
Lehmann 's colleague Schauws told Deutsche Welle that while the nation needs to catch up with many countries on LGBTQ+ rights, she hopes the new government can lead by example for those even further behind.
"The new coalition has the task of ensuring that people with queer biographies are finally taken seriously and the realities of diverse families are reflected in our laws so they can live free of discrimination," Schauws said.
Switzerland marriage equality law goes into effect
Voters last September overwhelmingly approved 'Marriage for All' law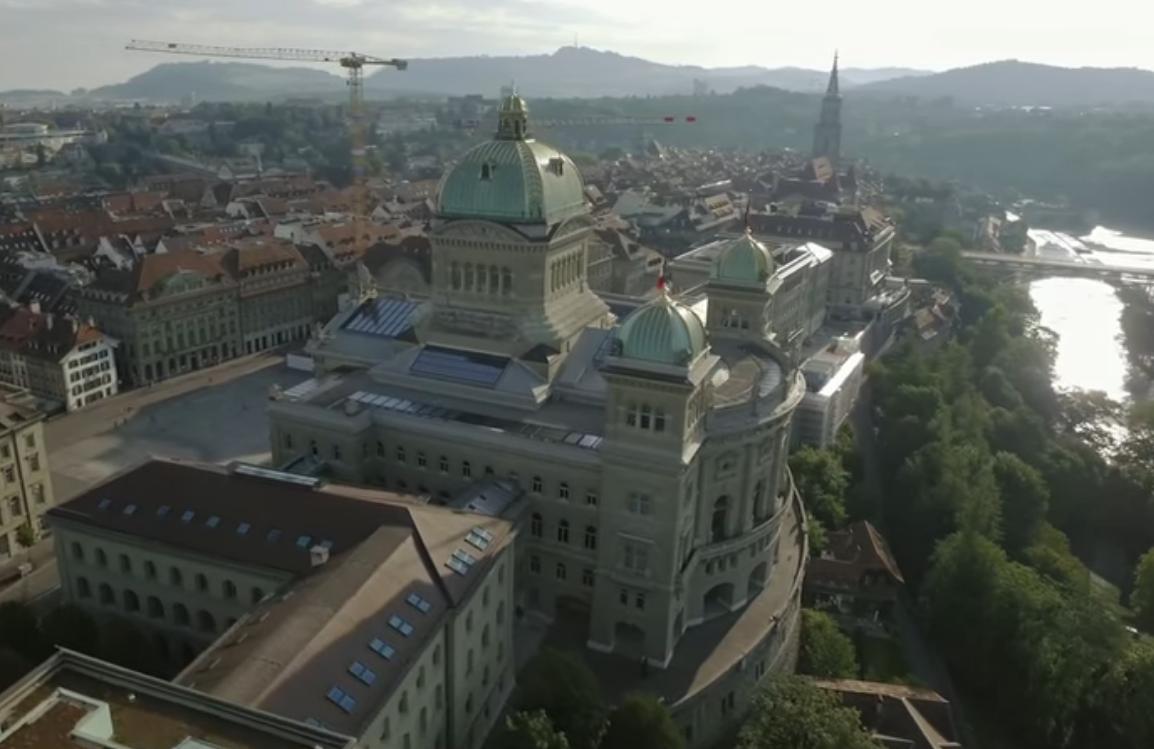 BERN, Switzerland — A law that allows same-sex couples to legally marry in Switzerland took effect on Friday.
Swiss voters last September voted overwhelmingly in favor of the "Marriage for All" law.
Maria von Känel of Regenbogenfamilien (Rainbow Families) on Friday posted to her Facebook page a picture of her and her wife with a marriage license and a message that said "the celebrations can begin."
Neighboring Austria, Germany and France are among the European countries that have extended marriage rights to same-sex couples. Scott Miller, the U.S. ambassador to Switzerland and Liechtenstein who is openly gay, is married to Tim Gill.
"Today we celebrate marriage for all," tweeted the U.S. Embassy in Switzerland on Friday. "Congratulations to Switzerland on this historic day."
Today we celebrate marriage for all. Congratulations to #Switzerland on this historic day! 🎉🇨🇭🏳️‍🌈🎉 #EqualityforAll #loveislove

— U.S. Embassy Bern (@USEmbassyBern) July 1, 2022
Turkish police arrest 100's of LGBTQ+ activists over banned Pride parade
The largest Turkish LGBTQ+ activist group on Monday noted that "the detentions experienced during the march, was among "firsts" for this year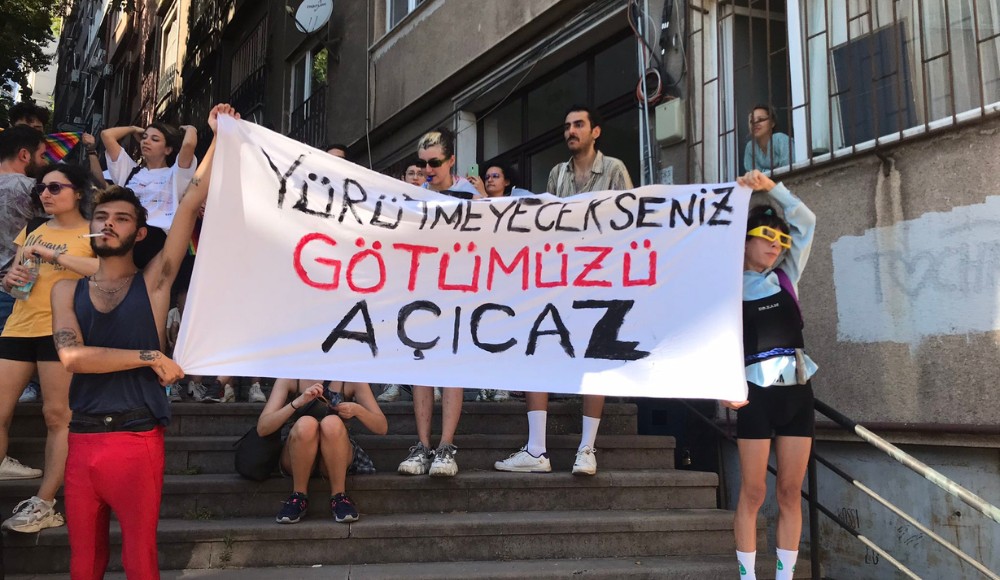 ISTANBUL, Turkey – Hundreds of LGBTQ+ people, allies, and supporters took to the streets of Istanbul Sunday in defiance of the Turkish government's ongoing 2014 ban of LGBTQ+ Pride parades and Pride Month festivities.
Protestors violently clashed repeatedly with police and security forces in various neighborhoods located around the Bol Ahenk Sokak (Pedestrian Plaza) and other sections of the central downtown areas.
Authorities had shut down the city's transit systems hours prior to the influx of LGBTQ+ activists and demonstrators and flooded streets with police in riot gear who made hundreds of arrests, in some cases tear gassing participants and attacking them with clubs.
Government security forces arrested over 373 people including Agence France-Presse journalist and chief photographer, Bülent Kılıç. Detainees were taken by bus to a central holding facility for processing. Photojournalist Mehmet Demirci documented the arrest of Kılıç in a Twitter post:
My photojournalist friend Bülent Kılıç has been taken into police custody while covering the #İstanbulPride. His hands were cuffed behind his back.@Kilicbil Kilicbil pic.twitter.com/sDYNoVe13L #journalismnotcrime

— mehmet demirci (@mehmet_demirci_) June 26, 2022
The largest Turkish LGBTQ+ activist group Ankara-based Kaos GL documented the arrests and clashes which occurred prior to the 5 p.m. planned parade kick-off in a series of Twitter posts.
İzmir'de polis zor kullanarak LGBTİ+'ları alandan çıkarmaya çalışıyor!#OnurYürüyüşü #Pride2022 pic.twitter.com/jlJ7H2eOWU

— Kaos GL (@KaosGL) June 26, 2022
KAOS GL in a press release on Monday noted that "the detentions experienced during the march, was among "firsts" for this year. Totally 373 LGBTI+s and LGBTI+ right defenders were taken into custody on the day of march! This number is a record both in the history of Pride Marches and the other public demonstrations."
The group also recorded the scope of anti-LGBTQ+ Pride Month bans and pressure by Turkey's governmental bodies across the country:
"There were 10 ban decisions announced within the scope of Pride Month events. These ban decisions were taken by Boğaziçi University Rectorate, METU Rectorate, Gaziantep Governorship, Çanakkale Governorship, Datça District Governorship, Beyoğlu District Governorship, Kadıköy District Governorship, Eskişehir Governorship and İzmir Governorship.
The detentions began with 70 people at 9th Boğaziçi Pride March on May 20, increasingly went on till June 26. 373 people were taken into custody in İstanbul on June 26. This number is among the highest detentions within the context of the public demonstrations in İstanbul recent years. Totally 530 LGBTI+s and LGBTI+ right defenders were detained in 37 days."
Norwegian suspect in LGBTQ+ bar shooting refuses to cooperate
Large crowds gathered Sunday near the London Pub to lay flowers and other tributes many of those gathered waved Pride flags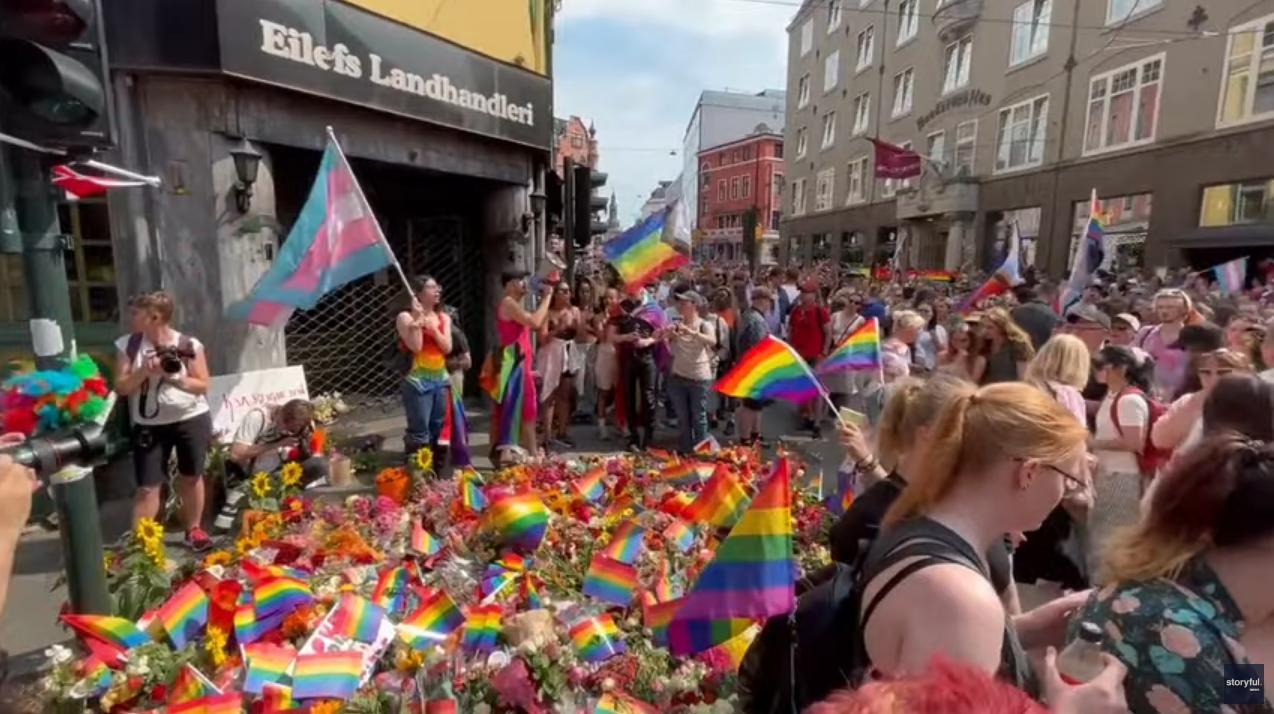 OSLO, Norway – A spokesperson for the Norwegian Police Service  (Politi- og lensmannsetaten) said that the suspect in Saturday's mass shooting at the London pub in Norwegian capital city's night-life district is refusing to cooperate with investigators.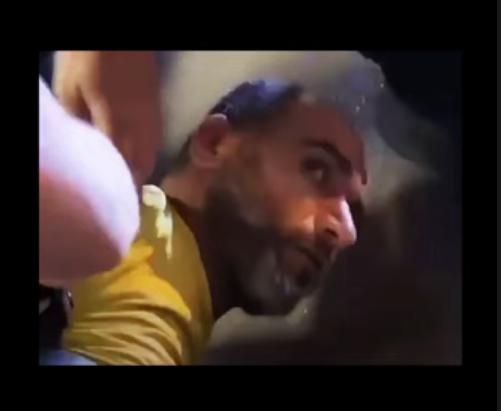 The 42-year-old suspect, identified as Zaniar Matapour, is a Norwegian citizen originally from Iran. Two people were killed and more than 20 were injured in what police officials have labeled as an "Islamist terror act."
Matapour, (left) is shown at the time of his arrest immediately after the shooting on mobile phone video broadcast on Norwegian television.
An official with the Norwegian Police Service told media outlets that investigators tried they tried to question Matapour on Saturday after his arrest and again on Sunday without success.
The Associated Press reported that Matapour's defense lawyer, John Christian Elden, told the AP in an emailed statement that that his client refused to have his statement recorded and videotaped unless police released the entire recording to the public "with no time delay so it won't be censored or manipulated."
Elden previously said to media outlets including the Associated Press his client did not deny being the shooter but had not divulged any motive. The lawyer said Sunday that Matapour did not object to remaining in custody for four weeks so would not appear in court on Monday.
In the Norwegian judicial system pre-trial detention hearings are normally held every four weeks.
Large crowds gathered Sunday near the London Pub to lay flowers and other tributes. Those gathered waved Pride flags as they defiantly commiserated remembering the two victims killed along with the other twenty persons injured in the shooting spree which police say occurred at three locations in the neighborhood around the bar.
The city's Pride parade had been cancelled as a precaution after the shooting.
Norway's Prime Minister Jonas Gahr Stoere and a member of the Royal family, Crown Princess Mette-Marit, joined mourners in a memorial service Sunday at Oslo Cathedral for the victims of the attack.
Speaking in Sunday's memorial service, the Prime Minister pointed out that "the shooting in the night hours put an end to the Pride parade, but it did not stop the fight and the efforts to fight discrimination, prejudice and hatred."
Stoere addressed Norway's Muslim community as well telling them;
"I know how many of you felt when it turned out that the perpetrator belonged to the Islamic community. Many of you experienced fear and unrest. You should know this: We stand together, we are one community and we are responsible for the community together."