Critics attack LA DA over complicated case involving Trans woman
The crime would sit unsolved until 2019 when her DNA was entered into a database after she was arrested in Idaho on suspicion of battery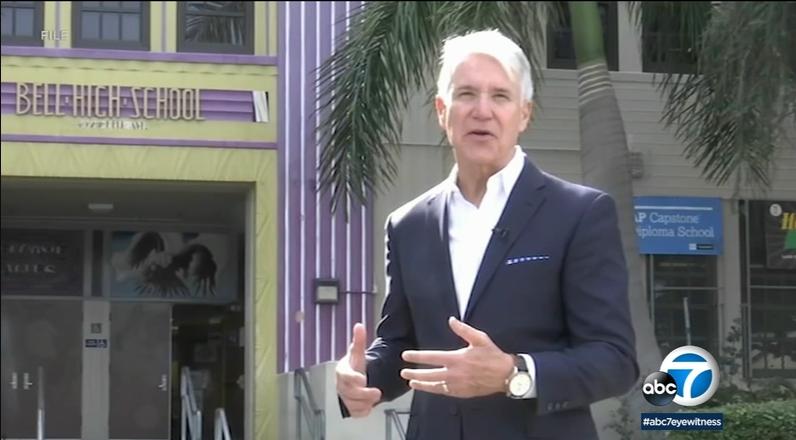 LOS ANGELES – Los Angeles County District Attorney George Gascón is facing sharp criticism over his policy to never prosecute children as adults after a 26-year-old Trans woman pleaded guilty to sexually assaulting a 10-year-old girl when she was 17. But, according to Gascón, the nature of the case is complicated.
Hannah Tubbs was weeks shy of her 18th birthday when she walked into a Denny's bathroom in Palmdale, grabbed a 10-year-old girl by the throat and sexually assaulted her, according to prosecutors.
The crime would sit unsolved until 2019 when her DNA was entered into a database after she was arrested in Idaho on suspicion of battery, reported the Los Angeles Times. Prosecutors filed charges in 2020, shortly after Gascón took office.
According to the paper, Tubbs, who pleaded guilty, might be sentenced to a short stay in juvenile hall or probation later this month.
"I would ask the public to reach out to Mr. Gascon and express their concerns and their outrage on a matter such as this involving a sexual predator."

Lt. Richard Ruiz of the LA County Sheriff's Department's Special Victims Bureau
Critics of Gascón are expressing their frustration with the district attorney, saying Tubbs' case highlights the problems with a blanket ban on not trying juveniles as adults.
"It's useless to catch criminals like [Tubbs] if we don't follow through and seek justice for victims such as the 10-year-old girl [she] sexually assaulted. She bears the burden of a lifetime of trauma," L.A. County Supervisor Kathryn Barger, whose district includes Palmdale, told the Times. "[She] will be offered therapeutic interventions under the auspices of 'restorative justice'… and possibly granted only probation or parole. Where is the justice for [her] young victim and her family?"
Some critics are using the case as ammunition to fuel another recall effort of Gascón. The earlier attempt to recall the district attorney didn't make it to a vote as proponents couldn't collect enough signatures.
However, Gascón has said that the case is complicated due to the years between the crime and Tubbs' capture, as well as her criminal record and the impact on the victim.
Tubbs has also been arrested for battery, drug possession and probation violations in Idaho and Washington, according to the paper.
The victim, who did not want to testify on trial, has since moved from California and is still in therapy, said an impact statement read in court last month.
Gascón has also raised concerns about Tubbs' becoming a victim herself if she was held in an adult facility because of her trans identity. A probation report recommended she be sentenced to home confinement, according to Gascón.
An email reviewed by the Times said Tubbs is diagnosed with multiple mental illnesses and might also qualify as "developmentally disabled." These factors lead to legal questions about whether she can even be found responsible for the crime.
In addition, at 26, Tubbs is too old to be legally held in a county juvenile detention facility, leading to more questions over Tubbs' sentencing.
LA Mayor Garcetti volunteers at Project Angel Food's Thanksgiving
For many of the celebrities joining Project Angel Food's Thanksgiving Day volunteers the day was about sharing the experience with family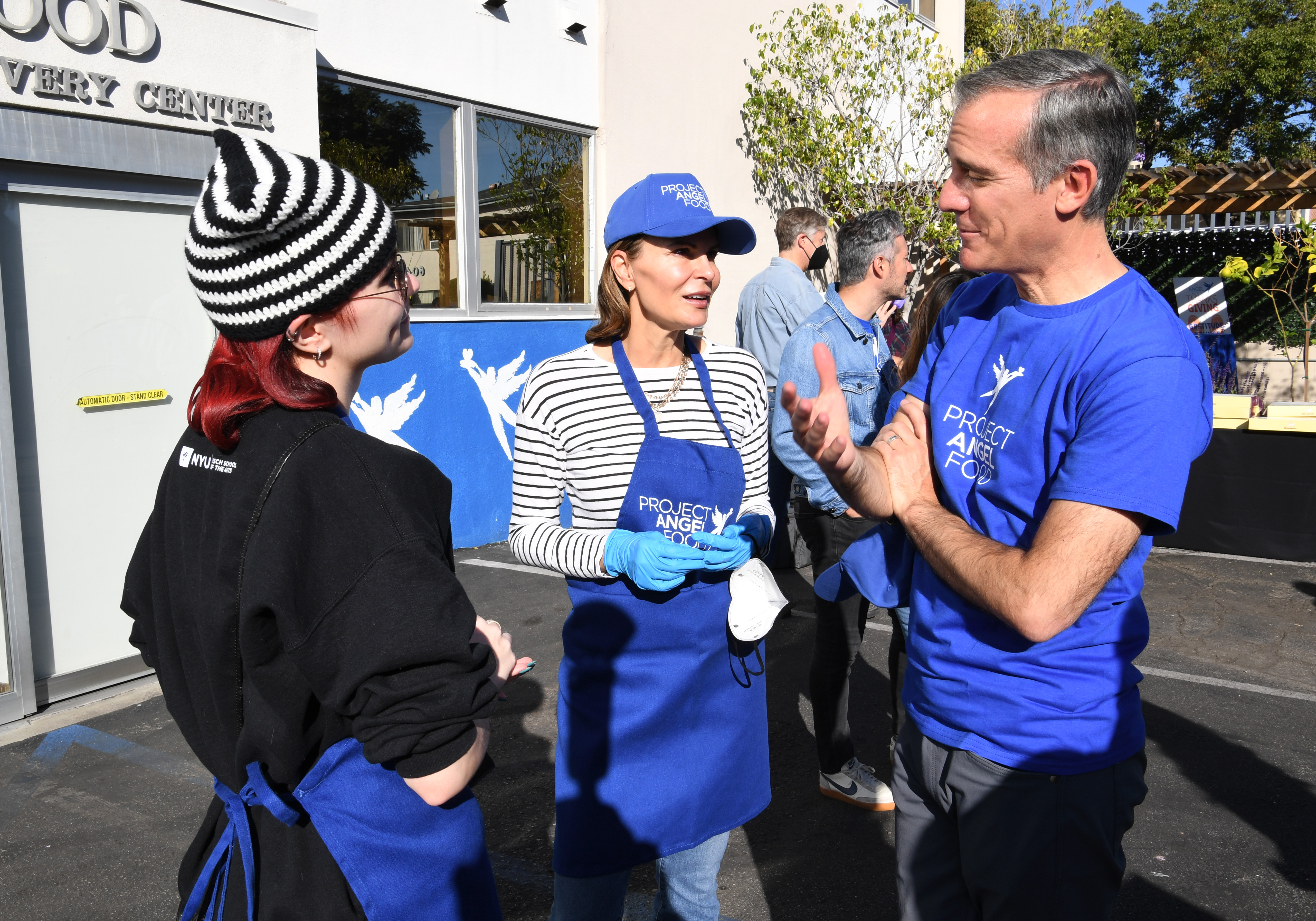 LOS ANGELES – In the early morning hours of Thanksgiving Day, Mayor Eric Garcetti joined Project Angel Food CEO Richard Ayoub, celebrity supporters and 225 volunteers and staff to prepare and deliver 7,400 meals on Thanksgiving Day to seriously ill and housing insecure people throughout 4,700 square miles of L.A. County.
"Mayor Eric Garcetti epitomizes what it is to be part of a community and lift one another through compassion and service. As he rolled up his sleeves and helped plate meals, he brought attention that while this is a day most of us are surrounded by people we love, we need to remember that some people don't have that," Project Angel Food CEO Richard Ayoub said. "He reminded us that no Angeleno should be alone and with a warm smile, a conversation and a meal, our volunteers can change the entire day for our clients, become angels in the City of Angels," Ayoub added.
For many of the celebrities joining Project Angel Food's Thanksgiving Day volunteer pool, the day was about sharing the experience with family. Volunteers included Lisa Rinna and husband Harry Hamlin; "Weird Al" Yankovic with his wife Suzanne and daughter Nina.
Also volunteering was Out actor and singer Cheyenne Jackson and husband Jason Landau with their twins Willow and Ethan. Jackson said the couple brought the children because, "I want to teach my kids to be grateful and thankful for everything that we have, and when you have the capability to give to other people, do it."
He also talked about the death of friend Leslie Jordan, a Project Angel Food supporter who died exactly one month earlier. "He was one of my best friends and it hit me really, really hard like so many people," he said.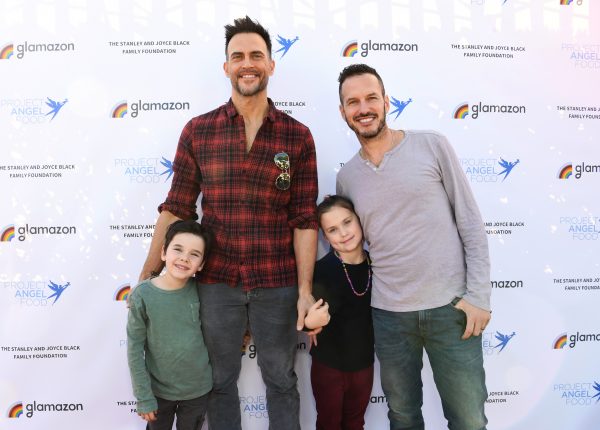 American Idol favorite Ava Maybee with her mother, and Melissa Rivers with son Cooper Endicott, continuing her mother Joan Rivers' legacy of volunteering on Thanksgiving.
Avatar: The Way of Water star Trinity Bliss brought her parents just weeks before the December 16 release of the highly anticipated film. "I'm so honored to work alongside so many people to bring a warm, delicious, tasty meal to people in need."
Of her much-anticipated film, Avatar: Way of Water, Trinity added, "Avatar was amazing, but I think Avatar: The Way of Water is going to be just so much more dramatic and be an experience people are going to need to experience in theaters."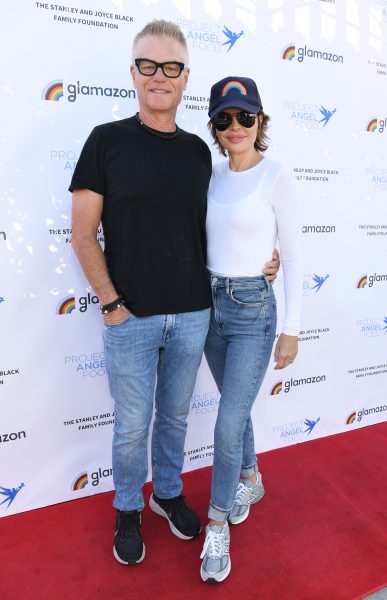 Lisa Rinna reflected on the fact that Project Angel Food is the primary source of food for most of its clients. "It's so important because that is going to be their only meal of the day." her husband Hamlin added, "to have the opportunity to give back is amazing."
Other celebrities included Eileen Davidson (RHOBH, Days of Our Lives), Peter Porte (Days of Our Lives), Juan Pablo Di Pace (DWTS, Fuller House), Olympian Tai Babilonia, Tim Bagley (Gracie & Frankie, Will & Grace), Michael Hitchcock (The Resort, Crazy Ex-Girlfriend), Lawrence Zarian (The Kelly Clarkson Show), Marc Malkin (Variety), James Wallington and Will Jardell (Amazing Race Season 32 winners), Romeo Escobar (Survivor 42 runner-up), and parenting author Donna Tetreault.
The 7,400 meals being delivered on Thanksgiving included 1,600 traditional turkey dinners to critically ill men, women, children and their caregivers, 5,600 Medically Tailored Meals and breakfasts regularly scheduled for Thursday delivery, and another 200 meals were provided to Project Angel Food community partner PATH for residents for two of PATH's Interim Housing and Permanent Supportive Housing sites.
Volunteers provided contactless "drive-by" pick-up of the meals which were then delivered to Project Angel Food clients. Traditional Thanksgiving dinners consisted of roasted turkey, root vegetables, stuffing, gravy, cranberry sauce and a slice of pumpkin cheesecake. Vegetarian meals were also provided.
The meal was sponsored by the Stanley and Joyce Black Family foundation with Glamazon (Amazon's affinity group for the LGBT+ community) sponsoring the volunteer event.
Project Angel Food CEO Richard Ayoub noted that Project Angel Food strives to end food insecurity and improve health outcomes of critically ill men, women and children in Los Angeles with Medically Tailored Meals, delivered with care and compassion.
Over 2,500 clients are fed daily. Project Angel Food delivers 1.3 million meals each year.