Mayor Garcetti selects Kristin Crowley to become city's next fire chief
Kristin Crowley already made history within the LAFD when she became the city's first female fire marshal in 2016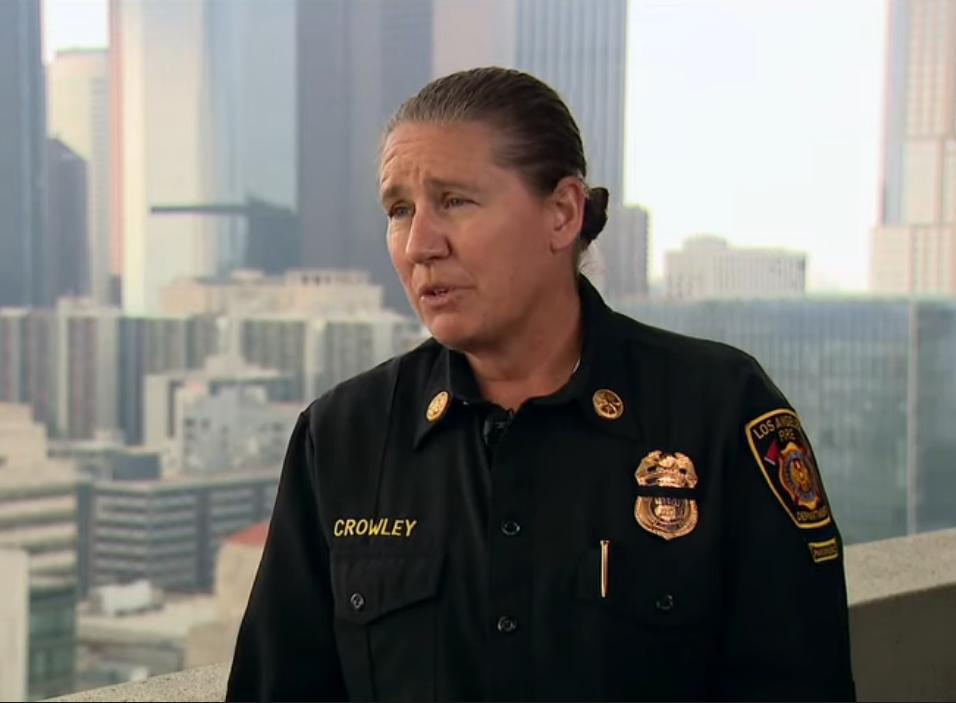 LOS ANGELES – Los Angeles Mayor Eric Garcetti nominated Deputy Chief Kristin Crowley to be the first woman to lead the Los Angeles Fire Department Tuesday. She would replace Chief Ralph Terrazas, who retires in March.
"I am honored and humbled by the opportunity to be the next fire chief of the Los Angeles City Fire Department and to lead the department into the future," Crowley said during the press conference event. "We will focus our efforts on increasing our operational effectiveness, enhancing firefighter safety and well-being, and fully commit to fostering a diverse, equitable, and inclusive culture within the LAFD."
The Los Angeles City Council will be required next in the process to confirm the appointment.
"Throughout her distinguished career, Kristin Crowley has proven her brilliance, determination and bravery on the job again and again," the mayor said. "There is no one better equipped to lead the LAFD at this moment than Kristin."
City News Service reported that Crowley took the firefighters' exam in 1998 and placed among the top 50 scores out of 16,000 applicants, according to the department. During her 22 years at the department, she rose through the ranks as firefighter, firefighter paramedic, engineer, fire inspector, captain I, captain II, battalion chief, assistant chief, fire marshal and deputy chief.
Crowley already made history within the LAFD when she became the city's first female fire marshal in 2016.
Mayor Garcetti names 1st female LAFD fire chief:
Trans remembrance vigil held at LA LGBT Center
"We refuse to let violence rob us of the possibility to gather, to love each other, and to dream together in solidarity"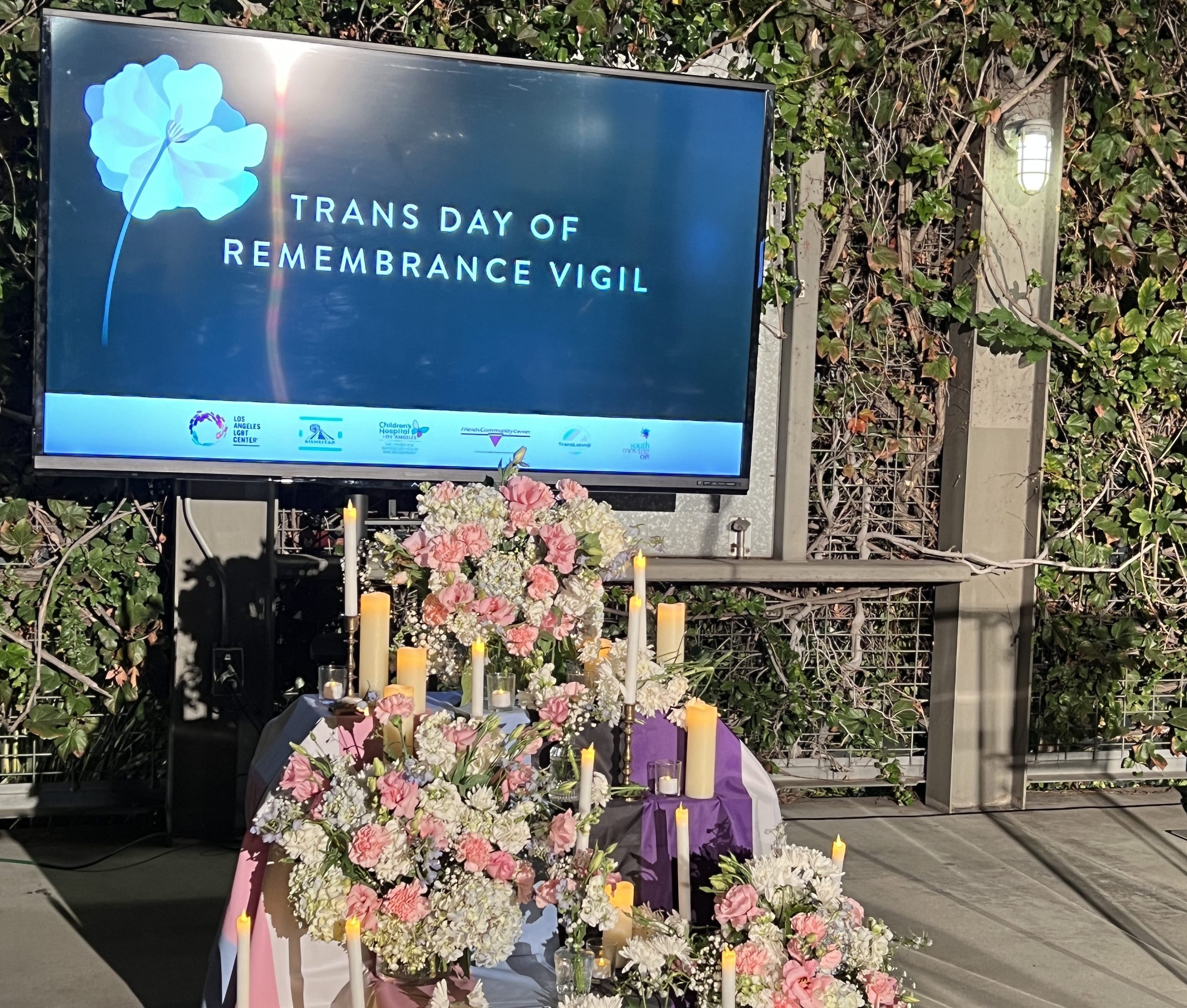 HOLLYWOOD – A Trans Remembrance Vigil was held at the Los Angeles LGBT Center on Monday, November 21st.
Candles and white, pink, and lavender flowers mounted on tiers draped by a trans flag adorned the center stage. A large monitor served as the focal point of the evening above the memorial display.
The Trans Chorus of Los Angeles started the ceremony with an acapella performance. Following the song of hope and redemption, opening remarks were given at the pulpit by the Anti-violence project manager for the LGBT center, Mariana Morroquin, and representatives from the Trans Wellness Center, Bienstar Human Services, Children's Hospital of Los Angeles, Friends Community Center, APAIT, and [email protected]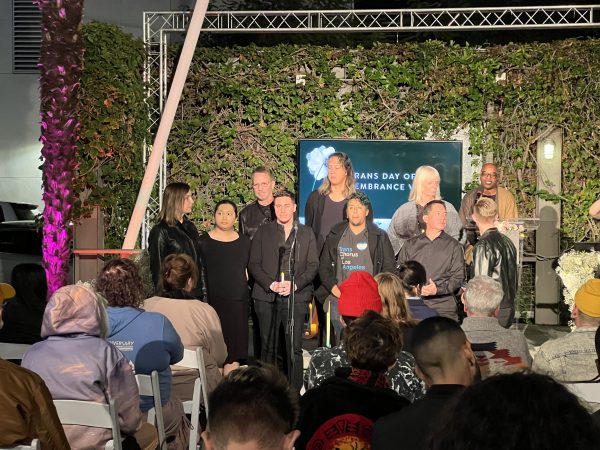 "I think it is very important to acknowledge our partners," said Morroquin, somberly addressing the seated audience of about one hundred and fifty. "We know that hate is real. A lot of us have seen hate pretty close. We are very grateful to have you. We open our arms to receive your love and your support. The way we support each other is by providing jobs, providing spaces for us, and providing opportunities. Because hate is out there. We need this space. We need to welcome everyone. I want you to keep that in your heart. And tomorrow, when we get back to work, let us open our hearts and our minds. Don't make decisions for us. Invite us to those tables. We know what we need. We've been doing this forever. We are going to keep fighting because this is what we do." 
She then added, "We refuse to let violence rob us of the possibility to gather, to love each other, and to dream together in solidarity. We gather because we must remember what is worth fighting for. For now, we commemorate. We tell the stories of the ones we lost. For tonight, that will be enough." 
One by one, members of the audience approached the pulpit to read the names and stories of a multitude of trans people whose deaths were the tragic result of hate crimes. The photos, names, and ages of the victims were displayed on the center-stage monitor.
"My name is Nikai David," said one speaker, the photo of a pale, curly-haired young lady displayed behind them. "I am a model and social media influencer who aspired one day to own my own clothing boutique. I had just celebrated my birthday a week before I was shot in Oakland California, on December 4th, 202. I was thirty-three years old."
Stories of these deaths included shootings by assailants, police, and family members, brutal beatings, and stabbings. The bodies of these victims were found in their homes, in garbage cans, and on streets where they were left, still dying, among other locations.
The final name read was Daniel David Aston, who died in the recent Club Q mass shooting.  This year, TDOR came on the heels of the senseless massacre in Colorado Springs that left five members of the LGBTQ+ community dead and 25 injured. 
Reverend Valerie Spencer gave an impassioned closing speech, first inviting the audience to take several deep breaths in unison.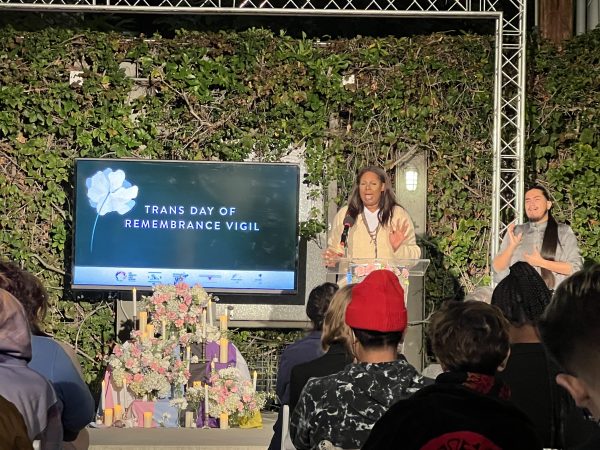 "We will mourn our family, our siblings," said Reverend Spencer, "but we are not having our primary focus on the violent conclusion of their life. We are choosing to see them and know them and celebrate them in the full context of their living. For they were fierce and powerful people."