Missouri LGBTQ+ book ban advocate arrested for molesting a child
Utterback spoke in November against LGBTQ+ books in North Kansas City school libraries that showed sexual acts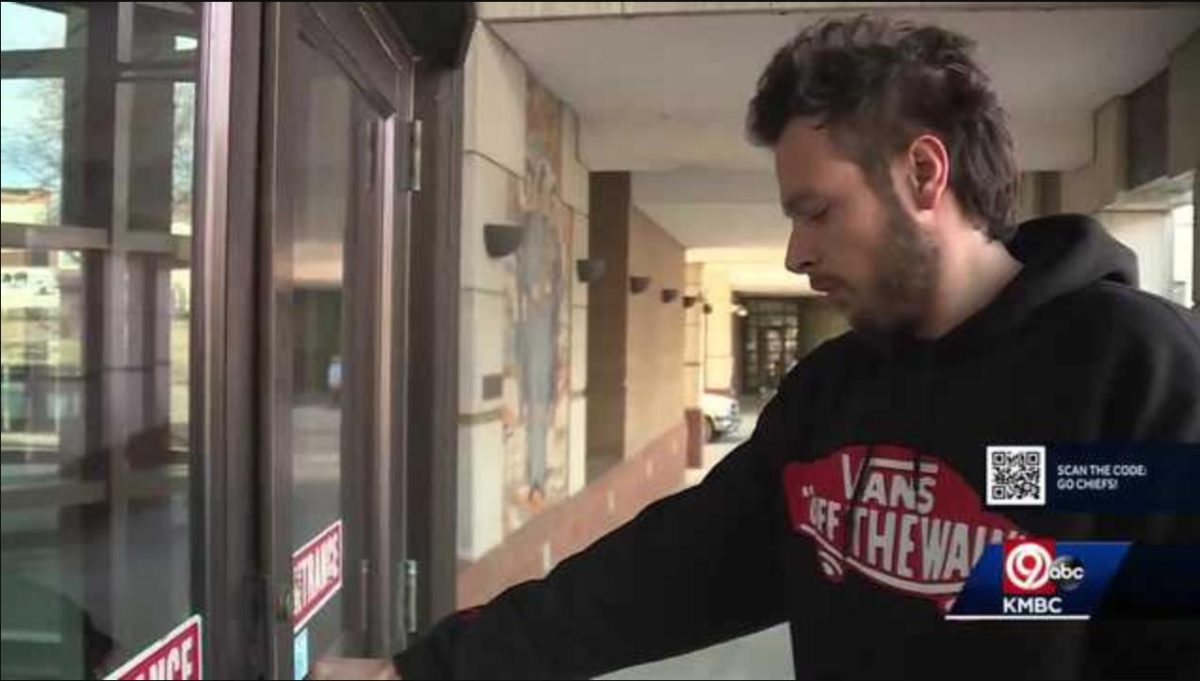 CLAY COUNTY, Mo. – A man who spoke in support of banning LGBTQ+ and other books depicting sexual acts, citing specifically the book 'Fun Home,' which won a GLAAD Media Award for Outstanding Comic Book, in North Kansas City school libraries is now facing a felony count of child molestation and two related misdemeanors.
Ryan Utterback, 29, appeared in a Clay County courtroom last week to face those charges.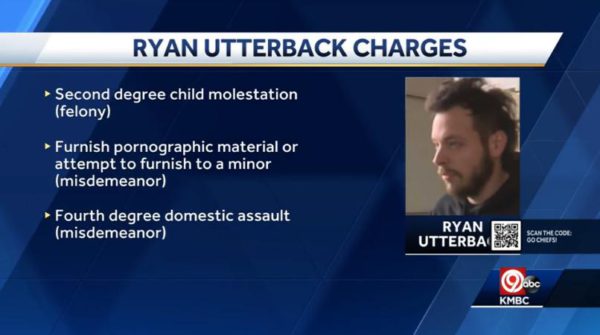 According to KMBC ABC 9 investigative reporter Matt Flener, in the first case, a probable cause statement alleges Utterback laid down on a bed with a child less than 12 and fondled the child in December of 2020. A separate case alleges Utterback started showing videos sexual in nature on his cellphone to a young child around the time the child was 4 years old.
Utterback spoke in November against books in North Kansas City school libraries showing sexual acts KMBC reported. He was also present at an October North Kansas City School District board meeting holding enlarged drawings of sexual acts depicted in the book 'Fun Home'.
Utterback was standing beside Northland Parent Association president Jay Richmond as Richmond spoke against keeping that specific book in school libraries.
"Ryan was an attendee at the board meeting, I needed help holding a presentation and he helped. I can't comment on the alleged charges against him because I have no knowledge about them and they have nothing to do with me or the Northland Parent Association."
Out Missouri candidate for local office campaign banner defaced with slur
If elected, Justice would become the first openly Out Jackson County Legislator, as well as the first Black representative of the district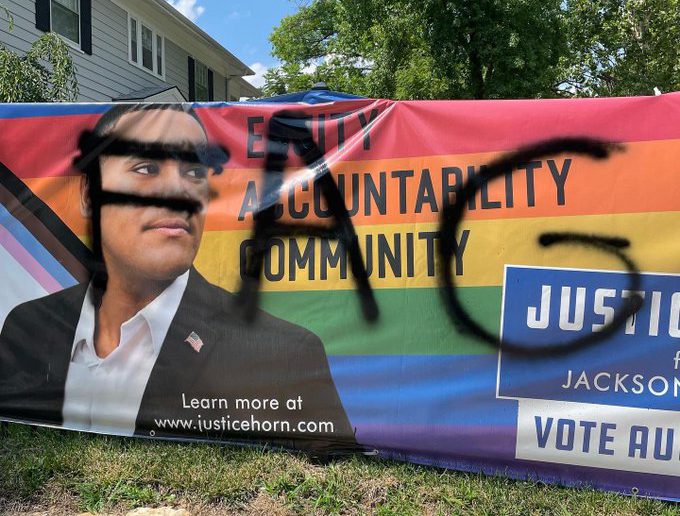 KANSAS CITY – Over the July 4 holiday weekend an oversized campaign banner for community activist Justice Horn, who is running for the Jackson County Legislature, District 1, was vandalised with the homophobic slur 'FAG.'
Horn, who announced his candidacy for Jackson County's first district in May last year, tweeted Saturday about the vandalism:
Today I learned that my campaign banner was defaced with a homophobic slur here in Kansas City.

I'll admit, this one hurt because like so many us of who experience this, this word is used to harm us. Either way, I'm not going to back down and I'm going to hold my head high. pic.twitter.com/6geqENOFro

— Justice Horn (@JusticeHorn_) July 3, 2022
Horn did not file a police report. In an interview with the Kansas City Star on Monday he said:
"I don't know how much more blatantly that this was a hate crime. It was specifically targeted at me because of my sexual orientation.
"What bothers me the most is that it happened in broad daylight. They were so emboldened to do this. It was specifically a defacing to attack me not based on my policy or my candidacy but on me personally. It was the same as calling me the N-word."
Horn was set to hold a press conference on Tuesday morning but prior to its scheduled time the banner was ripped down and stolen. Horn then tweeted:
Welp, I just got the call that my defaced campaign banner was ripped off and stolen ahead of our press conference today at 9 AM. I had some prepared remarks, but I'm mad as hell and I'm not backing down!

This isn't Kansas City, and we're going to prove whoever did this wrong! pic.twitter.com/FaRNuidsiM

— Justice Horn (@JusticeHorn_) July 5, 2022
The LGBTQ Victory Fund, a Washington D.C.-based group that supports LGBTQ+ candidates reacted in a statement sent out from its president & CEO Mayor Annise Parker:
"Recent anti-LGBTQ attacks from officials serving at the highest levels of government empower bigots across the country to espouse hate openly. The reality is that out LGBTQ candidates of color bear the brunt of much of this animus. We stand firmly with Justice and unequivocally condemn this homophobic attack. Hateful acts like this make it abundantly clear that progress is not linear and should never be taken for granted. This is a reminder for the LGBTQ community and our allies that the fight for equality is far from over and that we must enter this election with urgency and strength. The stakes could not be higher."
If elected, Justice would become the first openly LGBTQ+ Jackson County Legislator, as well as the first Black representative of the first district. Justice is also of Pacific Islander and Native Blackfoot heritage.
Justice is a former Student Body President of the University of Missouri-Kansas City, where he recently graduated with his Bachelors of Business Administration. He rose to notoriety after his role in the Black Lives Matter movement in Kansas City as a lead organizer, which concluded with a list of demands recommitting the City to the safety of the public through police reform, signed by Mayor Quinton Lucas. This resulted in body cams for police officers, which has recently been put into practice, as well as elevating the issue of local control to a top state legislative priority.
Throughout the past year, Justice has been the author behind multiple pieces of legislation to pass out of city council, including the creation of the first LGBTQ+ Commission in the state. Subsequently, he authored the Trans Inclusive Healthcare resolution, which directs the City Manager to ensure health insurance contracts initiated by the City are inclusive of all gender identities to prevent discrimination.
Out Missouri lawmaker blasts GOP author of anti-Trans amendment
"I think every day about the kids who are still there who haven't made out, who haven't escaped from this kind of bigotry"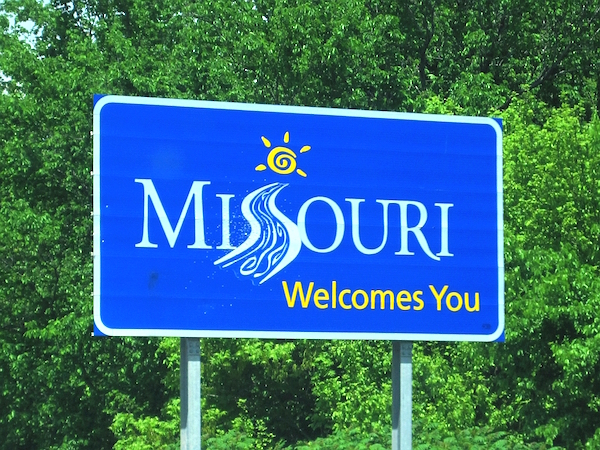 JEFFERSON CITY, Mo. – In a video on social media that went viral, viewed 700,000 times plus on Tik-Tok alone, openly Out Democratic Missouri State Representative Ian Mackey, blasted an amendment to legislation designed to audit the state's voter rolls and tweak elections laws that gave local school districts the ability to ban Trans youth from playing sports.
The Springfield News-Leader's capital bureau and politics reporter Galen Bacharier noted the House approved the amendment by an 89-40 vote after almost three hours of "fierce and emotional debate." Democrats called the measure discriminatory and designed to invoke fear.
Mackey confronted the amendment author, Republican Rep. Chuck Basye who had characterized his amendment as an attempt to "save women's sports." 
"This isn't about hate, this is about fairness," Basye said.
"I was afraid of people like you growing up and I grew up in Hickory County, Missouri," Mackey, who is from St. Louis and openly gay, said to Basye. "I grew up in a school district that would vote tomorrow to put this in place." 
Shouting on the House floor, Mackey called the amendment "bigotry" and said to Basye, "Thank God I made it out […] I think every day about the kids who are still there who haven't made out, who haven't escaped from this kind of bigotry. Gentlemen, I'm not afraid of you anymore- Because you're gonna lose. You may win this today, but you're going to lose."
MO State Rep. Mack (D) confronts Rep. Basye (R) over an anti-trans bill: "I was afraid of people like you… 18 years I walked around with 'nice' people like you who voted for crap like this. Thank God I made it out. I think every day of kids… who haven't escaped this bigotry." pic.twitter.com/53dUBYG5Jb

— Heartland Signal (@HeartlandSignal) April 14, 2022
"We have spent nearly three hours talking about this issue and why?" said Democratic Minority Leader Crystal Quade of Springfield. "Members on the other side of the aisle have said directly to my face that they spoke on this issue because of their primary elections. Because they need to win elections in a redistricting year."
The Springfield News-Leader also noted the amended bill would also require the legislature's joint committee on education to study the impact of barring trans athletes and produce a report for the entire legislature by Jan. 1, 2024.
The House needs to take another vote on the bill before it is sent across the building to the Senate with just a few weeks of this year's legislative session remaining.
Similar measures have failed pass in the last two legislative sessions.
St. Louis groups launch 'banned book program' to distribute challenged books
"If you look at most of the books that they are trying to ban, they are the stories of people from historically marginalized groups"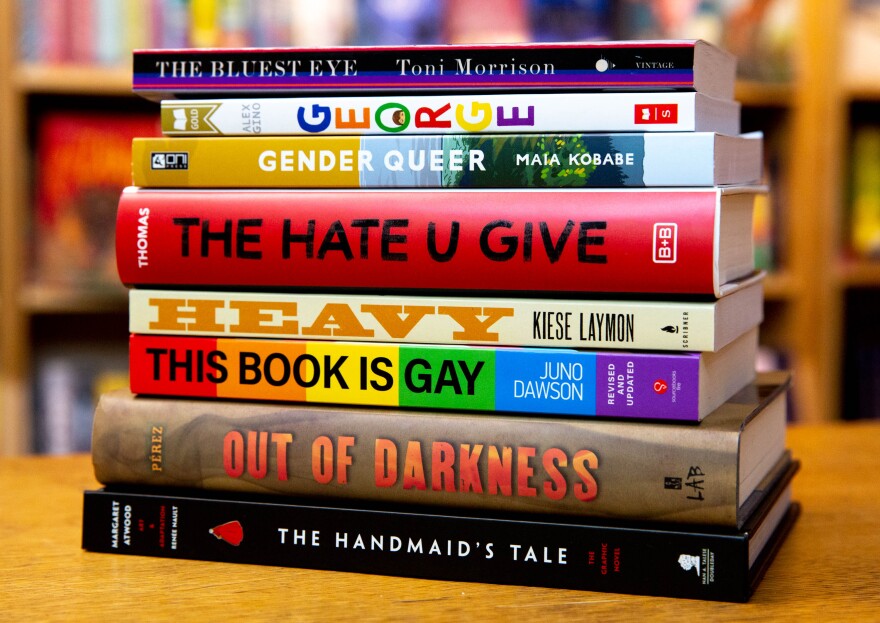 By Kate Grumke | ST. LOUIS (St. Louis Public Radio) – Two local organizations are partnering to distribute free copies of controversial books in response to the recent increase in attempts to remove titles from school libraries.
In Purpose Educational Services and the St. Louis bookstore EyeSeeMe will deliver free copies of "The Bluest Eye" by Toni Morrison to Missourians who request it.
The organizations raised more than $3,000 in the first few hours after launching the book program, said Heather Fleming, founder of In Purpose Educational Services.
"If you look at most of the books that they are trying to ban, they are the stories of people from historically marginalized groups," said Fleming. "We have to grapple with some of the things that have happened in our society. Number one, to make sure that they don't happen again. But then number two, because we need to learn how to live with one another."
A St. Louis Public Radio analysis of the books being challenged in the area in November found two-thirds were written by authors of color or authors who identify as LGBTQ. "The Bluest Eye," was the book with the most official requests for removal from libraries. It was the first book by Toni Morrison, who would go on to win a Nobel Prize in Literature and a Pulitzer Prize.
The Wentzville School Board voted 4-3 at its Jan. 20 meeting to remove the book from school libraries. That's after a committee voted to recommend keeping the book, writing, "committee members believe that removing the work would infringe on the rights of parents and students to decide for themselves if they want to read this work of literature."
A committee in the Francis Howell School District voted to retain the book this month and a review of "The Bluest Eye" is still underway in the Lindbergh School District.
The organizations that are planning the "banned book program" have a form for people to fill out if they are interested in receiving free copies of the book. The books will be distributed to people in Missouri and the groups plan to pick a new book each month, Fleming said.
These conversations and these types of book bans, they're placing our students at a disadvantage," Fleming said. "Whether people want to admit it or not, we are becoming an increasingly diverse society … students who are not culturally competent are not going to meet with as much success."
There has been a national increase in attempts to remove books from school libraries, according to the American Library Association's Office for Intellectual Freedom.
"We're just really stunned by the fact that there seems to be this campaign to erase certain books, certain topics from school libraries and public libraries across the country," said director Deborah Caldwell-Stone, the director of the American Library Association's Office for Intellectual Freedom.
The people challenging the books say they contain sexually explicit material and are not suitable for children.
*********************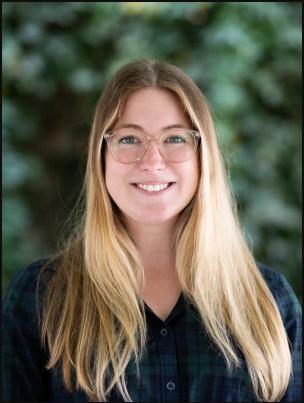 Kate Grumke became St. Louis Public Radio's education reporter in October, 2021. She grew up in St. Louis but spent more than five years covering politics and policy in Washington, D.C., most recently as a producer for the PBS NewsHour. Kate has covered two presidential elections and has reported from Cuba, El Salvador and Mexico. She won a 2019 National Murrow Award for her coverage of Oklahoma's teacher walkout.
*********************
The preceding article was previously published by St. Louis Public Radio and is republished by permission.