The NFL embraces LGBTQ+ inclusion ahead of Super Bowl LVI
"LGBTQ athletes need to see more stories of athletes like them supported by their teammates because many are accepted just as they are"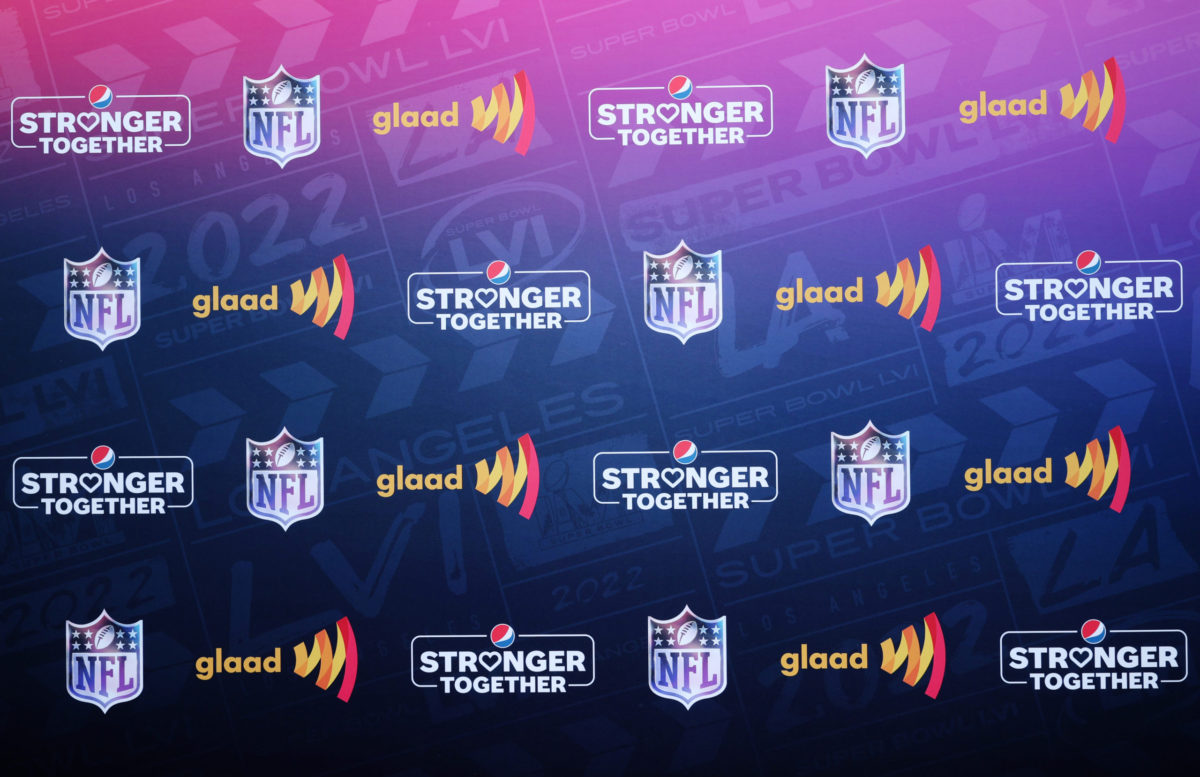 LOS ANGELES – LGBTQ+ History was made Thursday night atop the National Football League's Los Angeles headquarters rooftop, overlooking the glittering new SoFi Stadium, site of Super Bowl LVI, as about 150 NFL players, sports professionals and fans mingled with supporters of GLAAD to celebrate the league's now very public embrace of the LGBTQ+ community.
GLAAD and the National Football League (NFL) hosted 'A Night of Pride,' sponsored by Pepsi Stronger Together, at SoFi Stadium in Inglewood California.
Jonathan Beane, Senior Vice President, Chief Diversity & Inclusion Officer at National Football League (NFL) welcomed the crowd and minced no words.
"This is long overdue, isn't it?" he exclaimed, referring to the league's commitment to the LGBTQ community. "This (event) is just the beginning; there's a lot more that we're going to do as a league."
LGBTQ community icon and LA Dodger Baseball team owner Billy Jean King, the first female athlete to receive the Presidential Medal of Freedom, for instance, has been selected as a Legendary Coin Toss Captain on Sunday.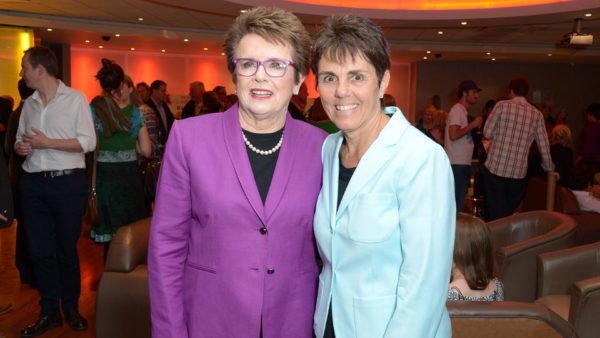 "LGBTQ athletes need to see more stories of athletes like them, who are supported by their teammates, because so many of them are accepted, just as they are," GLAAD Deputy President and COO Darra Gordon said in her remarks. "I hope young LGBTQ athletes see posts from tonight and know that they have a rightful place to be out in the NFL, in football, in sports, and at any cultural milestone they aim for."
LZ Granderson, host of the ABC News podcast 'Life Out Loud with LZ Granderson, moderated a discussion of LGBTQ inclusion in the NFL featuring out NFL Legend Ryan O'Callaghan and NFL free agent R.K. Russell, who came out as bi in 2019.
R.K., aka Ryan Russell, who is one of more than 20 players in NFL history to come out as gay or bisexual (with Michael Sam and Carl Nassib, he is one of three to do so before retiring) and O'Callaghan (who played six seasons with the NFL retiring in 2012) tackled the hard stuff.
O'Callaghan says, in his day, he never imagined a moment like this would be possible, "not a chance in hell" that there could ever be such a full on embrace of LGBTQ identity and players by the NFL.
"Back then" he said, "they didn't do anything much at all. Especially not publicly. Up until the last few years, the NFL was absent (on LGBT issues)."
O'Callaghan, who came to the GLAAD event from the prestigious annual NFL Honors awards that bestows MVP Award, Players of the Year, etc, reported significant news of a very public LGBTQ moment.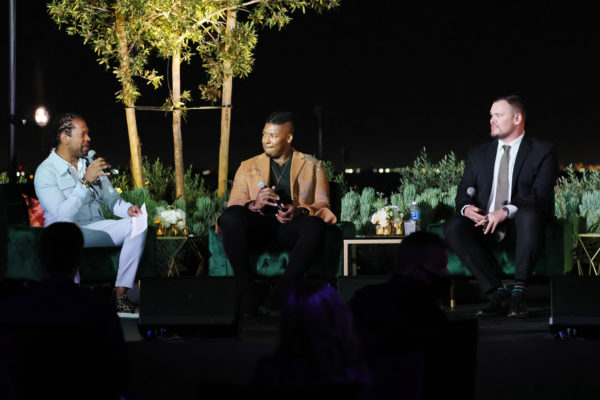 During the Honors event, the LGBTQ community was also honored with a video montage of thanks from out gay and bisexual players, honoring Carl Nassib.
"A few months ago we filmed a piece for the NFL Network for their 360 show talking about LGBTQ in sports and the work of the Trevor Project. They had another player, Michael Irving — his brother is gay — and four us (from the NFL 360 segment) appear (tonight) onstage."
They received a standing ovation.
"It was very powerful," he said, "a big step for the NFL to broadcast that to America."
"What they did tonight was a whole other step," O'Callaghan said of the world wide television broadcast.
Moderator Gunderson seized the moment with an obvious question: "Are we done or is this like the Obama moment where we got the Black man in the White House but racism is still hanging around."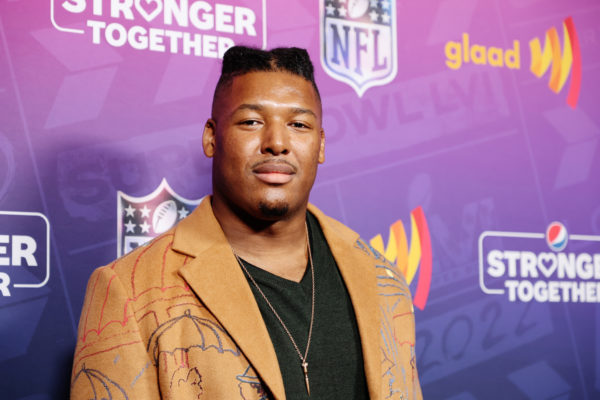 Russell jumped at the chance to answer, saying "Things are certainly accelerating. As a generation of sports fans, as writers, as journalists, as athletes, we want to see ourselves in the game because we've always been there, because we built this game — honestly."
"With the Black Lives Matters movement, seeing players really take a stand we know we are more than just these athletes. We are more than these titles. When we step off the field, we take those helmets off, I am a Black man and I am a bi-sexual man. That carries with me everywhere I go. I don't have to wear a jersey for that."
"But when I do wear that jersey you need to know that and respect that. You can either ride with me or not," he said, adding "I think we're just getting started."
"But," moderator Granderson ominously asked, "Where are we going?"
"We've got a race issue still in the NFL," he continued. "If a league that is 70 percent openly Black can't confront racism issues then how do you think a league that has one openly gay player has addressed its homophobia issues?"
"I think that's where the community, the writers, people like us keep the league accountable as well," said Russell. "It's about holding them accountable and we need to see that from everybody — players, coaches, staff, journalists, fans. Keep the NFL to its word."
Russell said that Covid downtime had helped people realize that "surface level, performative" actions are not enough.
"That's not going to cut it anymore," he said. "We want to see Black head coaches, we want to see out players, we want to see it in the media, on the field, we want to see you actually do the things you say you're going to do."
Asked if he felt the LGBT highlight moment during the evening's Honors award was performative or a significant step forward, O'Callaghan said he felt "it was genuinely sincere" and that while it was perhaps the most significant thing the league had done to date, it was not the only thing.
O'Callaghan talked about the league's sponsorship of New York's Heritage of Pride and float entries into its parade. "They started with small things like that and doing things on social media and the NFL network, changing the logo during Pride month and sharing that on social media."
"Now it's kind of expected.," O'Callaghan said. "The hardest thing was the first step."
"Doing what they did tonight at Honors, and this party…I'm sure they will be participating in the parades again this year," he said.
O'Callaghan pointed out that in 2021 the NFL and the Arizona Cardinals owner Michael Bidwill sponsored the National Gay Flag Football Super Bowl in Tempe. "It means the world to have the NFL and a team owner supporting LGBT players and fans," he said.
Of course the evening was wrapped around the Super Bowl, an event that may champion triumph over adversity but also, famously, a commercial opportunity that has in recent years also found marketers paying millions of dollars for seconds long TV commercials that often celebrate cultural issues.
GLAAD's Visibility Project, a program dedicated to growing LGBTQ inclusion in advertising, announced today that LGBTQ people and issues will be nearly invisible during Super Bowl LVI ads, with only one ad that expressly features LGBTQ people or issues released prior to the Sunday broadcast. The ad for the Google Pixel 6 features a queer couple.
Additionally, Vrbo will air a LGBTQ-inclusive pre-game ad. In 2020, at least-eleven LGBTQ-inclusive ads from Amazon Alexa, Budweiser, Doritos, HGTV, Microsoft, Olay, Pop Tarts, Sabra, Tide, TurboTax, and Under Armour aired during Super Bowl LIV. In 2021, at least four LGBTQ-inclusive ads from M&M's, Michelob ULTRA, Logitech, and Paramount + aired during Super Bowl LV. GLAAD will track ads during Super Bowl LVI at GLAAD.org and release a comprehensive list following the game.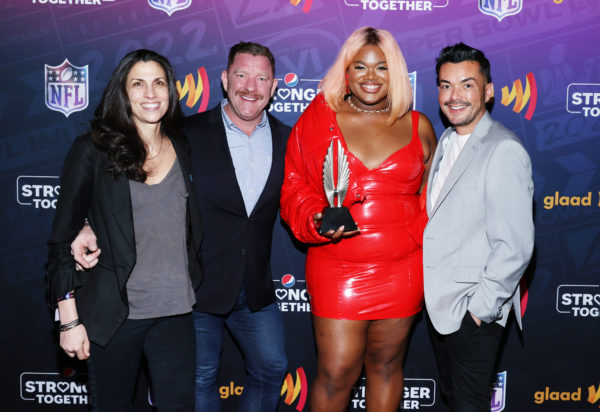 GLAAD Board Chair Pamela Stewart moderated a panel on LGBTQ inclusion in advertising featuring Mohit Jolly, Senior Director of Marketing for the Global Ads Marketing Organization at Google, trans actress model and producer Jari Jones, and Brent Miller, Senior Director for Global LGBTQ Equality at P&G.
P&G's Miller told the story of an 18 year old youth from North Carolina who sent him a letter praising a 2018 Olympics ad in which out gay Olympic gold medalist Gus Kenworthy's coming out story was featured, thanking P&G for saving a life.
"Thank you for saving another soul," he wrote. He said "Something as short as an ad can be life changing," telling the story of a 54 year old man who described a sense of empowerment watching a Pride flag unfold on an Olympic venue mountainside in South Korea. That kind of marketing, Miller said, is "what we're supposed to do."
Miller also said he was particularly proud that his work moves not just a younger generation but the generations before them who fought "so hard and now get to see their work come to fruition."
Andrew Beaver, an advertising and marketing executive who serviced P&G advertising accounts, agreed with Miller, "I worked with P&G during a time when it wasn't easy to support our community. They put put their money where their mouth approving LGBT+ inclusive advertising."
Mohit Jolly, Senior Director for Global Ads Marketing at Google, who grew up in Chandigarh, India, a small, conservative city about five hours north of New Delhi, said he knew early on that something about him was different. "I come from the most intensely conservative background and coming out was not easy."
He and actress Jari Jones spoke of the necessity for inclusion in marketing and the power of LGBT stories.
Jones said that images of trans people she was exposed to as a young person had set her back but today's more authentic representations of people like her have changed her life and the lives of millions of people.
Google, said Jolly, recognizes the power of representation and information to transform our lives and highlighted several tools the mega-powered company provides, including LGBTQ safe spaces and LGBTQ business features on maps worldwide.
"Every day we reach billions and billions of people and so we have a responsibility," he said. "I believe our commitments are profound."
As the event drew to a close, Big Fredia took the stage and opened with her signature song of affirmation and call to be your true color, the aptly named "Big Dick Energy."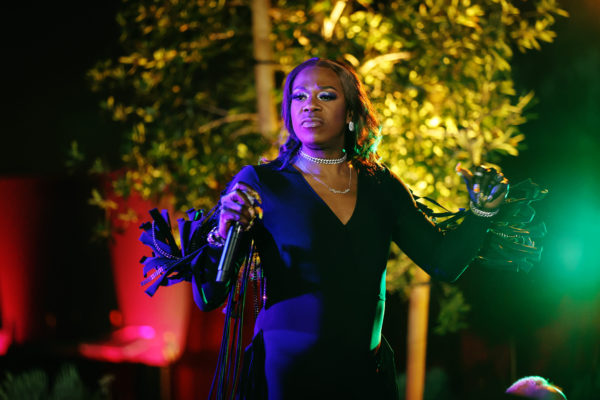 Guests included out NFL Legend Ryan O'Callaghan as well as LGBTQ leaders and allies including Alyssa Milano, Anthony Bowens, August Getty, Big Freedia, Braunwyn Windham-Burke, Jai Rodriguez, Jari Jones, Jeka Jane, Joey Zauzig, Justin Sylvester, Kent Boyd, LZ Granderson, Mollee Grey, Peter Porte, Philemon Chambers, R.K. Russell, Sonya DeVille, Victoria Brito, Cyd Zeigler, Los Angeles Blade Publisher Troy Masters, Andrew Beaver, GLAAD's Rich Ferraro and Pamela Stewart, Chair of GLAAD's Board of Directors.
********************
The Los Angeles Blade interview: Iszak Henig
LA Blade Sports Editor Dawn Ennis interviews Yale trans swimmer Iszac Henig in his first interview since the NCAA championship last March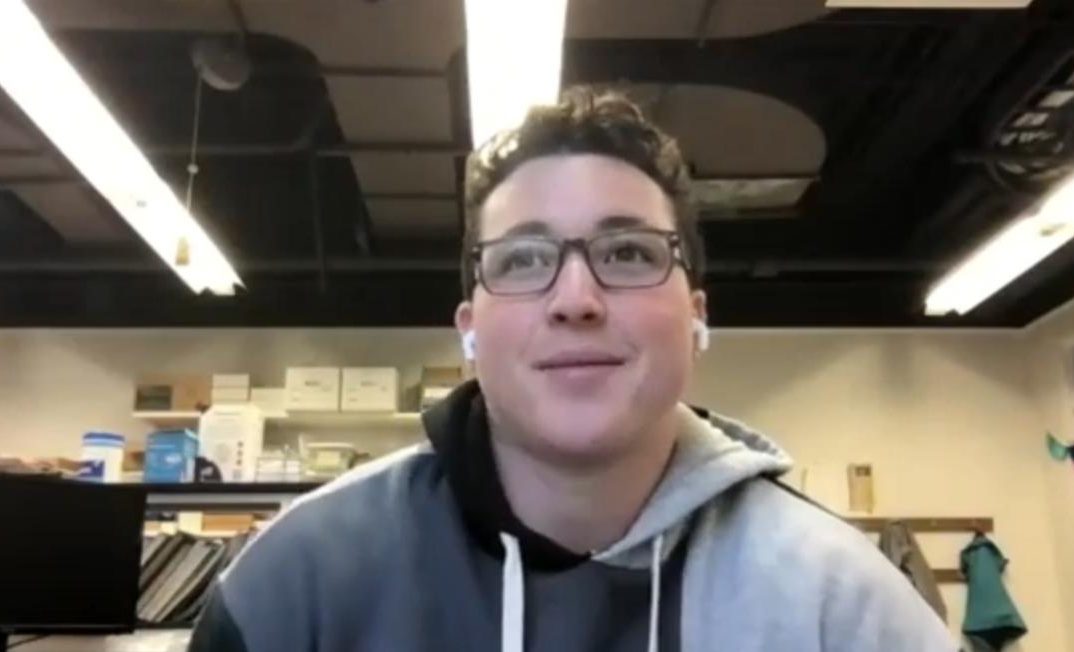 NEW HAVEN, Ct. – Ten months have passed since the first historic matchup of two out, NCAA transgender student-athletes, competing against one another for a national championship: trans man Iszac Henig vs. trans woman Lia Thomas.
Although Henig represented Yale's women's swim team in that contest, he made it clear in a March 2022 interview with the Los Angeles Blade: I'm not a woman," Henig said. "I am just a guy trying to go as fast as I can."
Now, in his first interview since that championship, and after sharing his story with the world in The New York Times, the Yale University senior from Menlo Park, Calif. sat down with the Blade to talk about switching to swim with the men's team, his plans after graduating, the trolls on social media and anti-trans politics. Also, he revealed: he has a girlfriend.
"I wonder, politically, do you align with progressive politics, or is politics something that doesn't interest you?" the Blade asked. "Are you conservative?"
"I was having the conversation with my girlfriend last night," said Henig, 21. Earlier in the conversation, he deflected when asked if he had someone he'd consider a partner. Then he let it slip he was dating a classmate at Yale, and we shared a laugh. "I will admit to it, yes," he said with a smile.
"So, I started talking about political identity. She's a politics major, so this is sort of her jam," said Henig. "Politics does interest me in that it is incredibly relevant to my life, incredibly relevant to the lives of people that I care deeply about. Policy has widespread impacts. And so, I think from that level, it is interesting to me. I'm a citizen who votes. It's interesting to me in terms of political identity, generally progressive, sort of left leaning. That follows naturally from how I was raised and how I was taught to view the world and how I choose to view the world."
How Henig views the world is with compassion, something that came up repeatedly in the conversation on Zoom last week. He said he learned that at home, growing up in Menlo Park.
"My parents always have sort of instilled a level of kindness, compassion, thoughtfulness," he said.
A competitive swimmer since he was four, Henig was one of the top 20 high school swimmers in California at 18, and one of the top 100 swimmers in the country. As he explains in his Times essay, Henig also excelled in the pool at Yale, but floundered in his identity in the company of women, especially in the locker room. He told the Blade that gap year he took during the pandemic provided an opportunity for him to explore who he was, who he wanted to be, and after working with a therapist, finally come out as the man he'd known himself to be since he was a teen.
"The first time I verbalized it was at 14, to my mom," said the college senior, who realizes, in hindsight, he needed more time. "The climate was different. I was young. I was a teenager and I was not ready to advocate for myself in that way that I would have needed to."
But to those who believe children, even teens, cannot possibly know they are trans, Henig says:
"I was certain. There was no doubt in my mind. You know, people are like, 'Oh, kids are too young to know.' No," said Henig, "We're sure. We're certain."
What's it like swimming with the other guys at Yale? "It's been great. It's been awesome," he said. "I love the guys on the team. It's been a really cool experience for me, just spending time with them."
He shrugs off the negative reports by anti-trans reporters at Fox News and the National Review, who have focused on his top surgery and his performance since starting on testosterone eight months ago. Although he wrote in his op-ed that his times are "about the same as they were at the end of last season," Henig is bashed for finishing 79th out of 83.
"A lot of the articles are like, 'This guy stinks at swimming, he got 79th out of 83.' And I'm like, 'Yes, I could have told you that myself! You don't need to remind me, you know?' I knew I was coming in bottom of the pack," he said. "A lot of the comments have been like, 'Oh, you know, a real man would want to win, or a real man would want to care.' And I'm like, 'You need to meet more men!' I'm sorry, not every man is the same. There are so many good reasons to be an athlete, and winning is one of them, but it's not the only reason. I love my sport and I get to race and I get better because the people around me are better than me."
Trolls will also comment on his posts that feature his flat chest, saying awful things like this: "So sad to see you cutting your own body parts. It is the same as cutting your arms or legs so sad. You would regret this once your brain has finish developing and stop taking hormones."
"There's no sort of nice way to put it: It sucks, right? It's never going to be a positive experience," he said. "I had someone comment on my Instagram posts, literally like, 'Oh, I wonder if you were molested as a child?' And I was like, first of all, that is so disrespectful to survivors, you know? And that is a completely unrelated thing. And second, I'm so sorry that you think that that's okay to say to someone, that people have treated you in a way that you're like, 'Yeah, that's a normal thing to say.' And you block."
Henig said he never responds to hate but does offer kindness, and stays on-brand with compassion.
"What I try and remember, what I try and live by, is you can't respond to hate. That is never going to be productive. What I try and do is find compassion," he said. "I say, 'Okay, you are saying this to me for a reason, and I am so sorry that whatever has happened in your life that has led you to this point, where you think that it's okay to say something like that to someone.'"
Henig credits his friend and supporter, trans trailblazer Schuyler Bailar, with providing advice to handle the haters with the same energy that comes from being a fellow competitive swimmer: "I think, in an ideal world, that derives naturally from sport, from teamwork. You learn how to say, 'We fundamentally disagree, but let's get something done together. Let's find common ground.'"
Bailar has also showed him the power of advocacy. "But I probably wouldn't self-identify as an activist," he said. "I think I think I'd opt for advocate athlete."
Once he graduates in May, he's hoping to work in renewable energy, calling climate change his passion. But he said he won't be swimming competitively after this season and has ruled out the Olympics. Henig hopes to become, in his words, a NARP: "A Non Athletic Regular Person." Or, as he also put it: "Just some guy." And maybe, someday, just some dad.
"The idea of motherhood, fundamentally, was uncomfortable to me, and I'm actually quite excited about the idea of fatherhood," he told the Blade. "I was pretty sure that I'm going to be dead by 30. I'm really glad to say that I absolutely don't feel that way anymore, because transition has been so life affirming. I do want kids. I do want a family."
To the trans kids living in states of hate, where laws and policies may prevent them from competing in sports as their authentic selves or receiving gender-affirming healthcare, Henig has this message: "Do what you need to do to keep yourself alive, to keep yourself safe as long as you can, until you have the opportunity to do something else. Know that we're fighting. There are so many people on the ground trying to make changes, trying to prevent bills from getting passed, trying to get resources to places that don't have them. It's something that I want to continue to support."
By writing his essay and talking to reporters, Henig hopes he can also reach those who aren't supportive of inclusion and trans healthcare. "I would really like to call people in, and ask, 'If you can, set aside a belief that you currently have, and open your mind to trying something new.' See if you can say, 'Okay, you know what? What could I learn today? What can I open my mind to?' That would be my ask, because I think the world just needs more empathy, more compassion in general."
This is Iszac's first interview following his moving essay in The New York Times: