Padilla announces bill to address homelessness, affordable housing crises
"The research is clear – lack of affordable housing is at the root of many societal issues, including health and educational disparities"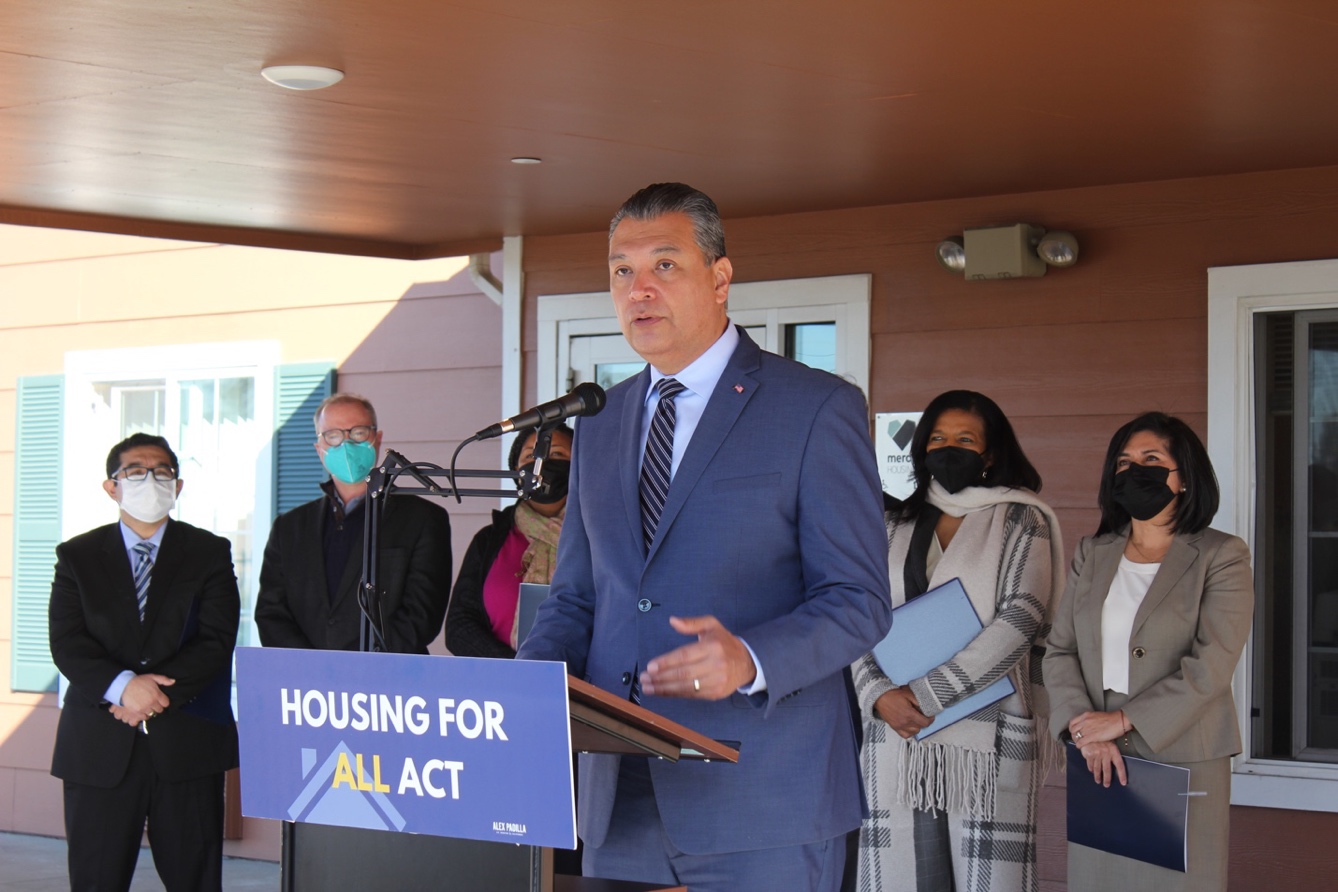 SACRAMENTO, CA — U.S. Senator Alex Padilla (D-Calif.) announced Friday comprehensive legislation to address the affordable housing and homelessness crises in California and across the country.
The Housing for All Act of 2022 would invest in proven solutions to address critical affordable housing shortages and provide a surge of funding for strategic, existing programs to reduce homelessness as well as for innovative, locally-developed solutions to help those experiencing homelessness.
Representatives Ted Lieu and Salud Carbajal (both D-Calif.) will lead the introduction of companion legislation in the House of Representatives.
Padilla announced the legislation today with local leaders and advocates at La Mancha Way Apartments, a Project Homekey site in Sacramento. The site operates in an innovative partnership with the Sacramento Housing Redevelopment Agency to purchase hotels and motels that can be rehabilitated into permanent, long-term housing for people experiencing homelessness. The investments in the Housing For All Act would build on these creative solutions that cities and states in California have successfully developed.
The National Low-Incoming Housing Coalition estimates that the United States has a shortage of 6.8 million affordable homes available to low-income renters. In California, more than 1.4 million units are needed to address the affordable housing shortage, and more than 161,000 people experience homelessness in the state each night – including families with young children, veterans, and victims of domestic violence. Prior to the pandemic, one in four renters spent half of their monthly income on rent, and nearly one million tenants were evicted each year.
"Every person has a right to the dignity and security of housing," said Senator Padilla. "As we continue to face historic affordable housing and homelessness crises, which have been exacerbated by the COVID-19 pandemic, it's going to take all levels of government working together to rebuild a more inclusive and equitable society for all. This legislation is an opportunity to invest and align resources in expanding affordable housing and strengthening proven solutions. Affordable housing is essential infrastructure, and that's why I am proud to introduce the Housing for All Act of 2022 to ensure that every person has a place to call home."
"Homelessness remains a persistent and difficult problem in Los Angeles and in communities around the country," said Congressman Lieu. "The pandemic only worsened the economic and societal factors that contribute to homelessness, which is why it is so important that we address this issue head-on now. Homelessness is a complicated challenge that requires a multi-faceted approach. I'm pleased to be Senator Padilla's partner on this comprehensive legislation to address the affordable housing shortage and support proven, community-driven solutions to homelessness."
"I'm grateful to Senator Padilla for his leadership and attention to California's – and the nation's – affordability crisis," said California Governor Gavin Newsom. "California has stepped up big with $22 billion for housing and homelessness, but no state can do it alone. We need Washington, DC to match our urgency and increase their financial commitment to solving this existential crisis."
The Housing for All Act of 2022 would invest in proven solutions by:
Addressing the affordable housing shortage by investing in the National Housing Trust Fund, the HOME Investment Partnerships program, the Section 202 Supportive Housing for the Elderly Program, and the Section 811 Supportive Housing for People with Disabilities.
Addressing the homelessness crisis by investing in Housing Choice Vouchers, Project-Based Rental Assistance, the emergency solutions grant program (which helps with street outreach, rapid re-housing assistance, emergency shelter, and homelessness prevention), and Continuums of Care.
Supporting innovative, locally developed approaches to these crises by investing in hotel and motel conversions to permanent supportive housing with supportive services; investing in the Eviction Protection Grant Program; investing in mobile crisis intervention teams to help those with medical or psychological needs avoid the criminal justice system; investing in libraries that support people experiencing homelessness; investing in programs that offer a safe place to park overnight and facilitate access to rehousing services and essential services; and investing in inclusive, transit-oriented development and infill development.
A section-by-section of the Housing for All Act is available HERE.
"I am thrilled that my bill, the Naomi Schwartz Safe Parking Program Act, is advancing in the U.S. Senate as a part of Senator Alex Padilla's Housing for All Act," said Congressman Carbajal. "This comprehensive legislation package will help us address the core issues of homelessness and affordable housing in California and across the nation," said Rep. Carbajal. "I'm proud to join Representative Ted Lieu to introduce this legislation in the House. It will be another step toward our goal of ensuring every American has a roof over their head."
"As the Mayors of some of California's largest and most populated cities, we are all grappling with the housing and homelessness crisis and are excited to see such strong leadership on this issue from our Senator. The "Housing for All Act of 2022" would invest in proven solutions to housing shortages, fund programs that have been proven to reduce homelessness, and strengthen innovative, locally-developed programs to appropriately engage with those experiencing homelessness."
London Breed, Mayor of San Francisco
Eric Garcetti, Mayor of Los Angeles
Robert Garcia, Mayor of Long Beach
Todd Gloria, Mayor of San Diego
Sam Liccardo, Mayor of San Jose
Kevin Lincoln, Mayor of Stockton
Patricia Lock Dawson, Mayor of Riverside
Libby Schaaf, Mayor of Oakland
Darrell Steinberg, Mayor of Sacramento
"The California State Association of Counties (CSAC) applauds Senator Padilla for introducing the Housing for All Act which addresses the severe lack of affordable housing across all communities and counties in California, including in my home county of Siskiyou," said CSAC President and Siskiyou County Supervisor Ed Valenzuela. "This important bill provides an array of investments to bolster California's historic efforts in the affordable housing and homelessness crises. CSAC looks forward to working with Senator Padilla and our state and local partners to address these challenges."
"The pandemic has magnified and accelerated the country's affordable housing crisis, a central cause of housing instability, eviction, and homelessness," said Diane Yentel, president and CEO of the National Low Income Housing Coalition. "More than ever, bold policies are needed to significantly expand federal investments in affordable, accessible housing for the nation's lowest-income households. I applaud Senator Padilla's 'Housing for All Act,' which provides the robust investments in deeply affordable, accessible housing, housing vouchers, and homelessness response services needed to end homelessness and housing poverty once and for all."
"Senator Padilla's Housing for All Act recognizes the extraordinary work performed during the pandemic by local homelessness systems and would provide them with robust resources, including significant new investments in the Continuum of Care and Emergency Solutions Grants programs as well as Housing Choice Vouchers and Project-Based Rental Assistance," said Steve Berg, vice president for programs and policy at the National Alliance to End Homelessness.  "In addition to providing resources, Senator Padilla's legislation would promote innovative policies like using motels and hotels for permanent supportive housing and specific efforts to help house the growing numbers of individuals and families experiencing vehicular homelessness."
"The research is clear – lack of affordable housing is at the root of many societal issues, including health and educational disparities," said Professor Matthew Desmond of Princeton University's Eviction Lab. "I'm glad to see Senator Padilla put forward legislation that attacks the core problems of housing insecurity and homelessness in America. As COVID -19 eviction moratoriums lift, passing the Housing for All Act would be life changing for the millions of Americans who don't have access to affordable housing and are currently facing eviction."
"The California Housing Partnership enthusiastically supports Senator Padilla's Housing for All Act providing expanded federal resources to counteract the acute shortage of affordable homes, which in California has been pushing families and individuals into overcrowded situations and risking homelessness amidst the pandemic," said Matt Schwartz, President and CEO of the California Housing Partnership.
"The Housing for All Act would strengthen the crucial services that libraries provide to people experiencing or at risk of homelessness," said Patty Wong, president of the American Library Association.
"LeadingAge applauds the introduction of the Housing for All Act. Housing cost burdens and homelessness are rising steeply for older adults. Because of longstanding underinvestment in critical housing resources, our country's supply of affordable housing for older adults is simply insufficient," said Katie Smith Sloan, President & CEO, LeadingAge. "This bill is a much needed and long overdue response to address significant needs. For example, the bill's $2.5 billion investment in HUD's Section 202 Supportive Housing for the Elderly program would result in about 37,000 new homes as well as new Service Coordinators who help older adult residents age in community in affordable, quality housing. We look forward to doing all we can to secure enactment of Senator Padilla's new bill."
Since joining the Senate, Padilla has been a steadfast supporter of efforts to address the homelessness and housing crises in the state. Senator Padilla helped secure hundreds of millions of dollars for California through the American Rescue Plan that will support local affordable housing programs and projects. He also successfully advocated to extend the federal eviction moratorium and co-led the Keeping Renters Safe Act of 2021 to ensure that people in California and across the country are protected from unreasonable and dangerous evictions in the middle of a pandemic. He also cosponsored the West Los Angeles VA Campus Improvement Act, to help address veteran homelessness, which was signed into law last year.
Padilla supports the Affordable Housing Credit Improvement Act, bipartisan legislation to strengthen the Housing Credit and provide as many as 2,015,000 additional affordable homes over the next 10 years, generating nearly 3 million jobs, $346 billion in wages and business income, and $120 billion in tax revenue.
Padilla has also led efforts urging President Biden to prioritize affordable housing in the Build Back Better infrastructure bill, calling for the inclusion of $70 billion to address the Public Housing repair backlog, and $45 billion for the National Housing Trust Fund per year, of which $26 billion would be reserved for permanent supportive housing for people experiencing homelessness.
Thousands gather for 'Bans Off Our Bodies Rally' in DTLA
Angelenos joined the hundreds of thousands of Americans- women, men, kids- Black, Latino Asian, LGBTQ+ marching across the nation Saturday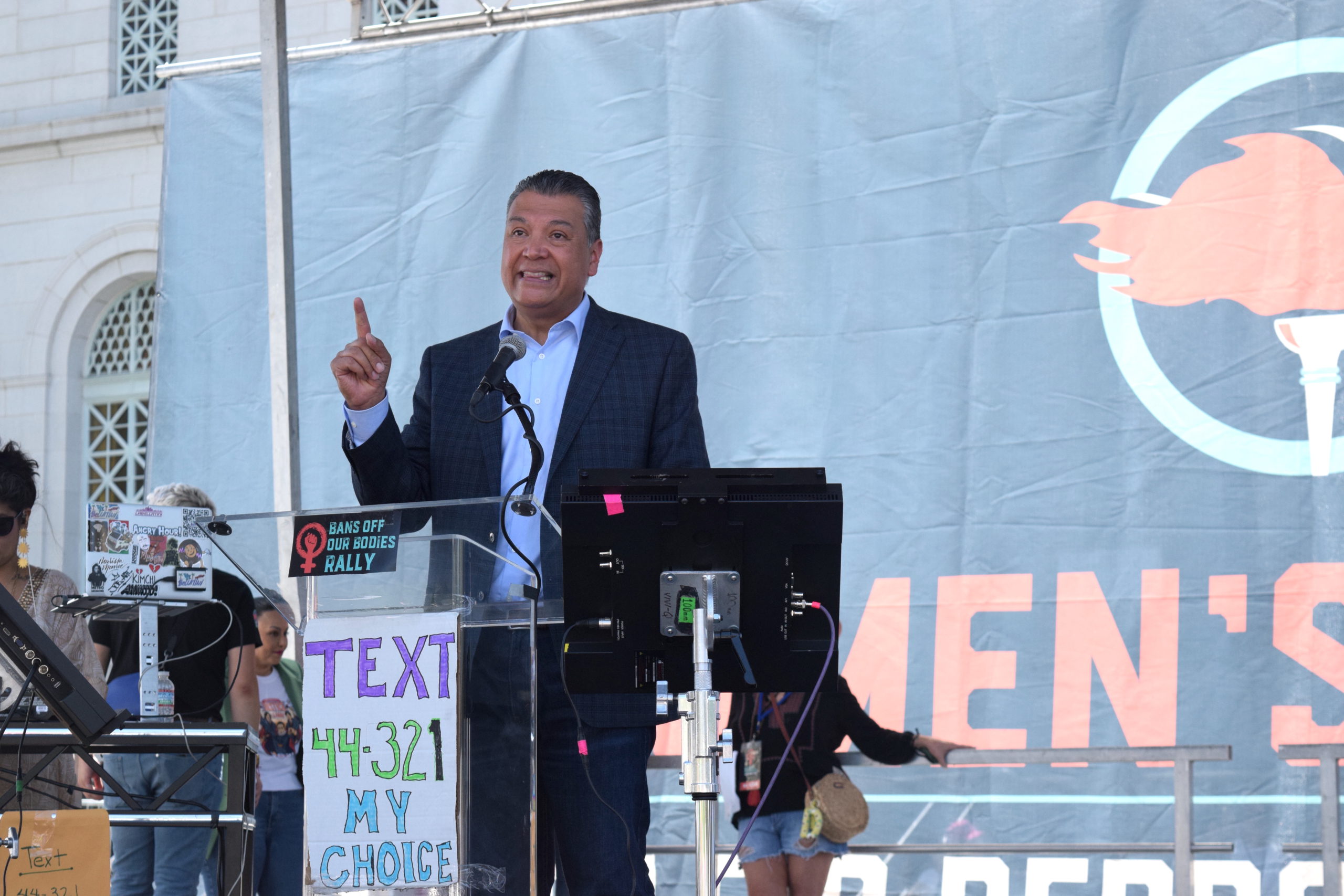 LOS ANGELES – Several thousand Angelenos joined the hundreds of thousands of Americans including women, men, kids- Black, Latino Asian, LGBTQ+ marching across the nation Saturday to protest the potential overturn of the landmark Roe v. Wade decision after the leak of the U.S. Supreme Court's draft opinion.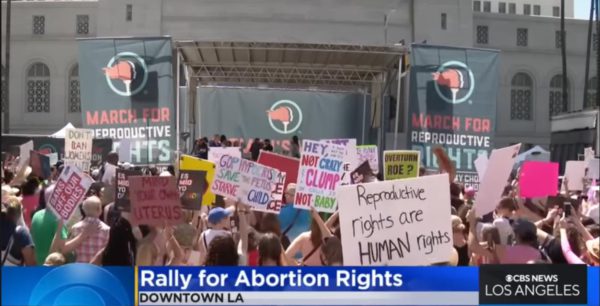 The crowds were joined by politicians and dignitaries including U.S. Senator Alex Padilla (D-Calif.), a member of the Senate Judiciary Committee, who gave a speech to the rally, LA Mayoral candidate Congresswoman Karen Bass, (D-37), California Insurance Commissioner Ricardo Lara, the First Partner and wife to California Governor Gavin Newsom, Jennifer Siebel Newsom, Tony Hoang, the Executive Director of Equality California and the President of the Planned Parenthood Federation of America Alexis McGill Johnson.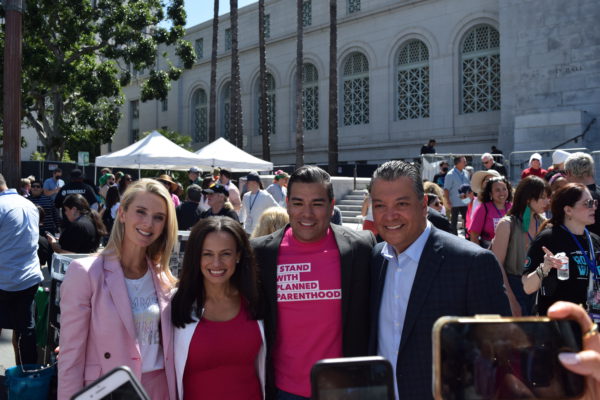 In his speech Padilla delivered remarks on the importance of defending access to safe, legal abortion at the federal level.
The "Bans Off Our Bodies" was a daylong event organized by groups including Women's March, Planned Parenthood Action Fund, UltraViolet, MoveOn, the American Civil Liberties Union and the National Abortion Rights Action League.
From Pittsburgh to Pasadena, California, and Nashville, Tennessee, to Lubbock, Texas, tens of thousands participated in "Bans off our Bodies" events. Organizers expected that among the hundreds of events, the largest would take place in Chicago, New York, Los Angeles and other big cities, the Associated Press reported.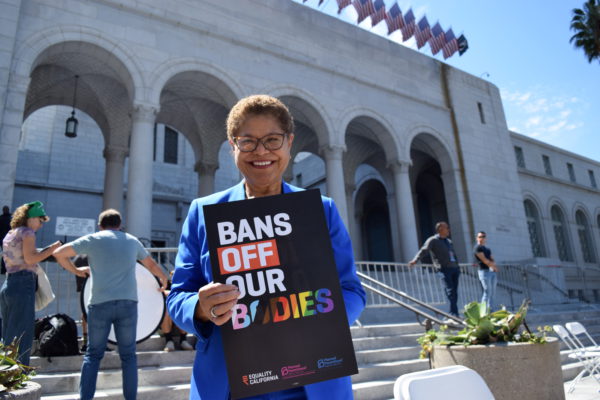 "If it's a fight they want, it's a fight they'll get," Rachel Carmona, executive director of the Women's March, said before the march.
Saturday's rallies come three days after the Senate failed to muster enough votes to codify Roe v. Wade. Sponsors included the Women's March, Move On, Planned Parenthood, UltraViolet, MoveOn, SEIU and other organizations.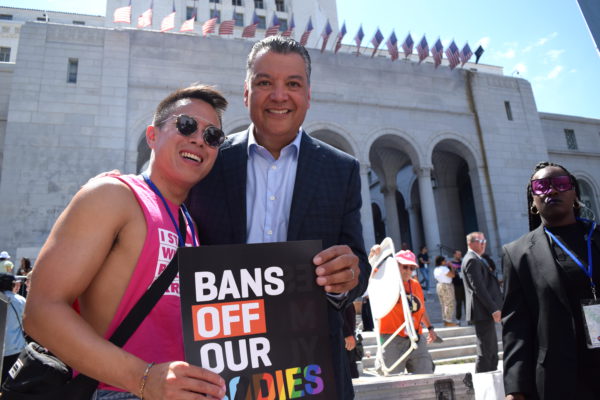 At the Chicago rally, speaker after speaker told the crowd that if abortion is banned that the rights of immigrants, minorities and others will also be "gutted," as Amy Eshleman, wife of Out Chicago Mayor Lori Lightfoot put it, the Associated Press noted.
"This has never been just about abortion. It's about control," Eshleman told the crowd of thousands. "My marriage is on the menu and we cannot and will not let that happen," she added.
Thousands gather in DTLA to protest potential overturn of Roe v. Wade:
KTLA event report:
Newsom's May budget revision on spending record California surplus
Newsom's proposal provides relief from inflation, ensure public safety, address homelessness & combat climate change
SACRAMENTO – As global inflation and war in Europe drive up costs across the country, California Governor Gavin Newsom is proposing a $300.7 billion budget to provide relief from rising inflation, ensure public safety, address homelessness, transform public education, and combat climate change.
The Governor's proposal includes an $18.1 billion inflation relief package to get money back into the pockets of Californians and bring down costs for families.
Led by GDP growth of 7.8 percent, the Blueprint includes a $97.5 billion surplus. The Governor's proposal ensures that this year's spending will not hamstring future budgets, calling for $37.1 billion in reserves including $23.3 billion for the state's Rainy Day Fund, and spends 94 percent of surplus revenues on one-time expenditures.
Newsom intends to funnel some of the money to address pressing issues such as abortion rights, climate, education, inflation and crime. His plan spans both long-term investments and immediate rebates, largely made possible by the $97.5-billion tax surplus through next summer.
"Backed by a robust surplus and grounded in our unshakable values, we're paving the California Way forward to prosperity and progress for all. With historic investments, we're doubling down on our formula for success and making sure no one is left behind – supporting working families and businesses, tackling climate change, expanding health care access, making our communities safer, and more," said Newsom. "While gridlock persists in Congress and right-wing fanatics turn statehouses across the country into laboratories of hate and oppression, here in California, we're putting in the work to grow our economy and implement real, inclusive policy change to create a brighter future for all."
$18.1 Billion Inflation Relief in direct payments to help address inflation, help people pay their utility bills and rent, and reduce costs like health care and child care.
$47.1 billion climate commitment – an increase of $32 billion this year – to tackle pollution, build climate resilient water supplies, reduce the risk of catastrophic wildfires, ensure grid reliability and accelerate clean energy solutions, and protect communities from extreme heat.
$660 million to ensure public safety with funding for new officers and mental health support for law enforcement, support for victims of sex trafficking, cracking down on internet crimes against children, and tackling the opioid crisis.
$14.7 million to confront homelessness and the mental health crisiswith investments to help get people off our streets and into the services and care they need, focusing particularly on Californians who suffer from mental health and substance use disorders.
$37 billion to rebuild Californiawith money for infrastructure including broadband and new housing, as well as a historic investment of $128.3 billion to transform public education.
Billions of dollars to invest in Californians and the Governor's pro-life agenda, including funding to:

Improve our education systems with universal preschool, after school and school meals; and expanded, more affordable child care
Make health care more accessible and affordable through Medi-Cal expansion and subsidies, increased reproductive health care access, home visiting, and support for black infant health, youth mental health and suicide prevention, and addressing adverse childhood experiences.
Clean up our environment by tackling pollution, particularly in disadvantaged communities that bear the brunt of its impacts.
Ensure our communities are safe with violence prevention programs, expansive gun buyback programs and getting fentanyl and other opioids off our streets.
As previously announced, the governor is proposing spending $11.5 billion for tax refunds in the form of $400 checks sent to every eligible registered vehicle owner.
Californians who have more than one vehicle registered to their name would get $800. That's because the payments are capped at two vehicles per person, officials announced previously.
Legislative leaders have announced different plans to help Californians with cash rebates that puts Democrats in the California Senate at odds with Newsom. They will need to reach a compromise.
In response to the Governor's May budget revision, Out Senator Scott Wiener, (D-SF) noted;
"While the Governor's budget proposal has an awful lot to like — for example, rent and utility relief, expanded childcare subsidies, and important infrastructure investments — the proposal to send $400 per car is short-sighted. It will undermine our ability to make transformational investments with long-term benefits, as opposed to a short-term sugar high.
"Instead of sending money to car owners who may or may not be struggling, let's provide targeted relief to those most in need while deeply investing in our deteriorated schools, water systems, and transportation systems and massively investing in the housing we so desperately need.
"With this temporary, massive budget surplus, we have a unique opportunity to deeply invest in California's future in a way that makes people's lives better for generations to come. Let's not lose that opportunity."
Equality California, the nation's largest statewide LGBTQ+ civil rights organization, released the following statement from Executive Director, Tony Hoang:
"At a time when far-right extremists like Ron DeSantis and Greg Abbott are attacking our LGBTQ+ students and transgender youth and their families, we are grateful to Governor Newsom for continuing to stand with our community, support our kids and invest in the fight for full, lived LGBTQ+ equality.
"The governor's revised budget will help to build an inclusive, safe and empowering future for all and serves as an example for other states to work to prioritize the needs of the most vulnerable members of our communities in this critical inflection point for the nation."
Planned Parenthood, LGBTQ+ & Latino groups buy ads for Ricardo Lara
"Voters deserve to know that Lara has been a champion for consumers, the environment, LGBTQ+ civil rights and access to quality healthcare"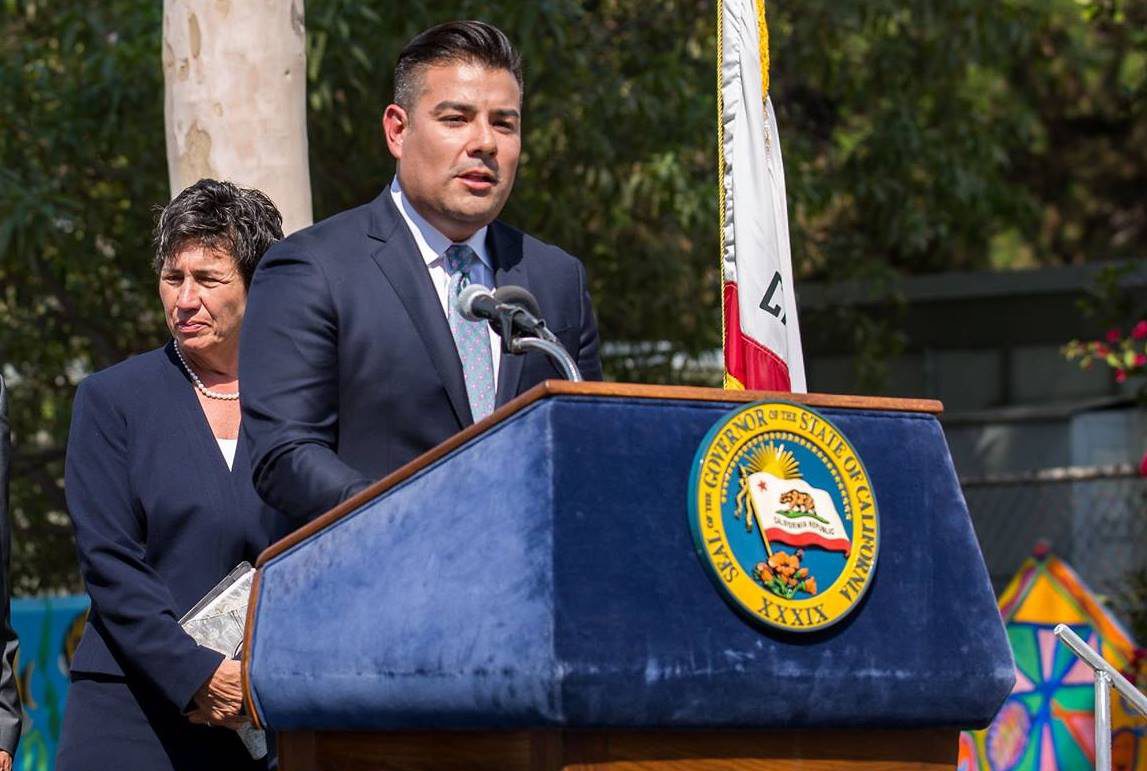 LOS ANGELES — Nearly a dozen progressive political groups in California announced Friday they had launched an initial six-figure advertising buy on Friday in support of California Insurance Commissioner Ricardo Lara, who is running for re-election.
The ad, which will air on digital and Connected TV across the state, is the largest independent expenditure paid media effort in support of Lara in advance of the June 7th primary election. 
Lara made history in 2018 as the first openly LGBTQ+ statewide elected official in California and the only openly LGBTQ+ person elected to statewide office in the nation.
Raised in East Los Angeles by immigrant parents, Ricardo Lara's humble beginnings have guided his work in public service. Lara was elected as California's Insurance Commissioner in 2018, following an eight year career in the California legislature.
As a State Senator, he authored legislation that would have created a universal health care system for California and wrote the Health4All Kids Act – guaranteeing health care coverage for all California children. Lara is the first openly LGBTQ+ person elected to statewide office in California and the only openly LGBTQ+ person elected statewide in the country.
The campaign is being funded by Californians Supporting Ricardo Lara for Insurance Commissioner 2022, an independent expenditure committee supported by Planned Parenthood Affiliates of California, the California Teachers Association and California Federation of Teachers, SEIU California State Council, California Association of Realtors, Equality California, LGBT Caucus Leadership Fund, California Professional Firefighters, Latino Victory Fund and California Latino PAC.on.
"Ricardo Lara has worked to combat continued attacks on abortion access and reproductive freedom," said Planned Parenthood Affiliates of California Vice President of Communications & Campaigns Jennifer Wonnacott. "While the Supreme Court considers overturning Roe v. Wade, Ricardo Lara is working to enforce a new law that expands access to abortion by prohibiting health plans and insurers from charging a co-pay, deductible, or other cost- sharing requirement for abortion care. That's why Ricardo Lara is the only candidate for Insurance Commissioner endorsed by Planned Parenthood." 
"California voters deserve to know that Ricardo Lara has been a champion for consumers, the environment, LGBTQ+ civil rights and access to quality healthcare as our Insurance Commissioner," said Equality California Managing Director of External Affairs Samuel Garrett-Pate. "Since taking office, Lara has taken on tough fights and won for working families — holding the insurance industry accountable while fighting for health care for all, helping California consumers during the COVID-19 pandemic, assisting California wildfire victims in rebuilding their lives and safeguarding access to abortion. We are proud to join so many civil rights and labor organizations in support of Insurance Commissioner Lara's re-election."
View the ad: