South Dakota lawmakers send 'divisive concepts' ban to governor
Restricts the promotion of "divisive concepts" relating to race, gender and sex at state colleges and universities
PIERRE – A South Dakota bill heavily restricting the promotion of "divisive concepts" relating to race, gender and sex at state colleges and universities cleared the legislature Monday, now heading to the desk of Republican Gov. Kristi Noem.
As the Florida Senate sent its widely criticized "Don't Say Gay" bill to Republican Gov. Ron DeSantis Tuesday, South Dakota sent its own legislation restricting education to Noem. The Senate voted 27-8 on H.B. 1012 Monday, but amendments added by the upper chamber forced it to be approved again by the House. Noem, who helped draft the measure, is likely to sign it.
Unlike Florida's "Don't Say Gay" bill, South Dakota's "divisive concepts" legislation targets higher education, not K-12 schools. It also aims at race, gender and sex – including the GOP hot button issue of so-called Critical Race Theory (CRT) – while Florida's measure bans classroom discussions on gender identity and sexual orientation that isn't "age appropiate."
College courses would not be restricted under the bill, meaning professors could still teach any subject matter. But schools cannot "direct or compel" students or faculty to attend or participate in any training or orientation that promotes "divisive concepts."
"Divisive concepts" include making individuals think they are "inherently responsible" for historical actions or feel "discomfort, guilt, anguish, or any other form of psychological distress on account of the individual's race, color, religion, ethnicity, or national origin."
Noem has positioned herself as conservative who is staunchly against CRT and certain LGBTQ+ rights. Last month, Noem signed an anti-Trans sports bill, the first to gain approval from a governor in 2022. She was also criticized for saying she didn't know why LGBTQ+ people in South Dakota reported high rates of anxiety or depression, while pushing for anti-LGBTQ+ bills.
The measure gained broad support from Republicans, but some did raise concerns it would limit First Amendment rights on college campuses.
"I cannot support the idea that state government should create a list of ideas, write them into statute, and call them divisive," said Republican Sen. David Wheeler on the floor. "It's incredibly difficult to legislate effectively on broad concepts."
But other Republicans argued that the bill wouldn't limit rights on campuses. "They can take Intro to Critical Race Theory. They can have spirited debates," said Republican Sen. Jessica Castleberry, who presented the measure to the Senate. "This preserves institutional neutrality by preventing critical race theory and divisive concepts from being adopted at the institutional level."
A GOP-led committee rejected a similar "divisive concepts" bill aimed at teaching in K-12 schools.
LGBTQ+ and social justice organizations decried the passage of the legislation, with one group calling it "chilling."
"Our country needs to acknowledge and reckon with its history of systemic racism — this includes being able to teach and talk about these concepts in our schools," said Jett Jonelis, ACLU of South Dakota advocacy manager, in a statement.
The Human Rights Campaign (HRC), the nation's largest LGBTQ+ rights organization, warned in a news release that the bill would "erase and marginalize Indigenous history, LGBTQ+ education, and other oppressed voices in and outside of the classroom."
"Students should be taught an honest and accurate history of our nation, including the good and the bad," said Cathryn Oakley, state legislative director and senior counsel for the HRC, adding: "Teaching young adults the full scope of reality for LGBTQ+ and other marginalized people, both historically and today, we can help build a fully realized society where everyone can take pride in their individual identities."
South Dakota Senate committee advances anti-Trans youth sports bill
"Every child deserves to be lifted up and supported by their leaders and their government, not targeted and dehumanized"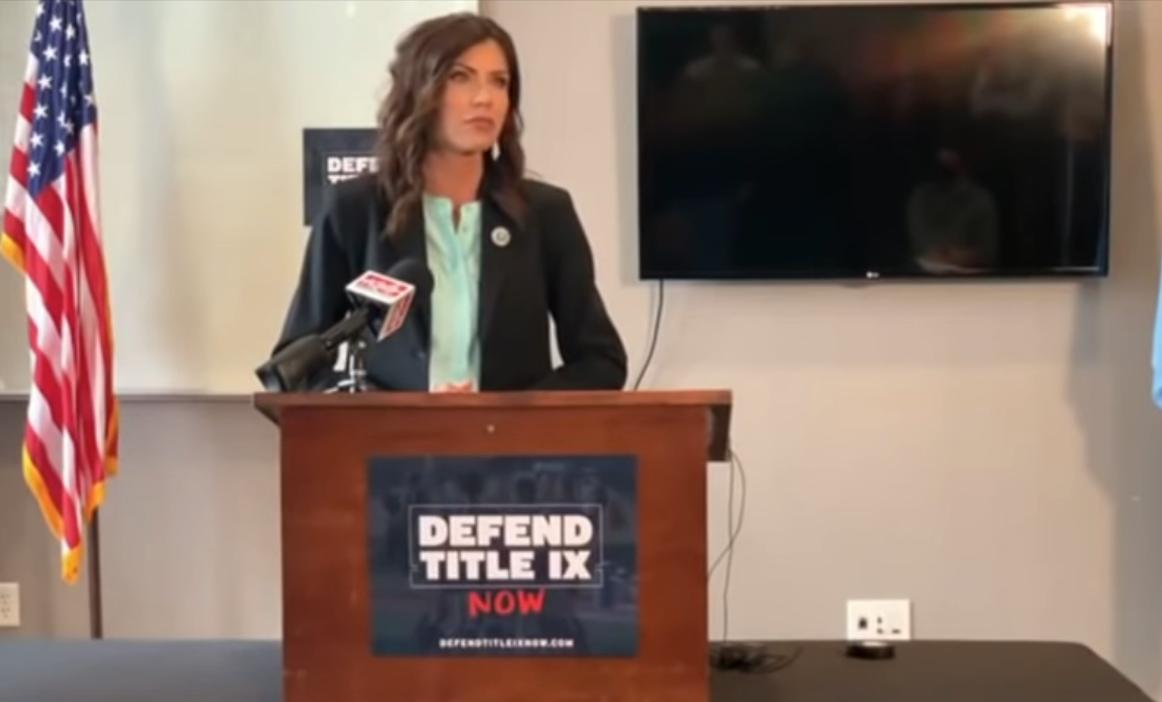 PIERRE – The South Dakota Senate State Affairs Committee voted to advance Senate Bill 46, legislation that would ban transgender women and girls from competing on the sports teams that match their gender identity.
Noem's bill, S.B. 46, is one of three anti-trans that South Dakota has introduced in early 2022 – coming off a year that saw unprecedented legislative attacks on the trans community, especially in sports.
In a press release, Noem alluded to her anti-trans sports bill working similarly to Texas' ban on abortions after six weeks, which attempts to circumvent the U.S. Supreme Court's landmark decision in Roe v. Wade by allowing citizens to enforce the law with lawsuits.
"The legislation I am proposing includes the ability for a parent to hold schools accountable in court," she said. "Parents will be able to sue to play, not to pay."
It is still unclear if the tactic will be able to successfully evade courts striking down the law. The Supreme Court refused to block Texas' abortion ban but did say that abortion providers have the right to sue.
At the end of last year, Noem introduced a bill that would have codified two of her anti-trans executive orders – one focusing on K-12 schools and the other taking aim at college sports.
She wrote the orders shortly after vetoing an anti-trans sports bill from the state legislature, fearing the National Collegiate Athletic Association (NCCA) would take the state to court over the bill. Otherwise, Noem praised the proposal, even saying she was "excited to sign" it before changing her position.
The South Dakota High School Activities Association still allows trans student-athletes to compete. In addition, the NCAA supports trans people participating in sports.
"Senate Bill 46 attempts to solve a problem that does not exist while slamming the door shut for transgender student athletes to fully participate in their school communities," said Jett Jonelis, ACLU of South Dakota advocacy manager. "Transgender students participate in sports for the same reasons other young people do: to challenge themselves, to stay fit and healthy and to be a part of a team. Trans students' humanity, dignity, and ability to be full members of their school communities should never be up for debate like this."
Senate Bill 46, which was introduced on behalf of Republican Governor Kristi Noem, is intended to inflame a political reaction, not protect fairness in women's sports the ACLU and LGBTQ+ activists contend. The state has not seen any issues with transgender women or girls competing in sports. The South Dakota High School Activities Association already has a policy in place for transgender athletes. Likewise, the NCAA also has clear policies on the inclusion of transgender student-athletes and their participation in intercollegiate athletics.
"If Gov. Noem really wanted to protect fairness in women's sports, she would tackle the actual threats to women's sports such as severe underfunding, lack of media coverage, sexist ideologies that suggest that women and girls are weak, and pay equity for coaches," Jonelis said. "It's obvious that this discriminatory legislation is about solving problems that don't exist."
On Thursday in advance of the committee's vote, Governor Noem released nationally televised 30 second ad that while not directly using the lexicon in referring to the Trans community, she claims that she wants to protect girls' and women's sports.
The advert commences with: "In South Dakota, only girls play girls' sports. Why? Because of Gov. Kristi Noem's leadership. Noem has been protecting girls' sports for years and never backed down."
In South Dakota, only girls play girls' sports.

Watch my new ad that debuts during prime time news programs across the country tonight about my bill that will give South Dakota the strongest law protecting female sports in the nation! pic.twitter.com/0bREmXz8eh

— Kristi Noem (@KristiNoem) January 13, 2022
National advocacy groups were quick to respond to the governor's ad and Senate Bill 46.
"Fairness should never mean exclusion. We can promote girls' sports and transgender inclusion at the same time. Blanket bans that block transgender students from participating in school sports remain unfair and unnecessary," Sam Ames, director of advocacy and government affairs at the Trevor Project, said in a press release. "A recent poll by the Trevor Project found that 85 percent of transgender and nonbinary youth said recent debates around anti-trans bills have negatively impacted their mental health — and nearly 1 in 3 feels scared."
"This ad is not just discriminatory, it erases transgender people and dehumanizes them, putting a target on the back of an already vulnerable community," said Joni Madison, interim president of the Human Rights Campaign. "Doing so on a national stage — in a brazen attempt to score political points with her base — makes these attacks especially egregious. In fact, it's South Dakota's women and girls that Governor Noem is attacking.
"Prohibiting transgender girls from participating in school athletics alongside their peers is a radical political talking point — one that Noem is using to advance her national political ambitions, but which does not serve South Dakota's best interests. At stake is the safety of transgender young people, who are facing increased discrimination in their communities, last year leading to the highest incidence of fatal violence against transgender and gender-nonbinary people on record. Noem's ad resorts to attacking children in service of a divisive and discriminatory political agenda.
"Every child deserves to be lifted up and supported by their leaders and their government, not targeted and dehumanized. Legislators must reject this divisive bill to avoid tarnishing South Dakota's reputation and hurting kids in service of Governor Noem's selfish political gamesmanship."