Marielle Franco's widow keeps legacy alive
Mônica Benício elected to Rio de Janeiro Municipal Council in 2020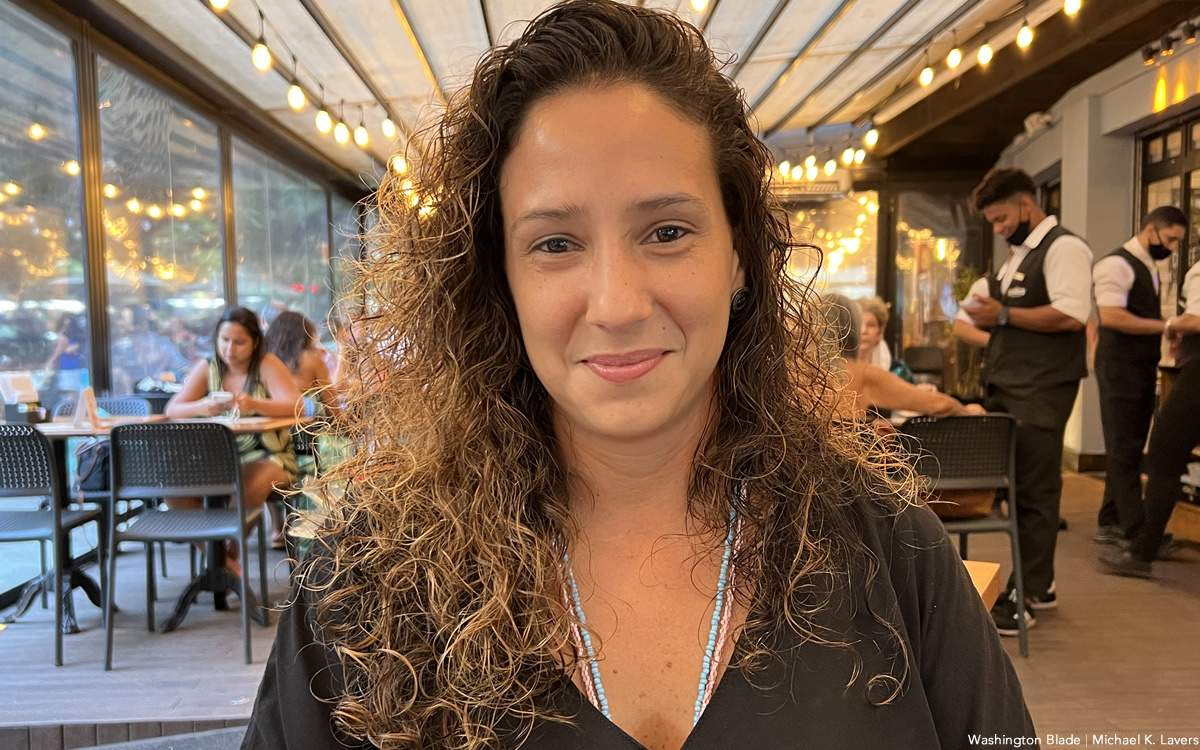 Editor's note: International News Editor Michael K. Lavers was on assignment in Brazil from March 12-21.
RIO DE JANEIRO — March 14 marked four years since the murders of Rio de Janeiro Municipal Councilwoman Marielle Franco and her driver, Anderson Gomes, after they attended an event for Black women in the Brazilian city's Lapa neighborhood. It remains very difficult for Franco's widow, Mônica Benício, to discuss that day without becoming emotional.
"Before I start crying, I'll just ask you to imagine what it is like to lose the love of your life," said Benício on Saturday, speaking through her assistant who interpreted for her during an interview with the Washington Blade.
A tattoo of Franco's face on Benício's left forearm was visible throughout the interview that took place at a coffee shop near Largo de Machado in downtown Rio. A picture of Franco at a beach was also the screensaver on Benício's smartphone.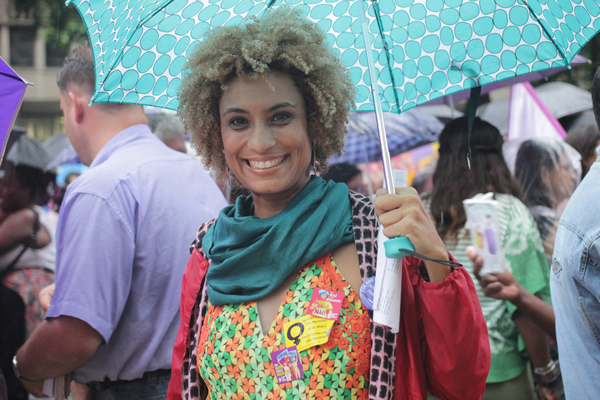 Franco, a bisexual woman and single mother of African descent, grew up in Maré, a favela in the northern part of Rio that is close to its international airport.
Franco in 2003 began to work for now Congressman Marcelo Freixa, who is currently a member of the Brazilian Socialist Party, when he was a member of the Rio de Janeiro (State) Legislative Assembly. She coordinated its Defense of Human Rights and Citizenship Commission and worked for a number of local human rights organizations before she won a seat on the Rio Municipal Council in 2016 as a member of the leftist Socialism and Liberty Party.
Benício noted Franco received the fifth highest number of votes among the 51 candidates who ran for the Municipal Council in 2016. Only one other female candidate received more votes than Franco.
Franco, among other things, was an outspoken critic of police raids in Rio's favelas that have left hundreds of people dead. She was a member of a Rio Municipal Council commission that sought to investigate them.
Franco four days before her murder described the Rio de Janeiro State Military Police's 41st Battalion as "the death battalion" in response to the killings of three young men in two of the city's favelas.
Authorities in 2019 arrested two former police officers in connection with Franco's murder.
Benício noted the men remain in jail, but their trial has not begun.
"The struggle for justice to find out who ordered the murder and how high up they were indicates we are still far from knowing," she said.
Ronnie Lessa, one of the main suspects, lived in the same large condominium complex in Rio's exclusive Barra da Tijuca neighborhood in which President Jair Bolsonaro lives.
Bolsonaro, a former Brazilian Army captain who represented Rio in Congress for decades, was not president when Franco and Gomes were murdered.
Bolsonaro has strongly denied media reports that indicate Lessa visited his home before the killings. Benício referred to investigators' claim the fact that Lessa and Bolsonaro were neighbors is "just a coincidence."
Bolsonaro election 'worst thing' in Brazil for decades
Bolsonaro took office on Jan. 1, 2019. He defeated former São Paulo Mayor Fernando Haddad of former President Luiz Inácio Lula da Silva's Workers' Party in the second round of the country's presidential election that took place on Oct. 28, 2018.
"It's the worst thing that's happened in the history of this country for decades," said Benício.
Bolsonaro's comments against LGBTQ+ Brazilians, women, indigenous people and other underrepresented groups have sparked widespread outrage. Sources in Rio, São Paulo and Salvador with whom the Blade spoke also noted Bolsonaro, who is a member of the Liberal Party, has sought to link COVID-19 vaccines to AIDS.
"It is important for us to understand that Jair Bolsonaro has been in Congress for 30 years and has made no contribution to society," said Benício.
Benício noted Bolsonaro's homophobic, transphobic, racist and misogynist rhetoric was "known" before he became president. Benício said it resonates with a segment of Brazilian society and has caused incidents of discrimination, harassment and violence based on race, sexual orientation, gender identity, class and other factors to increase.
"It is an absolutely despicable posture and incompatible with a posture of the president of the republic," she said. "It does, however, resonates with sectors of society."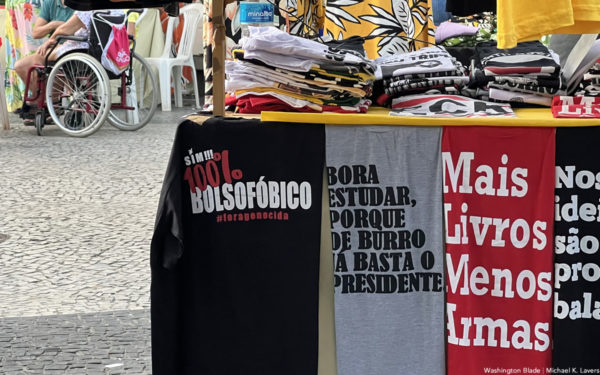 Brazil's presidential, vice presidential, congressional and state gubernatorial and legislative elections will take place on Oct. 2.
Early polls indicate da Silva is ahead of the highly unpopular Bolsonaro, although a run-off will take place if no presidential candidate receives a majority of the vote. Eduardo Leite, the governor of Rio Grande do Sul State and member of the center-left Brazilian Social Democratic Party who came out as gay last summer, is among those who are running for vice president.
Benício told the Blade that she is hopeful the election "will not be a favorable result" for Bolsonaro. Benício also acknowledged growing concerns that Bolsonaro may not accept the election results if he loses.
"Whether we can complete this electoral period within (the framework of) our democracy or if we have someone who has finally shown that he has no scruples is a real concern," said Benício. "It doesn't matter if he hands over that presidential sash."
Benício elected to Rio Municipal Council in 2020
Franco's family has created the Marielle Franco Institute that seeks to "inspire, connect and empower Black women, LGBTQIA+ people and others on the margins in order to continue moving the structures of society towards a fairer and more egalitarian world."
Benício, who also grew up in Maré, was an architect before Franco and Gomes were killed. Benício in 2020 ran for the Rio Municipal Council as a member of the Socialism and Liberty Party, and won with nearly 23,000 votes.
Benício's first term would have been Franco's second.
"It was never in my personal life plan," Benício told the Blade. "I was the partner of a lawmaker and my life was dedicated to architecture."
Benício said the majority of her colleagues on the Municipal Council have treated her well, although some of them strongly disagree with her positions on LGBTQ+ rights and other issues that include support for efforts to address social and economic disparities in the city. Benício stressed she champions the same issues that Franco did.
"They already knew me as a defender of human rights," said Benício, referring to her colleagues on the Municipal Council. "They already knew me as a feminist, a lesbian."
Benício further stressed she remains committed to keeping Franco's legacy alive.
"Seeing Marielle turn into a broad representative symbol of resistance, of hope, for me is the legacy," said Benício. "Marielle's life will not be in vain. Society will also not allow it."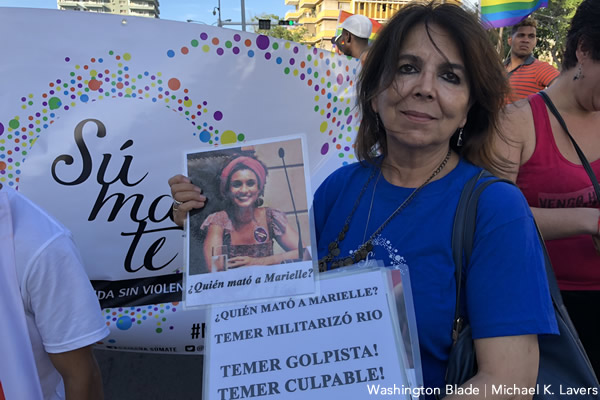 Chilean government seeks to implement LGBTQ+, intersex rights agenda
Conservative newspaper incorrectly reported ministry plans legislation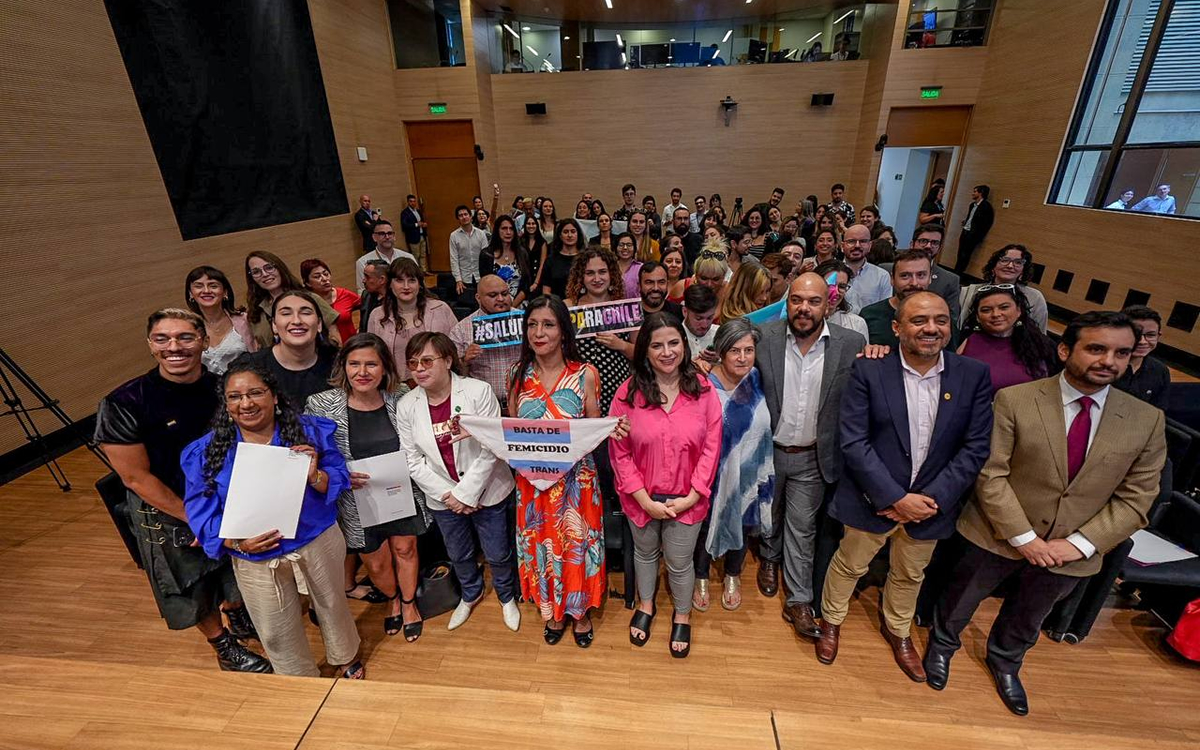 SANTIAGO, Chile — A conversative Chilean newspaper's article on Sunday that said the Women and Gender Equity Ministry was preparing to introduce a bill that would create an LGBTQ+ and intersex rights undersecretariat prompted mixed reactions across the country.
The ministry in 2022 launched its first "LGBTIQA+ Roundtable" that includes representatives of different public institutions, organizations and Chilean LGBTQ+ and intersex activists who are working to improve the quality of life for the country's queer community that over the last year has seen an increase in attacks and hate crimes.
LGBTQ+ and intersex rights in Chile have gained ground over the last decade.
Civil unions, marriage equality, Transgender rights and an anti-discrimination law are some of the successes that took time to take effect. There is, however, no state institution or public policy that works to ensure historically discriminated LGBTQ+ and intersex Chileans are included. This is why activists feel the "LGBTIQA+ Roundtable" that President Gabriel Boric's government is promoting is an unprecedented opportunity.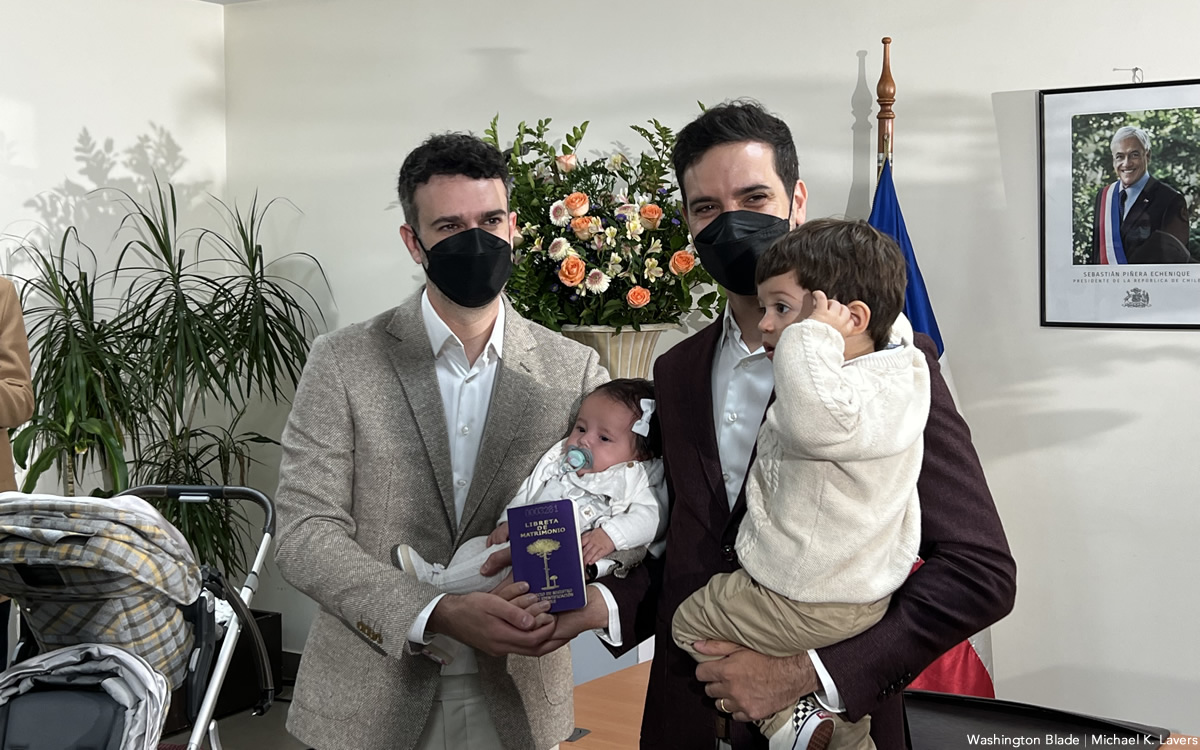 Forty-two organizations from across Chile participated in the roundtable during its first year, which culminated on Jan. 6 with the signing of an agreement between the Women and Gender Equity Ministry's Women and Gender Equality Undersecretariat and the Interior and Public Safety Ministry's Crime Prevention Undersecretariat to assist people across the country who are victims of anti-LGBTQ+ attacks. The roundtable at the same time also announced it will send a bill to Congress later in 2023 that would expand the ministry's mandate to ensure "the LGBTIQA+ community is included."
There has yet to be an announcement on the creation of an LGBTQ+ and intersex undersecretariat.
Most Chilean media outlets covered this report after El Mercurio published it on Sunday. José Antonio Kast, an extreme right-wing politician who is a former presidential candidate, on his Twitter account criticized what turned out to be inaccurate.
"Chile is poorer, more violent and insecure than a year ago and the inept government is dedicated to enlarge the State to deepen its ideological agenda, instead of solving social urgencies," wrote the Republican Party leader.
The ministry told the Washington Blade that "the roundtable with organizations from the LGBTIQA+ community has just been finalized."
"One of the demands is to have an institutionality," said the ministry. "During 2023 it will be defined which is the progressive path, while the anti-discrimination law is improved at the same time."
Women and Gender Equity Undersecretary Luz Vidal Huiriqueo on her social media networks said "we met with LGBTQ+ organizations for seven months" and the ministry made "security, employment and health priorities."
"On the 1st we advanced in an agreement with (the Crime Prevention Undersecretariat) to properly address and for the long challenges we committed to propose an institutional mechanism," said Vidal.
Vidal said in an exclusive interview with the Blade before El Mercurio published its inaccurate report that "finding and giving answers to the demands of the LGBTIQA+ population in Chile is a commitment for President Gabriel Boric's government that will not be put aside for anything."
"We at the (Women and Gender Equality Ministry) have embraced the day-to-day needs that this community, in many cases, has to survive," said Vidal from her office. "That is why, from our ministry, we have created this intergovernmental roundtable to have a fluid and permanent communication with LGBTIQA+ organizations.
Vidal added Boric "instructed us to move from discourse to action."
"We have to get to work. We have to implement the agreements," said Vidal. "We can't just make pretty announcements and that is our commitment. The commitment we have today is to work for women, for gender equity, for and with the entire population, in favor of all citizens and of those who lack the presence of the State."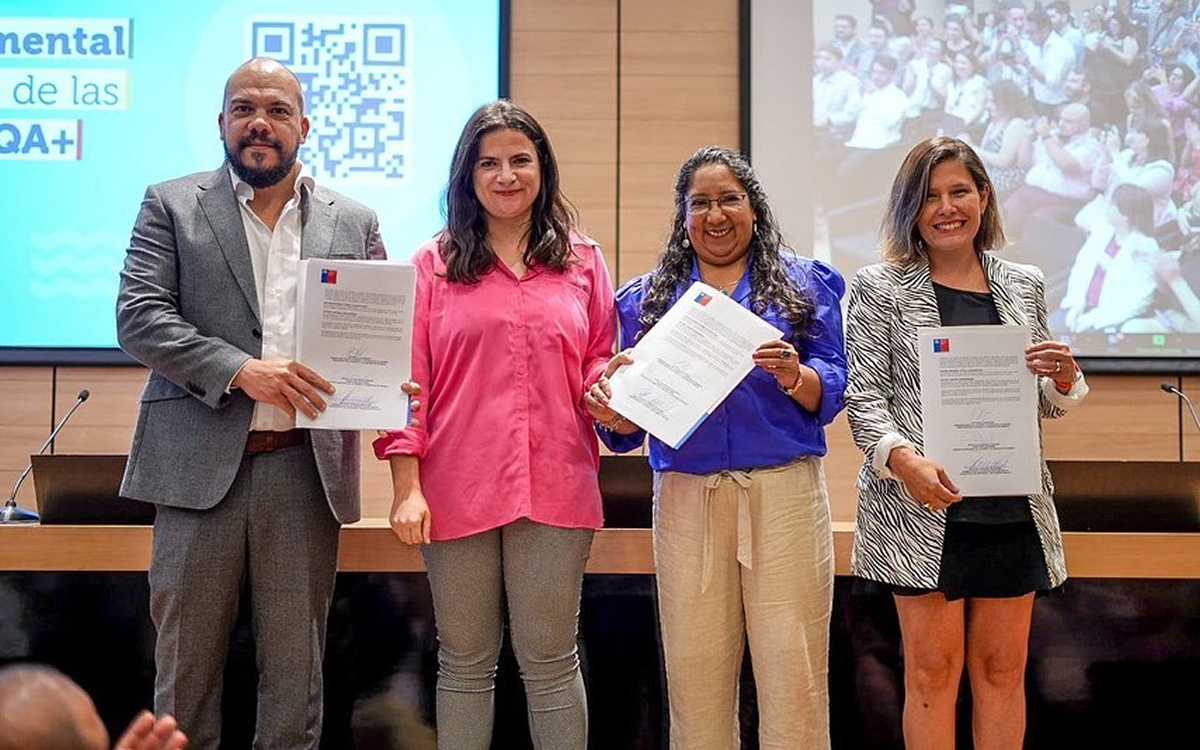 The undersecretary told the Blade the need to incorporate the queer community into the ministry's work is important because "the State, as of today, has no powers to specifically address the LGBTQ+ population."
"We need to create a progressive path that, whether an institutional or other figure, allows us to implement public policies," she said.
That supposed institutionality was the one that sparked controversy last Sunday and it will not be an easy path, regardless of the mechanism that Boric's government ultimately chooses to implement.
"I think it is not going to be an easy process," said Vidal. "It is not going to be a project that we can say, we are going to take them out at the end of the year, that is clear to us. Even today it is difficult to move forward with projects or the work that the ministry is doing because we currently have a Congress with political forces that are against inclusion and respect for diversity. This is present in our Congress, and it is also present in several Latin American countries."
Emilia Schneider, Chile's first Trans congresswoman, on the other hand told the Blade that "it seems to me that the announcement of an institutional framework for the LGBTI community within the Women's Ministry, and also in what has been working with the Justice Ministry to advance in an institutional framework against discrimination, regarding the reform of the Anti-Discrimination Law are two fundamental steps to advance in dignity and rights for sexual diversities and dissidences."
Schneider said it is important "to make a permanent change in the State, which recognizes the importance of having a space that responds to the needs of the queer population and takes charge of combating inequality, discrimination and violence to which our community is exposed."
"It seems to me that this is one of the most important commitments, which if realized would be a fundamental legacy of this government in matters of sexual diversity and dissidence," she said.
Ignacia Oyarzun, coordinator of public policies for Asociación OTD Chile, the country's most important Trans rights organization, said the implementation of an institutional framework to advance LGBTQ and intersex rights "is an advance that goes in the direction of establishing what will be a trans labor quota to achieve a greater integration of the community in society."
Oyarzun noted employers do not hire people who are Trans, or fire them without reason. This lack of employment opportunities, according to Asociación OTD Chile, makes trans people more vulnerable to violence.
Jorge Muñoz of Movimiento Organizado de Gays, Lesbianas, Trans y Heterosexuales (MOGALETH) in Puerto Montt, a city that is roughly 640 miles south of the capital of Santiago, also participated in the roundtable. Muñoz told the Blade that "any approach from the central power to civil society, and especially to the regions, is positive."
"In this context, we consider it an advance in terms of the demands of the collective in the struggle for the recognition of the historical violation of our rights," said Muñoz. "The State's recognition of mistreatment and hate speech towards dissidents has historically been centralized. The regions where we also suffer harassment, mistreatment, difficulties in access to health, education and work have been relegated throughout history. In this sense, what we value most is the recognition of our demands in the territorial context."