Marielle Franco's widow keeps legacy alive
Mônica Benício elected to Rio de Janeiro Municipal Council in 2020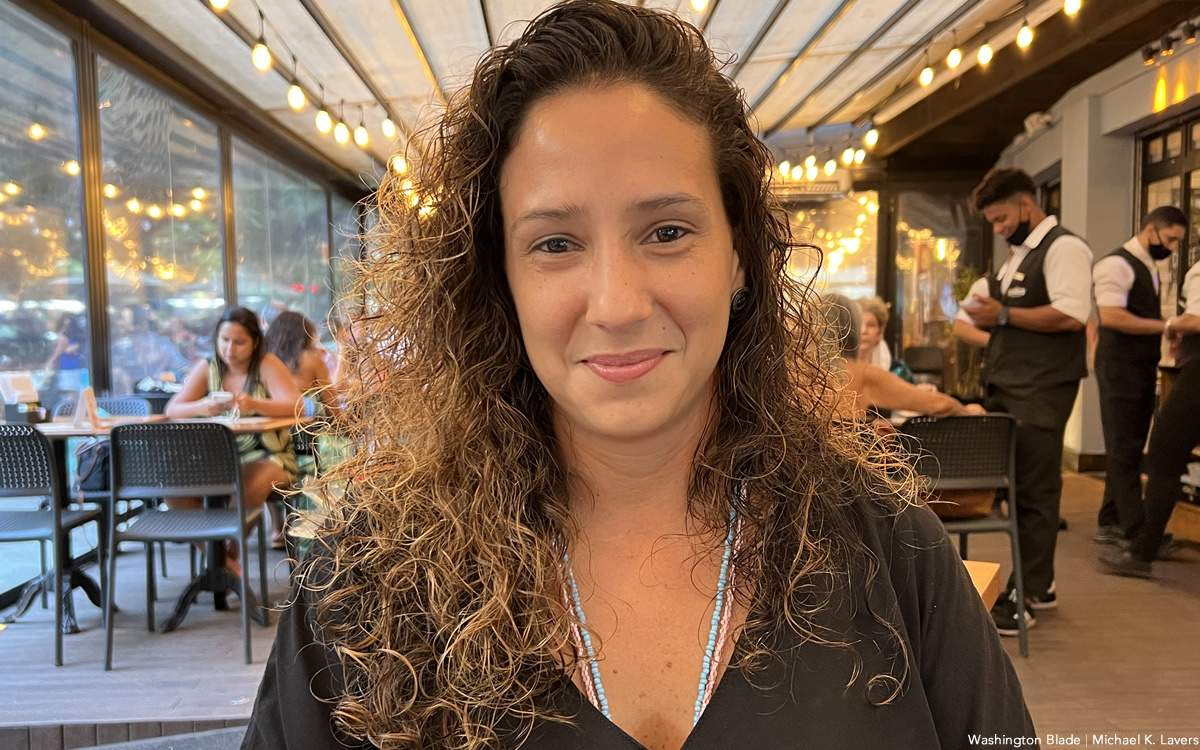 Editor's note: International News Editor Michael K. Lavers was on assignment in Brazil from March 12-21.
RIO DE JANEIRO — March 14 marked four years since the murders of Rio de Janeiro Municipal Councilwoman Marielle Franco and her driver, Anderson Gomes, after they attended an event for Black women in the Brazilian city's Lapa neighborhood. It remains very difficult for Franco's widow, Mônica Benício, to discuss that day without becoming emotional.
"Before I start crying, I'll just ask you to imagine what it is like to lose the love of your life," said Benício on Saturday, speaking through her assistant who interpreted for her during an interview with the Washington Blade.
A tattoo of Franco's face on Benício's left forearm was visible throughout the interview that took place at a coffee shop near Largo de Machado in downtown Rio. A picture of Franco at a beach was also the screensaver on Benício's smartphone.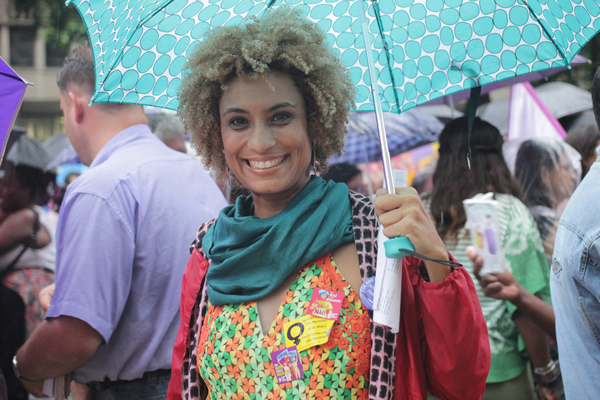 Franco, a bisexual woman and single mother of African descent, grew up in Maré, a favela in the northern part of Rio that is close to its international airport.
Franco in 2003 began to work for now Congressman Marcelo Freixa, who is currently a member of the Brazilian Socialist Party, when he was a member of the Rio de Janeiro (State) Legislative Assembly. She coordinated its Defense of Human Rights and Citizenship Commission and worked for a number of local human rights organizations before she won a seat on the Rio Municipal Council in 2016 as a member of the leftist Socialism and Liberty Party.
Benício noted Franco received the fifth highest number of votes among the 51 candidates who ran for the Municipal Council in 2016. Only one other female candidate received more votes than Franco.
Franco, among other things, was an outspoken critic of police raids in Rio's favelas that have left hundreds of people dead. She was a member of a Rio Municipal Council commission that sought to investigate them.
Franco four days before her murder described the Rio de Janeiro State Military Police's 41st Battalion as "the death battalion" in response to the killings of three young men in two of the city's favelas.
Authorities in 2019 arrested two former police officers in connection with Franco's murder.
Benício noted the men remain in jail, but their trial has not begun.
"The struggle for justice to find out who ordered the murder and how high up they were indicates we are still far from knowing," she said.
Ronnie Lessa, one of the main suspects, lived in the same large condominium complex in Rio's exclusive Barra da Tijuca neighborhood in which President Jair Bolsonaro lives.
Bolsonaro, a former Brazilian Army captain who represented Rio in Congress for decades, was not president when Franco and Gomes were murdered.
Bolsonaro has strongly denied media reports that indicate Lessa visited his home before the killings. Benício referred to investigators' claim the fact that Lessa and Bolsonaro were neighbors is "just a coincidence."
Bolsonaro election 'worst thing' in Brazil for decades
Bolsonaro took office on Jan. 1, 2019. He defeated former São Paulo Mayor Fernando Haddad of former President Luiz Inácio Lula da Silva's Workers' Party in the second round of the country's presidential election that took place on Oct. 28, 2018.
"It's the worst thing that's happened in the history of this country for decades," said Benício.
Bolsonaro's comments against LGBTQ+ Brazilians, women, indigenous people and other underrepresented groups have sparked widespread outrage. Sources in Rio, São Paulo and Salvador with whom the Blade spoke also noted Bolsonaro, who is a member of the Liberal Party, has sought to link COVID-19 vaccines to AIDS.
"It is important for us to understand that Jair Bolsonaro has been in Congress for 30 years and has made no contribution to society," said Benício.
Benício noted Bolsonaro's homophobic, transphobic, racist and misogynist rhetoric was "known" before he became president. Benício said it resonates with a segment of Brazilian society and has caused incidents of discrimination, harassment and violence based on race, sexual orientation, gender identity, class and other factors to increase.
"It is an absolutely despicable posture and incompatible with a posture of the president of the republic," she said. "It does, however, resonates with sectors of society."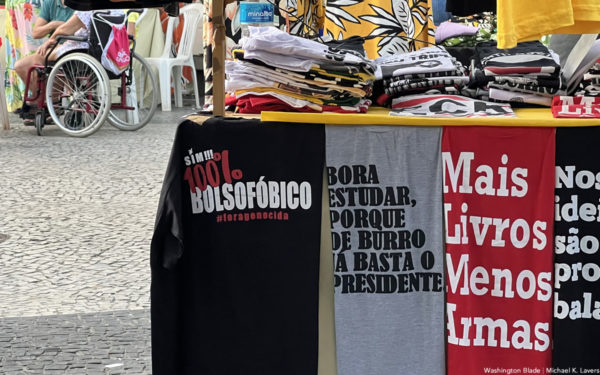 Brazil's presidential, vice presidential, congressional and state gubernatorial and legislative elections will take place on Oct. 2.
Early polls indicate da Silva is ahead of the highly unpopular Bolsonaro, although a run-off will take place if no presidential candidate receives a majority of the vote. Eduardo Leite, the governor of Rio Grande do Sul State and member of the center-left Brazilian Social Democratic Party who came out as gay last summer, is among those who are running for vice president.
Benício told the Blade that she is hopeful the election "will not be a favorable result" for Bolsonaro. Benício also acknowledged growing concerns that Bolsonaro may not accept the election results if he loses.
"Whether we can complete this electoral period within (the framework of) our democracy or if we have someone who has finally shown that he has no scruples is a real concern," said Benício. "It doesn't matter if he hands over that presidential sash."
Benício elected to Rio Municipal Council in 2020
Franco's family has created the Marielle Franco Institute that seeks to "inspire, connect and empower Black women, LGBTQIA+ people and others on the margins in order to continue moving the structures of society towards a fairer and more egalitarian world."
Benício, who also grew up in Maré, was an architect before Franco and Gomes were killed. Benício in 2020 ran for the Rio Municipal Council as a member of the Socialism and Liberty Party, and won with nearly 23,000 votes.
Benício's first term would have been Franco's second.
"It was never in my personal life plan," Benício told the Blade. "I was the partner of a lawmaker and my life was dedicated to architecture."
Benício said the majority of her colleagues on the Municipal Council have treated her well, although some of them strongly disagree with her positions on LGBTQ+ rights and other issues that include support for efforts to address social and economic disparities in the city. Benício stressed she champions the same issues that Franco did.
"They already knew me as a defender of human rights," said Benício, referring to her colleagues on the Municipal Council. "They already knew me as a feminist, a lesbian."
Benício further stressed she remains committed to keeping Franco's legacy alive.
"Seeing Marielle turn into a broad representative symbol of resistance, of hope, for me is the legacy," said Benício. "Marielle's life will not be in vain. Society will also not allow it."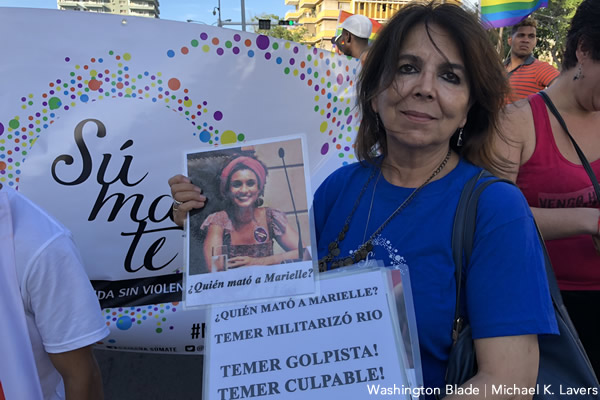 Brazil presidential election heads to runoff between Bolsonaro and Lula
Neither candidate received 50 percent of vote on Sunday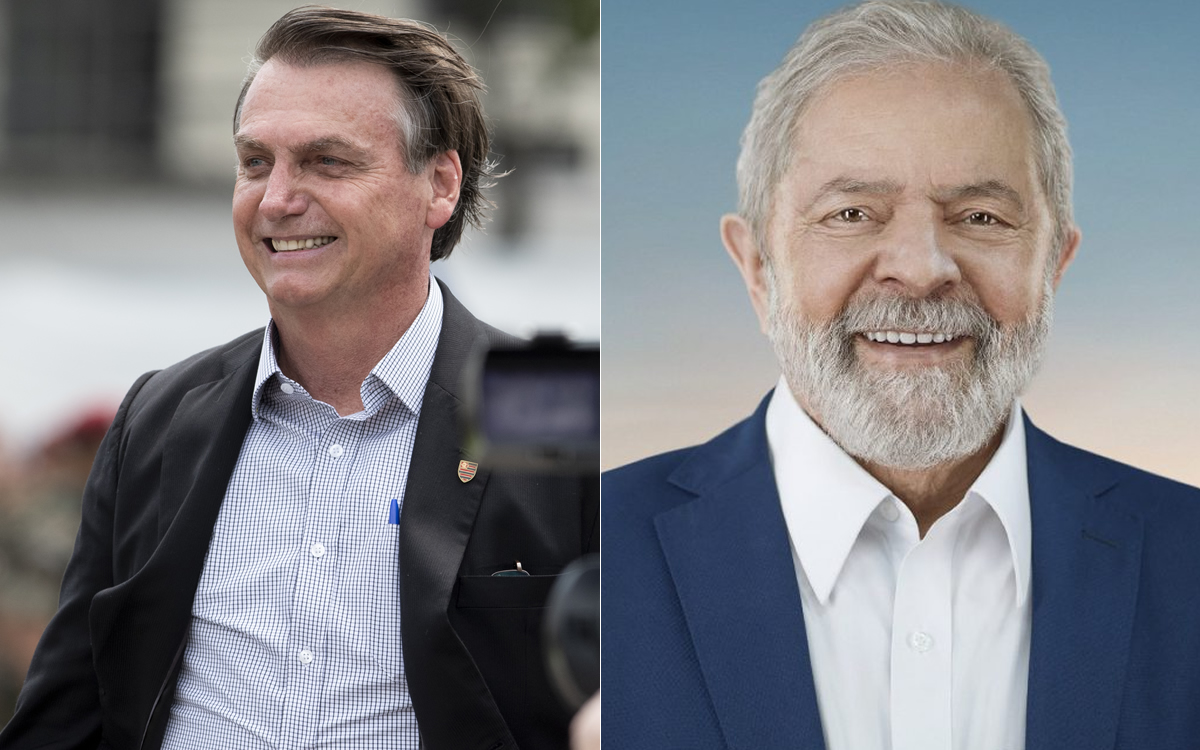 Editor's note: International News Editor Michael K. Lavers will be on assignment in Brazil through Oct. 11.
BRASÍLIA, Brazil — Brazilian President Jair Bolsonaro and former President Luiz Inácio Lula da Silva will face off in the second round of the country's presidential election on Oct. 30 after neither of them received a majority of votes on Sunday.
Da Silva was ahead of Bolsonaro by a 47.9-43.6 percent margin with 97.5 percent of electronic voting machines counted, according to Brazil's Supreme Electoral Tribunal.
Bolsonaro, a former Brazilian Army captain who is a member of the right-wing Liberal Party, represented Rio de Janeiro in the Brazilian Congress from 1991 until he took office in 2018.
Polls ahead of Sunday's election suggested Da Silva was poised to defeat Bolsonaro in the first round. Bolsonaro's efforts to discredit Brazil's electoral system increased concerns that violence could erupt in the country if Bolsonaro did not accept the results.
The incumbent president has faced sharp criticism because of his rhetoric against LGBTQ+ and intersex Brazilians, women, people of African and indigenous descent and other groups.
He has encouraged fathers to beat their sons if they think they are gay.
Bolsonaro during a 2019 press conference in the White House Rose Garden stressed his "respect of traditional family values." Bolsonaro has expressed his opposition to "gender ideology," supports legislation that would limit LGBTQ+-specific curricula in Brazil's schools and condemned a 2019 Brazilian Supreme Court ruling that criminalized homophobia and transphobia.
A Brazilian Federal Police investigator in August called for prosecutors to charge Bolsonaro with incitement for spreading false information about COVID-19 after he said people who are vaccinated against the virus are at increased risk for AIDS. Activists and HIV/AIDS service providers with whom the Washington Blade spoke in March sharply criticized Bolsonaro's policies towards people with HIV/AIDS.
Da Silva, who was Brazil's president from 2003-2010, is a member of the country's leftist Workers' Party.
Sergio Moro, a judge who Bolsonaro later tapped as his government's Justice and Public Security Minister, in 2017 sentenced Da Silva to 9 1/2 years in prison after his conviction on money laundering and corruption charges that stemmed from Operation Car Wash.
The Brazilian Supreme Court in November 2019 ordered Da Silva's release.
Julian Rodrigues, who was the coordinator of the Workers' Party's National Working Group from 2006-2012, noted to the Blade during a previous interview that Da Silva in 2004 created the Health Ministry's "Brazil without Homophobia" campaign. Rodrigues also highlighted Da Silva created the Culture Ministry's Diversity Secretariat that, among other things, funded community centers and sought to make police officers and other law enforcement officials more friendly to LGBTQ and intersex people.
The Blade will update this story.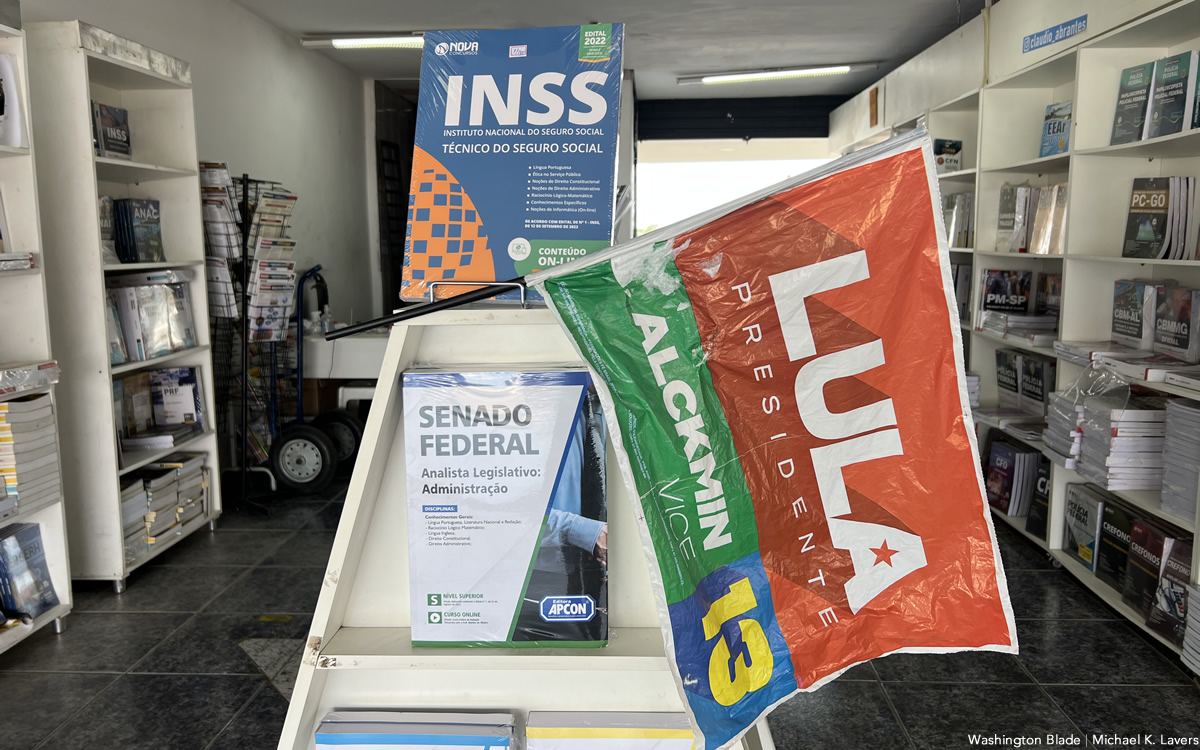 Meet Argentina's special envoy for LGBTQ+ and intersex rights
Alba Rueda is a Transgender woman, long-time activist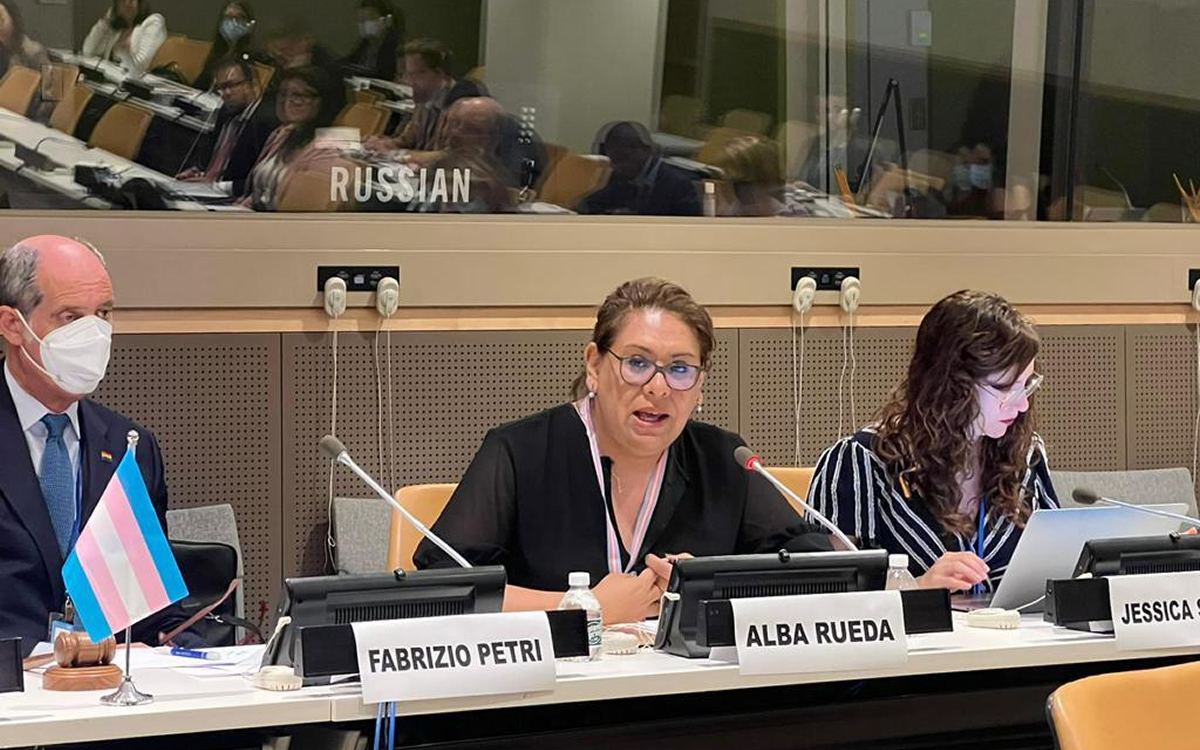 Editor's note: The Washington Blade interviewed Alba Rueda before the murder of Alejandra Ironici, a prominent transgender activist, in Santa Fe on Aug. 22 and the attempted assassination of Vice President Cristina Fernández de Kirchner in Buenos Aires on Sept. 1.
BUENOS AIRES, Argentina — Argentina is a pioneer in the implementation of laws and public policies that support LGBTQ+ and intersex rights.
The country in 2010 became the first in South America to extend marriage rights to same-sex couples. Argentina in 2021 became the second country in the Americas to offer nonbinary national ID cards.
A Transgender rights law and a labor quota for Trans people, among other things, have been implemented since then. These initiatives, in most cases, have inspired neighboring countries to recognize LGBTQ+ and intersex people.
Argentina this year created a position within the country's Foreign Affairs Ministry that focuses exclusively on the promotion of LGBTQ+ and intersex rights abroad.
Alba Rueda, a well-known queer activist, on May 2 became Argentina's first-ever Special Representative on Sexual Orientation and Gender Identity. The U.S., the U.K., Italy and Germany are the four other countries with people in their respective governments who specifically promote LGBTQ+ and intersex rights abroad.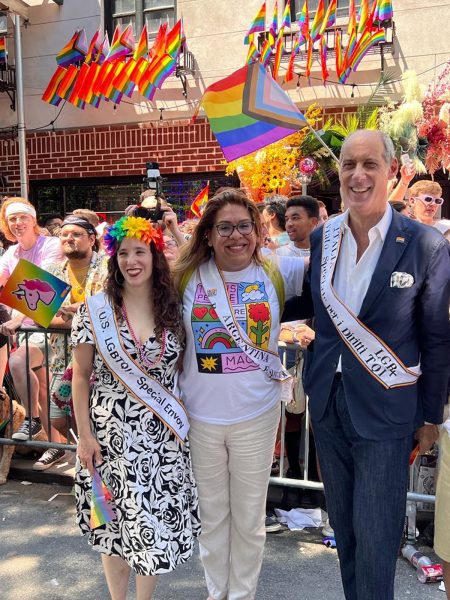 Rueda, 46, is a Trans woman who was born in Salta province in northern Argentina.
She moved to Buenos Aires with her family when she was a teenager. Rueda became an activist at an early age and has held various public positions over the last two decades.
Rueda was previously Argentina's first undersecretary of diversity policies in the Women, Gender and Diversity Ministry. She is the first Trans woman to hold a senior position in the country's government.
Rueda explained to the Washington Blade that her position is one "that deals exclusively with foreign policy regarding diversity policies."
"We are within the State's structure," she said. "We are in a very unique position within this ministry's political agenda."
For her, the advances in LGBTQ+ and intersex rights in Argentina have great relevance because activists and the movements of which they are a part had good strategies that influenced the political arena.
"The trasvestí and Transgender community knew how to anchor (themselves) in the militancy of human rights," she said. "The 2012 gender identity law is undoubtedly a milestone for all of Latin America because of its content. [It is] one of the first laws that set very high standards of rights in the world and that were really developed by the Trans community in the sociopolitical organizations in which we participate."
Rueda recalled that in 2006, before any legislation in favor of sexual and gender diversity took effect, the Trans population won a legal battle when the Supreme Court ruled Asociación Lucha por la Identidad Travesti (ALITT), a Trans advocacy group, could obtain legal status.
"This was a fundamental step within the political agenda and from then on a whole process of decriminalization began," Rueda recalled to the Blade.
The advancement of LGBTQ+ and intersex rights in Argentina since then has not stopped, and that is why Rueda wants to replicate this work in countries across South America and around the world. Argentina, in fact, over the last year has hosted a variety of Global Equality Caucus-led workshops that have focused on the elimination of so-called conversion therapy.
"We are a team under my leadership, where we are working integrally with the Ministry of Foreign Affairs, carrying out different lines of work to strengthen the multilateral policies that our country has around certain agendas, as in the United Nations, for example," she emphasized.
Regarding her efforts with other Latin American countries, Rueda said she will work to improve the quality of life of LGBTQ+ and intersex people based on efforts in Argentina.
"We are going for a coordination of State policy around LGBT rights, around living conditions; not only the promotion of rights, but of public policies that modify the structure of that inequality around living conditions," Rueda stressed.
"There are several countries in Latin America and the Caribbean that do not have a gender identity law. With equal marriage, with a Trans labor quota law and what we have here is not only an experience around public policies, but the evidence that this really strengthens and prevents other types of violence," she added. "This is basically Argentina's contribution to Latin American cooperation."
Finally, she stressed that "it has to do precisely with the strengthening of a line of work which is to demonstrate the evidence that the greater the rights and recognition, the better not only the quality of democracy, but also the better the living conditions of our community and the reduction of violence."
Chile's new constitution overwhelmingly rejected
Document would have enshrined LGBTQ+ rights in country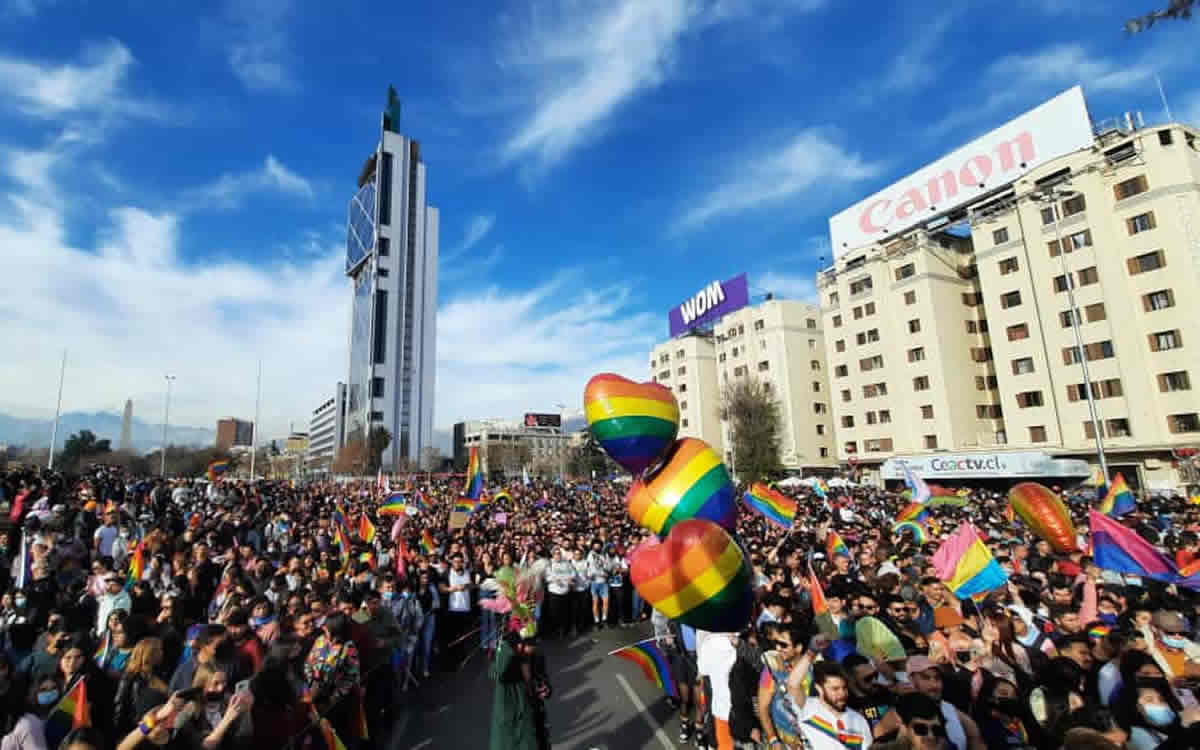 SANTIAGO, Chile — Chileans on Sunday overwhelmingly rejected a new constitution that would have enshrined LGBTQ+ rights in an unprecedented way.
Upwards of 80 percent of Chileans in October 2020 voted in favor of changing the constitution.
More than 60 percent of them rejected the new constitution in Sunday's referendum. Slightly more than 38 percent of Chileans voted to approve it.
The need to change the current constitution, which is a legacy of Gen. Augusto Pinochet's dictatorship, arose after social unrest in 2019 that exposed long-standing standing inequalities in the South American country.
The new constitution, which a Constitutional Convention with an equal number of men and women and eight openly LGBTQ+ members, was drafted in one year. Gaspar Domínguez, a gay doctor, was the Constitutional Convention's vice president.
There were several points of disagreement.
One of the constitution's most controversial amendments called for Chile to become a plurinational state that would have recognized the existence of the different indigenous people in the country. The "rejection" groups argued the recognition of indigenous people would have created a privileged group and divided the country.
This discourse permeated the debate over the constitution.
President Gabriel Boric's government said the referendum went well in terms of participation, public transportation and the functioning of the institutions that helped carry it out. The results were available a few minutes after the polling stations closed.
Boric addressed the country from La Moneda, Chile's presidential palace, in a nationally broadcast speech after the results were known.
He valued the high participation and celebrated the "triumph of democracy." At the same time, however, he said the "constituent process has not ended."
Boric said his government will "agree as soon as possible on the terms of the new constitutional process," alluding to the fact that the Pinochet-era constitution must be changed. Those who supported the "rejection" option have also committed themselves to find a new way to change the constitution.
Congresswoman Emilia Schneider, a Boric supporter who is the country's the first openly Transgender member of Congress, on Twitter acknowledged the "hard result" of the referendum.
"The constitution of the dictatorship does not unite us and we could not build a majority around the proposal for which we voted," said Schneider. "The cycle of changes is not over. Citizens demand social rights and more democracy. It is urgent to give answers."
"The constituent process does not end here. It is time for those on the side of rejection to assert their commitment," she stressed. "From tomorrow we must work for a new democratic process, with parity, with indigenous peoples and (a) participatory (process.) Chile has spoken and we need a new constitution."
Most LGBTQ+ organizations and activists in Chile urged voters to "approve" the new constitution because it would have extended explicit rights to the community for the first time. These would have included the recognition of non-heteronormative families outside of marriage, the right to gender identity and expression, nondiscrimination and reproductive rights.
Alessia Injoque, director of Fundación Iguales, an organization that works with the Human Rights Campaign, told the Washington Blade "the new constitution, if approved, would have represented a very significant advance in the protection of our families, in freedom to live authentic lives and without discrimination."
"It is regrettable that this advance will not be consolidated, but it is time to recognize the result and work so that these rights are part of the next process," Injoque lamented.
Injoque in response to a question about the possibility of a new constituent process to draft a new constitution said "in politics the doors are never completely closed."
"It is difficult to think that we will have such a clear opportunity, with such a strong constitutional proposal on LGBTIQ+ rights, but we will continue working until we achieve full equality and the same freedoms," said Injoque.
Javiera Zuñiga, the spokesperson for the Movement for Homosexual Integration and Liberation, another LGBTQ+ rights group in Chile, told the Blade the draft constitution had "unprecedented positive elements" and there was "an excessive confidence that all citizens felt highly represented by the text."
"Certainly in what follows in the constitutional process, it will be fundamental to achieve greater consensus on the matters that did not convince Chileans on this occasion," said Zuñiga.
"The matters related to substantive equality that were included in the proposal are not part of the conflictive elements in the proposal, such as nondiscrimination, respect for identity and equality of rights are quite well installed among Chileans as basic principles of the society we wish to build," added Zuñiga. "I believe that this has been one of the greatest gains of the process."
Zuñiga said Movilh "will continue to contribute to (the constituent process and) nurture it and achieve for the community nothing less than what this proposal considered."