U.K. to host global LGBTQ+ rights conference
Event to coincide with London Pride's 50th anniversary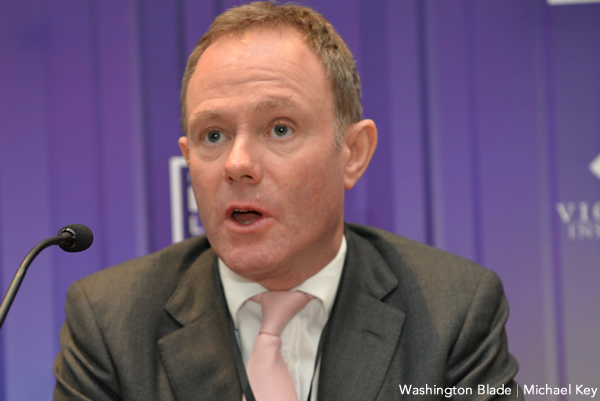 LONDON — The U.K. this summer will host a global LGBTQ+ rights conference that will coincide with London Pride's 50th anniversary.
The Safe to Be Me Conference will take place in London from June 29-July 1.
The conference will focus on four areas: Fighting violence and discrimination based on sexual orientation and gender identity, expanding legal protections for LGBTQ+ people, ensuring equal access to HIV/AIDS treatment and other public services and working with businesses to promote LGBTQ+-inclusive practices.
Nick Herbert, a member of the British House of Lords who advises British Prime Minister Boris Johnson on LGBTQ+ issues, on March 24 told the Washington Blade during a telephone interview the criminalization of consensual same-sex sexual relations is one of the issues the conference will highlight. Herbert also said he expects Johnson will be among those who will speak at the event.
"There is a huge enthusiasm for this event, a feeling that it is very timely, that it's important for like-minded countries to get together … but also to try and bring other countries to the event that are on the journey towards LGBT+ rights and we encourage them to move in the right direction," said Herbert. "I'm excited about the potential for this event, which I think could do real good."
The Equal Rights Coalition, a group the U.K. currently co-chairs with Argentina, seeks to promote LGBTQ+ rights around the world.
Herbert said an Equal Rights Coalition meeting will take place in London on June 28, the day before the conference begins. The London Pride parade will happen on July 2.
Ruling against marriage equality in Bermuda, Cayman Islands 'difficult'
Herbert spoke with the Blade ahead of the expected introduction of a bill in the British Parliament that would ban so-called conversion therapy in England and Wales. The interview took place less than two weeks after the Privy Council's Judicial Committee blocked marriage for same-sex couples in Bermuda and the Cayman Islands.
"I was personally sorry to see that decision, but I respect the fact that it is a decision by a court and we have to respect the legal process," said Herbert, referring to the March 14 ruling. "Some people have been urging the U.K. government to step in … these are sovereign countries with their own elected parliaments and stepping in to override them would not be a small thing. And you could see it as a form of neocolonialism."
"It is difficult," he added. "What they need to do is to work with those countries to try and persuade them to change their own laws."
'Situation in Ukraine is deeply worrying'
The conference will begin less than five months after Russia invaded Ukraine.
"The situation in Ukraine is deeply worrying," said Herbert. "It is appalling to see the impact on people in Ukraine."
"We need to do everything that we can to help them, and that will include LGBT+ people," he added. "Where there are special circumstances affecting LGBT+ people, we need to address those and I have been in discussions with other governments and officials about that."
Herbert told the Blade that "what is happening in Ukraine does mean that we have to reassert our values; which are about the importance of human rights, of democracy, of self-determination."
"The values that we bring to our conference in June are the same values," he said. "I do see what we are doing in June is being consistent with the stance we are taking in Ukraine."
The British government last fall helped evacuate two groups of LGBTQ+ Afghans from Afghanistan after the Taliban regained control of the country. Herbert told the Blade that "this work continues" with the U.N. and NGOs that include Stonewall in the U.K. and Rainbow Railroad in Canada.
"We continue to work to provide a safe place for LGBT+ refugees from Afghanistan," he said. "We have a specific program to welcome people who are fleeing the regime in Afghanistan and we've identified LGBT+ people as potentially vulnerable who will need our help."
British comedian challenges Beckham to give up £10 mil Qatar deal
In 2021, multiple news outlets reported Beckham had signed a ten-year deal with Qatar to be a face for soccer there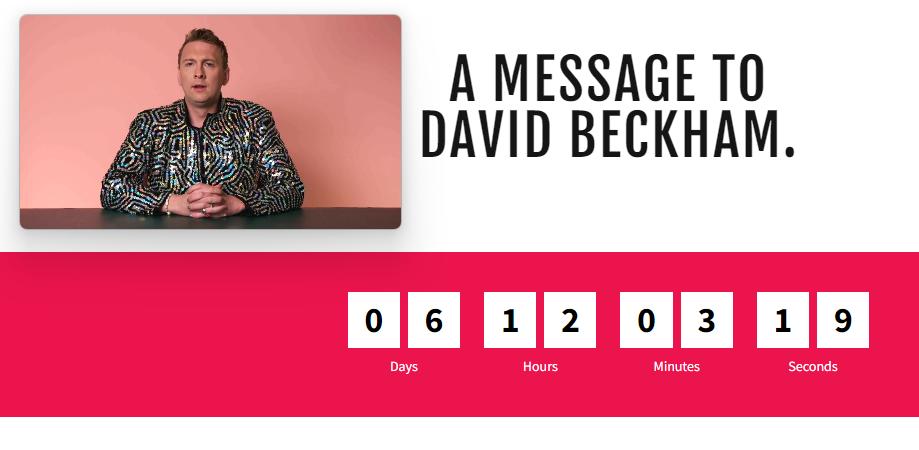 KINGS HEATH, Birmingham, UK – Joe Harry Lycett, a celebrity British comedian and television presenter, challenged British football [soccer] star David Beckham on Sunday to walk away from Beckham's £10 million deal to be ambassador for Qatar during the FIFA World Cup.
In 2021, multiple news outlets reported Beckham had signed a ten-year deal with Qatar to be a face for soccer there. Qatar criminalizes same-sex "sexual conduct" and has persecuted transgender people in that country.
In October, Human Rights Watch documented arbitrary arrests and ill-treatment in detention of LGBT Qataris by the Preventive Security Department. As a requirement for their release, security forces mandated that transgender women detainees attend conversion therapy sessions at a government-sponsored "behavioral healthcare" center. Despite sustained pressure, Qatari authorities have refused to repeal laws criminalizing same-sex relations.
World Cup Ambassador Khalid Salman last week described homosexuality as "damage in the mind."
Salman, a former Qatari soccer player, made the comment during an interview with a reporter from ZDF, a German television station, in Doha, the Qatari capital.
The former Qatari soccer player in response to the reporter's question about the criminalization of consensual same-sex sexual relations in his country described homosexuality as "haram" or "forbidden" under Sharia law. A member of the World Cup organizing committee abruptly stopped the interview after Salman made his comments.
Beckham, the former captain of England's national soccer team, has been heavily criticized for his decision to accept the paid ambassador position for Qatar at the FIFA World Cup 2022 from numerous LGBTQ+ rights groups.
Lycett released a video Sunday, (November 13) on his Twitter account:
"I consider you, along with Kim Woodburn and Monty Don, to be a gay icon," he said.
"You were the first premiership footballer to do shoots with gay magazines like Attitude, to speak openly about your gay fans, and you married a Spice Girl which is the gayest thing a human being can do," Lycett said.
https://t.co/FqoC3hSFM8 🌈 pic.twitter.com/EPLVNwmnvV

— Joe Lycett (@joelycett) November 13, 2022
Lycett continued: "You have always talked about the power of football as a force for good. Which suggests to me you have never seen West Brom.
"But, generally, I agree. So with that in mind I'm giving you a choice.
"If you end your relationship with Qatar I will donate ten grand of my own money (that's a grand for every million you're reportedly getting) to charities that support queer people in football.
"However, if you do not I will throw the money into a shredder at midday next Sunday, just before the opening ceremony of the World Cup and stream it live on a website I've registered called BendersLikeBeckham.com. Not just the money, but also your status as gay icon will be shredded.
"Also you'll be forcing me to commit what might be a crime. Although even then, I reckon I'll get off more lightly than I would if I got caught whacking off a lad in Doha."
The comedian also set-up a website BendersLikeBeckham.com, which features only his video, as well as a countdown timer showing how long Beckham has to make his choice.
Beckham has yet to respond to the tweet or inquiries from British LGBTQ press outlets PinkNewsUK, Attitude, and other media outlets.
Additional reporting by Michael K. Lavers